Newsletter
A beautiful writing app & Turn struggle into creativity
A private, secure, and super-fast browser, Cron's general availability, Mastodon's updated onboarding, on pain, suffering, and hope, and a lot more in this week's issue of Creativerly.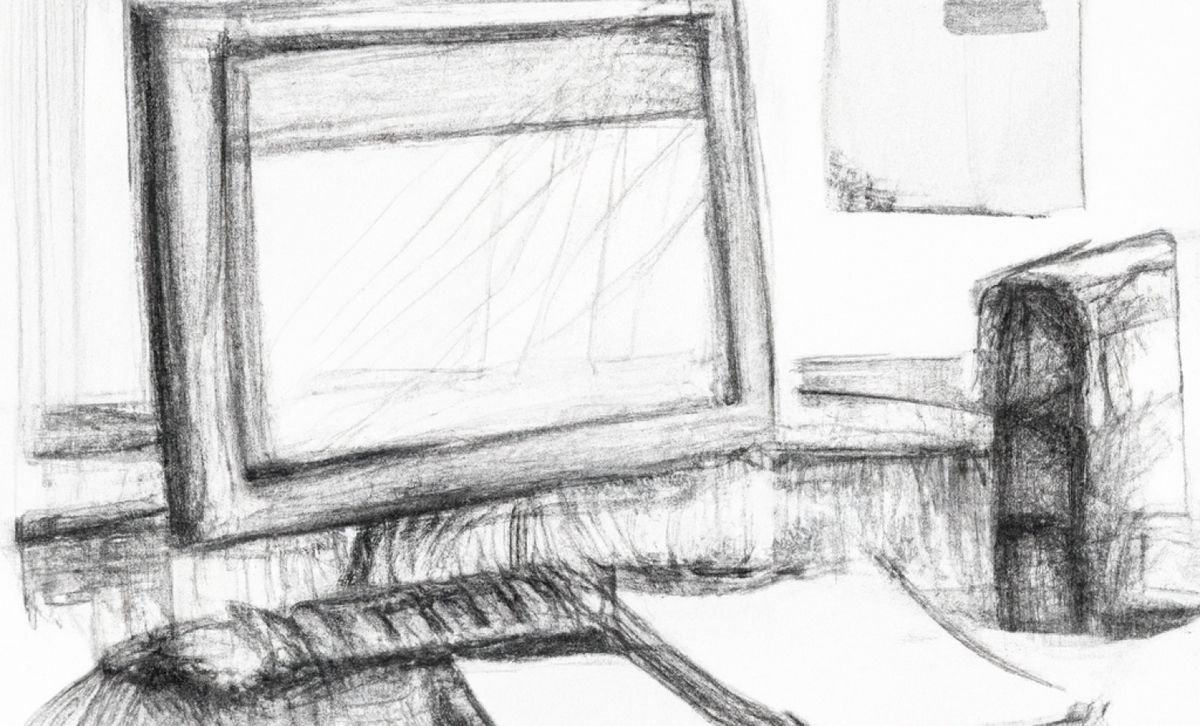 My name is Philipp and you are reading Creativerly, the weekly digest about creativity and productivity-boosting tools and resources, combined with useful insights, articles, and findings from the fields of design and tech. The newsletter built for the creative community.
---
Hey and welcome to Creativerly 220 👋
My favourite bookstore, which is just a couple of minutes away from my place, recently re-opened after rebuilding and refurbishing the whole store. Once I realized the store is open again, I immediately went there to just check it out (well, at that point I had no idea I would walk out of the store with seven more new books two hours later).
Upon entering the bookstore I had a little smile on my face, since I loved how they restructured the whole store. New shelves, new lighting which was a bit dimmed so the whole atmosphere was cosy, but especially I had the feeling that there were way more books. One shelf immediately caught my eye. In the past, I always was a bit disappointed that the offering of English-written books was a bit unspectacular. Therefore, I was beyond excited once I found out that they have extended their offering, having a bunch of shelves packed with some of the most popular books from different genres like business, economics, politics, philosophy, creativity, and more. I realised how much I enjoy strolling through bookstores, grabbing a couple of books, skimming through them, and discovering some new exciting fields I would like to explore.
As I entered the bookstore, I had no intention to buy any new books. My personal reading backlog is packed with loads of books, so whenever I finish my current book, there are loads of new books to choose from. However, I am a sucker for beautiful books. And while strolling through the bookstore, I found seven new books that caught my eye not only because of the title, the authors, and the contents but in addition to that, they were all beautifully designed, which is something I admire, because loads of the most popular business books could use some more visual appealing covers.
I got reminded why I love reading so much, but especially I got reminded why I love physical books so much, because instead of ordering all the books I want to read online, I simply enjoy the experience of going to a bookstore, strolling through it, and just discover some new books. Among the new books I bought is The Creative Act: A Way of Being by Rick Rubin to which I am very much looking forward. If you want to see which books I am currently reading and which books are on my reading list, you can follow me on Literal.
Did you buy any new books recently? Let me know which one.
---
Transform Your Workflow 🚀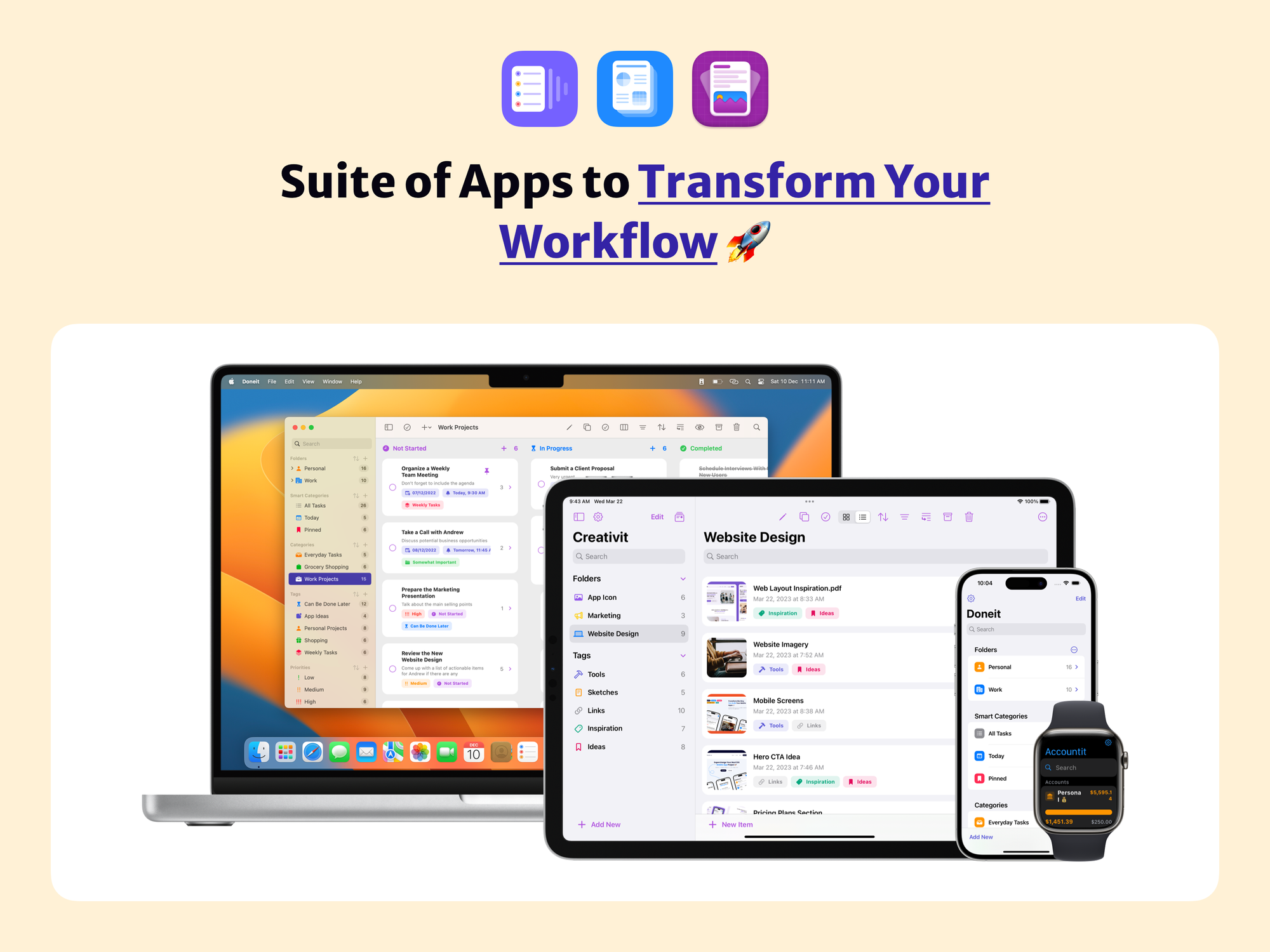 A suite of native apps for iPhone, iPad, Mac, and Apple Watch that combines Doneit, Accountit, and Creativit apps into one simple subscription and is designed to help you effortlessly accomplish all of your day-to-day tasks.
This is a sponsored message to support Creativerly. If you are interested in putting your tool, product, or resource in front of over 2000 creative minds, consider advertising in Creativerly and book a sponsor or classified ad spot. Find all the important information at creativerly.com/advertise.
---
Apps, Software, Tools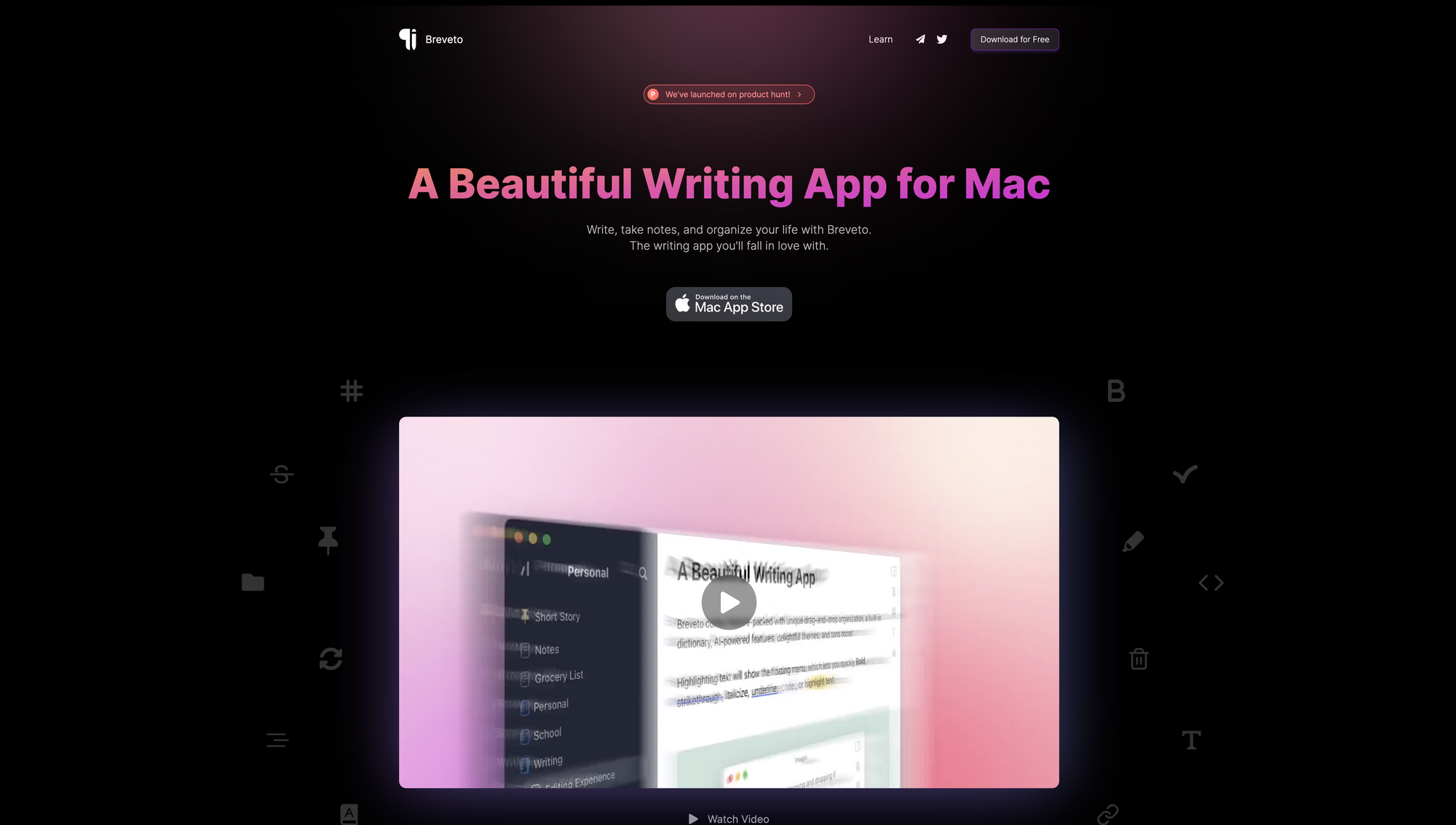 It has been some time since I wrote about a new writing app I discovered, therefore I am excited to present Breveto to you, a lovely and beautifully designed writing app that lets you write, take notes, and organise your life.
Organising and structuring your files within Breveto is simple, intuitive, and straightforward. To organise your files within Breveto you can make use of its drag-and-drop folder system. Your most important files can be dragged onto the top of your files and folder list within Breveto's sidebar. Once you do that, the file will get pinned for easy and fast access whenever you need it. All your notes and writings can be structured within folders. You can drag and drop to rearrange files and organise them into the folders you need. A system like this does not work for everyone. Some users might appreciate a folderless system, use tags to structure notes and writing, or something else. But when it comes to organisation, Breveto is opinionated software, offering an easy system that is perfectly suited for a large user-base, since it is one of the most popular systems anyways.
Breveto is available for macOS. If you would like to sync all your files and notes across multiple Macs, you can use iCloud to keep them updated on all your devices. You can also choose a folder on your system, which means Breveto allows you to store all your notes, writings, and files directly on your Mac, locally. You can use multiple locations simultaneously as different workspaces, so you can decide which files need to get synced across your Macs, and which ones should stay locally on your computer. I am a huge fan of the fact that Breveto is offering its users to keep and store their files and notes locally only.
One of Breveto's biggest advantages and selling points is probably its beautiful editor and the writing experience in general. Once you start using Breveto, you will quickly realise that every detail has been crafted with love to detail and the goal in mind to create an elegant writing experience. I am a lover of beautifully designed software. There is something magical about using a tool and experiencing and feeling how much love and craft went into designing it. Breveto's editor is clean and easy to use. It offers you effortless formatting by letting you focus on your content and nothing else. You can format your writing blazingly fast with a lovely inline format menu, or simply use markdown shortcuts. At any stage of your writing process, Breveto lets your creativity flow.
With Breveto's built-in dictionary, you can easily find definitions, synonyms, and rhymes with a single click, while working on and writing your next piece. To raise your writing to another level, Breveto is also packed with a personal AI assistant, that can reword paragraphs, fix complex grammar mistakes, and more. As you write more and more within Breveto, and your library grows, you do not have to fear vendor-lock-in, since Breveto allows you to easily export your content to markdown, HTML, and more so you can use it across a variety of places. Besides that, you can print your files in beautiful styles and save them as PDFs. Another powerful feature of Breveto is the right sidebar, which houses the outline and statistics of your writings. This lets you jump easily to major sections in a pinch or get the low down of your document's info.
To make Breveto yours, you can go beyond dark mode and choose from a set of 18 stunning themes, or even create your own. Breveto is still in an early stage, but it is already packed with an awesome set of features. On its roadmap, you will also find an iOS app, more export formats, full cross-platform support, and more. You can download Breveto for free to give it a try, but if you want to get access to themes, dictionary and rhymes, unlimited files, export, focus mode, Breveto AI, and more, you need to upgrade to Breveto Pro which is available for $19.99 per year, which is an incredible value for the money.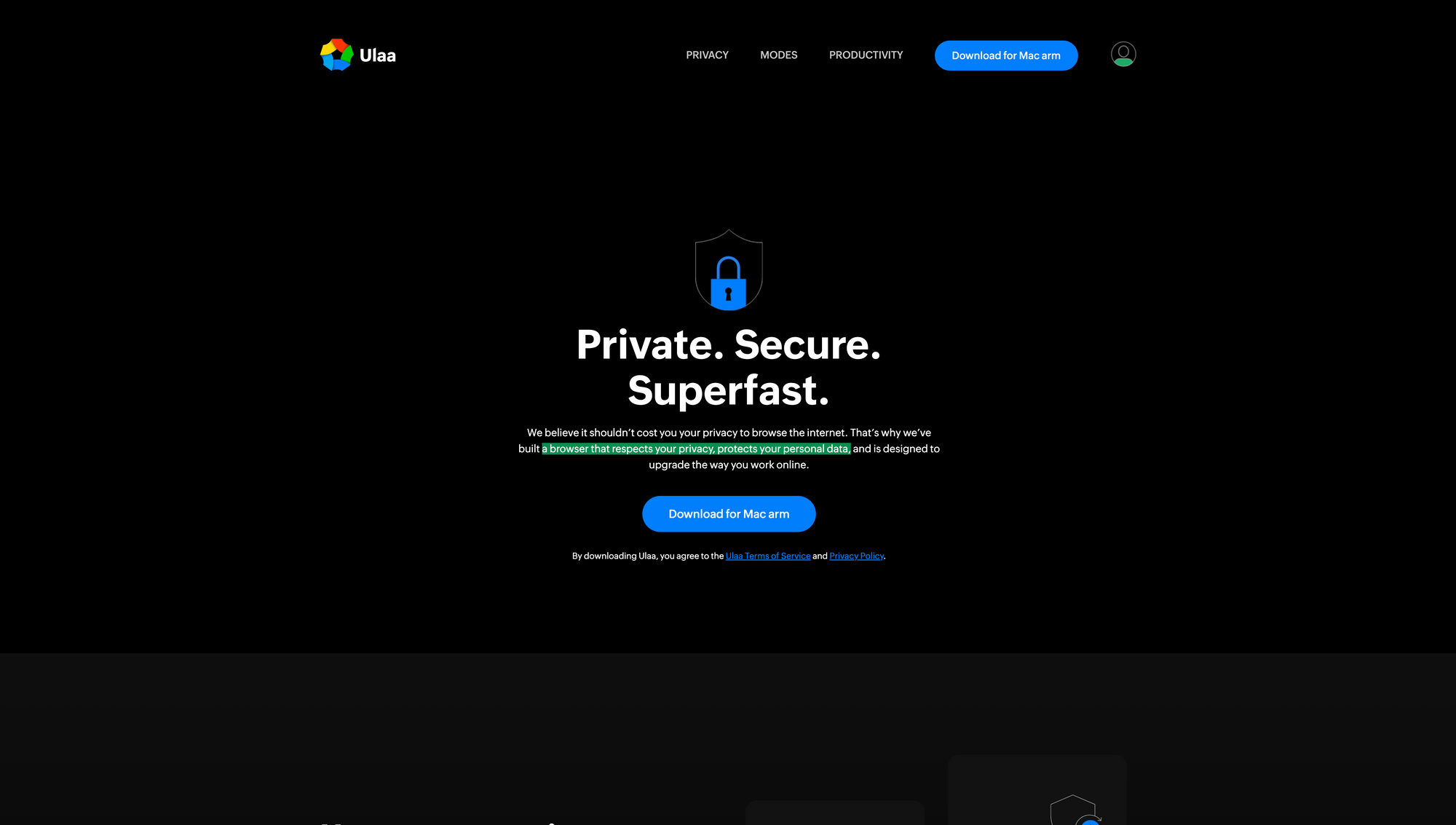 I always get excited when I find out about apps that have a dedicated and strong focus on privacy and keeping their users' data safe and secure. One of my most recent finds from that category is Ulaa, a private, secure, and super-fast browser that protects your personal data and is designed to upgrade the way you work online.
Ulaa is a browser that offers the utmost protection while browsing the web. Ulaa protects you from privacy abuse and high-risk cybersecurity threats by blocking tracking, zero browser monitoring, and multi-tier ad blockers. The few statistics that are getting collected are anonymized, it features auto reset browser IDs, and geophysical data isolation. The team over at Ulaa believes you should have complete control over your personal information. Privacy is a right and therefore, Ulaa works hard to ensure that your data is secure at all times. Ulaa is committed to never selling your data or engaging in any form of tracking or surveillance. As online privacy is a fundamental right, it is packed with features to make sure that they can deliver a browsing experience that puts your privacy first.
With state-of-the-art features, Ulaa ensures your personal information while browsing the web is kept confidential your online footprint remains hidden from advertisers' spying eyes. While using Ulaa, no data will get sent to third parties, there are no network time trackers, no third-party account integration, no serial API, no DNS prefetching, and a lot more.
Besides that, Ulaa provides specialized browser modes, so you can put Ulaa in any mode that suits your mission. The work mode boosts your productivity and helps you stay focused on the work at hand by blocking distracting websites. The developer mode is designed for professional web developers and testers, offering extensions for a seamless browsing experience. In the personal mode, you can experience standard privacy functions like secure logins and tracking prevention to maintain your personal online privacy. The Kids Mode is a family-friendly browser mode, providing a safe online platform for children to browse, learn, and explore the web. Within the open season mode, adblockers and tracking blockers are disabled, so you get access to all websites including zero-restriction sites without hindrances of UI or feature breakages. This mode basically turns Ulaa into any average browser.
In addition to Ulaa's utmost focus on privacy, it was built to help users maximize productivity and get more done in less time. To keep your tabs organised, Ulaa offers a variety of features to manage your tabs, create site groups, customise your launcher, and more.
I am excited to give Ulaa a try. You can download it for Windows, macOS, Linux, Android, and iOS.
---
Fresh Updates & News
Cron quickly became one of the most popular calendar and productivity tools in general in a short amount of time. While still in closed beta, it announced just one year after coming out of stealth, that it has been acquired by Notion. With that acquisition, Cron became even more popular, but the team also managed, thanks to the newly available resources, to ship more updates more frequently. The most important update anyways got released a past week, since from now on, Cron is generally available to the public, no more closed beta, and no more waitlist, just sign up and create your account.
You fully made the move to Mastodon a couple of months back and I really enjoy my time there, especially as I discover more and more inspiring and interesting people to follow. With the rise of other social networks like Bluesky (based on the still fragmenting situation at Twitter), loads of publishers kept mentioning that Bluesky is way easier to get a hang of compared to Mastodon. Most people who tried to switch to Mastodon mentioned that it was way too complicated to get started. Especially since you need to choose an instance first. I get that this might be confusing since most people who came from Twitter were just looking for a space similar to Twitter without a Spacekaren in control, who is destroying the company a bit more every single day.
But ultimately, most of us had no idea what was going on when we signed up for MySpace, Facebook, Instagram, or Twitter either. There is always something you have to figure out. Nevertheless, to make it easier for new users to get started with Mastodon, the team improved its onboarding experience with a recent update. To make the whole onboarding and sign-up experience easier, Mastodon now has a default sign-up option that works with mastodon.social, the server that is operated by Mastodon itself. But, if you wish, you can still leave or join a different server at any time.
Current has been on my radar for a while now. It is a dedicated platform to share work-in-progress with your entire team. With Current, you can create a space to find out what is being worked on, get or give feedback, discuss changes, and always find the specific draft or ideation you have been looking for. The app is still in beta but ships exciting updates frequently. Within the newest update, the team at Current rolled out eight new integrations to make it as easy as it can get to share work from your favourite tools. No matter if you are a Product Manager, Content Strategist, Designer, or Engineer, with Current's new set of integrations you can easily showcase your new projects.
For Product Managers and Content Strategists, Current added integrations for Miro, Mural, and Google Drive, Designers can now use Spline, Rive, and Protopie links (in addition to Figma and Loom), and Engineers can simply copy and paste links from CodePen and CodeSandbox to add an embed to a post.
---
Mental Wealth
❯ Consistent with what? – ""Consistency" is a word you hear a lot in tech. Designers talk about it (do not play the "drink when you hear this word" game with this word at a design systems conference), developers talk about it, everyone! But when it comes to consistency, it's important to recognize that consistency comes in different flavors."
❯ You are what you believe yourself to be – "What's the difference between a hunter-gatherer ancestor charging into a pack of buffalo versus a writer trying to publish their first book? There is no difference. They are both driven by an evolutionary bias that enables us to give it our all: self-delusion."
❯ Turn Struggle into Creativity – "Most people think that if they're struggling, that means something is wrong. If you're struggling to write, to meditate, to eat healthily, to be focused and productive … or struggling in a relationship or job … that means something is wrong with you, or you need to change your circumstances, or this just isn't right for you."
❯ On Pain, Suffering, and Hope – "One of the most iconic hooks in hip hop history was recorded by rapper AZ on Nas' debut album, Illmatic. It goes like this: Life's a bitch, and then you die, That's why we get high / 'Cause you never know, When you're gonna go." It's one of those examples where the simplicity of the message is what allows it to resonate. Life is pain, and the only way it ceases is when life itself does. Knowing that, you ease the pain by enjoying the little things, and do so before you face the inevitable finish line."
---
Do not miss out on this ...
❉ The Daily Upside is a business newsletter that covers the most important stories in business in a style that's engaging, insightful, and fun. Sign up now.
❉ Think tasks, not apps. Setapp* is you one-stop subscription to solving every task on Mac and iPhone.
❉ Fathom is cookie-free, GDPR compliant, privacy-first website analytics software. Get $10 off your first invoice and a 7-day free trial when you use this link*.
These are paid promotions or affiliate links to support Creativerly. If you are interested in putting your tool, product, or resource in front of over 2000 creative minds, consider advertising in Creativerly and book a sponsor or classified ad spot. Find all the important information at creativerly.com/advertise.
---
Appendix
❯ ICYMI
I opened up new available sponsor spots for May, June, and July within Creativerly. Sponsor spots are a great way to place your app, product, newsletter, course, or job in front of over 2,000 creative minds coming from different fields like design, writing, development, indie hacking, VC, and more. Head over to creativerly.com/advertise to find all the relevant information. Placing a sponsored message within Creativerly supports my work and makes it possible to keep it a sustainable side project.
❯ Quick Bits
---
Till next time! 👋‌‌‌‌
Support: Do you have a friend who is looking for inspiration, news about design, and useful tools and apps? Forward this newsletter to a friend or simply share this issue and show some support. You can also show some love by simply clicking the button down below and keep this newsletter a sustainable side-project by buying me a coffee. ☕️ 🥰
---
---
Some of the links in my newsletter and my blog posts are affiliate links. Those links are marked by an asterisk. If you buy something through the link, the product will not cost you anything more, but I will receive a small commission which not only supports Creativerly and my work but also helps me to keep this publication a sustainable side-project.