Thank you so much for considering buying a sponsorship or an ad spot within Creativerly, you support my work, this project, and ultimately my passion, for writing and curating creativity and productivity-boosting tools and resources.
💡
Before booking a sponsorship or ad spot (which involves dropping me an email), please take your time and read through this documentation as it includes some important bits about the general booking process, and also give your attention to Creativerly's Advertising Terms.
---
About Creativerly
Creativerly is a publication consisting of a weekly newsletter, a blog, and an interview series. In general, Creativerly is all about creativity and productivity-boosting tools and resources, combined with useful insights, articles, and findings from the fields of design and tech. Creativerly was built for the creative community. The journey of Creativerly started in January 2019 as a side project, but turned into a passion project and ultimately into a full-fledged publication. While the first version of Creativerly was mainly a curated newsletter showcasing tools and resources from the fields of design, tech, and productivity, Creativerly is now a long-form write-up of in-depth thoughts, insights, and findings of creativity and productivity-boosting tools and resource.
I am looking to partner up with folks and companies who are building and operating apps, tools, software, resources, etc. within those topics and fields. Consider this before getting in contact. If you want to get a taste of the content I share and write about, feel free to scroll through Creativerly's archive.
Sponsoring an issue of Creativerly puts your product or tool in front of over 1600 (last update: 22.03.2022) creative and curious minds interested in and actively looking for creativity and productivity tools. Creativerly subscribers come from different backgrounds just as design, tech, writing, development, VC but they are all unified in their curiousness and interest when it comes down to reading about new tools, apps, software, and resources which help them to achieve their goals, design and prototype their next app idea, focus on their work, build up their knowledge base, or track down their tasks. Since I am also a privacy advocate I always love to highlight tools and services which respect their user's privacy.
---
Privacy Notice
As mentioned earlier, I am a privacy advocate. One of my main focuses is to respect my reader's privacy, therefore I am not actively tracking the open rate nor the click rate within my newsletter. The inbox of a reader is a private and personal space, and it should stay like that. Creativerly is not a marketing email, but an informational resource and medium, and therefore there is no need to track any metrics.
Since using Ghost + Mailgun as my tech stack I am able to turn off those tracking metrics. The numbers I provide within the Key Facts section are estimates (except the Subscribers number) based on previous newsletter issues I have send out when I was using Substack.
If you want to track the links you are using within your sponsorship or classified ad make sure to use a service like bit.ly for example, as I will not provide you with any metrics.
---
Possible advertising formats
❗
Main Sponsor (Price €75, one spot per issue). Discounts available: Book three sponsor spots and get €10 off, book five and get €15 off, book 10 sponsor spots and get €20 off.
The main sponsor within Creativerly will get displayed at the top of the newsletter issue straight after the intro section. It includes a top headline (this should be an appealing, attractive, snappy, and catchy one, so you grab the readers' attention), an image, a second headline (this should be the title or name of your product, tool, service, and it should include a link), and a description which should be no longer than 300 characters and you can use a second link there.
The image should be a JPEG or PNG, it can be square or landscape format but make sure that your resolution is not less than 1000px x 1000px. Make sure to grab the reader's attention with your image by including graphics, illustrations, photos, etc. Do not display too much detail or text. The image will use the same link as in the second headline.
See the image down below to get an example of the Main Sponsor ad.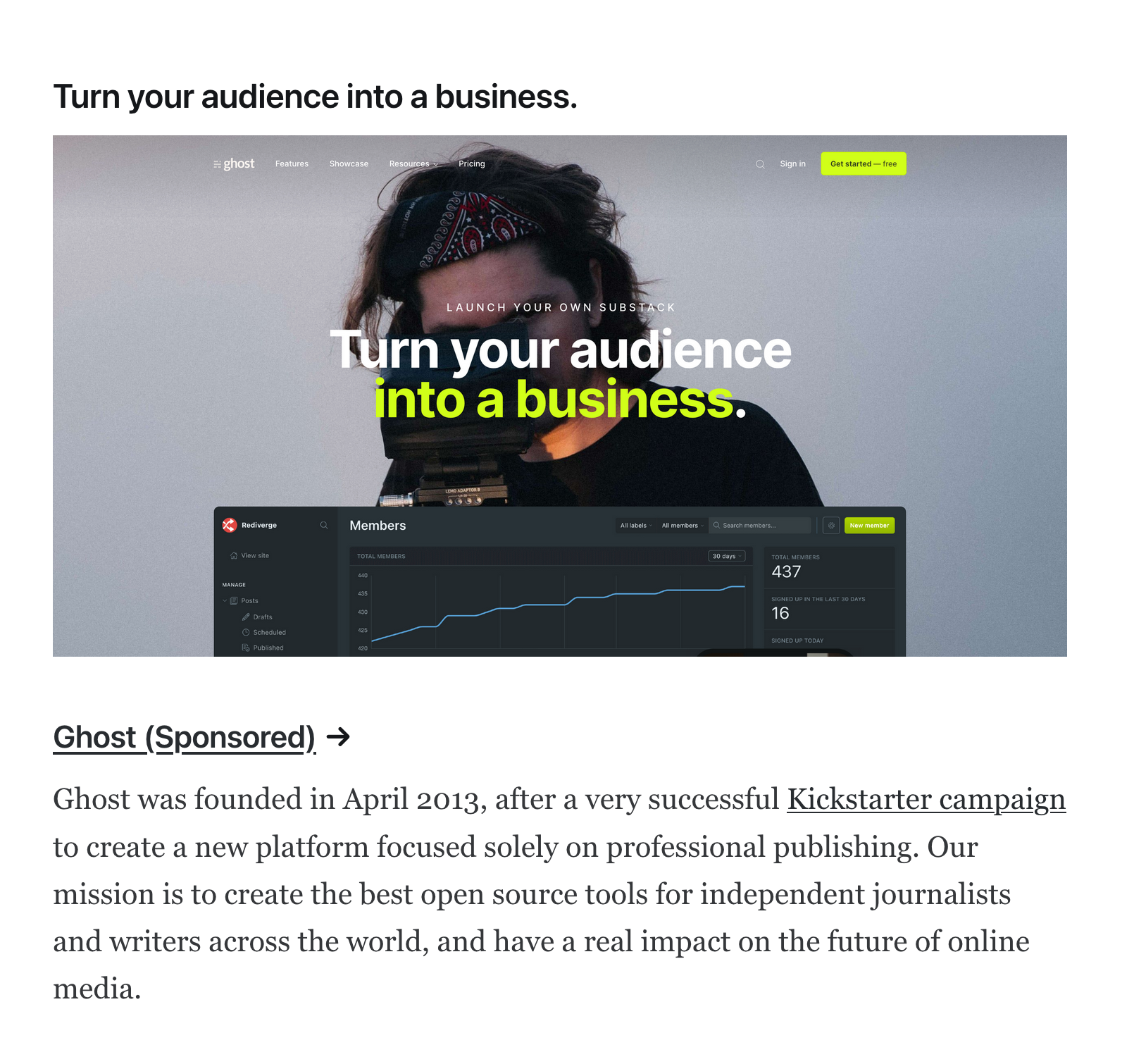 ❗
Classified Ad (Price €25, three spots per issue). Discounts available: book three Classified Ads for €65, book five for €110, book ten for €230.
Classified ads are text-only ads that are displayed at the bottom of the newsletter. You can use one link and a maximum of 180 characters for your classified ad.
See the image down below to get an example of how the classified ads look within Creativerly.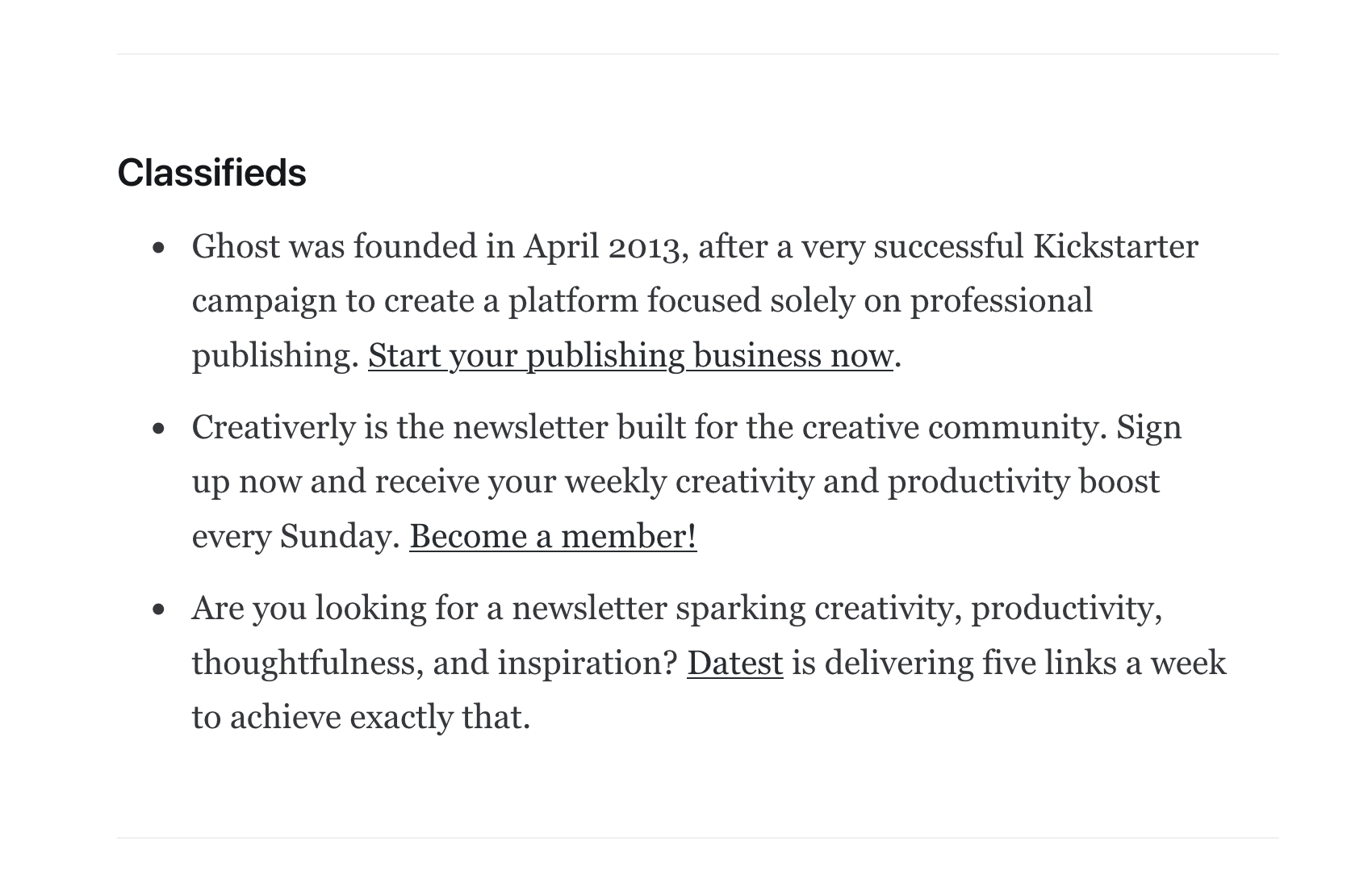 ---
Availability
Use the Airtable database down below to check for the availability of both the main sponsor and the classified ad spots.
---
Key Facts & Overview
Audience: Designer, Writer, Developer, Journalists, VCs, Creative Minds
Active Subscribers: over 1600 (last update: 22.03.2022)
Open Rate: ~50%
Click Rate: ~15%
Frequency: Once per week (send out every Sunday at 19:00 CET/10:00 PDT/13:00 EDT)
Website Metrics
Monthly Pageviews: ~3500
Monthly unique visitors: ~1100
Nationalities: USA, UK, Germany, India, Brazil, France, Canada, Netherlands, Australia, Spain
Your ad will be sent out with the newsletter to over 1600 (last update: 22.03.2022) subscribers, besides that it will also be visible online since all newsletter issues are available as blog posts once they were sent out. This way, your ad will also profit from SEO, since it will be online forever. Additionally, every newsletters issue also gets shared on Twitter and LinkedIn.
---
Booking Process
As a first step, decide for yourself if your product, tool, resource, app, software, etc. is a fit for the Creativerly community and audience. As mentioned earlier, you can always browse through Creativerly's archive to get a taste of what content I create and share.
After that, head over to Creativerly's booking sheet where you will find all the available dates. If the date you would like to book is still available, get in contact with me.
Please send me an email to advertise[at]creativerly.com that includes the following information, so I can keep the booking process as short and streamlined as possible:
Let me know if you are an individual or a registered business. In both cases, I need your full name and a billing address. I will never ever sell your data or give it to any third parties, but since Creativerly is running as a registered business (Philipp Temmel e.U. - that's me) in Austria, I need that information for invoice and tax purposes. If you are booking the ad as a business I also need your UID/VAT/EIN or whatever your tax identification number is.
Tell me about the date you would like to book. See the Airtable database for availability.
Tell me which advertising format you would like to book (Main Sponsor or Classified Ad).
Last but not least, tell me about your product, tool, resource, etc which you would like to advertise in Creativerly. Keep it brief, but distinct.
Once I have all of this information, I can create an invoice upfront. At this time, your booking would have the status pending. Once you paid the invoice, everything is done and your sponsorship/ad spot is booked.
Sending me all this information upfront makes it possible to keep the whole booking process as short as possible.
Once you paid your invoice and your sponsorship/ad is booked and confirmed you will be asked to send over the sponsorship/ad information and assets, so be sure to prepare that upfront so we can still manage any changes if needed.
Again, thank you so much for considering advertising within Creativerly. Through sponsorships and ads, I can support my work and keep Creativerly a sustainable project.