Newsletter
How to motivate yourself to change & a blogging platform with no interface
In this week's issue of Creativerly: Your online recording studio, Build web apps & portals from Airtable, the power of anti-goals, and a lot more.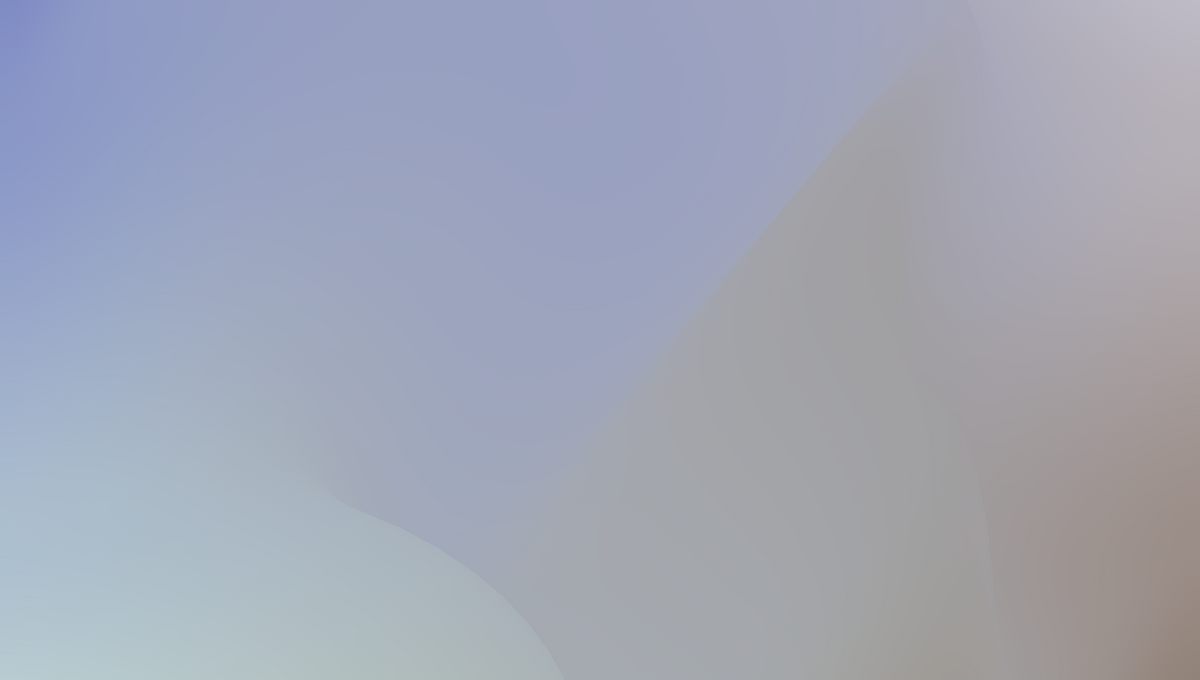 You are reading Creativerly, the weekly digest about creativity and productivity-boosting tools and resources, combined with useful insights, articles, and findings from the fields of design and tech. The newsletter built for the creative community.
---
Hey and welcome to issue 121 👋
It has been over two years since I started Creativerly. Throughout those two years, I have used several ESPs (Email Service Providers) to send out my newsletter every week. Mailchimp, Mailerlite, Substack, I used them all and even played around with Revue and EmailOctopus. While I enjoyed using some of them and some not, I am more than happy to have found my home with Ghost as it is giving me, compared to the other ESPs mentioned, the best experience.
Back in January I published a blog post with some quick information about the reasoning why I moved my newsletter from Substack to Ghost. The last couple of days I edited the blog post, since quite a lot of people asked for some more insights.
I wrote about the fact, that Substack is actually a pretty good platform if you simply want to start writing a blog and sending out a newsletter without any hassle. The setup is super easy and once you are done you just write. Substack was a crucial part of my newsletter growth. But ultimately, if you are looking for more content control regarding adding tags to your posts, create pages, and customize your website, you should look for another option, same as I did, and Ghost was the perfect solution.
In the updated blog post I also touched the topic of why Substack became part of an online rant earlier this year. If you want to read the blog post you can do so right here.
If you have recommendations or feedback, drop me an email or a tweet. For now, enjoy the newsletter!  🥰
---
Apps, Software, Tools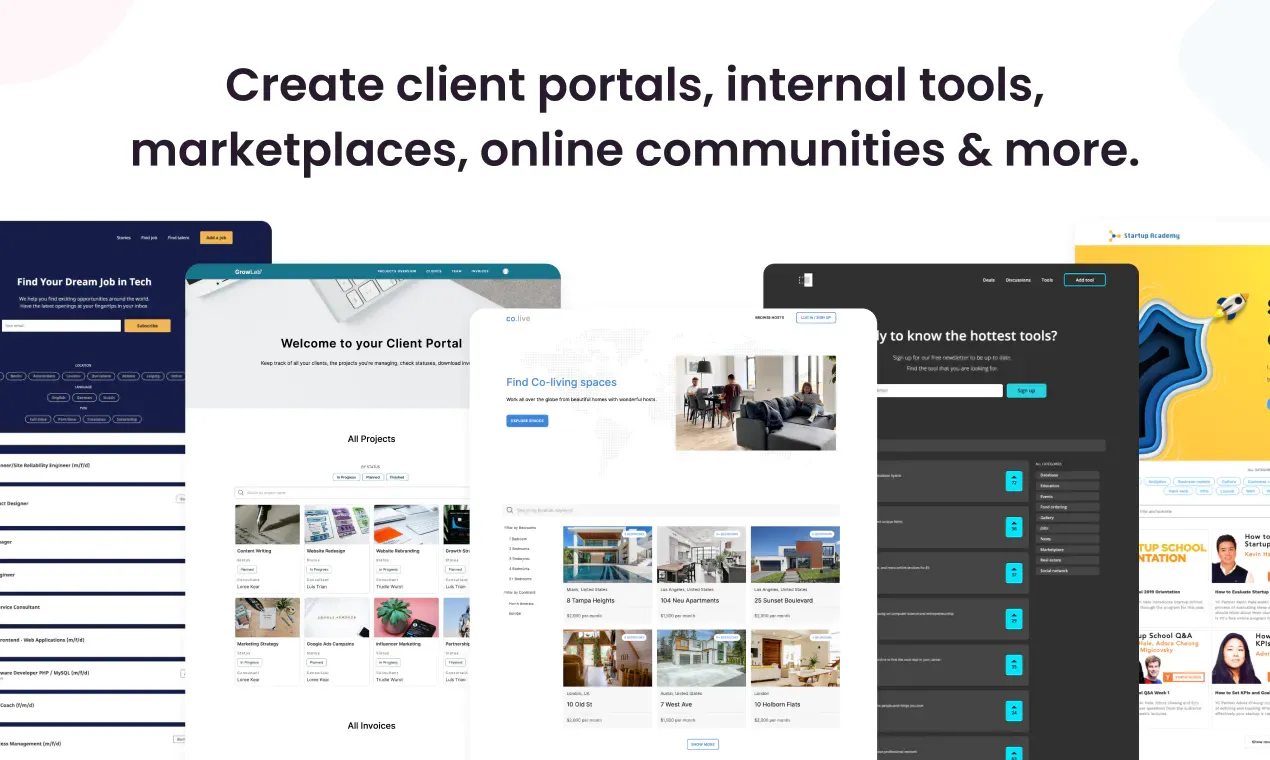 It is incredible to see how far the no-code movement has come, it is even more incredible to see how companies keep pushing their products forward. Softr is one of them. Softr gives you the power to create web apps and portals from Airtable databases, super fast and super easy. No matter if you want to build client portals, internal tools, marketplaces, online communities, resource directories, or websites, Softr makes it possible. And you do not need to write a single line of code. With Softr building your idea is as simple as building Lego. Start with a template or choose from over 70 pre-built blocks.
Any element can be completely customized. Softr gives you the power to build actual platforms and not just sites. All you need is an Airtable database and some creativity, and you are ready to go and turn your Airtable data into a full-stack web app with out-of-the-box memberships, payments, and business logic, all in one place. Softr also supports a wide range of integrations, like Zapier, Stripe, Mailchimp, and more. Softr's website itself is a great example of what you can build with it, since Softr's website is of course build with Softr.
The free plan gives you enough freedom to start working on your next project idea, the free plan even includes a custom domain.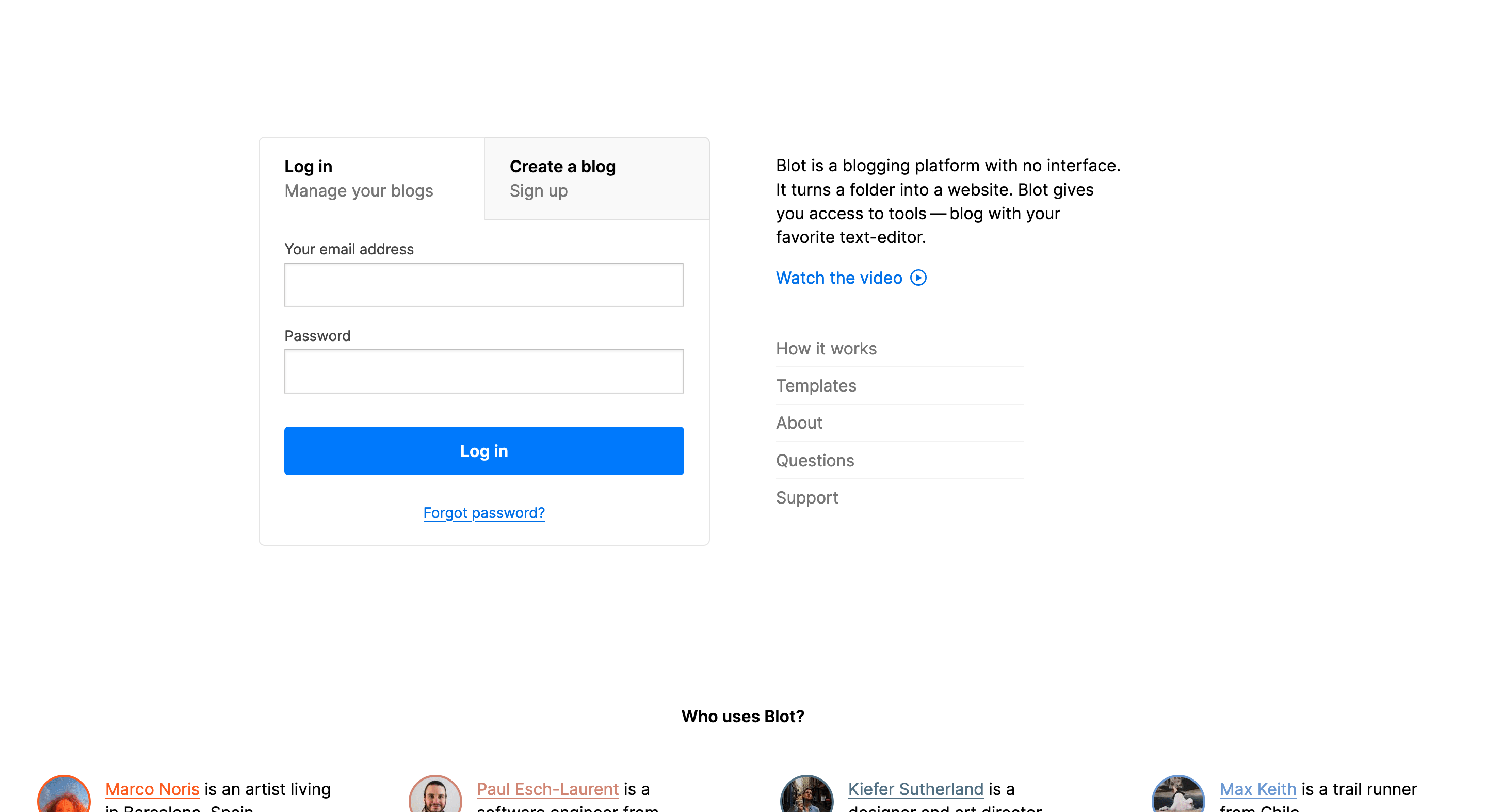 As I am currently rebuilding my personal website, I am still on the hunt for a minimal, and easy-to-use platform to host my blog. In a previous issue of Creativerly we took a look at Bloggi, a simple, lightweight, and yet powerful blogging tool, that offers a clean and distraction-free writing experience. While I have done my research I found out about Blot. Blot is a blogging platform with a unique approach because Blot has no interface. So, what does that exactly mean? Well, Blot allows you to turn a folder into a website. Seems crazy, right? Let us check out how Blot actually works.
Blot turns a personal folder into a blog. When you add files to your blog's folder, Blot turns them into blog posts. You can synchronize your Blot folder either with Dropbox or Git. This is an absolutely beautiful idea, as you can use your preferred writing tool to write your blog posts, and then simply save them as a .txt or .md file within the folder you then synchronize with Blot. I am a huge fan of Blot's idea, as I am a huge fan of the simplicity of plain text files. Blot is constantly maintained and gets regular updates, there is even a public changelog, where you read about all the updates. Blot provides five templates you can use for your website. If you are a developer you can create your very own theme.
Hosting your blog using Blot costs you $4 per month, but since the source code of Blot is also available through public domain, you can also self-host it. If you want to learn more about Blot, head over to their website.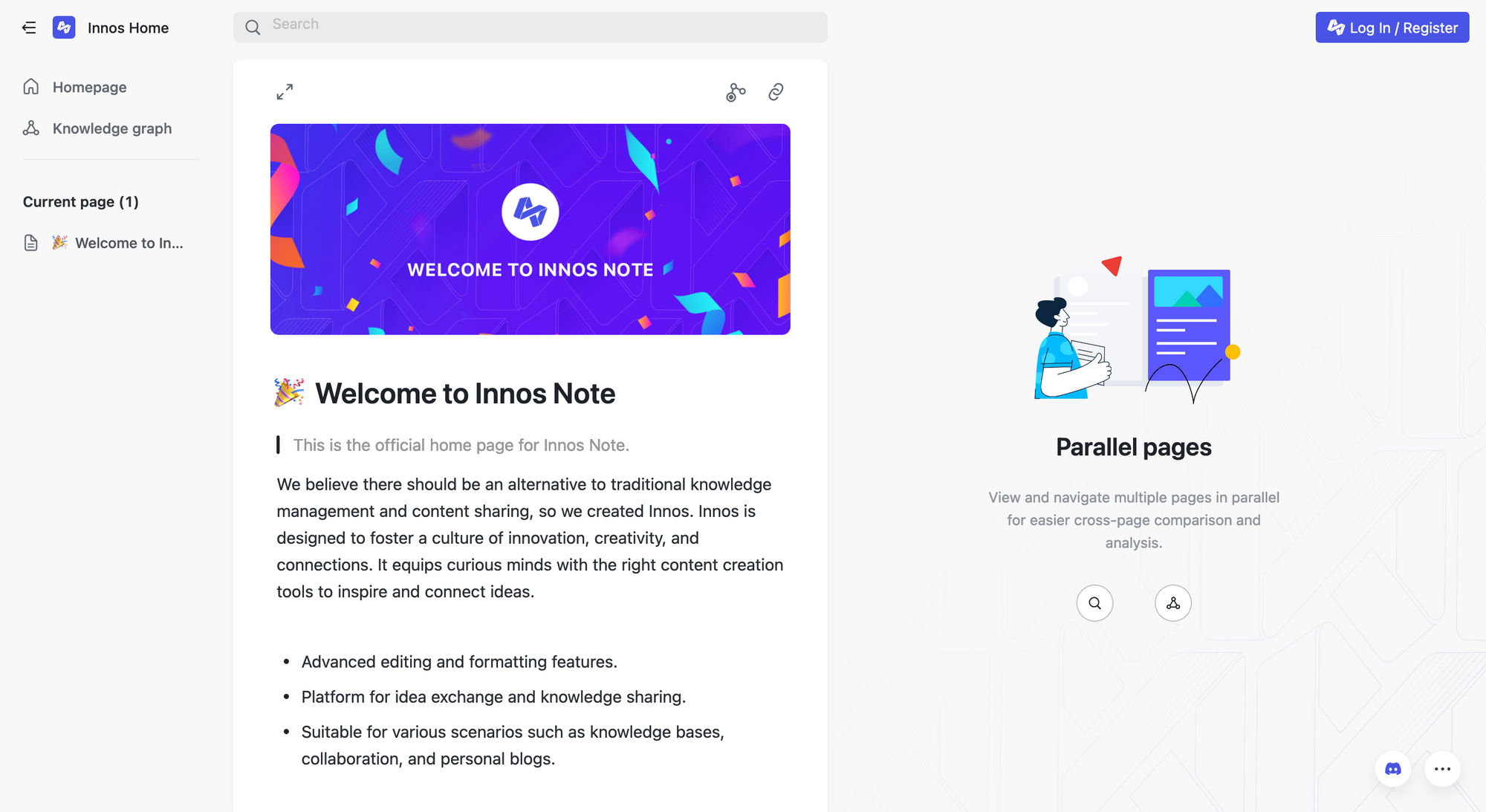 Innos Note is a new contender in the field of personal knowledge management. There is not much information about Innos Note yet, but here is what I have found out. It seems like Innos Note is currently only available as a web app. Innos is designed to foster a culture of innovation, creativity, and connections. It equips curious minds with the right content creation tools to inspire and connect ideas. Innos features advanced editing and formatting, they claim to be a platform for idea exchange and knowledge sharing, and it is the right tool for knowledge bases, collaboration, and personal blogs.
Innos Note highlights five features that differentiate it from other note-taking and knowledge management tools: 1. Parallel pages - Innos Note features parallel pages, so you view content side-by-side or navigate multiple content pages so you can analyze and ideate better. 2. Content blocks - those content blocks allow you to manage content components with flexible styles and settings (similar to what we already have in Craft). 3. Playground - the playground feature lets you build gadgets that enrich content and maximize engagement (not quite sure if that is something users are looking for within a knowledge management tool as it needs basic or advanced coding skills). 4. Knowledge Graph - a feature we already know from most of the other knowledge management tools out there like Roam or Obsidian, basically it lets you visualize your knowledge network. 5. Auto suggestions - Auto suggestions automatically recommend related content so you don't leave important references behind.
I will definitely keep an eye on Innos Note to see what they are building and how they are evolving.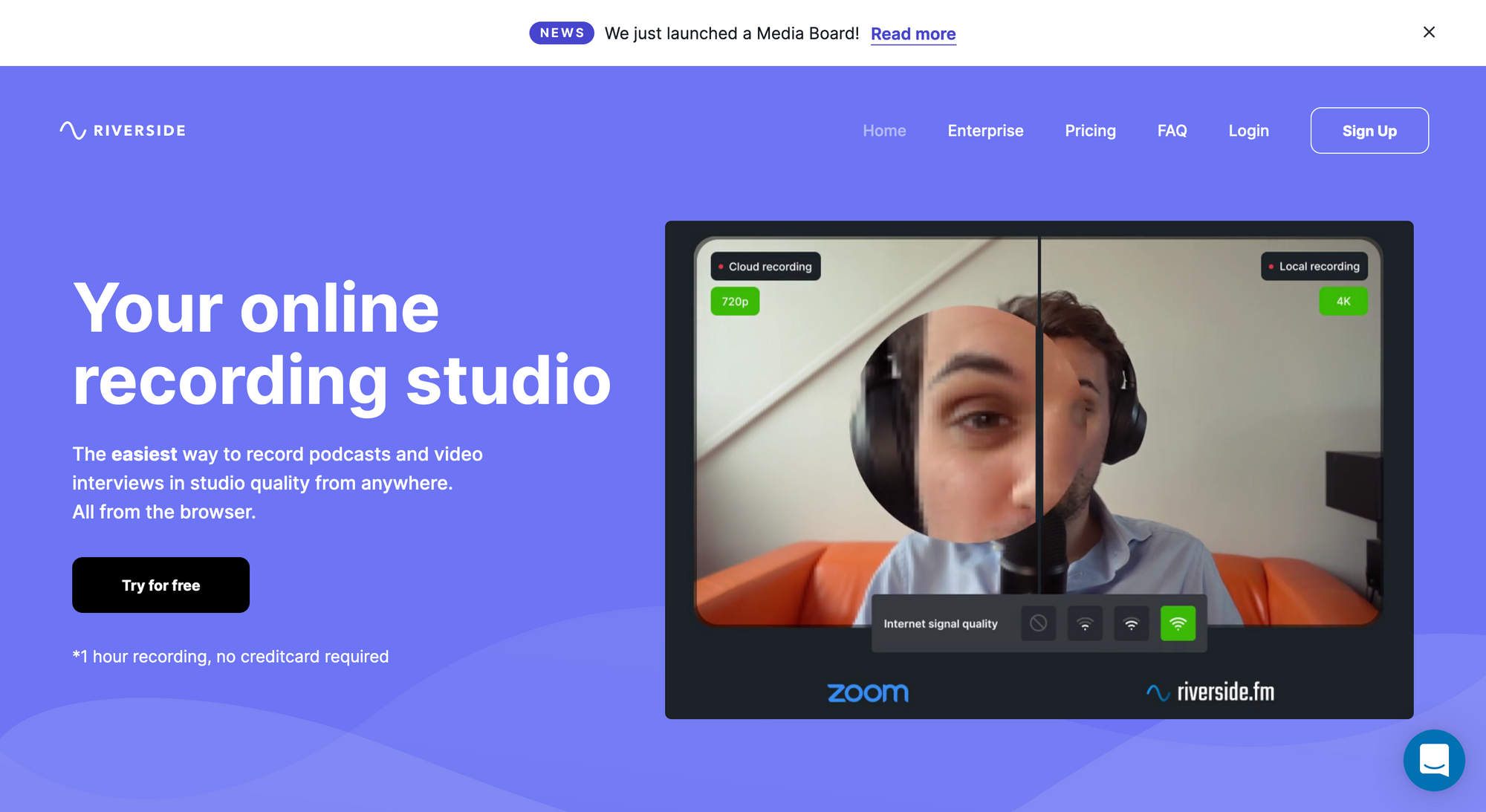 Riverside is a super handy solution and probably the easiest way to record a podcast and video interviews in studio quality from anywhere, simply by using your browser. If you ever wanted to start a podcast and invite guest to interview but struggled setting everything up, Riverside is the way to go.
One of the coolest features of Riverside, the quality of the recording is not dependent on the internet connection, your recording will always look and sound amazing since local recording is supported up to 4k. All your recordings are securely uploaded so you do have to worry about data loss. Scheduling and inviting your guests is also incredibly easy, it needs only one click. Type in the email of your guest, send the invite, and everything is set up.
A fun feature of Riverside is the Mediaboard, which lets you upload audio and video files by dragging them to your media library, so you can play them during the call or recording. Riverside offers all the features you need to kickstart your next podcast project, everything is straight at your fingertips.
You can start using Riverside for as low as $7.5 per month (yearly billing) which gives you a maximum of 2hrs of recording per month. Super useful tool!
---
Useful Resource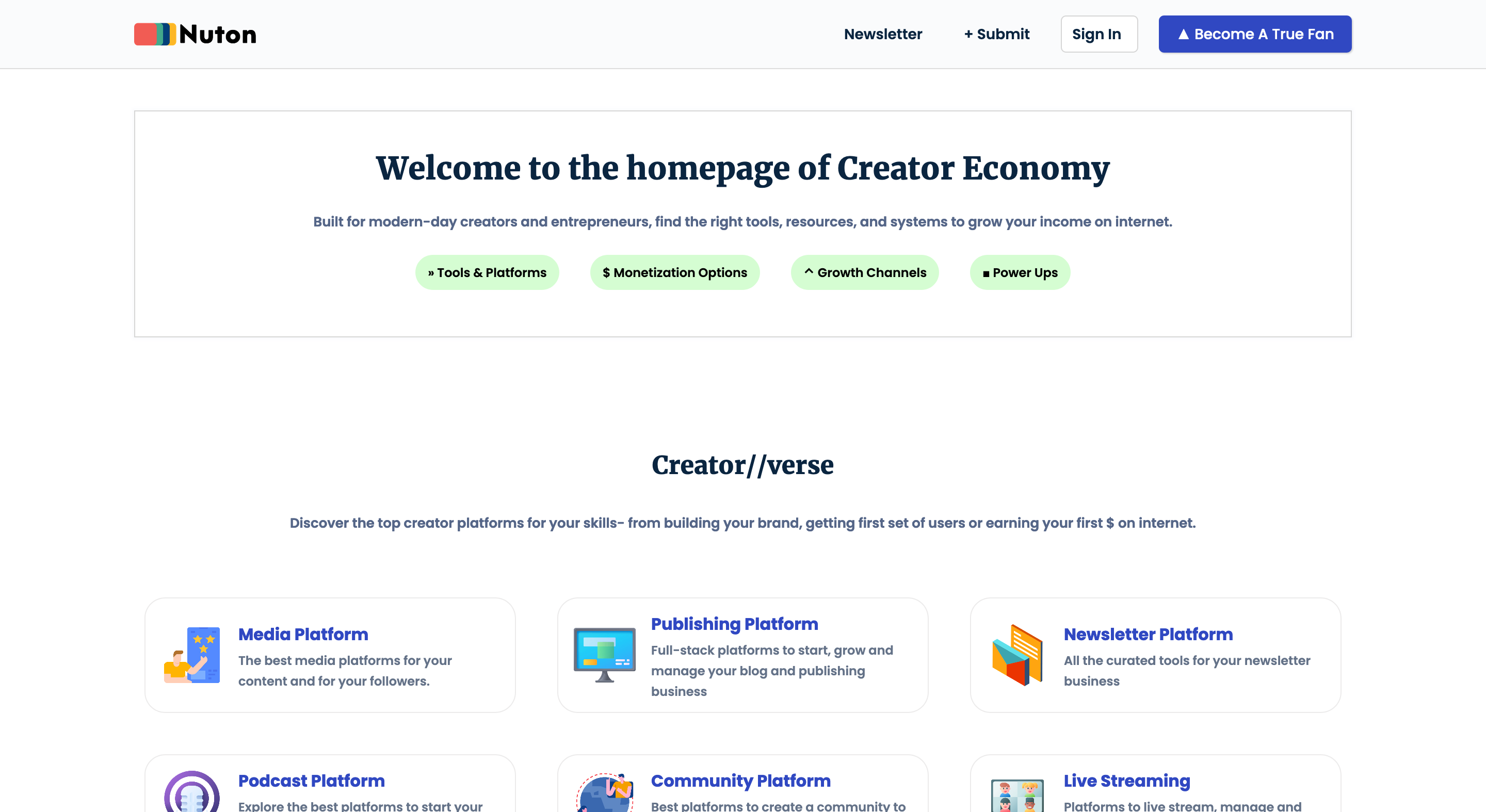 Nuton is a super directory for creators and entrepreneurs, to find the right tools, resources, and systems to kickstart their projects and become part of the creator economy to grow on the internet. Nuton gives you a great overview of the top creator platforms for your skills- from building your brand, getting the first set of users, or earning your first $ on the internet.
---
Mental Wealth
➢ How to motivate yourself to change – "Struggling to change in the ways we want to is a common human experience. Many of the practical steps required aren't easy or fun. This makes motivation a challenge. No matter our excuses – not enough time, not enough energy, not enough money – we often say to ourselves that 'it's too hard', 'I can't be bothered' or 'I'm just not that motivated.' How can we find more motivation to make positive changes in our lives? There are so many books out there meant to help you take the necessary steps toward achieving change – to become more organised, say, or more confident, or more ambitious, or to eat more healthily. They tell you what you need to do to enact change, and that's great if you're ready to commit to it. But what if your problem isn't so much that you don't know what to do; rather that, for whatever reason, you can't even get yourself started. Perhaps you don't feel confident in your ability to complete all the recommended steps towards change? Maybe the potential benefit of the change doesn't seem all that important right now and you just keep putting things off? Or what if there are so many changes you'd like to make that you just don't know where to start?"
➢ The Mental Benefits of Being Terrible at Something – "You've probably heard of the 80/20 rule before: once you've learned or figured out the first 80 percent of something, the effort it will take to learn the last 20 percent might not be worth it—because the last 20 percent is almost always the hardest. The 80/20 rule, also called the Pareto principle, applies to both physical and cognitive pursuits. For example, it's usually easier to go from running nine-minute miles to six-minute miles than it is to go from running six-minute miles to five-minute miles; it's easier to get proficient at chess than to become an international grand master."
➢ Recognizing When It's Time for a Change – "It's been a rough year for all of us—no one has a corner on the stress caused by the pandemic. For educators in particular, there has been a continual upheaval to their work since the pandemic started, and it's made some teachers reevaluate where and what they teach, or whether they want to keep teaching at all. For the last eight years, I've been working with burned-out teachers as a career coach after a 33-year teaching career. When I start meeting with teachers, they always rush to tell me that they love their students. Many say that if they could be left alone to teach, they would be happy to stay in the profession, but they have found that the other aspects of the job—testing, administration, parents—have become increasingly hard to tolerate. Some teachers feel they are no longer making the difference that they wanted to make when they started their career."
➢ The power of anti-goals – "How can you be more productive? That's tough to answer. But, if you invert that into: What are things that make me NOT productive and how do I avoid it? Suddenly, it becomes easier to answer. Tricky questions occur when we don't know yet what the answer would be. We don't know yet what best practice there is. We don't know yet what we want to accomplish. This is where anti-goals will be useful. It's a guiding principle that you can use to be less wrong."
---
Appendix
➢ Featured Newsletter
Recently, I stumbled across Landing Letter, and immediately became a subscriber. Do you ever wanted to get a weekly teardown of landing pages that convert? Then, Landing Letter is exactly what you are looking for. Landing Letter is a weekly newsletter where Ankit tears down high-converting landing pages and talks about copywriting, data flow, and placement of elements.

It is an insanely valuable resource if you want to get insights on why certain landing pages and certain content works best. Learn from it and apply possible improvements to your own landing pages. Subscribe now!
➢ ICYMI
During WWDC week Apple announced the winners of the 2021 Apple Design Award. Six new award categories recognize developers around the world for innovation, visual and graphics, interaction, delight and fun, inclusivity, and social impact. You can browse through the winners from the different categories here.
➢ Quick Bits
Will Apple Mail threaten the newsletter boom? / Summer Game Fest 2021 highlighted a huge problem in the gaming industry / Apple wants 30% of creator-app Fanhouse's earnings. It's pushing back / Bitcoin now legal tender in El Salvador, first nation to adopt cryptocurrency / Twitter is bringing Revue newsletter signup buttons to profiles / EA source code stolen by hacker claiming to sell it online /
---
Twitter thoughts
---
Till next time! 👋‌‌‌‌
Support: Do you have a friend who is looking for inspiration, news about design, and useful tools and apps? Forward this newsletter to a friend or simply share this issue and show some support. You can also show some love by simply clicking the button down below and keep this newsletter a sustainable side-project by buying me a coffee. ☕️ 🥰
---
---
Some of the links in my newsletter and my blog posts are affiliate links. Those links are marked by an asterisk. "*". If you buy something through the link, the product will not cost you anything more, but I will receive a small commission which not only supports Creativerly and my work, but also helps me to keep this publication a sustainable side-project.