Newsletter
A different approach to note-taking & Focus on the what, not the how
In this week's issue of Creativerly: Never miss a deadline again, the psychology behind meeting overload, three theories for why you have no time, and a lot more.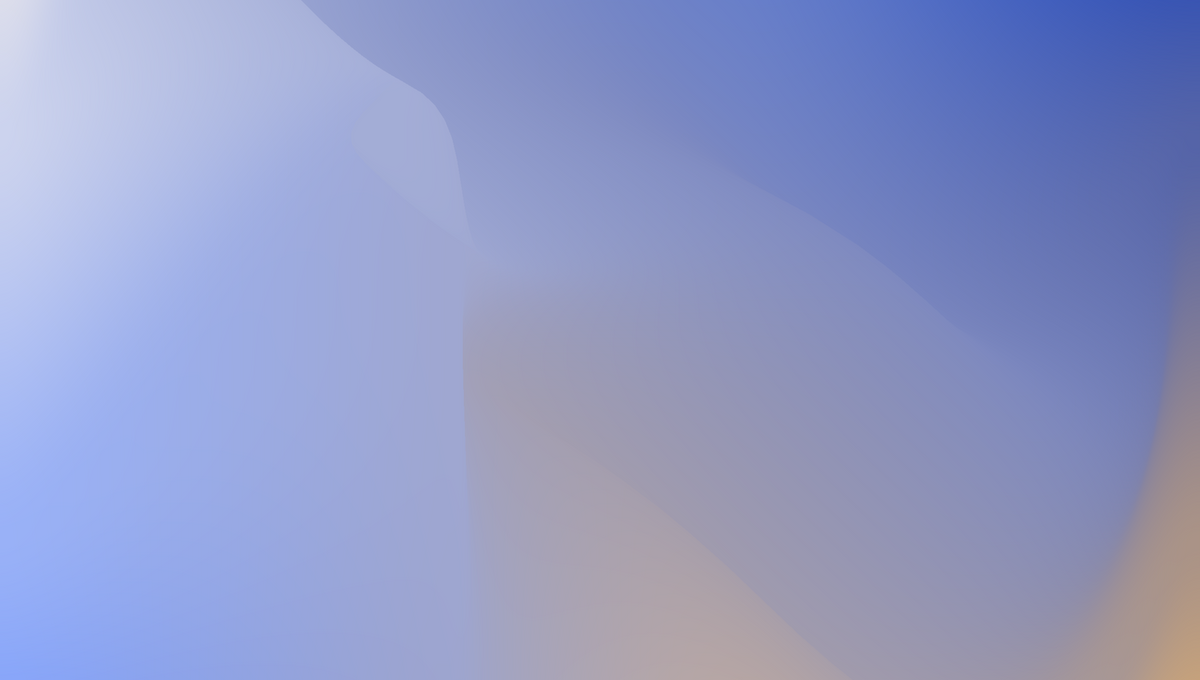 You are reading Creativerly, the weekly digest about creativity and productivity-boosting tools and resources, combined with useful insights, articles, and findings from the fields of design and tech. The newsletter built for the creative community.
---
Hey and welcome to issue 146 👋
Just like that, we are entering the last month of 2021. Right now, as I am writing these lines it feels like this year did not exist, it went by incredibly fast. It still feels like we just entered the year 2021, but within the blink of an eye, we are about to enter 2022. I did not really set myself any goals regarding Creativerly this year, besides simply continuing to create and share content consistently. I am super happy and proud to have achieved that. Creativerly launched back in January 2019, and since then I crafted the newsletter every single week (with some exemptions when I went on holidays and scheduled two newsletter issues upfront). Writing my newsletter became a habit, which is simply part of my week now. It took some time to make the habit stick, but the consistency was the key to success. For 2022 I want to focus on creating more content, i.e. writing more blog posts and more long-form content. I already got a lot of stuff in the pipeline, but I need to re-organize my focus and my priorities to actually get to it. Besides that, I also want to bring back more interviews as those were always very well-received.
Looking back at 2021, it was once again an exciting year for Creativerly, as the newsletter grew to over 1300 subscribers, the website traffic grew to over 3500 page views per month, I launched the Creativerly Community, advertising within Creativerly, updated the website design, my post about privacy-friendly Google Analytics alternatives went kind of viral on Hacker News and is now the top Google search result, Creativerly's Twitter account grew to over 400 followers, and ultimately I made loads of new connections with creative minds.
As I just mentioned advertising within Creativerly, if you want to purchase a sponsor spot or classified ad spot still for this year, now is the right time to do. There are only two sponsor spots and nine classified spots left. So you better be fast. I am also going to open up additional spots for the first quarter of 2022 soon, so keep an eye on creativerly.com/advertise as you will be able to see the available dates there within the embedded Airtable database. For any further information or enquiries, simply drop me an email at advertise@creativerly.com. I am looking forward to hear from you soon.
If you have recommendations or feedback, drop me an email or a tweet. For now, enjoy the newsletter!  🥰
---
Finding Great Podcasts is Hard. We can Help.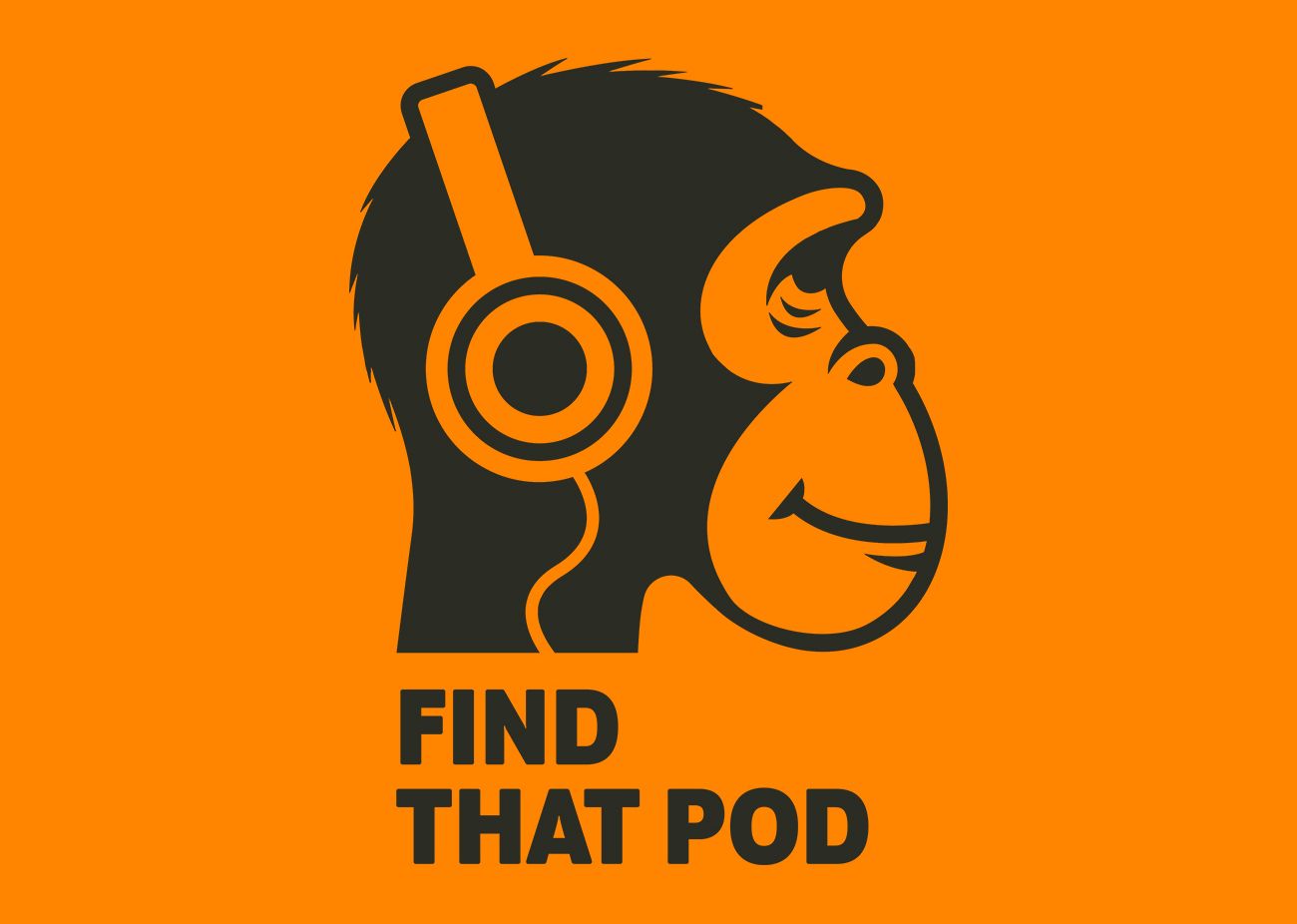 Discover the best little-known podcasts in the world by subscribing to Find That Pod - a weekly newsletter bringing you 5 hand-picked shows we know you'll love. Subscribe for FREE today.
---
Apps, Software, Tools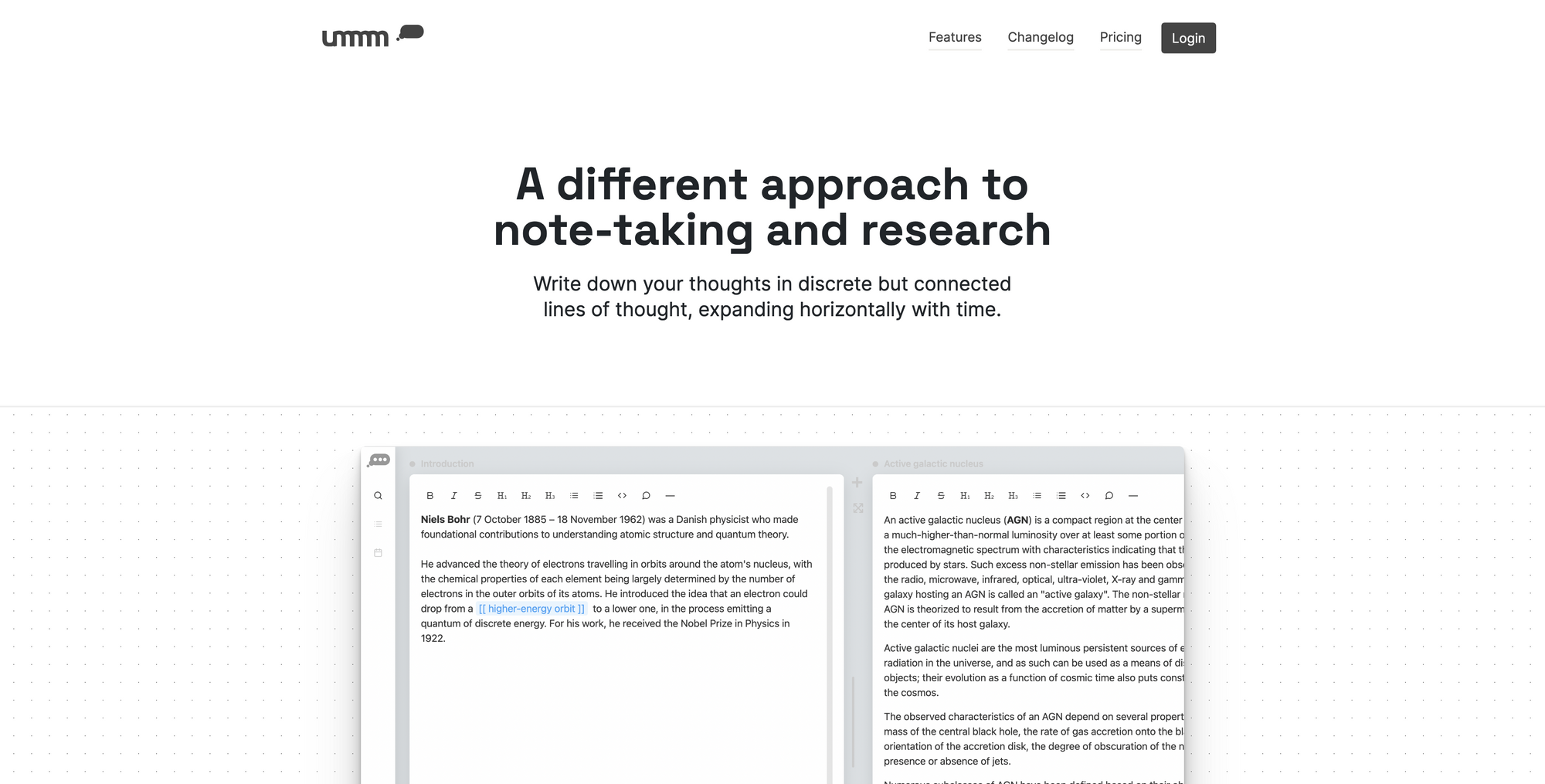 There is one thing most of the new and upcoming note-taking tools have in common, they are not only note-taking tools, they rather offer powerful features to empower the way we are connecting our thoughts, research, learn, and build up a knowledge base. Ummm is another tool entering this field and it features an interesting approach. As you write down your thoughts within Ummm, your lines of thought expand horizontally in time.
Your brain is for thinking, and not only storing ideas. The way you take notes and jot down your thoughts should resemble that. Ummm is a great tool, specially made for professional thinkers and researchers. Writing and taking notes within Ummm is pure joy. It is markdown-based which means you can focus on your writing and quickly add formatting to your plain text notes. If you want to block out any distractions, Ummm lets you enter its so-called Focus Mode that helps you to stay in your train of thought. To reference any of your previously taken notes, Ummm lets you cross-link to any other of your notes, preview it and insert a copy with just one click.
To stay in the loop, and never lose track of your unfinished ideas, Umm lets you set up email reminders to come back to your notes if needed. Sometimes, simple notes are not enough, and maybe you would like to see your thoughts and ideas within a bigger picture and visualize them, in a mindmap for example. Ummm has mindmaps already built-in, so you can visualize your ideas whenever you want. While capturing your ideas in thoughts in Ummm, you have the possibility to choose from different types of cards, so you can be sure to always have the right format at your fingertips. In the process of your thinking and research, Ummm creates your train of thought. Every embedded website and link will be placed right next to your notes. This way, you can avoid switching context, and instead focus on your thinking. With Ummm you no longer have to open a new tab every time you want to look something up on a website.
You can sign up to Ummm right now and try it out with one train of thought for free, test it as long as you want and only upgrade if you need unlimited paths, cards, and reminders. Ummm Pro will cost you $9 per month or $90 per year.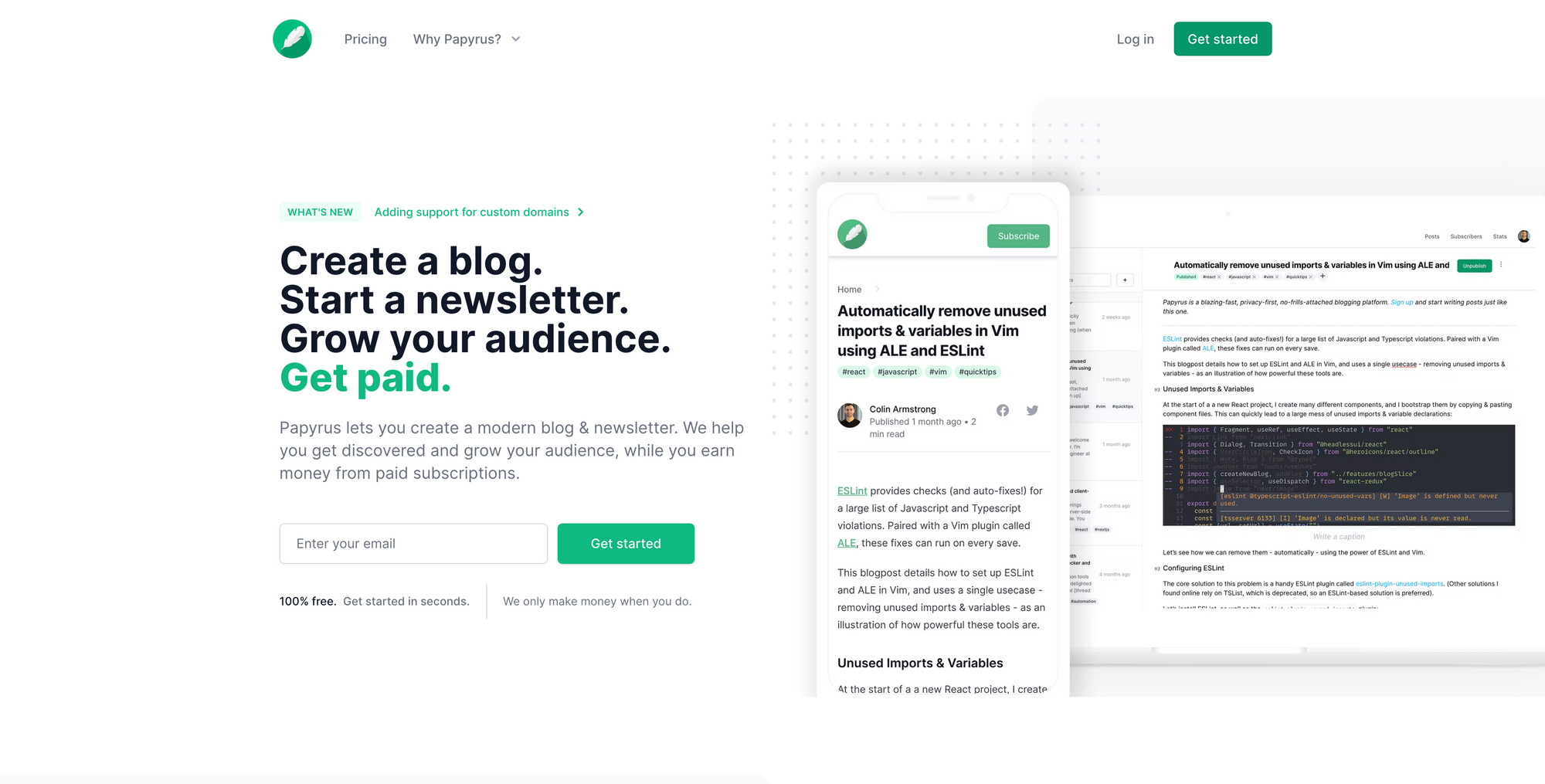 In last week's issue of Creativerly, I wrote about Presage, a rising tool to set up a publication and earn revenue from your writing. This week, I would like to introduce another tool entering the competition against Medium, Substack, or Ghost. Papyrus lets you set up and create a modern blog and newsletter with just a few clicks. Once everything is set up, it gives you all the important tools and features to set up a paid publication and earn revenue from the content you create. Papyrus lets you create and publish markdown-based blog posts to a blazingly fast and privacy-first blog. With Papyrus you can be sure that your blog looks great no matter on which device your readers are consuming your content. But Papyrus not only gives you the possibility to publish blog posts, you can also let your readers subscribe to your dedicated newsletter and send them the blog posts directly to their inbox.
As your publication and reader-base grows, you probably want to weigh your options of how to monetize it. Papyrus integrates with Stripe seamlessly, so you can set up a subscription fee to access your best posts. Blog posts created within Papyrus simply look beautiful. There is no bloat and no distractions for your readers, so they can focus on what really matters, the content. Write using a beautiful Markdown-based editor and insert images, URLs and code. Also, Papyrus does not lock you in. Whenever you have the desire to move on and switch to another platform, you can export all your posts at any time. Since Papyrus packed SEO best practices into their platform straight out of the box, you can kickstart your growth right from the beginning as you are starting publishing with Papyrus. You can always be sure, that your site will load blazingly fast, there are no ads, no popups, no cookies, no trackers, no bloat, it is just your site and your content.
Therefore, Papyrus is also very privacy-focused. Your readers will never get tracked, and no cookies will be stored. You can use Papyrus completely for free, forever. The free plan gives you access to unlimited blog posts and page view, a newsletter with unlimited subscribers, page view metrics, and customization and branding. Only if you want to use your custom domain, you would need to pay a one-time fee of $50. Once you set up a paid publication with a subscription fee, Papyrus takes a 5% cut.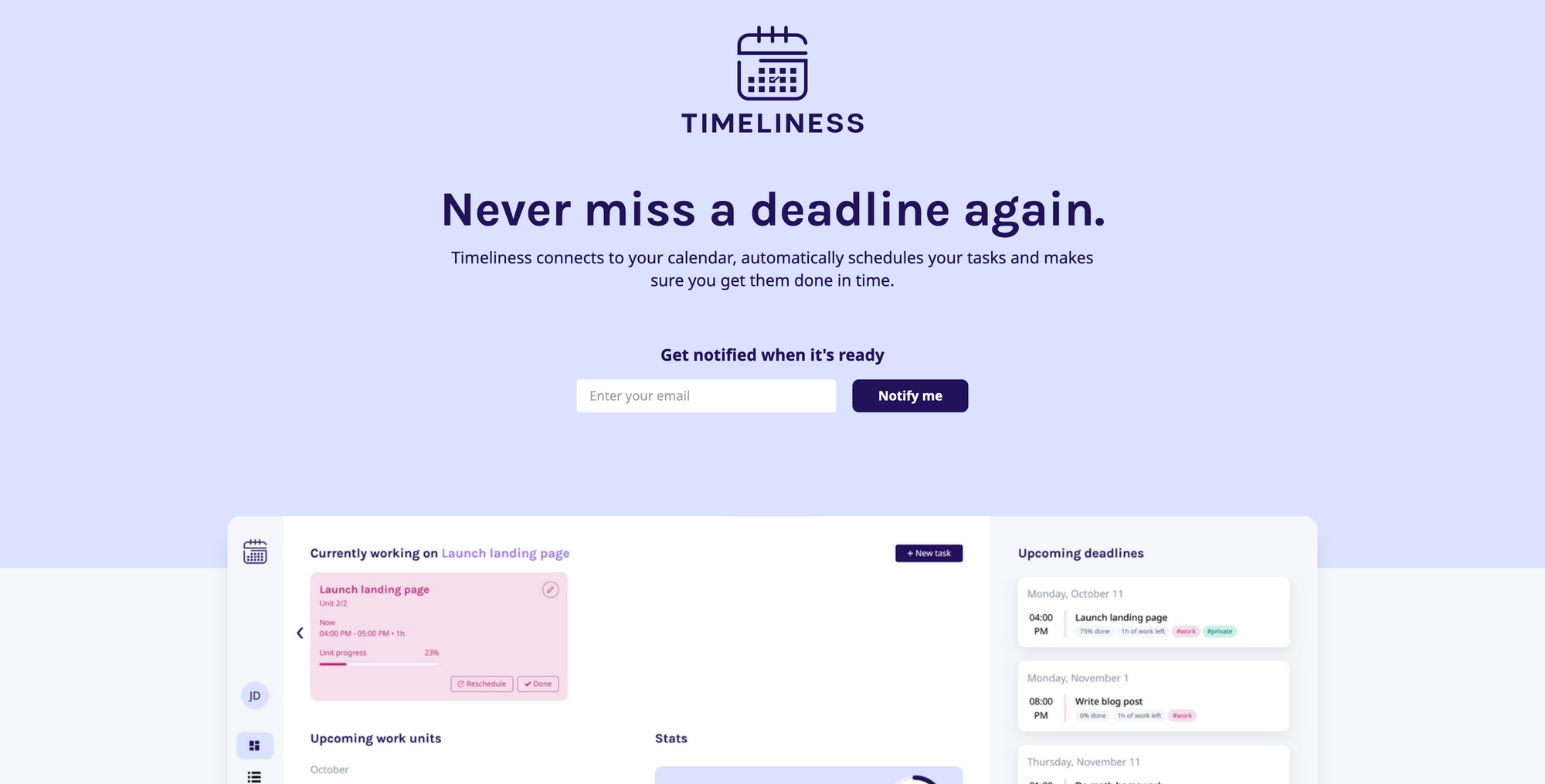 Timeliness wants to help you never miss a deadline ever again. By connecting to your calendar, Timeliness automatically schedules your tasks and makes sure you get them done in time. I always encourage people to give tasks a dedicated timeline, deadline, or schedule, because if you are not scheduling your tasks, they are simply sitting within an endless growing list. If you are scheduling your tasks, like you would do while practicing time blocking, you put action on your tasks. Timeliness wants to encourage you to schedule your tasks and get them done. In fact, Timeliness does the work of scheduling your tasks automatically. Whenever you create a task, Timeliness will ask you for an estimate of how much time you need to complete the task. As a next step, you need to set a due date.
When you have done this with all your tasks you need to get done within a day or week, Timeliness will plan out the perfect schedule for getting your tasks done in time, fitting exactly your availability, since Timeliness is connected with your Calendar. Timeliness achieves that by splitting your task into smaller chunks, so-called work units. Those work units are events, that Timeliness automatically schedules for you. It scans your Calendar for your task workload and your availability. Therefore, Timeliness has enough information to plan out your tasks and your events. If you are struggling with scheduling your tasks and especially your day or week, Timeliness is a super helpful companion tool to get your stuff done. Besides that, Timeliness is also privacy-first. You do not have to worry about your calendar data, since that data stays exactly where it belongs. Timeliness only syncs and saves data directly related to your tasks.
Timeliness also uses bi-directional sync which means if you change an event created by Timeliness, it will be synced back to Timeliness and the other way around. Timeliness is still in an very early stage, so you can sign up now to get notified whenever they launch their beta to test out their features.
Siter lets you design and create your website without writing a single line of code. This no-code website builder gives you the possibility to design in the cloud and create websites seamlessly. Siter features intuitive design tools and a beautiful interface which should be already familiar if you have used design tools before. Building a website with Siter just feels like designing one. Although Siter is a non-code website builder, you have the possibility to insert custom code if you want to. Additionally, Siter also gives you access thousands of free icons to use on your website and directly integrates with Unsplash so you are able to search for millions of high quality and royalty‑free photos.
When you are ready to publish your site you can decide if you want to use a free Siter domain or use your own custom domain. The free Siter domain lets you publish straight away. If you need collaboration support, Siter helps teams create websites faster and better from start to finish, together. Siter is still in a relative early stage, so they got a lot of great features on they roadmap. Since, we just talked about collaboration, Siter is bringing real-time collaboration to building websites. To make use of colours, fonts, styles, over and over again, you will be able to create design systems directly within Siter. On top of that, Siter also wants to let you import your Sketch or Figma designs into Siter, so you can launch your website without adding any additional code.
Siter offers a very simple pricing. There is a yearly plan which will cost you $9 per month ($108 billed annually), or a monthly plan which will cost $12 per month. Both plans give you access to unlimited pages and projects, unlimited team members, domain included, hosting included, and a free HTTPS certificate.
---
Useful Resource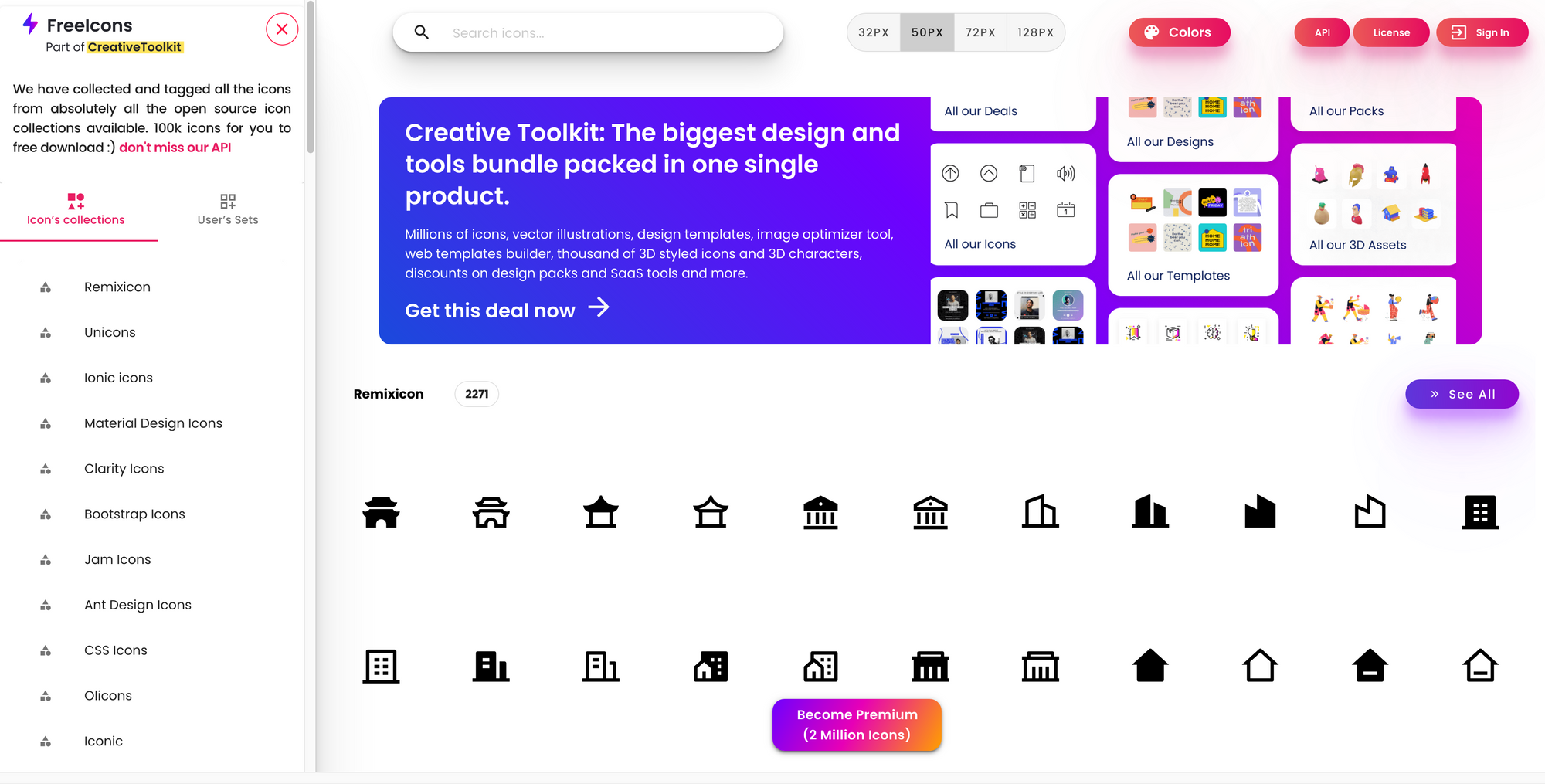 There are countless of high-quality, free-to-download icon resources out there. It is hard to keep track of all of them. Therefore, I am super excited to have found the FreeIcons library by Iconshock. Iconshock has collected and tagged all the icons from a wide range of free and open-source icon collections. It is a superb way to scroll through all of them and have them nicely organized and structured within one place. Over 100k icons available at your fingertips, for free.
---
Mental Wealth
➢ Focus on the what, not the how – "What you do is more important than how you do it. Doing an important task badly is better than doing a low value task well. Engineers are particularly susceptible to this, because we love the how."
➢ Three Theories for Why You Have No Time – "One of the truisms of modern life is that nobody has any time. Everybody is busy, burned out, swamped, overwhelmed. So let's try a simple thought experiment. Imagine that you came into possession of a magical new set of technologies that could automate or expedite every single part of your job. What would you do with the extra time? Maybe you'd pick up a hobby, or have more children, or learn to luxuriate in the additional leisure. But what if I told you that you wouldn't do any of those things: You would just work the exact same amount of time as before."
➢ When a tricky task makes your brain hurt, here's what to do – "Given the choice between completing a gruelling mental task or lounging at the beach, which would you choose? If you are like most people, the thought of soaking up the sun beats solving problems at the office. However, this widespread temptation to avoid difficult mental tasks is not a straightforward sign that many of us are inherently lazy. In many contexts, mental work can be genuinely unpleasant, experienced almost as an 'itch' in your mind that urges you to stop and do something else."
➢ The Psychology Behind Meeting Overload – "Everyone hates meetings. Attending too many can be highly stressful and tiring, and both productivity and quality take a hit when employees tune out, become demotivated, and lose valuable heads-down work time. As such, it's hardly a surprise that managers in one survey reported 83% of the meetings on their calendars were unproductive, or that US-based professionals rated meetings as the "number one office productivity killer.""
---
Classified Ads
Get the free IdeaEconomy.net newsletter - The weekly digest of what is working in the Creator Economy. Build your audience. Grow your Business.
Doing Content Right is a complete guide on writing, creating, and scaling a blog in 2022, complete with video sessions, a community, printable exercises, and more.
One-stop subscription to solving every task on Mac and iPhone. You have tasks, Setapp has apps. Setapp membership gives you an all-access pass to curated Mac and iOS apps.
If you are interested in putting your tool, product, or resource in front of over 1300 creative minds, consider advertising in Creativerly and book a sponsor or classified ad spot. Find all the important information at creativerly.com/advertise.
---
Appendix
➢ ICYMI
The Creativerly Community is here. If you are looking for a dedicated place to discuss all sorts of topics relating to creativity, productivity, apps, and tools, or if you want to connect with like-minded creative folks, join the Creativerly Community on Discord now. Simply follow this invite link and become a member. I am looking forward to meeting you all on Discord.
➢ Quick Bits
Facebook routinely allows ads comparing vaccines to the Holocaust / Apple announces 2021 App Store Award winners, highlighting 'connection' as trend of the year / Meta's failed Giphy deal could end Big Tech's spending spree / Jack Dorsey pulled a Meta with his Block rebrand of Square / Uber to pay $9m in sex-assault report settlement / Twitter mistakenly suspended users after extremists abused its private image policy / Match settles legal fight with Tinder founders for $441m / Web3 Is Silicon Valley's Rosy Vision of the Future / New Twitter CEO has already begun a 'major reorganization'
---
Twitter thoughts
---
Till next time! 👋‌‌‌‌
Support: Do you have a friend who is looking for inspiration, news about design, and useful tools and apps? Forward this newsletter to a friend or simply share this issue and show some support. You can also show some love by simply clicking the button down below and keep this newsletter a sustainable side-project by buying me a coffee. ☕️ 🥰
---
---
Some of the links in my newsletter and my blog posts are affiliate links. Those links are marked by an asterisk "*". If you buy something through the link, the product will not cost you anything more, but I will receive a small commission which not only supports Creativerly and my work but also helps me to keep this publication a sustainable side-project.