Newsletter
How to think better & A file storage network for you, your files, and your friends.
In this week's issue of Creativerly: Save your files in a decentralized storage, everything to run your freelance business, how to think better, and a lot more.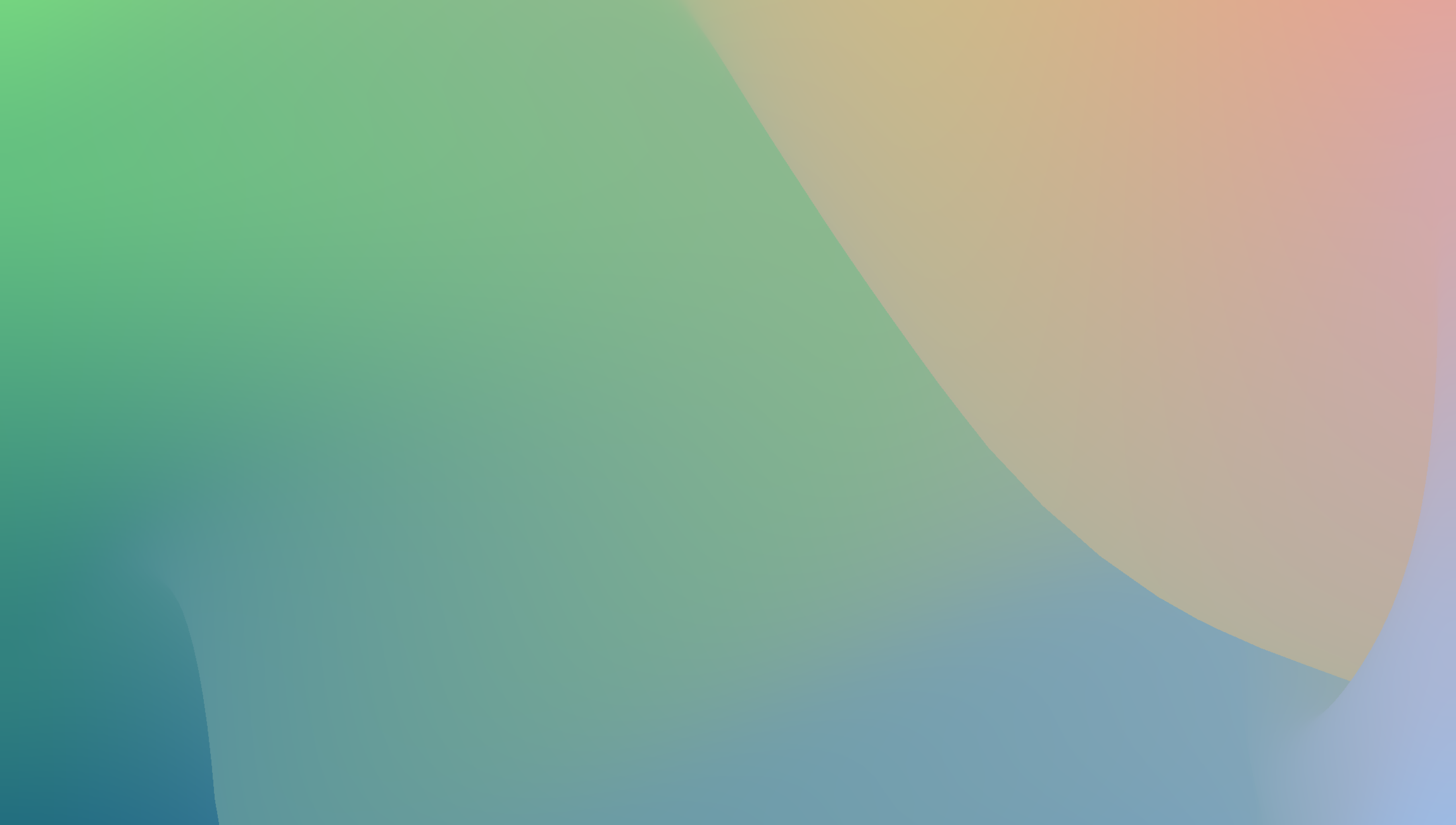 You are reading Creativerly, the weekly digest about creativity and productivity-boosting tools and resources, combined with useful insight, articles, and learnings from the fields of design and tech. The newsletter built for the creative community.
---
Hey and welcome to issue 83 👋
What a week! A quick roundup: Oracle wins bid over Microsoft in the fight for TikTok (they just reached 100M users in EU), NVIDIA bought Arm Holdings, Dominic Thiem won his very first Grand Slam title (let's go Dominic), Samsung unveiled another Galaxy Unpacked Event for 23rd September, Facebook patched a bug that let anyone find out which private groups you've joined, U.S. Customs brags about seizing 'counterfeit Apple AirPods.' (actually, they were legit OnePlus Buds), Airtable, one of the most-popular low-code startups just raised $185 million at a valuation of $2.585 billion (damn!), Amazon Music is adding Podcasts including its original shows, a whistleblower says Facebook ignored global political manipulation, and Apple announced its newest iPad Air.
Besides all of that, we are still right in a global pandemic, wildfires are burning across America, and the cops who killed Breonna Tyler are still not arrested. It is hard nowadays to keep up with all the news happening around somebody.
That is one of the big reasons why I love Blogs or more specific newsletters so much. If you find a newsletter that is really delivering great value they filter the noise for you and deliver only the meaningful stuff straight to your inbox. I am also one of the rare species who is still using an RSS reader, to follow up with my favorite blogs and news sites. Back in issue #80 I wrote about Gaby Goldberg's great essay on why content curators are the new content creators. So many content gets created every single day, so we need experts in different niches who filter and curate this content, so we are actually able to consume it.
If we take a look at the top Substack Publishers we see a lot of newsletters/publications from the fields of politics, technology, economy, and sports. Those publications have thousands of subscribers who prefer curated news straight in their inbox instead of subscribing to a lot of different newspapers.
But there are also smaller (compared to those huge Substack publishers) newsletter creators and content curators. For example, Nic Getkate who is curating The Slice, the weekly email that keeps founders up to date with emerging SaaS, hot podcasts, and actionable resources to grow your project. Nic shares his take on awesome tools, news, resources, communities, and more, every single week to over 800 subscribers. If you want to be part of this you can sign up here or if you want to get a taste of The Slice you can check out previous issues here.
---
Apps, Software, Tool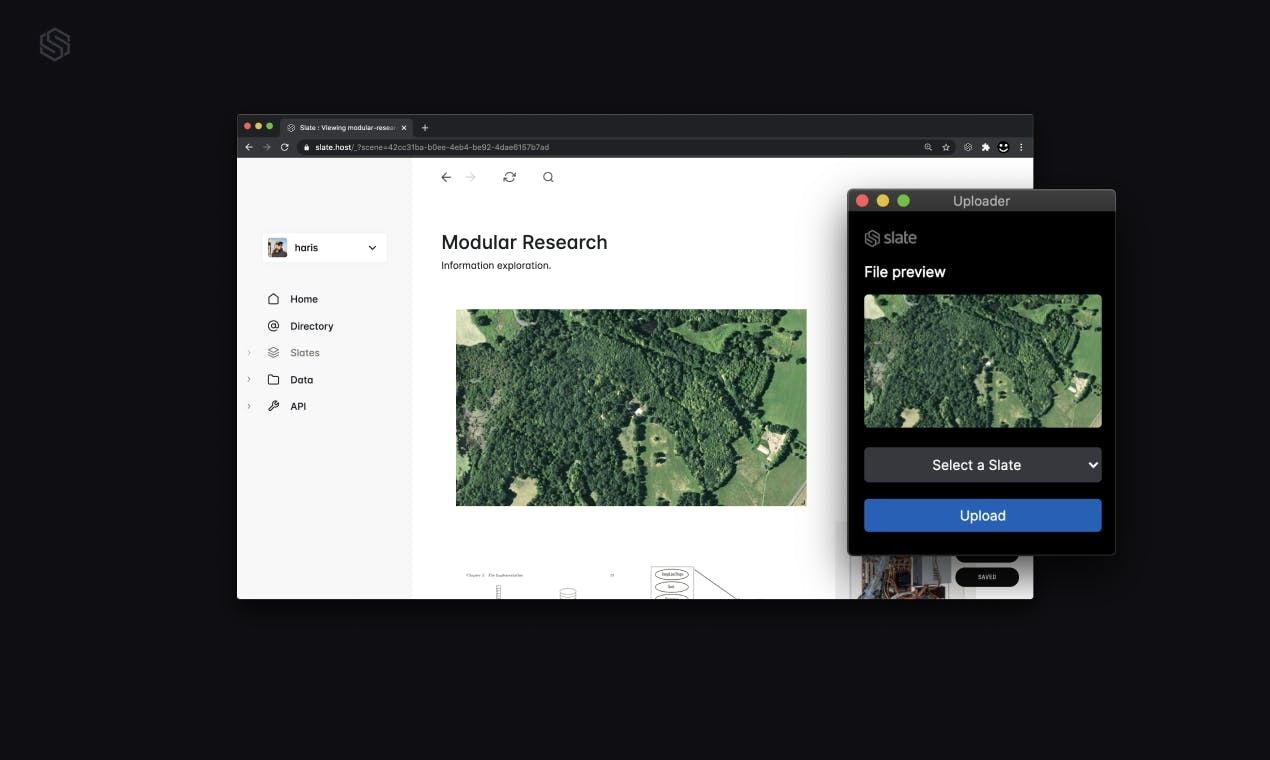 Slate is a beautiful, fully open-source file-sharing network designed for research and collaboration. Besides the gorgeous design, it is also the tech stack that amazes me: Slate is powered by Textile (Textile is a set of open-source tools that provide a decentralized database, IPFS-based storage, content hosting, and moreover Libp2p, IPFS, and Filecoin) and Filecoin (a decentralized storage network designed to store humanity's most important information). So Slate is built on trust, privacy, and security. Slate is a perfect and secure home for your images, videos, audio, ePUBs, PDFs, and a lot more. Slate also provides you with a Chrome Extension that lets you upload from anywhere. Create mood boards and share them publicly with your friends, organize your research, or share presentations.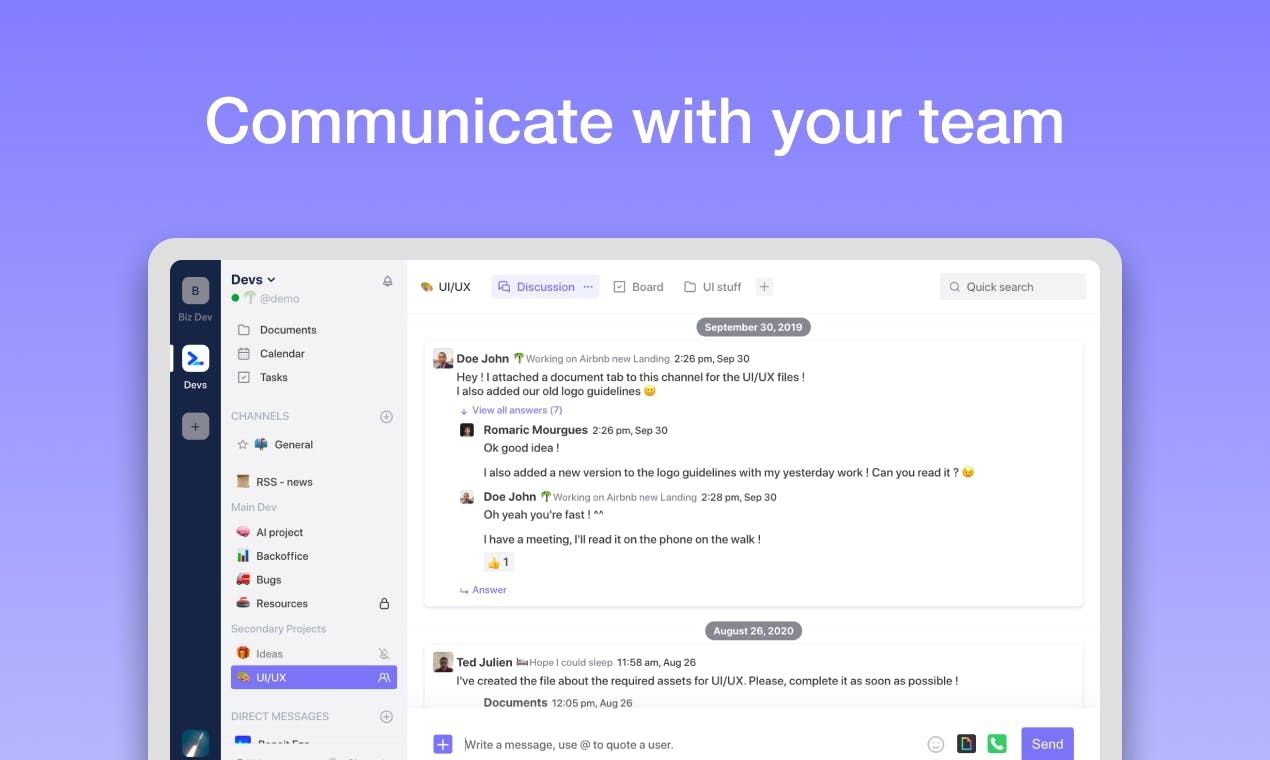 Slack is without a doubt the most popular player when it comes down to team communication and collaboration (although Microsoft Teams got also a pretty spike recently). It is great to see that there are startups that try to take on those big companies and coming up with great products and an even better approach when it comes down to privacy. Twake is one of those companies. An open-source collaborative platform for your team. Team chat, file storage, task management, team calendar, and everything you need is on Twake in SaaS or self-hosted. What makes Twake even better is the possibility to integrate basically all the tools you currently use. Twake already offers more than 1,500 integrations allowing you to customize your workspaces. Easily connect your channels, calendars or files to any external apps, or develop your own integrations with our public API. The biggest plus of Twake: it features a privacy-first approach. Twake's databases are encrypted and so are your files, so that only you decide who can access your data and your files and data are stored entirely in Europe! By browsing twitter for quite some time I got aware of yet another todo/task management app which is still under developmnent in a kinda stealthy way. Dona is a new project by Aaron Iker and Jakub Antalik. From Dona's landing page we only get a very small hint about how the UI will probably look like. Also, there are some teasers about animations and icons on their twitter timelines. Basically speaking, Dona calls itself "a more humane to-do list", not sure what that exactly means but I hope we will get some more insights about Dona soon. I am wondering if we will soon see something like Todo-Apps-Fatigue, since there already big players out there (Todoist, Things, Sorted, Omnifocus), with some more coming up (Dona, Check, Superlist).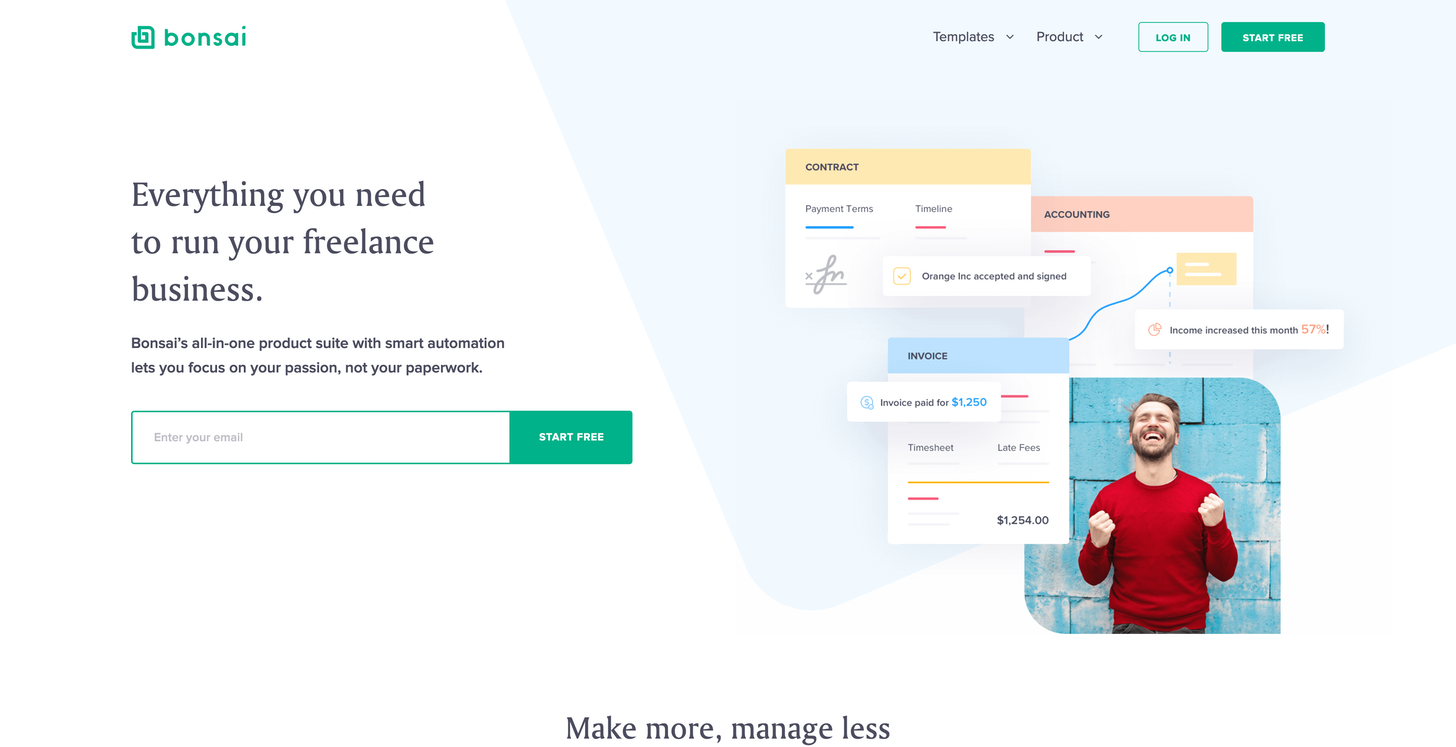 Do you ever come across a specific tool and feel like "how did I miss this?". I had this feeling when I stumbled across Bonsai earlier this week. I am pretty sure I already shared Bonsai in one of the first issues of Creativerly, without knowing how powerful it is. Bonsai is everything you need to run your freelance business. Basically, Bonsai is an all-in-one production suite. With Bonsai you get access to some basic features that every Freelancer needs, like Time Tracking, Task Tracking, Invoices, and Client CRM. What makes Bonsai so unique and powerful are automations. Bonsai integrates and automates every step of your business so it runs seamlessly - from proposal to tax season. So you can craft structured proposals with clear estimates to close your deals faster, with just a few clicks. Or, simply answer a few questions to generate an already vetted contract template. Once you hit send, the contract can be e-signed in minutes. Bonsai is extremely powerful, and everything you need to manage and push your freelance business.
---
Goods & Gadgets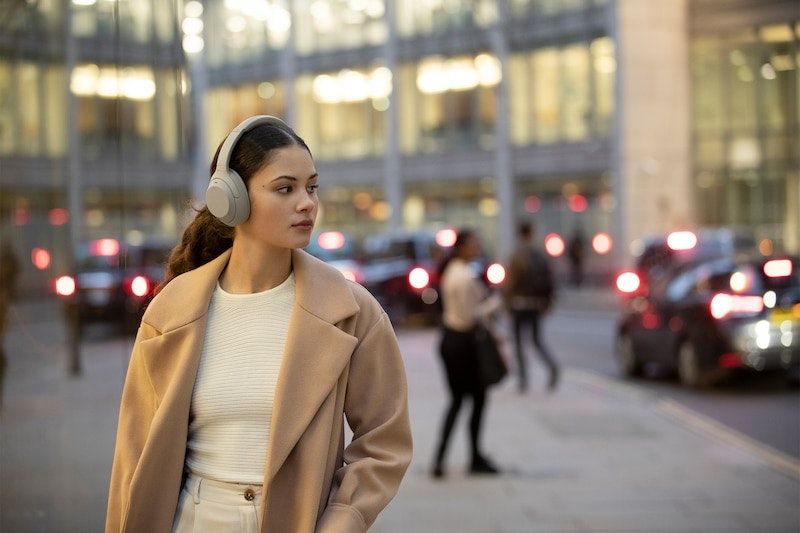 Sony recently introduced their updated top-notch Noise Cancelling Headphones, the WH-1000XM4 (the naming is still way to long). Looking at the Headphones itself Sony might did not make any serious changes. They updated the cushions so they are much more smoother, so you can wear them all day. They also reworked their industry-leading noise cancelation, premium sound, and smart listening technology. The biggest downsight with the older model (the WH-1000XM3) were the microphones. Sony also worked on that and added "Precise Voice Pickup Technology" to the WH-1000XM4, that means five built-in microphones with advanced audio signal processing, delivers clearer voice quality to the other person on the phone. Sony might again, built the industry-leading Noise Cancelling Headphones.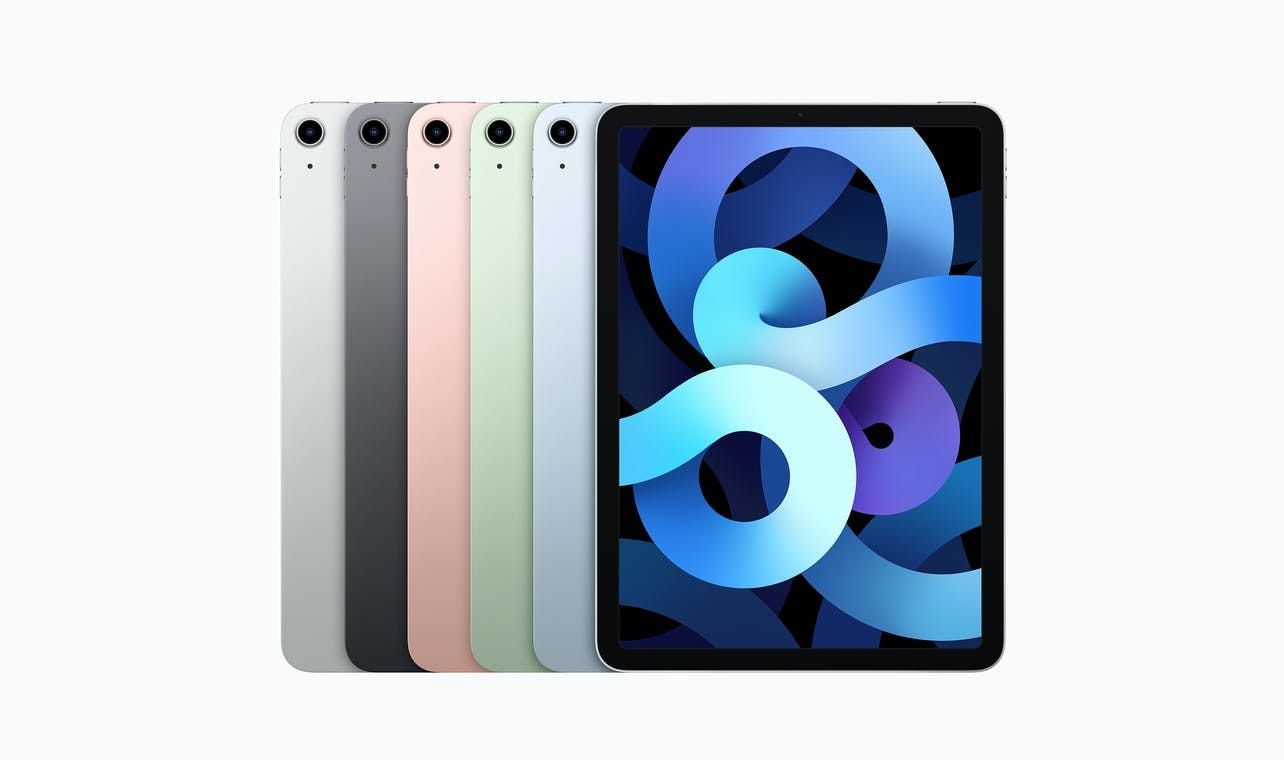 Last week Apple introduced among other things a completely new iPad Air with an updated design which pretty much looks like an iPad Pro, to be honest. The newly introduce iPad features USB-C (yes finally), a fingerprint scanner that is integrated into the top power button (love that), and a completely new generation of Apple's A14 chip, Apple's most advanced chip. They really pushed that product forward. For the first time, Apple is making the iPad Air in five different colors, including rose gold, blue and green alongside the traditional black and silver enclosures. The new iPad Air starts at $599 with 64GB of storage, or $729 with 64GB of storage and LTE. You can bump the storage up to 256GB on either model for an additional $150. It'll be available in October, but there isn't a more concrete release date yet.
---
Useful Resource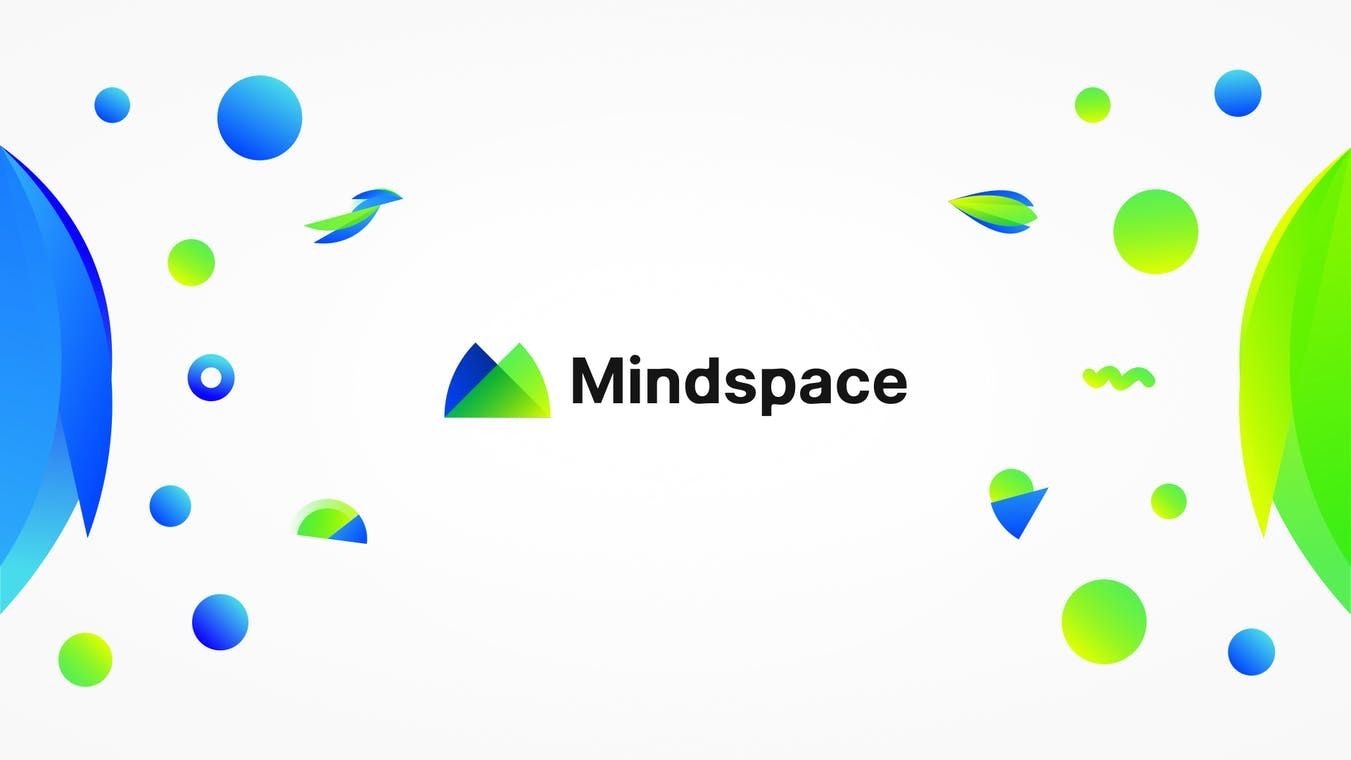 Since most of us spend a lot of time currently at home, it is great to see people working on new ways and new resources for learning at home. Arclind Mindspace is a free self-learning platform with quick and simple crash courses for independent learners and creators. Mindspace's goal is to make learning easy and quick in just 3000 characters. Self-paced. Community-driven. Free forever.
---
Mental Wealth
➢ Overcoming Fears Through Creative Risk Taking – "Creativity is hard. It can also be scary. And taking creative risks is even scarier. But what if I told you that those very risks are the things that could help you break free from fear and live a happier, more creative life? Overcoming fears through creative risk taking isn't something most creatives consider, but I see it as a secret weapon that helps you "create happy" in your life."
➢ How to think better – "As Einstein wrote in 1936: "All of science is nothing more than the refinement of everyday thinking." Why is it that a skill as important as thinking is not a key focus in traditional schools? Why don't we have classes on decision-making, cognitive biases, and mental models? Can we learn how to think better? It's a common misconception that brilliant thinkers are born that way, but thinking is a skill which can be practiced just as any other skill. And the good news is: it's never too late to start proactively applying thinking tools and strategies. The average human mind is fairly similar. What differentiates between poor thinking and good thinking is the way we decide to use our mind. Lazy shortcuts and cognitive biases will result in poor thinking. Conscious mental models and emotional awareness will result in better thinking."
➢ Five Levels of Creativity – "What is creativity? It's a hard question for those who are working in our creative industry. If you Google this question, you'll find tons of answers such as: Creativity is to create something new. Creativity is about connecting the dots together. Creativity is to think of an idea or a new product."
➢ An introvert's guide to collaboration – "Collaboration is highly valuable within any company. It allows teams to move quickly on a project, make faster decisions and it helps people from different teams stay on the same track. Something I've learned is that you have to master collaboration in order to progress your career and become the best at what you do. As an introvert, this has been one of my biggest challenges. Luckily I've found myself in a position whereby as a Product Researcher, I get to spend a large chunk of time thinking deeply while I synthesise data or work on a report. I also have to continually push myself out of my comfort zone when I'm interviewing users or carrying out usability testing. Win-win situation right? Well, not all the time."
---
Typeface of the Week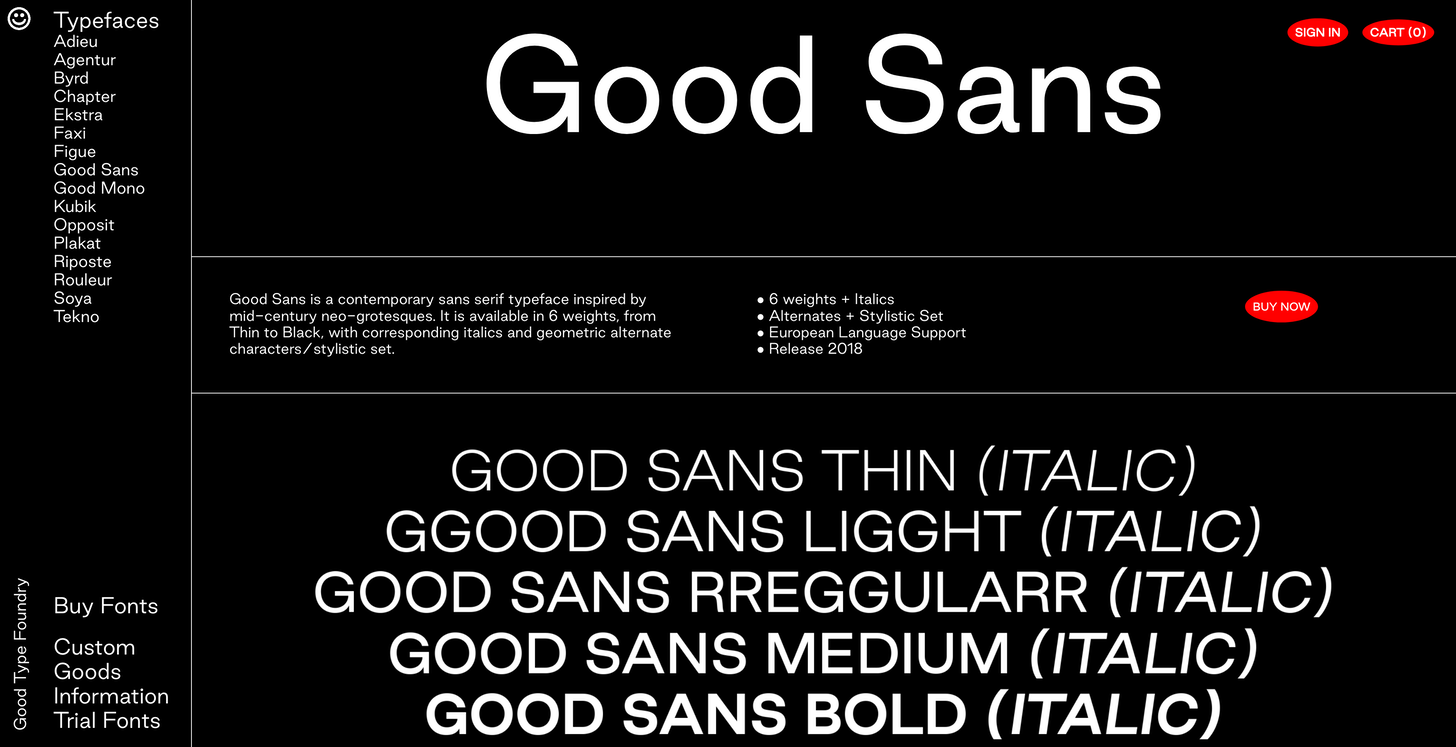 Good Sans is a sans-serif typeface designed by Kenneth Knutsen and published through Good Type Foundry in 2018. The design was inspired by neo-grotesques of the mid twentieth century. The family is available in six weights with matching italics.
---
Twitter thoughts
---
Till next time! 👋

Support: You have a friend who is looking for inspiration, news about design, and useful tools and apps? Forward this newsletter to a friend or simply share this issue and show some support. You can also show some love by simply clicking the button down below and keep this newsletter a sustainable side-project by buying me a coffee. ☕️ 🥰
Disclaimer: My posts may contain affiliate links. If you buy something through one of those links you won't pay a penny more, but I'll get a small commission, which supports this blog and also my side-projects. So consider buying something through my links. Thank you!
---