Newsletter
A fresh take on documents & Is it Really Wrong Wanting to do Things Right and Perfect?
In this week's issue of Creativerly: A visual cloud storage beyond files and folder, community is dead - long live community, find your why, and a lot more.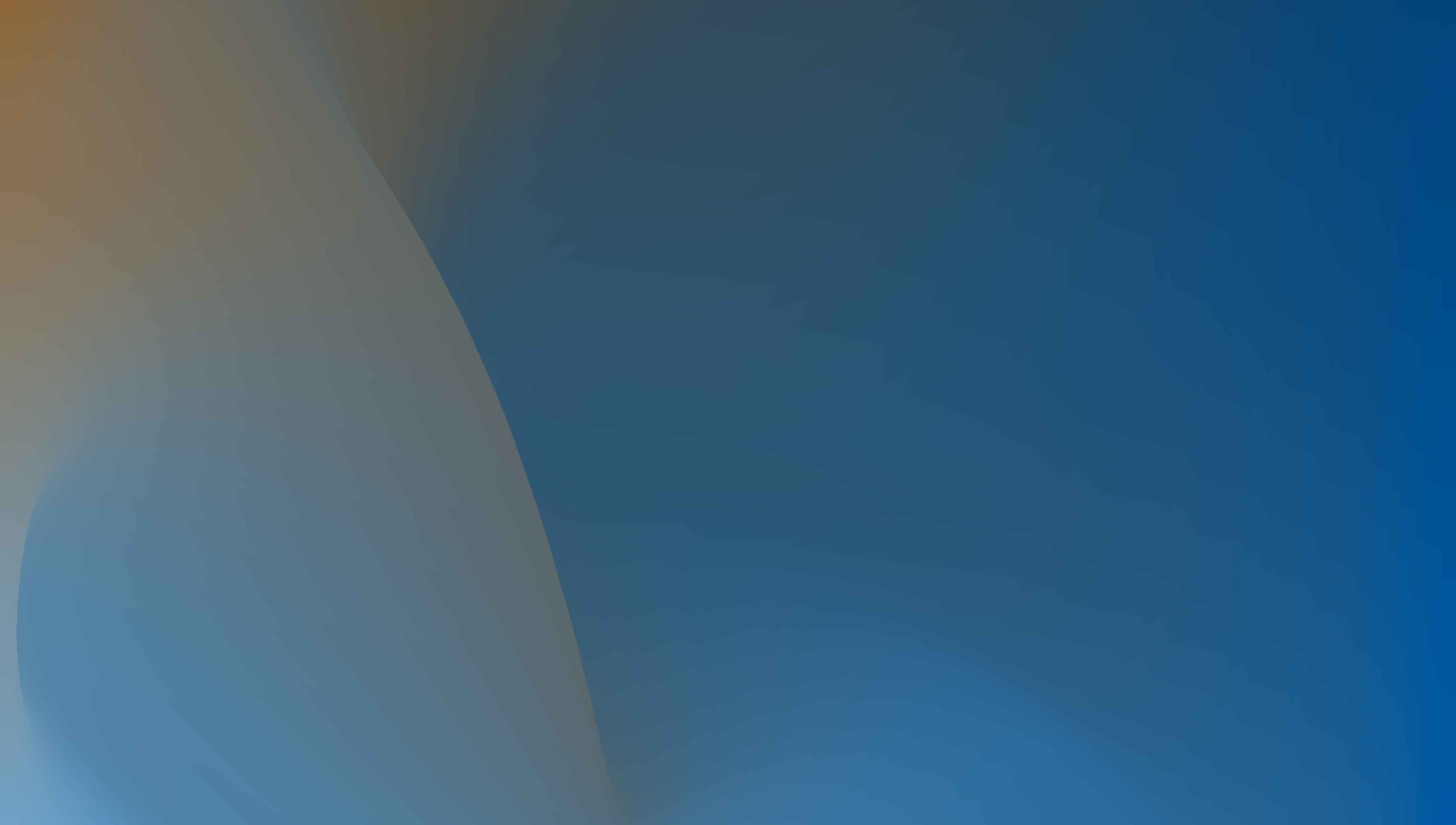 You are reading Creativerly, the weekly digest about creativity and productivity-boosting tools and resources, combined with useful insights, articles, and learnings from the fields of design and tech. The newsletter built for the creative community.
---
Hey and welcome to issue 91 👋
One part of writing and curating a weekly newsletter is figuring out what content suits the audience best. Creativerly is an ongoing project of mine. Since my audience is growing I am constantly trying to tailor the content to my audience. Because of this, Creativerly evolved over time to the product it is today. Because of countless feedback sessions with my subscribers, I decided to make Creativerly a more personal newsletter, meaning I started writing my own thoughts, notes, and reviews regarding the tools and resources I share and feature. At this point, I want to let you once again know, that my DMs (and my email) are always open for feedback, suggestions, discussions, questions, or anything else.
That is exactly what excites me about writing and curating a weekly newsletter. Seeing how the whole product evolves over time, how the content gets better, and in the end, to see how many of you enjoy reading through it every single week.
Thank you!
---
Apps, Software, Tools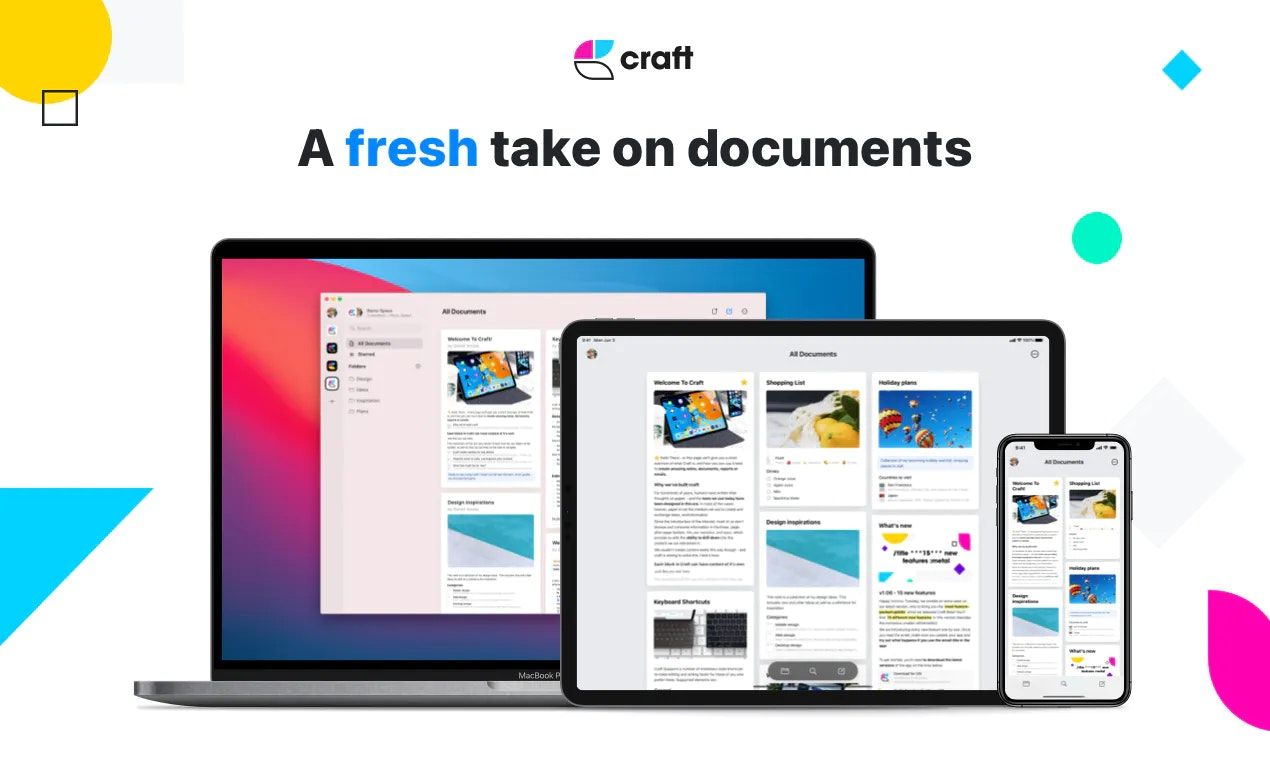 Craft is a fresh take on docs, writing, and collaboration. Craft just recently launched on MacOS, iPadOS, and iOS to bring back the joy of writing. But what exactly is Craft? It is a simple, native, fast, and modern writing tool, which takes the best features of different writing tools, and put everything in a unique, beautiful and native experience on your Apple Devices. Structure your content, your notes, your writing. Craft delivers all the useful features which let you enjoy writing. Craft let's you group related thoughts together into subpages, you can make them look really amazing by turning them into cards, and connect all your thoughts and notes together with bi-directional linking. On top of that, Craft lets you share your documents with ease. All you need is just a simple URL, or invite others to your space and start collaborating on your documents immediately. Give it a try! The personal plan is totally free.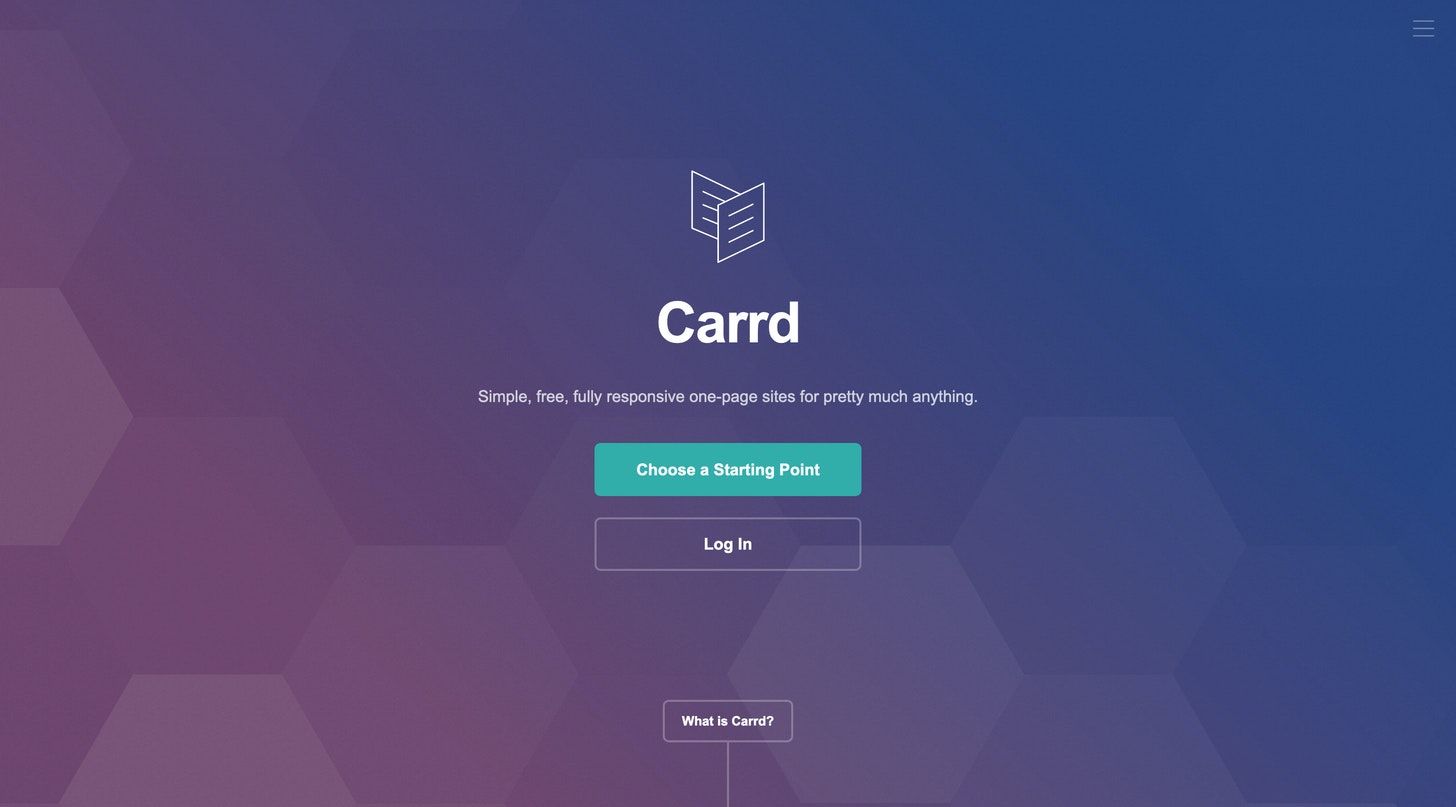 I featured Carrd a long time ago, but I still love it so much, since I think it is one of the most essential tools for Indie Hackers, and all the people who are currently building a product and want to set up a landing page in literally just a few minutes. That is not an exaggeration, you can set up a website with Carrd in minutes and are ready to go. If you want to try it out you can simply sign up for a free account and play around with the website builder. If you are considering building more sites, need a custom domain, forms, and widgets to build a modern, responsive, one-page website for your newsletter, side project, or product idea, then you should take a look at Carrd's Pro Plans. They are starting at $19 per year (yes, per year) and will give you all the already mentioned features and even more. I am happy to tell you, that Carrd is currently offering 50% off on all Pro Plans, during Black Friday Week. Just use the code "BLK2020" at checkout and you are ready to go. This also works if you already have a Carrd Pro Plan and want to renew it, you will get 50% off. Taking the Pro Standard Plan as an example, with the code BLK2020 you would pay only $9,50 for your first year with Carrd. Better do not miss out on that deal!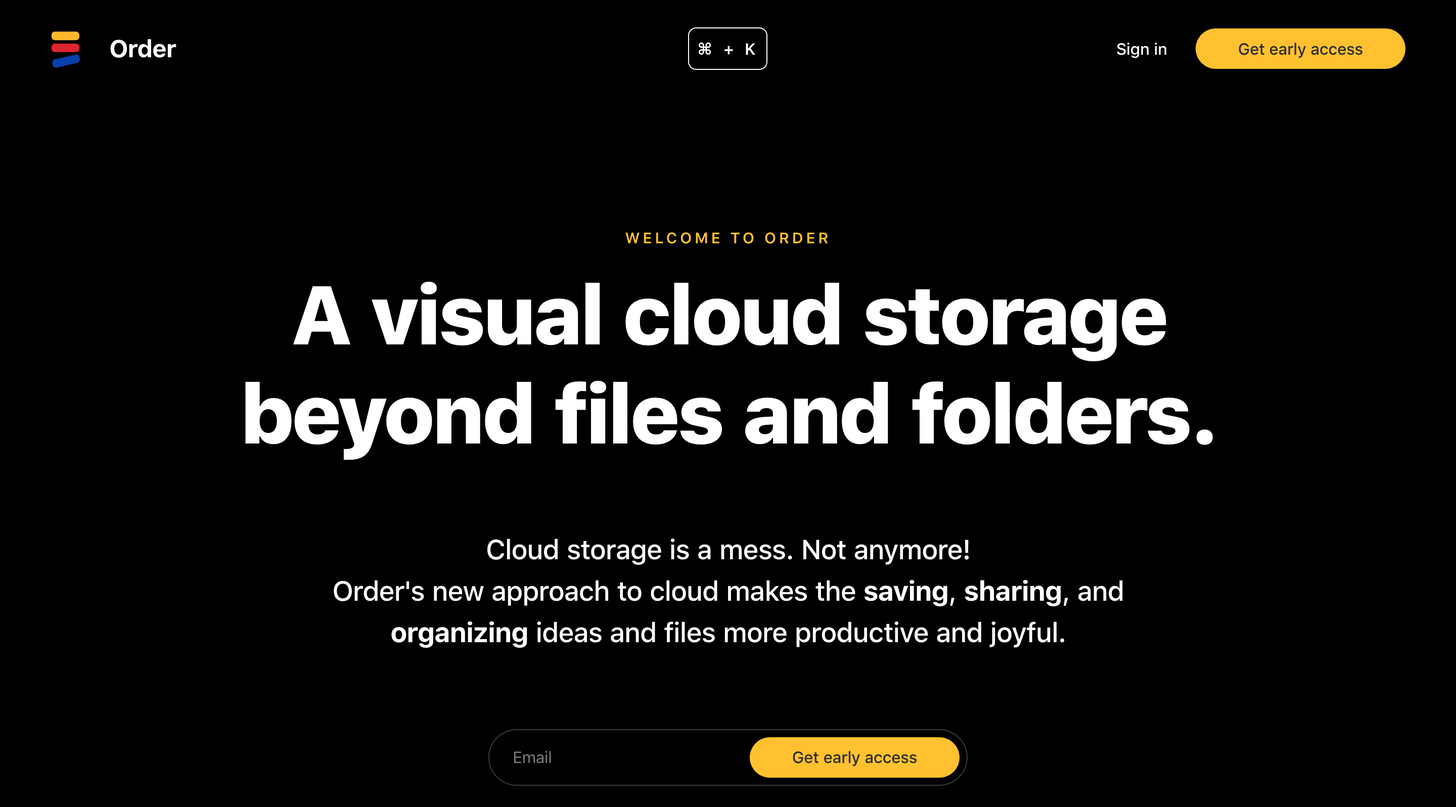 I do not like working in cloud storages, because well, it is often a mess of folders and files. Dropbox tried to make a leap forward with their desktop app but they only polished the interface, the experience did not improve, since it is basically only an overlay of the current finder view full of folders and files. Order has a new approach. Order's new approach to cloud makes the saving, sharing, and organizing ideas and files more productive and joyful. Think of it as a visual cloud storage beyond files and folders. I really like the idea of that. When you working with a lot of files on a daily basis, in the long run, it will not be possible to avoid working across cloud storage, to add another save-layer to your workflow. Order also implemented the popular "⌘ + K" shortcut, we already know from Superhuman, Notion, etc. This shortcut will open up your productivity command line, which means you will have access to hundreds of functions with a few keystrokes. They even implemented this function right on their website, so you can give it a try (just hit ⌘+K while you are on their website). To summarize, Order seems like a really interesting product, I can not wait to try out. You can sign up for early access right now.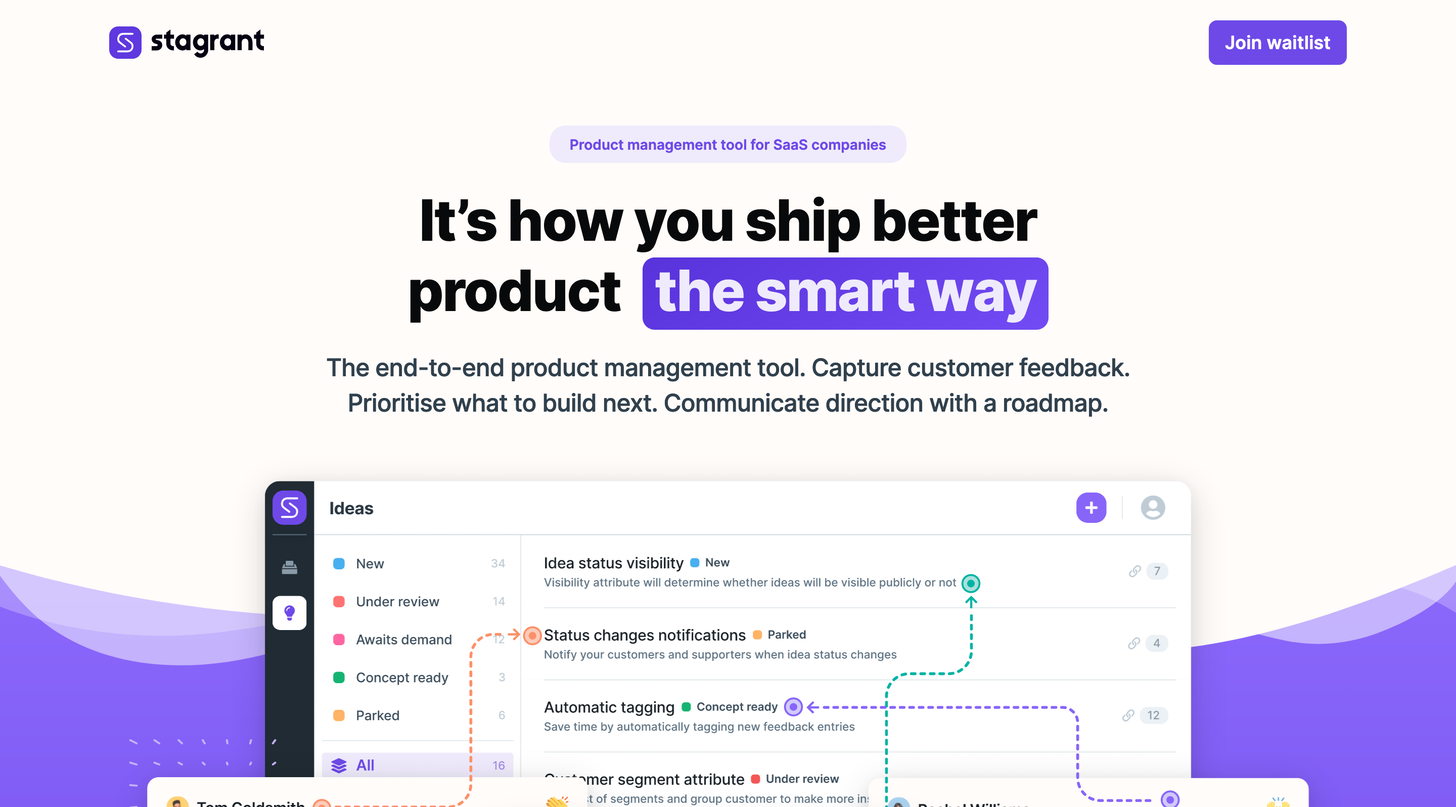 Product Management is hard. Keeping track of product and feature ideas, managing user feedback, and building up a future roadmap, can sometimes be a real hassle. Stagrant wants to help you ship your product the smart way. Stagrant is the end-to-end product management tool. It helps you capture customer feedback, prioritize what to build next, and communicate direction with a roadmap. With Stagrant you are able to build up a library of feedback insights from your customers, leads, and teammates. It is also a place where finally everything comes together, so you can focus on building and shipping. Keep product feedback, ideas and roadmaps in one place and share it with your team and customers to foster transparency and drive engagement.
---
Useful Resource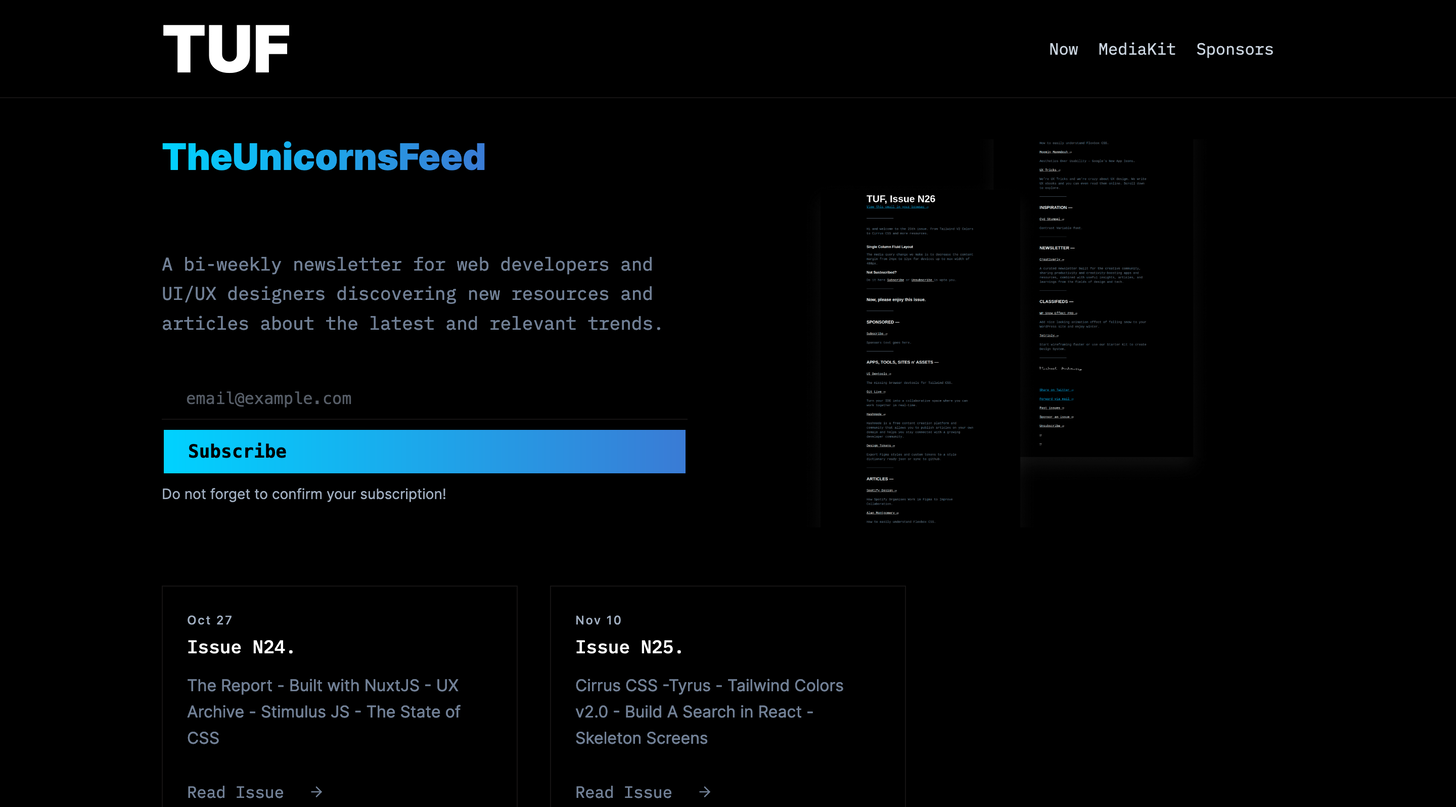 If you are a web developer or a UI/UX designer, I would like to introduce you to one of my favorite newsletters in that niche. It is called TheUnicornsFeed by Michael Andreuzza. Michael is very passionate about sharing resources about digital design and web development. He curates them in a beautiful-looking bi-weekly newsletter, delivered straight to your inbox. So, if you are looking for useful apps & tools, assets for Figma or Sketch, great articles, and some visual inspiration, I would highly recommend checking out TheUnicornsFeed.
---
Mental Wealth
➢ Community is dead, long live community! – "Community is a trend. Community is not a trend. Community is all the rage for 2020, but it's a trend. It's likely over time the trend will die down, at least that is what I feel. That's not because community will exist less, be less important, or be less valuable, but more because community will become more embedded in our lives. We may end up not calling it a community, but community will exist as a natural part of who we are and what we build. We will shift away from the need to 'always be marketing' and 'always be growing' to always be delivering value and working with our people. Of course, delivering real value comes from understanding, appreciating, and conversing with your people. We will trend towards being more authentic. People have talked about authenticity in the past, but really most of the time it's often been about painting a picture that isn't necessarily true. I hope the 2020's can shed light on being real. Truly authentic. Not any of that fake stuff. And this can and will often be achieved through community (that isn't necessarily called community)."
➢ Is it Really Wrong Wanting to do Things Right and Perfect? – "Questions for you: Do you find yourself appreciating the outstanding performance of ballet dancers? What about those moments when the story of a movie is just mesmerizing? Do you remember how it feels when you see basketball players shooting the best throw they can possibly do? What about those moments when you're using an electronic device and it functions perfectly?"
Patricia E. Zurita Ona, also known as Dr. Z is a licensed clinical psychologist in California, who is publishing blog posts and a newsletter around the topic of getting unstuck from worries, fears, anxieties, obsessions, and ineffective playing-it-safe actions, among others. If you want to read more from Dr. Z head over to her blog and sign up for her newsletter.
➢ Narrative is the Most Powerful Design Tool You're Not Using – "Several years back, I worked on a design team tasked with creating a new, value-added service for an American health care company. The concept we came up with — kind of an obvious one in retrospect — was a service for adults who are caring for aging parents. It would help them with the many non-medical responsibilities they often take on: retrofitting homes with safety equipment, arranging transportation, setting up nurse visits, managing prescriptions, etc. This is a big job for working adults (who often have kids of their own), so a service that could lighten the load, we proposed, had a lot of potential."
➢ Find your Why – How to get back on track when work has lost its meaning – "In his book Drive, Daniel Pink lists three things you need in order to be content at your workplace: Autonomy, mastery and purpose. After ten years in product development I had carved out a pretty decent path for myself. There was no shortage in opportunities to practise and improve my skills. As a senior consultant autonomy was usually given to me as well. But as you may have guessed by the title of this article, I had a nagging sense that I was lacking purpose. As Pink pointed out in Drive, you need purpose to feel completely content at work. Quite likely this doesn't show until you're a few years into your career. As a junior my focus was on mastery. As a mid-weight I got obsessed with Autonomy (which eventually made me quit my perm job and start freelancing). Eventually purpose caught up with me and asked why I should care at all – How was I contributing to a world that I wanted to live in?"
---
Last Week Quick Bits
---
Disclaimer: My posts may contain affiliate links. If you buy something through one of those links you won't pay a penny more, but I'll get a small commission, which supports this blog and also my side-projects. So consider buying something through my links. Thank you!
---