Newsletter
A visual, searchable knowledge base of your screen time & Neeva shutting down
A native macOS email client for Gmail, WordPress's book about the last 10 years of the project, how to overcome social anxiety, and a lot more in this week's issue of Creativerly.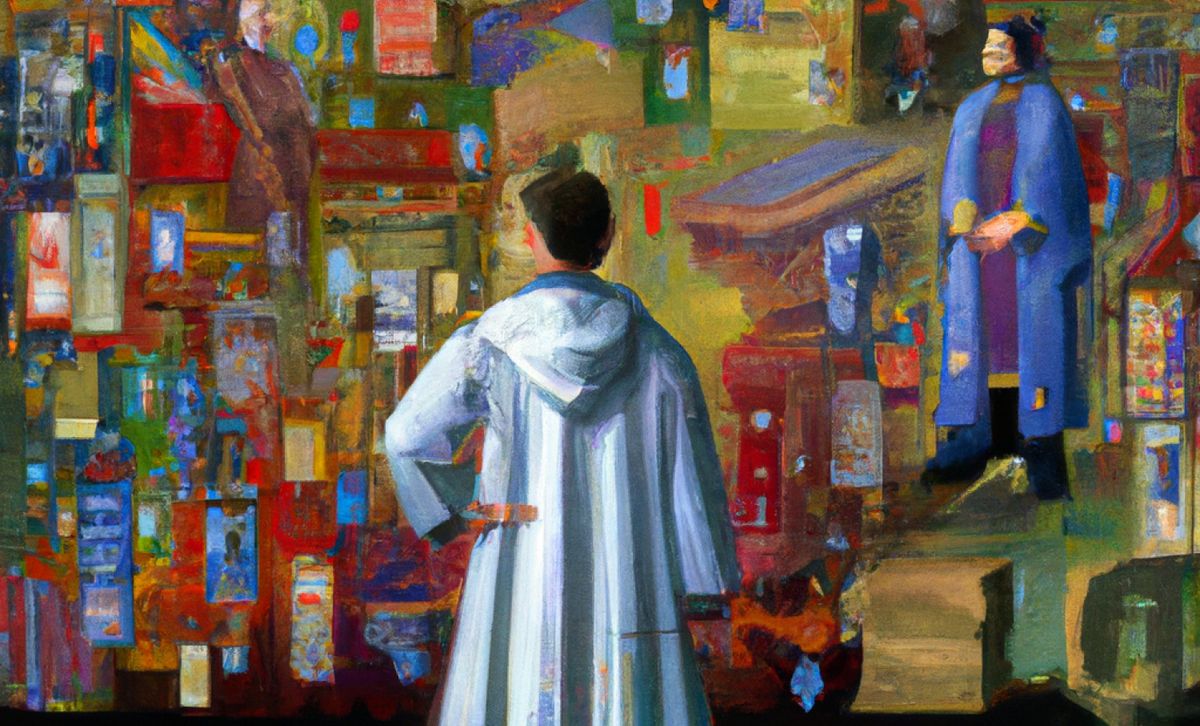 My name is Philipp and you are reading Creativerly, the weekly digest about creativity and productivity-boosting tools and resources, combined with useful insights, articles, and findings from the fields of design and tech. The newsletter built for the creative community.
---
Hey and welcome to Creativerly 222 👋
Last week I got the chance to join a call with the VP of Engineering of a European Bank, showcasing a unique and powerful note-taking and knowledge management system. The tool of choice the presenter was using to manage notes for meetings, articles, books, talks, and videos was Supernotes. While the presenter walked the audience through the single parts of the system, I got reminded that the most powerful and effective strategies are often the most simple and straightforward ones. The presenter was using a slightly adapted and customized Zettelkasten system, which means all notes were atomic notes. It was clearly visible that a tool like Supernotes is the perfect companion for atomic note-taking.
Apps like Obsidian, Craft, Logseq, and others kind of force you into taking long notes, since they are based on a document or file approach. This lead to the fact when you are taking notes on an article for example, that all your notes and informational bits become part of one file or document. Supernotes instead, uses notecards as the only input source. You can create a parent card (which is basically your file or document), but within that card, all the notes you take are again notecards. This gives you the perfect setting to create atomic notes. While you are processing an article, you can quickly create new notecards for a new thought or idea the article or a specific section of the article has guided you to.
You can probably resemble a workflow like that in any other note-taking tool, but in Obsidian for example, you will always be greeted by long, empty, new file, that somehow feels off, if you are only writing short and atomic notes. The specific design and experience decisions Supernotes took, were all based on the idea to create a tool that focuses on the atomic note-taking flow.
Watching the presenter walking through the whole system, I got reminded that most of us probably spend way too much time figuring out what the perfect system could be, how it could look like, and how everything should be connected since I also find myself way too often get lost in videos and articles about yet another note-taking system. Ultimately, it is much easier than you think to come up with a note-taking and knowledge management system. Basically, you need to decide what kind of inputs you have (do you read books, and articles, watch videos, listen to podcasts and do you take notes on the content you consume?) and what kind of outputs you expect from your notes (do you want to generate ideas for blog posts, videos, or projects?). How you process content, how you keep track of it, and how you manage and organise it is pretty much up to you and those workflows might vary from one person to another, but at the core we want to input information into our note-taking and knowledge management system, and use it as an output for learning, creating content, generating ideas, coming up with projects, and so on.
You can achieve something like this with all the current note-taking and PKM software out there. It does not matter which tool you choose, but there might be some tools that are more focused on supporting those kind of systems and workflows than others.
---
Apps, Software, Tools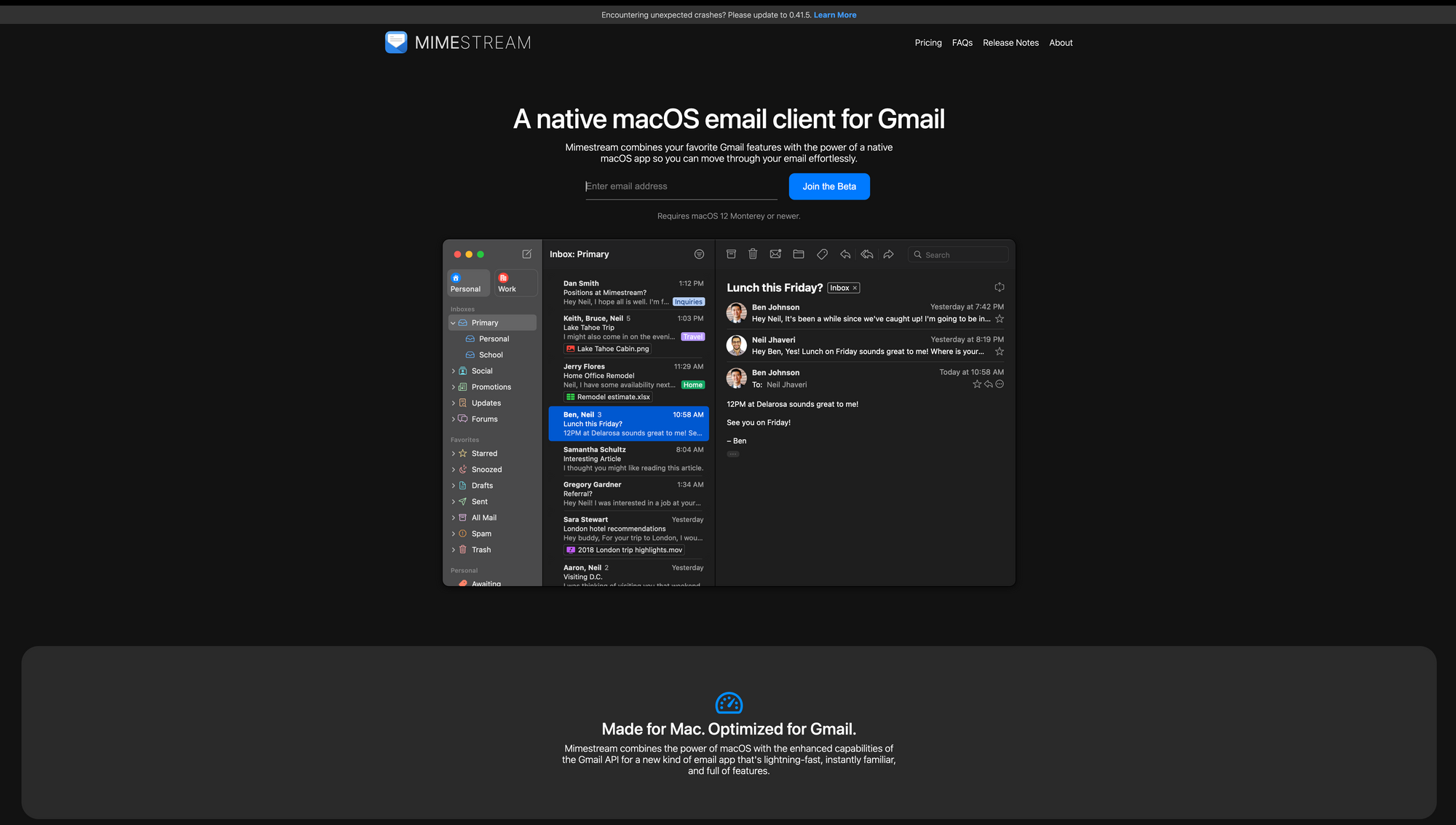 It is no secret, that Gmail is the most popular email service for both personal and business use-cases. According to a recent report by Techjury, over 1.8 billion people worldwide are using Gmail, which means it holds 29.5% of the email client market share. But the latest redesigns, introducing Material You, and using a variety of shades of blue within the interface led to the fact that at least a smaller portion of those users was not that happy with that kinds of changes. Loads of power email users have been on the hunt for third-party clients for quite some time. Most of the time, those email clients offer a variety of features and customization options on top of the features and functionalities people already know from Gmail. There is one macOS email client for Gmail that mastered combining your favourite Gmail features with the power of a native macOS app, so you can move through your email effortlessly. And that email client is called Mimestream.
Mimestream offers a native experience as it has been exclusively made for macOS and optimized for Gmail. It combines the power of macOS with the enhanced capabilities of the Gmail API to offer a new kind of email app while focusing on being lightning-fast, instantly familiar, and packed with awesome features. People who receive loads of emails every single day are in need of powerful features to rise above the noise and focus on what matters most. There is a need for features that make it easy to keep the inbox organised and structured. Mimestream implemented support for Gmail's categories, so you can focus on what matters most and triage the rest. Additionally, you can organise your email with the full power of Gmail's labelling capabilities. With a single click, you can jump back and forth between different accounts and easily access your emails.
Another core focus of Mimestream is to deliver speed, and be lightweight and fast. It only uses a minimal amount of disk space to cache recent messages, which means you can always be sure that Mimestream will offer you a fast experience while processing your emails. All the signatures that you have set up in Gmail will get automatically synced with Mimestream. You can enter any Gmail search query into Mimestream and get consistent results, even when you are offline.
Additional features include aliases which are automatically synced from Gmail without any setup and can be used for replies when appropriate, macOS swipe gestures to quickly triage and archive your email, powerful keyboard shortcuts, and system notifications when you receive new messages. Since Mimestream is still in beta, they are some exciting features like server-side filters, profiles, and vacation responses already in the pipeline.
Besides all of that, Mimestream was built with privacy in mind. By default, Mimestream blocks tracking pixels from 50+ of the most common tracking services, so you can read your email privately. Your email is your business, and Mimestream supports that. All data and tokens are stored on your device only. The app itself establishes direct connections to the Gmail API without going through any intermediary sync service. This is awesome to hear since Gmail has not been known for being one of the most secure email services. But with Mimestream, you can add an additional privacy and security layer on top of your Gmail account.
As already mentioned, Mimestream is currently in beta. During that beta period, it is free-to-use. Since the company behind Mimestream is dedicated to building high-quality software without compromising your privacy, it will never monetize your data for advertising or market research purposes. In order to build a sustainable business, Mimestream will cost money once it comes out of beta status. it is available exclusive for macOS. To get access and give it a try, simply sign up on its website and join the beta.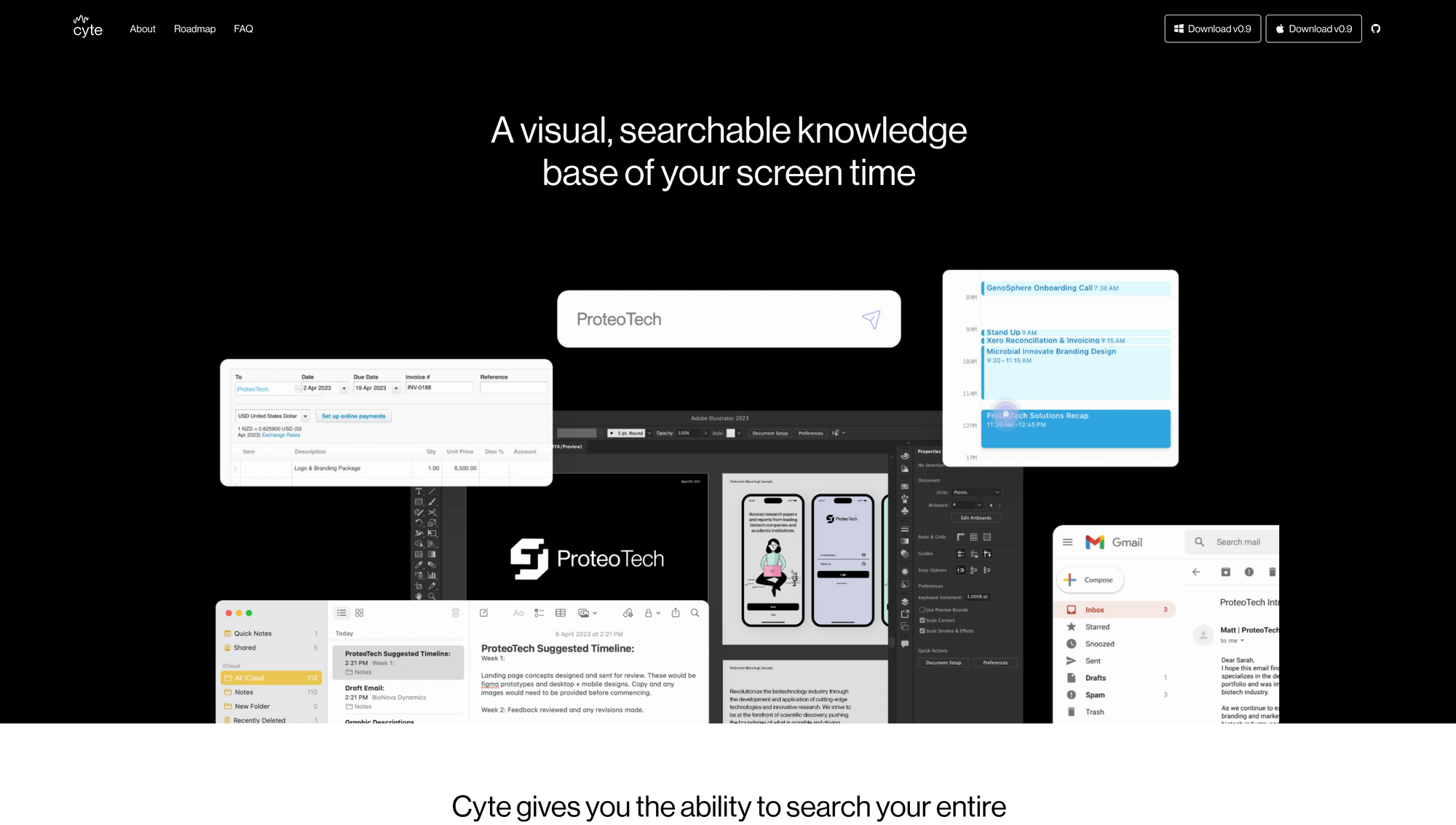 Cyte entitles itself as a visual and searchable knowledge base of your screen time. A familiar and similar approach to what Rewind does, 'recording anything you have seen, said, or heard and making it searchable', but with a twist. Cyte is open-source and MIT-licensed.
With Cyte you get the ability to search your entire digital history from your desktop apps to your browser usage. As you use your computer, Cyte automatically records anything happening on your computer. If you want, you can exclude specific apps or incognito browsing that you do not want Cyte to record. You can stop or start the recording at any time. While Cyte progresses with the recording, you can search for anything that you have ever seen while working on your computer. The intuitive timeline interface lets you scroll through your entire digital history to find exactly what you are looking for. Cyte Timeline helps you to find the exact moment you are looking for. It was optimized for fast and easy navigation through your digital memories. At any time, you can delete any recordings you do not want to save. With a single click, you can share your memories as Timelapse. To find specific memories even faster, Cyte offers filters for applications or websites. Once you are done with your search, you can seamlessly return to your active document or website by clicking the "Resume" button, which guides to back to the source.
To make it even more powerful, you can use it to summarize work, locate content without precise keywords, and connect information from various sources, identifying hidden patterns and relationships. All of this is possible by bringing your Open AI API Key or using a local LLM like LLaMA. To chat with Cyte all you have to do is to add 'chat' before your question for a private, ChatGPT-like experience. In this mode, no recording data is supplied to the LLM. While providing powerful features thanks to AI, Cyte still focuses on data privacy, since you choose the data that you send to Open AI, once you connected your API Key.
Cyte was built to become your personal assistant that helps you to manage your digital memories. It started as a personal tool, soon became a passion project, and now it got released as a beta version since it could benefit creators and knowledge workers around the world.
Your personal data is always stored locally within a folder of your choosing when you are using Cyte. As of now, Cyte only fully supports English, which means it may be of limited usefulness to other languages. But since Cyte is open-source, you can contribute to it and open a PR to better support your language. If there are any apps that should not get recorded by Cyte, you can always select and exclude them from the recording. Additionally, you can temporarily disable recording via the menu bar or shut down Cyte and reopen it later again. Other than that, you can always delete any memories afterwards.
As of writing this, Cyte is in open beta. You can download it for macOS and Windows straight from its website.
---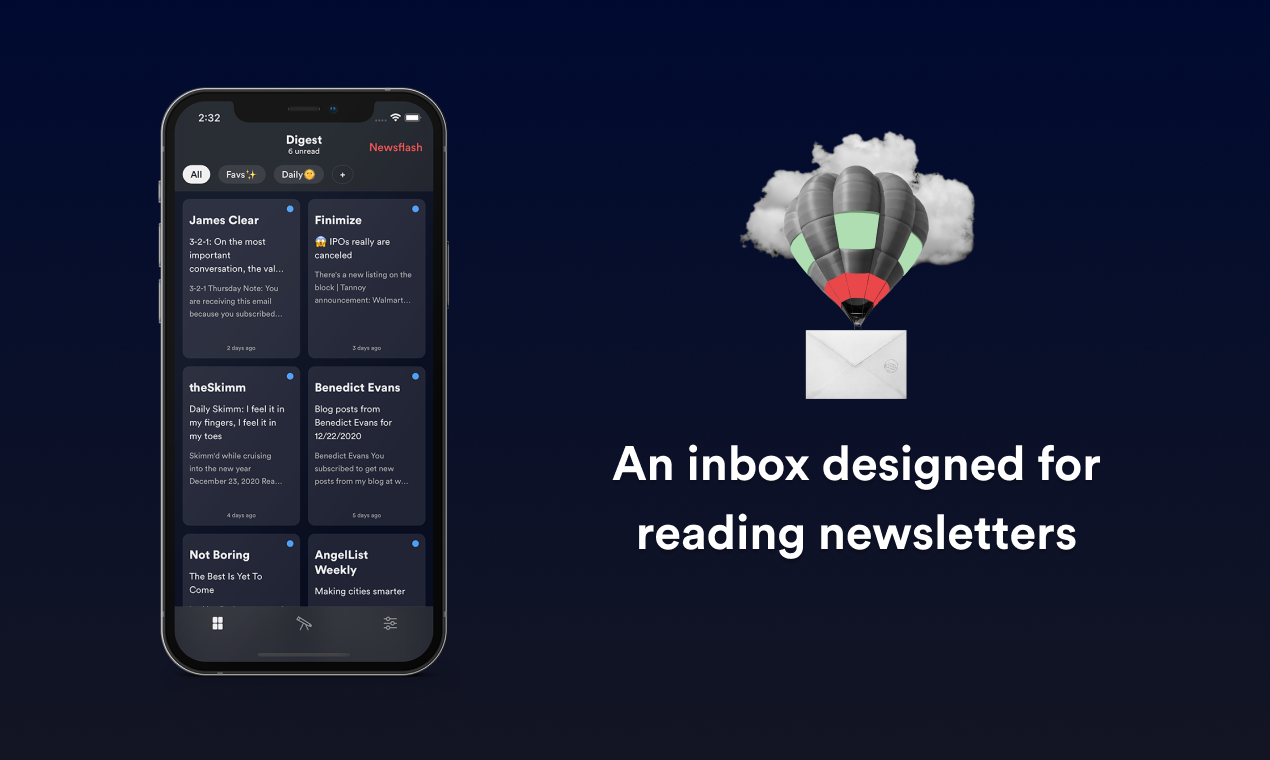 "An organised life start with an organised inbox." - Socrates
Ever stopped yourself from subscribing to a potentially amazing newsletter because you're worried about cluttering your inbox? With
Meco
, you can enjoy your newsletters in an app built for reading while giving your inbox space to breathe.
Over 10k readers enjoy their newsletters (and decluttering their inboxes) with Meco - try the app today!
This is a paid promotion or affiliate link to support Creativerly. If you are interested in putting your tool, product, or resource in front of over 2000 creative minds, consider advertising in Creativerly and book a sponsor or classified ad spot. Find all the important information at creativerly.com/advertise.
---
Fresh Updates & News
On May 20th 2023, Sridhar Ramaswamy (CEO and co-founder of Neeva) and Vivek Raghunathan (Co-founder of Neeva) shared a blog post on the future of Neeva, informing its users and partners that Neeva.com will shut down including its consumer search product. It was both, sad and surprising news since I always had the impression that Neeva was on the right path and actually doing good. Reading through the announcement blog post, the reader quickly gets an image of what challenges Neeva had to face.
Ultimately, Neeva discovered 'that it is one thing to build a search engine and an entirely different thing to convince regular users of the need to switch to a better choice.' It seems like Neeva was struggling to convince users to pay a subscription for a privacy-focused and ads-free search engine as it involves the unnecessary friction that is required to change default search settings and help people understand the difference between a search engine and a browser. According to the blog post, Neeva as a company will continue operating, focusing on how it can apply its search and LLM expertise in settings that make the use of LLMs more effective, inexpensive, safe, and responsible. The company will share updates on the future of its work and its team over the upcoming weeks.
WordPress commissioned a book to chronicle the last 10 years of the project. If you ever wanted to read all about how WordPress matured as an open-source software project, you can do so now. The "wp20-book" is the online repository for the book on the history and development of WordPress. It focuses on the 2nd decade of the WordPress project, which means especially on the Gutenberg project, the global pandemic, and a look at the hoped-for future of WordPress.
You can take a sneak peek at "Building Blocks - The Evolution of WordPress" on GitHub.
With its newest update, Notejoy released some major and important improvements to its Android app. First and foremost, Notejoy for Android v3.0 adds full support for Android 13, which means Notejoy became available on modern Android devices. Additionally, Notejoy brought the recent design refresh that got launched on its web and desktop experiences first, also to Android. This design update includes a new font, updated sidebar styling, removed profile images from the notes list, redesigned collaborative experience, rounded buttons, and a lot more.
Besides visual and design changes, Notejoy also focused on increasing the speed in which the app initially loads, so you can get to your notes even faster.
---
Mental Wealth
❯ How to overcome social anxiety – "A bright, hardworking student is doing poorly in his communications class. Participation counts for 25 per cent of his grade, but he hasn't spoken up in class since the semester started because he's worried he'll sound stupid. A coding whiz just built their first video game. Despite their talent and just graduating from a reputable computer science programme, they are unemployed. They haven't applied for a job because they are terrified of going for an interview."
❯ Stop Being Who You Aren't– "Whether you do it consciously or not, you are constantly putting stuff into the world that others notice and respond to. Everything—chatting to a stranger in line for groceries, small talk at parties, conversations at work, what you broadcast on social media—attracts, repels, or is ignored by other people. Unless you are completely disconnected from the world, you can't avoid this."
❯ What happens doesn't matter all that much – "I have a theory about the events that make up our lives: what happens doesn't matter as much as we think. When it comes to our happiness and overall life satisfaction, what is of greater importance is how we relate to what happens. Take, for example, when expectations skew how we perceive our days and our life. When things go as expected, we feel good and comfortable. When things exceed expectations, we're unexpectedly delighted (and our brain rewards us on a chemical level, as I write in How to Calm Your Mind). Likewise, when something doesn't meet our expectations, it can feel like a letdown."
❯ Concept design in three easy steps – "I'm a big fan of Gordon's work and writings, so I'm delighted to have the chance to contribute a post about my own work to his blog and to engage with you, his readers. I've spent the last ten years or so looking at hundreds of apps, trying to figure out what software design is all about. The result of my explorations is concept design: a new lens for thinking about software, how it's designed, constructed and used. Viewing software design through this lens can improve the quality of the software you build, for both developers and users, and bridge the gap between UX and engineering (which are often siloed into different roles). You can think of it as a computational take on UX design."
---
Do not miss out on this ...
❉ Join 50k+ smart people on Refind and get 7 new links every day that make you smarter, tailored to your interests, curated from 10k+ sources.
❉ Think tasks, not apps. Setapp* is you one-stop subscription to solving every task on Mac and iPhone.
❉ Fathom is cookie-free, GDPR compliant, privacy-first website analytics software. Get $10 off your first invoice and a 7-day free trial when you use this link*.
These are paid promotions or affiliate links to support Creativerly. If you are interested in putting your tool, product, or resource in front of over 2000 creative minds, consider advertising in Creativerly and book a sponsor or classified ad spot. Find all the important information at creativerly.com/advertise.
---
Appendix
❯ ICYMI
I opened up new available sponsor spots for May, June, and July within Creativerly. Sponsor spots are a great way to place your app, product, newsletter, course, or job in front of over 2,000 creative minds coming from different fields like design, writing, development, indie hacking, VC, and more. Head over to creativerly.com/advertise to find all the relevant information. Placing a sponsored message within Creativerly supports my work and makes it possible to keep it a sustainable side project.
❯ Quick Bits
---
Till next time! 👋‌‌‌‌
Support: Do you have a friend who is looking for inspiration, news about design, and useful tools and apps? Forward this newsletter to a friend or simply share this issue and show some support. You can also show some love by simply clicking the button down below and keep this newsletter a sustainable side-project by buying me a coffee. ☕️ 🥰
---
---
Some of the links in my newsletter and my blog posts are affiliate links. Those links are marked by an asterisk. If you buy something through the link, the product will not cost you anything more, but I will receive a small commission which not only supports Creativerly and my work but also helps me to keep this publication a sustainable side-project.
Creativerly is proudly published with Ghost*.