Newsletter
As easy as analytics gets & Feeling stuck or stymied?
In this week's issue of Creativerly: work is changing - messaging should too, professional illustration software, sketching as a strategy, and a lot more.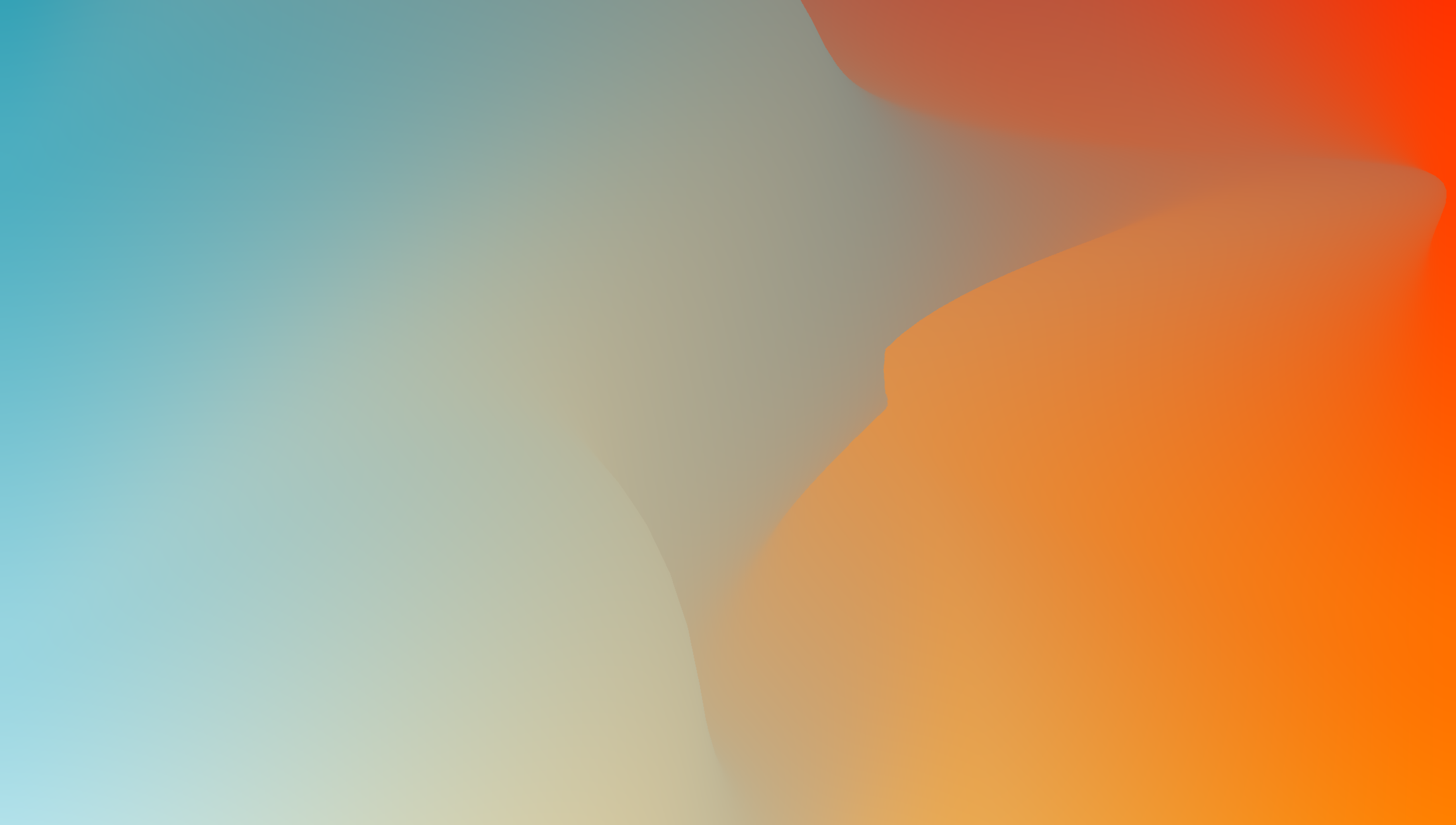 You are reading Creativerly, the weekly digest about creativity and productivity-boosting tools and resources, combined with useful insights, articles, and findings from the fields of design and tech. The newsletter built for the creative community.
---
Hey and welcome to issue 139 👋
One week ago I introduced advertising in Creativerly to further support my work and keep this newsletter and publication a sustainable side-project as I got a lot of things planned for it in the future. First of all, I want to say thank you to those who already booked their ads and supported Creativerly, I really appreciate it. Besides that, I thought, that it would make sense to write down my thoughts and reasoning on why I decided to launch advertising in Creativerly. Therefore, I published a blog post with some more insights. If anyone of you still has any questions, just let me know.
I want to make sure that you all know that I am not forcing to put ads and sponsors within Creativerly. If I do not sell them out, there will be no ads, if some dates and issues are booked, there will be ads. My number one goal with advertising is contain the level of content I am creating and sharing. Since the booking process is handled manually by myself, I can make sure that there will only be ads and sponsors that fit the style of Creativerly. I want that you profit and get value from the sponsors I am partnering up with. Since I already sold some slots, I can now focus to bring more features and updates to Creativerly, since selling those advertising spots is the most sustainable monetisation strategy.
If you feel concerned about anything, please let me know, so we can discuss it. This Newsletter, and this community is a very personal one, so I am always open to discuss anything with my readers.
Thank you all.
If you have recommendations or feedback, drop me an email or a tweet. For now, enjoy the newsletter!  🥰
---
Apps, Software, Tools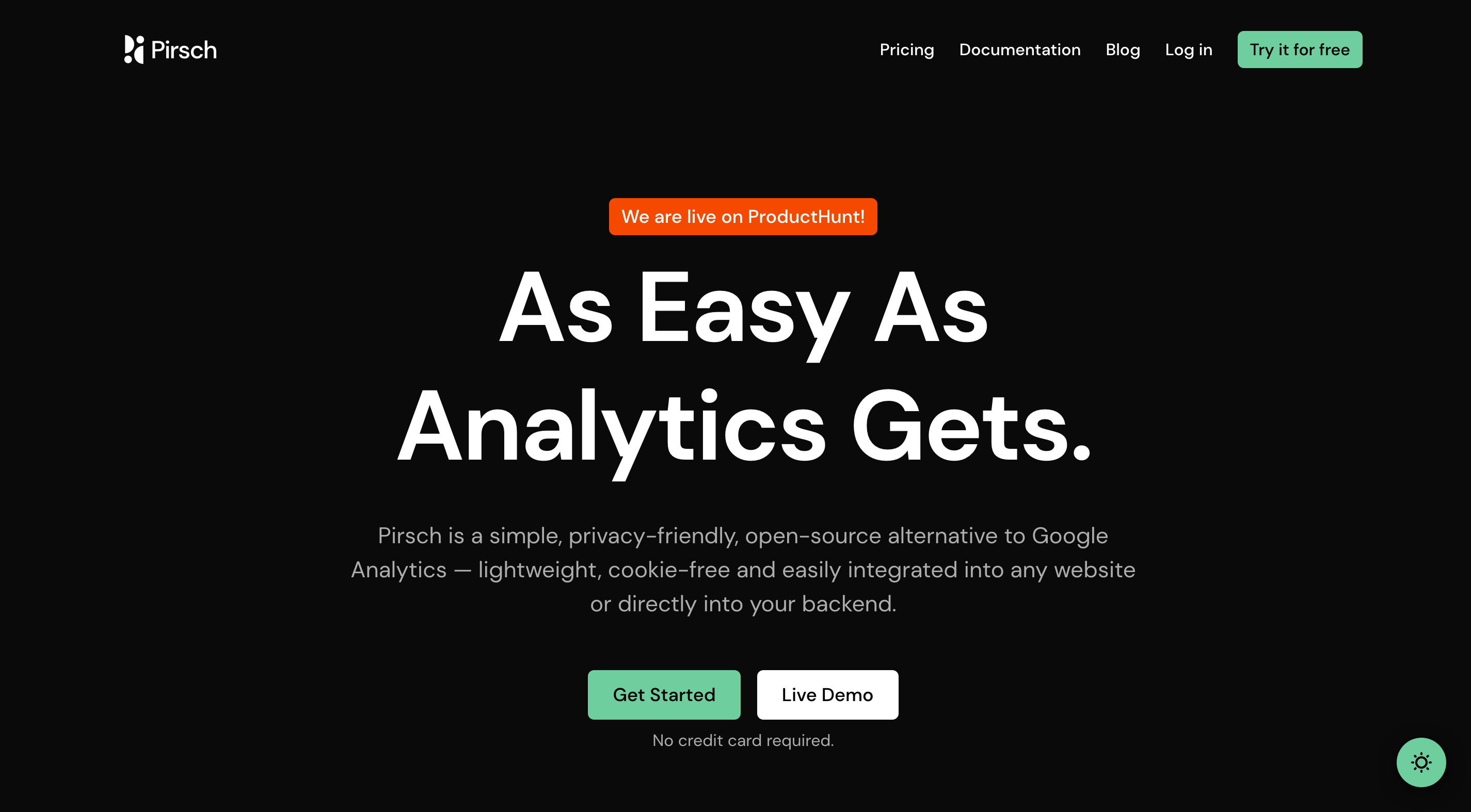 Avid Creativerly readers might already know Pirsch, as it is part of my list of privacy-friendly Google Analytics alternatives. But since I am such a fan of their tool, I thought I might highlight it as well in the newsletter. As you might have realised from that introduction, Pirsch is a simple, privacy-friendly, open-source alternative to Google Analytics.
On top of that, it is lightweight, cookie-free, and easily integrated into any website or directly into your backend. The first thing you will notice when you check out Pirsch is the fact that it features an incredibly beautiful and well-designed dashboard, which gives you a great overview of all the metrics that matter. It is always interesting to get insights about the traffic happening on your website, but it is simply disgraceful how some services and tools use those insights to scrape user data and sell it to third parties. It is no secret that online marketing and especially ad-tech does not really respect user privacy.
Google Analytics is the biggest player in that area and it was involved in countless privacy-concerning events regarding their service. Pirsch set out to solve that problem with their top-notch privacy-focused, open-source, and easy-to-integrate product. If you are looking for an analytics tool that respects your user's privacy, Pirsch is definitely one of them. Pirsch is a cookie-less solution, which means it does not track your visitors across websites, nor does it collect uniquely identifiable information.
Pirsch focuses to deliver detailed insights on all your website metrics, which include page views, bounce rate, time on page, and many more. What I also really like about Pirsch, is the fact that you can always stay up-to-date about your website metrics, no matter if you are checking your dashboard on desktop, tablet, or smartphone, the responsive dashboard of Pirsch will always look sharp and deliver a great overview of all your metrics. While using Pirsch you can be sure that your data will always be yours. Pirsch is completely self-funded, based, and hosted in Germany under strict privacy laws of the European Union.
Pirsch is available for as low as $4 per month (if billed annually) for up to 10k page views, including unlimited websites, unlimited admins, custom event tracking, conversion goal tracking, public dashboards, and a lot more.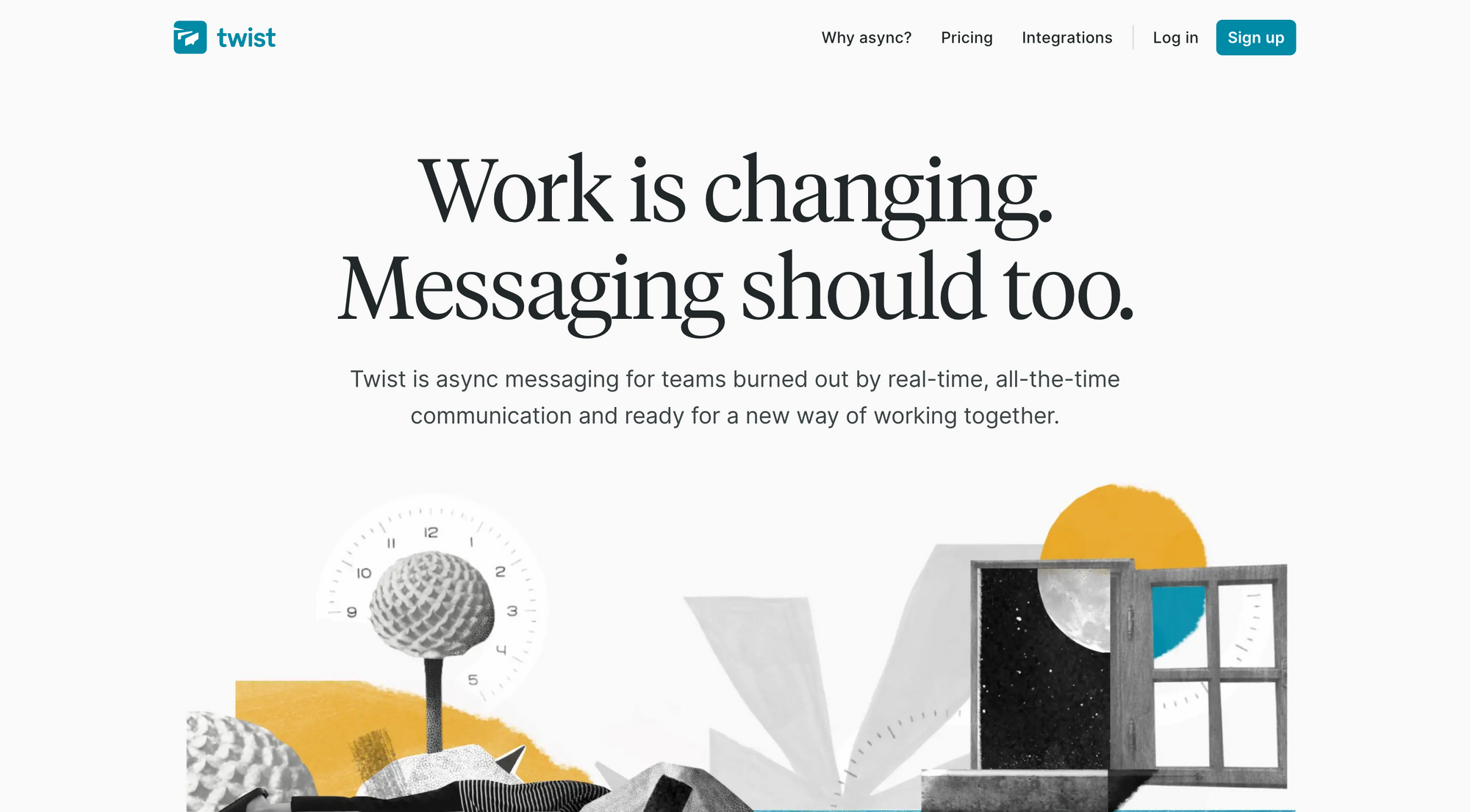 While remote work has become a very important term over the last year there is a second one which is becoming more popular too, and that is async work or async collaboration. Remote work promised change to our work culture, but meetings turned into countless video calls (of which most could have been solved through a couple of quick messages), constant pings, and presence on Slack, and we are still lacking in freedom to collaborate on our own timeline.
Twist is tackling all of that. Since work is changing, your messaging should do so too. Twist is a tool that brings async messaging to your team's collaboration. Twist helps you to focus on your work without getting distracted by countless messages and feeling the pressure of responding now. While using Twist you will be able to replace real-time calls with async threads so you can make space for deep-focused work. The most important part of Twist is putting a focus on threads. Twist puts threaded conversations front and center, so important topics aren't immediately buried in chitchat.
All the threads you are part of are gathered within your inbox. The inbox gives you a great overview of your conversations in one place, so you can stay on top of them, join or mark them as done as you go. Twist also features organised channel which lets you discover and dive deep into any conversation. If you are coming across a conversation with a topic that has already been discussed, simply share a link to the previous discussion to preserve context. To make Twist even more powerful, it features a wide range of integrations for different tools so you no longer need to switch context and safe time instead.
Twist is free for up to 500 members, up to 5 integrations, with a limit of 1-month access to your messages and comments. The unlimited plan will cost you $6 per user per month or $60 per user per year.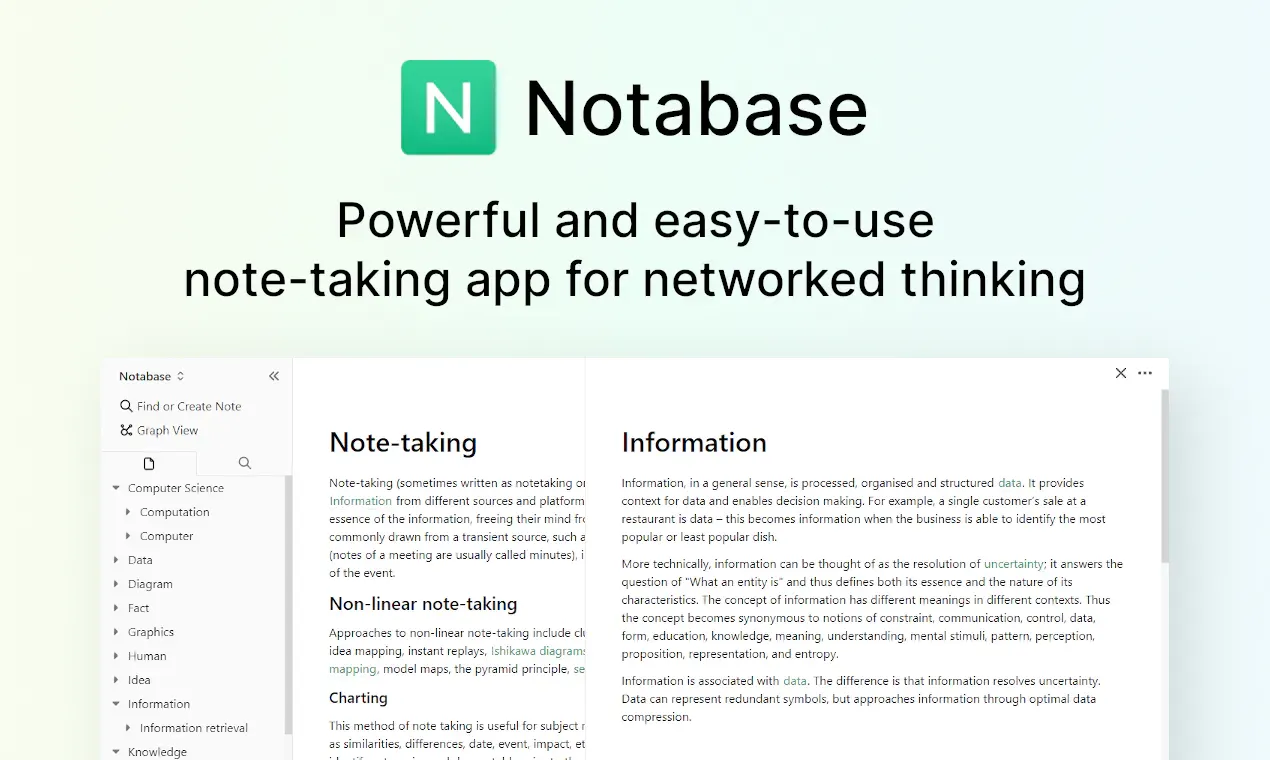 Notabase is a lightweight, easy-to-use, but still powerful note-taking app supporting networked thinking. Notabase lets you connect all your ideas together and write more effortlessly. The space of personal knowledge base tools is getting pretty crowded as more and more tools are entering. Notabase by solo-developer Richard Chu, is still pretty new and in an early stage, but at the same time, it is already packed with some useful features.
To build your own personal knowledge you need to link and connect your thoughts and notes together. The more notes you write the more powerful your personal knowledge base will get. Notabase is capable of helping you build up your knowledge base with a minimal and distraction-free experience, so you can straight focus on your notes and thinking. While building your knowledge base it is also important to organize your notes. Notabase lets you organize your notes to suit the way you think. All you have to do is simply linking your notes together and traverse them like web pages.
If you want, you can tag important ideas, topics, or concepts. If you want to create your very own hierarchy you can drag and drop your notes to your liking, simple as that. No matter how much attention to spend to structure and organize your notes, there is always the possibility that something slips through the cracks and you struggle to find it again. But no worries, Notabase features a full-text search that makes it easy to stay on top of your notes.
The writing experience of Notabase is simply beautiful. It offers a distraction-free, clean, and intuitive interface, which helps you to stay focused whenever you jotting down your thoughts and ideas. Notabase is built with privacy in mind. Your notes and your data will always be yours, you can export them at any time, and you can be sure that your data will never be sold to any third parties. Notabase is also open source with a public changelog and roadmap, so you can contribute to Notabase' development. Notabase is a great tool to build a personal knowledge base, a digital garden, a digital journal, or simply to manage your projects and track down your notes.
You can try and use Notabase for free with a limit of 100 notes. If you ever exceed that, the Pro plan will cost you $70 per year. There is also a Catalyst plan to further support Notabase' development, which costs $300 for five years.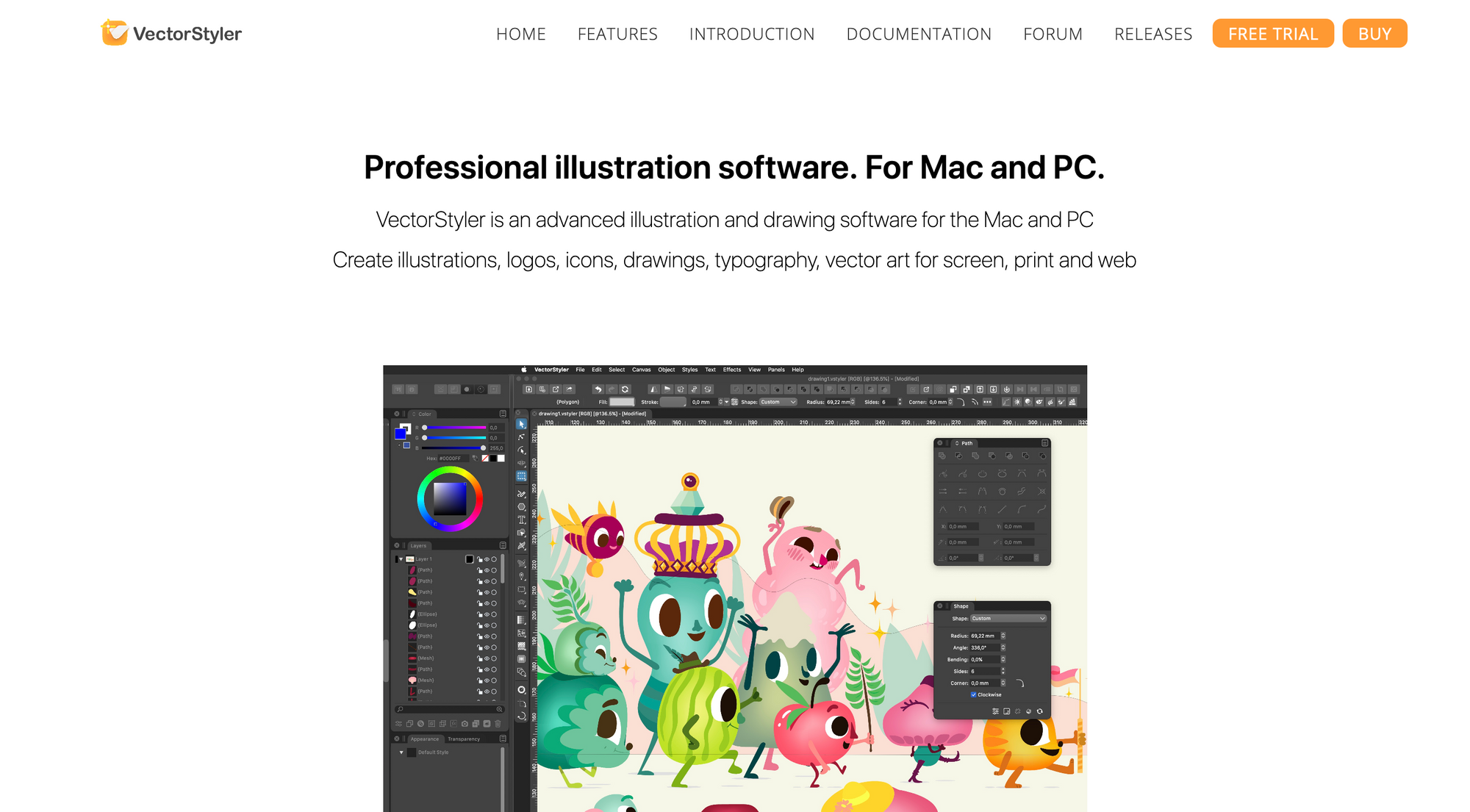 VectorStyler is a top-notch and advanced vector, illustration, and drawing software available for both macOS and Windows. No matter if you are looking to create illustrations, logos, icons, drawings, typography, or vector art for print, screens, or web, VectorStyler and its amazing feature set got you covered. If you do not want to get locked-in by a subscription just like Adobe is doing it with their Creative Cloud, VectorStyler is a great and affordable alternative, with awesome features and a complete set of drawing, design, and illustration tools.
VectorStyler lets you paint with real scalable vector brushes. If you are coming from Adobe Illustrator and have already created brush collections there, you can easily import them into VectorStyler. Working with objects is incredibly intuitive within VectorStyler as you can create and rotate guidelines at any angle, so your object will snap correctly to those rooted guidelines. Sketching is super fun, by quickly creating shapes using the Path Sketch Tool. If you want to add some typography to your designs you can totally do so.
VectorStyler gives you the ability to place and edit text on any shape. The text on path alignment can be linked to the shape, to dynamically update as the shape is changed. But you can even work with advanced typography, meaning you can let flow text in and around any shape, or balance multiple columns inside a text frame. VectorStyler makes switching from Adobe Illustrator like a breeze, since it lets you open native Illustrator CC and CS files, retaining high level artwork attributes.
VectorStyler is available for both macOS and Windows for $95 one time. There are even more incredible features to explore, so make sure to head over to their website.
---
Mental Wealth
➢ Metaverse! Metaverse? Metaverse!! – "'Metaverse' is the buzzword of the moment, yet it doesn't really exist as more than a label on a whiteboard, and many of the ideas it tries to combine might not happen, or not like that. This might be the new 'information highway.' But however it works, some kind of break-out of new devices, new experiences and new kinds of popular culture seems pretty easy to believe in."
➢ Feeling Stuck or Stymied? – "Time and again, we're reminded that there's no such thing as overnight success. But how long should it take us to achieve our career goals? When progress is slower than we'd like, many of us are left wondering: Is my plan not working—or just not working yet? Over the past several years—including during the pandemic's cycles of work frenzy and stagnation—I've researched the question of how we can bring more long-term strategic thinking to our professional lives, despite living in societies that so often glorify high-speed achievement and force us into personal comparisons."
➢ Sketching as a strategy – "A few years ago, I was interviewing a designer named Xin Xin. The interaction designer from IDEO was interviewing for the first product designer role I was hiring for at One Medical. Xin, whose name means "Spicy Happy" in Chinese lives by her name and gave a wonderful portfolio presentation and is an excellent storyteller. For design and research, stories are the units of data used for qualitative insights. I interviewed her after the presentation in a 1:1. When I asked about how her design process, Xin opened the notebook in her hand and quickly began drawing with a Sharpie. She showed me the notebook and talked through her process. From there we started sketching together on the concept to discuss her process. As a former interaction designer from IDEO, Xin always had heaps of post-it notes and index cards within reach. Her ability to invoke empathy through storytelling in a human-centered way was one of the reasons she became our first UX Researcher at One Medical. She's truly one of the greatest storytellers I've worked with and it was such a joy to be her manager for more than two years."
➢ If a book can be summarized, is it worth reading? – "The longer I read, the more I believe that the value of a book, regardless of whether it's fiction or nonfiction or comics or poetry, is actually in the experience of turning the pages, moving from one sentence to the next, or one panel to the other. How I feel, and what I think about, and where my attention goes. This experience continues throughout the days and nights in between my reading sessions, and, if the book is any good, continues after I have finished the book."
---
Appendix
➢ Featured Newsletter
I am a huge fan of newsletters sharing handpicked and curated content. We are living through noisy times in which the internet gets flooded with countless bits of content every single second. It became incredibly hard to filter the internet and sort out all the noise. Rishikesh with his newsletter 10+1 nailed exactly that. Every week Rishikesh goes through 40+ newsletters, 50+ articles, 2 books, and 20+ informative or documentary-style videos to handpick interesting things and sort them out from the vast universe of information. 10+1 features an incredible selection of 11 interesting bits from topics like sustainability or climate change, contemporary art, music, personal development, technology, and more. 10+1 is a beautiful piece of content, definitely worth subscribing to.
➢ ICYMI
Vimcal, Superhuman for Calendar, featured in issue 136, launched publicly is available to everyone. You can sign up now for a 14-day free trial, after that Vimcal will cost you $15 per month. If you do not know about Vimcal make sure to check out Creativerly 136 to get some more information about it.
➢ Quick Bits
Thingiverse begrudgingly admits massive data breach / Behind SmartNews, the $2 billion unicorn trying to fix the news algorithm / WhatsApp end-to-end encrypted backups rolling out; may put pressure on Apple / Self-driving Waymo cars clog up dead-end San Francisco street / Jack Dorsey says Square is 'considering' building a Bitcoin mining system / Twitter is testing out ads in replies because ads every five tweets wasn't enough / What to Expect From October 18 'Unleashed' Apple Event / Microsoft shutting down LinkedIn in China / Twitch says no passwords were leaked in security breach
---
Twitter thoughts
---
Till next time! 👋‌‌‌‌
Support: Do you have a friend who is looking for inspiration, news about design, and useful tools and apps? Forward this newsletter to a friend or simply share this issue and show some support. You can also show some love by simply clicking the button down below and keep this newsletter a sustainable side-project by buying me a coffee. ☕️ 🥰
---
Some of the links in my newsletter and my blog posts are affiliate links. Those links are marked by an asterisk "*". If you buy something through the link, the product will not cost you anything more, but I will receive a small commission which not only supports Creativerly and my work but also helps me to keep this publication a sustainable side-project.