Newsletter
Build a culture of knowledge-sharing today & How to stop procrastinating
In this week's issue of Creativerly: The joyful and easy-to-use alternative to Powerpoint, making scheduling effortless, Content isn't king, and a lot more.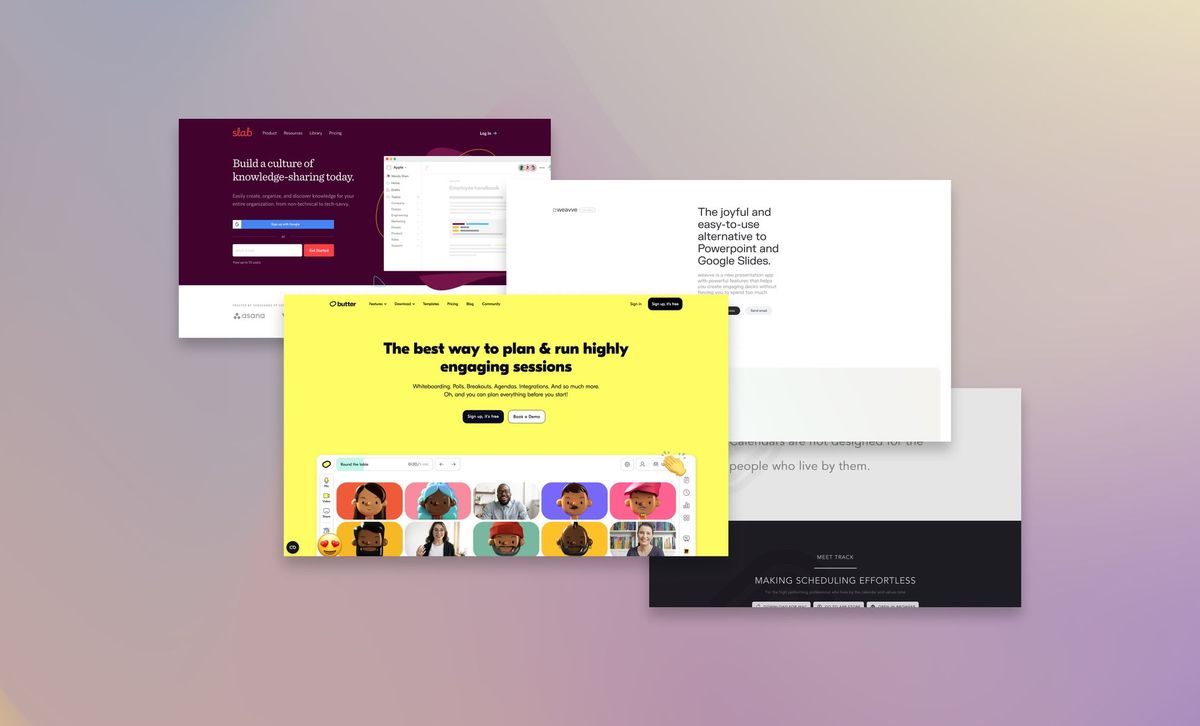 You are reading Creativerly, the weekly digest about creativity and productivity-boosting tools and resources, combined with useful insights, articles, and findings from the fields of design and tech. The newsletter built for the creative community.
---
Hey and welcome to Creativerly 168 👋
Last week, Muse announced that it is going to launch v2.0 of its popular tool for thought. With v2.0, Muse is also going to introduce their dedicated macOS app. Until now, the core focus of Muse has been its iPad App.
What I truly love about Muse is the fact, that it explicitly states itself as a tool for thinking. Within Muse's blog post back from March 15th, you will find a graphic representing a timeline going from 'Idea' to 'Artifact'. The area of 'Idea' gets represented by Muse, as it gives you access to tools which give you the feeling of jotting down your thoughts and ideas with a pen on a whiteboard. Muse does not want to replace your current note-taking, PKM, project management, or task management tool, Muse gives you a dedicated space for thinking. With Muse you get access to a spatial canvas for your research notes, reading, sketches, screenshots, and bookmarks.
You can think of Muse as the perfect tool for the first stage of your project, idea, or research. Once you are done with your deep thinking, you can take your content and start producing in your preferred tool, no matter if it is Craft, iA Writer, Figma, or anything else. Use Muse as your thinking tool, move the content to a different one for producing and acting on it. I am excited to see Muse 2.0 in action and I am also curious to give the workflow between Muse on the iPad and on the Mac a try. It is super interesting for me to see just like PKM tools like Obsidian, Logseq, Roam, or RemNote got extremely popular over the course of the last two to three years, it seems like visual-first note-taking, PKM tools, and tools for thought are now also on the rise.
Tools like Muse, Heptabase, Scrintal, or Napkin are growing fast and more and more people are getting interested in the visual-first approach. I am sure that we will see real innovation in that space when it comes to features and ways to leverage the power of visual note-taking and connecting our thoughts and ideas. There are definitely exciting times ahead.
---
Be more thoughtful with people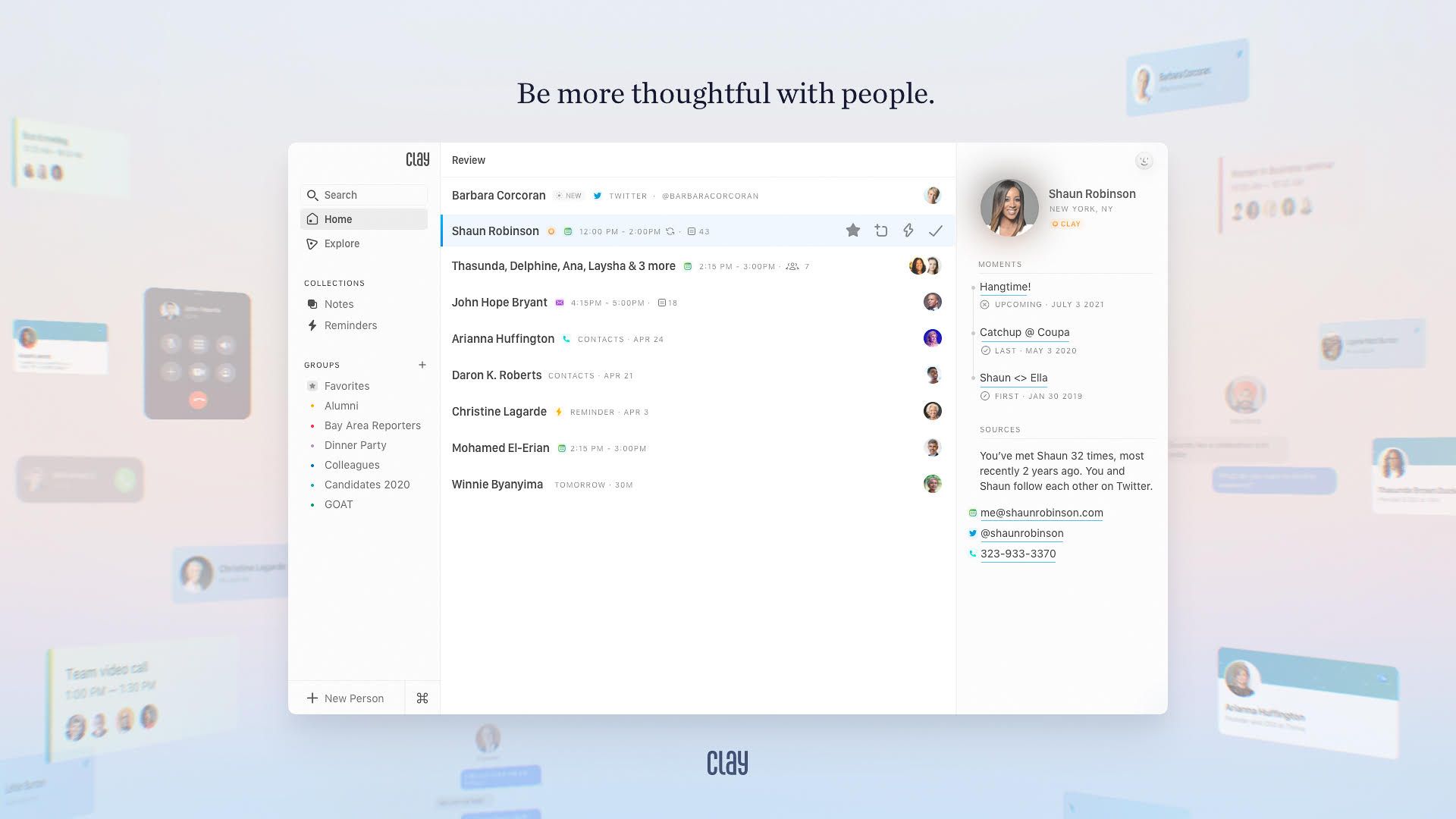 Being thoughtful with the people that matter is difficult. Clay wants to make it easier. Clay is a beautiful and private home for your relationships, built automatically from your email, calendar, LinkedIn, Twitter, and iMessage. Set reminders, take notes, and more. Try 60 days free with this link.
This is a sponsored message. If you also want to highlight your app, tool, resource, newsletter, job offer, in front of over 1600 creative minds, head over to creativerly.com/advertise* and get in contact.*
---
Apps, Software, Tools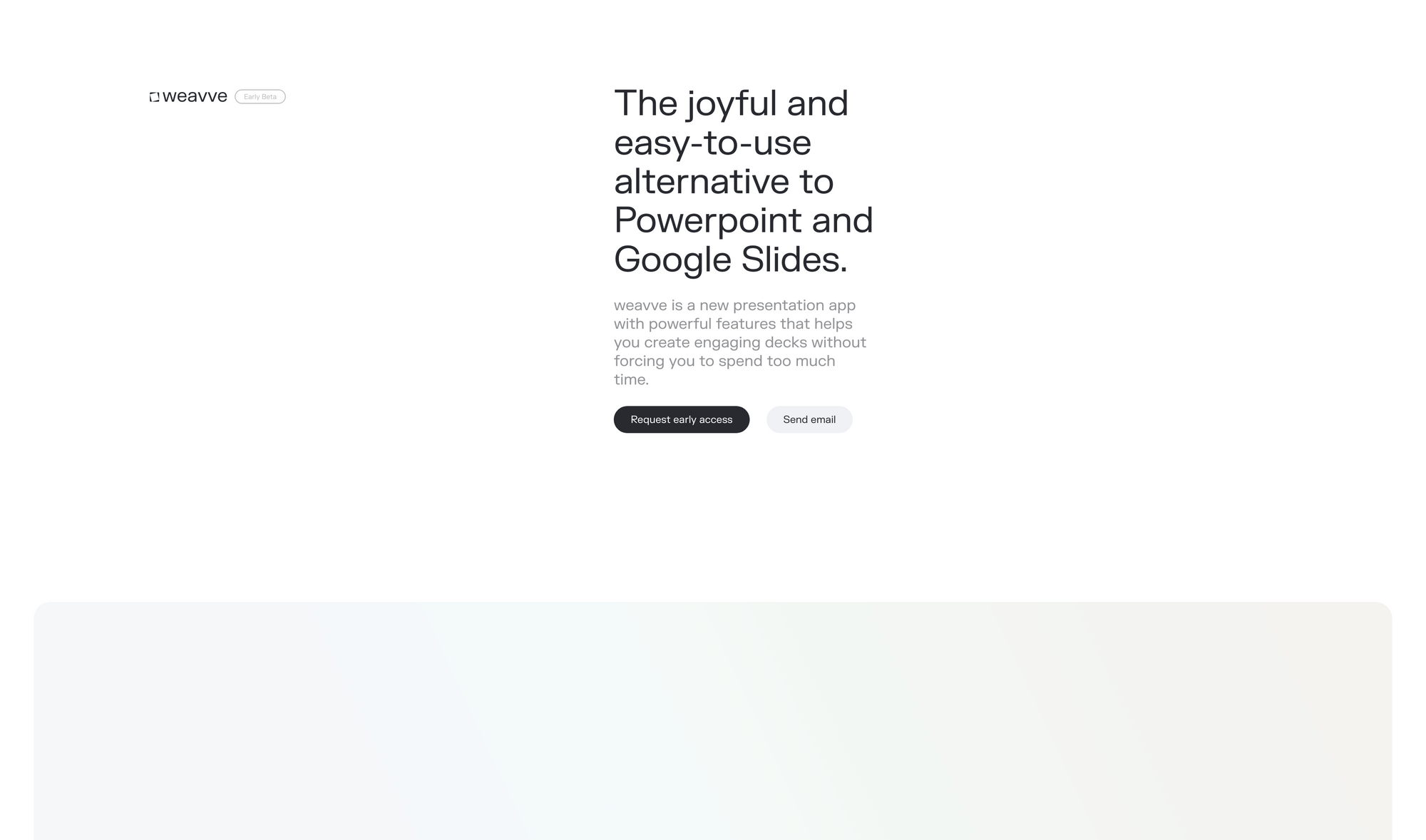 When Pitch launched its PowerPoint and Google Slides alternative, it brought back the joy while building and creating stunning presentations. Nobody could have thought that a company is going to disrupt the market and build a powerful presentation tool. But Pitch is not the only tool trying to reinvent how we are building and creating presentations. Recently, I stumbled across another PowerPoint and Google Slides alternative, called weavve.
Weavve is a new presentation app, currently in early beta, packed with powerful features that give you the possibility and ability to create beautiful and engaging decks and presentations. Creating and especially designing presentations within PowerPoint and Google Slides can sometimes be quite hard because of the lack of features that give you the creative freedom that you are looking for. Weavve makes creating presentations and decks incredible convenient. Although weavve gives you the possibility to move fast, you do not have to compromise on design and the overall quality of design. Use weavve to tell both your small and big stories in an engaging way. Regarding the features, the current landing page of weavve does not give us any insights into what those features will be. There is a screenshot of the actual product though, which gives me the impression, that weavve will have a focus on a distraction-free interface, so you can focus on creating and telling your story.
Although there is currently not that much information about weavve, we know so far, that it is a fully functional product, in an early beta stage. The first invites to weavve already rolled out in April, so if you sign up to their waiting list now, you should probably receive your invite soon. Weavve will not only be targeted at individuals but also at teams. Once you signed up for weavve's platform, you will be able to create multiple workspaces, which you can then share with others or keep private for yourself. There is currently no detailed information about the pricing plans of weavve available. According to the website, there will be a limited free plan as well as paid plans for individuals, teams, and enterprises available.
To get access to weavve you can head over to its website and sign up now for early access.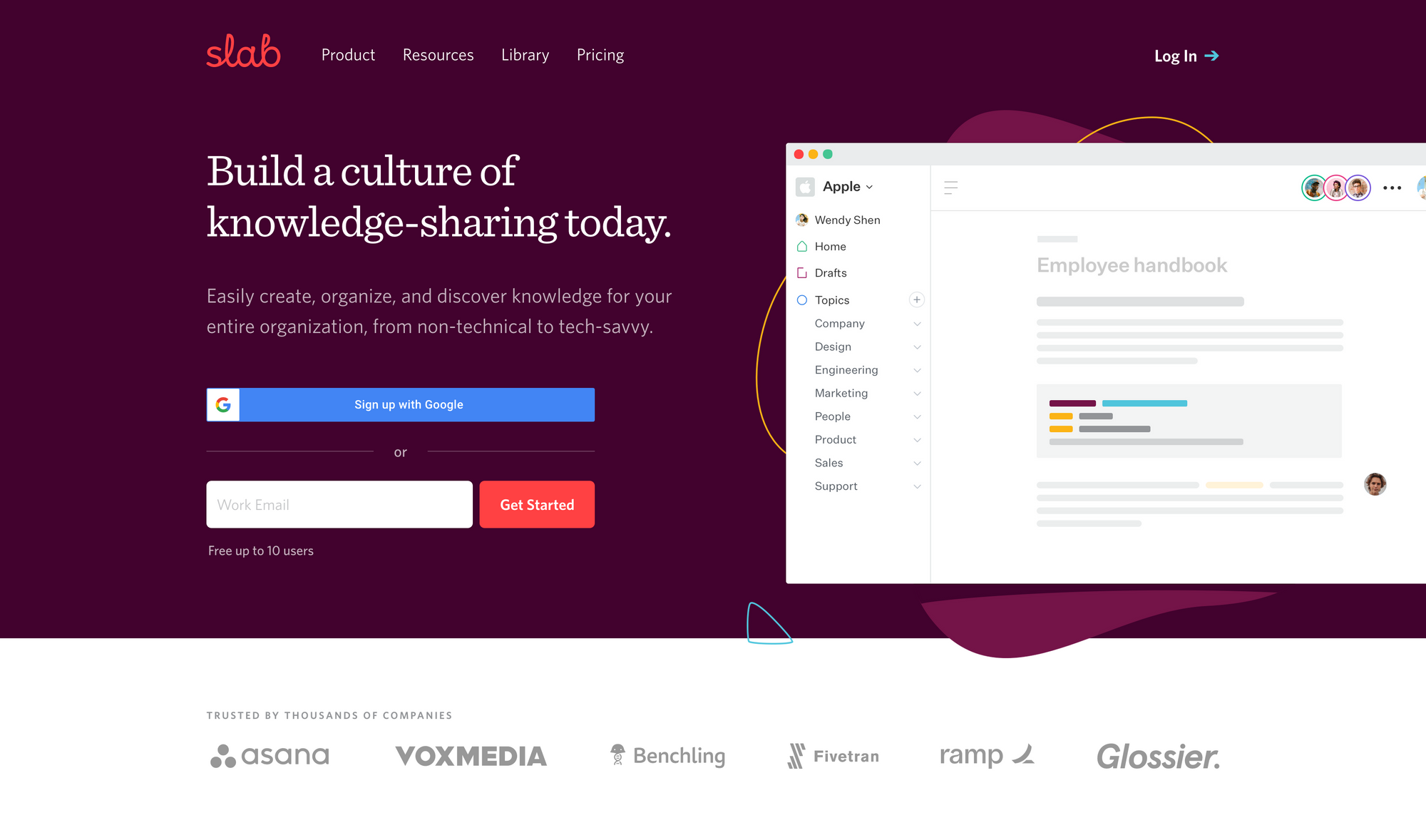 Creating, sharing, and maintaining knowledge across a team or Organisation is as important as ever. It is exciting to see that there are more and more tools that aim to give you the possibility to build a culture of knowledge-sharing. Slab is a tool that lets you easily create, organise, and discover knowledge for your entire Organisation.
Slab features a modern editor within an intuitive interface, so you can create content that looks good by default. This gives you the possibility to focus straight on your writing as you do not have to fix any of the formattings. Once you started creating content, you can make it easy for teammates to browse and discover it. With Slab Topics, you can both organise and provide relevant context to make it easy for your whole team to learn about different policies, procedures, and processes within your company, but also about each others' ideas and insights. To stay on top of all the knowledge you create, Slab features a powerful search that not only pulls in answers from the content you have created within Slab but also from all of your integrated tools. This gives you the possibility to bring the most relevant results all in one place.
Speaking of integrations, Slab integrates with everything else and the tools you are already using, like spreadsheets, slide decks, task managers and much more. No matter if you are working within an Engineering, Sales, Operations, or any other team, Slab gives you the features you need to document git branching, code review processes, spread best practices, build a knowledge base of frequently asked questions, and a lot more. You can use Slab for free forever for up to 10 users, 90 days version history, unlimited posts and topics, templates, real-time collaboration, unified search, and 10 standard integrations. The Startup Plan costs $6,67 per user per month (billed annually) and gives you access to unlimited users. There is also a Business Plan available for $12,50 per user per month (billed annually) with additional security features like SAML-based SSO and SCIM Provisioning.
There are dedicated desktop apps available for Apple Silicon, macOS Intel, and Windows. If you are on the hunt for a tool to build a knowledge base for your team, make sure to give Slab a try.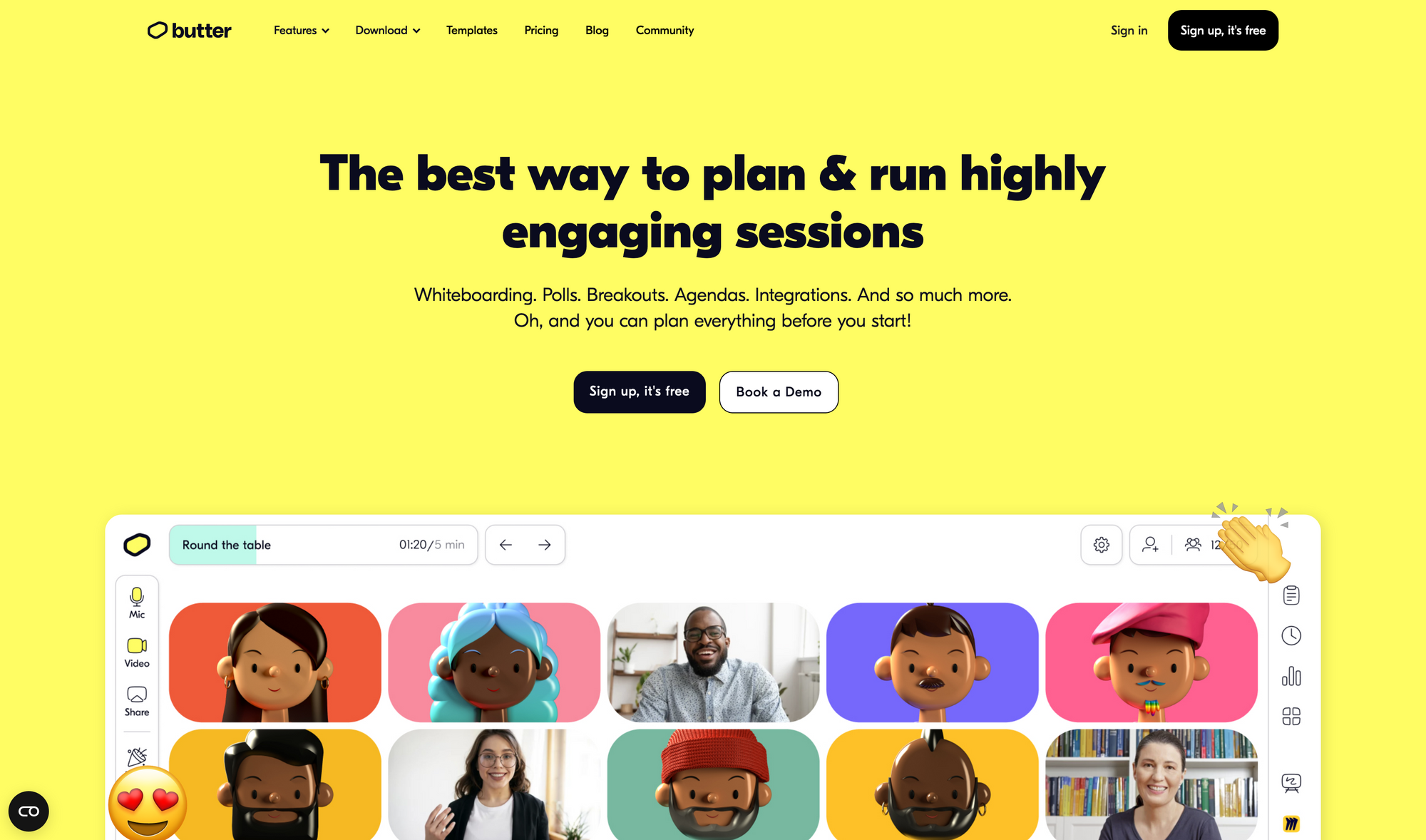 Butter is the collaboration powerhouse. Butter combines whiteboarding, polls, breakouts, agendas, and loads of integrations into one tool. The idea of Butter is to focus on true collaboration by getting rid of all the tabs and apps you have open while hosting sessions and workshops with your team or clients.
With Butter, you can host engaging and interactive sessions with your team or your clients as smoothly as possible. All the tools you need to host such sessions are already there, in one place. Additionally, Butter lets you prepare your entire session in advance. Safe presets for agenda, breakouts, polls and more and keep everything right at your fingertips during the session. To keep your participants engaged throughout the whole session, they can use emoji reactions, sound effects, GIFs, and more. If you are planning to host a dedicated workshop with your team, the most important thing is to get the agenda right. Within Butter your time boxed Agenda is visible to all, so it is easy for your participants to keep up with things. If you want to minimize interruptions during your sessions, ideas, comments, and questions from your participants all go to the Queue, which can be managed by you as a host.
Breakouts are incredible valueable for hosting workshops. With Butter you get the experience of creating and hosting super customisable breakouts, plus the possibility to peek and broadcast into them. To gather the thoughts of your participants quickly during the session, you can use polls within Butter to get answers to your questions. If you want to make for example ideation sessions with your team on a regular basis, rooms within Butter are permanent, which means you can reuse them as all your settings are saved for later use. No matter if you are hosting sessions with 5, 10, 50, or 100 participants, Butter got you covered for up to 200 people in one session. Besides all of that, Butter also features a strong focus on security and privacy, as Butter is built on an ultra-secure infrastructure and EU-level GDPR compliance.
You can use Butter Basic for free forever, with access to all Butter tools and integrations, unlimited co-facilitators, unlimited one-on-one sessions, group sessions for up to 60 minutes, up to 2 rooms, and up to 100 participants. The Pro Plan will cost you $25 per month (or $300 billed annually) and gives you additionally no time limits, up to 25 rooms, unlimited cloud recordings, and your own logo in session. The Legendairy Plan costs $42 per month (or $500 billed annually) and gives you access to unlimited rooms and up to 200 participants. There are dedicated apps available for Windows, Mac Intel, Mac Silicon, iOS, and Android.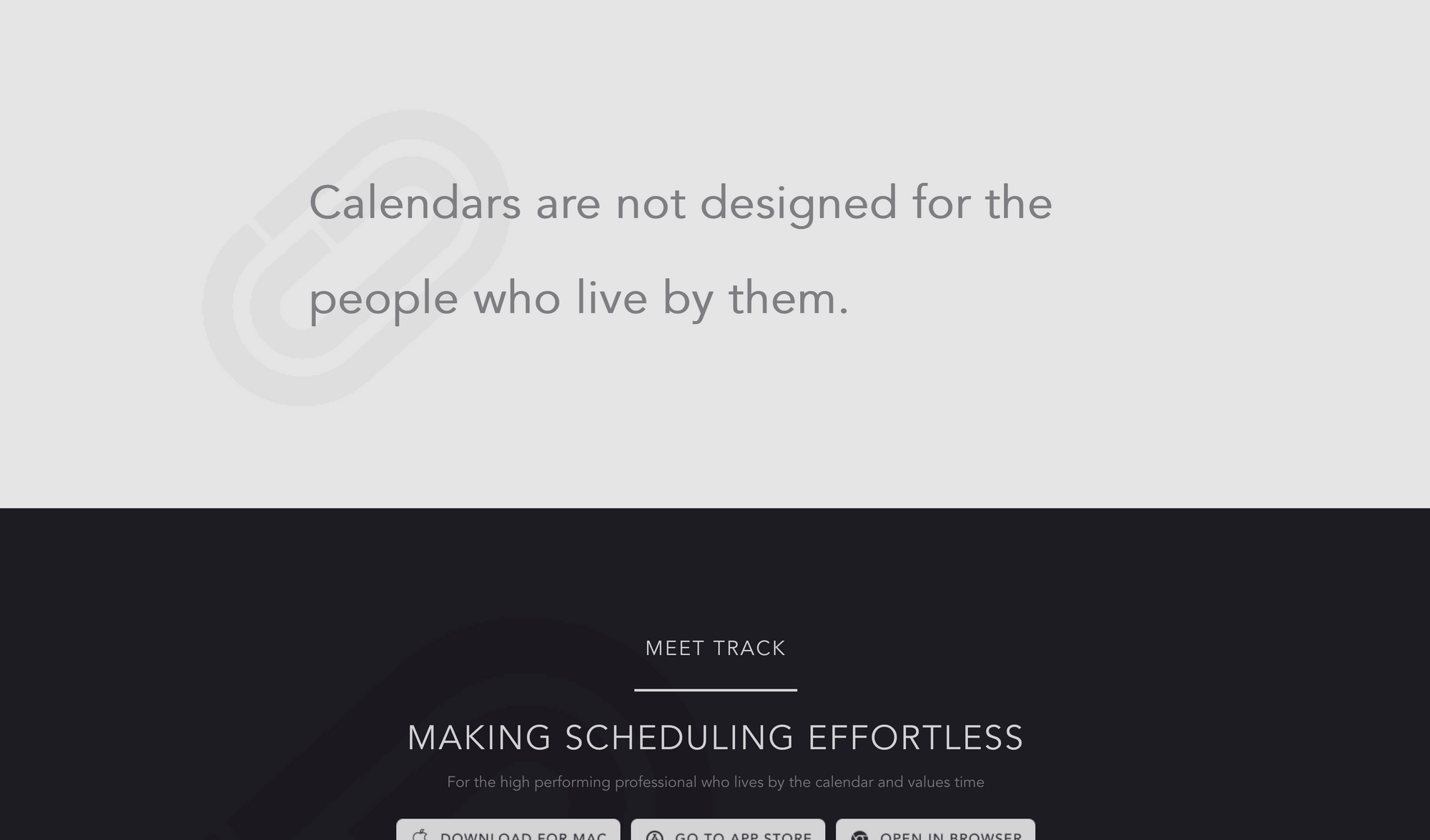 Track is a new calendar application that entitles itself as "the Superhuman for calendar". That is a confident statement, as Superhuman quickly became one of the most powerful and popular email clients out there, as it features loads of features that let you process all your emails at the speed of lightning, and additionally offers a beautifully crafted interface.
Just like Superhuman is mainly focused on professionals, Track is also a calendar app for high performing professionals who lives by the calendar. The main feature of Track is the ability to quickly share your availability with personalized messages. These can be customized to your needs. Track will take care of timezone conversions for you, so you do not need to worry about it. Track is not only a powerful application for individuals, but you can also use it with your team. If you do so, you will experience effortlessly team scheduling. Scheduling a meeting with your team can include countless messages going back and forth. With Track there is no more wasting time navigatin the calendar maze to find a time for your teammeetings. In addition to that, Track lets you set up recurring invites within seconds. In general, Track features loads of shortcuts and quick keys to move across the app, and create and manage calendar events.
To stay on top of your meetings, Track defaults to the day view, so you can easily join your next calls in one click. Currently, Track is available for Gmail and Outlook. There are apps for macOS, iOS, and it is also available as a web app. The interface of Track or at least the colour choice for the dark mode indeed reminds me a little bit of Superhuman. Although it seems like the team behind Track has an eye for detail and carefully crafted interfaces, it is interesting to me that they do not use high-quality screenshots on their websites, and the buttons to download the apps are also blurry. All in all, I am not a huge fan of the website as it does not resembles the beautiful interface of Track itself.
---
Mental Wealth
➢ Content isn't king – "People in tech and media have been saying that 'content is king' for a long time - content and access to content was a strategic lever for technology. This isn't really true anymore. Music and books don't matter much to tech, and TV probably won't matter much either."
➢ A New Future for the Interface – "The discipline of design has historically produced fixed products. Even the term "product" implies the end of a process, or something that is completed and typically unchanging. But we know that the intent of the designer and of the person experiencing the design are engaged in an ongoing conversation. Digital products have drastically increased the pace of that conversation, introducing faster iteration, new modes of interaction, and – importantly – space to imagine a future in which a person's intent directly defines their experience of digital interfaces. This essay connects historic conceptions of interface and adaptable design with contemporary developments and visions, looking toward a truly adaptive future that transforms "users" into individual creators by directly enabling the expression of their intent."
➢ How to cultivate creativity as an adult, according to an expert – "Creativity is an essential element of the human condition. Yet unlike other elements of our humanity, there's a perception that creativity seems to leave us as we age. Children, wrapped up in their imaginary play worlds and projects, are notoriously unhindered in their creativity. But adults are far less adept at conjuring the fantastical and bizarre imagination that their childhood selves had easy access to. Many adults long for those playful youthful days, when conjuring up a grand scene, on paper or on the playground, was as natural as breathing."
➢ How to Stop Procrastinating – "Most of us procrastinate. We feel guilty about it and criticize ourselves for it. And yet we still do it. Why? Because of at least three factors: the absence of good habits and systems (poor discipline), intolerance for particular emotions (like anxiety or boredom), and our own flawed thinking patterns."
---
Do not miss out on this …
These are paid promotions or affiliate links to support Creativerly. If you are interested in putting your tool, product, or resource in front of over 1600 creative minds, consider advertising in Creativerly and book a sponsor or classified ad spot. Find all the important information at creativerly.com/advertise.
---
Appendix
➢ ICYMI
The newest Creativerly interview with Clo S. from This Too Shall Grow is out now. Head over to the interview and get insights on the topics of mindful UX and digital wellness, the projects Clo is working on, the tools she uses, and a lot more.
---
Twitter thoughts
---
Till next time! 👋‌‌‌‌
Support: Do you have a friend who is looking for inspiration, news about design, and useful tools and apps? Forward this newsletter to a friend or simply share this issue and show some support. You can also show some love by simply clicking the button down below and keep this newsletter a sustainable side-project by buying me a coffee. ☕️ 🥰
---
---
Some of the links in my newsletter and my blog posts are affiliate links. Those links are marked by an asterisk. If you buy something through the link, the product will not cost you anything more, but I will receive a small commission which not only supports Creativerly and my work but also helps me to keep this publication a sustainable side-project.