Newsletter
Bust writer's block with AI & The one app you need to stay organised
In this week's issue of Creativerly: A time-tracking app with focus on work-life balance, your digital notebook reimagined, breakthroughs of the year, and a lot more.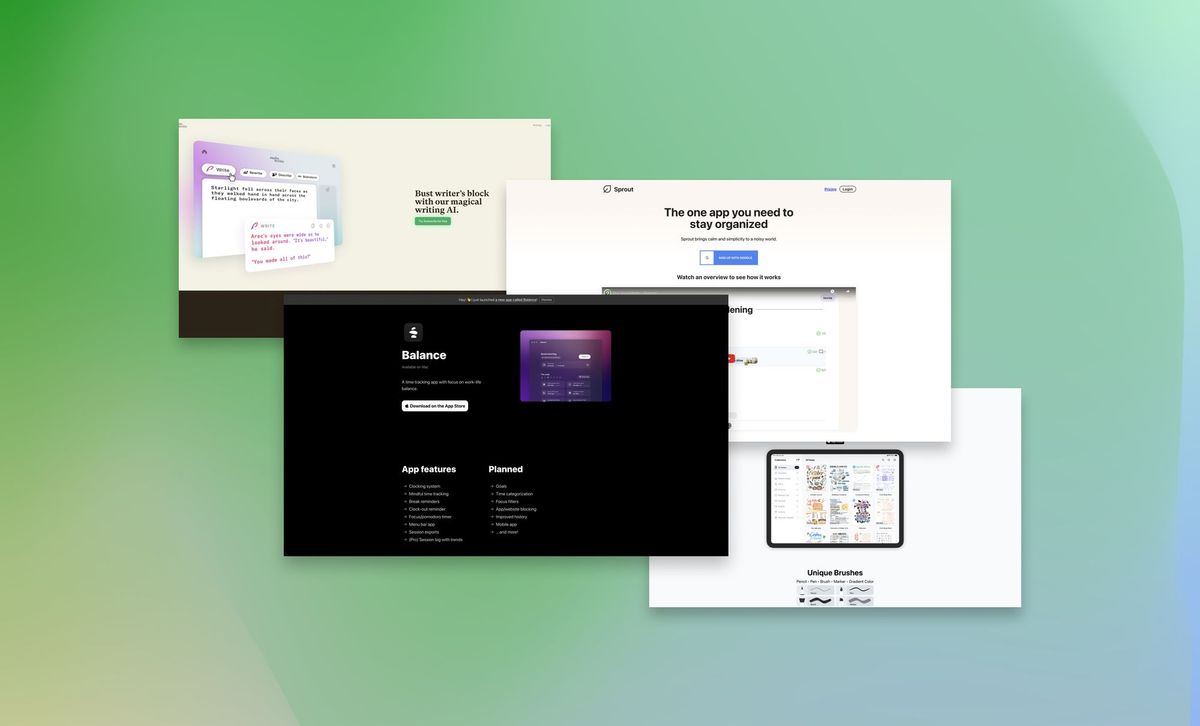 My name is Philipp and you are reading Creativerly, the weekly digest about creativity and productivity-boosting tools and resources, combined with useful insights, articles, and findings from the fields of design and tech. The newsletter built for the creative community.
---
Hey and welcome to Creativerly 201👋
Welcome to 2023, happy new year! I hope you had a great new year's eve and an even better start to the new year. I spent the whole week between Christmas and New Year's looking through my side projects and thinking about ways how to evolve them, what I want to work on during 2023, and what my goals for those side projects are. It all happened very casually since this specific week between Christmas and New Year's always feels like a dead week. I am never sure if I should use it to focus on getting some stuff done, plan for the new year, or I should just log off and not touch anything regarding my projects.
But this year, I used the week, to reflect on my side-projects, think about what I want to work on during 2023, and how I can possibly evolve them. Besides that, I also used this as a chance to spend some more time with Tana, probably the most-hyped note-taking and PKM tool currently out there (I am testing and using it for a couple of weeks), and build and form my system. First of all, I am excited to tell you (yet again), Creativerly is here to stay. It was an exciting year, with loads of content, new opportunities, and new connections. This means I will just keep going and doing what I love, writing and creating content for Creativerly. I really enjoy writing long-form pieces like The Ultimate Productivity System for Knowledge Workers or the deep dive about Napkin. Those posts were very well-received, and it seems like the community and audience is really enjoying them. So, you can get prepared to find more long-form content at Creativerly throughout 2023 (I have a deep dive about Penpot, and a piece about privacy-friendly Gmail alternatives already in the pipeline).
Speaking of community, this is a project I failed in 2022. For those of you who do not know about this, Creativerly has a Discord community, which was created with the intention to set up and create a place where Creativerly readers can come together to share, learn, and discuss anything about apps and tools, or the topics of creativity and productivity in general. While there are already 50 people who are part of the community, I failed my job as a community manager, which led to the fact, that the community became a quiet place. But let me tell you, the community is not dead, and I still want to pursue this idea throughout 2023. I would love to engage with my readers more, within a private space, and the Discord community is a great place for that, in my opinion. So, besides my continuous focus on creating content, building and maintaining the Creativerly Community, will be one of the core focus points for 2023. If you want to become a part of it, sign into creativerly.com, head over to the community page, and find the Discord invite link there. To sign into creativerly.com, all you have to do is to click on "Subscribe" on the website, click on "Sign in", and use the email address that you have used to subscribe to the newsletter. You will receive a sign-in link to that email address.
I have some plans for Creativerly throughout 2023, and I am excited that you are all joining me on this journey. Let's have a blast in 2023.
---
Insightful business news that respects your time and intelligence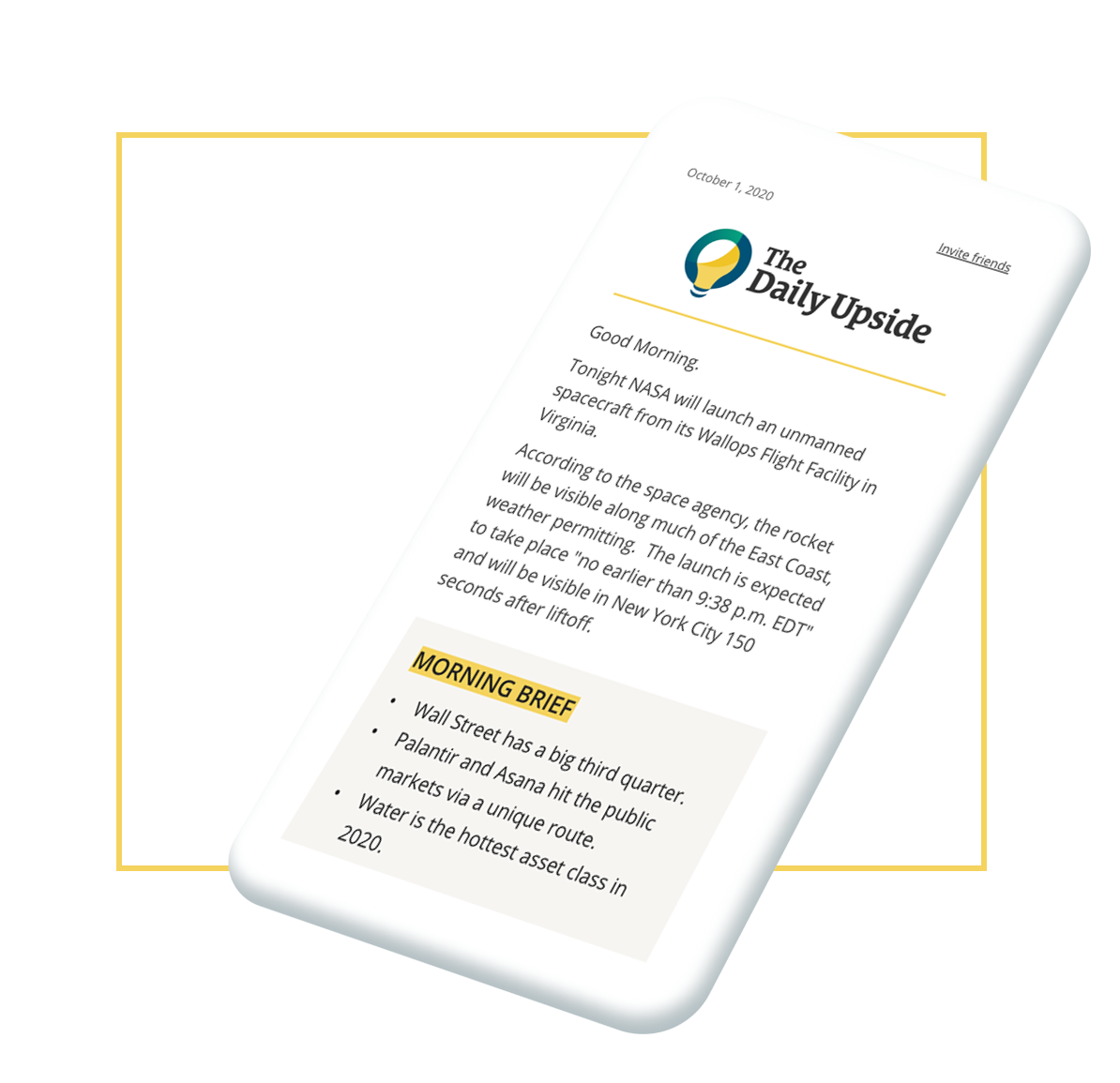 The Daily Upside is a business newsletter that covers the most important stories in business in a style that's engaging, insightful, and fun. Started by a former investment banker, The Daily Upside delivers quality insights and surfaces unique stories you won't read elsewhere.
This is a sponsored message to support Creativerly. If you are interested in putting your tool, product, or resource in front of over 1900 creative minds, consider advertising in Creativerly and book a sponsor or classified ad spot. Find all the important information at creativerly.com/advertise.
---
Apps, Software, Tools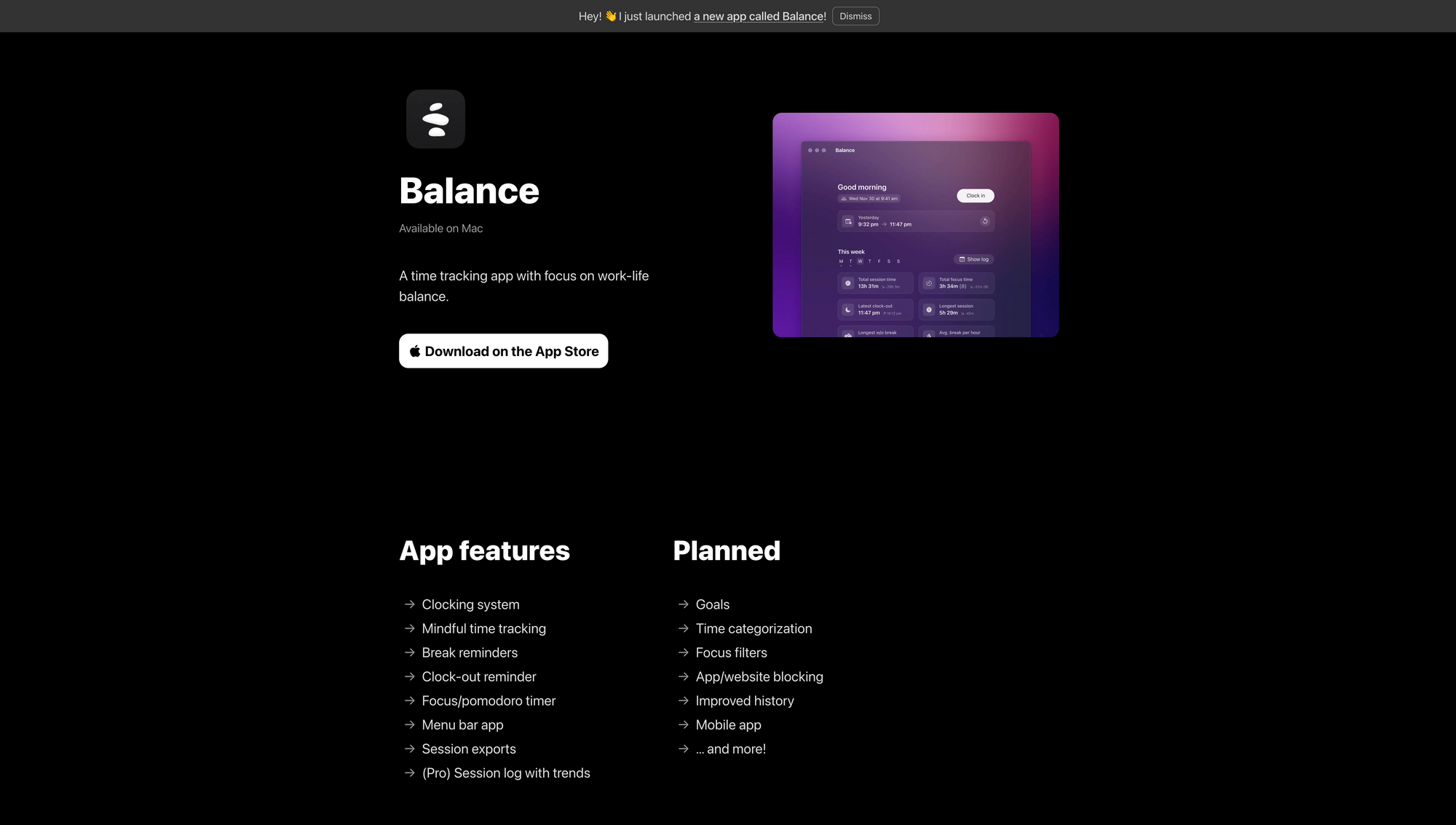 Every now and then, I like to time track while working on different projects, just to get some insights, into how much time I spend on achieving my goals, solving problems, and implementing new features. Loads of time-tracking tools out there are cluttered and bloated with countless features. Recently, I stumbled across Balance, a time-tracking app with a focus on work-life balance.
In the past, I have used, tested, and played around with quite a lot of different time-tracking tools, but there is no doubt that Balance is the most beautiful piece of software within that category. There is always something special about opening up a new app you want to try out, and you immediately see all the craft and love for detail that went into designing its interface of it. Balance sets an incredibly high standard for beautifully designed software in general. With Balance you get a superb time-tracking tool that you can use for different purposes. The manual clocking feature helps you to mentally check in and out of work. Regular break reminders prevent you from diving into unhealthy work sessions. During your working day, breaks are immensely important to regain energy and prepare yourself to set your focus again. With Balance, you can be sure that you always take breaks regularly.
The focus timer of Balance helps you stay focused on your tasks, making sure to finish your next project from a to z. You can also use the focus timer if you want to perform the Pomodoro Technique to split up your focus sessions while you are working.  This is incredibly useful since loads of people rely on the Pomodoro Technique during their working days. It is a nice way to split up bigger projects into smaller chunks that you can tackle more easily. Large projects can often become overwhelming, so the Pomodoro Technique is a great way to stay productive and focused the whole time, and Balance is a great tool offering the features you need to stay focused on your tasks.
Balance is exclusively available for macOS. You can let Balance run in the background but it will always be accessible from you from Balance's menu bar app. If you want to export your sessions, you can totally do so with Balance. The session log of Balance gives you insights into your work-life balance, and you can track and evaluate it over time. Balance is still in its early days. Most of the features are available for free, but you can also purchase the Pro Subscription, which is available for €2.49 per month or €25.99 per year. On Balance's roadmap, you will also find planned features like Goals, time categorisation, focus filters, app/website blocking, improved history, a mobile app, and a lot more.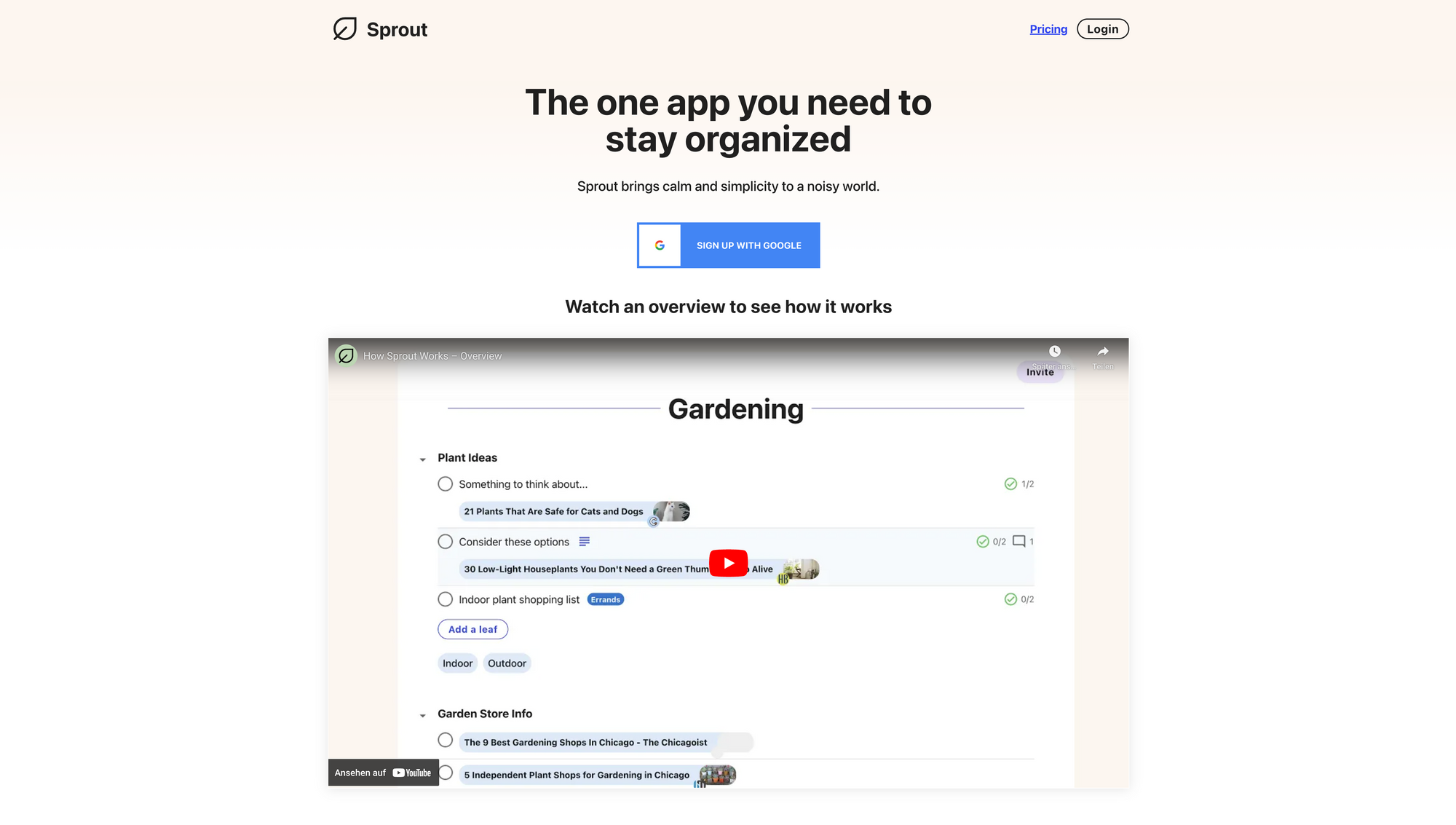 Sprout entitles itself as "the one app you need to stay organised" which is a bold claim. It wants to bring calm and simplicity to a noisy world. Sprout is a place for all your to-dos, notes, bookmarks, and project information. With a new approach called tree-like grouping, Sprout is able to become your one place to organise your work.
Your digital home within Sprout surfaces only what you need. It is a dashboard of your trees, deadlines, priorities, and reading list. Trees in Sprout are basically projects or folders, which means you can set up Trees for "Family", "Design", "Marketing", "Operations" or anything else. But unlike other to-do apps, Sprout trees are nestable, which allows you to save diverse information within your projects. All your to-dos, bookmarks, or different kind of information are stored within so-called leaves in Sprout. There is no need to reach for another app, jumping back and borsht between multiple tools to save bookmarks, jot down notes, create to-dos or follow discussions. Sprout gives you the possibility to save diverse kinds of content together, in one centralised space.
To keep track of your most important and scheduled action items, Sprout features the Agenda, which is a dedicated view that gives you a clear overview of when to work on something. You can see all your deadlines sparingly and are able to add additional reminders, so you never forget to get something done. Sometimes it can happen that you overschedule your day. To prevent you from that, Sprout lets you assign priorities to all of your action items. Within a dedicated priorities view, you can then see what to-dos you should focus on next. While browsing the web, you often come across content that you would like to save and come back to it later, or you find information that is related to a task, or you found an article that you would like to read next. Sprout lets you save links with a click or keystroke. You can add content from the web easily to your Read Later, To-Dos, Public Profile, or any other trees you have created within Sprout. There is no need to scatter important content across different apps since Sprout allows you to gather everything in one place with a streamlined workflow.
For folks who want to give more context to action, Sprout lets you also take notes, and your notes will always be close to what they relate to. If you want to use Sprout within your team or with collaborators, you can start a discussion within Sprout and communicate any to-dos, projects, or other kinds of information, without the need to switch tools. Speaking of teams and collaboration, Sprout lets you assign important work to your team members, but you can also track the latest activity across different trees and view everything that has changed at a glance. Additionally, you can set up workspaces for your business, organisations, communities, clubs, and anything else. There is also a social aspect connected to Sprout, since you can share collections on your profile, and follow people with similar interests.
You can use Sprout for free. The Free Plan includes unlimited members, unlimited public/private trees, 200 private leaves, and 60 MB files uploaded per month. The Team Plan will cost you $5 per user per month and includes everything from the Free Plan plus unlimited private leaves, multi-user, priority support, and 5GB of files per month.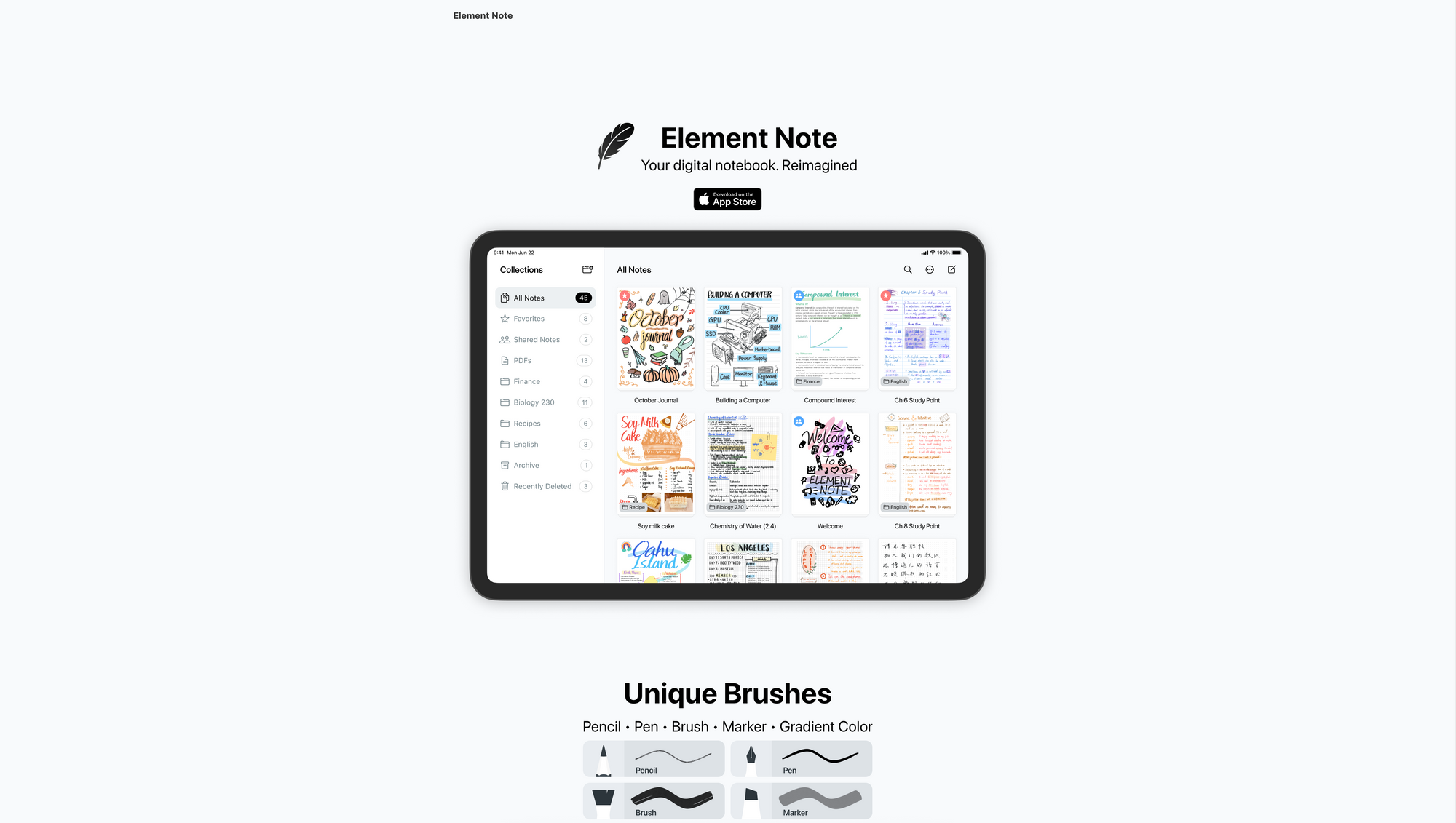 Element Note is your digital notebook reimagined. It is a beautifully designed app that elevates your notes.
Designed exclusively for the Apple ecosystem (apps are available for iPhone and iPad), Element Note is a next-gen note-taking, PDF annotation, and light sketching app. It has a modern look and powerful features, striving to provide an elegant writing space free of distractions. When taking a first look at Element Note, I would say "mission accomplished". Within Element Note, you can structure and organise all your notes very traditionally, by creating folders. So, no matter if you want to use Element for work, side-projects, or personal stuff, just create folders and structure your notes with ease.
With unique brushes like Pencil, Pen, Brush, Marker, and Gradient Color, you can elevate your sketching process to another level. The Pencil brush includes an HB Pencil and a Technic Pencil, the Pen a standard Pen, Line Pen, and Fountain Pen, the Brush an Art brush and Round brush, and the Marker a standard Marker and a Round Marker. This means you have an incredibly versatile set of brushes to sketch, draw, and take notes. With Element Note's intuitive interface you can easily switch between all those brushes, change colours, and select different actions. With on-screen elements like text, shapes, stickers, and images you have even more options and features to raise your whole digital note-taking process on your iPad to another level. Text boxes let you add more clarity to your sketches, notes, and drawings when you have the feeling that your scribbles are not enough. With Stickers you are able to highlight certain areas of your notes. To bring your notes and drawings to life, you can add various shapes and images to them.
But those features are even more powerful when you use Element Notes for PDF annotations since then you are able to edit a PDF to your liking by using shapes, text boxes, or stickers. Speaking of PDFs, Element Note offers another incredibly powerful feature. When you are using the app more and more, creating more and more notes, scattered across different folders, it can become hard to actually find the stuff you are looking for. But thanks you Element Note's Universal Search, you are able to always stay on top of your notes. Universal Search lets you search through PDFs and handwriting, which is magical.
To make sure, all your notes are available on all your devices, you can sync them via iCloud. Additionally, iCloud also allows you to collaborate with up to 100 users. You can use Element Note for free for up to three notes. To create unlimited notes, you can either sign up for Element Note Yearly, which costs you €3.99, or you can unlock the Lifetime version for €11.99.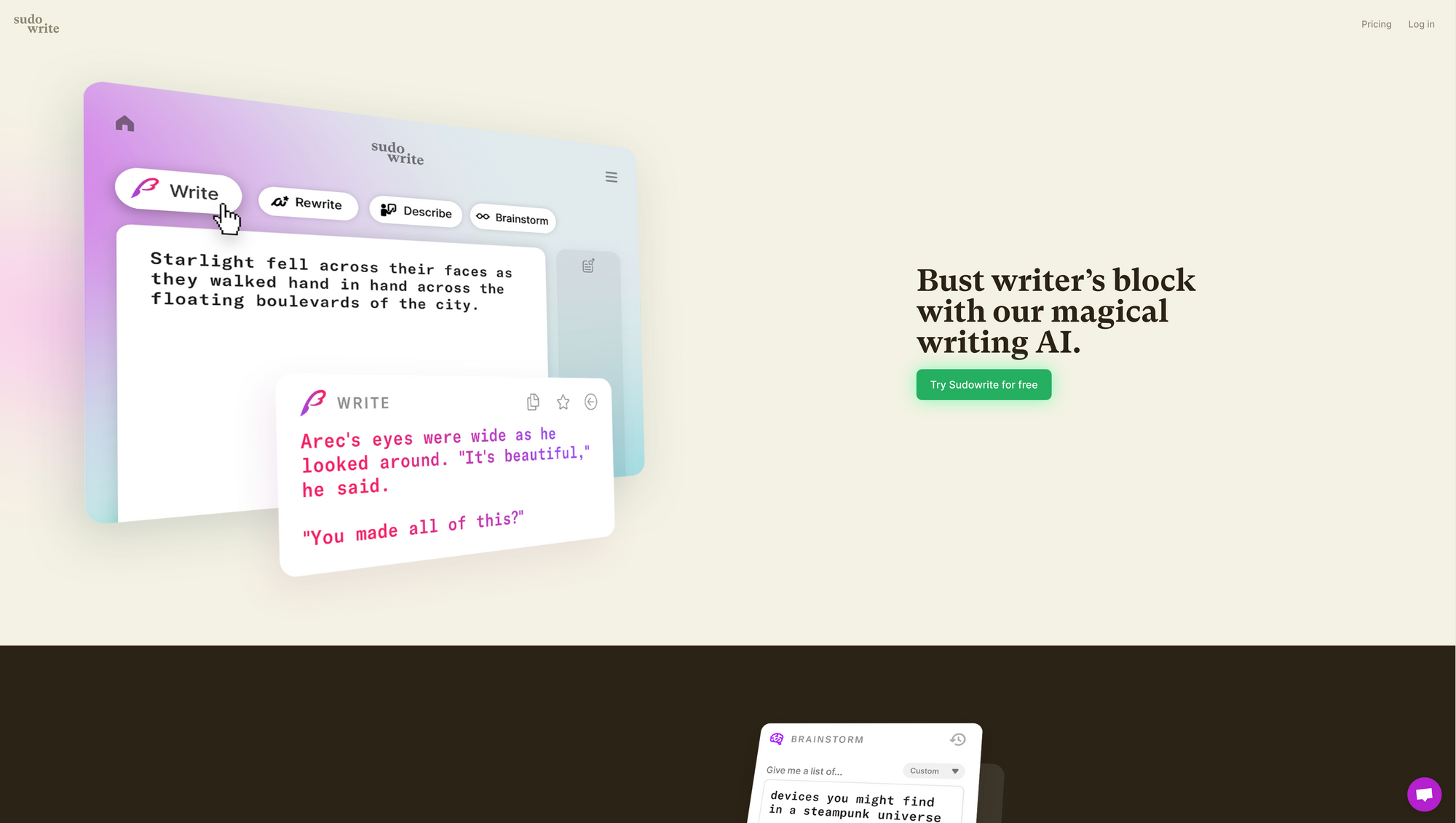 One of the most discussed topics of 2022 has been without a doubt AI and the way it is going to influent work within different areas. But one area that stood out was writing AI. Loads of AI writing tools recently launched, and writers were blown away by the power of AI. In previous issues of Creativerly, I already wrote about powerful AI writing apps just like Lex or Moonbeam*. Today, I would like to present you Sudowrite, another AI-powered writing app that leaves writers and content creators speechless.
During the AI writing boom, I read about a lot of people being worried, that AI will take over their jobs. Personally, I do not see this happening anytime soon, although AI-powered writing apps deliver incredible results. For me, AI writing apps are ways to become even more creative and create even more content. One of the biggest problems writers face literally every single day is writer's block. Sometimes you are hitting a wall. You feel stuck, and the next piece you wanted to write has to wait. At this point, AI writing apps show their true power in my opinion. With an app like Sudowrite, you can prevent writer's block during your process and workflows. Sudowrite's magical writing AI is your very own writing assistant, ready whenever you need it. Are you struggling to find the next topic to write about? Sudowrite is your always-available brainstorming buddy. The brainstorming feature is incredible if you would like to kick off your next writing piece. With just a few keystrokes, you can generate a list of [insert anything that comes to your mind here].
Additionally, Sudowrite has a built-in feedback feature. This means you can get beta feedback without having to find beta readers. No matter if you finished your whole post or just a piece of it, get direct feedback from Sudowrite, powered by AI and find out how you can optimise your writing. But that is not it. Whenever you go through what you just have written and you realise some sections do not sound like you want them to sound, Sudowrite can rewrite sentences or even paragraphs for you. It is beyond amazing to experience something like this. Sudowrite, and especially the AI comes up with impressively cogent paragraphs, no matter what you are writing about.
AI-powered writing apps are taking over. They are not taking over our jobs, but they are taking over certain writing processes and workflows. They help you to articulate your thoughts better, structure your writing, come up with fresh and interesting ideas, be more concise, and find the right words. While AI-powered writing apps are not perfect yet, Sudowrite comes pretty close, especially when it comes to the fact that it is a writing assistant every writer has dreamed of.
You can give Sudowrite a try for a whole month as they are offering a one-month free trial. After that, it costs you $10 per month. Give it a try and experience the magic of Sudowrite's AI.
---
Mental Wealth
➢ Breakthroughs of the Year – "Today, The Atlantic reveals its inaugural 10 Breakthroughs of the Year. The accomplishments span every station of life, from birth to death, and every component, from our cells to the stars. They include a drug that revives the organs of dead animals; an embryo created without sperm or egg; a telescope to see the universe's first moments; and an AI that conjures award-winning art."
➢ Why journalists are so desperate to find a Twitter alternative – "I know this is largely anecdotal, but I haven't seen a significant decrease in my tweet impressions over these last few weeks; if anything, they've ticked up slightly. If there's a mass migration away from Twitter, it's not showing up in my stats. In fact, publicly-available data indicates that Twitter usage has actually spiked since Elon Musk closed his acquisition of the platform."
➢ Startup to exit: Lessons from a first-time founder – "I first met Suril Kantaria in 2020 when I was starting my life as a solo paid-newsletter person and realized I needed to figure out health insurance. Fortunately, Substack just started offering a perk called Savvy—a monthly stipend alongside a neat tool that gave me easy access to health insurance plans. Suril was the co-founder and CEO at Savvy, which in the early days meant he was my insurance advisor, enrollment specialist, and customer support—basically my personal health insurance guru. He went on to scale Savvy to tens of millions of dollars in payment volume, and earlier this year, Savvy was acquired by the leading incumbent in the market. When I caught up with Suril, he shared his startup story with me, and I found it incredibly powerful and insightful. I asked if I could share it with my newsletter audience, and I'm excited to do so below."
➢ Endless Media – "Among trivial agonies, few are as painful as finishing a good book. It is a strange heartbreak, simultaneously too big and too small. You are losing an entire world of characters, struggle, and meaning – but one that is entirely invented, holding no real purchase over your life. A story can be made or ruined by its ending, a fact any author or filmmaker knows. Hemingway wrote forty-seven versions of A Farewell to Arms to "get the words right," while Kubrick fussed with the closing of The Shining until the very last moment before ordering the destruction of remaining takes so that no interloper could rearrange his composition."
---
Classifieds
These are paid promotions or affiliate links to support Creativerly. If you are interested in putting your tool, product, or resource in front of over 1900 creative minds, consider advertising in Creativerly and book a sponsor or classified ad spot. Find all the important information at creativerly.com/advertise.
---
Appendix
➢ ICYMI
The most-exciting piece I have written back in 2022 has been without a doubt The Ultimate Productivity System for Knowledge Workers which resulted from a collaboration with Tejas Gewande from Probably Nothing. This article has been in the works for quite some time, but I am beyond excited to finally see it live and published. If you are you looking for the single source of information on all categories of apps you need as a knowledge worker, The Ultimate Productivity System for Knowledge Workers got you covered.
➢ Quick Bits
---
Twitter thoughts
---
👋
Till next time!
Share or forward this post to your friends, if they are also looking for creativity and productivity-boosting tools and resources. If you need help discovering your next favourite task management, note-taking, or PKM app, Creativerly delivers the insights you need. Creativerly is an independent publication and I am writing and maintaining it in my free time. You can support Creativerly and my work by sharing it with the world,
booking an advertising spot
, or by
buying me a coffee
.
---
---
Some of the links in my newsletter and my blog posts are affiliate links. Those links are marked by an asterisk. If you buy something through the link, the product will not cost you anything more, but I will receive a small commission which not only supports Creativerly and my work but also helps me to keep this publication a sustainable side-project.