Newsletter
When content becomes your king & Declutter the internet
In this week's issue of Creativerly: The visual toolbox, a design tool for 3D, good design is science not art, Tech Executives Aren't Fortune Tellers, and a lot more.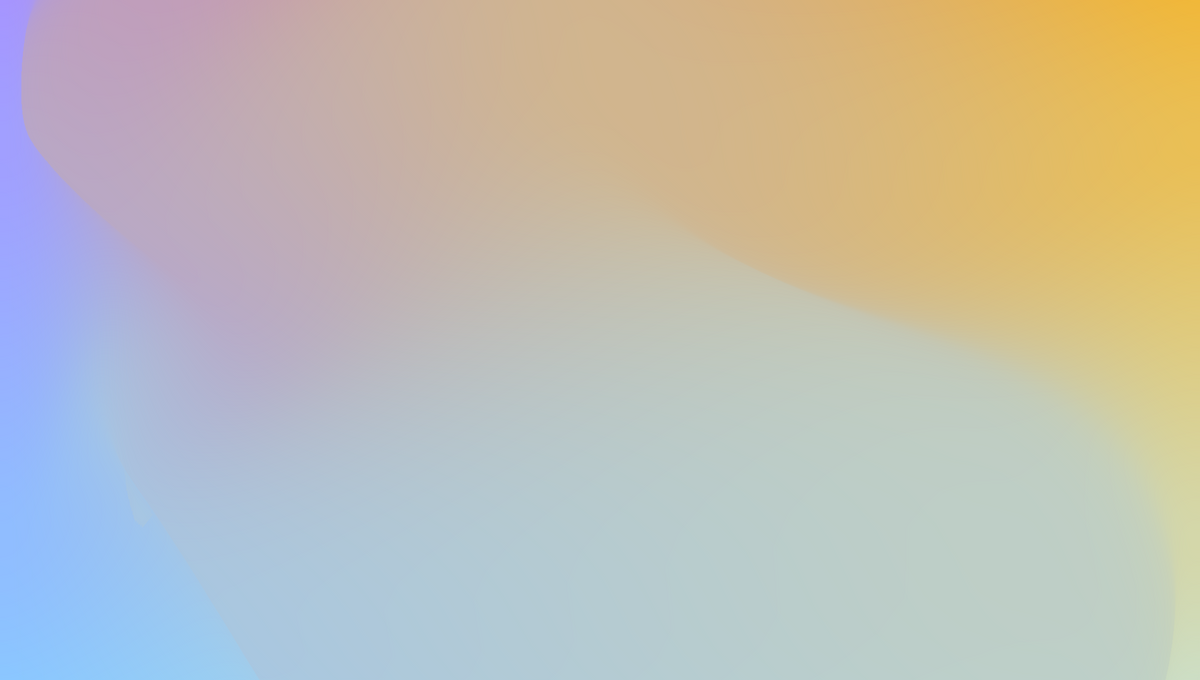 You are reading Creativerly, the weekly digest about creativity and productivity-boosting tools and resources, combined with useful insights, articles, and findings from the fields of design and tech. The newsletter built for the creative community.
---
Hey and welcome to issue 109 👋
Last week I got reminded why it was the best decision for me to move from Substack to Ghost. Ghost just released a new major version, Ghost 4, bringing native email newsletters and membership management to the platform (those were beta features before). Also, they gave the dashboard a fresh new look, which makes it now even easier to manage and organize your content within Ghost.
They surely listen to their users and they made it a mission to tailor the platform to their user's needs. Therefore, it feels good to be part of their platform and their journey. I am excited to see where they are taking their product and how it will evolve over time with new updates.
One of the most exciting features they have introduced with Ghost 4 is the Starter Plan. Before Ghost 4, the Ghost Pro subscription started at $29 per month, which is a steep pricing for anyone who just wants to write and publish content as a hobby. They listened to their audience, and introduced the new Starter Plan which will cost you $9 per month (billed annually) for up to 25k page views per month and 1,000 members. This is an exciting plan for every creator who is just starting out and want to build up a business from writing and sharing content.
If you want to get a more in-depth overview of all the new features they have introduced with Ghost 4, make sure to head over to their website.
If you have recommendations or feedback, drop me an email or a tweet. For now, enjoy the newsletter!  🥰
---
Apps, Software, Tools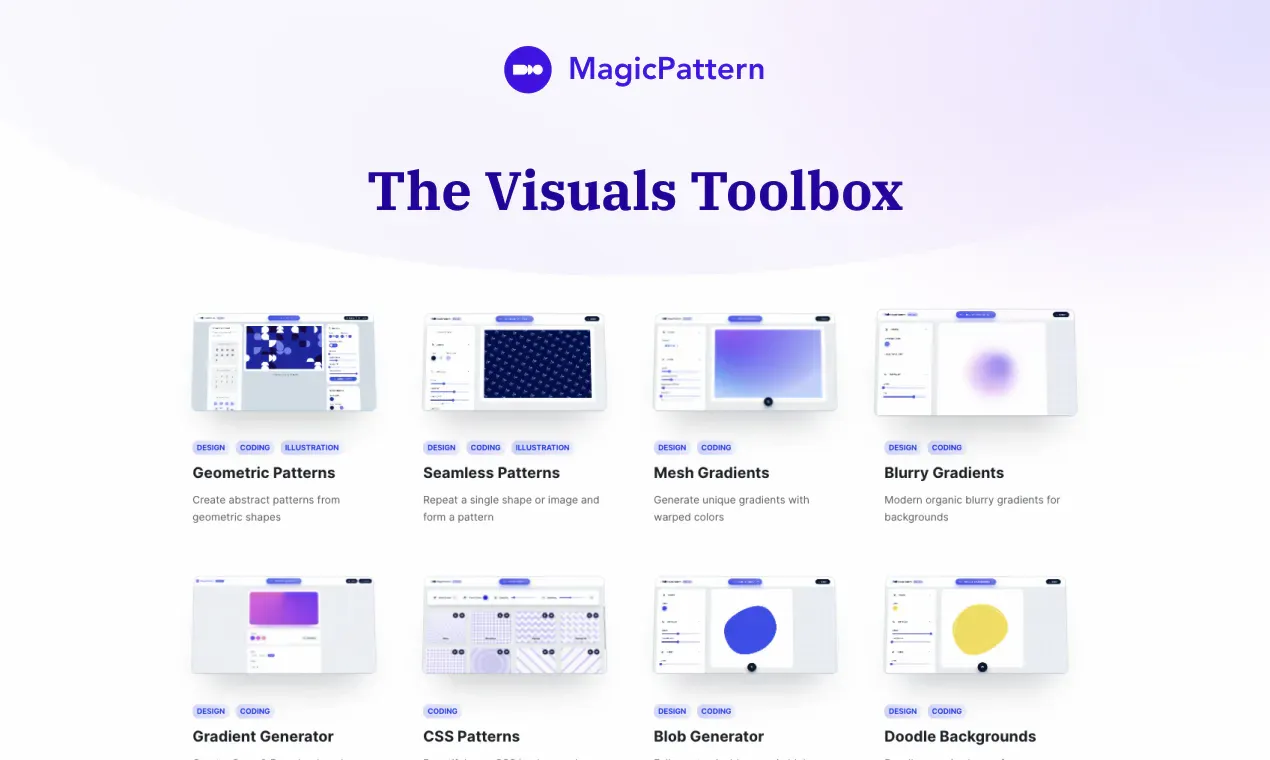 It is amazing to see how Jim Raptis, the creator of MagicPattern, evolved the product and turned it into a full toolbox. If you do not know Jim, make sure to check out the interview I had with Jim. Back in Creativerly issue 80, I shared MagicPattern for the very first time. Back then MagicPattern was an editor to create unique geometric patterns to brand your landing page, website, and social media posts. With the latest release, Jim turned MagicPattern into a full-fledged visuals toolbox featuring different editors to create geometric patterns, seamless patterns, mesh gradients, blurry gradients, basic gradients, CSS patterns, blobs, doodle backgrounds, grain to image, social media templates, and web mockups. MagicPattern is an incredible creativity boost.
The geometric pattern generator features over 250 pre-made shapes, and your patterns can be exported directly into JPG, PNG, SVG, CSS, and GIF. Mesh gradients are currently extremely popular in Web Design, and MagicPattern makes it incredibly easy to create them. With the MagicPattern Mesh Gradient Tool you can create Mesh Gradients literally in a few clicks: Choose your preferred color palette and create jaw-dropping gradients, that's it. With filter options like grain or blur, you can make your gradients extra eye-catching. The MagicPattern creative suite is available for $10 per month (if billed annually). Incredible value. Make sure to check out MagicPattern's website to get all the in-depth information about the tools and see some examples of work created with MagicPattern.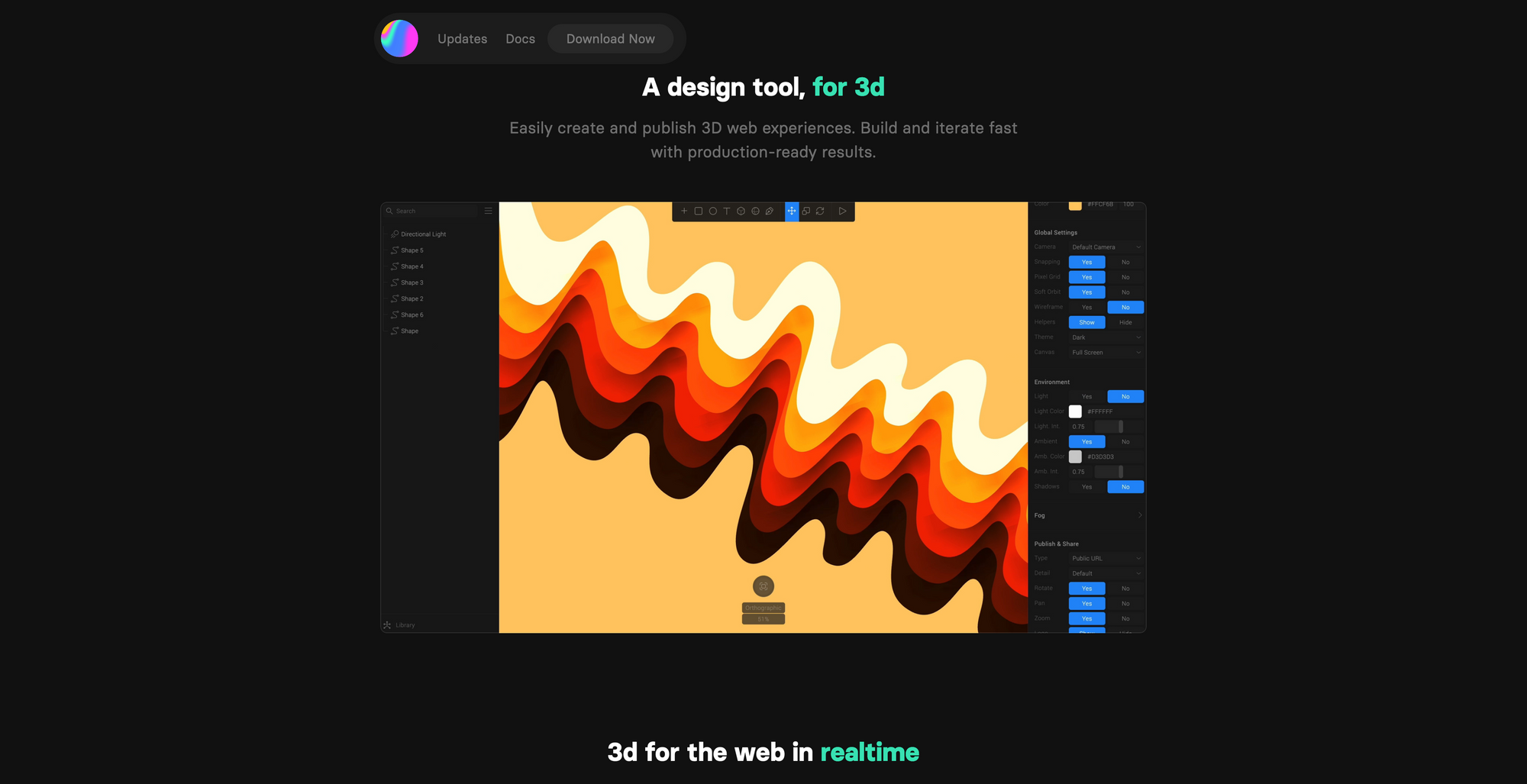 We already had an early look at Spline back in issue 85 of Creativerly. Back then it was still in Beta, but now Spline is available as an Alpha Release for macOS (m1), macOS (Intel), Windows, and Linux. Spline is a design tool, but for 3D. Creating and publishing 3D web experiences never has been that easy. Usually, it involves a steep learning curve to get familiar with 3D tools. Spline makes 3D design accessible for everyone. If you are familiar with the functionality of design and web tools, you are familiar with the functionality of Spline. Use text, create basic geometric shapes, edit materials, import 3d models, and more. With Spline, you control the outcome of your design work. I highly appreciate it that Spline already works on cross-platform availability straight from the beginning. I am super excited to see the tool and project evolve. Give it a try!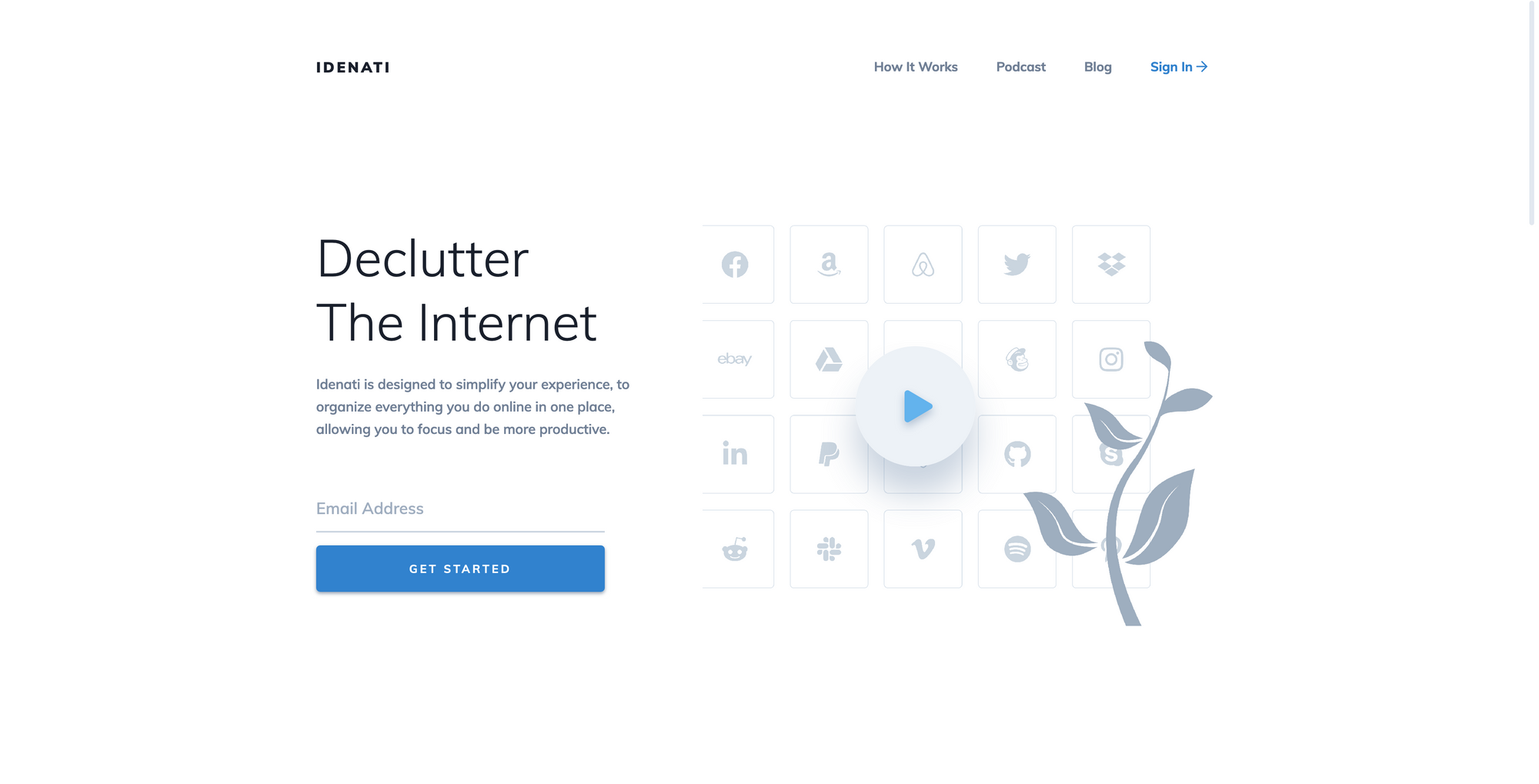 Idenati is a personal information manager. Let us take a more in-depth look at how it works and how it can boost your productivity. The browser became one of the most important pieces of software nowadays. Everyone has a bunch of websites that get visited over and over. There are already a lot of tools and extensions available which are trying to make it easier to navigate through our most favorite websites. Idenati gives you the power to manage everything you do online from your Idenati command center. That means you can organize your favorite websites in one place. With just a few clicks, you can navigate across the web and all your favorite websites. The built-in authentication gives you the possibility of simple and secure password management, no need for an extra password manager (although I would always recommend using a password manager). Idenati also features a dedicated place for your notes, task, and reminders. To further organize all your websites, you can simply create categories, which are easily accessible via a dedicated menu. If you want to take a shortcut, simply use Idenati's powerful search to find the website and notes you need. Think of Idenati as a browser workspace where you always start when working online.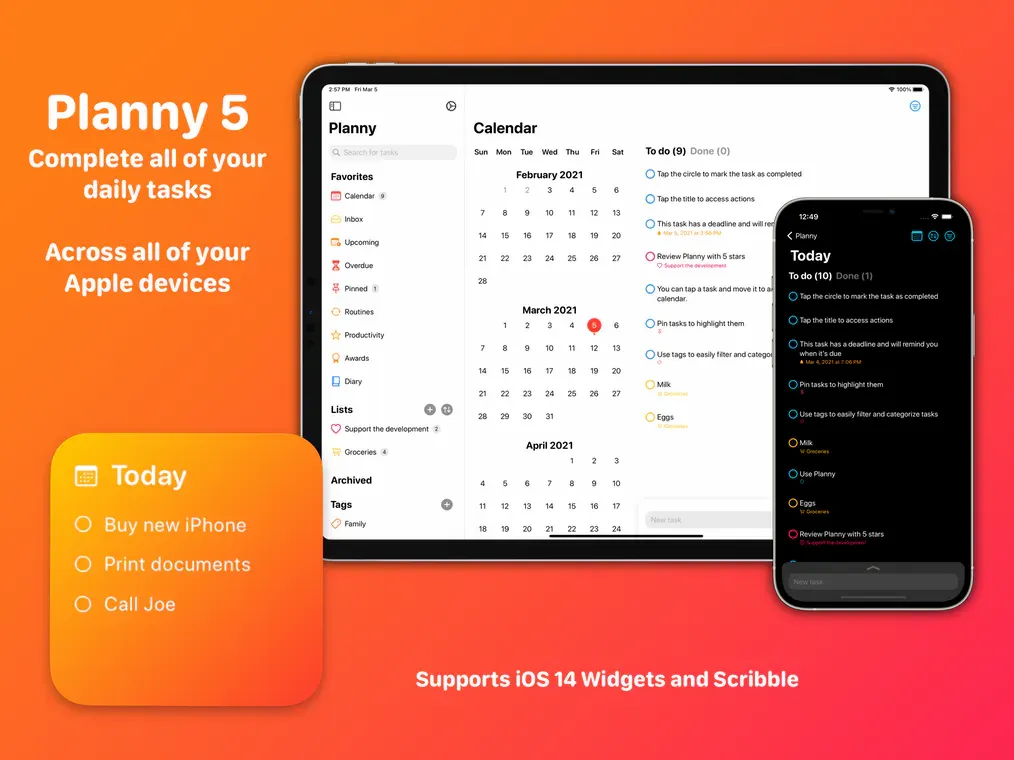 Planny is a beautifully designed task manager for iOS and iPadOS (and a native macOS experience coming soon). Planny is not your usual todo list. It combines all the important features you already know from other task managers with intelligence and gamification. So, what does that mean? In the morning and during your day, Planny recommends tasks, but also reminds you if you tend to forget them. If you add new tasks and complete them, Planny will reward you with productivity points. On the other hand, you will also lose them if you shift tasks or forget them. The gamification aspect continues as you can compare your productivity with friends throughout your week. With the most recent version of Planny, v5, the app got a whole new look. As I said earlier, Planny is beautifully designed, with human interface guidelines in mind, which gives the app a truly Apple native look. I am huge fan of Planny's approach of creating and completing daily tasks instead of jotting down countless tasks which gather in an ever-growing backlog, where you probably will miss and forget about most of them. Planny makes it super easy to keep track of all your open tasks.
---
Useful Resource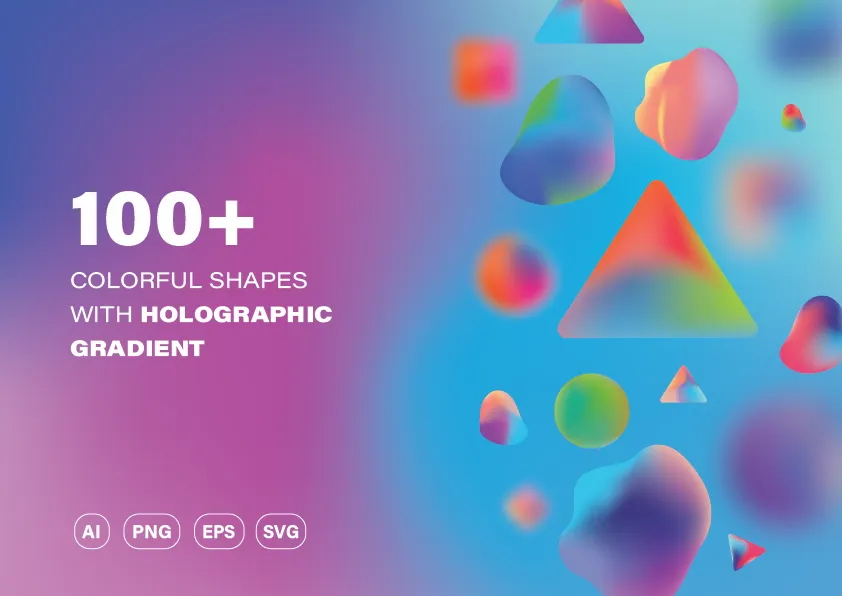 If you are looking for ways to web designs, logos, print designs, social media designs, more eye-catching, I would like to recommend "Colorful Holographic Shapes" by Riva Yudha, a great resource of over 100+ eye-catching vivid holographic gradients that will be a perfect fit to apply onto your web design, logos, any printed designs (business cards, posters, flyers, etc), or social media posts such as Instagram, Twitter, Facebook, etc. Each shape variants comes in .ai and.eps file format so you can easily customise and tailor them to your needs. On top of that, they are also available as transparent .png and .svg so you can straight use them in your designs.
---
Mental Wealth
➢ When Content Becomes Your King – "Everyone wants a successful YouTube channel, but very few people talk about how to keep it once you build it. Matt D'Avella had to figure that out for himself. He's a documentary filmmaker and YouTuber with 3 million subscribers who covers minimalism, habits, and productivity. He started out by releasing one video a week—and soon his numbers started to pick up. It was exhilarating at first: he never expected his videos to get so popular so quickly. When they did, what started out as a fun outlet for creative expression soon became something entirely different."
➢ Good design is science, not art – "I used to date a professional painter. Like "pay rent and keep the lights on with commissions" professional painter. Not just an artist, but an Arteest. Now, I know what you're thinking: "Codey's dated someone before? Doubtful." And trust me, I'm every bit as surprised by my dating luck as you are. But we're getting sidetracked. I'd see Emma (name changed for privacy reasons) spend months on a single commission. She'd take a few weeks to brainstorm and search for inspiration. After Emma finally decided what to paint, she'd spend hours prepping the canvas. She'd lose sleep with countless late nights as she pored over every detail. I once watched her spend a whole day perfecting the pigmentation on a single shadow."
➢ Tech Executives Aren't Fortune Tellers – "People who work in technology are often incredibly smart. But that doesn't necessarily make them accurate forecasters of human and social behavior. This week, Airbnb's chief executive said that he thought more people would hop between multiple homes when the pandemic ends. Mark Zuckerberg talked about his vision of people using goggles that read their minds. A co-founder of Stripe, the digital finance start-up, spoke about a range of things, including worker productivity metrics and the need for improved medical technology. These were thought-provoking ideas, and successful tech executives have been right an awful lot."
➢ The Art World Was Broken Before NFTs – "The tension between art and wealth underwent a peculiarly violent spasm on Wednesday when a tokenized digital collage by Mike Winkelmann, the artist and filmmaker known as Beeple, sold at Christie's for $69.3 million. "Everydays — The First 5000 Days" is made up of 5,000 images produced daily by the artist over the last 13 years. The authenticity of the resulting digital mosaic, 21,069 x 21,069 pixels square, is guaranteed by a "non-fungible token" or NFT, a new method of verification made possible through blockchain technology; a kind of "signed limited edition" generated through the web."
---
Appendix
➢ Featured Newsletter
The Land of Random is one of the most fun and entertaining newsletters to read. Mondays are boring. For most of us it is the start of another challenging work week. But, The Land of Random spices up my Mondays every single week. It features a great collection of different content ranging from tech news, marketing, AI, video games, music, entreprenurial ideas, and other random stuff. This wide range of content is exactly what gets me excited about The Land of Random every single week, since you do not know what is about to hit your inbox every Monday.

David Nichols, the writer of The Land of Random, also made it a mission to create a personal and informative newsletter, and he definitely achieved that, you can straight feel it when reading it. Combining all of those aspects with a wide variety of content, that strikes, is intereting, and gets you hooked, and a personal and informative touch, is hard, but The Land of Random definitely nailed it. Check out the archive to get a taste of it and subscribe right here.
➢ ICYMI
Back in February, I published Creativerly's third interview, discussing EdTech, the current state of productivity software, productive procrastination, and more together with Tobias Whetton, CEO and Co-founder of Supernotes. Read the interview here. New interviews are already in the pipeline and getting prepared for publishing.
➢ Quick Bits
Rising encrypted app Signal is down in China. / Stripe valued $95B. / What Is ProtonMail, and Why Is It More Private Than Gmail? / Google claims it has blocked over 99 million COVID-19 fake ads in 2020. / Brazil regulator fines Apple $2 million for not including chargers with iPhone 12.
---
Twitter thoughts
---
Till next time! 👋‌‌‌‌
Support: Do you have a friend who is looking for inspiration, news about design, and useful tools and apps? Forward this newsletter to a friend or simply share this issue and show some support. You can also show some love by simply clicking the button down below and keep this newsletter a sustainable side-project by buying me a coffee. ☕️ 🥰
---
---
Disclaimer: My posts may contain affiliate links. If you buy something through one of those links you won't pay a penny more, but I'll get a small commission, which supports this blog and also my side-projects. So consider buying something through my links. Thank you!