Newsletter
Design Freedom for Teams & Why goals don't work as we expect
In this week's issue of Creativerly: a digital bullet journal, an app that teaches you how to learn, how to be clear, and a lot more. You are reading Creativerly, the weekly digest about creativity and productivity-boosting tools and resources, combined with useful insights, articles, and findings from the fields of design and tech. The newsletter built for the creative community.
---
Hey and welcome to issue 103 👋
This week's intro will be a rather short one, because every now and then there are simply no thoughts and feelings to share in this intro section of my weekly newsletter. It has also been a very tough week for me and therefore I completely signed off for the whole weekend, enjoying some time-off, reading books, and simply relax.
For the 103 weeks I have been publishing Creativerly now, I think this is the third (or maybe fourth) time I am kind off short on words for this intro section. But, no worries, since I relaxed and gained some new energy over the weekend, the next issue will feature an intro section as you already know it.
So, simply enjoy this week's issue of Creativerly full of new tool, resources, and articles, to boost your productivity and creativity.
If you have recommendations or feedback, drop me an email or a tweet. For now, enjoy the newsletter!  🥰
---
Apps, Software, Tools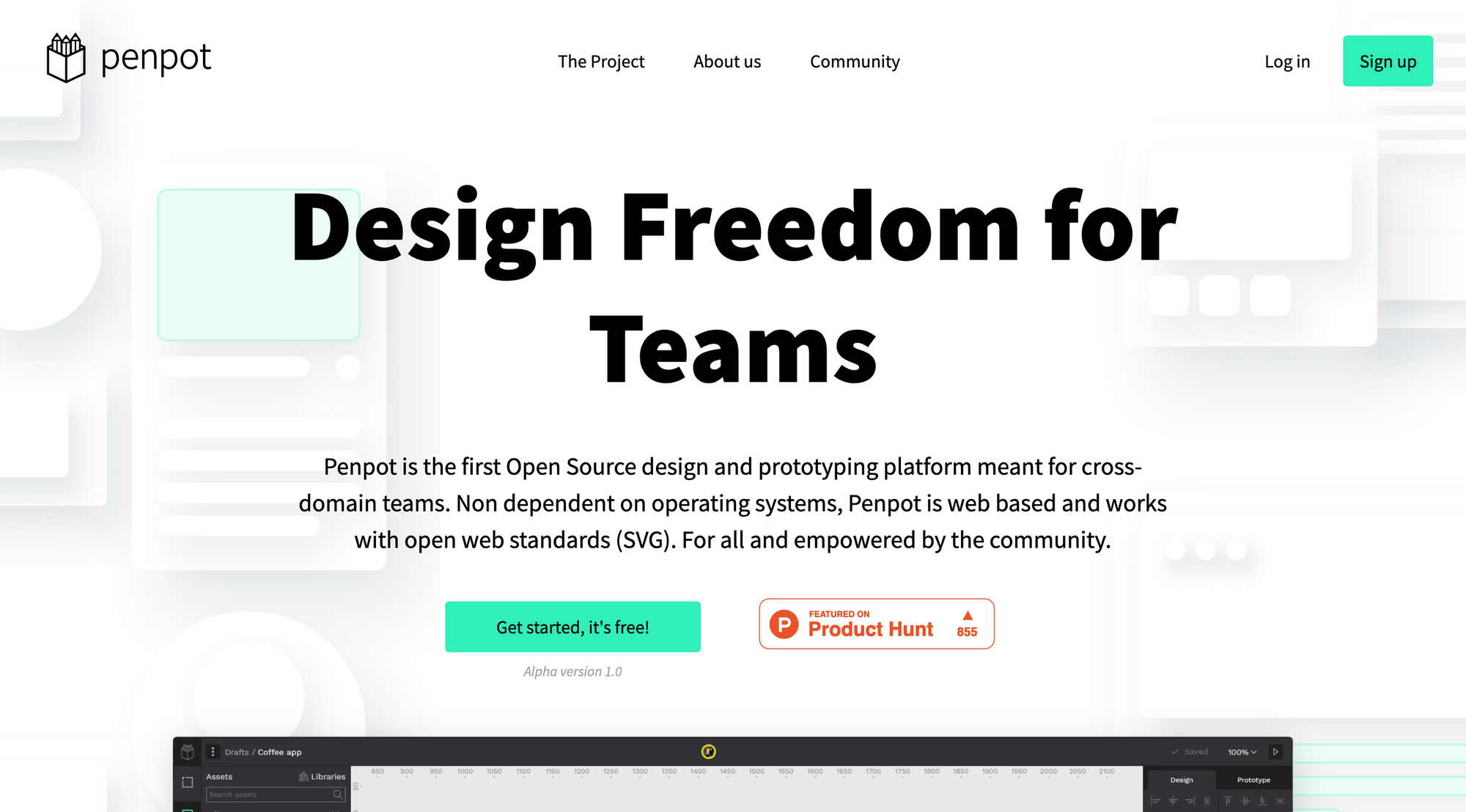 Do you know of any open-source design and prototyping tools? I did not until I found out about Penpot, which entitles itself as the very first open-source design and prototyping platform meant for cross-domain teams. Nondependent on operating systems, Penpot is web-based and works with open web standards (SVG). For all and empowered by the community. Tools like this fascinate and excite me! As most of you might already know, I am a huge fan of open-source software projects (which is one of the big reasons I decided to switch Ghost). Penpot is built by a community and powered by a community. Penpot delivers all the features you already know from other design tools. Create beautiful user interfaces in collaboration with all team members. Maintain consistency at scale with components, libraries, and design systems. Create rich interactions to mimic the product behavior. Share to stakeholders, present proposals to your team, and start user testing with your designs, all in one place. All team members working simultaneously with real-time design multiplayer and centralized comments, ideas, and feedback right over the designs. 2021 is only a couple of months old, but Penpot is already one of my favorite finds of this year.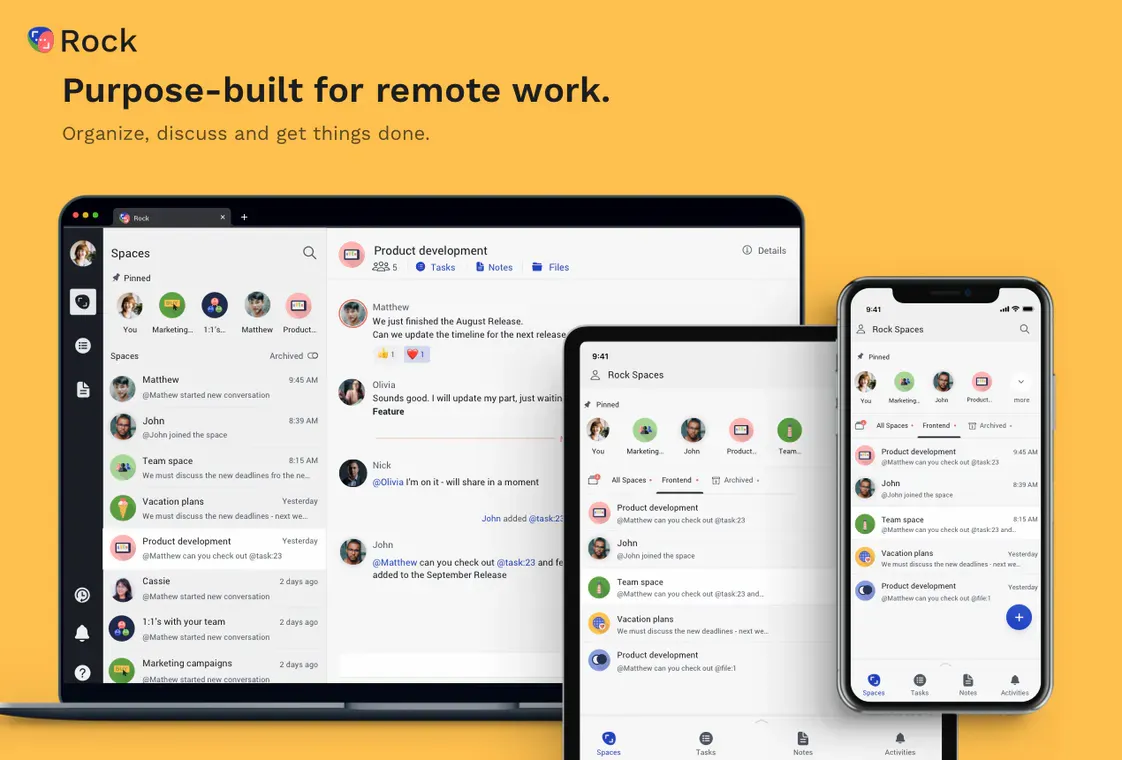 We already talked quite a lot about the ongoing discussion of bundling and unbundling software. While there are quite a lot of people who love to use services like Google (bundled) that gives you almost every single tool you would need for your personal projects or work, there are also quite a few people on the other hand that strongly force the fact to use multiple tools, each for a specific use case. While there is no right or wrong, there are advantages and drawbacks for both sides. Rock is an interesting tool, that wants you to focus more on your work and project by bundling your most favorite tools within only one. Within Rock you can create multiple spaces for any team project, and each space comes with its own tasks, notes, and files mini-apps so you can send a message, create a task or @ mention anything. Within your projects, you can create a task, add assignees, and switch between list and board views. Also, no matter if you want to work with people inside or outside your organization, Rock got you covered. If you work with freelancers, agencies, or other external partners they can join the conversation, work on tasks, or access the files they need. Rock does a great job at showcasing all the different ways to use Rock, for Freelance Projects, School Projects, Product Development, and a lot more. Rock is available for iOS, Android, and Web. On top of that, you can use their tool completely for free, if you need more storage you can always upgrade for a paid plan. Rock is truly a tool that bundles into a productive space.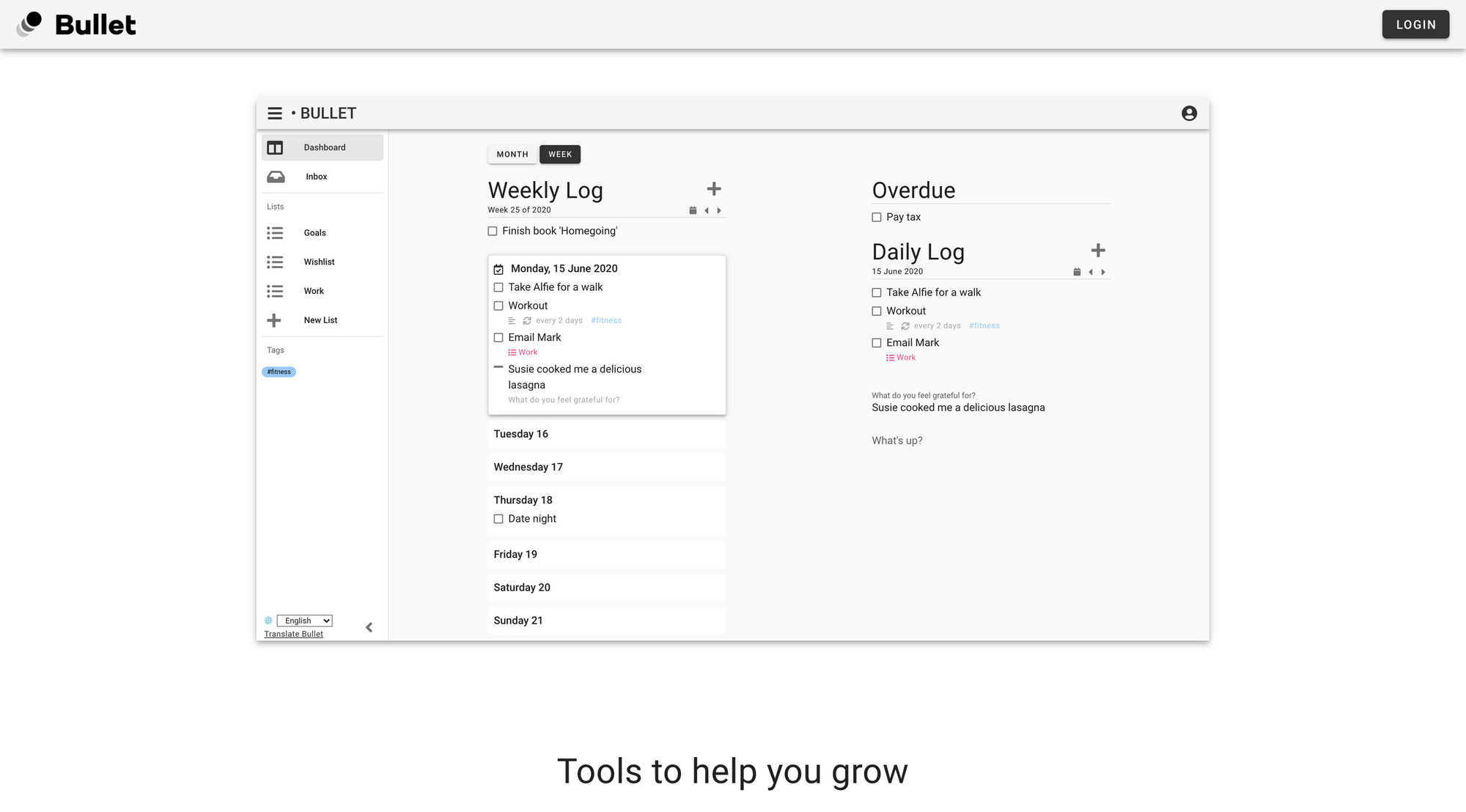 If you are a fan of bullet journaling and you are looking for a digital companion to your analog notebooks, Bullet could be an interesting option for you. Bullet helps you manage tasks, write your journal and keep track of events, giving you more space to just be present. If you are familiar with Bullet Journal terms, you will quickly recognize that Bullet adapted most of them. Therefore, when you open up the app (that is available for both iOS and Android) you will find a monthly log, a weekly log, a daily log, but you also have the possibility to create custom lists with tasks, notes, milestones, and more. Bullet really brings all the tools millions of people use on a daily basis within their analog notebooks, into a digital space to do more, stay focused, improve your memory, and free your mind. Within Bullet you can also manage tasks, notes, and events, or assign tasks for specific days, weeks, months, or even years and make your thoughts and tasks easy to find by grouping them together with lists and tags. The Bullet Journal Method is a proofed concept, loved by millions, that helps you keeping productivity flowing using a simple method designed to make journaling as unobtrusive as possible. The Bullet App itself Bullet is designed with a simple user interface to minimize distractions and spend as little time on the app as possible. As mentioned earlier, if you are already writing an analog bullet journal definitely give Bullet a try, and if you want to start writing a bullet journal I am sure Bullet will guide you in the right direction.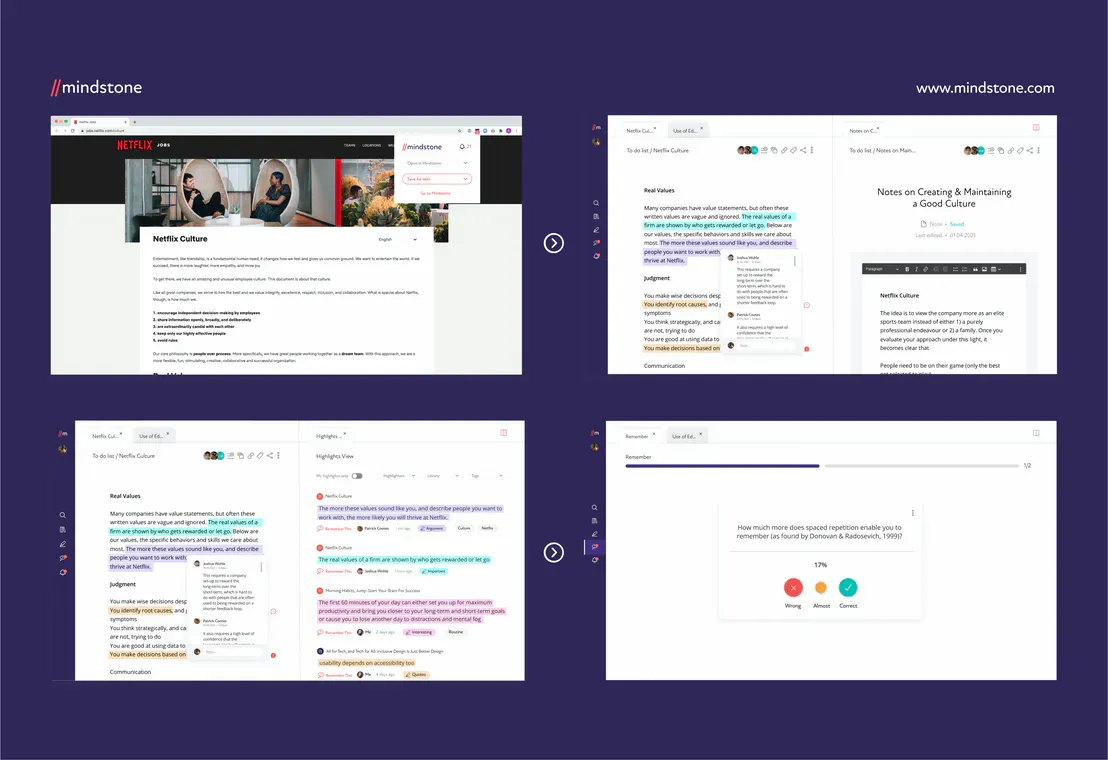 I would entitle myself as a life-long learner or life-long student since I have a super high willingness of learning new stuff and experiencing new fields. Back in 2019, I started to build up a personal knowledge base, and I am a huge fan of tools that encourage me during the progress of taking notes of stuff I want to study or learn. Mindstone is a super interesting tool in that space. With Mindstone you can organize, share and take notes on web pages, PDFs, and academic papers easily. Mindstone creates a neat space for all your learning. Organize all your resources in one place, annotate them automatically with highlights and comments, collaborate with shared libraries and notes, and remember what you have learned by using flashcards powered by Mindstone's learning algorithm. Mindstone is finally a tool that helps people how to learn, not just what to learn. I am a huge fan of their flashcard feature, as it is a crucial feature if you want to remember all the things you have noted down. The collaboration aspect of Mindstone is also super interesting, since learning together always makes it more fun. If you are on the hunt for a tool to organise, connect, and collaborate on the things you want to learn, Mindstone should definitely be on your list to try out.
---
Useful Resource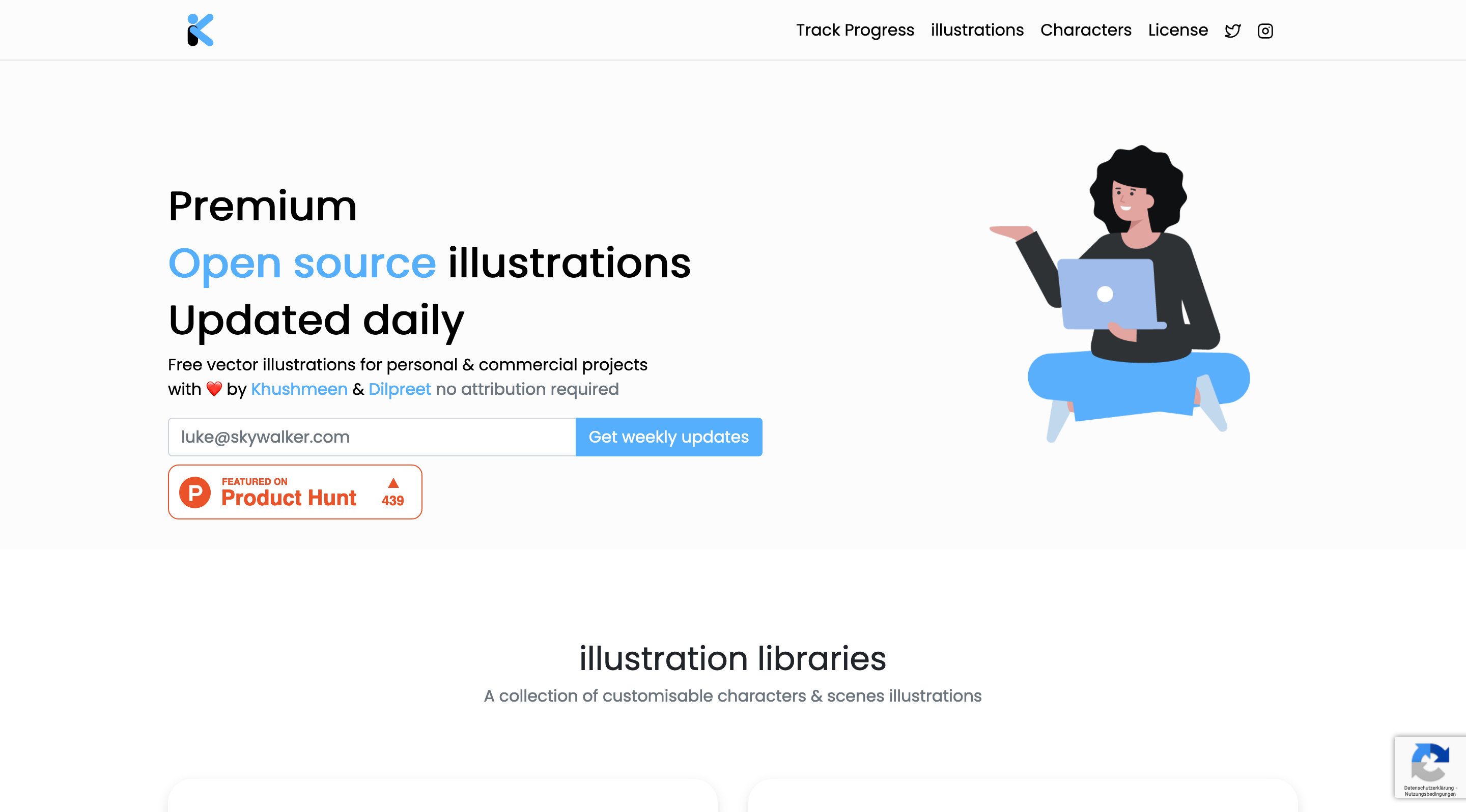 Illustrations always make some boring websites or landing pages pop. Also, over the last couple of years some big companies jumped on the illustration train, and redesigned their websites, but also apps, and used illustrations in different use-cases like marketing, social media, and others. Khushmeen Sidhu and Dilpreet created a premium open-source illustrations collection, with ongoing updates, which can be used by anyone for both personal and commercial projects. All scenes and characters can be customized to your needs to fit within your projects. Khushmeen and Dilpreet even have an open Trello Board where you can track their progress of creating and sharing new illustrations. So, if you are looking for some high-quality illustrations for your next project, make sure to check out Illustration Kit.
---
Mental Wealth
➢ Why Goals Don't Work as We Expect – "We relentlessly set goals — weekly, monthly, yearly. We think if there's a goal, we're continually moving towards it. The goal resembles a destination, and it seems as if our desire is strong enough, we'll be able to get there. But it's not the case. As James Clear pointed out, winners and losers have the same goals. Every Olympian wants to win gold at the next games. Every coach wants his team to win the championship. Every entrepreneur wants to build a million-dollar business (or almost everyone). But not everyone succeeds. And the problem is that goals are about results. It's about the things behind the door, not in front of them. And we can't control what's behind the same door, no matter how much we want to."
➢ How to be clear – "You can spend a lot of time coming up with tactics and strategies for your communication, but the most valuable tool you can use is also the simplest: clarity. If you communicate with clarity, people will spend less time trying to interpret what you're saying. As a result, they'll understand you faster, with less effort. Make what you're saying easy and quick to read and understand, and people will respond by reading more of it, and asking you fewer questions afterwards. It helps to try and be a bit user-centered, or reader-centered. "
➢ Why I'm losing faith in UX – "For many years I believed in UX. The so-called "user experience" of a website, app, or other digital product could spell the difference between success and failure. After all, an easy, intuitive, or convenient UX would make the customer's life better, while simultaneously achieving the team's goals - usually, higher profit or lower service costs. In 1997 I started Creative Good with this belief in UX. And for a number of years, the belief proved to be right. Companies saw a material benefit from making their products better - really, actually, better - for their customers. I'll call that Decade 1, from 1997 to 2007: the golden era of online UX, when companies were willing to invest in listening to customers in order to serve them better. Retail, finance, healthcare, travel, and other sectors all had some interest in improvement."
➢ The Ivy Lee Method: The Daily Routine Experts Recommend for Peak Productivity – "y 1918, Charles M. Schwab was one of the richest men in the world. Schwab was the president of the Bethlehem Steel Corporation, the largest shipbuilder and the second-largest steel producer in America at the time. The famous inventor Thomas Edison once referred to Schwab as the "master hustler." He was constantly seeking an edge over the competition. One day in 1918, in his quest to increase the efficiency of his team and discover better ways to get things done, Schwab arranged a meeting with a highly-respected productivity consultant named Ivy Lee. Lee was a successful businessman in his own right and is widely remembered as a pioneer in the field of public relations. As the story goes, Schwab brought Lee into his office and said, "Show me a way to get more things done." "Give me 15 minutes with each of your executives," Lee replied. "How much will it cost me," Schwab asked. "Nothing," Lee said. "Unless it works. After three months, you can send me a check for whatever you feel it's worth to you." "
---
Last week's quick bits
---
Twitter thoughts
---
---
---
Disclaimer: My posts may contain affiliate links. If you buy something through one of those links you won't pay a penny more, but I'll get a small commission, which supports this blog and also my side-projects. So consider buying something through my links. Thank you!