Newsletter
Design under Constraints & Build together
The AI-driven workspace, a new Slack competitor, Figma Config, an interview with Scott Belsky, and a lot more in this week's issue of Creativerly.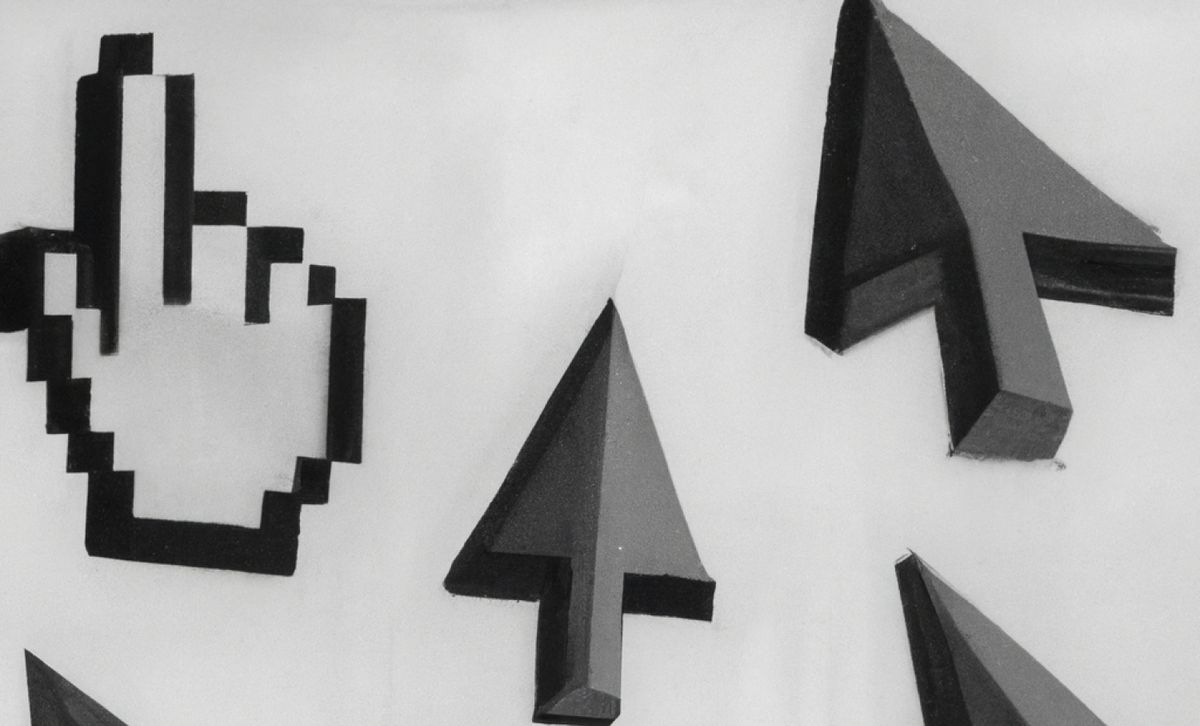 My name is Philipp and you are reading Creativerly, the weekly digest about creativity and productivity-boosting tools and resources, combined with useful insights, articles, and findings from the fields of design and tech. The newsletter built for the creative community.
---
Hey and welcome to Creativerly 227 👋
I spend the whole last week in a small cabin in nature, with an incredible view, working from a beautiful sunny terrace. It was one of those moments in which I realized how lucky I am to get to do what I am doing. I transitioned to a fully remote role as a Product Designer back in December 2022, while following a remote approach (two to three days per week in the office and the rest working from home) before that. But last week was the first time I experienced the true benefit of being a remote worker, having the ability to pack my MacBook and travel to a remote cabin in nature to get out of the noisy city, in which Summers are getting way too hot.
During the week, I experienced a major creativity and productivity boost. I realized that breaking away from your office routine, from your desk, and from your usual working environment, and working from somewhere else sparkles new ideas and creative thoughts. This is something I also experienced during my first months as a remote worker, whenever I got up from my desk, walked around in my apartment, or went out for a walk in the park or at the river. During those times, I had my most creative ideas. Spending a whole week without any kind of distractions, and experiencing the nature around me, lead to a new flood of creative inspiration.
I feel energized and motivated to get back to work in my home office, but I know that I will continue doing that kind of creative retreats as I did last week, since I haven't experienced something similar before. I know that I am incredibly privileged and that there are loads of people who do not have that kind of opportunities, but if you are working remotely and your company allows work cations, make sure to make use of them and spend some time abroad, in different cities, villages, or in the nature to experience the creative and productive boost working from somewhere else can deliver.
It is a magical experience.
---
Apps, Software, Tools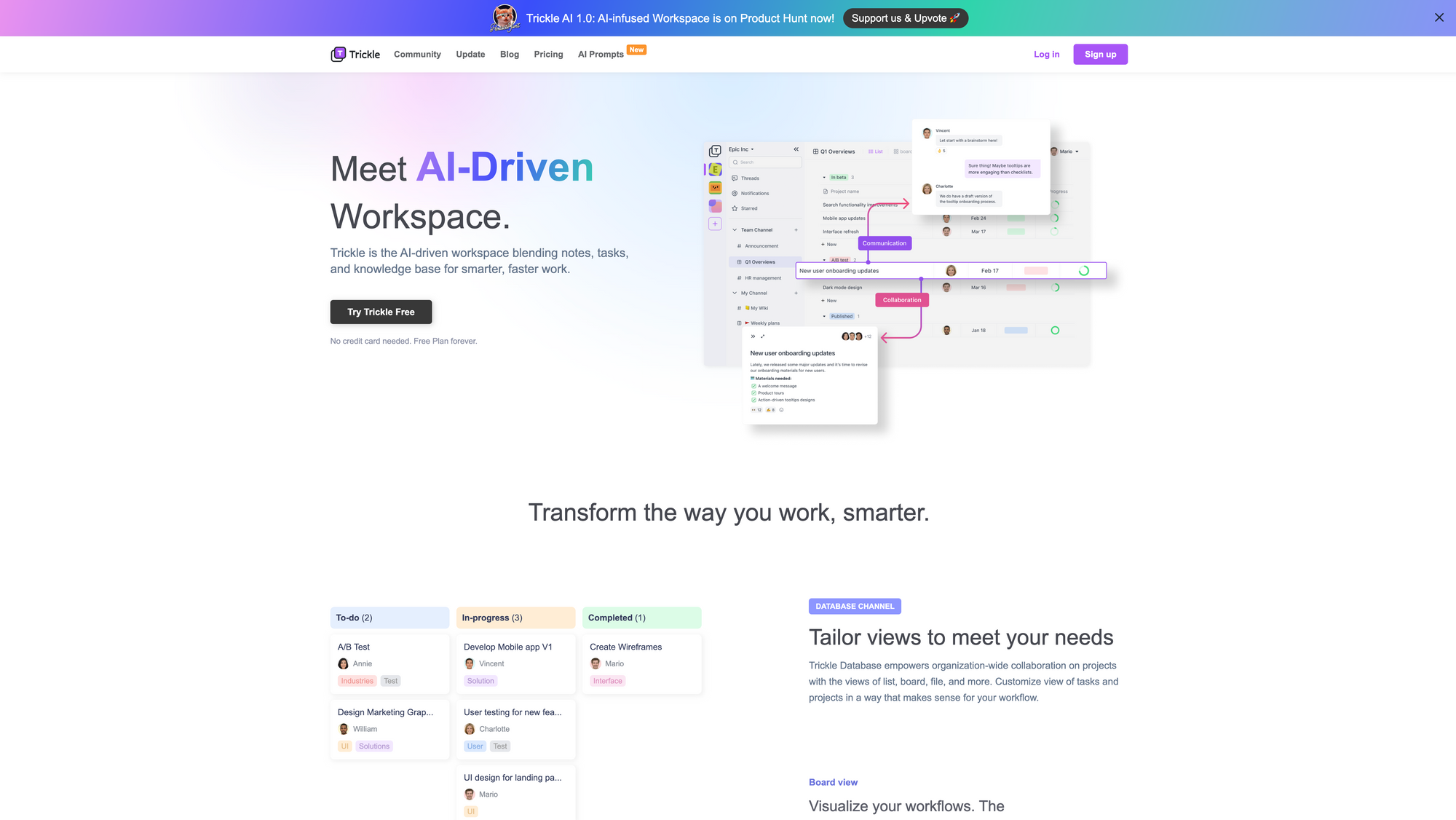 If you would like to blend your notes, tasks, and knowledge base within one workspace to work faster and smarter, Trickle might be worth taking a closer look at. With an AI-integrations, Trickle wants to help you work better and get creative inspiration while doing so.
Trickle is an extensive app that wants to transform the way you work, both as an individual and within a team. With Trickle Database you can empower organization-wide collaboration on projects. Projects within Trickle are versatile. You can view them as lists, boards, files, and more. You can easily customize the views of tasks and projects, and adapt them to your workflows. The board view allows you to visualize your workflows within Trickle. It gives you the possibility to structure and organise your tasks into Kanban boards to get a clear view of where your project is headed. Within the Kanban boards, you can group your tasks by priority, status, assigned, and more to always stay on top of the project. If you want to define properties to turn your day-to-day process into templates, the List view is a great way to do so and to make it easier to get everything started.
Since Trickle is also aimed at teams and collaboration, it features a group chat right within the app, so you and your colleagues can expand an item into a page and collaborate in real time with focused conversations. Context-switching is one of the biggest productivity blockers, but with Trickle you can declutter your communication to cut out all the extra noise and make sure to keep feedback loops as short as possible. To keep everyone on the same page regarding the projects you are working on, Trickle features a post channel, where your team can stay in the loop without having to work in silos. The Post Channel lets you and your team share updates, stick people together, and make better decisions as a team.
As mentioned earlier, Trickle is powered by AI. Its AI integrations let you infuse AI into your daily workflows. With the power of GPT-4, you can integrate your tasks, notes, and essential workflow elements with AI. The goal of it is to sparkle your creativity and inspire new ideas.
Teams can profit from Trickle by embracing collaborative communication, structuring and organising projects, evolving product management, and creating and maintaining team wikis. As an individual, you can leverage the power of Trickle to take notes, keep track of your to-dos, and manage your writing. You can use Trickle for free for up to 300 posts and items, 10000 Trickle AI credits for each member, 1GB file uploads with a limit of 50MB per file, and a limit of 20 channels. The free plan is perfectly suited for small teams and individuals, but if you want to unleash your team's potential with unlimited AI usage and more, you can upgrade to the Pro Plan which will cost you $10 per user per month (billed annually).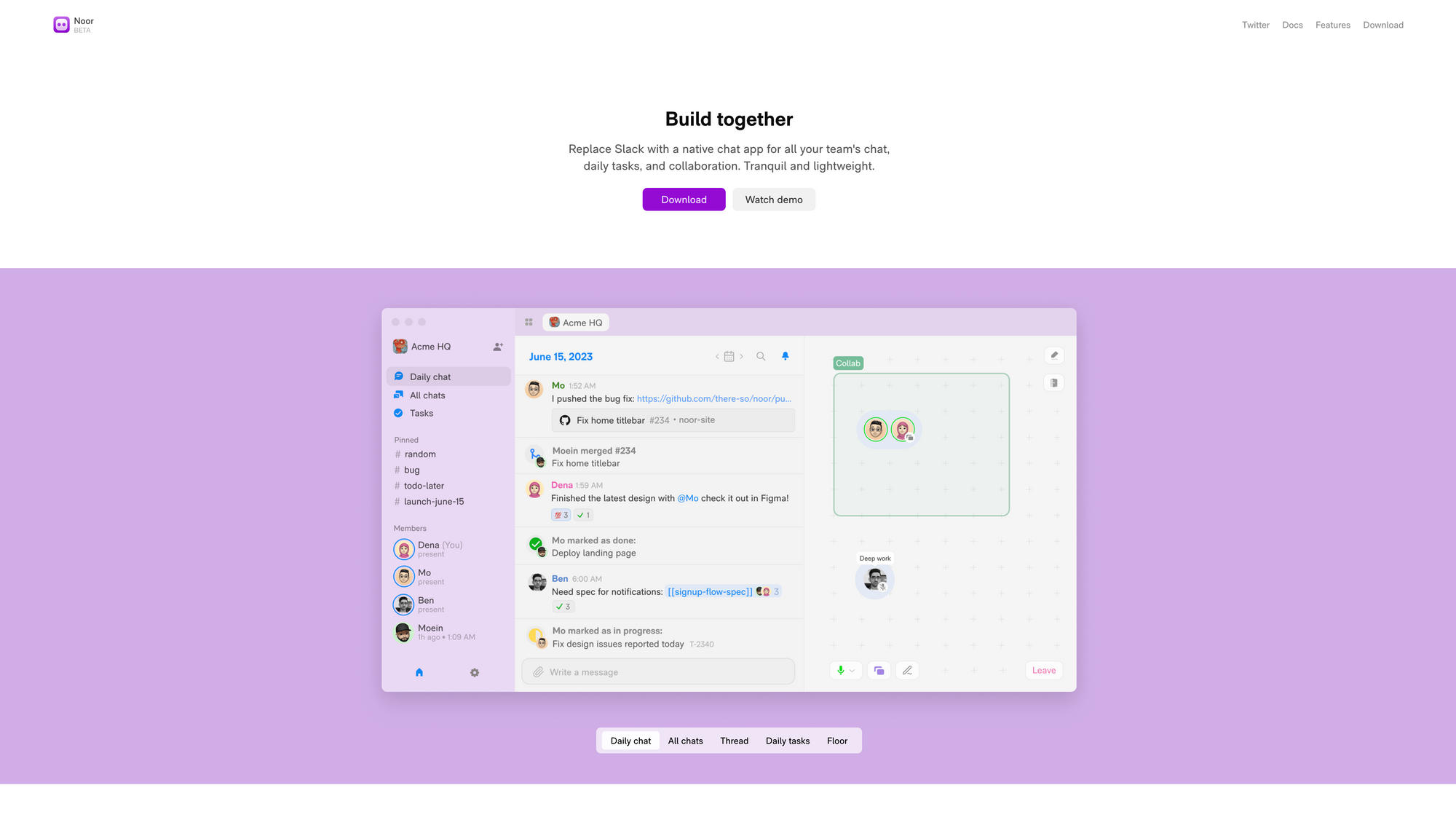 Noor is an exciting new app, currently in beta, offering a lovely Slack alternative by being a native chat app for all your team's chat, daily tasks, and collaboration, without being slow, noisy, and bloated, and instead offering a tranquil and lightweight experience.
The first time I saw Noir the lovely UI immediately grabbed my attention. Folks who are used to team messaging apps like Slack will appreciate a fresh and modern approach when it comes to the overall user interface design. Noor definitely delivered a beautiful-looking app. The goal of Noor is to build a messaging app that does not oppose async work, that will not neglect your focus time, but instead, make in-person level collaboration possible and daily work energizing by breaking isolation. While Slack solved text chatting for the team in the past, the team at Noor could not accept the status quo, so they started to build an app for themselves. The team around Mo Raja, Co-founder and CEO, has been iterating on Noor for 2.5 years, going through 16 major iterations, to finally present the beta version they have now. What started as a simple Electron menubar app, became a full-on native teamwork app.
Poor has been built on 4 core principles: the default to deep work and async, allowing high-bandwidth real-time collaboration, giving users the option to choose their level of presence, and fading into the background. The current beta version of Noor is lightweight, starts instantly, has a great rich text editor, utilizes native capabilities for ease of use, and natively integrates with Linear to track down issues and open tasks. Noor gives you and your team different ways of communicating and collaborating with each other. First, you can start your day with the Daily Chat, which is a dedicated area within Noor in which your whole team can get together to keep everyone in the loop about company-wide discussions and information. As the name implies, the Daily Chat is always tied to a specific day.  So, every single day you will get a new daily chat.
Nevertheless, Noor also gives you access to an area called "All Chats" where you can find all your chats and channels, similar to Slack channels. Your most important and most used chats can be pinned to the sidebar, which is a great way to access them fast and easily. Your sidebar in Slack can become a mess quite fast as your team decided to open up more and more channels to discuss similar topics. With Noor, I have the feeling that you become more clear whether you need a new channel or not since if you do not know where to put a certain kind of message you can always default to the Daily chat. With Threads, you can break out of certain kinds of discussions. If there is an ongoing one, you can even pin them, in the form of Threads, to your sidebar too.
With the Tasks feature, Noor allows you to keep track of your open tasks within the same tool where all the task-related discussions are happening. You can even integrate Linear to pull in all your issues and tasks. The Floor feature looks like a creative canvas, which you can use to set up rooms to collaborate with your team. It also seems like there will be certain kinds of canvas-related features (like sketching or drawing?) available. You can place yourself anywhere on the floor, set a status, and create new areas to inform your colleagues on what topic you want to collaborate on, and if you place yourself beside your colleagues on the floor, you can immediately start talking to them via audio calls.
As of writing this, Noor is in closed beta, and it is available for macOS, Linux, and as a Web App, an iOS app is coming soon. I am very excited to see how Noor will evolve.
---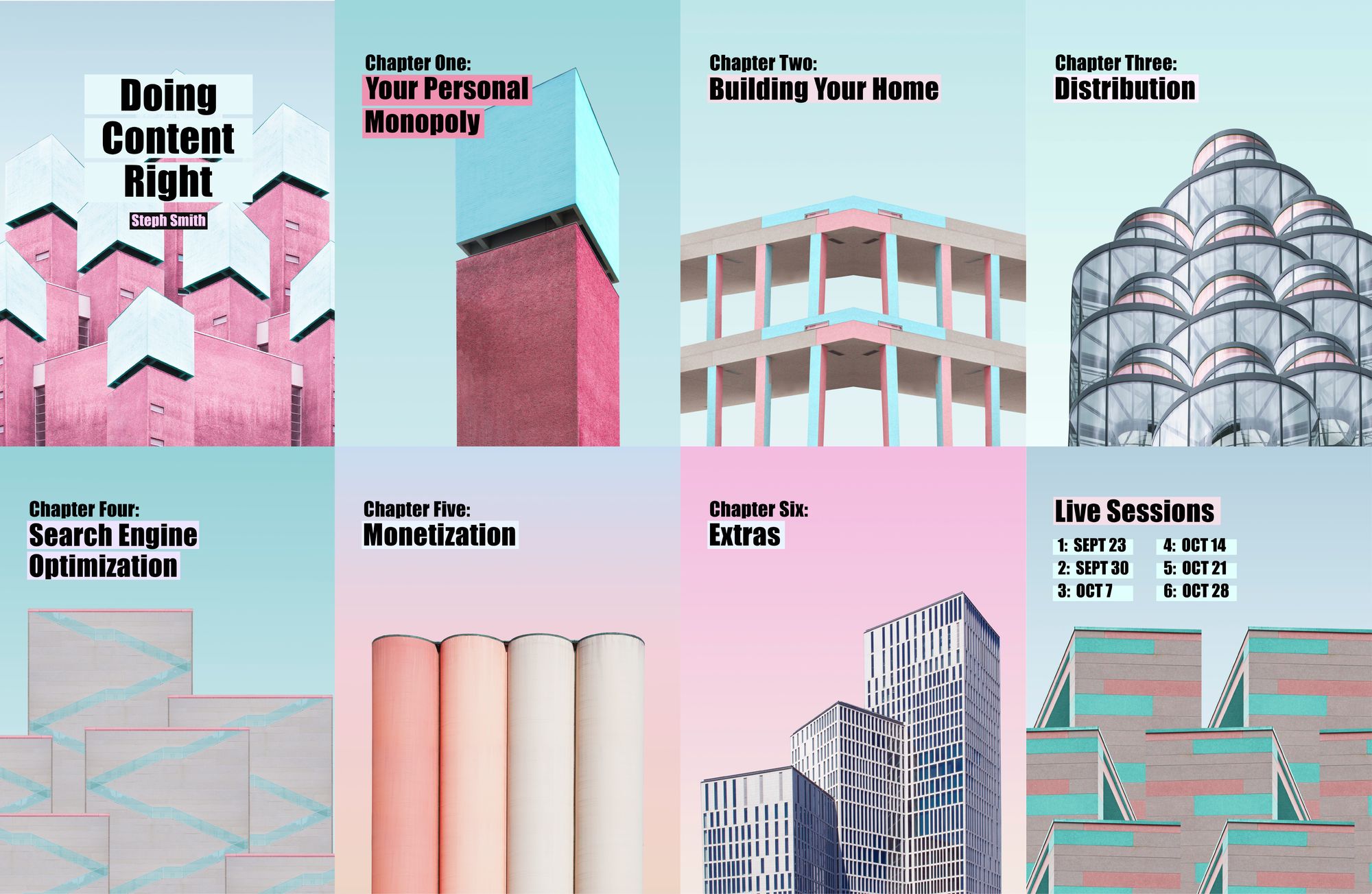 Standing Out in 2023: Doing Content Right

Whenever I get asked about resources on the topic of starting a newsletter, a blog, or a publishing side-project or business in general, there is only one I recommend, Doing Content Right by Steph Smith. No matter if you want to create a blog, write a newsletter, grow your audience, or try to get your content to stand out, after taking Steph's course you will know why you can still start a successful, evergreen blog in 2023 and onward, you will know how to identify a niche and stand out in a sea of competition, how to distribute your content across dozens of channels, how to do SEO right, and a lot more.

Steph Smith has led large publications teams in the past, and scaled her personal blog to 400k page views in its first year, she led Trends by The Hustle, and currently works as a Podcast host at a16z. If there is one person from whom you should learn about doing content right, Steph Smith is precisely that person.

By buying the course, you get access to 270 pages in PDF, EPUB, and MOBI format, a community of hundreds of creators, 22 actionable exercises, 12 video sessions going over the material, and a bonus section on podcasting.

The course has sold over 3900+ times, and it has over 160 five-star ratings. Use the code INTERNET to get 50% off. If the code is no longer working you can also use the code philipp20 to get 20% off your purchase.
This is an affiliate link to support Creativerly. If you are interested in putting your tool, product, or resource in front of over 2000 creative minds, consider advertising in Creativerly and book a sponsor or classified ad spot. Find all the important information at creativerly.com/advertise.
---
Fresh Updates & News
Current has been in private beta since January 2022, but the day has come and the team just launched v1.0. Current is a lovely tool to increase your team's visibility on the work happening across your company. No matter which team you are part of, Design, Engineering, or Product Management, you can share your work from Figma, Loom, Miro, Notion, GitHub, and other tools. With v1.0, Current introduces one feed to view updates from dozen tools. The Slack integration allows you to broadcast posts to various channels so cross-functional partners are looped in.
To celebrate the launch of Current, the product will be free until 2024, so everyone can give it a try.
What a coincidence. The one competitor to Current, called Campsite and founded by Brian Lovin, just announced that it will be free for teams with up to 10 active members. Campsite's free plan is perfectly suited for smaller teams and supports unlimited posts, up to five active projects, integrations with GitHub, Linear, and Slack, a Desktop app with push notifications, and a Figma plugin for instant sharing. In case you need unlimited active members, unlimited projects, private projects, smart digests, and 1GB uploads, you can upgrade to Campsite Pro which will cost you $8 per active member per month.
It was an exciting week for designers since Figma held its annual design conference called Config, which was packed with exciting new updates and features that made it clear that Figma is the design tool for the future. Among the biggest updates were Dev Mode, which introduced a brand new space in Figma just for developers, Variables, which you can use to store reusable values that can be applied to all kinds of design properties, Advanced prototyping, and a lot more.
Besides that, Config delivered some great talks and sessions. If you missed them, no worries, you can catch up on the recordings of Config 2023 on Figma's YouTube channel.
---
Mental Wealth
❯ Modern Meditations: Scott Belsky – "Not all practitioners can describe their craft. Even the most skilled entrepreneurs, engineers, or product managers can struggle to articulate how, exactly, they operate at such a high level. Why rely on one framework, language, or process over another? Impressive execution rests on implicit knowledge that may be difficult to express."
❯ Design Under Constraints: Challenges, Opportunities, And Practical Strategies – "If you don't want to work within constraints, become an artist." That is what one of my design lecturers told me when I was at university back when the web wasn't even a thing. That has turned out to be one of the most useful pieces of advice I ever received in my career and has led me to embrace and even enjoy working within constraints, which probably explains why I tend to specialize in highly regulated sectors with enormous amounts of stakeholders and legacy."
❯ Third-Wave Productivity – "Productivity training has matured significantly over the past 15 years. We began with an emphasis on efficiency. Then, we began to ask the question about how to use that efficiency to free up time in our day. Now we are realizing that using that extra time to do meaningful work is a skill in and of itself. In short, third-wave productivity has nothing to do with artisanal to-do list apps."
❯ Overconfidence: How to Fail Spectacularly – "Bias from overconfidence is a natural human state. All of us believe good things about ourselves and our skills In Seeking Wisdom, Peter Bevelin writes: Most of us believe we are better performers, more honest and intelligent, have a better future, have a happier marriage, are less vulnerable than the average person, etc. But we can't all be better than average. This inherent base rate of overconfidence is especially strong when projecting our beliefs about our future. Over-optimism is a form of overconfidence."
---
Do not miss out on this ...
❉ 1440 is the daily newsletter helping 2M+ subscribers stay informed. Culture, science, sports, politics, business, and everything in between – in a five-minute read each morning, 100% free. Sign up now.
❉ Organize your work and life, finally. Become focused, organized, and calm with Todoist. The world's #1 task manager and to-do list app. Start for free.
❉ Get smarter with Refind. Every day we pick 5 articles that make you smarter, tailored to your interests. Refind is loved by 200,000+ curious minds. Subscribe for free.
These are paid promotions or affiliate links to support Creativerly. If you are interested in putting your tool, product, or resource in front of over 2000 creative minds, consider advertising in Creativerly and book a sponsor or classified ad spot. Find all the important information at creativerly.com/advertise.
---
Appendix
❯ Featured Newsletter
If you are on the hunt for actionable productivity delivered to your inbox, then I recommend you taking a look at The Smarter Brain newsletter. The Smarter Brain helps you cut through the noise on the web and save valuable time, so you can can focus on getting things done. You'll receive actionable insights right in your inbox twice a week to help you level up in just 3 minutes or less. Sign up now completely for free and become smarter and more productive.
❯ Quick Bits
---
Till next time! 👋‌‌‌‌
Support: Do you have a friend who is looking for inspiration, news about design, and useful tools and apps? Forward this newsletter to a friend or simply share this issue and show some support. You can also show some love by simply clicking the button down below and keep this newsletter a sustainable side-project by buying me a coffee. ☕️ 🥰
---
---
Some of the links in my newsletter and my blog posts are affiliate links. Those links are marked by an asterisk. If you buy something through the link, the product will not cost you anything more, but I will receive a small commission which not only supports Creativerly and my work but also helps me to keep this publication a sustainable side-project.
Creativerly is proudly published with Ghost*.