Newsletter
Dive into big ideas & Design is art after all
In this week's issue of Creativerly: Async first collaboration for remote teams, Turn your audience into a business, Mindfulness hurts, and a lot more.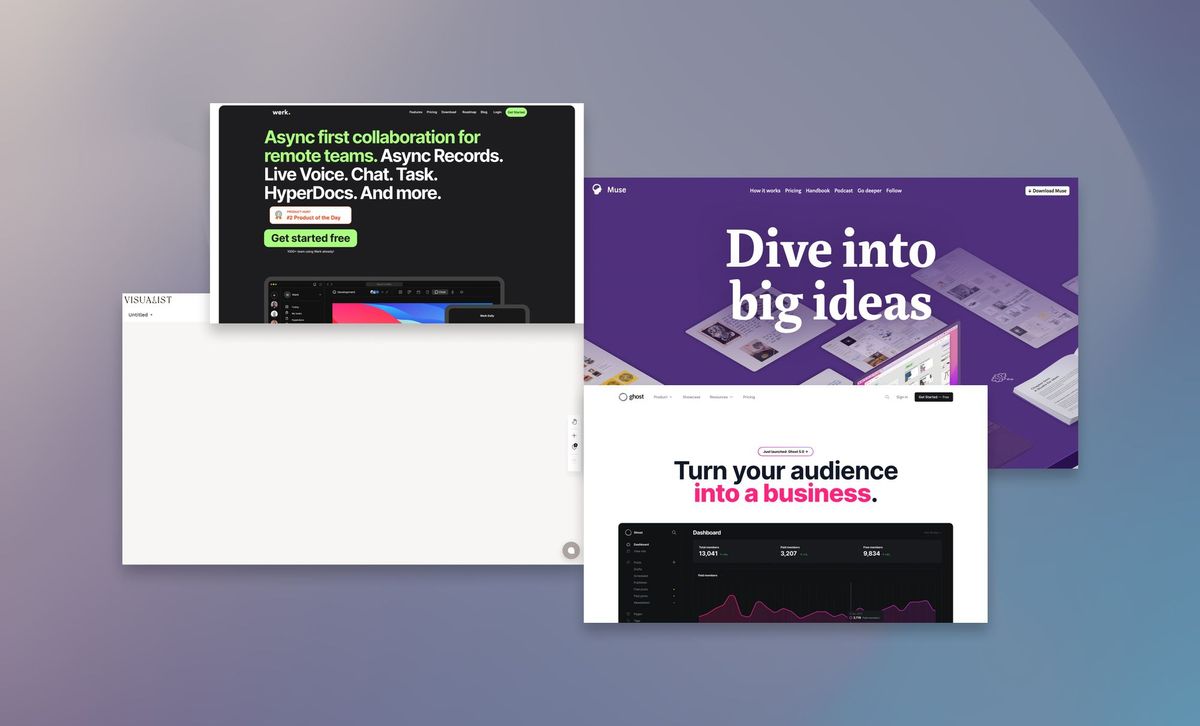 You are reading Creativerly, the weekly digest about creativity and productivity-boosting tools and resources, combined with useful insights, articles, and findings from the fields of design and tech. The newsletter built for the creative community.
---
Hey and welcome to issue 171  👋
Two weeks ago, I received an email from Gabriele, who is building a platform called Readsom. Gabriele informed me that an avid Creativerly reader suggested to add Creativerly to Readsom. Readsom is a dedicated page to review the newsletters you read and are subscribed to. Gabriele described it to me as Goodreads but for newsletters, which is the perfect way to describe it.
This is a huge opportunity. Whenever I find out about a newsletter, there are a couple of reasons involved whether I decide to subscriber or not. First of all, sure, I take a look at the topic and the content of the newsletter. Additionally, I also like to do some research about the person who is writing or curating the newsletter. Besides that, I like to take a peek at the web design of the newsletter website and the actual format of the newsletter, but those two factors do not impact my decision whether to subscribe to a newsletter or not, because as mentioned earlier, content is the most important factor for me.
With Readsom you get access to another factor to consider whether a newsletter is worth subscribing or not, and that additional factor is user reviews. Readsom is a dedicated platform to review your favorite newsletters. And guess what, Creativerly is listed at Readsom. Therefore, I would really appreciate your support if you could leave a review and share some feedback or your thoughts about Creativerly on Readsom. All you have to do is follow this link to Creativerly's listing and click on the "Leave a review" button. It is exciting to see how many great newsletters by awesome creators are already listed at Readsom, therefore I am looking forward to see the platform grow and evolve.
If you have recommendations or feedback, drop me an email or a tweet. For now, enjoy the newsletter!  🥰
---
A must-read for creative entrepreneurs.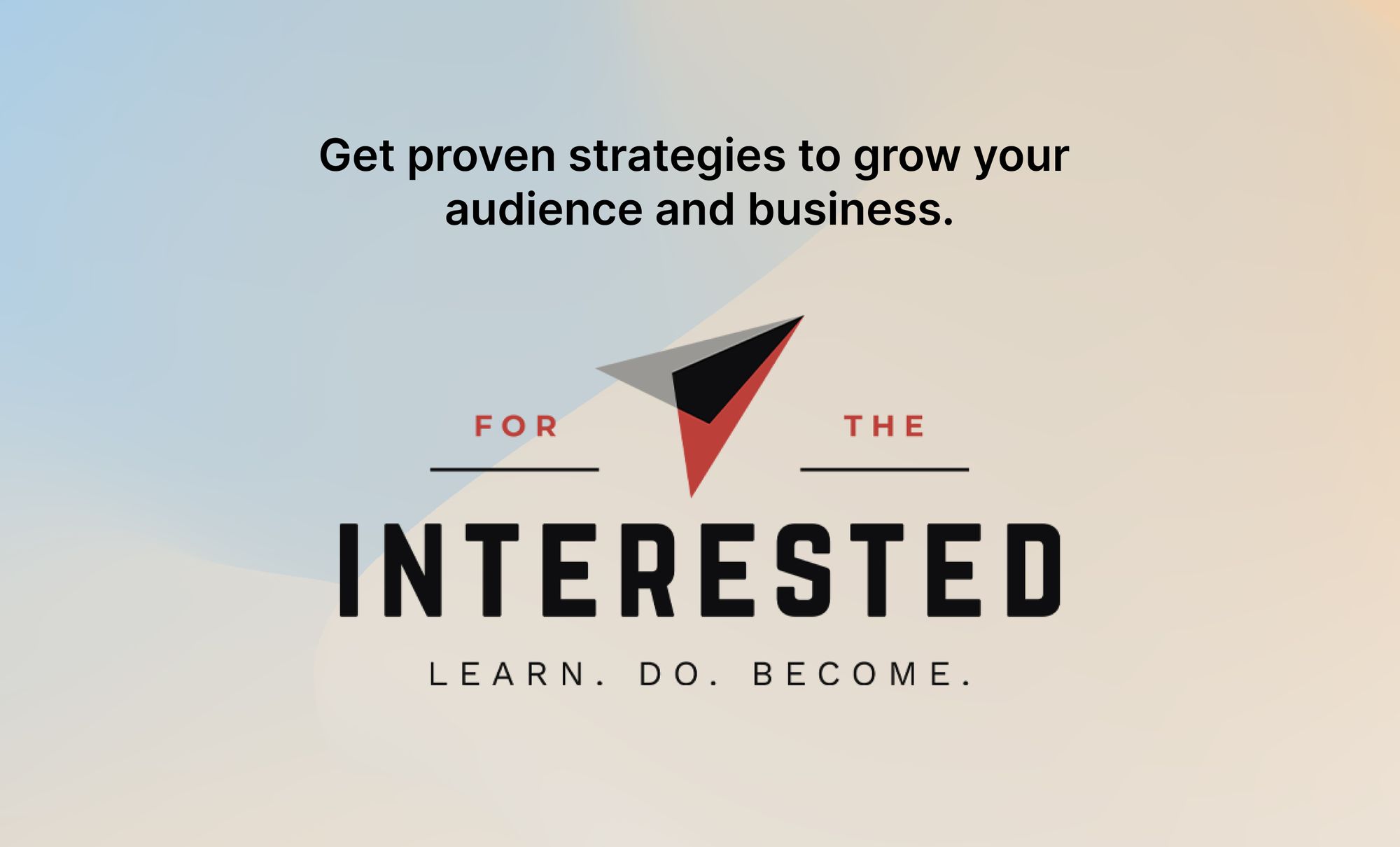 If you ever wanted to know what 18,000 creative entrepreneurs read every week, For The Interested is the answer. It's a free newsletter for creative entrepreneurs featuring tactics and templates to help you produce, promote, and profit from your creations based on how others have successfully done it.
This is a sponsored message. If you also want to highlight your app, tool, resource, newsletter, job offer, in front of over 1700 creative minds, head over to creativerly.com/advertise and get in contact.
---
Apps, Software, Tools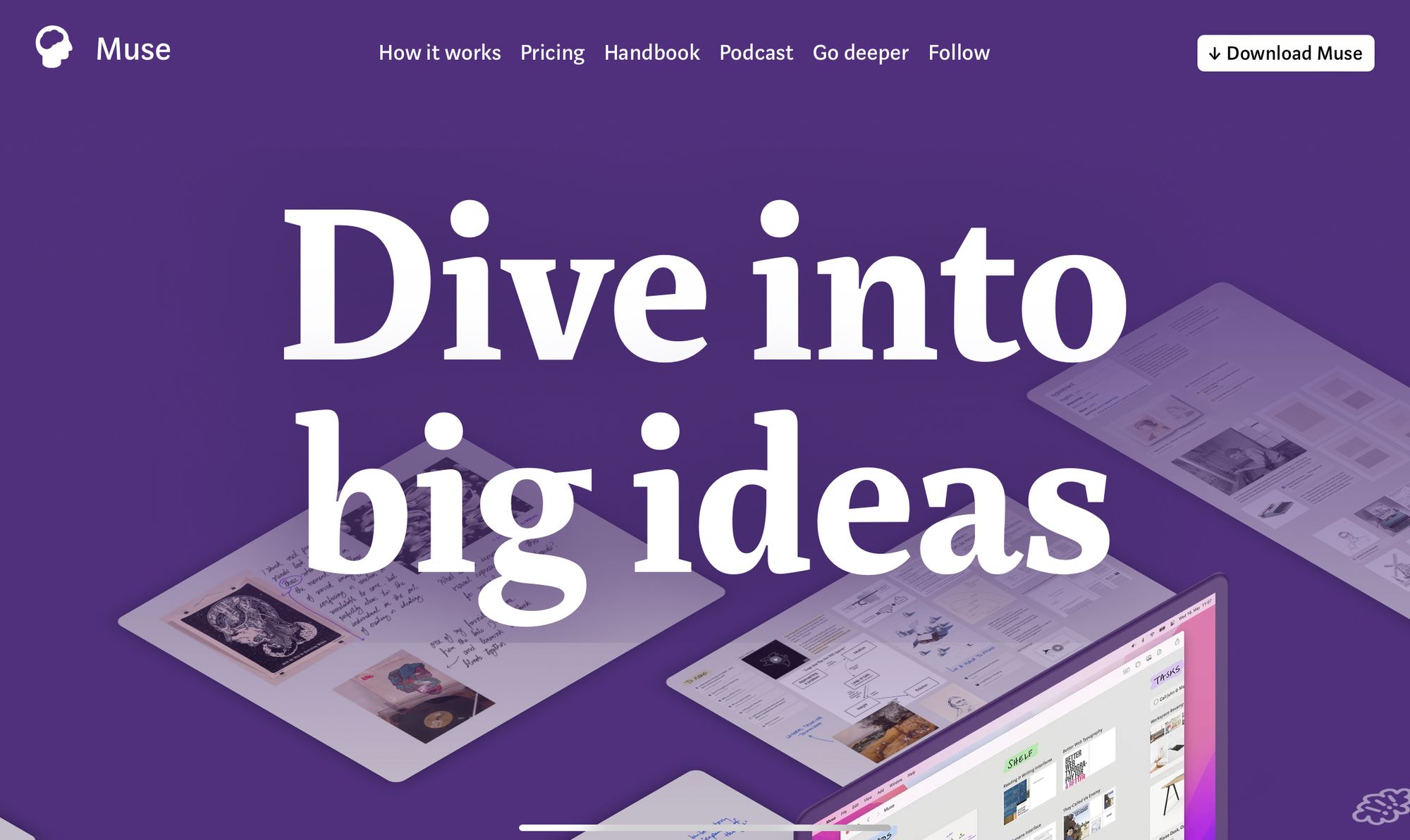 For the last couple of months, I have been closely following the development of Muse, an outstanding app that gives you access to a digital thinking space where you can work with visuals, text, and ink on freeform spatial boards.
When I found out about Muse for the first time, I immediately was intrigued by the idea of having a dedicated app or space for deep thinking sessions, no matter if you want to kick off a new project, gather ideas and thoughts for a new blog post, or craft your next idea. Muse is exactly that. The iPad app combines the best part of visual and spatial thinking with note-taking as you already know it from other text-based apps. Besides text boards and ink, Muse lets you add rich media content snippets to your thinking space, which means you can add web links, photos, videos, screenshots, PDFs, Tweets, and more. Although Muse supports your creative freedom and thinking by getting rid of any kind of folders or tags as Organisation layers, you can indeed structure your projects within Muse with the power of infinitely nested boards.
The unique interface and features of Muse give you access to natural gestures, and the freedom to ink anywhere with your pencil. This lets you note down your ideas and thoughts within the seconds they come to your head. With the new major release of Muse, version 2.0, the team behind Muse introduced their new Mac app. Muse has been hugely popular for iPad, but now there is also a macOS app for focused productivity. With the Muse macOS App you can take advantage of more screen real estate, your keyboard, as well as overlapping windows. Since Muse for iPad is a dedicated thinking space, the macOS app now creates the perfect connection alongside your favorite production tools. With Muse 2.0 the team also introduced local-first sync, which means your data syncs instantly between all your devices. On top of that, you can also work offline.
To give Muse a try, you can check out its free plan which gives you access to 100 cards. If you need more, the Starter Membership will cost you $3.99 per month for up to 500 cards. If you need unlimited cards, you can grab the Pro Membership for $9.99 per month. Set.new is a free product by the awesome team behind Visualist. Do you ever find yourself in the need of creating a moodboard for inspiration or presentations super quick and easy? If so, you should check out set.new as it gives you the possibility to create moodboards in minutes, with just a few clicks, and totally for free.
Whenever you kick off a new project and want to share some early ideas and inspirations with your team or clients, moodboards can be a great way to present how you feel about the visual and design language of this new project. With set.new you can create beautiful moodboards in minutes and share them with everybody. The beautiful thing about set.new is the fact that it does not require an account. There is no sign up needed, which means you simple head over to set.new and start creating your first moodboard. No time-wasting, no hassle, no fuss, it is just you and your creativity that matters. Set.new is a product made by the team behind Visualist, a dedicated tool for Interior Designers, Fashion Stylists, or Creative Directors to organise visual inspiration, make moodboards, or mix Colour palettes. Visualist lets you create, share, and collaborate in a workspace designed to improve your productivity.
With set.new you can not only just drag and drop any kind of images onto your moodboard, you can also remove the background of objects within your images with 1-click. On top of that, you can also tidy up your content and your whole moodboards automatically. Set.new features a beautiful and lucid interface, so you always find the tools your are looking for to create beautiful moodboards and share them with others. As already mentioned above, if you want to get access to the full experience, additional features, and a dedicated workspace to create and collaborate on design and creative projects, you can sign up to Visualist right now and request an invite, as the platform is still in an early stage.
But if you just want to start creating beautiful moodboards together with your colleagues, team, or clients, head over to set.new and let your creativity flow.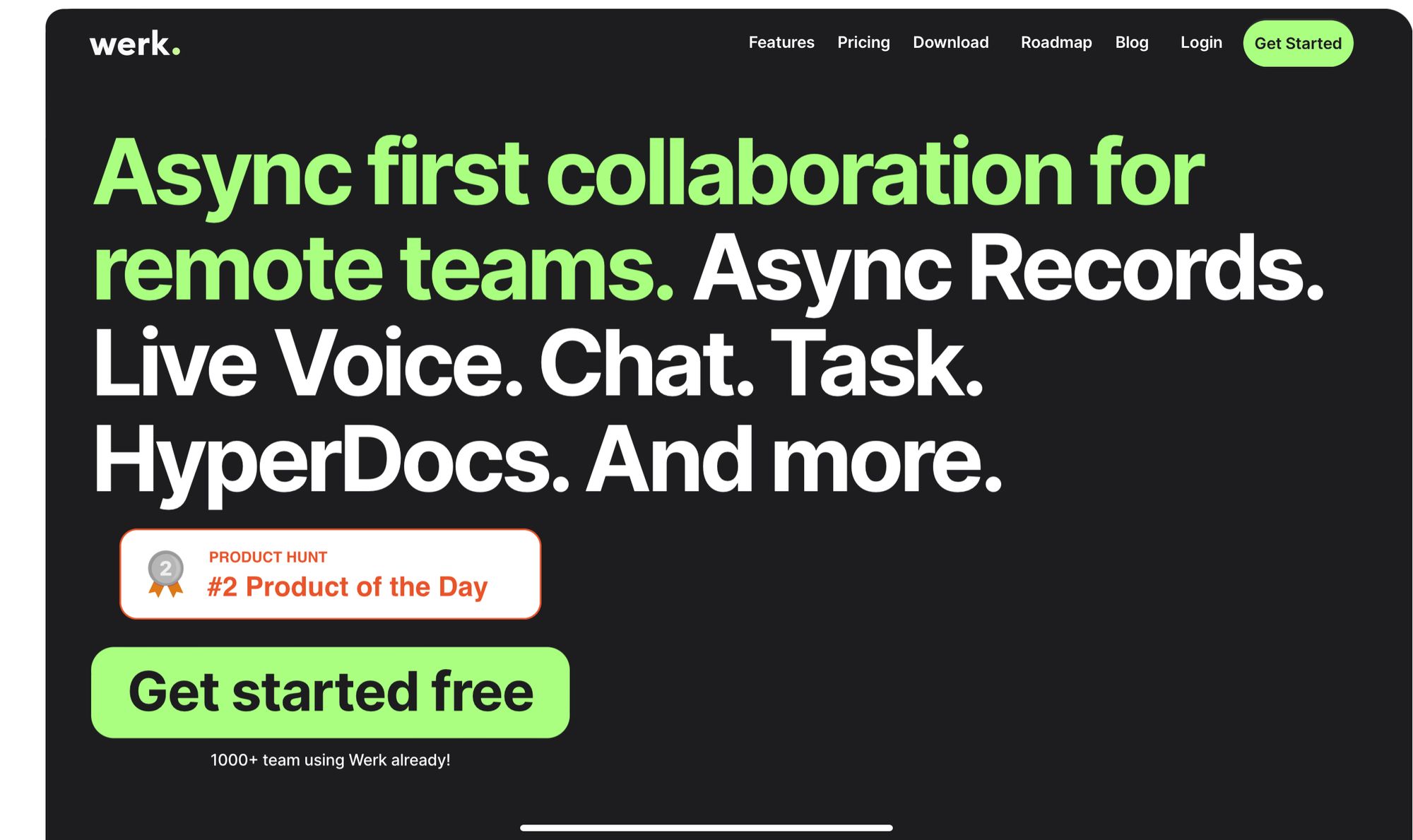 Werk is a dedicated tool to empower your remote team. It was designed to help you and your team on your remote or hybrid work journey. With Werk you get access to asynchronere first collaboration, including async records, live voice, chats, task management, hyper docs, and more.
As more and more people switch to async collaboration while working remotely, people are experiencing zoom fatigue, they use way too many different tools, and while using all these tools, the cost of the tools are starting to grow. Werk wants to solve these problems and empower remote work and teams. Werk features async records, which means you can record your voice or share a screen record to showcase a new feature you have built, a new design, or the next marketing campaign. Your team can that get back to your records whenever they want and how often they want. On top of that, with Werk's thread chat you will never miss your conversation and you can share files, hyperdocs, and more.
Within Werk you get the chance to manage and keep track of your tasks, with Werk's built-in task manager. Besides being a simple and easy-to-use task manager, it is also highly customisable, so it fits your needs. Additionally, when using Werk, there is no need to schedule another Zoom meeting, as it supports voice collaboration, which lets you simply chat and start your collaboration without any hassle. But that is not it. While working within Werk, you can take notes and create documentations easily, with Werk's Hyperdocs. There is no more need to jump back and forth between different tools. Jot down your tasks, notes, and documentations straight within Werk. To keep track of everything, Werk features a calendar view with lists and Kanban view.
Werk is available for iOS, macOS, Windows, and Android. To make Werk even more powerful you can extend it with integrations of the tools you already use. For up to 5 teammates, 5 channels, and 500mb storage, you can use Werk for free. The Pro Plan will cost you $7 per user per month for unlimited teammates, all features, unlimited channels, and 10GB storage per user.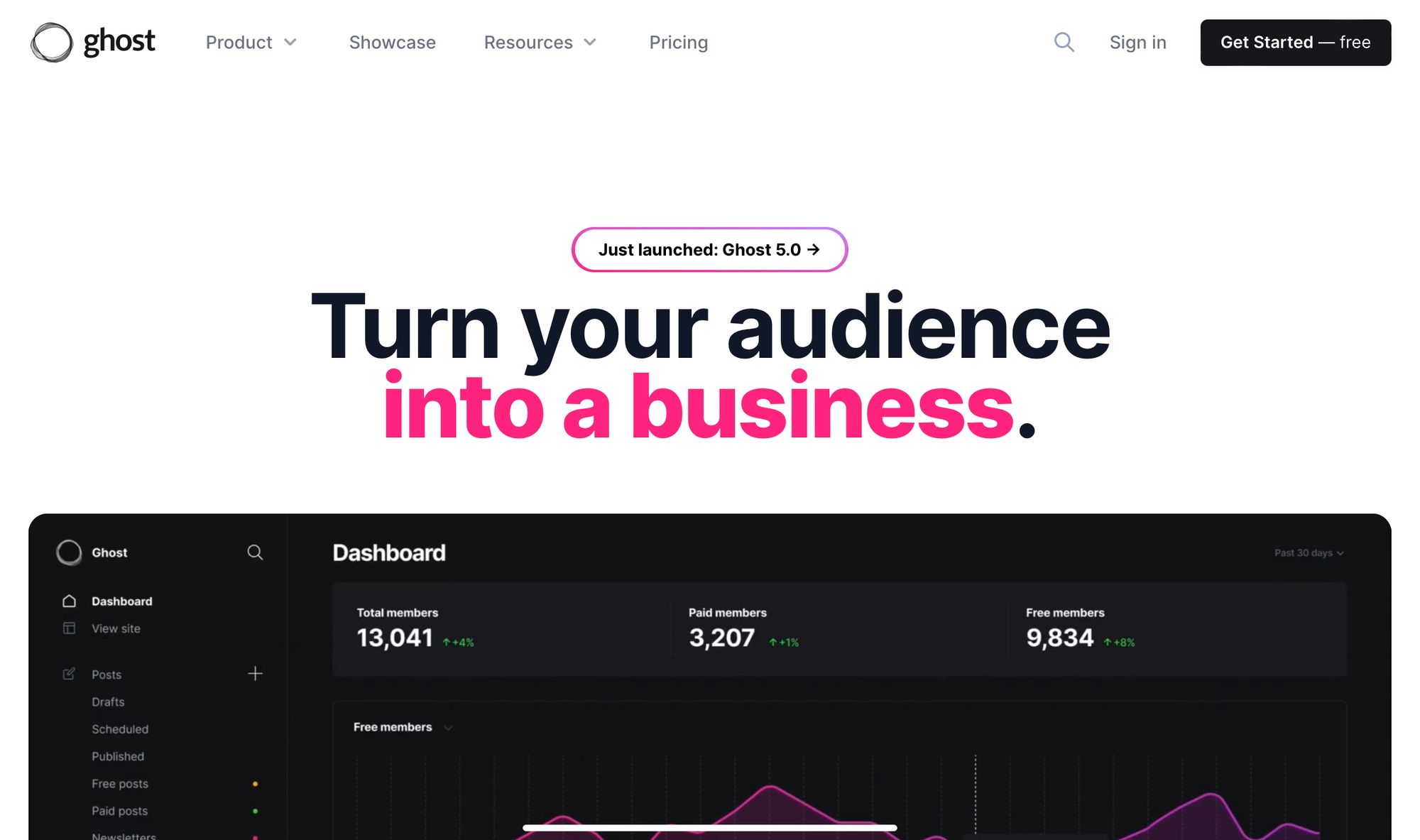 As most of you know, I am using Ghost as my preferred CMS and newsletter tool to publish Creativerly. A couple years back, I made the switch from Substack to Ghost. The reasoning behind this switch is documented within a blog post I wrote back in 2020. Since then, I am more than happy with Ghost, its features, its reliability, and the overall product. With Ghost 5, the team behind Ghost released their new major version, which makes Ghost even more powerful.
Ghost is one of the most popular services for independent publishers. The first version of Ghost has been released back in 2013, 9 years later the team behind it released Ghost 5.0. Over the last two major version, Ghost had a strong focus of building membership features, premium subscriptions, and email newsletters. In Ghost 5.0 all those features got extended, introducing custom premium tiers, multiple newsletters, special offers, detailed audience segmenting, and expanded analytics. Another focus has been to add more custom cards to Ghost's editor. Now, the editor supports videos, podcasts, gifs, products, callouts, headers, and more. This gives you the power to create diverse types of content all within the clean signature Ghost editor. Ghost in general has a beautiful interface. The dashboard and admin area is beautifully structured with a great overview of your members, posts, and stats.
What I deeply appreciate about Ghost is its incredible performance. With Ghost 5.0 the overall speed and performance of Ghost got a boost of 20%+. The team made some optimizations to make your experience with Ghost even faster. Since Marken the move to Ghost, I have never looked back. It has been some time since I enjoyed a platform as much as I enjoy Ghost. As the community around Ghost is growing incredible fast, so does the number of developers who are creating dedicated themes for Ghost. There is a wide range of themes available, beautifully designed, suited for different niches and topics. To get an overview of all the different themes available, you can take glimpse at them over at Ghost.
Ghost is open-source which means you can self-host and use it for free. But there is also Ghost (Pro), the managed service by Ghost which gives you access to all the tools and features to launch your creative business. Publishing, newsletters, member, payments, all in one place. Pricing for Ghost (Pro) starts at $9 per month (billed annually) for the Starter Plan which gives you access to the free, official Ghost themes and the standard built-in integrations. There are more plans available as your publication and newsletter grows.
---
Mental Wealth
➢ Design is Art After All – "When I paint … I look at it and I say, "The space in that corner there needs a little blue," and so I put my blue up there and then, then I look over there and it looks blue over there so I take my brush and I move it over there and I make it blue over there, too. This quote, and the surrounding passage from The Philosophy of Andy Warhol, has stuck with me for years. When I first read it, it seemed to hint at a sort of intuitive artistic power that I couldn't access yet — a certain way of viewing your own work that allowed the work to exist in conversation with you as a creator."
➢ Systems thinking is what makes designers great – "I used to believe that what made great designers so great was their craft; their ability to add polish and style to whatever they touched. Now I see that what makes exceptional designers so incredible is not only their attention to detail, but their ability to think holistically about their work. Long ago, I would spend time browsing Dribbble or Behance and admiring the beautiful aesthetics and animations I saw there. I'd look at portfolios of the most stylish, trendy work for everything from logos and websites to app designs and character illustrations. Whenever I encountered something that seemed highly polished, I'd think: "This is great design!""
➢ Never Saw It Coming – "People are very good at forecasting the future, except for the surprises, which tend to be all that matter. Let me share a theory I have about risk and the right amount of savings required to offset it. The biggest risk is always what no one sees coming. If you don't see something coming you're not prepared for it. And when you're not prepared for it its damage is amplified when it hits you."
➢ Mindfulness Hurts. That's Why It Works. – "Some years ago, a friend told me that his marriage was suffering because he was on the road so much for work. I started counseling him on how to fix things—to move more meetings online, to make do with less money. But no matter what I suggested, he always had a counterargument for why it was impossible. Finally, it dawned on me: His issue wasn't a logistics or work-management problem. It was a home problem. As he ultimately acknowledged, he didn't like being there, but he was unwilling to confront the real source of his troubles."
---
Do not miss out on this …
These are paid promotions or affiliate links to support Creativerly. If you are interested in putting your tool, product, or resource in front of over 1600 creative minds, consider advertising in Creativerly and book a sponsor or classified ad spot. Find all the important information at creativerly.com/advertise.
---
Appendix
➢ ICYMI
Highlight your app, tool, resource, or service in front of over 1700 creative minds coming from different backgrounds like design, development, journalism, VC, Indie Hacking, and others. The Creativerly audience is actively looking for tools and resources which boost their creativity and productivity. If you are interested in booking a sponsor spot in Creativerly head over to creativerly.com/advertise for all the important information.
---
Twitter thoughts
---
Till next time! 👋‌‌‌‌
Support: Do you have a friend who is looking for inspiration, news about design, and useful tools and apps? Forward this newsletter to a friend or simply share this issue and show some support. You can also show some love by simply clicking the button down below and keep this newsletter a sustainable side-project by buying me a coffee. ☕️ 🥰
---
Some of the links in my newsletter and my blog posts are affiliate links. Those links are marked by an asterisk "*". If you buy something through the link, the product will not cost you anything more, but I will receive a small commission which not only supports Creativerly and my work but also helps me to keep this publication a sustainable side-project.