Newsletter
Do less but more meaningful tasks & Take control of your day
In this week's issue of Creativerly: Think like a Writer, the naked blogging platform for minimalists, Good Work Hacks, and a lot more.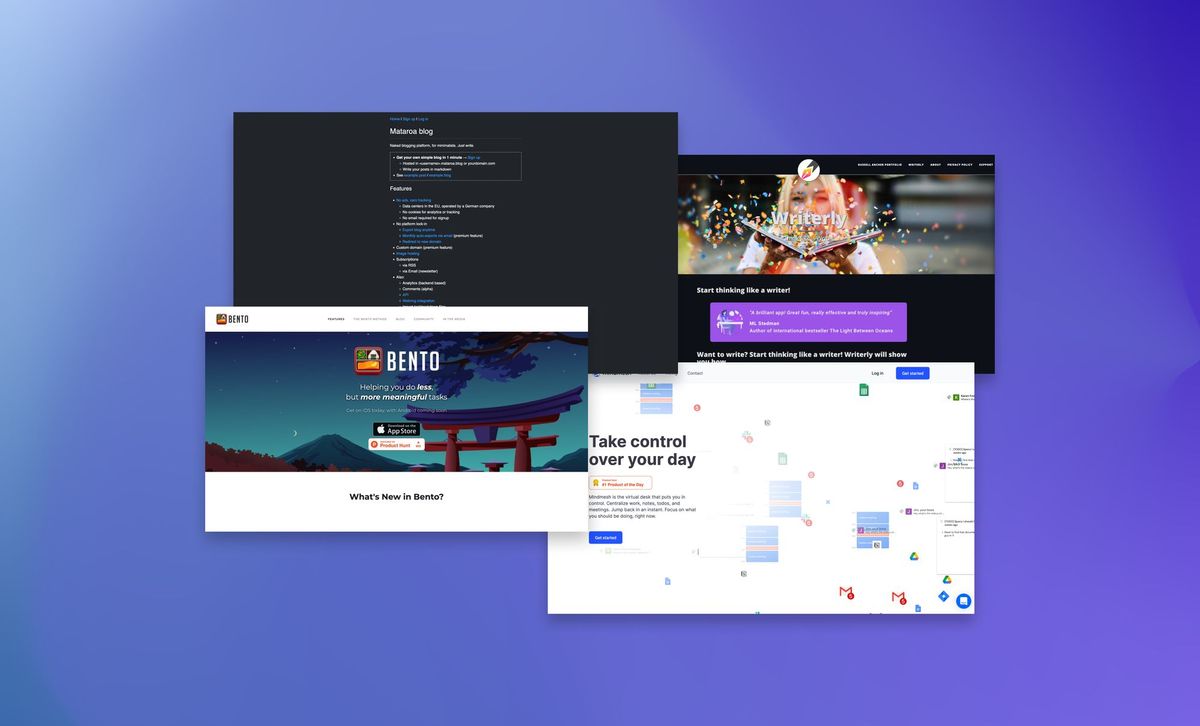 You are reading Creativerly, the weekly digest about creativity and productivity-boosting tools and resources, combined with useful insights, articles, and findings from the fields of design and tech. The newsletter built for the creative community.
---
Hey and welcome to Creativerly 166 👋
The space of digital tools and apps is an ever-growing and constantly evolving one. The companies and teams behind all those apps you are using on your smartphone or desktop computer are getting new updates every week or every month. Most of the time, it is hard to keep track of any kind of updates. At some point, it could even happen that crucial updates introducing new features and functionalities simply get shipped without notifying the users. Shipping updates on a constant basis involves hard work, time, and craft. Therefore, I am a fan of showing off the work that went into shipping a new update. I always get excited when I receive a new email from Craft, informing me about all the amazing features they have shipped, the bugs they have fixed, and the things they are currently working on.
The same applies to Raycast. Whenever I open up Raycast and there is a new update, I get greeted with a message saying "See what's new". Clicking on that message guides me to a dedicated view within the app showcasing the new features and improvements the update is introducing. Then there is also the incredible Obsidian team and their Discord server where they have a dedicated "Releases" channel in which they inform their users and community about new updates to Obsidian. Part of the updates is a link to the Obsidian Forum with a beautifully structured list of the release notes. There is probably an even more great example of keeping your users in the loop about any kind of updates, improvements, and changes that have been made to an app.
On the other hand, there are also way too many companies who are thinking that adding a short update description on the App Store is enough. If you are working hard on improving your app and adding the features your users are looking for, then you should also inform your users about that and show off the hard work you put into your updates. There are different ways to do so. The ones mentioned above are just a few examples.
---
Your home base for organizing & searching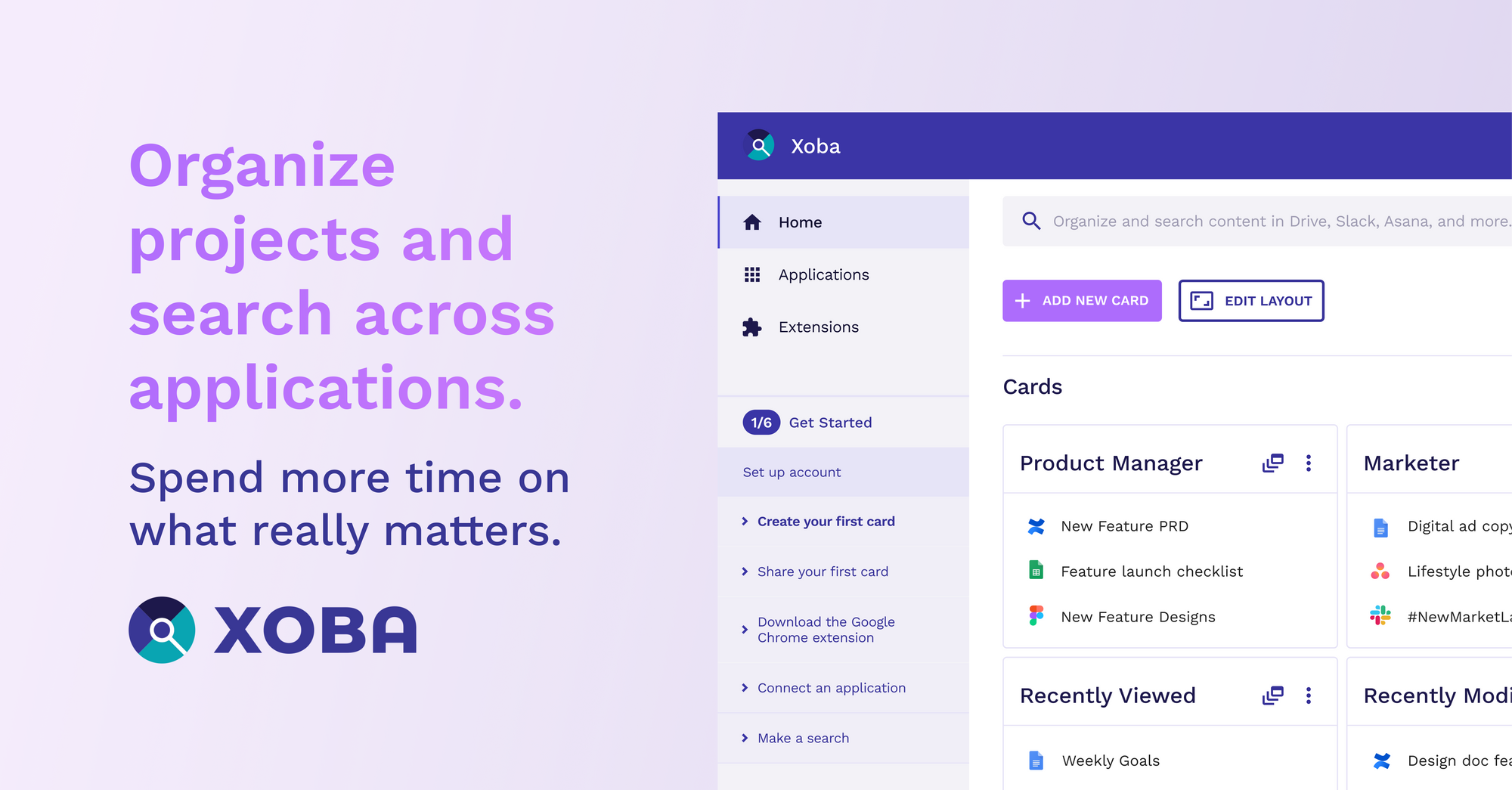 Xoba (Sponsored) →
Xoba is a productivity tool that enables professionals to search and organize information across all of their workplace applications under one space. No need to waste time trying to remember where information was shared or getting distracted while switching between tabs or apps.
---
Apps, Software, Tools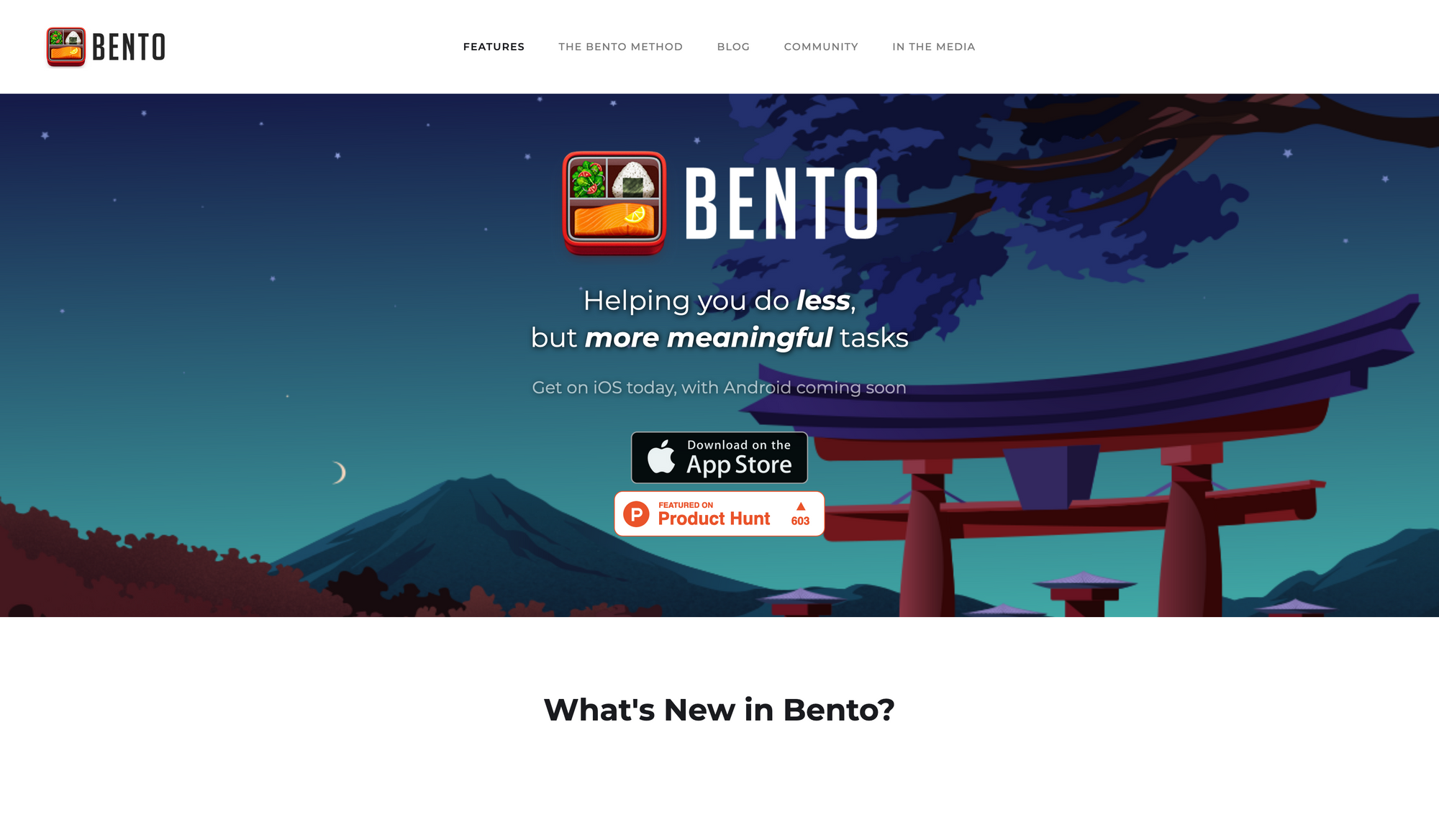 Most of the time, people aim to get as much done in a day as possible. They wrongly think doing a lot and processing many different tasks means they were productive throughout the day. But it does not work like that in real life. The most productive people are doing less, but more meaningful tasks throughout their day-to-day life and Bento is a new app helping you to do so too.
Bento is a productivity app by Franceso D'Alessio who grew the productivity YouTube Channel KeepProductive to over 250.000 subscribers. After almost reviewing, testing, and trying every single productivity out there, he decided to build his own app. The result is Bento. But Bento is not only an app, it is a methodology you can learn and incorporate into your workflows. Bento was built to plan your day. When you open up the app, you are asked to create your Bento box, which is limited to 3 tasks only, which means you need to prioritise your open tasks. The idea and goal of the Bento methodology are to focus on one large, one medium, and one small task every day to help reduce task overwhelm and maximise achievement. Within Bento you can use templates which are pre-populated Bento boxes. These range from daily shutdowns to monthly goals. Pre-populated Bento boxes are saving you time creating new ones, and on top of that, they inspire you to get started.
Additionally, Bento also features different workflows to streamline your attention. Each Bento box you create can be allocated a workflow. Bento is offering three workflows which are Eat That Frog (Large Task ⟶ Medium Task ⟶ Small Task), Climb the Summit (Medium Task ⟶ Large Task ⟶ Small Task), and Slow Burn (Small Task ⟶ Medium Task ⟶ Large Task). Those three workflows offer flexibility for every Bento box you plan. No matter which tasks you want to process and what you want to achieve, with Bento's workflows you can always adapt to your needs. Sometimes there is also the need to completely zone in, focusing on one task only, and block any distractions. Bento is featuring a dedicated Focus Mode which lets you channel your attention onto one task. You can start a countdown timer and focus on that one specific task without any backlogs or long task lists which could distract you from your goal.
Besides that, Bento is one of the most beautiful apps out there. The app itself offers a range of animated themes with impressive scenery and landscapes to adapt to your current mood. Bento is currently only available on iOS but an Android App is already in the works.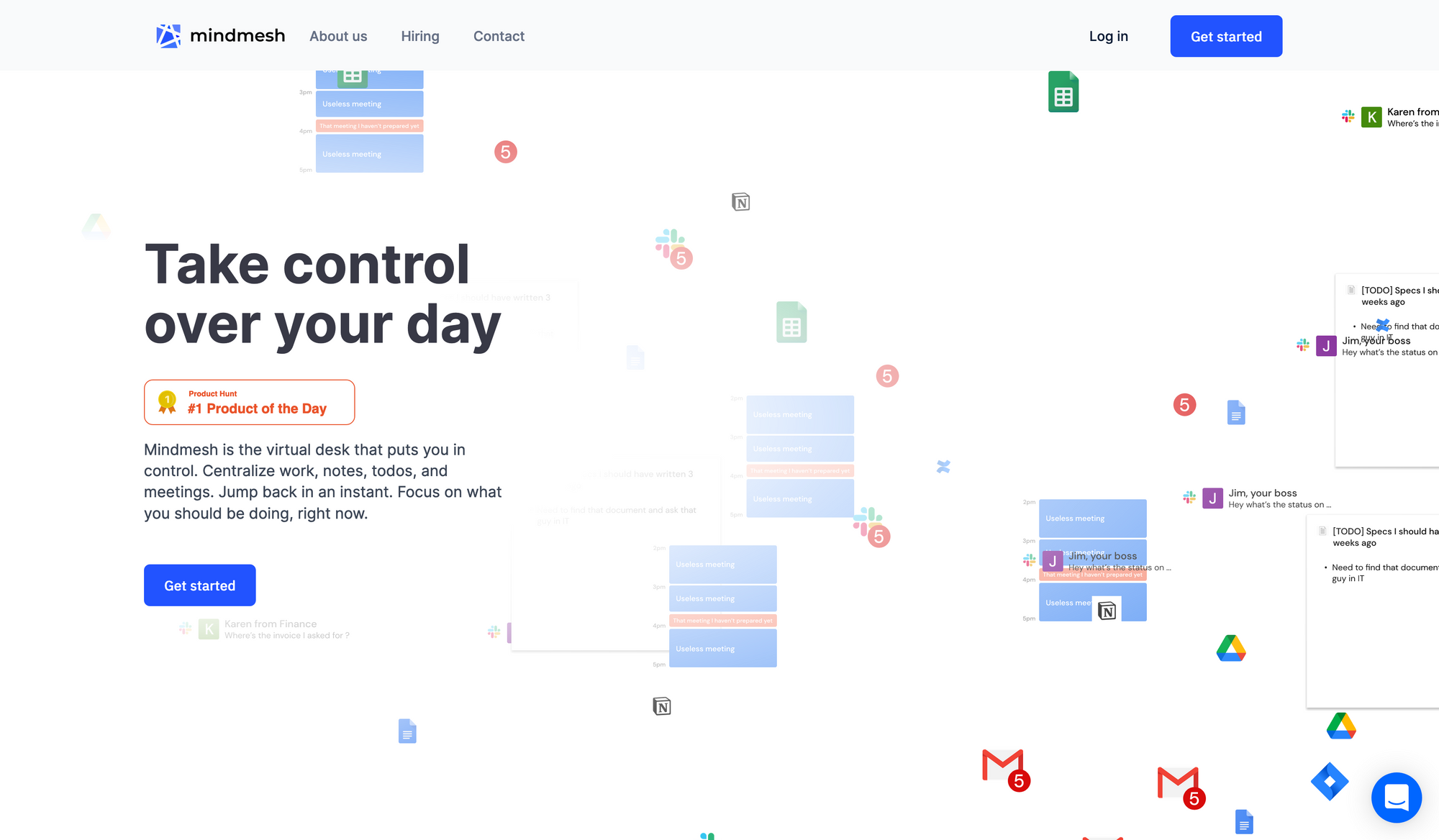 Mindmesh is an incredibly interesting tool which has already been backed by Y Combinator, Rich Miner (Founder of Android), Keith Coleman (VP of Product at Twitter), Luke Behnke (VP of Product at Zendesk), and others. Mindmesh gives you full control over your day and your work by offering a virtual desk that lets you centralize your work, notes, todos, and meetings. With Mindmesh you always stay on top of your work with a clear focus on what you should work on next.
Most of the time your work comes from different sources like Slack, your emails, and different apps in general. Mindmesh makes sure that you get a clear view of your open tasks in one single place. Whenever you come across something work-related you need to tackle on, simply send it to your virtual desk in Mindmesh where you can keep track of it and decide when it is time to get it done. Mindmesh offers a wide range of integrations like GitHub, Todoist, Trello, Slack, Gmail, Asana, Figma, and others. No matter where your work is coming from, connect your favourite tools to Mindmesh.
When all your work is scattered across different tools and apps, you need a way to stay productive while content switching. With Mindmesh you can switch contexts without breaking your flow since your starting point is always your virtual desk. One of the biggest advantages of Mindmesh is the fact that you no longer have to remember where your work is scattered. Once you start sending your work to your virtual desk, Mindmesh restores context and lets you cruise through your day without losing steam. With Mindmesh you can centralize your work on any given topic, create tasks in context with your work, and ace your meetings by creating meeting notes, action items, and linking everything together.
The advantage of centralizing your work into one single place is definitely the removal of the risk that important work slips through your fingers. Mindmesh is always there when work pops up in meetings, Slack, emails, or anywhere else. On top of that, you can be mindful about all your tasks, since you have a clear image of what you need to tackle on next and quickly differentiate between important and not-urgent tasks. Besides all of that, Mindmesh has a strong and clear focus on privacy and security. Mindmesh is SOC2 Type II Certified, your data is secure and encrypted, access control is preserved from your tools, and Mindmesh implements all industry-standard security protocols to secure your data.
You can sign up now and give Mindmesh a try.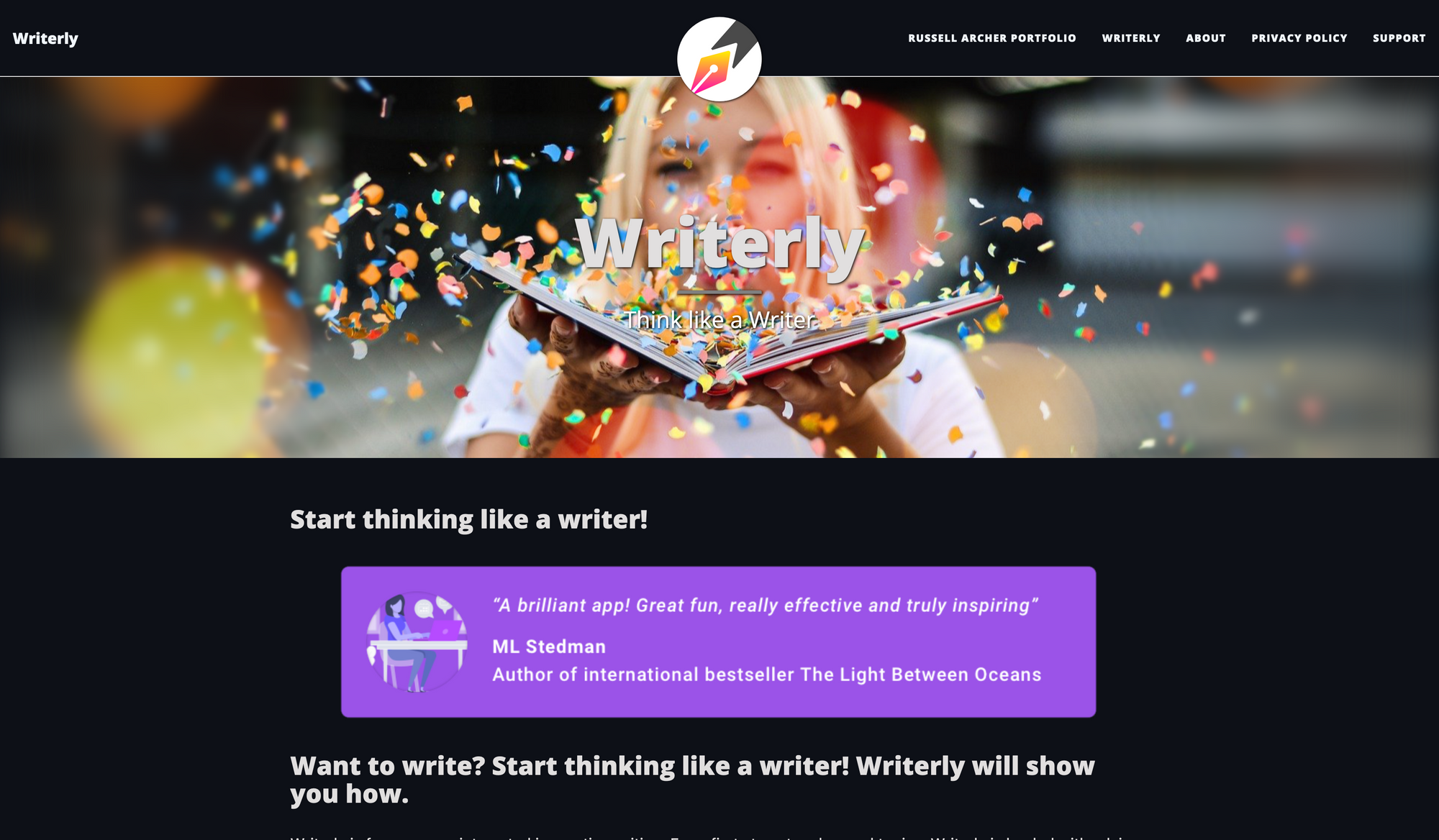 Writerly is a dedicated writing app, that lets you unfold your creative potential and think like a writer. Are you looking into creative writing? Then Writerly is the right App for you. What differentiates Writerly clearly from other writing apps is the fact that Writerly is packed with advice, exercises, ideas and prompts to help you develop as a writer. No matter if you are a beginner or a seasoned pro within the field of writing, Writerly adapts to you. Although Writerly is a writing app, it is not an editor, which means you can not write in Writerly. The team behind Writerly decided to reinvent the wheel. That means you can use your favourite editor alongside Writerly.
There are loads of different techniques to unlock your creativity while writing and Writerly is always by your side as it gives you the possibility to try out and test different techniques. You can think of it as your own personal creative writing tutor. With Writerly you always have a huge amount of unique content at your fingertips. It makes sure that you get inspired and take your writing to the next level. Writerly was not built by anyone, the team behind it consists of a writer whose work has won multiple awards nationally and internationally, a prize-winning author whose novels have been published in the USA, UK, Germany, France, and others, and a software developer with over 30 years of professional experience in the software industry.
Key features of Writerly include different techniques to combat writer's block, unique generators for Appearance, Mood, Character, Journeys and more, warm-up exercises, a built-in timer for exercises, a progress tracker, and a lot more. Writerly is available for macOS, iOS, and iPad. You can download and use it for free.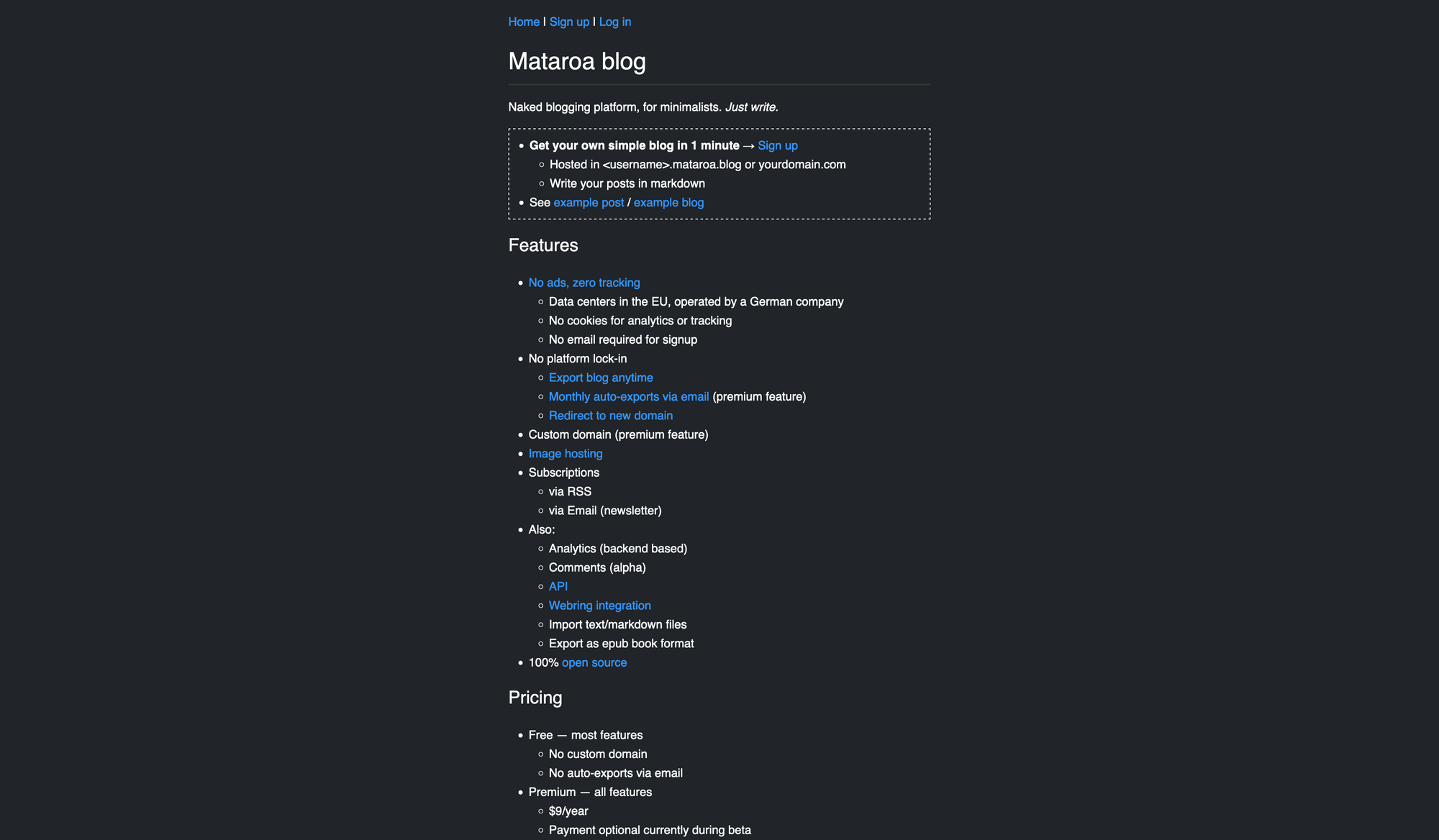 I am a huge fan of minimal and lightweight blogging services and platforms, that is distraction-free and just encourage you to write. There are loads of services and CMS which are bloated, packed with trackers and ads, loaded with unnecessary features, and simply way too complex. Most of the time, all you need is just a simple and minimal writing interface and naked blogging platform, just like Mataroa.
Mataroa has no ads and zero tracking. All of Mataroa's data centres are located in the EU, and operated by a German company. That means Mataroa has a strong focus on privacy, as it does not use any kind of cookies for analytics. On top of that, Mataroa does not lock you into its platform, since there is no email required, you can export your blog and all your posts whenever you want, redirect it to a new domain, and even set auto-exports via email which is a premium feature. Mataroa features a clear and lucid interface. As loads of platforms recently got packed with trashy ads and privacy-invading tracking, Mataroa was built for writing and writing only. No social networks, no subscribe popups, or anything else, Mataroa focuses on text and displaying your thoughts and ideas. Within Mataroa you will not find any kind of customisation features just like themes. The core idea of Mataroa is simply to display text.
Most of Mataroa's features just like subscriptions via RSS and email newsletter, image hosting, import text/markdown files, comments, backend-based analytics, open-source, and more are completely free. You can set up your blog on a Mataroa subdomain and start writing and publishing your blog posts straightaway. There is also a Premium Plan, which will cost you $9 per year (yes you read that right, $9 per year) which will give you the possibility to use a custom domain, auto-export your blog via email, and contribute to CO₂ removal as 5% of revenue funds will be contributed to that. Mataroa really is a barebones solution to set up your blog, but if you are looking for a simple solution, with a clear focus on text and the writing you create, Mataroa is an incredible platform. Write your posts in markdown and simply publish them to your blog. You can set up your own blog on Mataroa in literally 1 minute.
---
Useful Resource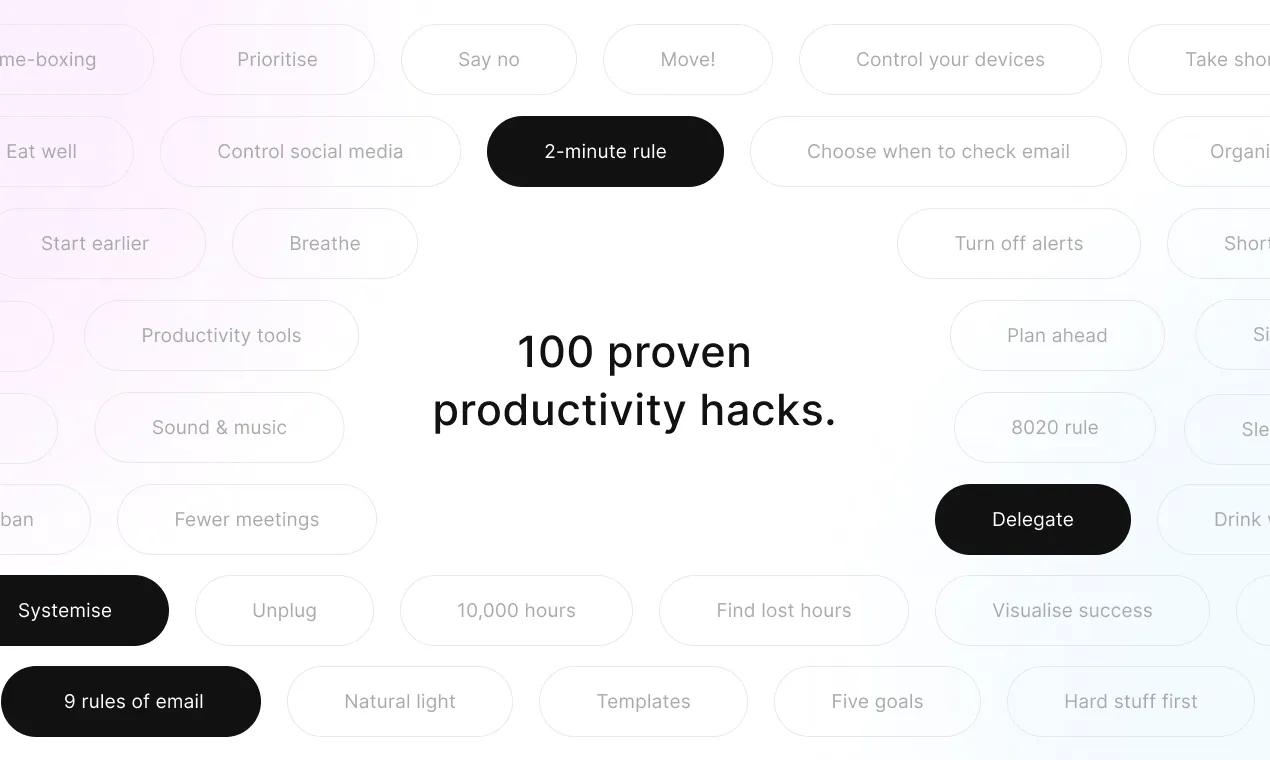 There are countless hacks to boost your productivity and get your work done. The internet is packed with tips and techniques to process your ever-growing to-do list. Good Work Hacks is a great resource that gathers 100 productivity hacks sourced from the world wide web. If you are on the hunt for a simple collection of strategies and mental models helping you become the most productive versions of yourself, make sure to check out Good Work Hacks.
---
Mental Wealth
➢ Change Is Hard. Here's How to Make It Less Painful. – "Every leader has had the experience of unveiling an organizational change — a new system or process, a corporate restructure, a shift in the business model — and getting a less-than positive response from their team. Sometimes the reaction is subtle: lowered eyes, tightened lips, silence. With a more confident or vocal team, you might get questions about whether the change is necessary, complaints about "yet another thing to do," and lots of reasons why this just isn't a good time for a big shift."
➢ What if the future of work is exactly the same? – "For Maria Martinez, the future of work has never looked particularly bright. In most of her 25 years as a dishwasher at a DoubleTree by Hilton hotel in Southern California, she had never gotten a raise beyond the minimum wage hikes mandated by the government. Before the pandemic hit, there were three people helping with her shift. Now, it's often just her. Martinez keeps asking her bosses for help — business at the hotel has picked back up again — but for the moment, they're not really budging. "The workload has increased, and it's just me, by myself," she says."
➢ The Power of Narrative – "What future do we face? What future do we want? What must we do to get there? These three questions preoccupy us all. We can't predict the future. However, we can imagine it and even design it; no outcome is predetermined and, as cognitive human beings, we retain the agency to shape the world we want. Perhaps most critically, we can also prepare for the future, by confronting both the risks that we can mitigate and the things that will surprise us. As the most effective conduits for ideas, narratives have the unique power to help us determine what's going on, what lies ahead, and what needs to be done."
➢ You just might be more productive if you work less – "A few weeks ago, I wrote about how to know whether you're working too many hours. But, thinking about working too many hours conjures up images of arriving at the office early and staying late. Certainly, it means something more than the standard 40-hour workweek. So, are there situations in which it might actually be more productive for you to work fewer hours? How can you figure out what is the ideal workday or workweek for you?"
---
Classifieds
Start structure and enrich all of your ideas in one place. xTiles is a visual note-taking app for creative people that combines the best practices from text editors and whiteboards. Try it free!
Craftwork is offering high-quality interface assets for designers & startup creatives. No matter if you are looking for illustrations, UI kits, or icons Craftwork got you covered.
Join 50k+ smart people on Refind and get 7 new links every day that make you smarter, tailored to your interests, curated from 10k+ sources.
If you are interested in putting your tool, product, or resource in front of over 1600 creative minds, consider advertising in Creativerly and book a sponsor or classified ad spot. Find all the important information at creativerly.com/advertise.
---
Appendix
➢ ICYMI
Highlight your app, tool, resource, or service in front of over 1600 creative minds coming from different backgrounds like design, development, journalism, VC, Indie Hacking, and others. The Creativerly audience is actively looking for tools and resources which boost their creativity and productivity. If you are interested in booking a sponsor spot in Creativerly head over to creativerly.com/advertise for all the important information.
➢ Featured Newsletter
I love to browse through home office and desk inspiration images and therefore I am more than happy to have find out about Maker Stations. Maker Stations is an online publication dedicated to purposeful home offices and mindful living.

It is simply a joy to browse through all the beautiful and functional home office setups from makers around the world, carefully curated by Ilya and Lena. What excites me even more is the fact that Maker Stations not only showcases all the different home office setups but they also tell the stories from the makers behind those setups.

Lovely idea, and a lovely newsletter you should definitely check out and subscribe.
➢ Quick Bits
---
Twitter thoughts
---
Till next time! 👋‌‌‌‌
Support: Do you have a friend who is looking for inspiration, news about design, and useful tools and apps? Forward this newsletter to a friend or simply share this issue and show some support. You can also show some love by simply clicking the button down below and keep this newsletter a sustainable side-project by buying me a coffee. ☕️ 🥰
---
---
Some of the links in my newsletter and my blog posts are affiliate links. Those links are marked by an asterisk. If you buy something through the link, the product will not cost you anything more, but I will receive a small commission which not only supports Creativerly and my work but also helps me to keep this publication a sustainable side-project.