Newsletter
Doing Content Right & How to remember what you learn
In this week's issue of Creativerly: Take back your day, collaborate creatively, how to remember what you learn, and a lot more. You are reading Creativerly, the weekly digest about creativity and productivity-boosting tools and resources, combined with useful insight, articles, and learnings from the fields of design and tech. The newsletter built for the creative community.
---
Hey and welcome to issue 84 👋
As a kid I barely read any books, I would go that far and say I hated books (because yes I read magazines). I am not sure what was the reason for that, but I simply did not enjoy the process of reading a book. There were too many other things that gained much more of my attention.
Speaking of today reading (no matter of books, articles, magazines, whatsoever) is one of my favorite hobbies. I love to read novels, thrillers, crime thrillers, but you will also find some books about business, politics, and history on my shelves. No matter what genre of book you are reading, you will always get some kind of value from it, sometimes more sometimes less. Maybe that was the reason back when I was a kid and did not like to read books because I thought I would get no value from reading a book. Glad I changed my mind.
Recently, I bought what I call the most valuable book (for me personally) ever. Steph Smith's "Doing Content Right" is a gold mine for everyone who wants to start a newsletter, blog, or online publication in 2020. Guess what, it is not too late to start writing or curating content online in 2020, and Steph Smith will tell you why. On top of that, "Doing Content Right" details every single step it needs to kick off your newsletter or blog. Learn why you need to find your personal monopoly first, how to identify your distribution vector, what it takes to build a home for your newsletter, and how to distribute and grow it big. So if you are planning to create a blog, start a newsletter, grow your audience, Steph Smith's "Doing Content Right" is the must-have resource for you. What I love most about Steph's book, it is packed with actionable exercises. Also, if you buy the book you will also get the possibility to discuss and ask questions during live sessions with Steph. If you are now interested in buying the book you can do so here: Steph Smith - Doing Content Right, it costs $30, which is already a steal, but Steph was so kind to provide me and all the Creativerly readers with a discount code. So right at the check out make sure to use "philipp20" which gives you 20% off. Steph already sold nearly 2,000 copies, and she will increase the price to $50 after October 1st, so make sure to grab it ASAP.
If you ask yourself now why you should learn from Steph Smith, and why she is telling you how to do content right in 2020, let me give you a quick introduction: Steph Smith works for The Hustle, one of the biggest newsletters out there (they reached 1 million subscribers within 2 years) where she is creating and scaling their premium publication Trends to thousands of subscribers and millions in ARR. Also, her personal blog reached 400k+ page views and thousands of subscribers in its first year. Steph also led a 30-person publications team and operated 6 technical blogs, which reached 600k+ email subscribers and millions of monthly readers. So, if there is one person out there who knows how to do content right in 2020, then it is Steph Smith. Grab her book now, use the discount code "philipp20", read the book, and kick off your newsletter or blog. You rarely get so much value from one book.
---
Apps, Software, Tools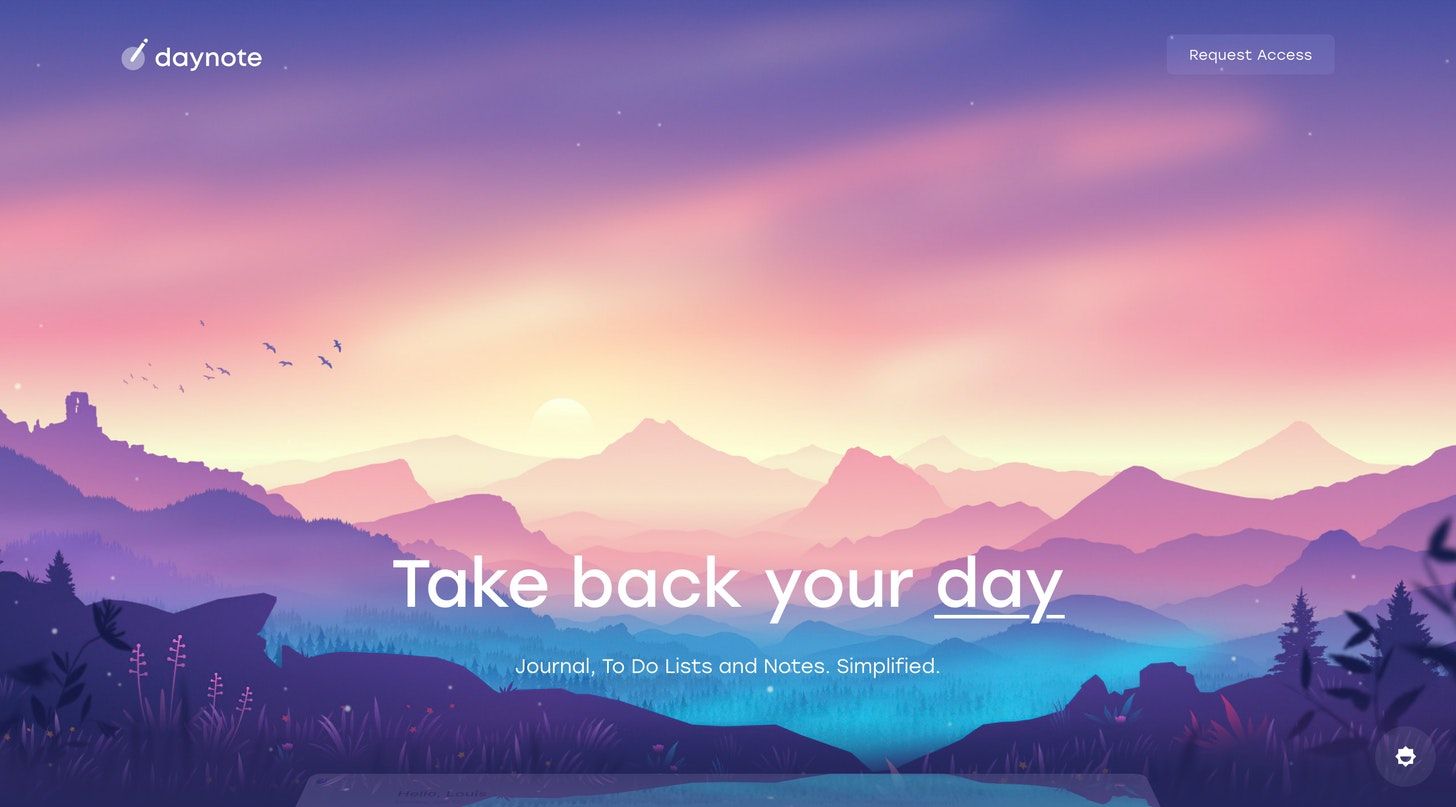 Another week, another new productivity tool coming up. Daynote combines journal, to-do lists, and notes in one beautiful looking app. I am a big fan of their website, which is gorgeously designed and also gives us some first impression of how the app will look like. What really impresses me is the fact, that the app will be cross-platform (Mac, Windows, iOS, Android) right from the beginning. It is always great to see, that developers care for every user and bring their experience to every operating system. Let's take a look at the features. The journal is the place where you write down your thoughts, you will be able to set goals, search previous entries, and add yearly reminders happening that day. Your To-Do Lists will be sharable with others, add reminders, and plan your day. In the Notes section, you will be able to record anything you'd like to remember for later. Wine lists, Books you want to read, products you want to buy, travel itineraries. Anything. Feature-wise it is nothing new, but design-wise it already caught my eye and I am looking forward to trying it out.
Small gimmick I like about their website: In the lower right corner you can toggle between dark and light mode. You will realise that the screen mockups will turn to dark mode and also the header graphics will tint darker. But, and here comes the funny part, also the headline will turn from "Take back your day" to "Take back your night", love details like this.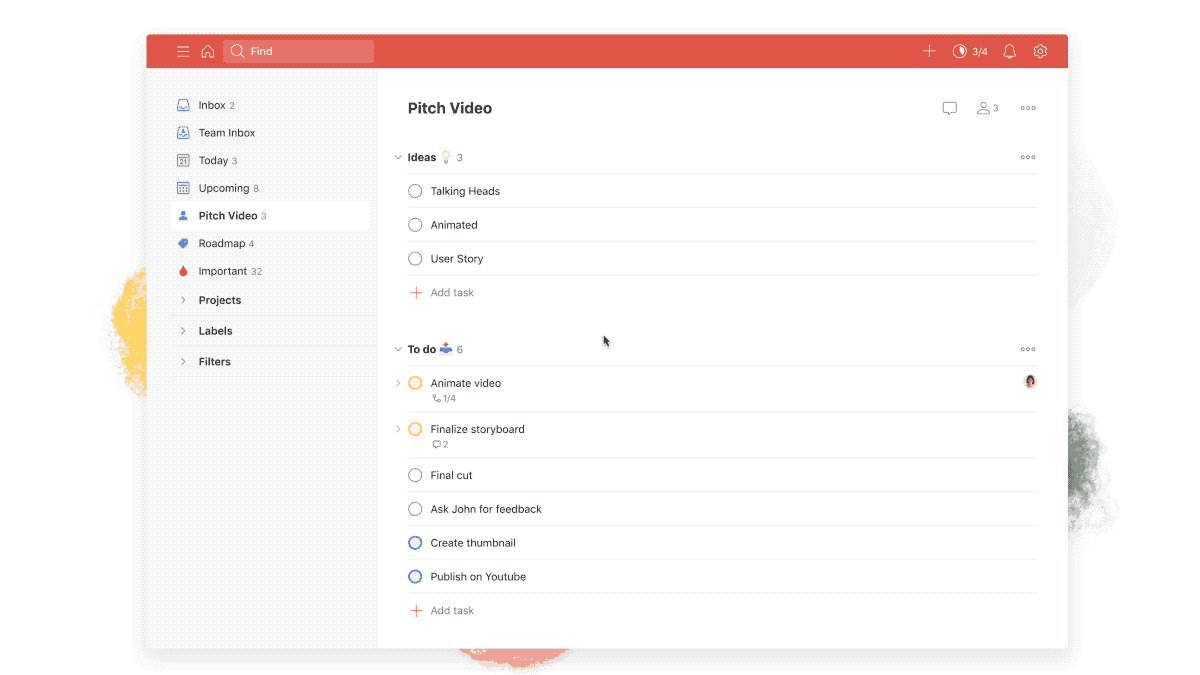 I am pretty sure most of you will know Todoist, one of the most popular task management tools used by individuals and large teams. At Creativerly I do not only share new tools, but also new features introduced to already existing tools. Well, Todoist just launched a new feature, which was very anticipated: Boards. Todoist has been a classic Todo-List app for quite some time, which is loved by a lot of users. On the other hand, most popular task managers have in common that they offer both of the worlds, a list view, and for those who like it more, a kanban view. So, many Todoist users waited for this feature. To use it, you simply need to create a new section within a list and you are ready to go. Drag your to-dos on different boards, to structure your day and plan your week.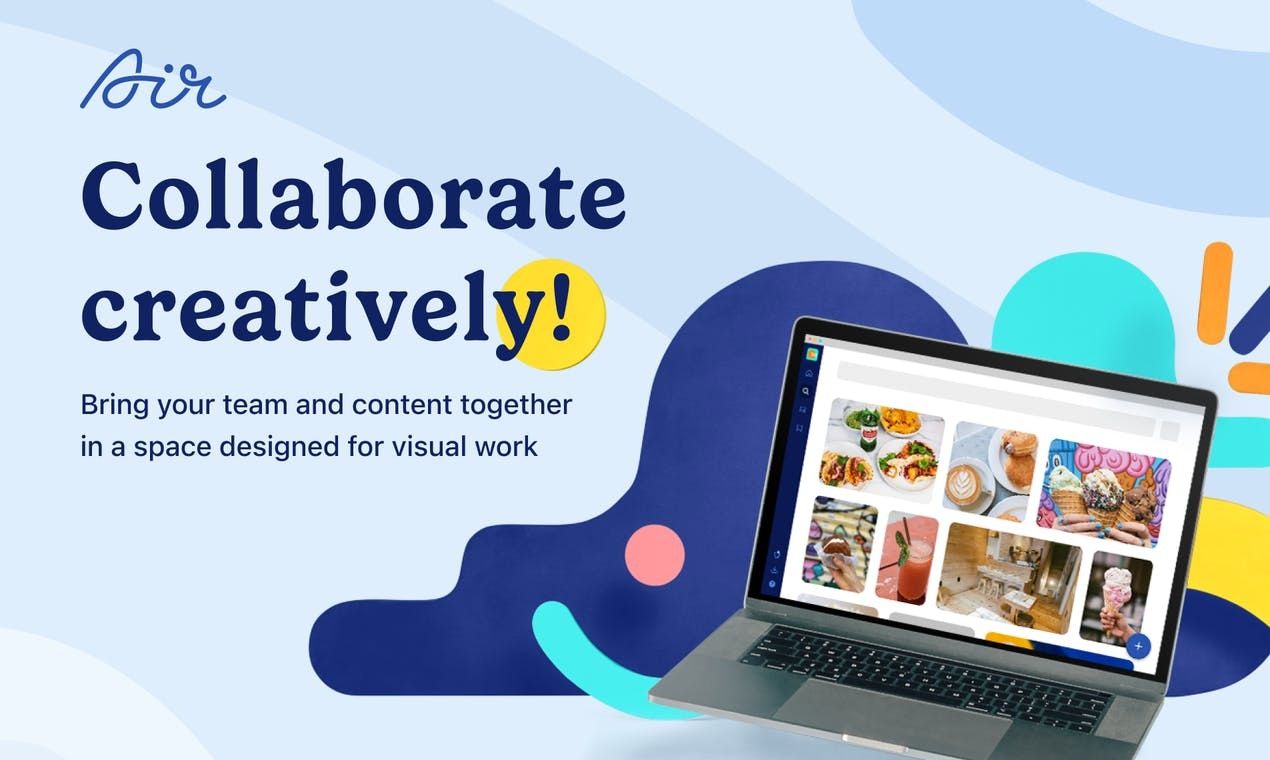 Air is the creative workspace for your team, your brand, and all of your ideas. Air is a space designed for visual work. A lot of teams are working across clouds, uploading, and sharing a lot of assets. Dropbox and Google Drive are probably the most used solutions in this case. But there are some problems with working with clouds. If you are sharing a lot of assets across your team, you will create hundreds of folders, and your assets will get lost pretty fast. It is hard to find very specific assets again. Sometimes it feels like that cloud platforms do not realise you work in the cloud, they are mainly a cloud storage. Air makes creative collaboration a breeze. Air let's you search the way you want, to quickly find the assets you are looking for. It also gives you powerful tools, so you can give feedback directly in the cloud, collaborate with partners and freelancers, and plan your next content strategy. If you and your team are relying a lot on cloud storage for your work, you might check out Air.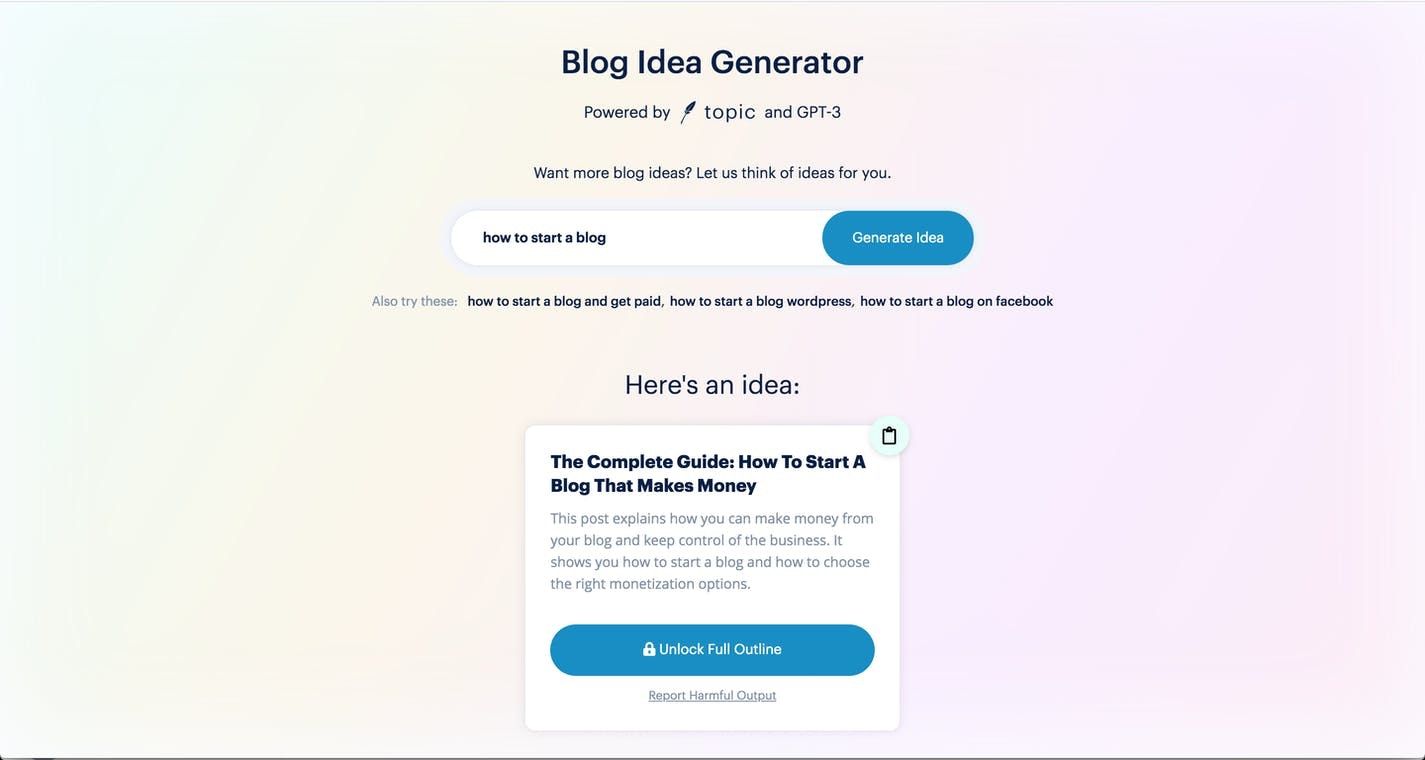 Recently, the internet turned crazy because this whole article got written by a robot. GPT-3 is OpenAI's powerful new language generator. GPT-3 is a cutting edge language model that uses machine learning to produce human-like text. It takes in a prompt and attempts to complete it. The team at Topic used this language model to create a blog idea generator. If you ever feel stuck, searching for your next topic to write about, maybe give this a try. The generator takes your keyword and analyzes the current top-performing content in Google. After that, it takes that data and plugs it into GPT-3 to deliver unique ideas. This brings some important advantages: Consistently creating content that matches your readers search intent, wasting less time brainstorming ideas for your blog, filling your content calendar in minutes instead of hours, ranking higher and driving more organic search traffic. Very interesting idea, very interesting tool.
---
Goods & Gadgets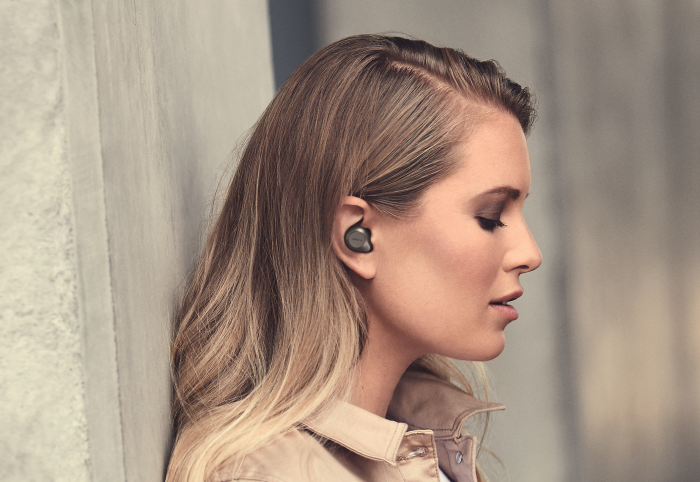 We are currently seeing the market getting flooded with earbuds. Every bigger headphone manufacturer is trying to tackle on the incredible popular AirPods. Besides Bose, Sony, Sennheiser, there is also Jabra which is getting bigger and bigger in the heaphone space. They just announced their true wireless noise cancelling earbuds, the Elite 85t. The Jabra Elite 85t true wireless earbuds do more than just cancel noise. In fact, they offer a transparency mode, HearThrough, which allows you to hear just the sounds you want to. Using Jabra Advanced Noise Cancellation, these cutting-edge true wireless earbuds let you control how much noise you remove from your environment. Moreover, these Jabra earbuds have a dedicated ANC processor to achieve this powerful technology, and you can simply tap them to switch to HearThrough mode.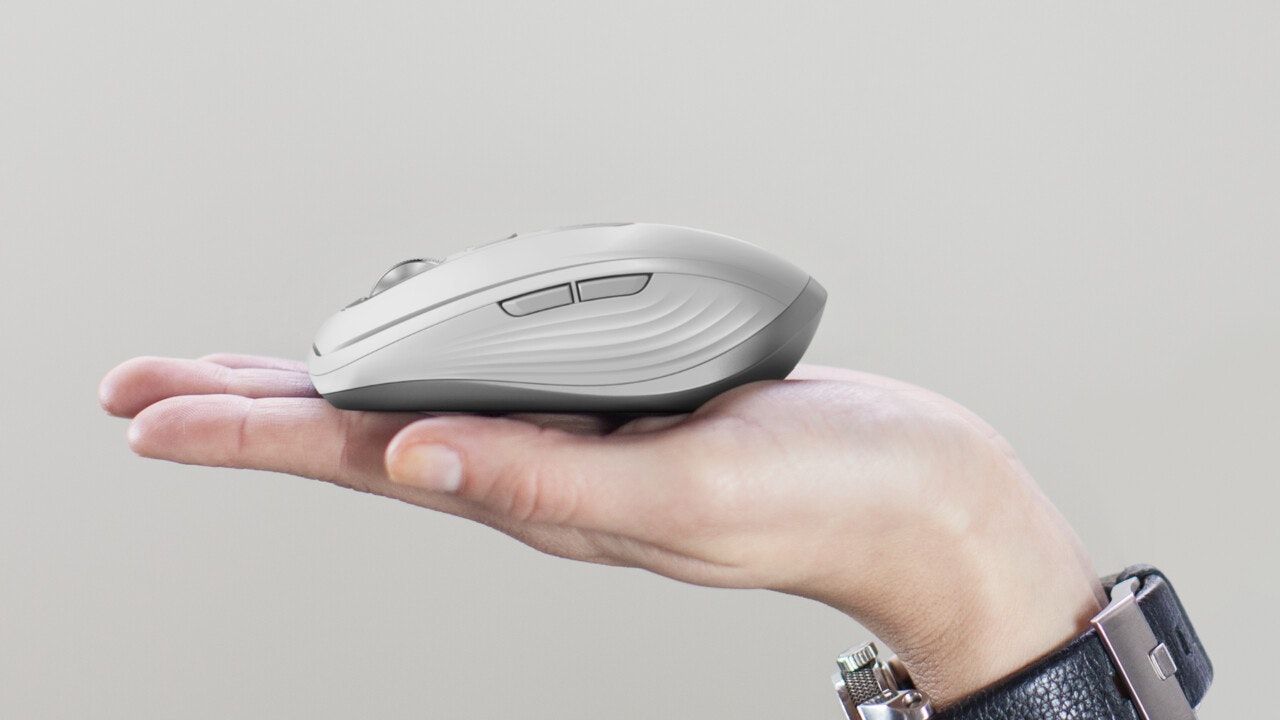 Logitech's MX Master 3 is not only Logitech's most popular product but it is also one of the most popular computer mice in general. But Logitech is also offering the MX Anywhere series, which recently got updated with the MX Anywhere 3. If you need a new computer mouse, the Logitech MX Anywhere 3 compact  performance mouse lasts up to 70 days on a single charge. Plus, you can  use it for three hours on a one-minute charge. Its elegant design  features grippy silicone side grips for tactility. Also, the scroll  wheel is made of machined steel. In particular, the wheel automatically  shifts line by line so you can scroll faster. The Logitech MX Anywhere 3  can connect to three devices. In fact, it's versatile enough to work on  Windows, macOS, Chrome, and Linux devices. It is again a stunning piece of design, and a great piece of tech.
---
Useful Resource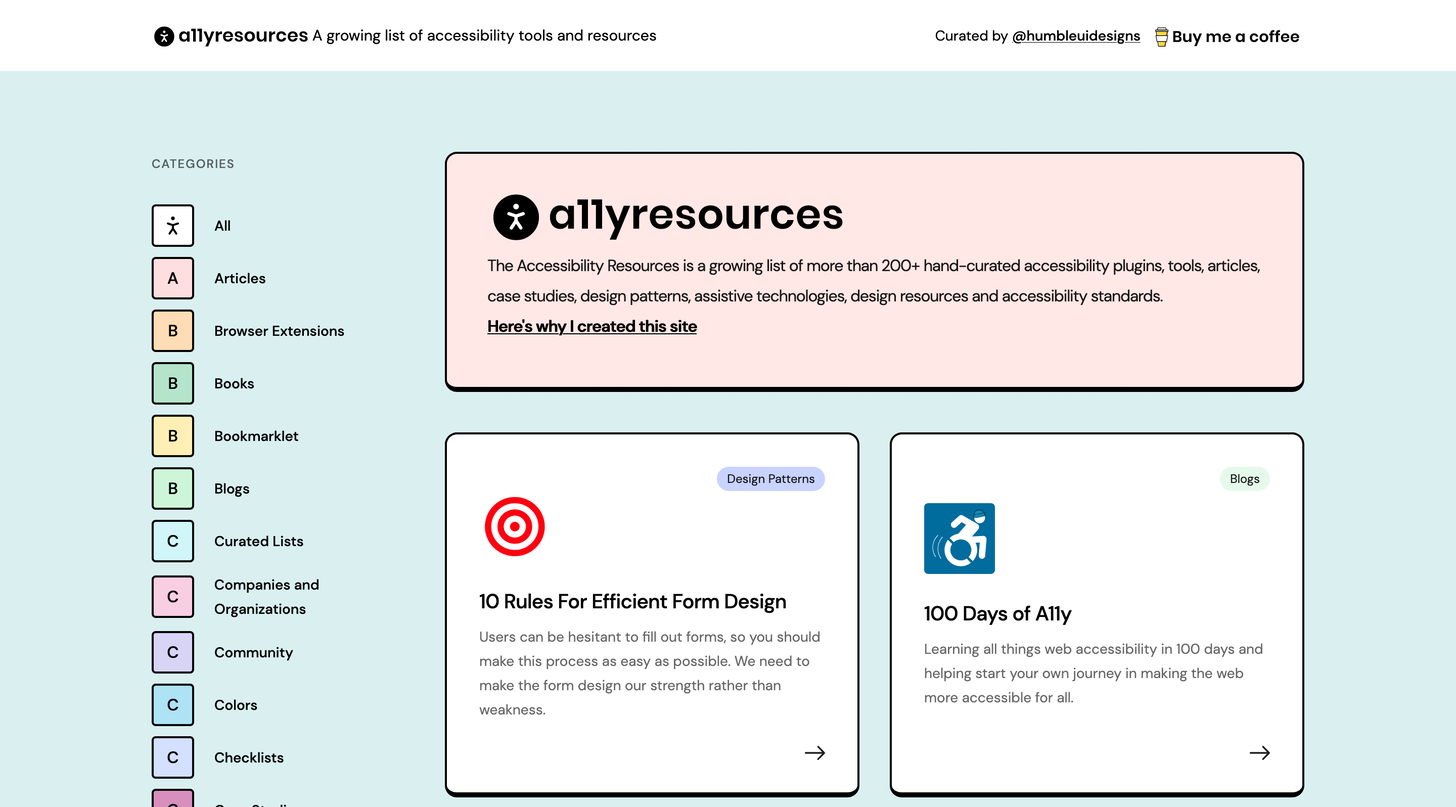 If you are browsing the internet for design resource sites, you will find a ton, most of them also display always the same tools, resources, etc. a11yresources is different to those, but also more important in my opinion. Why? a11yresources is a growing list of 200+ accessibility tools and resources. Hand-curated and updated daily. There is still a lot of work to do to make the internet more accessible and a11yresources is a great start in the right direction.
---
Mental Wealth
➢ This Is Your Evergreen Reminder That Slowing Down Is Not Falling Behind – "Even if your plans have changed, even if your timeline is different, even if this year has not unfolded the way you thought it would — you are not falling behind. The course of our lives is not contingent upon things happening precisely as we think they should. In fact, it's often the unexpected that opens us up to opportunities that weren't crossing our radars, ideas about life, and love, and the world itself, that we hadn't stopped to consider. If you know that it's time to slow down, to simplify, to take it easier, to savor your days, to adjust your course — you are right. You are not straying from the path, you are finally finding it."
➢ All for Tech, and Tech for All: Inclusive Design Is Just Better Design – "Many of us don't have to consider accessibility features when using products, and yet I'd bet my last Rolo you use them more than you realise. Telling Alexa to turn up Beyoncé on a Friday night? Voice assistance. Switched your Twitter over to dark mode? Visual impairment. Dictating your latest WhatsApp to Siri whilst driving (naughty)? Yup, you've got it, it's all accessibility. But whilst your WhatsApp message could wait for 5 minutes until you get home, and you could probably withstand the glare of Twitter's light mode for a touch longer, for some people these features aren't just a luxury — they're a necessity."
➢ How to remember what you learn – "The book I hold my hands was full of highlights. It seemed like I've got all colors of the rainbow on a page. Apparently, this didn't help. When I tried recalling ideas from the book, I didn't hear a thing. Just. Silence. Terrified, I started questioning how much I really know. If I forget everything I read, I can't apply my knowledge to the problem at hand. I can't transfer it. And without transfer, knowledge is very much like music for deaf ears.
I quickly did the math. I was planning to invest in learning a few hours a day for the next ~75 years of my life. Staring at the number of potentially wasted hours, I knew exactly what I had to do."
➢ Adjacent skills: how to widen your career perspective – "Gone are the days of linear career trajectories. Most people will live several work lives, and careers have become increasingly mobile. While deep expertise in a given domain can lead to a successful career, it is also a more rigid approach which may limit the number of lateral opportunities. In contrast, adjacent skills can open doors and foster serendipity in a career. The Merriam-Webster dictionary defines "adjacent" as "having a common endpoint or border." Adjacent skills are skills that are close or related to the ones you already have. The main advantage is that you are not starting from scratch: you can usually use some of the knowledge from your existing skills to acquire adjacent skills. Not only will the process feel easier, but you will reinforce your current knowledge."
---
Twitter thoughts
---
Till next time! 👋

Support: You have a friend who is looking for inspiration, news about design, and useful tools and apps? Forward this newsletter to a friend or simply share this issue and show some support. You can also show some love by simply clicking the button down below and keep this newsletter a sustainable side-project by buying me a coffee. ☕️ 🥰
Disclaimer: My posts may contain affiliate links. If you buy something through one of those links you won't pay a penny more, but I'll get a small commission, which supports this blog and also my side-projects. So consider buying something through my links. Thank you!
---