Newsletter
Email for modern SaaS & Better brainstorming
The joy of trying out new apps, the all-new animation app, some tactics for writing in public, and a lot more in this week's issue of Creativerly.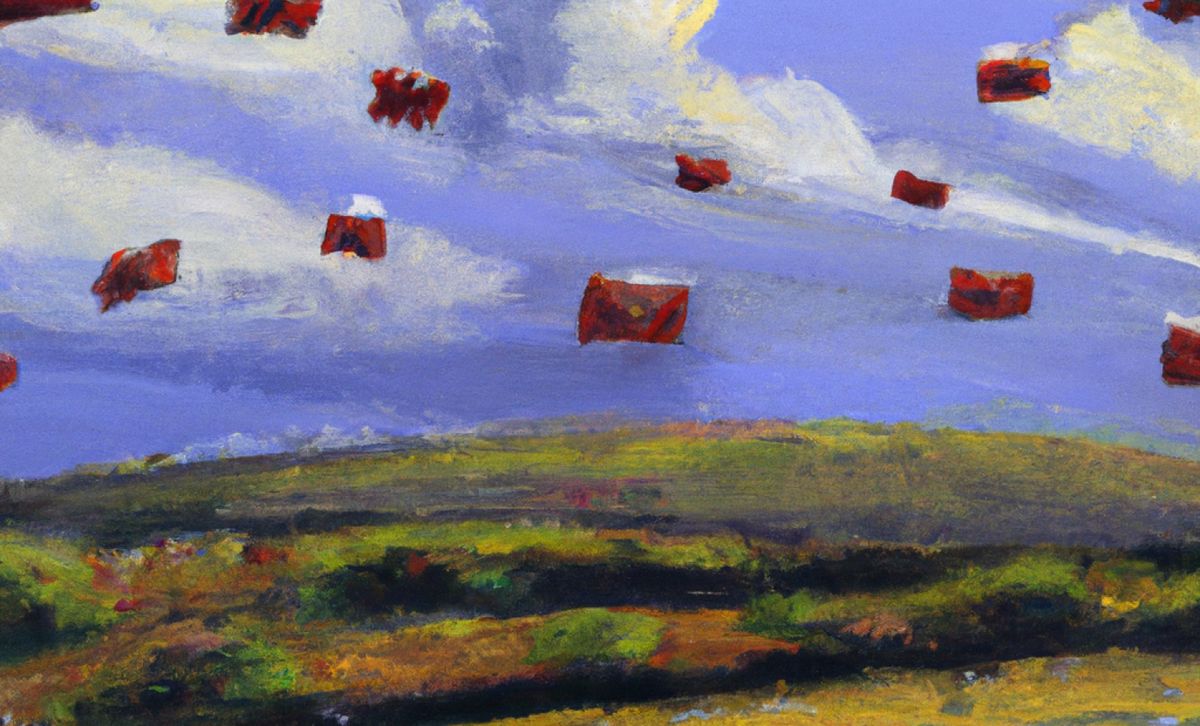 My name is Philipp and you are reading Creativerly, the weekly digest about creativity and productivity-boosting tools and resources, combined with useful insights, articles, and findings from the fields of design and tech. The newsletter built for the creative community.
---
Hey and welcome to Creativerly 239 👋
The work on my personal website and using Framer for it, taught me once again how much I love and how much joy it brings me diving into and learning a new app. I haven't experienced that for a while. The reason for that might be the fact that I haven't worked on a project that is as overdue as my new personal website, so I feel the deep need to get it done. It feels like, diving into a brand-new app while tackling a project is like finding a hidden treasure chest full of joy. But why is that a thing?
Just like opening a surprise gift, stumbling upon a cool new app makes our hearts skip a beat. It's all about that "wow, what's this?" moment that kicks our curiosity into gear. Plus, new apps often promise to make our lives easier. They claim they can do things faster, smoother, and smarter. That's like having a superhero sidekick for your project. And thinking about that, Framer does indeed feel like a superhero sidekick while building a website. Once you get the hang of it, it is one of the fastest ways to build modern, beautiful websites.
But besides that, there is also the learning part when jumping onto a new app. It's like leveling up in a video game. Each new app is a chance to gain new skills, get a better grip on tech, and feel like a genius when you figure it all out. But it's not just about learning. It's also about creativity. Getting to learn a new app, try out new features, and adapt new workflows is a very personal experience, that stimulates your creativity. And don't forget the element of surprise. New apps can be full of unexpected goodies. It's like finding hidden Easter eggs in a video game or discovering a secret menu item at your favorite restaurant. Those little surprises add a sprinkle of excitement to the whole experience.
Exploring a new app while working on a project isn't just about getting stuff done; it's about having fun, embracing the unknown, and enjoying the journey. The next time you download a fresh app for your project, savor the excitement, and dive right in. Who knows what kind of joyous surprises you'll find along the way.
---
Apps, Software, Tools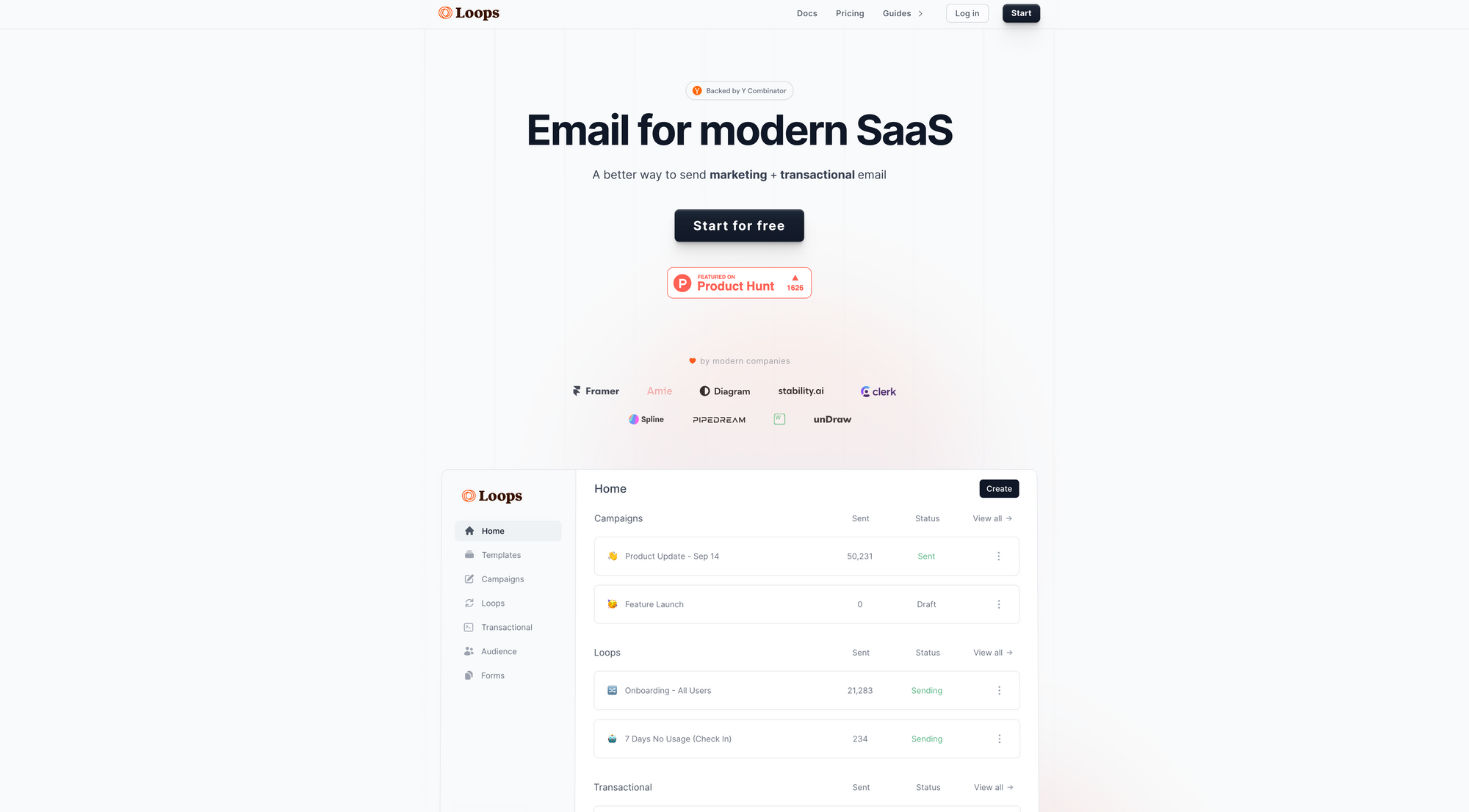 I have been following Loops and its development for quite some time now, and I am excited to see that they have officially launched, and attracted over 1600 upvotes on Product Hunt.
Loops is a modern platform to sen marketing and transactional email. It is a crowded space that has been dominated by names like Mailchimp, Mailerlite*, or Brevo. Once you experience the simplicity, the beautiful design, and the power of Loops you will get hooked fast and follow companies like Framer, Amie, Diagram, or Stability.ai in switching your marketing and transactional email service. Loops gets developed by a small but mighty team consisting of Chris Frantz (Founder), Adam Kaczmarek (Founder), Ryan Gilbert (Content), Phil Brockman (Engineering), and Sam Wan (Engineering). The company is backed by Y Combinator, Craft, as well as by great founders and creative minds from Lattice, Dropbox, Codeacademy, Framer, and more.
Creating and editing your emails within Loops is a lovely, straightforward, and streamlined experience. Its editor is based on dragging and dropping elements and blocks, to create the look and feel you are striving for. With just a few clicks you can easily polish the design of your emails and elements. Further personalization within Loops happens without the need to write a single line of code. Loops offers integrations for Framer, Napier, Webflow, Typedream, Segment, and Census, so you can import contacts and events with ease. When it comes to marketing emails, one of the most important features is the possibility to craft email flows or user journeys. Loops lets you craft the ideal user journey. You can build the complete journey right within Loops, by sending the right email at just the right time.
By offering simple brand management, a delightful developer experience, and structured email management, Loops brings marketing and transactional emails into one single place. Loops has been shipping updates regularly, improving the platform and extending it with new and exciting features. Since I am a Product Designer, Loops user interface design has attracted me particularly. It follows such a straight, clean, and calm design language, which I absolutely adore. Loops has a core focus of simplifying communication, since there are so many software companies which are overcomplicating and overburdening. Besides that, Loops should always be fast, easy-to-use, and delightful.
I totally got that exact image while just browsing through its website. If you are on the lookout for a beautiful, simple, and fast marketing and transactional email service, Loops is the one you should check out.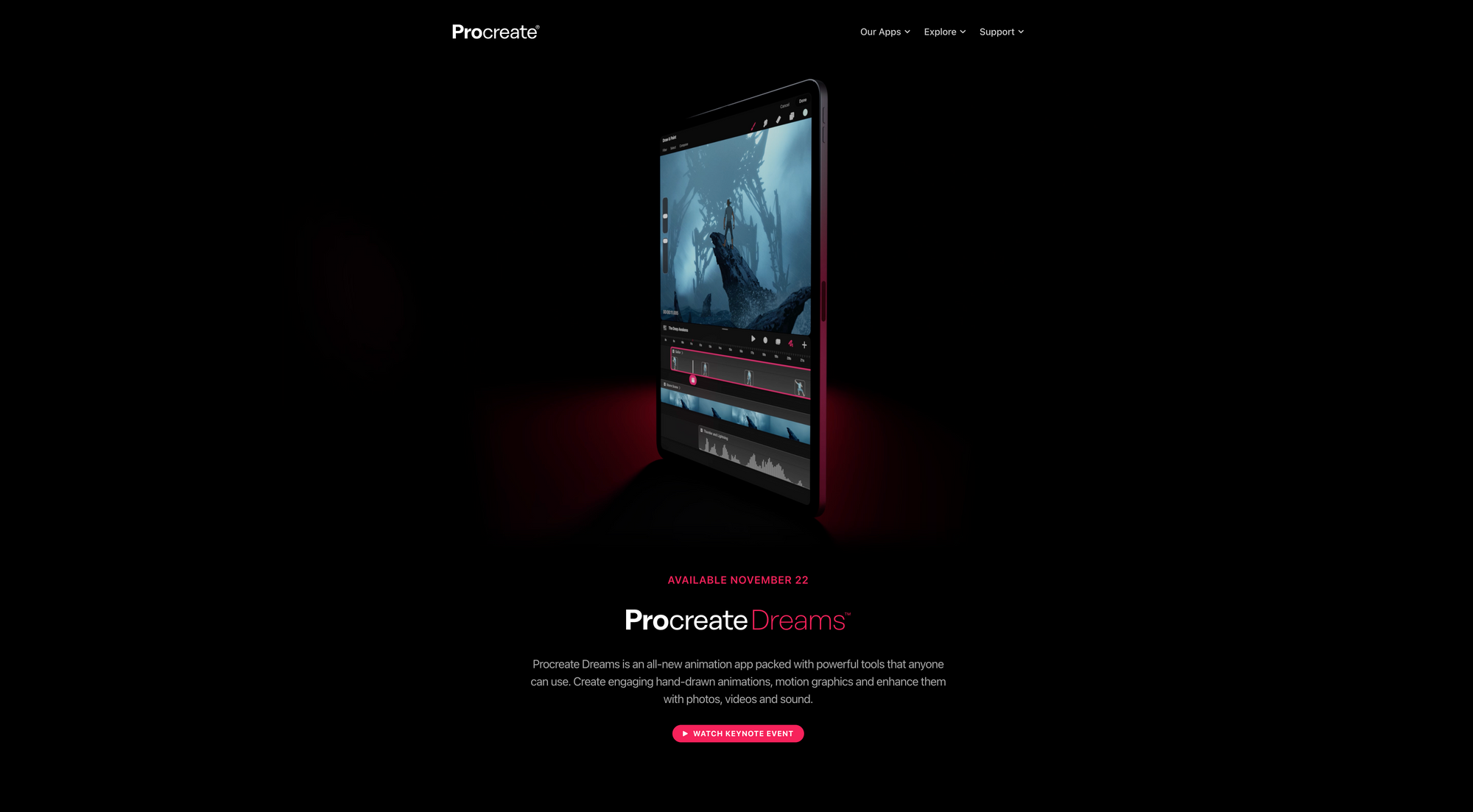 At a recent keynote event, Procreate, known for its identically named sketching and drawing app for iPad that quickly became one of the most, if not the most popular one, announced Procreate Dreams, an all-new animation app. Procreate Dreams is packed with powerful tools that anyone can use to create engaging hand-drawn animations, motion graphics, and enhance them with photos, videos, and sound.
If you ever wanted to create rich 2D animations, expressive videos, and breathtaking stories right on your iPad, Procreate Dreams is the tool you have dreamed of (pun intended). First, Procreate Dreams offers an all-new drawing experience. With ease you can bring gorgeous texture to your animations. You can use all your favorite Procreate brushes for it and experience more resolution than ever before. The goal of Procreate Dreams is to enable anyone to animate, record motion or affect through touch, and instantly respond to the movie as it plays. Its multi-touch timeline was made for animation, packed with fluid gestures that keep you focused on creating. Additionally, Procreate Dreams lets you edit video and enrich with sound. By adding voice overs, and atmospheric music and sound effects, you can bring your animations to life.
With the Stage feature, you can create massive sets for characters to come to life, all in a single project. While drawing, you decide whether you want to draw beyond the Stage or keep elements Backstage until the perfect moment. With simple pinch gestures you can focus in on the details. With live motion and effect, keyframes, real-time rendering, onion skins, text and type, and more, Procreate Dreams is packed with all the features you need to bring your art and stories to life, while working on your iPad.
What is interesting is the fact that Procreate Dreams also introduced a new file format called .dream, and entitled as the "file format of the future". As your work within Procreate Dreams progresses and evolves, all your assets are bundled into one file made for iCloud synchronization and backups, the bespoke .dream format. Procreate Dreams' files are optimized to open and close in an instant, and they are optimized to backup with iCloud.
Since Procreate Dreams was made for iPad, it is obvious that the team set out to deliver an unmatched experience for touch and the Apple Pencil. With that combination, you can experience natural and responsive panting, supercharged timeline editing, and more.
There is no doubt, Procreate Dreams is a magical piece of software. What is beyond mind-boggling is the fact that the app will cost you $19.99, as a one-time payment, no subscription, no additional cost. While I am an amateur when it comes to animation, drawing, and motion design, I still can say that this is an incredible value for the money. Procreate Dreams will be available on November 22.
---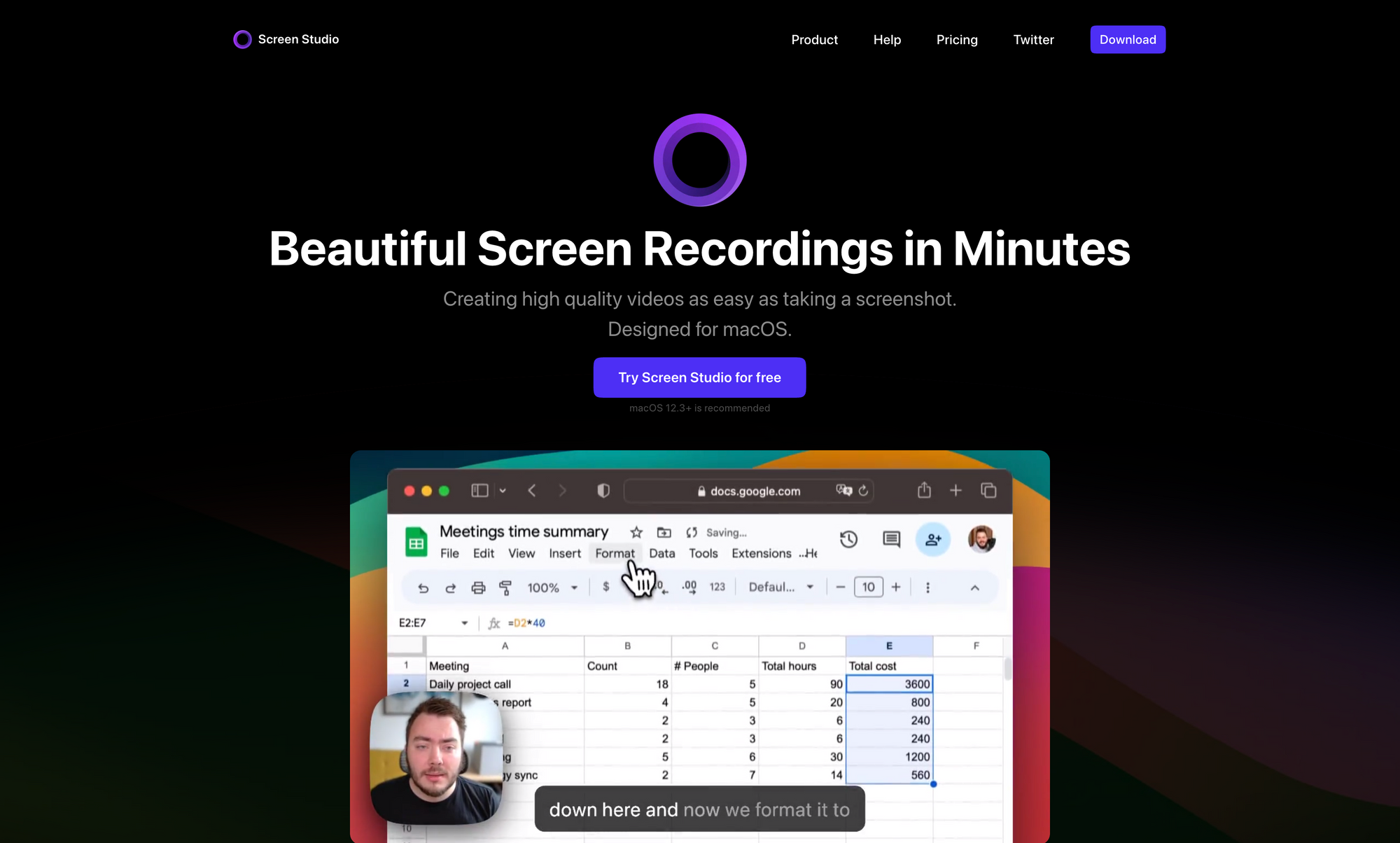 Recently, I added a new app to my tool stack of awesome apps I am heavily relying on, and that app is called
Screen Studio
. I was on the hunt for an app to create a bit more exciting screen recordings of my workflows in different apps which I could use for my articles instead of showing static screenshots. Screen Studio was exactly what I was looking for and it even exceeded my expectations. With Screen Studio you can create high quality videos as easy as taking a screenshot. No matter if you need to create videos for social media, YouTube channels, or for your articles, Screen Studio is incredible powerful yet super simple to use.
With lovely features like automatic zoom, focusing on the main action and automatically zooming in on action you perform on your screen, you can create engaging videos. Additionally, it features smooth cursor movement, you can easily change the cursor size, automatically hide static cursors, loop cursor positions, and rely on high-quality system cursors. With just a few clicks you are able to easily change the background or spacing around your video. After recording your video, you get access to editing features like shadow and inset, cut and speed up, to adjust the video to your needs. If you want to record tutorials, presentations, tips, or guides, Screen Studio lets you add your webcam video, voice, and system audio to your recordings.
Screen Studio is an incredible powerful, easy-to-use, and lovely app to create outstanding and engaging screen recordings for different use cases. It quickly became one of my favorite apps.
Screen Studio has been exclusively designed for macOS and it is available for $89. You just pay once and use it forever. The Standard License gives you the possibility to install Screen Studio on one macOS device and you will get one year of updates. The Extended License for up to 3 macOS devices will cost you $189. Check it out.
This is an affiliate link to support Creativerly. If you are interested in putting your tool, product, or resource in front of over 2000 creative minds, consider advertising in Creativerly and book a sponsor or classified ad spot. Find all the important information at creativerly.com/advertise.
---
Fresh Updates & News
Last week, Elicit, the AI research assistant, announced that it rolled out the Ellicit Beta, which will become the main Elicit app. The new Beta has many features that Elicit Original does not have. For example, you can extract data from up to 100 of your own papers, summarize concepts across many papers, and manage a library to organize all of your content.
Elicit Beta is now a paid product and the pricing depends on a variety of factors, including the workflow, the number of papers you analyze, and the number of columns or features you analyze. New users get 5,000 credits to try out different workflows.
With its newest update, Spline introduced Team Libraries, which are your central hub for all your design assets. You can now create a library with components, materials, colors, images, and audio assets that can be accessed from any team file. You can also convert any file into a library, access multiple libraries from any team file, and access the new assets UI.
Elite just launched what they call "The all-new Slite". The past eight months, the team at Slite worked hard to deliver a technology which is able to understand your words, so it can replace us to update, archive, rewrite team docs, and find answers for you. With this new launch, the team unveils the first milestone, which includes instant answers provided by Slite's AI assistant, effortless knowledge management, easy documentation as the AI assistant simplifies language, refines grammar, adjusts tone, summarizes docs, and translates into 15 languages, and countless smaller smart assistance like icon suggest, docs you need to read based on your groups, doc translations, and more.
---
Mental Wealth
❯ Better brainstorming – 'Have you ever been disappointed by group brainstorming sessions that didn't live up to their full creative potential? Despite the power and benefits of collective intelligence, it's common for these sessions to produce fewer ideas than individual brainstorming. Fortunately, there are ways to improve this process. This post will explore the reasons behind this paradox and offer practical strategies for brainstorming. Whether you prefer working collaboratively or independently, this guide will provide valuable insights to strengthen your idea-generation process.'
❯ Some tactics for writing in public – 'Someone recently asked me – "how do you deal with writing in public? People on the internet are such assholes!" I've often heard the advice "don't read the comments", but actually I've learned a huge amount from reading internet comments on my posts from strangers over the years, even if sometimes people are jerks. So I want to explain some tactics I use to try to make the comments on my posts more informative and useful to me, and to try to minimize the number of annoying comments I get.'
❯ How Modernity Made Us Allergic – 'Our very old immune systems can't keep up with modern lifestyles and diets, leading to increases in all sorts of chronic health problems like allergies and obesity.'
❯ Self-Anthropology: Become your own anthropologist with personal field notes – 'When was the last time you stopped to truly observe your own life? Turning an anthropological lens on yourself might feel strange, but it can lead to invaluable insights, allowing you to uncover patterns, gain self-knowledge, and imagine new possibilities. Anthropologists ask fundamental questions such as: What does it mean to live in our world as a human being? How can the study of humanity reveal new ways of being human and help us imagine our collective future?'
---
Do not miss out on this ...
❉ Join 50k+ smart people on Refind and get 7 new links every day that make you smarter, tailored to your interests, curated from 10k+ sources.
❉ Think tasks, not apps. Setapp* is you one-stop subscription to solving every task on Mac and iPhone.
❉ Fathom is cookie-free, GDPR compliant, privacy-first website analytics software. Get $10 off your first invoice and a 7-day free trial when you use this link*.
These are paid promotions or affiliate links to support Creativerly. If you are interested in putting your tool, product, or resource in front of over 2000 creative minds, consider advertising in Creativerly and book a sponsor or classified ad spot. Find all the important information at creativerly.com/advertise.
---
Appendix
❯ ICYMI
ProductivePrivacy, the directory website that highlights privacy-focused, open-source, and end-to-end encrypted productivity apps, is live. I built the site already some time ago, but now I gave it an update, added some more apps to it, created content around the topics of privacy and productivity apps, and added a casual newsletter to inform interested folks whenever I add additional apps, publish a new blog post, or find some interesting news to share.
❯ Featured Newsletter
What I love about newsletters is the fact that they filter through the sheer amount of information we are getting hit by every single day. Stacked Marketer for example curates the most useful and important digital marketing news and boils it down to a 7-minute read. No matter if you are looking for breaking news, insights, tips, or trick for all your digital marketing, Stacked Marketer is the newsletter you need to subscribe to. Join over 55,000 marketers and subscribe to this daily newsletter.
❯ Quick Bits
---
Till next time! 👋‌‌‌‌
Support: Do you have a friend who is looking for inspiration, news about design, and useful tools and apps? Forward this newsletter to a friend or simply share this issue and show some support. You can also show some love by simply clicking the button down below and keep this newsletter a sustainable side-project by buying me a coffee. ☕️ 🥰
---
---
Some of the links in my newsletter and my blog posts are affiliate links. Those links are marked by an asterisk. If you buy something through the link, the product will not cost you anything more, but I will receive a small commission which not only supports Creativerly and my work but also helps me to keep this publication a sustainable side-project.
Creativerly is proudly published with Ghost*.