Newsletter
Avoiding Bad Decisions & End-to-end encrypted notes
In this week's issue of Creativerly: A simple Markdown editor for macOS and iOS, an open source Jira alternative, growth as a mindset, and a lot more.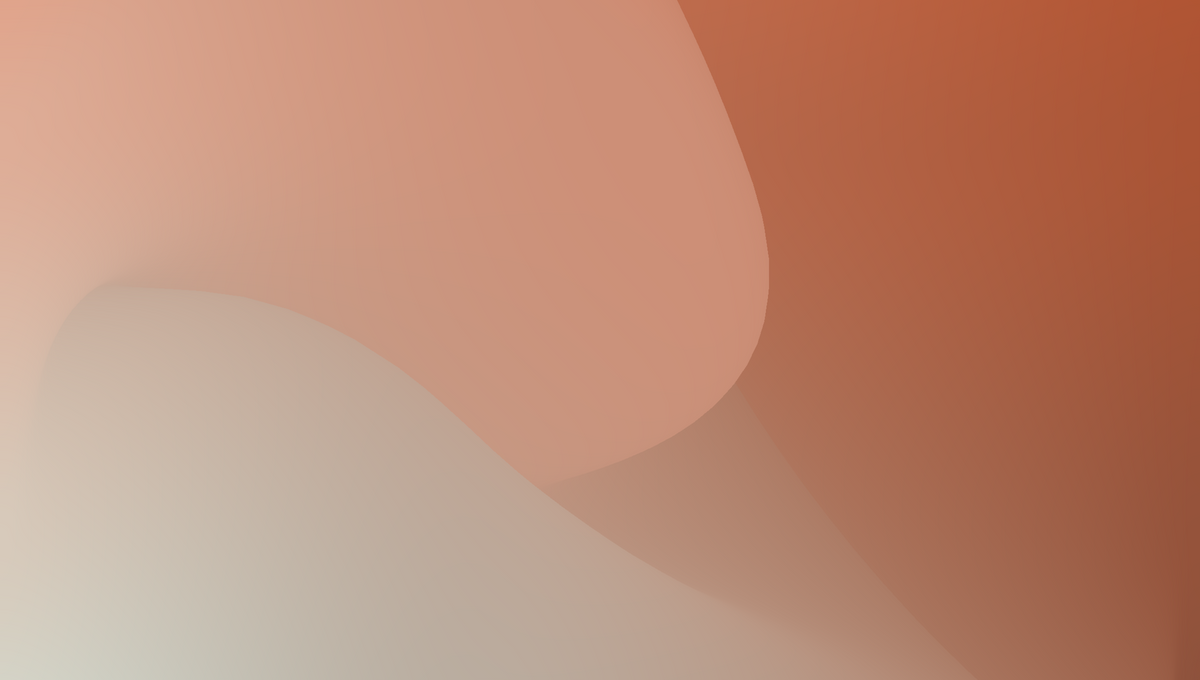 You are reading Creativerly, the weekly digest about creativity and productivity-boosting tools and resources, combined with useful insights, articles, and findings from the fields of design and tech. The newsletter built for the creative community.
---
Hey and welcome to issue 110 👋
Last week I got back into listening to Podcasts, and after finishing an episode of Not Overthinking by Ali & Taimur Abdaal I asked myself why I initially stopped listening to podcasts. The answer is: COVID-19. Back when I still worked from an office with all my colleagues, I listened to podcasts every day during my walk to and from the office. Since I am working from home for a year now, I merely listened to podcasts at home. But nevertheless, I am trying to get back into that habit, since a Podcast is such a nice medium to learn something new and listen to folks who are actually passionate about the topics they are talking about.
Generally, I do not have any preferences when it comes down to the topics of the newsletters I am listening to. I simply love to explore everything. No matter if it is design, business, history, finance, true crime, gaming, or anything else, I always found out something new, and therefore I would say that I basically profit from every single podcast episode I have listend to so far.
Since I am always excited to find out more about new podcasts, let me know what your favorite podcasts are! Simply share your favorite podcasts with me by replying to this email. I am super curious to find out what my subscribers are listening to. Also, let me know when you listen to podcasts. Do you listen to them during doing sport, during work, during house-work, let me know. I am trying to get back into my podcast-habit by combining listening to podcasts with work which is usually not that attention-grabbing, for example whenever I am doing dishes or laundry I simply press play or any podcast episode. It is great, and I love it! Looking forward to your answers.
If you have recommendations or feedback, drop me an email or a tweet. For now, enjoy the newsletter!  🥰
---
Apps, Software, Tools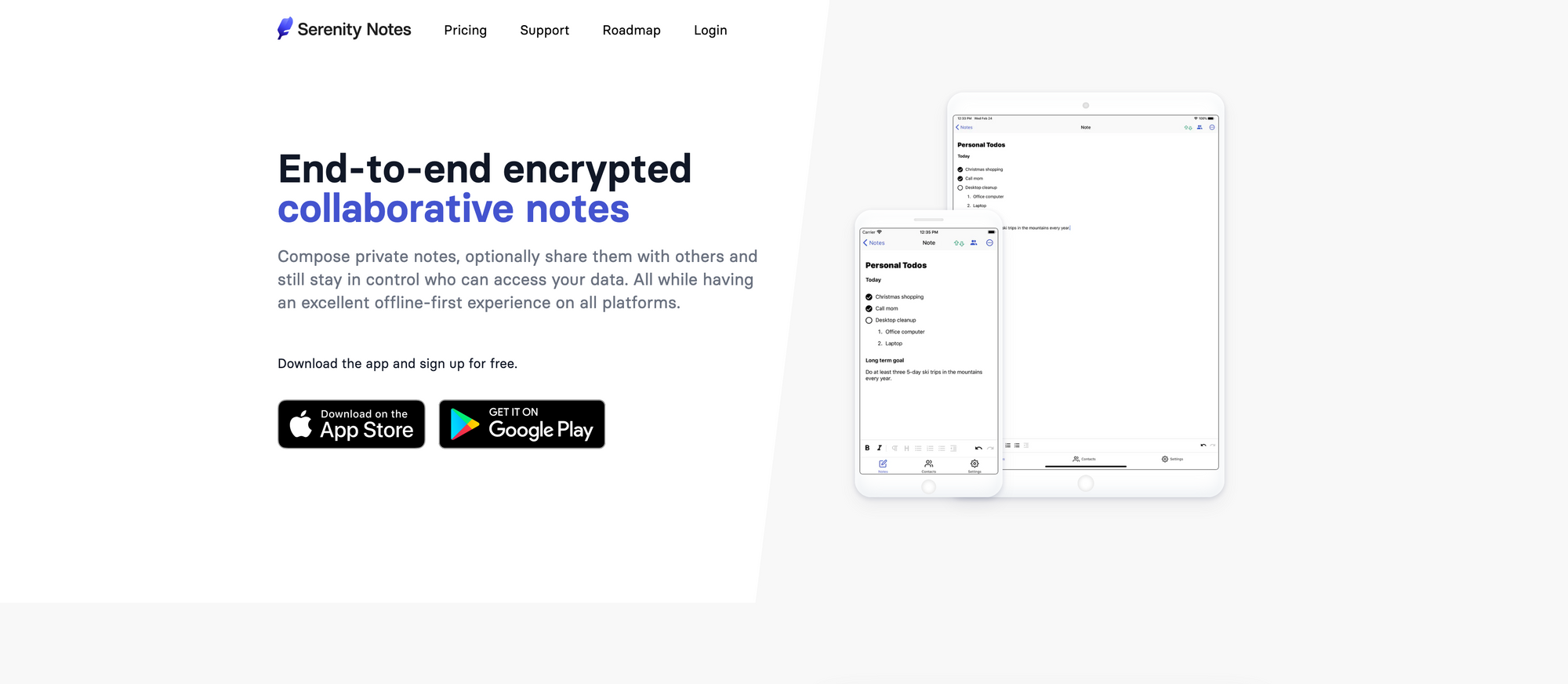 End-to-end encryption in the note-taking space is rare, although more and more tools are pushing towards that approach. Which is very welcoming. Serenity Notes is a tool that already has end-to-end encryption for your personal and team notes. With Serenity Notes you can compose private notes, optionally share them with others and still stay in control of who can access your data. All while having an excellent offline-first experience on all platforms. Serenity Notes offers a super simple text editor which creates a seamless editing experience for the user. Create headlines, body text, lists, and also checklists to keep track of your tasks and to-dos (sidenote: media support to add videos, images, and attachments coming soon). Serenity Notes features true end-to-end encryption.
All notes are encrypted and a note can only be decrypted by the devices of its collaborators. In addition, contact and device names are encrypted and can only be accessed by your devices. This means Serenity's servers can't decrypt any of your content. On top of that, the encryption technology Serenity Notes is using is called Double Ratchet Algorithm which is popularised by secure and encrypted messenger Signal. To get a taste of Serenity Notes you can use the tool for free (up to 3 notes, collaborate with up to 3 users, link up to 3 devices), paid subscriptions start at $48 per year (unlimited notes, up to 50 users, up to 10 devices).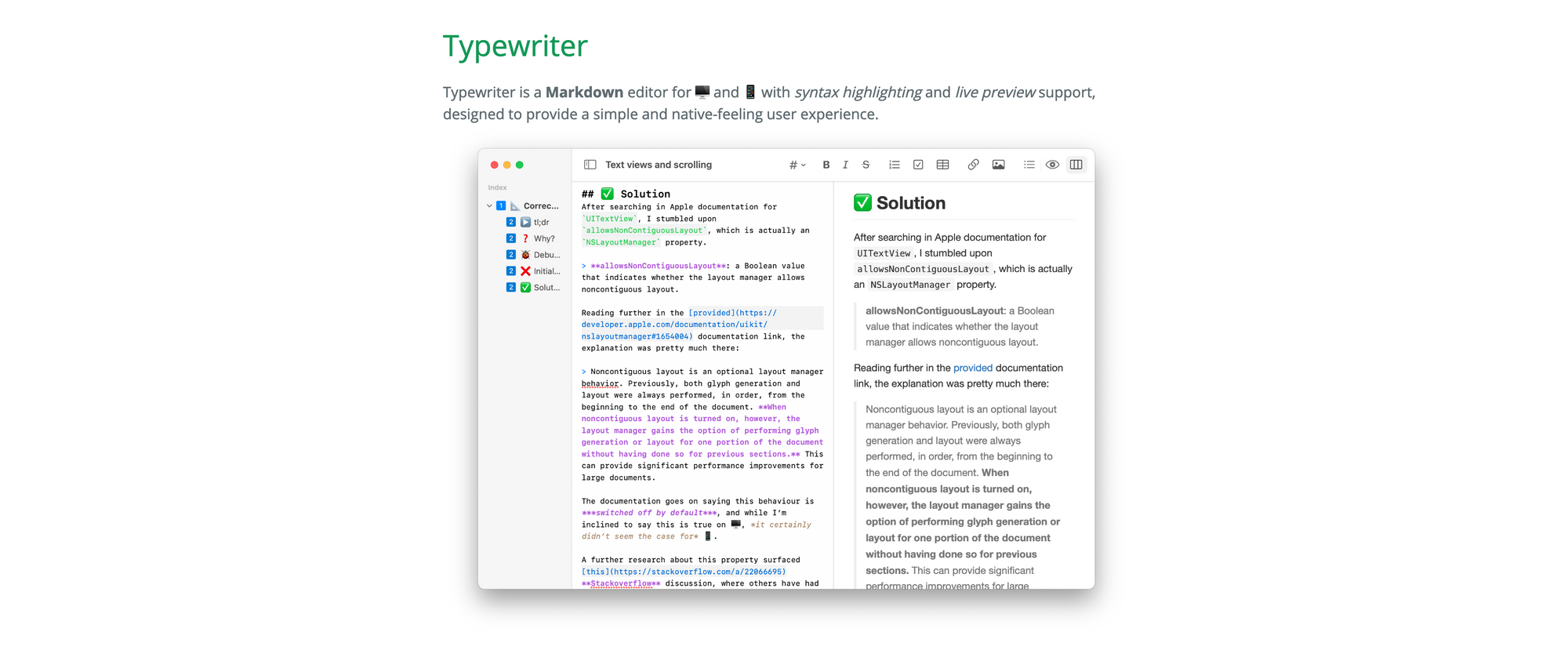 I am a huge fan of simple, focus-oriented writing apps, and Typewriter definitely falls into that category. Typewriter is a simple, clean, and minimal markdown editor for macOS and iOS. It is designed to deliver a  simple and native-feeling user experience. The features of Typewriter include different View modes such as Editor, which gives you a distraction-free writing experience with syntax highlighting and shortcuts for commonly used commands, Preview lets you view the formatted document and Side-by-side keeps your Editor and Preview views side-by-side to get direct feedback of your writing. On top of that, Typewriter has a beautiful Sidebar to keep track of all your writing. Besides that, you can also use the open quickly window to navigate through all your notes. Keyboard enthusiasts will also like Typewriter since the app supports loads of keyboard shortcuts so you do not need to move your hand off your keyboard. All your documents, notes, writing are stored and saved locally (if you want you can synchronise your notes with iCloud), therefore all your data will be secure and Typewriter does not track you in any way.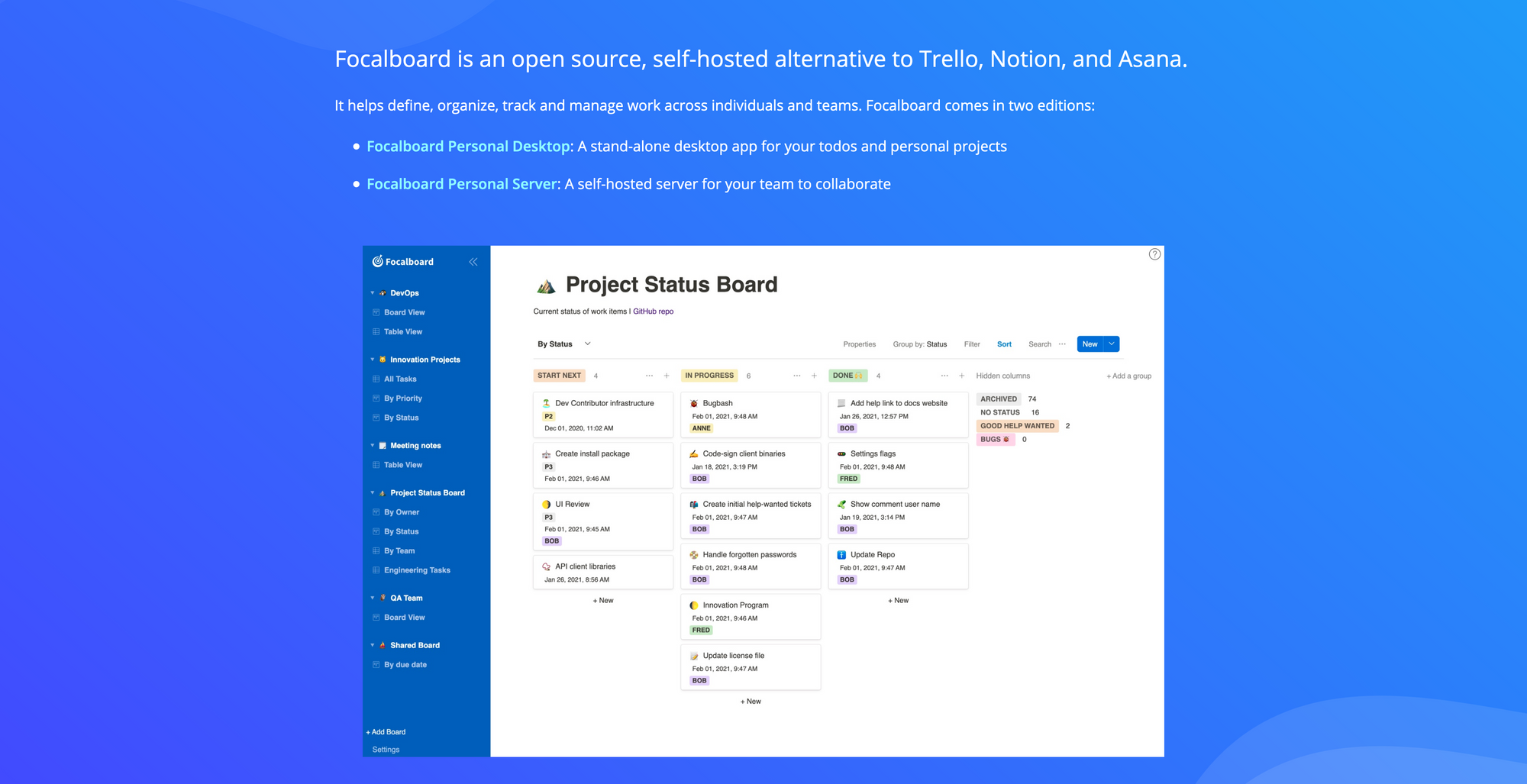 Jira by Atlassian is one of the biggest and most popular issues and project-tracking tools out there. While it is mostly used at enterprise levels, it can be quite overwhelming (and pricey) for smaller teams or individuals. Focalboard is a great alternative. Focalboard helps you define, organize, track and manage work across individuals and teams. And the best thing about it: Focalboard is open source and can be self-hosted. It comes in two editions: Focalboard Personal Desktop, which is a stand-alone desktop app for your todos and personal projects, and then there is Focalboard Personal Server, which is a self-hosted server for your team to collaborate. Focalboard Personal Desktop is available for macOS, Windows, and Linux. The Personal Server version runs on an Ubuntu Server. Currently, Focalboard is in early-access beta, therefore, make sure to download it, try it, test it, and provide as much feedback as you can to the developers and creators. To get the most out of Focalboard you can dive in deep into their Read Guide, and if you want to contribute and help build the future of productivity you can submit code directly to the Focalboard open-source project.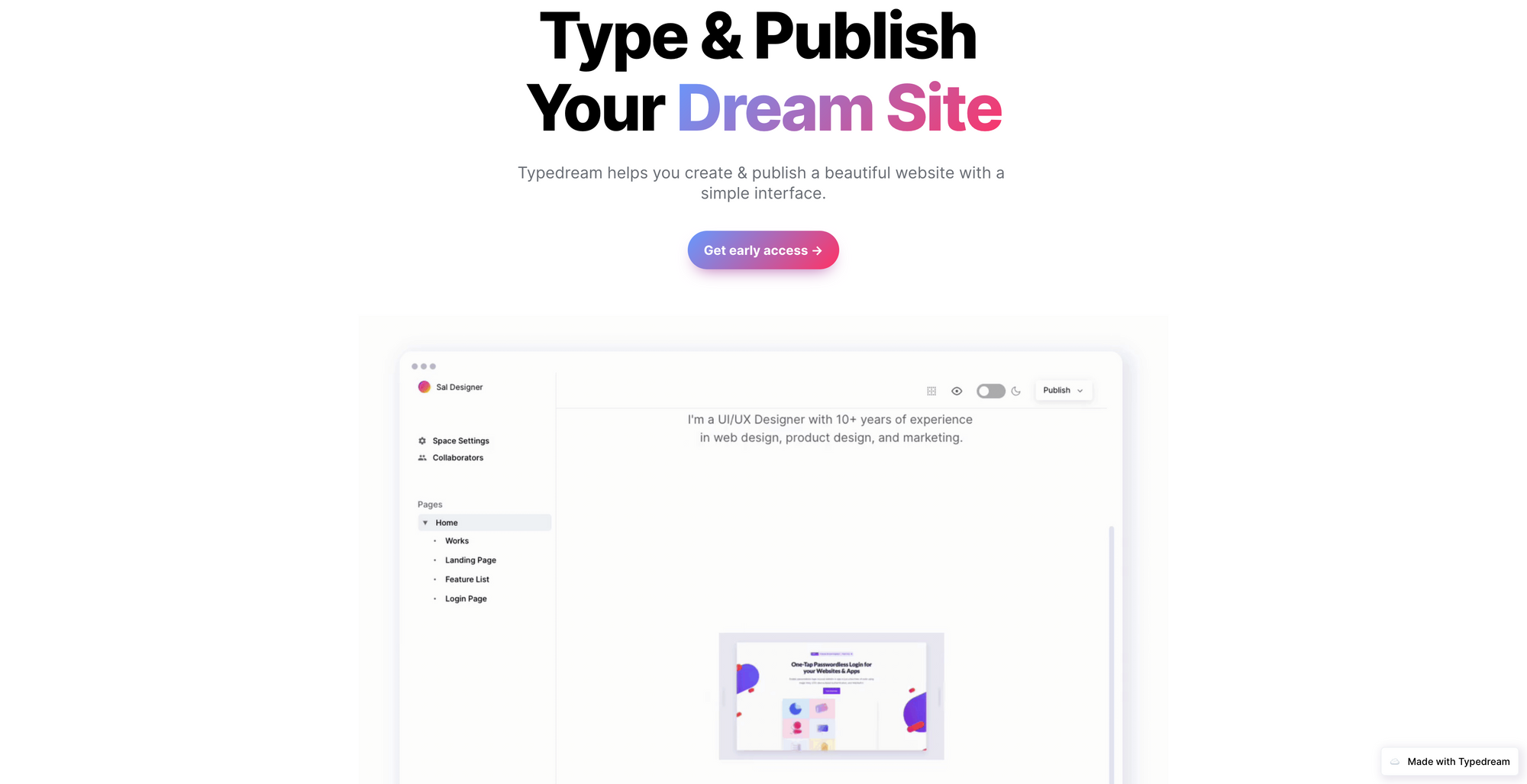 Typedream is a super powerful tool that helps you create & publish a beautiful website with a simple and gorgeous-looking interface. It is fast, simple, and the finished websites look great. Avid Creativerly readers know that I am a huge fan of Carrd since it is one of the greatest tools to create one-page websites within literally minutes. I created almost every single landing page of my side-projects with Carrd, it is a superb tool. But, I am always open to try out new things, and a good amount of competition in a certain space is always good and interesting. Typedream is built and optimized for websites. The versatile interface lets you add buttons, navbar, cards, and more for your website while getting optimized and lightning-fast websites. With Typedream you can use custom domains (your site is automatically served with HTTPS), your website is SEO-friendly (add meta tags and social sharing images for search engine optimization), and it is blazingly fast (all websites created with Typedream are hosted on a CDN). No matter if you want to add buttons, navbar, cards, and a set of powerful integrations for images, styling, forms, payments, Typedream got you covered. Head over to their website and get early access.
---
Useful Resource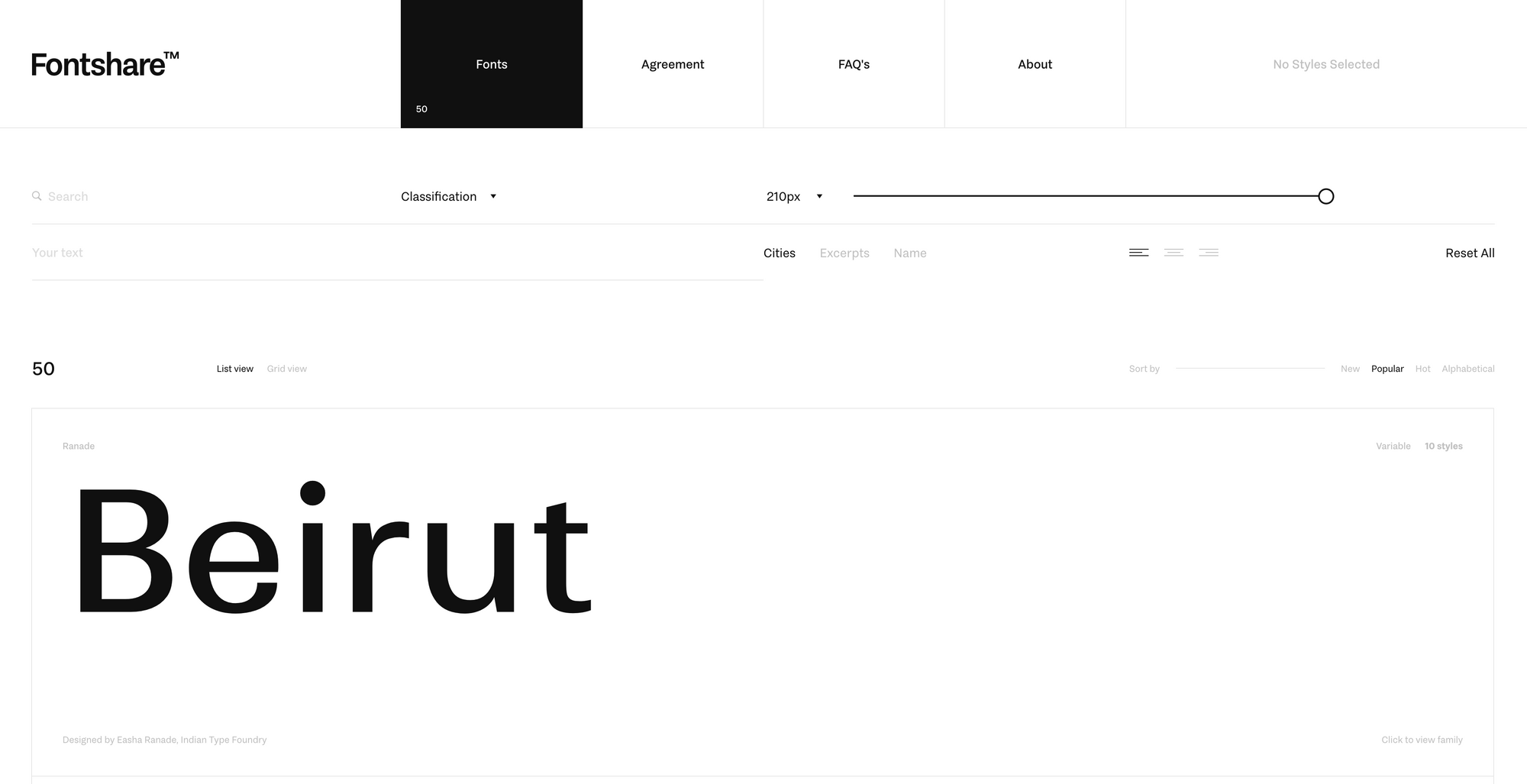 Fontshare is an awesome resource launched by Indian Type Foundry, to discover and find professional-grade fonts that are 100% free for personal and commercial use. Their mission is to make high-quality and technically sound fonts accessible to everyone across the globe. Fontshare's collection is constantly growing with super high-quality fonts which you can use in both personal and commercial projects. Take your time and browse through the collection. I am sure you will find some fonts which you would like to use.
---
Mental Wealth
➢ What does simple design really mean? – "Simple. It's a cliche. We all pretend to aim for a simple design. It sounds the same as the "Make the world a better place!" phrase in Silicon Valley. Like "minimalistic" and "clear," it seems like these hype words have the power to increase the value of our design just by spelling them. But what does simple design mean? Unfortunately, I think it means different things for different people. It's the same with beautiful. How can we define what's beautiful? What's the magic formula?"
➢ Growth as a Mindset – "Facebook Marketplace launched in 2016 to make it easier for people to buy and sell items within their local communities. Today, it's a top visited online marketplace used by hundreds of millions of people all over the world. As the product leader for Marketplace since it started, I'm often asked how we grew it. The good news is that many of the principles used to grow Marketplace can be applied to any product or company looking to expand. Sometimes growth work gets a bad reputation in the industry. Growth work is a powerful tool, but it's important to remember what it's not."
➢ Avoiding Bad Decisions – "We like to think that we can rationally process information like a computer, but we can't. Cognitive biases explain why we made a bad decision but rarely help us avoid them in the first place. It's better to focus on these warning signs that signal something is about to go wrong. Warning signs you're about to unintentionally do something stupid: You're tired, emotional, in a rush, or distracted. You're operating in a group or working with an authority figure. The rule: Never make important decisions when you're tired, emotional, distracted, or in a rush."
➢ Computers and Creativity – "The value of computers is not inherent; it is what we are able to do with them that makes them valuable. But what we can do with computers is often limited by the depth to which we are able to think creatively, translate these thoughts into computationally articulated work, and then share that work with others. For this reason, digital tools that foster creativity and collaboration hold immeasurable power. So how can we push digital creative tools to their full potential as co-creators, thus harnessing the full power of creative thought and computational actualization to enable human innovation?"
---
Appendix
➢ Featured Newsletter
The Slice by Nic Getkate is one of the few newsletters I actually read from top to bottom. Nic is writing and curating a weekly newsletter at the intersection of entrepreneurship, technology, and productivity, packed with tools, articles, and learnings from different fields.

I know Nic for some time now, and I have been a The Slice subscriber from the very beginning. It is amazing to see how his content evolved over time and how his newsletter became such an important piece of information, loved and read by way over 1000 people. There are certain newsletter creators I am looking up to, and Nic has to be one of them. Browse through the archive to get a taste of it or subscribe right here.
➢ ICYMI
CleanMyMac, the most powerful optimization tool for Mac (also available for Windows) just got a beautiful re-designed interface with their latest update. There are very few tools where the interface simply stuns me every time I open up the app.
➢ Quick Bits
Microsoft in Talks to Buy Discord for More Than $10 Billion. / The mess at Medium. / Amazon denies stories of workers peeing in bottles, receives a flood of evidence in return. / YouTube temporarily demonetizes David Dobrik vlogs after sexual assault exposé. / Tesla cars can be bought in Bitcoin.
---
Twitter thoughts
---
Till next time! 👋‌‌‌‌
Support: Do you have a friend who is looking for inspiration, news about design, and useful tools and apps? Forward this newsletter to a friend or simply share this issue and show some support. You can also show some love by simply clicking the button down below and keep this newsletter a sustainable side-project by buying me a coffee. ☕️ 🥰
---
---
Disclaimer: My posts may contain affiliate links. If you buy something through one of those links you won't pay a penny more, but I'll get a small commission, which supports this blog and also my side-projects. So consider buying something through my links. Thank you!