Good enough is just fine & Organizing unorganized people
Privacy is a fundamental human right, Arc Max, Swapstack getting acquired by beehiiv, why you should stop reading news, and a lot more in this week's issue of Creativerly.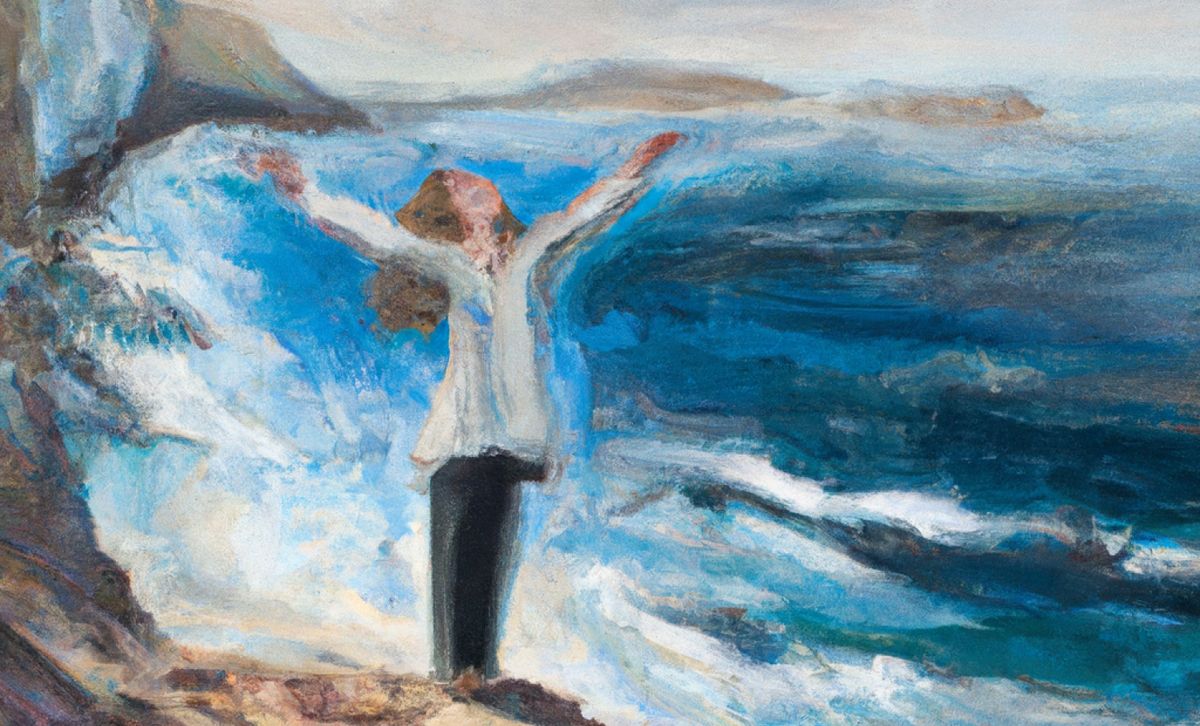 My name is Philipp and you are reading Creativerly, the weekly digest about creativity and productivity-boosting tools and resources, combined with useful insights, articles, and findings from the fields of design and tech. The newsletter built for the creative community.
---
Hey and welcome to Creativerly 242 👋
I just came back from an awesome week in Stockholm, visiting and working together with the whole Scrintal team. While I love working remotely, visiting the team, meeting everyone at the office, having product and casual discussions, having lunch together, all in person is definitely a lovely experience.
Whenever I talk to someone about remote work versus going to the office, the biggest challenge people are identifying is the lack of social interaction when working remotely. When you are working in an office, socializing with colleagues is one of those things that just happen naturally. When working remotely, however, you need to go out of your way to connect with people and try to build social relationships. Another challenge of remote work is the blurring of boundaries. When your home doubles as your office, it can be difficult to know when to stop working and take a break. It's easy to fall into the trap of working longer hours than necessary and not engaging in other activities that promote your general well-being.
But in terms of productivity, studies have shown that remote workers can often be more productive than their office counterparts. This is largely because remote workers can work during their most productive times of day. Since I do not have to commute I can start working early and get my most important tasks done, and do my most creative work. Additionally, working from home eliminates many of the distractions and interruptions that come with working in an office. Besides that, remote work offers greater flexibility. You can schedule your work around the other things that matter in your life, such as spending time with family, hobbies or pursuing an education. Additionally, many remote workers enjoy the freedom and autonomy that comes with working from home.
The combination of those things is something I do not want to miss in my life anymore.
---
Apps, Software, Tools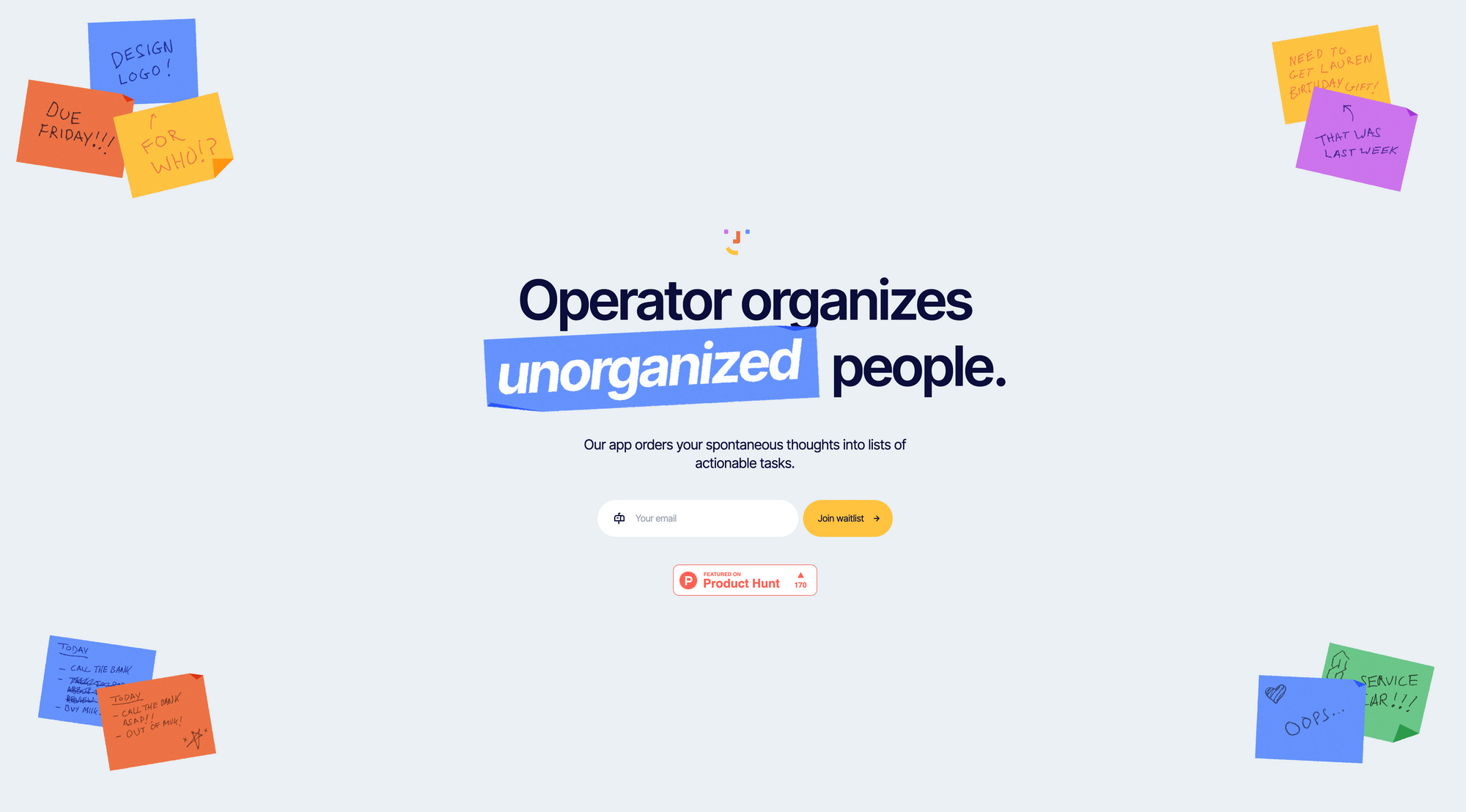 Operator is an exciting app that wants to bring order to your spontaneous thoughts and structure and organize them into lists of actionable tasks. If you ever had the feeling that some of your ideas were slipping through the cracks or you got overwhelmed by your own thoughts, Operator is the app you should check out.
Every single day, we have to deal with loads of different tasks, which are getting mixed with tasks from previous days, spontaneous thoughts, and fresh new ideas. The hardest part is to bring structure and order to the chaos, but also decide how to prioritize tasks. This is where Operator comes in. As the name implies, Operator works as your personal operator, seamlessly reorganizing your thoughts into a coherent agenda, so you can say goodbye to scattered notes and hello to a well-structured organizational tool. No matter if you are writing loads of notes, brainstorm in the shower, or want to create an abstract reflection, Operator claims that no important task will be forgotten. One of the most exciting features of Operator is called 'Auto-prioritizing'. Since we usually spend quite a big bunch of our time deciding what to do first, Operator will help you with that specific workflow by factoring in impact and effort for every task to give you a concrete priority. Additionally, Operator will sort your tasks into lists that fit every part of your life.
When we jot down tasks, some of them might be work-related and others might be related to your personal life. To bring structure to all your tasks, Operator will group them into appropriate categories. Another exciting and powerful feature of Operator can be accessed via the action button. To capture that spur-of-the-moment task, just press and hold the action button to speak your thoughts whenever they occur to you. Think of it like voice memos, but better.
With Operator, you get a powerful and exciting app that helps you turning your thoughts into actions. As of writing this, Operator is still in beta, which means to get access, you need to sign up to the waitlist first. Currently, there is no information available, whether which operating systems Operator will support.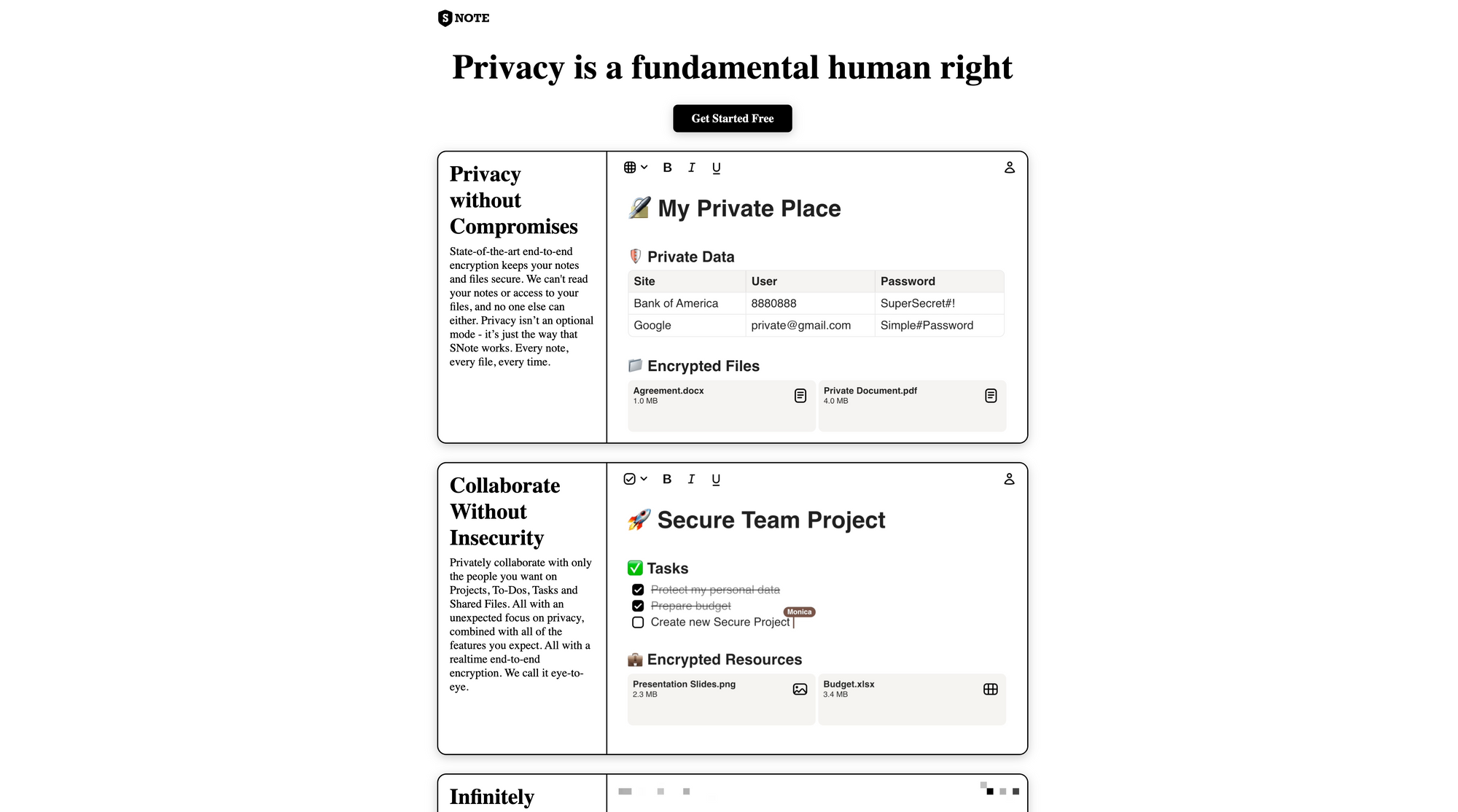 Thankfully, privacy is still a topic that is getting increasingly popular when it comes to note-taking or productivity apps in general. With my own project ProductivePrivacy, I created a resource and a directory which is packed with privacy-focused, open-source, and end-to-end encrypted productivity apps, to highlight them and raise some awareness about the topics of privacy and data security in general. Last week, I found another note-taking app, which I will add to ProductivePrivacy's directory, SNote.
SNote is a note-taking app with a straight focus on privacy. As privacy is a fundamental human right, SNote implemented it without compromises. Thanks to state-of-the-art end-to-end encryption, you can be sure that all the notes, thoughts, and ideas you jot down with SNote will stay secure and private. SNote can not read your notes or access your files, and the important part, no one else can either. SNote states that "privacy isn't an optional mode - it's just the way that SNote works". With a statement like that, people who are looking for strong privacy practices can feel right at home. Every single note you jot down, every file you add to SNote, and everything else you do within the app will stay private and protected.
What is even more powerful, is the fact that SNote offers this privacy-focused experience not only for individuals, but also for folks who want to collaborate without insecurity. SNote gives you the possibility to collaborate with only the people you want to work on projects, todos, and shared files. All with an unexpected focus on privacy. Even while collaborating, SNote is offering a real-time end-to-end encryption.
SNote's interface looks beautiful, clear, and content-focused, it reminds me a bit of Notion. With features like smart, encrypted, and customizable data tables, you get access to endless possibilities for efficient and secure work processes. With data tables, you and your collaborators can easily tailor tables to your needs, while ensuring sensitive information remains protected.
SNote is available for macOS, Windows, iOS, iPadOS, Android, and as a web app. No matter which device you are using SNote on, you will always experience seamless end-to-end encryption.
---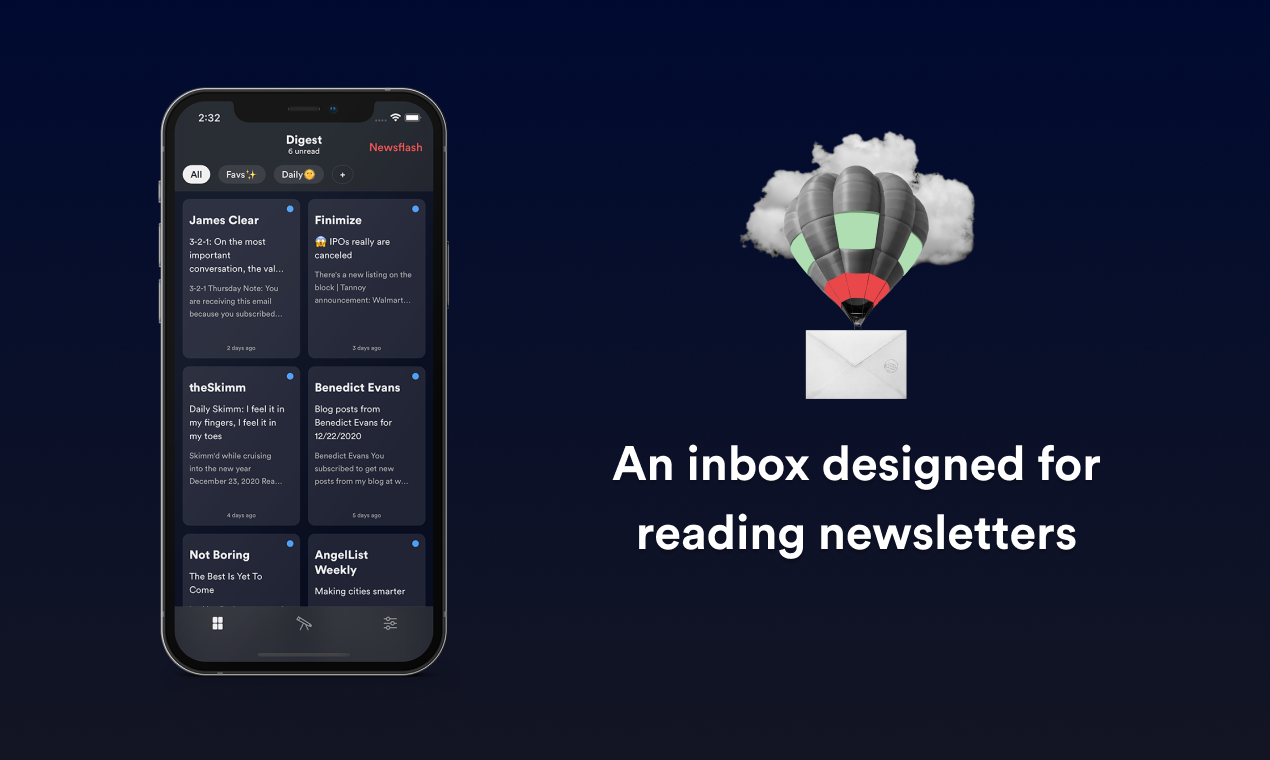 "An organised life start with an organised inbox." - Socrates
Ever stopped yourself from subscribing to a potentially amazing newsletter because you're worried about cluttering your inbox? With
Meco
, you can enjoy your newsletters in an app built for reading while giving your inbox space to breathe.
Over 10k readers enjoy their newsletters (and decluttering their inboxes) with Meco - try the app today!
This is an affiliate link to support Creativerly. If you are interested in putting your tool, product, or resource in front of over 2000 creative minds, consider advertising in Creativerly and book a sponsor or classified ad spot. Find all the important information at creativerly.com/advertise.
---
Fresh Updates & News
With its newest update, Arc introduced 'Arc Max', five small AI-powered features to improve your online days. Those five features are: 'Ask on Page' - you can press CMD+F on any page to ask a question and let Max answer it for you, '5-Second Previews' - while hovering and pressing shift on any link, Max will generate a summary of that link without a click, 'Tidy Tab Titles' - Max will automatically rename your tabs with shorter titles when you pin them, 'Tidy Downloads' - all your files with get organized by smartly renaming your downloads, and 'Ask ChatGPT' - a speed dial for your favorite chatbot, simply type "ChatGPT" into the command bar, press Tab, and get answers in a few clicks.
Max is available to everyone for free for a limited time, since Arc wants to make sure these features are useful to you.
I already featured Twos in Creativerly a while back, so I am excited to resurface it to my readers as they recently introduced a lovely new feature called 'Review'. Review helps people review their days and lists.
Twos helps you remember things like notes, reminders, events, to-dos, or lists. What clearly separates Twos from other apps, is the fact that they make remembering things simple, fun, and social. The new Review feature is a lovely and powerful feature to conquer one of the biggest struggles when it comes to note-taking: writing something down but never looking at it again. Review helps you remember the important things in your life. To use the feature, open up Twos, go to the side menu, and click on 'Review'. You will see a UI with three tabs, 'Review' which are the days and lists you have written something down ready to review, 'Upcoming' which are the days and lists that you have already reviewed and coming up in the queue next, and 'Never' which are the days and lists you decided to never review.
Simple as that, Twos gives you the power to reconnect with what you have written down, discover the most important notes, and remember things you have learned, thought about, and wanted to keep track of. Twos shared a quick video on YouTube to give people an introduction to the new feature.
Swapstack, the platform that gave newsletter writers and content creators an easy and straightforward way to connect with advertisers and place pre-approved ads and affiliate deals within their newsletters and written content, announced that it got acquired by beehiiv, the newsletter platform built and founded by early Morning Brew team members.
Swapstack services will continue to operate until October 31st. After that, it will shut down as their services will get integrated into the beehiiv platform. I have been a Swapstack user for some time know, I enjoyed the experience, and provided ongoing feedback. Therefore, I am excited to learn about this acquisition. But at the same time, I feel a bit desperate, since as Swapstack will shut down and get integrated into beehiiv, the only way to actually continue experiencing Swapstack's features and services is to move your newsletter to beehiiv. Creativerly's home it at Ghost*, and it will stay there probably forever, since I believe it offers the best experience for newsletter writers, content creators, and publisher businesses. While Ghost focuses on writers who are monetizing their content through paid subscriptions, I am pretty sure that Ghost will not look into building similar services like Swapstack for their platform.
---
Mental Wealth
❯ Why You Should Stop Reading News – 'Our obsession with being informed makes it hard to think long-term. We spend hours consuming news because we want to be informed. The problem is, the news doesn't make us informed – quite the opposite. The more news we consume, the more misinformed we become. News is, by definition, something that doesn't last. It exists for only a moment before it changes. As news has become easier to distribute and cheaper to produce, the quality has decreased, and the quantity has increased, making it nearly impossible to find the signal in the noise.'
❯ Good Enough Is Just Fine – 'When I start on a new post, I'm off to the races. Words connect, the creative juices flow, and I'm able to get a lot done. But as I get closer to the end, things start slowing down dramatically. I scroll back and re-read what I've written. Shit. Everything sounds terrible. All of it makes no sense. None of the concepts stand out. I feel like I need to revise the whole thing. As these thoughts bombard my brain, my once-confident pace slows to an exhausting crawl.'
❯ What Your Boredom at Work Is Actually Telling You – 'We've all been bored at some point during the work day—work isn't meant to be mentally stimulating for every moment. Whether we're bored routinely during a certain time of day or with our career in general, boredom is a common workplace experience. It's a common life experience—so why shouldn't the same be true at work?'
❯ The Sterile World of Infinite Choice – 'There's a story my friends and I like to tell about when we were in college. We didn't have Facebook. We didn't have digital cameras. We didn't have cell phones. If you wanted to hang out with someone, you made plans and kept them. And if you wanted to find them…..you walked around.'
---
Do not miss out on this ...
❉ Turn your audience into a business, with Ghost, the powerful app for new-media creators. Get started for as low as $9 per month*.
❉ Think tasks, not apps. Setapp* is you one-stop subscription to solving every task on Mac and iPhone.
❉ Fathom is cookie-free, GDPR compliant, privacy-first website analytics software. Get $10 off your first invoice and a 7-day free trial when you use this link*.
These are paid promotions or affiliate links to support Creativerly. If you are interested in putting your tool, product, or resource in front of over 2000 creative minds, consider advertising in Creativerly and book a sponsor or classified ad spot. Find all the important information at creativerly.com/advertise.
---
Appendix
❯ Quick Bits
---
Till next time! 👋‌‌‌‌
Support: Do you have a friend who is looking for inspiration, news about design, and useful tools and apps? Forward this newsletter to a friend or simply share this issue and show some support. You can also show some love by simply clicking the button down below and keep this newsletter a sustainable side-project by buying me a coffee. ☕️ 🥰
---
---
Some of the links in my newsletter and my blog posts are affiliate links. Those links are marked by an asterisk. If you buy something through the link, the product will not cost you anything more, but I will receive a small commission which not only supports Creativerly and my work but also helps me to keep this publication a sustainable side-project.
Creativerly is proudly published with Ghost*.