Newsletter
How do we work better together & Supercharge your workflows
In this week's issue of Creativerly: Don't just show your story - tell it, bring structure into your day, how to learn any skill fast, and a lot more.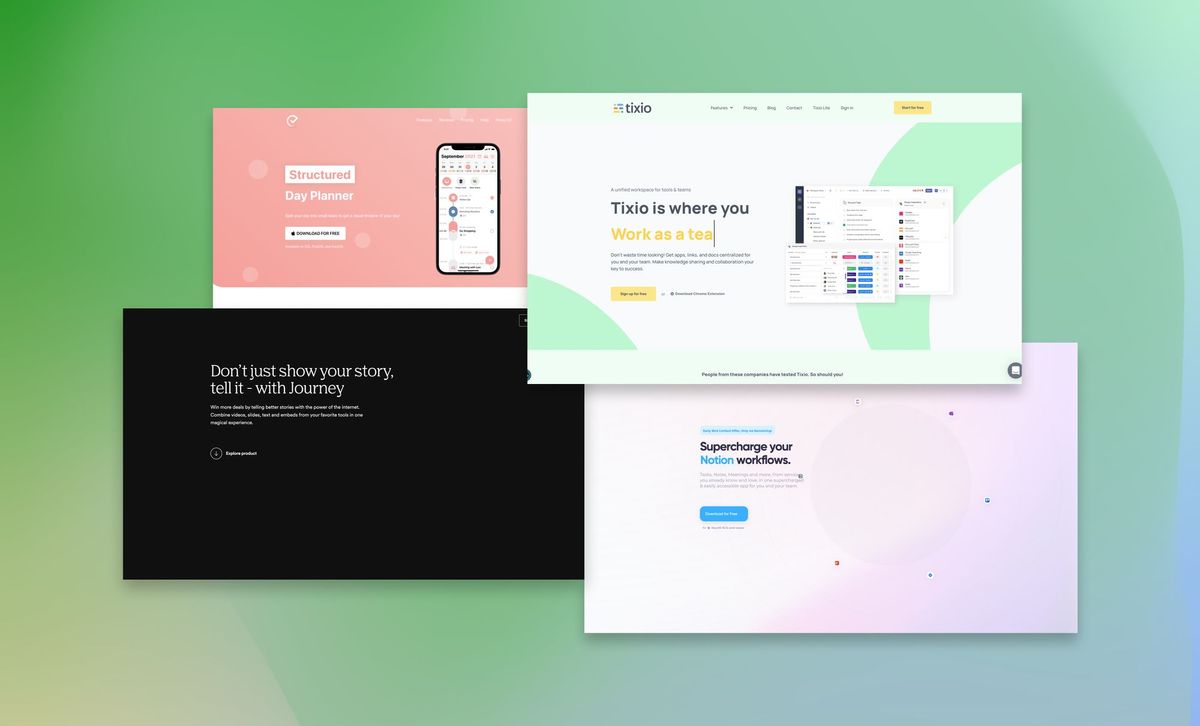 My name is Philipp and you are reading Creativerly, the weekly digest about creativity and productivity-boosting tools and resources, combined with useful insights, articles, and findings from the fields of design and tech. The newsletter built for the creative community.
---
Hey and welcome to Creativerly 190 👋
Are newsletters just a trend or are they here to stay, to evolve, and to disrupt the media landscape? I asked myself this question recently since Meta announced it is going to shut down its newsletter platform, Bulletin, in early 2023. Meta launched its Substack competitor back in June 2021 and quickly onboarded high-profile writers just like Malcom Gladwell, Mitch Albom, or Erin Andrews. Meta is regularly evaluating its products, and it did not see the expected growth of Bulletin. Bulletin Creators will retain full control of their subscriber email lists and can choose to archive all their content or move it to a new platform.
Besides the Meta news, the fact that Substack laid off 14 per cent of its staff in June 2022, and that Twitter suddenly stopped focusing on its Revue acquisition by integrating the platforms into each other, it seems like that the newsletter boom has cooled in recent months. At least, I assume that is what people are thinking when they are reading that news.
My perspective is a different one. Not only because I am writing a newsletter myself, but more importantly based on some recent observations. The newsletter boom over the last couple of years had its advantages and disadvantages. On one hand, it lead to numerous high-profile writers and journalists launching their own businesses with a paid newsletter, focusing on writing what they want to write about, supported by readers through paid subscriptions or sponsors. On the other hand, with the newsletter boom loads of people tried to make some quick money, growth hackers shared their "best practices" to grow your email list to thousands of subscribers within a few months, so you can spam them with ads and affiliate links to make some quick bucks. As a result of that, loads of people launched a newsletter just because they thought it would be easy to grow an email list, share and create some content, and earn the money afterwards.
The newsletter boom produced some of the best content creators, but besides that, it also led to folks creating shady businesses and spreading harmful content. Thankfully, most of the bad newsletters are gone by now, since its creators realised that writing a newsletter consistently needs passion, expertise, and the willingness to create awesome content, so you can actually enjoy writing and building a newsletter.
The newsletter trend/hype might be over. But what stuck are amazing newsletter creators, writing, curating, and building the most amazing newsletters out there.
While Meta or Twitter might be no longer that interested to focus on the newsletter community, the creators are indeed publishing awesome content day after day. What happened during the hype, was the fact that not only individuals but companies were seeing the possibility to make a lot of money. Some of them made the wrong bets, and some of them made everything ride, and managed to build a sustainable business. I can give you the guarantee, that Creativerly is here to stay. I am writing it since 2019, and I will continue writing it since it is so much fun and I am learning so much every time I am writing a new issue.
Newsletters are here to stay.
---
Get smarter every day.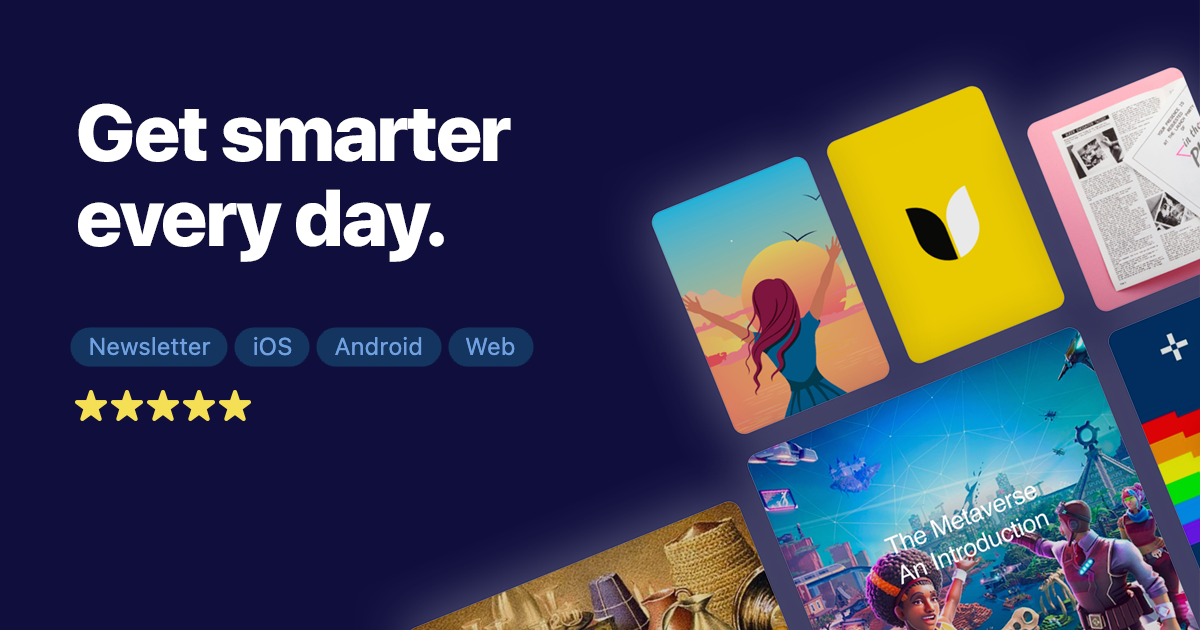 Every day Refind picks 7 links from around the web for you, tailored to your interests. Loved by 50k+ curious minds.
Subscribe for free today.
This is a sponsored message. If you also want to highlight your app, tool, resource, newsletter, job offer, in front of over 1800 creative minds, head over to creativerly.com/advertise* and get in contact.*
---
Apps, Software, Tools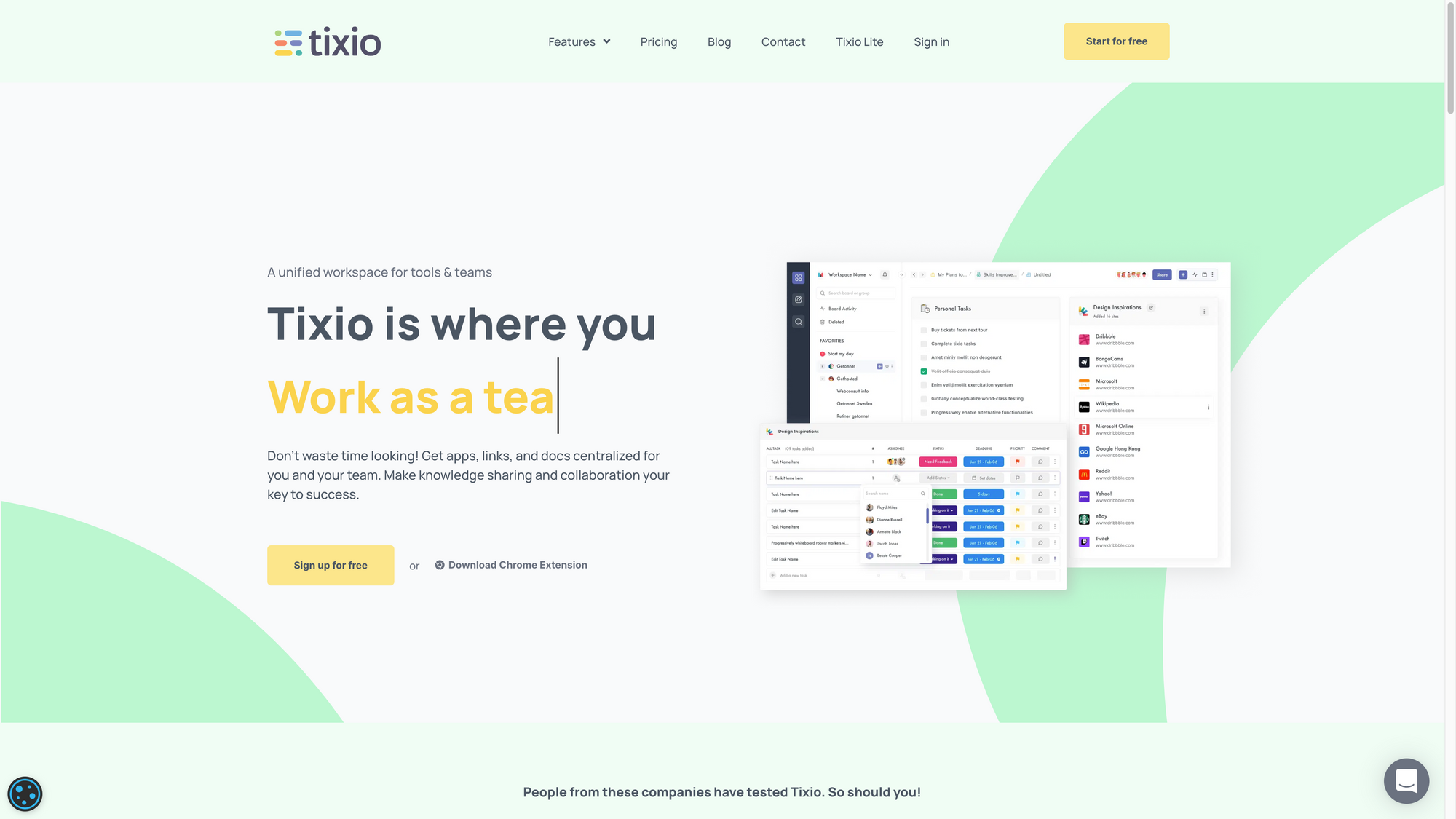 Tixio is an app that centralizes your work. Get apps, links, and docs centralized for you and your team. The goal of Tixio is to make knowledge sharing and collaboration as streamlined as possible.
Within Tixio you can build your own workspace to organise your apps and other stuff. Tixio is packed with features like Bookmarks, which gives you the possibility to save links faster and better. It provides a powerful bookmark manager to manage all your bookmarks. You can even create collections, customize them, and share everything with your team. Additionally, Tixio also provides the possibility to create and set up a modern company wiki or knowledge hub for your whole team. The Tixio Wiki is the safe-house for all the knowledge and information you want to keep track of. With Tixio, you can make the knowledge accessible to your whole team. No matter if you are creating information for user manuals, employee onboarding, guides, or anything else, Tixio Wiki delivers the right tools to build your knowledge hub.
By connecting your Google Drive, Dropbox, and One Drive accounts to Tixio, you get the possibility to browse all your files and navigate through them in one single place. No more need to switch between accounts or drives. With Tixio you can sync all your files and find what you are looking for with a single search.
On top of that, Tixio acts like your daily dashboard to boost your productivity. You can customize your dashboard so it fits your needs. With Tixio you spend less time searching and more time working. Besides that, Tixio also features checklists, advanced tasks, simple notes, RSS feeds, and embed web pages. To make Tixio even more powerful and to turn it into an even more centralized work hub, the team is currently working on Tixio Chat which will give you the possibility to use direct messaging, group chats, sharing images and files, and a lot more, right within Tixio.
To give Tixio a try, you can use it for free as part of its Personal Plan, which includes unlimited boards and wikis, unlimited folder creation, widgets customization, unified search, and access to Tixio Lite. The Basic Plan, which is suited for small teams will cost you $2 per user per month (or $20 per user per year which gives you 2 months free) and includes everything in the free plan, plus advanced tasks for boards, wiki real-time collaboration, multiple drive sync, Tixio analytics, and the template center. The Team Plan will cost you $5 per user per month (or $50 per user per year) and gives you access to everything in the Basic Plan plus access to Tixio Insight, roles and access control, Tixio Chat, task module, and admin dashboard for analytics.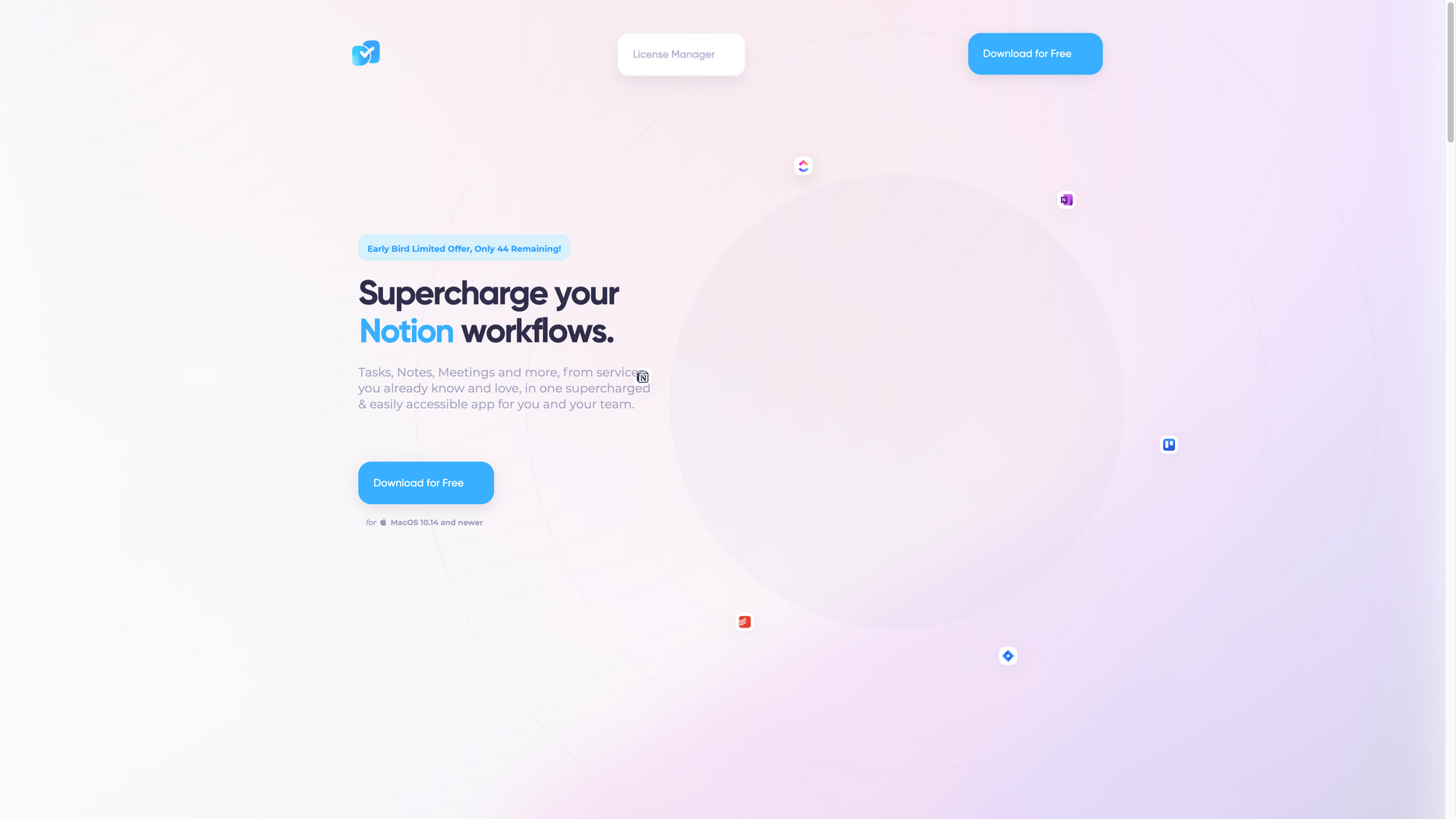 SprintDock is an app to supercharge your workflows in apps like Todoist, ClickUp, Notion, Jira, Trello, and others. It gives you the possibility to keep track of and manage your tasks, notes, meetings, and more from the tools you are already using, in one unified space.
When you are managing different work calendars and your personals ones, it can happen at some point that you will probably miss some events, meetings, and calendar invites. With SprintDock all your events are front and centre when you need them. This will give you the power to see all meetings for the day, no matter if they are coming from your work or personal calendar. Additionally, SprintDock will auto-launch video conferences whenever it is time to jump into a meeting. Next, SprinDock gathers all your tasks from different sources. Currently, integrations are supported for Jira, Notion, Trello, Microsoft To-Do, and Todoist. With those integrations, SprintDock makes product management easy, since just like with your events, you will always have the overview of your open tasks, so you know what to tackle on next and quickly mark things off as you go. To jot down important things, new ideas, and information about your projects, SprintDock allows you to integrate with Notion and Microsoft OneNote to always access your notes anytime you need them.
One of the most powerful features is the fact that it is accessible from anywhere and anytime because it just needs a click in the menu bar or the press of a custom keyboard shortcut to launch SprintDock and get immediate access to all your tasks, notes, and events. This can help you get rid of unnecessary tabs, slow apps, or login screens. On top of that, SprintDock works offline (syncing your tasks, events, and notes does require a connection, though), so when you have no connection you can still access your tasks and projects.
Syncing your tasks to SprintDock means that when you update them in SprintDock, they will also be updated in your project management system.
As of writing this, SprintDock is available for macOS.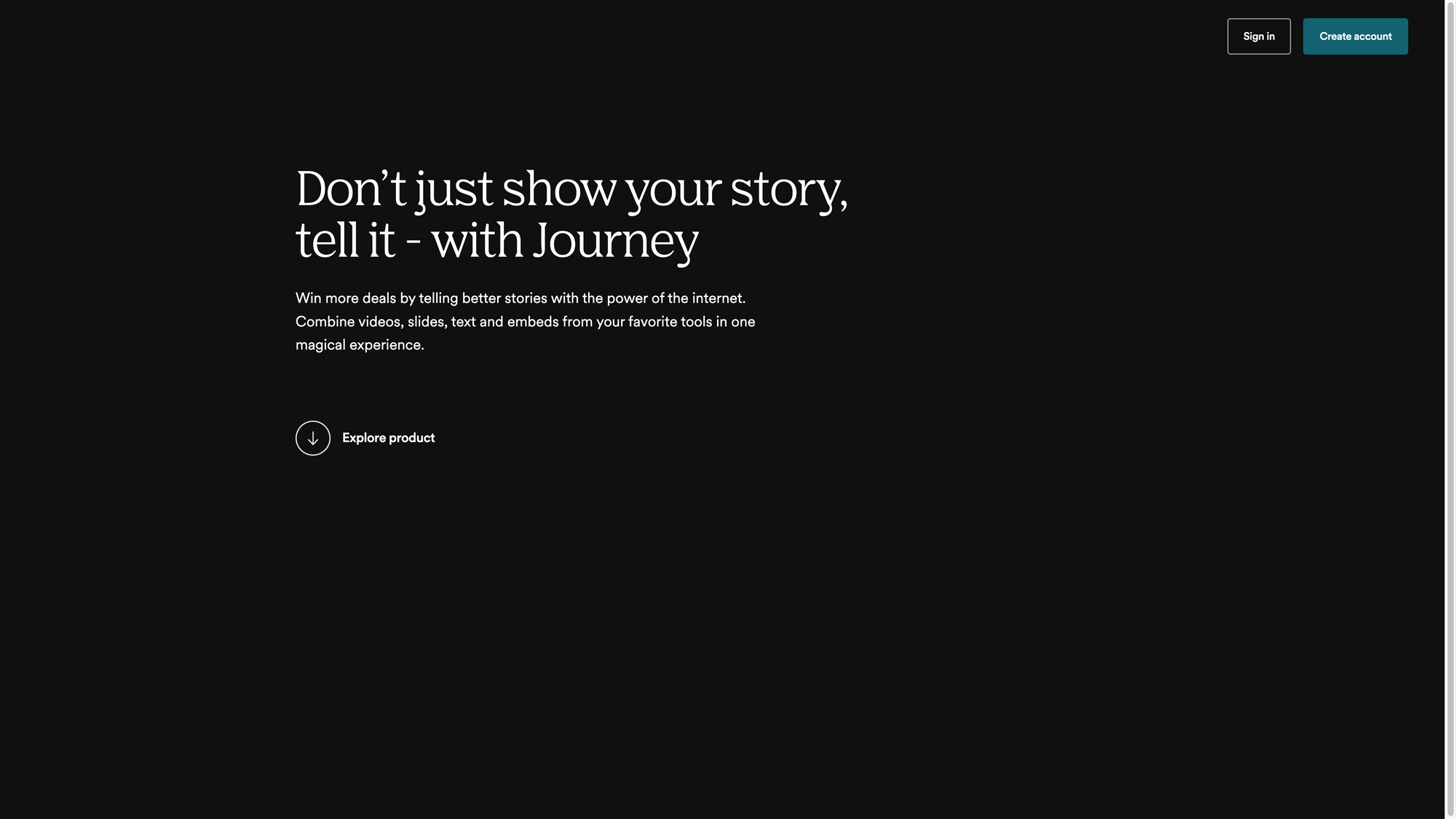 Journey is a new presentation or better said storytelling tool, that helps you to win more deals by telling better stories with the power of the internet and the possibility to combine videos, slides, text, and embeds from your favourite tools to create an awesome experience.
With Journey, you can create delightfully interactive presentations. By using all sorts of content, you can surely grab the reader's attention. Since the internet is a busy place, Journey seeks to help you stand out. No matter if you are a designer, sales person, product manager, writer, or anything else, everyone has stories to tell, and therefore Journey can be used by people with all kinds of personal and professional backgrounds.
Presentations created with Journey are fun, and interactive, and give you the freedom to let your creativity flow. Stories and presentations are more than words. It matters how you deliver your words. And Journey gives you the right tools to do so. Presentations created with Journey can be consumed by your readers on their on terms. On Journey's website, you can find a selection of examples of how companies are leveraging Journey to raise money, send meeting follow-ups, update LPs, educate and onboard founders, users and new members, recruit new employees, and more. When you visit a shared Journey, you will see a microsite, branded with your company's guidelines, structured and organised in different sections, and easily consumable. You can click yourself through the presentation on your terms, and see how companies are embedding Notion docs, Google Slides, YouTube videos, and other content types, to tell their stories.
The Basic Plan of Journey is free and will be free forever. It is limited to up to five Journeys per Organisation and includes unlimited Journey Views, unlimited content, the possibility to customize the branding of your Journeys, capture viewer emails, video messages in emails gates, and more. The Pro Plan of Journey gives you full control and customization, including everything from the Free Plan plus unlimited Journeys, the possibility to create workspaces to organise Journeys, send Journey activity data to Segment and Slack, securing Journeys with passwords, whitelist, blacklists, and email verification, and even more.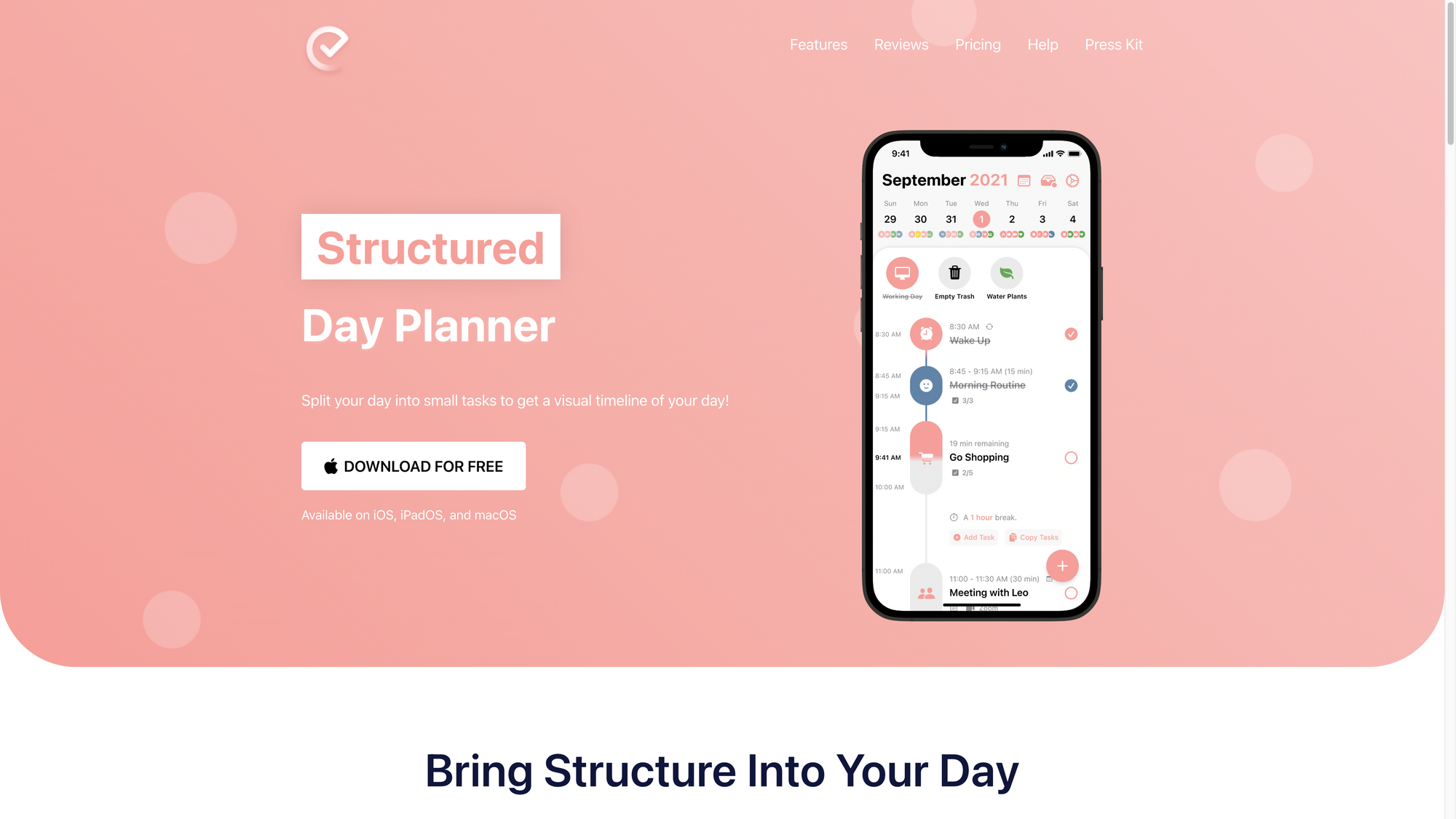 Structured is a lovely app that gives you the possibility to split your day into small tasks to get a visual timeline of your day.
If you ever wanted to bring structure to your day by combining your calendars and tasks into a visual timeline, make sure to check out Structured. First of all, Structured is a beautiful designed app. It offers some lovely user interface elements, which turn the app into a joyful experience. With Structured, you can create new tasks with just a few taps. All you need to do is setting a title, time, and expected duration. After that, you are ready to go. In addition to that, Structured gives you the option to adjust the icon and colour, add some notes and subtasks, or make the task repeat. This gives you the possibility to add more context to the tasks you are creating within Structured.
Changing the colour and icon of the tasks you create also lets you make Structured your own, and customize the app experience. No matter if you are using Google Calendar, Outlook, iCloud, or others, Structured integrates with many calendars, so you can pull in your events and meetings and see them in context with your tasks. On top of that, Structured also lets you integrate with Apple Reminders. This truly gives you the power to plan and structure your day around meetings.
With notifications and widgets, Structured makes sure that you always stay on top of your schedule. It will remind you when a task starts or ends. Additionally, you will always see your upcoming task in beautiful widgets on your home screen on your iPhone.
Structured was built for the Apple ecosystem. All your tasks are automatically synced across your devices by using iCloud. Structured is available for iOS, iPadOS, and macOS. Structured is free, and always will be. If you need access to some advanced featured like getting notifications when tasks start or end, importing calendar events from Google and other services, syncing Apple Reminders, and plan recurring tasks, you need to upgrade to Structured Pro which will cost you $1.49 per month, $7.99 per year, and $29.99 for the lifetime access.
---
Mental Wealth
➢ How do we work better together? – "Working together towards a common goal is one of the distinguishing features of our species. We do this intuitively across smaller groups like families, teams, etc., and we've developed tools to coordinate efficiently across larger populations and greater distances. Money is one such tool — it coordinates the holders across a fair arbiter: markets. Economics runs some of the most complex and herculean human cooperation efforts. Government is another powerful one — we even submit our individual freedoms to the law because everyone agrees so strongly to subscribe to the system (increasingly more arguable as of late, but that's a whole other topic). The firm is the cooperation tool most relevant to our day-to-day. Firms align people and capital towards the mission of the entrepreneur using culture and power as tools and money, reputation as rewards."
➢ How to Build a Career in a New Industry – "When professionals reinvent themselves, they often feel they have to start from scratch and that their previous connections and experience don't count in their new realm. Your skills and your network are probably more transferable than you think. But it's also true that you may feel confused for a while as you orient yourself to the way things work in your new career."
➢ How to learn any skill fast – "For many of us, there are more things we want to learn than we have time to. Shortening the learning curve is a topic that's been studied for many years. I've personally applied what I'm about to share now to learning how to speak Spanish, English, and Korean (plus a bit of Portuguese). You will also be able to leverage these principles in any topic including business, musical instruments, and more."
➢ How to build successful products without Feature Creep – "My junior year, I took some time off Stanford to work on a consumer startup with my girlfriend. It started out AMAZING, but ended in a SHIT SHOW. Here's what happened. So we interviewed users, built the MVP, and shipped the product — a chrome extension for co-studying with friends (over video call!). As more and more users joined, we collected more and more feedback."
---
Do not miss out on this …
Every day Refind picks 7 links from around the web for you, tailored to your interests. Loved by 50k+ curious minds.
Start your morning with The Newsette - a newsletter for women, written by women, about topics that are important to women.
Each morning, The Sample sends you one article from a random blog or newsletter that matches up with your interests. When you get one you like, you can subscribe to the writer with one click. Sign up here.
These are paid promotions or affiliate links to support Creativerly. If you are interested in putting your tool, product, or resource in front of over 1900 creative minds, consider advertising in Creativerly and book a sponsor or classified ad spot. Find all the important information at creativerly.com/advertise.
---
From the archive
Back on July 10th 2021, I wrote about ...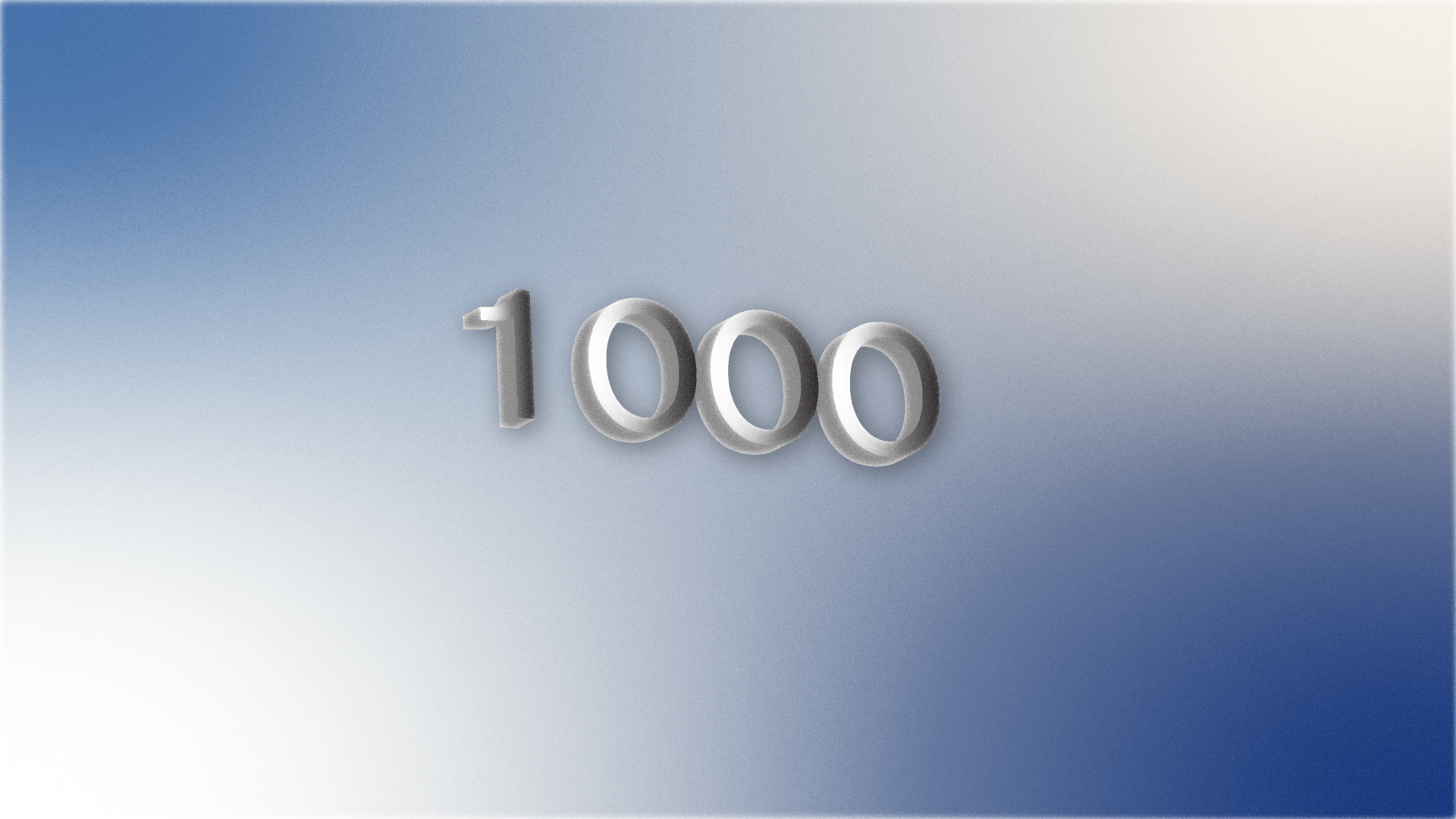 ---
Appendix
➢ ICYMI
Napkin* is one of the most-exciting tools within the field of personal knowledge management and Tools for Thought. In Creativerly's deep dive about Napkin, you will find out David Felsmann and Fabian Wittel, founders of Napkin, decided to build Napkin and how their vision looks like, you will get profound insights into the product, its features, and how Napkin's roadmap looks like, and you can read about use-cases and workflows to give you an idea of how you could incorporate Napkin into your productivity tool stack. Check it out here!
➢ Quick Bits
---
Twitter thoughts
---
👋
Till next time!
Share or forward this newsletter to your friends, if they are also looking for creativity and productivity-boosting tools and resources. If you need help to discover your next favorite task management, note-taking, or PKM app, Creativerly delivers the insights you need. Creativerly is an indepentend publication and I am writing and maintaining it in my free-time. You can support Creativerly and my work by sharing it with the world,
booking an advertising spot
, or by
buying me a coffee
.
---
Some of the links in my newsletter and my blog posts are affiliate links. Those links are marked by an asterisk. If you buy something through the link, the product will not cost you anything more, but I will receive a small commission which not only supports Creativerly and my work but also helps me to keep this publication a sustainable side-project.