Newsletter
How to decide what to work on & Adaptive Thinking
In this week's issue of Creativerly: self-organised knowledge, the knowledge base management system, user interface gallery, and a lot more.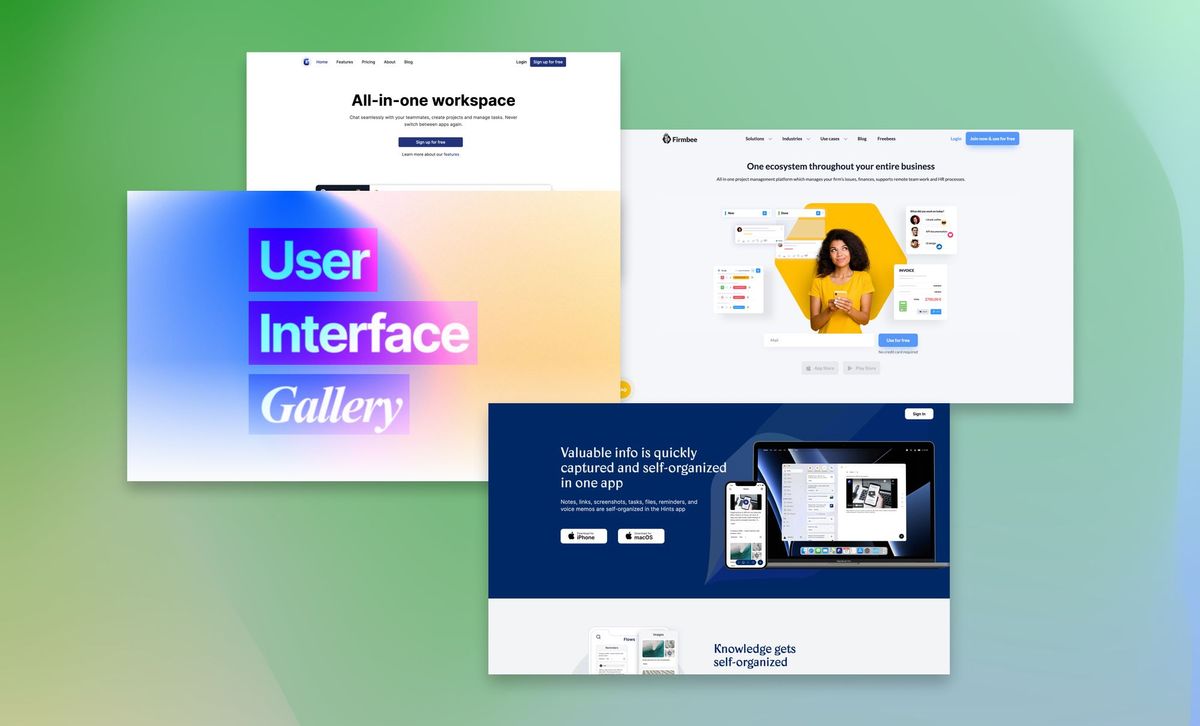 You are reading Creativerly, the weekly digest about creativity and productivity-boosting tools and resources, combined with useful insights, articles, and findings from the fields of design and tech. The newsletter built for the creative community.
---
Hey and welcome to Creativerly 163 👋
As mentioned in last week's issue of Creativerly, I am excited to share the latest interview with you. This time, I had the chance to ask Clo S. founder of This Too Shall Grow, a UX studio offering consultancy and coaching, specialized in topics like mindful UX and digital wellness, a couple of questions. Clo has been working in tech for over 6 years, tackling projects as a web project manager, UX designer, UX researcher, and conversational designer. Besides that, Clo is writing exquisite blog posts exploring topics like what designers can do about internet addiction, or how to make your email inbox calmer. Additionally, Clo is also writing one of my all-time favorite newsletters, in which she shares articles, tools, and tips on digital wellness, and how to design for it.
In her interview with Creativerly, Clo shares insights about the topics of mindful UX and digital wellness in general, she gives us a glimpse at her work and projects, actionable recommendations regarding how we can become more mindful about tech, and we talked about the tools she uses on a daily basis. For me personally, Clo's interview led to so many eye-openers and aha-moments, and she provided pure value with every single answer. Exactly those incredibly valuable insights are the reason why I love Creativerly's interview series. Therefore, I am thankful for Clo's time and her thoughtful answers.
Head over to creativerly.com and read through my latest interview with Clo S.
---
Centered, your work, done.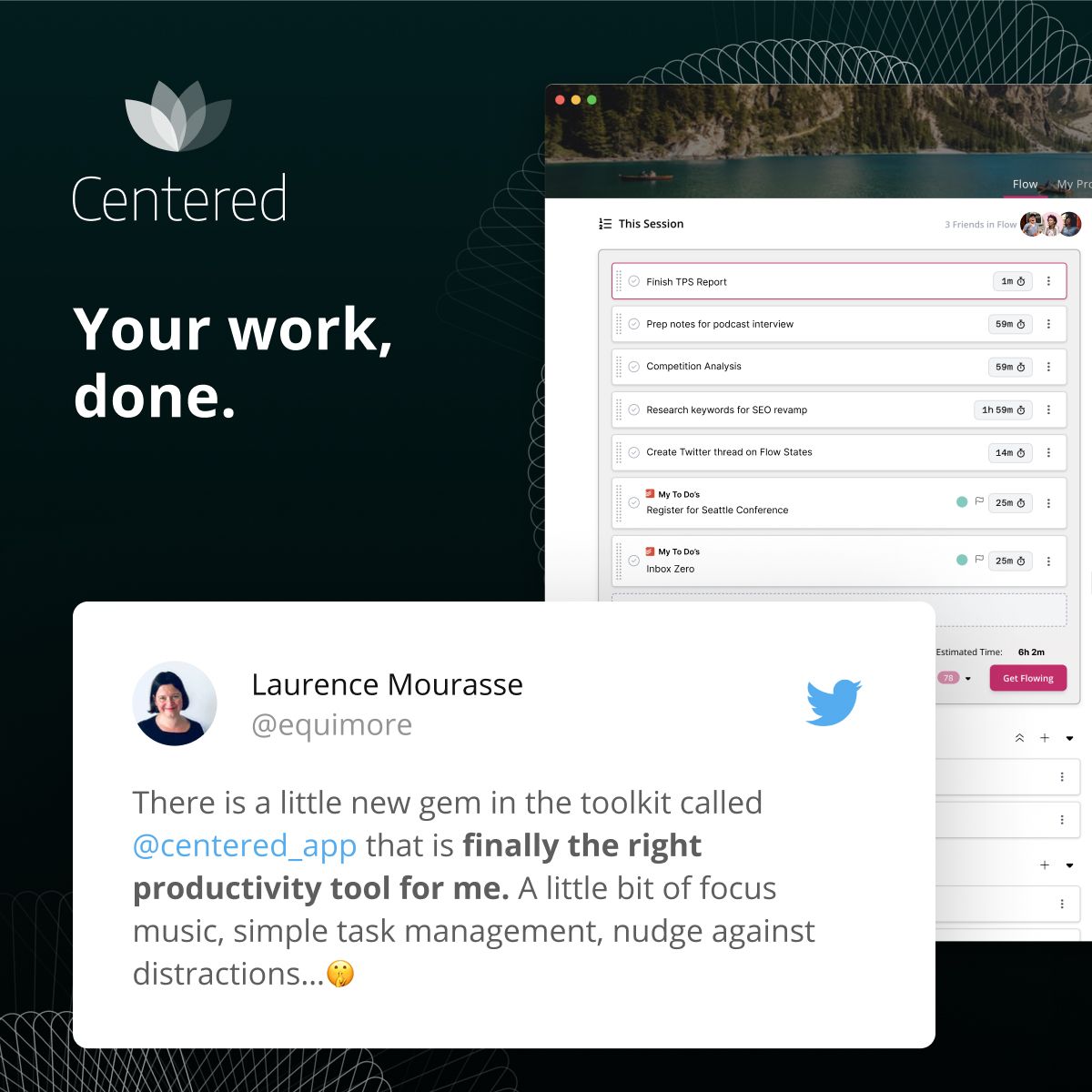 Centered, the fastest way to work. Centered offers scientifically-designed Flow Music, an AI Productivity Coach, a Distraction Blocker and so much more!
---
Apps, Software, Tools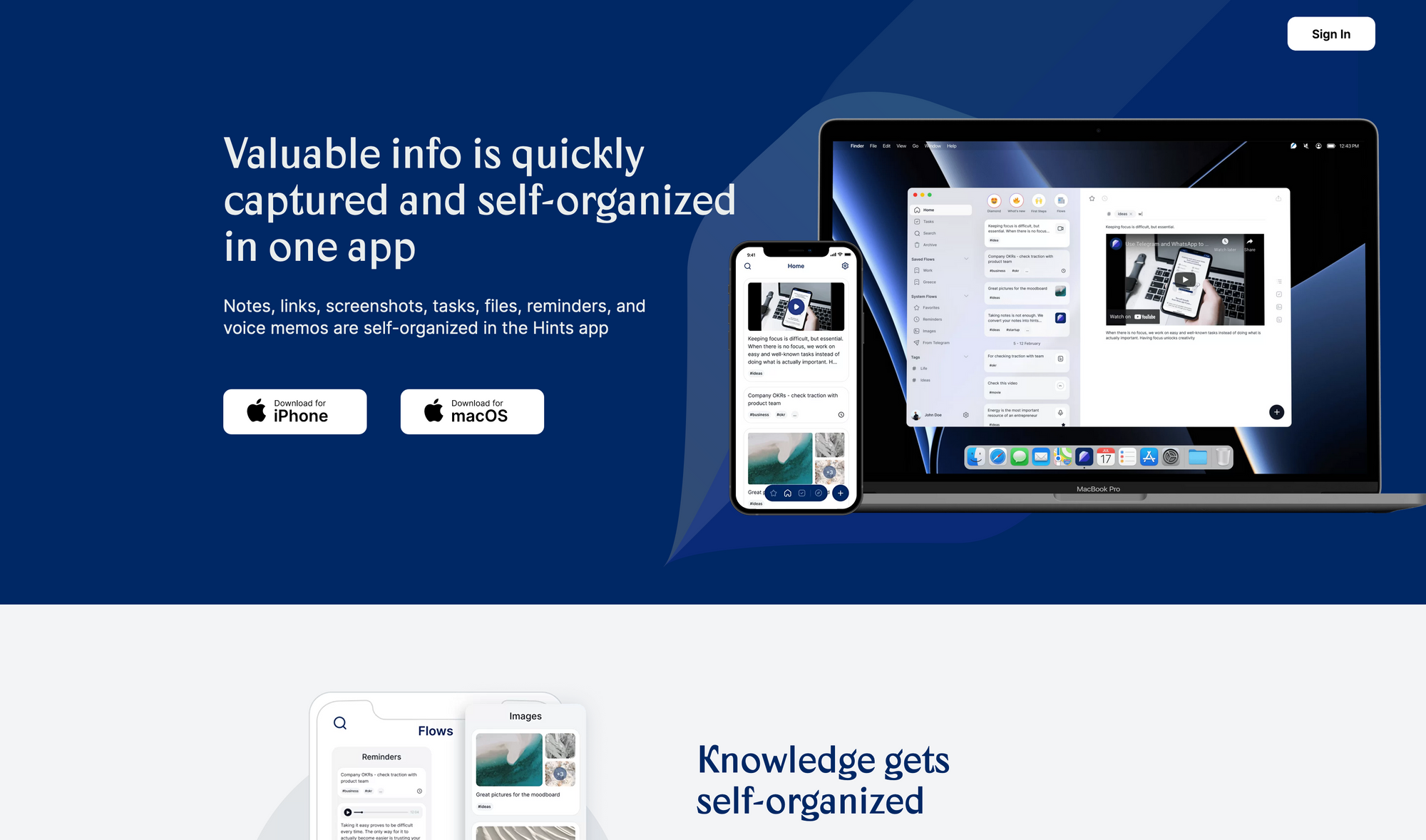 Hints is an exciting new and upcoming app that helps you to keep track of valuable information that you want to capture, store, and Organise. No matter if the information you gather is notes, links, screenshots, tasks, files, reminders, or voice memos, Hints got you covered, additionally Hints gives you a hand as it self-Organises the information you put in.
At the core, Hints wants to give you the possibility to capture all kinds of information without context switching. In Hints, capturing information happens at the speed of light. It provides you with shortcuts to capture selected text or a dedicated screen area, no matter if you are on your phone or desktop, no matter if you want to capture information from websites, messengers, or emails, Hints you do not need to switch context. Additionally, Hints lets you take notes, create tasks, and set reminders. But not like you normally do it in other apps, with Hints you can add those via SMS, WhatsApp or Telegram. Whenever an important thought or idea comes to your mind, you can add it to Hints in seconds.
Another great feature of Hints is the ability to convert voice messages to text. This feature makes it even easier to quickly capture your thoughts and ideas via voice input. Hints is the perfect app to stay on top of all the different forms of information you are capturing throughout your day. It probably already happened to all of us, that an important bit of information slipped through our fingers and got lost. With Hints, you have some amazing features right at your fingertips to prevent losing any kind of idea or thought. Hints is currently free-to-use, it is available for iOS, macOS and as a Web app.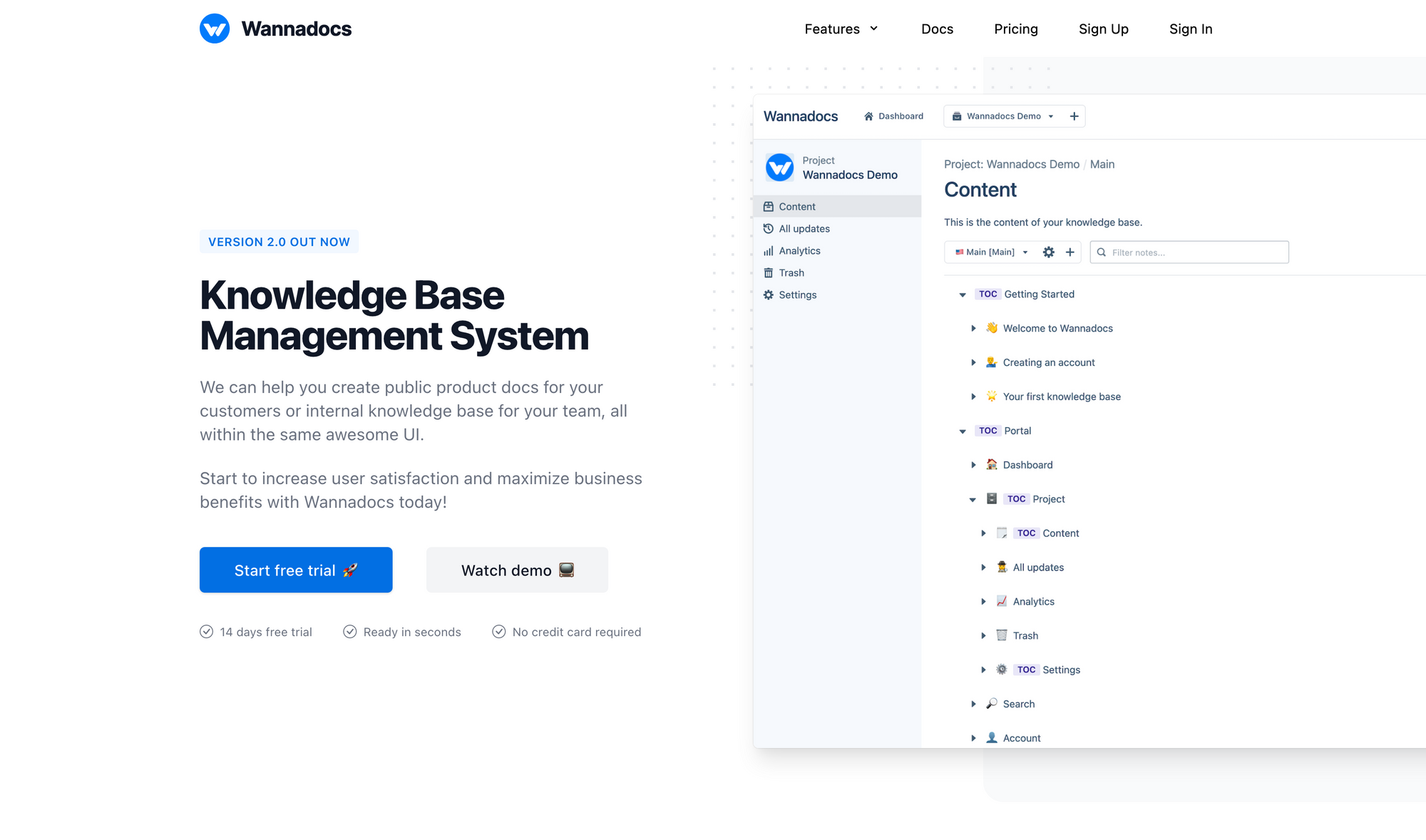 Wannadocs is a knowledge base management tool that lets you create public product docs for your customers or your internal knowledge base for your team. It is exciting to see that more and more people realise how powerful knowledge base management systems can be and that they also see the value such a system could bring to your team and your customers. Wannadocs is here to help you increase user satisfaction and maximize business benefits.
The heart of Wannadocs is the Knowledge Base Portal, a knowledge system for content producers. It is available for knowledge base owners and editors. Within the portal, you have the possibility to create and edit articles, see analytics, and manage project settings. Creating content and documents with Wannadocs is easy. All the articles and categories you create to structure your knowledge base can be deeply nested. This works through drag and drop. Additionally, Wannadocs features rich embeds, which means that you can integrate content and data from tools like Figma, Airtable, Codepen, GitHub, Typeform, YouTube, Vimeo, and more and embed them in your articles and documents. But this is not the only way to integrate tools with Wannadocs, in addition to that, you can import content directly from Notion, Google Docs, and GitHub Wiki.
Another important part of Wannadocs is the knowledge base website, and it serves the purpose to make the content of your knowledge base available to your consumers. Basically, it is the result of your content creation. With Wannadocs published knowledge base websites are fast and robust, mobile-friendly, and SEO-optimized. Knowledge Bases created with Wannadocs are a powerful tool to keep your experience and product documentation in one place. No matter if you are planning to build a help centre, create technical documentation, user guides and manuals, or an internal knowledge base for your team, Wannadocs provides you with the perfect tool for it.
Wannadocs' Starter Plan is available for $10 per month or $110 per year (1 month free) and gives you access to 100 pages, 1GB Uploads, 1 Member, Multi-Languages, and a Custom Domain. The Team Plan will cost you $30 per month or $330 per year and gives you 500 pages, 10GB uploads, 5 members, and additionally Analytics, Integrations, and Share Permissions.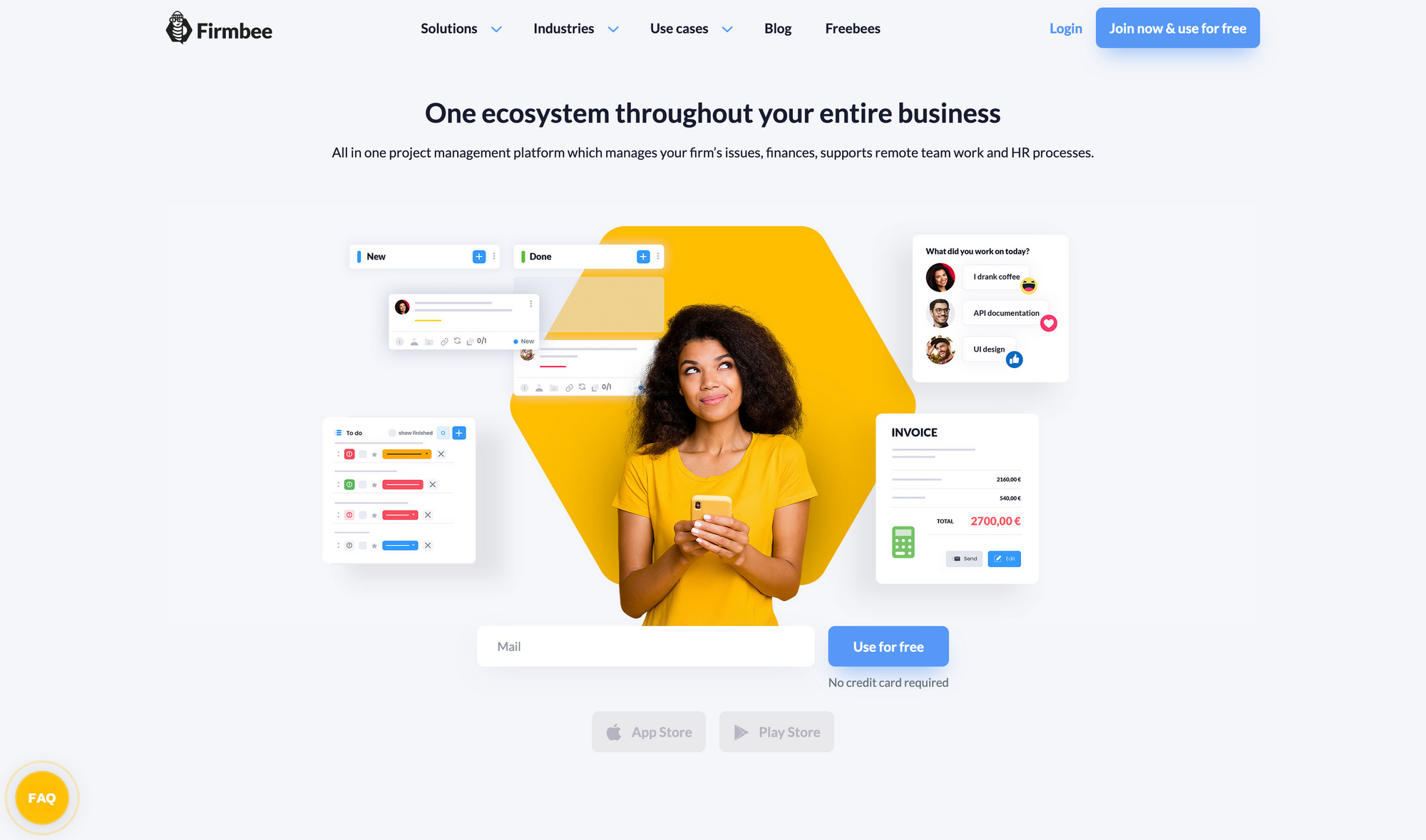 Quite a lot of companies prefer to keep their workflows within one ecosystem throughout their entire business. Firmbee is a tool that provides companies with an all-in-one project management platform. No matter if you are managing your company's issues, finances, the HR process, or your remote team, Firmbee provides you with the tools you need.
To stay on top of your work, Firmbee lets you manage all your company's projects from one centralized place. Within an organised list of your projects, you keep an eye on statuses, deadlines, and priorities. With just a few clicks you can make information like project scope, client guidelines, or assigned team easily accessible to anyone. While managing projects, you also need to manage tasks. Firmbee gives you the possibility to add and create tasks that support your project goals. Features like subtasks, comments, attachments, and more give you the freedom to design your workflow. The whole progress can be tracked with Kanban Boards. But it does not stop there, since Firmbee is the perfect tool to also manage your whole workforce by bringing your team together, assigning users to tasks, and encouraging them to cooperate and share meaningful discussions.
Beyond that, Firmbee is capable of managing your contacts, recruitments, revenues, expenses, invoices, leads, deadlines, products, and offers, all within one centralized tool and workspace. That is exactly what you would expect from a tool entitling itself as "all-in-one workspace and project management platform". With the board feature-set of Firmbee, it is attractive for several industries. Firmbee's endless possibilities and customization options it is a great fit for Sales, Design Teams, Marketing Agencies, Event Planning, IT Teams, and more. After exploring Firmbee and its broad feature-set it is beyond exciting that, it is offering a limited free version of the tool. The free plan of Firmbee is perfect for Freelancers, giving you the possibility to manage up to 3 projects, up to 10 invoices, up to 5 coworkers, and for 2 users.
The Premium Plan will cost you $9 per month or $99 per year and offers unlimited projects, unlimited invoicing, up to 25 coworkers, 5 users, and up to 10 recruitment projects. The Business Plan costs $49 per month or $499 per year for unlimited projects, invoicing, and coworkers, 10 users, up to 10 recruiters, and unlimited recruitment projects.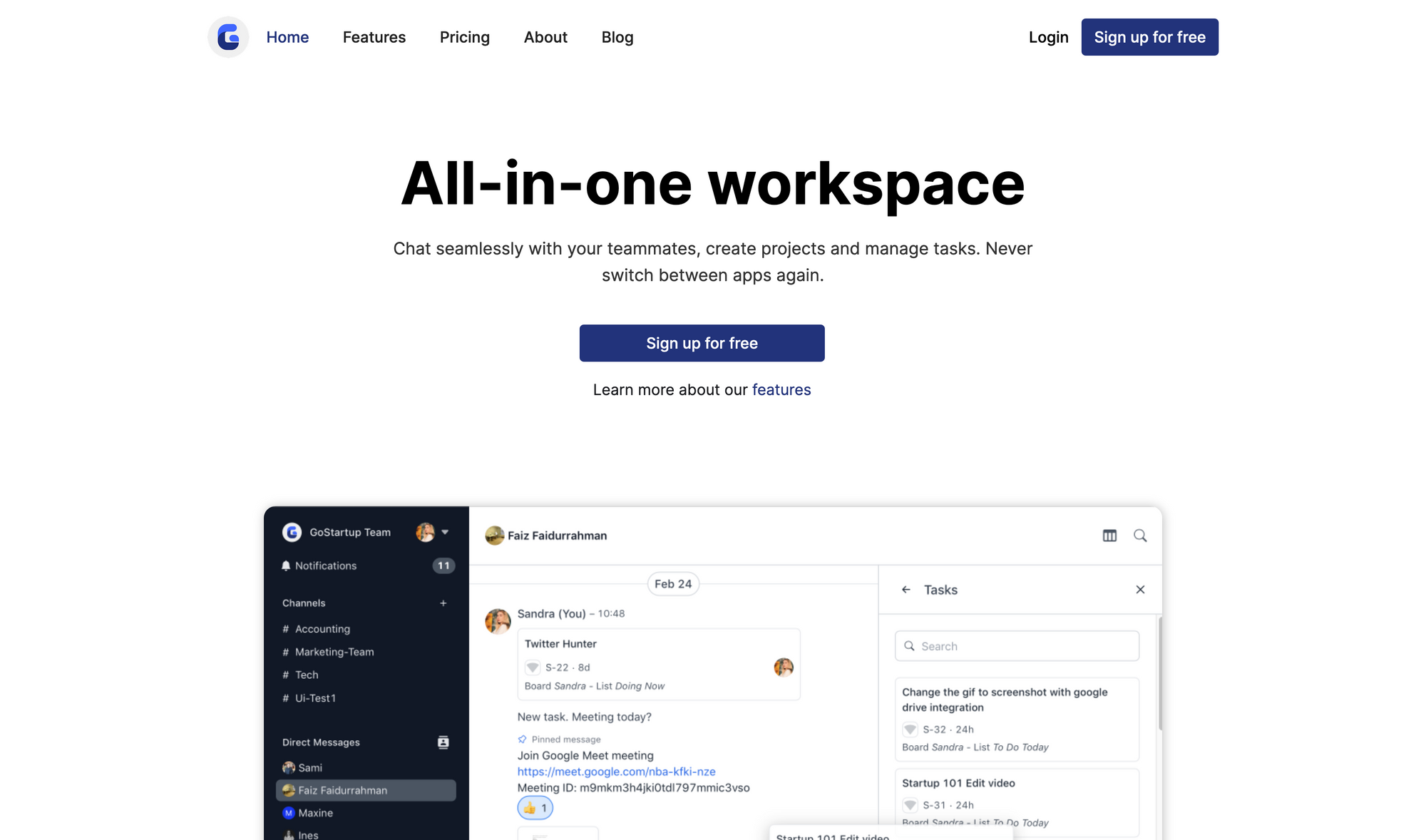 Firmbee is not the only all-in-one workspace I want to share with you this week. GoStartup also entitles itself as an all-in-one workspace, although it follows a different approach compared to Firmbee. GoStartup helps you to chat with your teammates seamlessly, create projects and manage tasks, without the need of switching back and forth between different apps. No matter if you are working at a startup, in a small team, or if you are an entrepreneur, GoStartup provides you with your personal workspace and the tools you need to move forward, get work done, and grow, while at the same time-saving money and hassle from switching between different platforms to manage your work.
First of all, GoStartup lets you set up channels (similar to Slack) for specific topics, projects, or teamwork. Those channels create a comfortable working environment and bring order and clarity to your work. Secondly, GoStartup provides you with task management possibilities, which means you can manage boards, create tasks, and Organise your workflows. Once there are new tasks created, you can directly share them with your team in the dedicated channels and discuss them with your teammates. To stay on top of your tasks, you can always check GoStartup's calendar functionality to get an overview of which tasks are due.
While Firmbee (mentioned earlier) provides an all-in-one workspace by offering a broad feature-set that ranges from project, task, finance, recruiting, and other management areas, it seems to me that GoStartup built a Slack-Alternative with built-in task management capabilities. When all your teams' communication happens within your messaging app, it makes sense to have built-in task management functionality since you can quickly turn any kind of message into an actionable task. You can use GoStartup for free with limited features. The Premium Plan will cost you €38.30 per year or €3.99 per month.
---
Useful Resource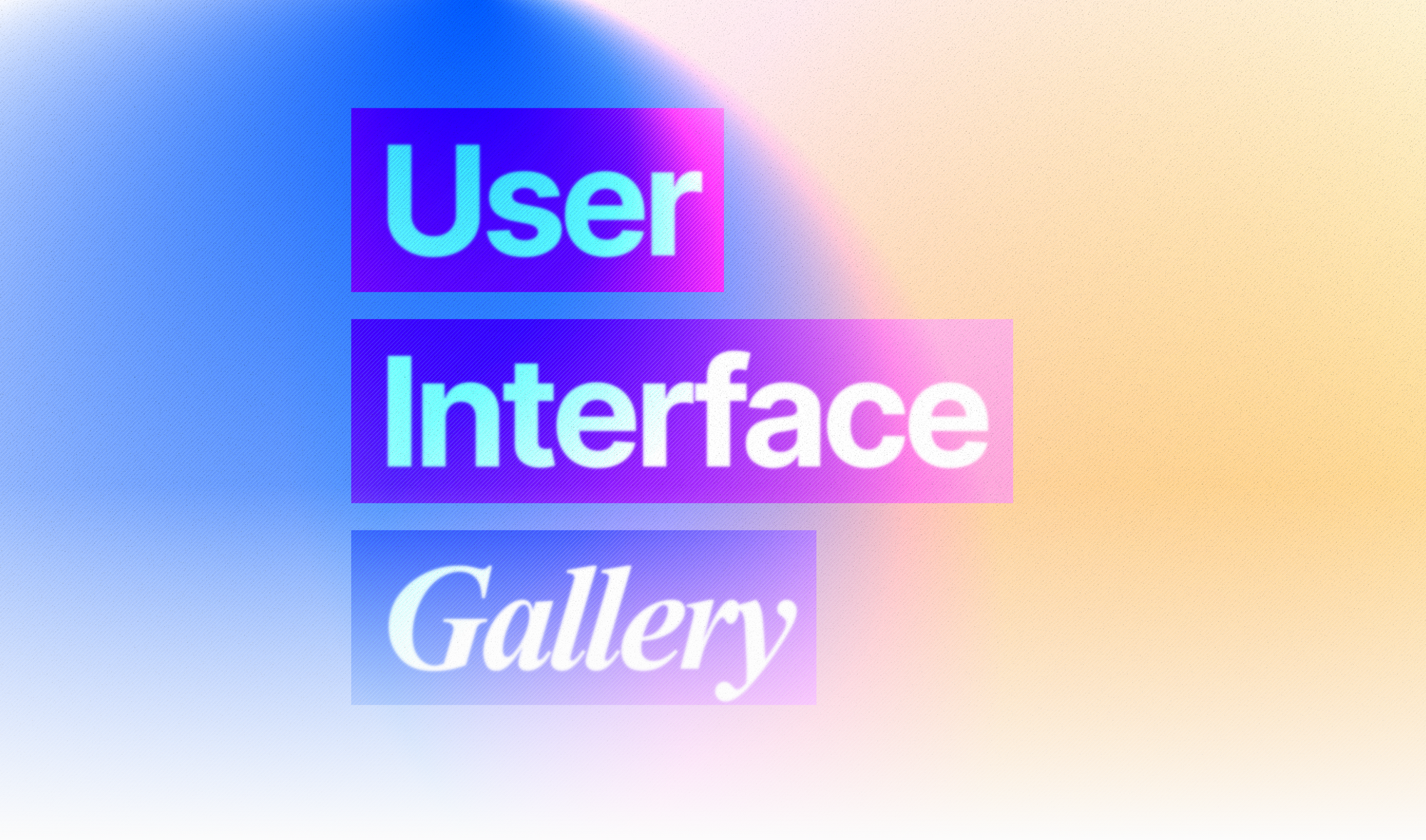 Every now and then, I love to get lost in the design works of other creative folks. Therefore, I start browsing all sorts of websites. Recently, I stumbled across User Interface Gallery, a lovely designed and curated resource packed with user interface design elements. It was created by Rauno Freiberg. I especially love The Story of Button, which is a visual timeline of button design evolution from the years 1995 to 2022. Sit down, take your time and browse through the User Interface Gallery.
---
Mental Wealth
➢ How to Vet a Remote Workplace – "As employers scramble to meet the demand for remote work, many organizations are saying all the right things to prospective employees without being dedicated to, or effective at, building a healthy, high-performing remote or hybrid workplace. Not all remote workplaces are equal, and the flexibility afforded by remote work is less valuable when the remote workplace doesn't offer adequate connection or a strong underlying culture."
➢ Adaptive Thinking: The Best Way to Deal With Unexpected Situations – "For a long time, thinking, good thinking, has been primarily outsourced to reading books. "Just read books, and your brain will swell, making you super smart and forcing you to wear a hat." But is reading heavy bricks with dense material enough to become a great thinker and allow you to act appropriately in a constantly changing environment? Sure, the usual process of thinking – producing thoughts based on the information you consume – works in most situations. But what if you are a fighter pilot and enemy planes are fastly approaching? You can't rely solely on what you know and the initial thoughts your brain produces to stay alive. You need adaptive thinking to survive."
➢ How to Decide What to Work On – "Working hard all day doesn't matter if it's on the wrong tasks. The most critical factor in your productivity is what you decide to work on. The question of what to work on is under-discussed. There's plenty of advice on getting work done: setting up good habits, creating productivity systems, project management and planning. Yet, there's relative silence for the crucial decision of which projects to pursue. Choosing what to work on is hard because you can't know in advance how any project will turn out. If you knew what perspective was most worthwhile, the right choice would be obvious. It would simply be a matter of doing the work. But these choices exist outside of any particular vantage point. We don't have this information, and we have to choose anyway."
➢ Why New Ways Of Working? Why Agile? Why Self-Organize? – "Why new ways of working? Why agile? Why self-organize? Why distribute decision-making? Why psychologically safe meetings? Why feedback, learning and experimentation cultures? Why not carry on as we are, top-down fashion? These are all good questions. The short answer is our organizations are complex, not linear! And that above all else, their fortunes depend on accepting this reality and on healthy human interactions. To explore this in more detail we're going to start with some quick-fire history."
---
Classifieds
If you are interested in putting your tool, product, or resource in front of over 1500 creative minds, consider advertising in Creativerly and book a sponsor or classified ad spot. Find all the important information at creativerly.com/advertise.
---
Appendix
➢ ICYMI
If you are on the hunt for productivity tools that have a strong focus on privacy, respecting their users' data, featuring end-to-end encryption, and are open-source, I am excited to showcase ProductivePrivacy to you, a directory website packed with privacy-focused productivity tools ranging from note-taking, task management, and project management tools. Head over to productiveprivacy.com and browse through the director.
➢ Quick Bits
---
Twitter thoughts
---
Till next time! 👋‌‌‌‌
Support: Do you have a friend who is looking for inspiration, news about design, and useful tools and apps? Forward this newsletter to a friend or simply share this issue and show some support. You can also show some love by simply clicking the button down below and keep this newsletter a sustainable side-project by buying me a coffee. ☕️ 🥰
---
---
Some of the links in my newsletter and my blog posts are affiliate links. Those links are marked by an asterisk. If you buy something through the link, the product will not cost you anything more, but I will receive a small commission which not only supports Creativerly and my work but also helps me to keep this publication a sustainable side-project.