Blog
How to make the most out of your time - with Morgen
Morgen is an incredibly powerful tool that integrates with your calendar and helps you schedule time for your tasks, events, and meetings. Let us take a closer look at it.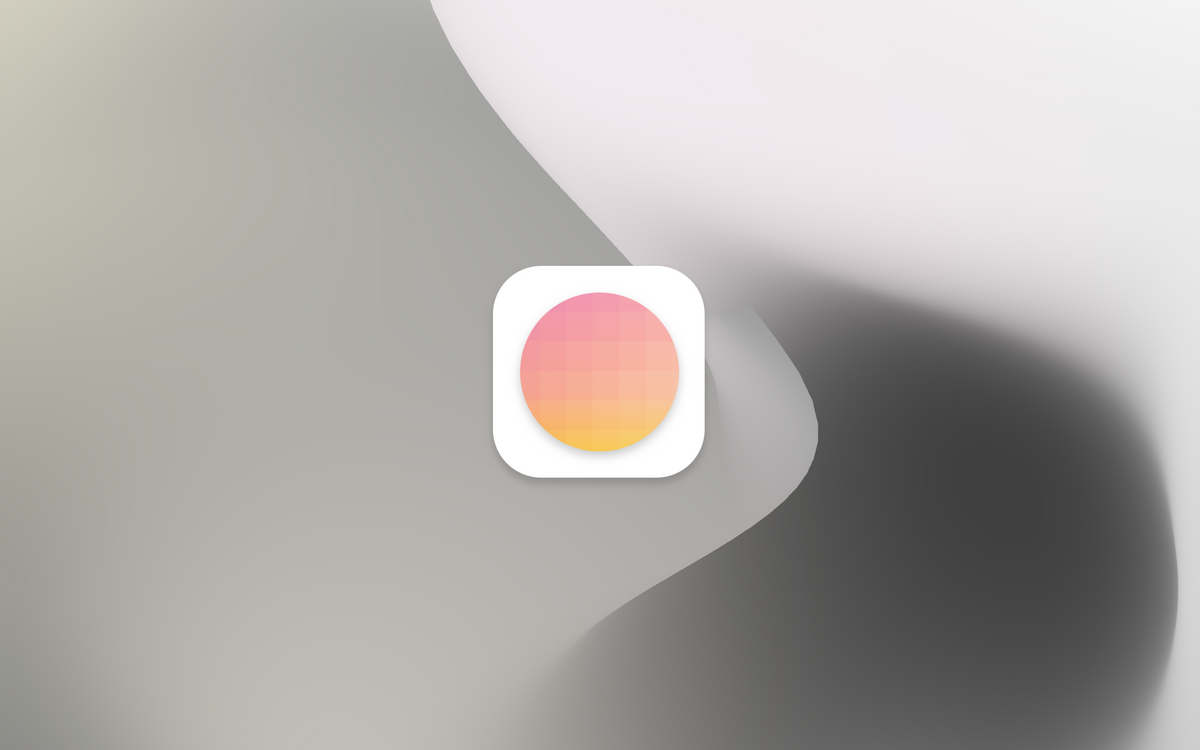 This blog post will kick off a new content section I always wanted to do and have already planned for quite some time. Whenever I share a new tool within my weekly newsletter, I always get emails from avid readers saying that they did not know this tool existed, and now they use it on a daily basis. Within my newsletter, I am somehow limited when it comes down to writing my thoughts about a specific new tool because I want to keep the newsletter format short and informative, so you can skim through it whenever you have ten spare minutes to read it.
On my blog, I do not have this limit. Therefore, I am happy to introduce you to this new content section, in which I will write about tools you probably did not already hear of, but you should definitely try out. Think of it like a deep dive on specific tools I have shared within my newsletter.
To kick this new content section off, let us take a deep dive into Morgen*, the calendar tool to make the most out of your time. Make sure to read it until the end, as there you will find a special only available to Creativerly readers.
Disclaimer: I always try to be as transparent as possible about everything I am doing at Creativerly. This deep dive on Morgen is written straight in my own personal opinion. I did not get paid to say the things I say within this blog post. I am genuinely excited about the tool, I use it myself, and I am very much looking forward to their future and I am curious about what they will work on next. Nevertheless, I am an affiliate for Morgen, simply because I love the tool and therefore promote it to my audience. This is exactly how partnerships should work. You can always be sure, that I always will write about my true, honest, and straight-to-the-point opinion about the tools I feature. If there is the possibility to partner up with tools like this, it is the perfect way to support my work at Creativerly.
---
What is Morgen?
As already mentioned, Morgen is a calendar tool but with an important twist and some unique and powerful features to it. Morgen is a calendar tool that deeply integrates with your tasks and offers you intuitive ways to schedule and set up meetings with a workflow you have probably not yet experienced like this. It is available for macOS, Windows, and Linux and supports calendars from Google, Office 365, Exchange, iCloud, Nextcloud, ZOHO, and more.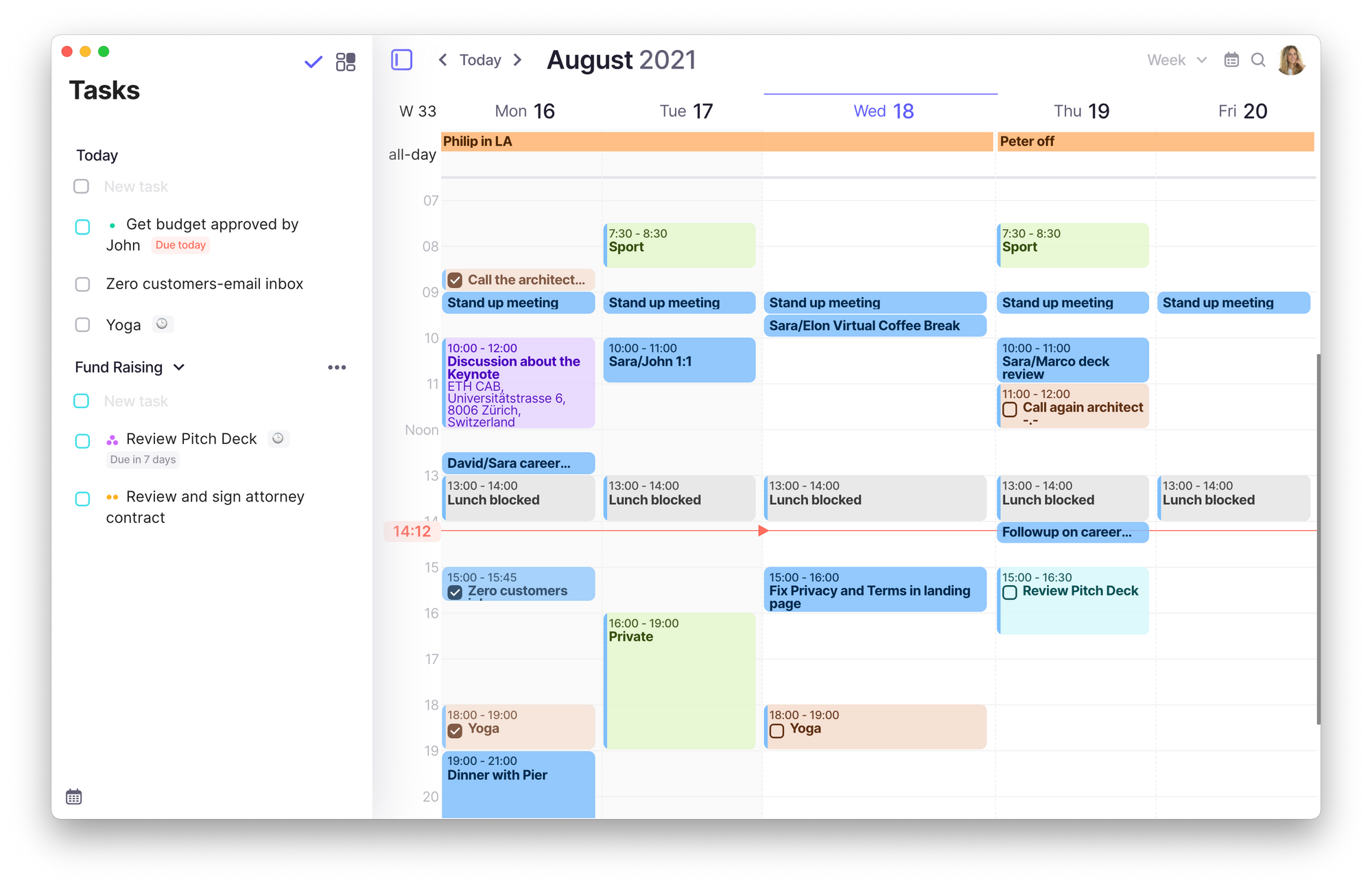 One of the most important features of Morgen (at least from my perspective) is the deep integration of your tasks. Later in this blog post, I will tell you why this is a crucial feature to make the most out of your time, so read on.
Besides that, Morgen also features Availability sharing, which means they made it super easy and by that I mean it literally needs a keyboard shortcut, Option+s on macOS Alt+s on Windows, to share your availability with your friends, colleagues, or clients. After hitting the shortcut, simply select the slots you are considering for a meeting. To execute this action you can literally draw on your calendar to select your availability. After that, you copy your slots in plain text to your clipboard, so you can share them via Email for example, or you can use a smart scheduling link and send it directly to your invitees.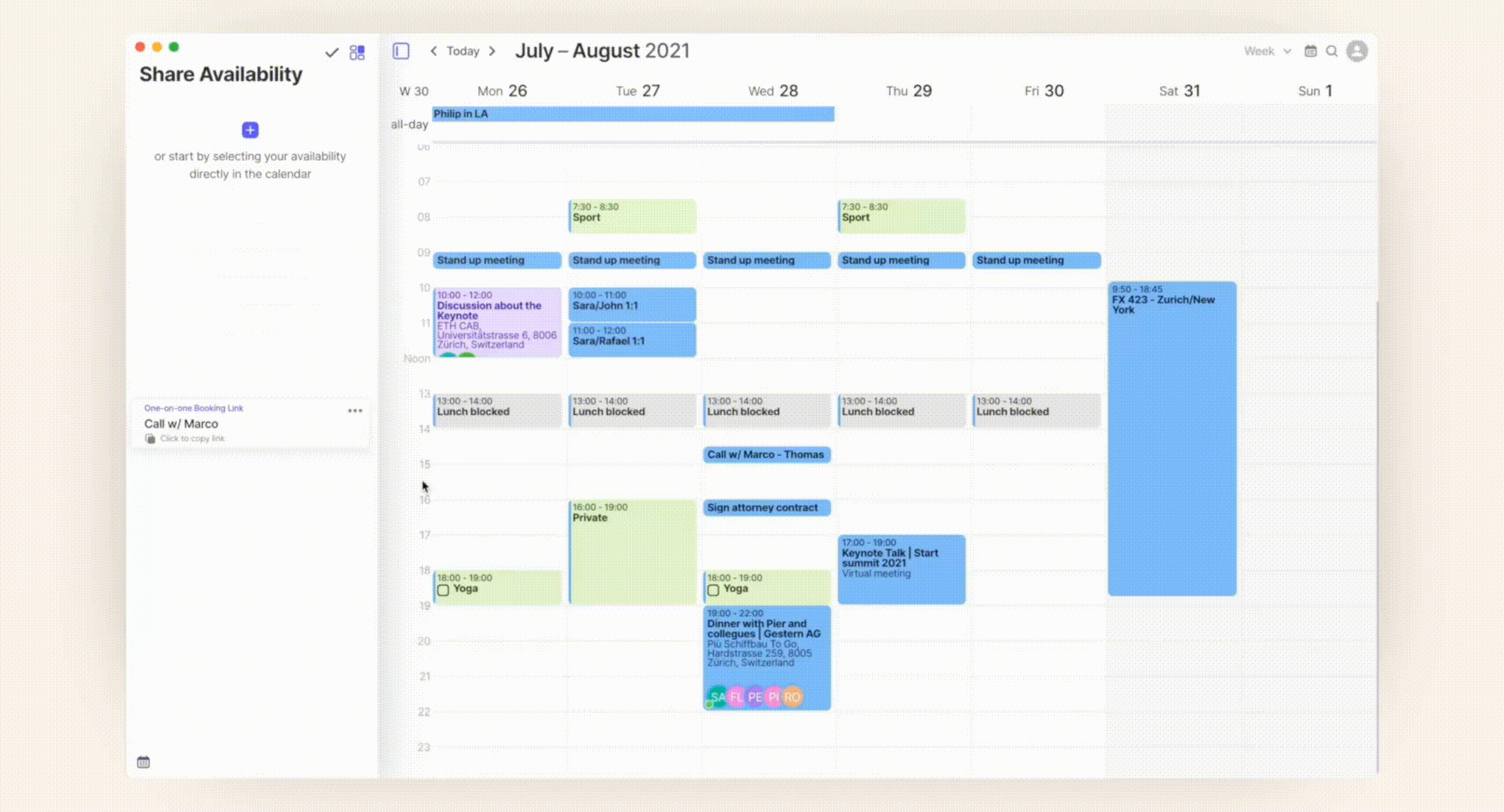 When your invitees press the link, they will be welcomed with a beautiful interface where they can choose the date for the planned meeting and accept it straight away. Regarding the User Experience, Morgen pretty much nailed it here by providing customised links for your invitees. On top of that, Morgen nailed the experience for both, for you as a user of Morgen, but also for your invitees. Because your invitees can easily update, reschedule, or cancel the meeting they have set up using the scheduling link you have shared with them.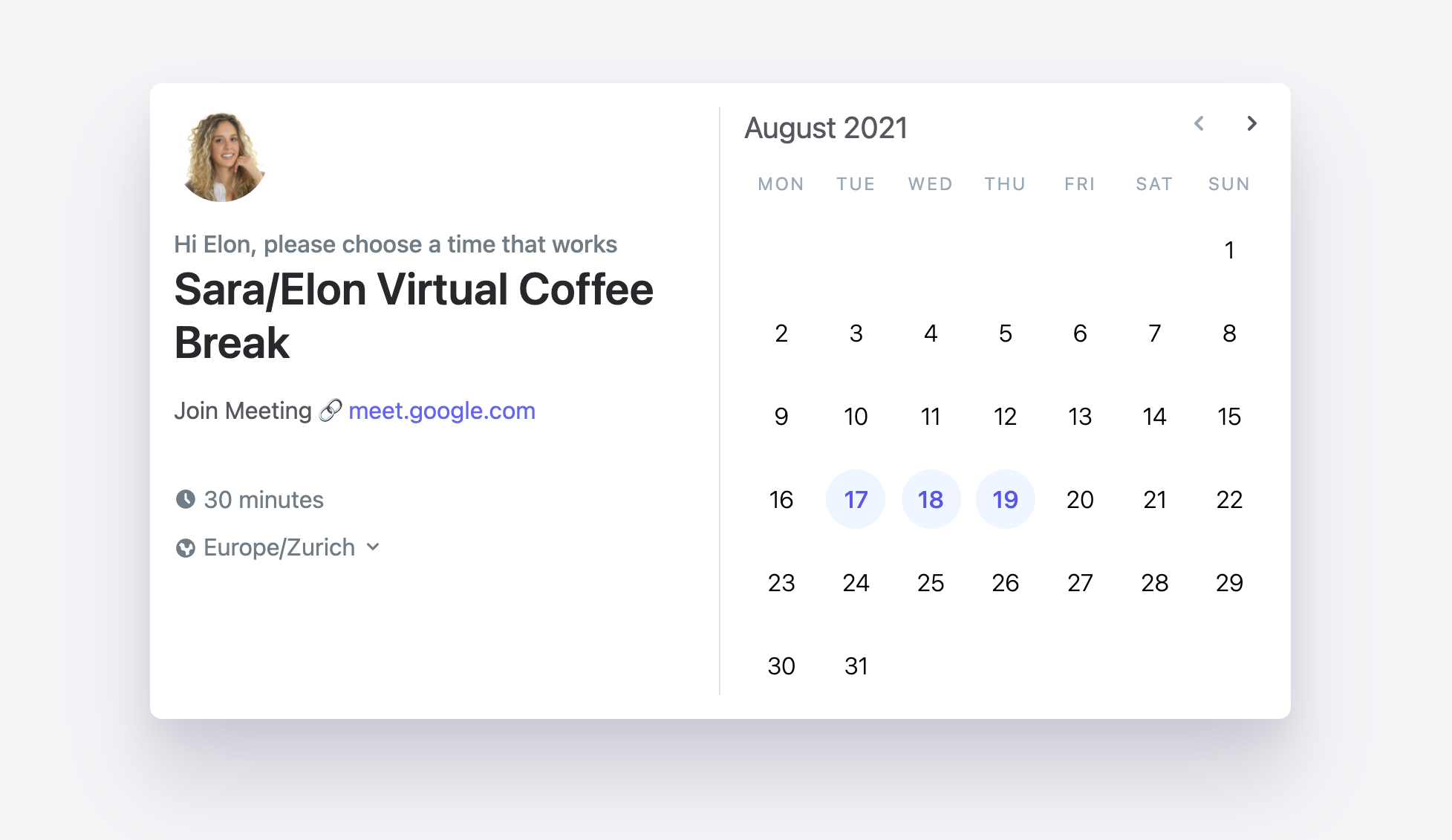 Within Morgen, you can then easily stay on top of your shared links by checking their status within the share availability. A great, tiny, and intuitive feature.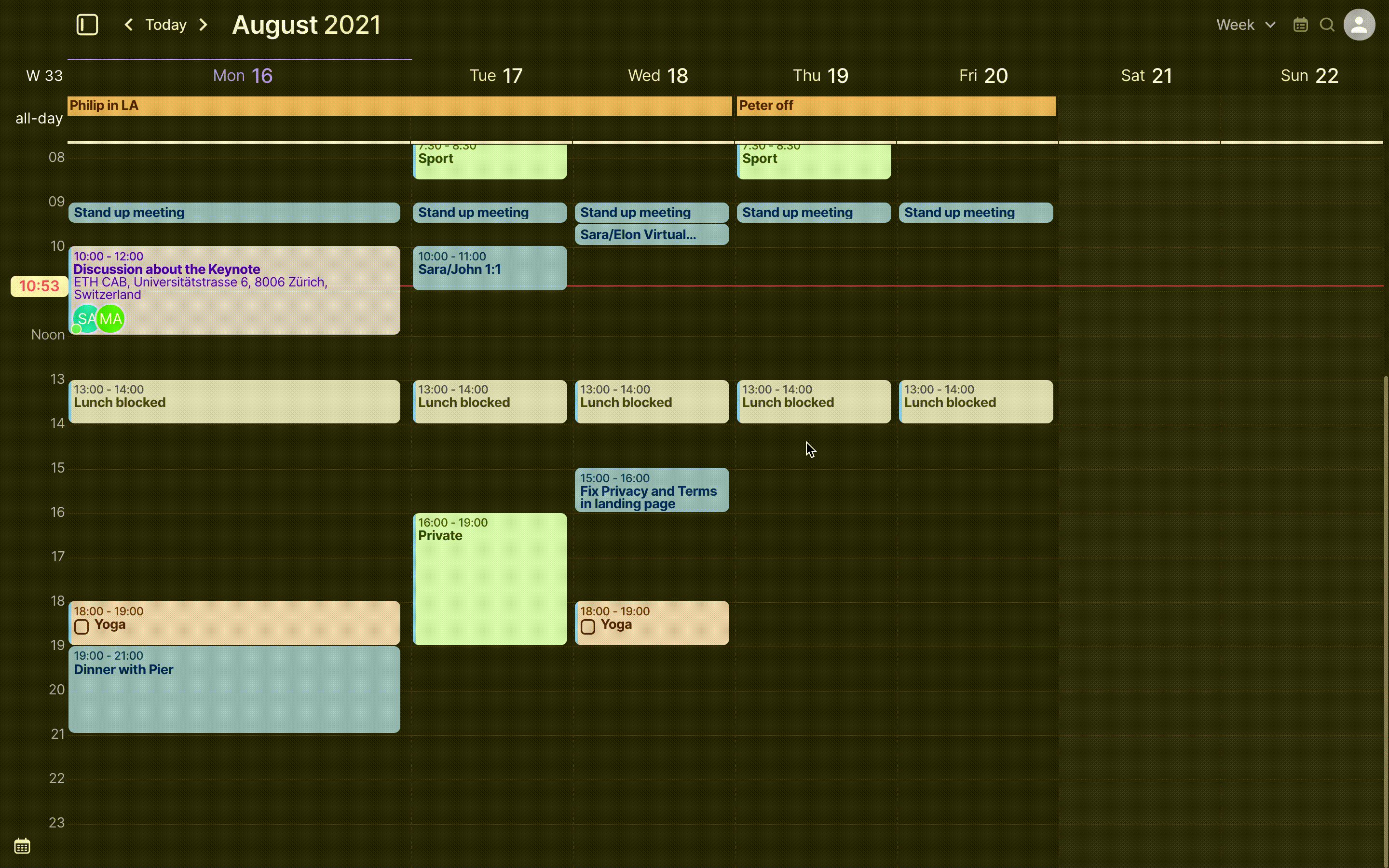 Since we spoke of shortcuts, Morgen is a highly keyboard shortcuts-orientated tool. One of the most useful ones is Option+C, which gives you a quick peek into your calendar whenever you need it. You can also use W and D to switch between weekly and daily views while being in the quick peek mode. This is a super useful feature when you need to take a look at your calendar but do not want to get dragged away from the work you are currently doing.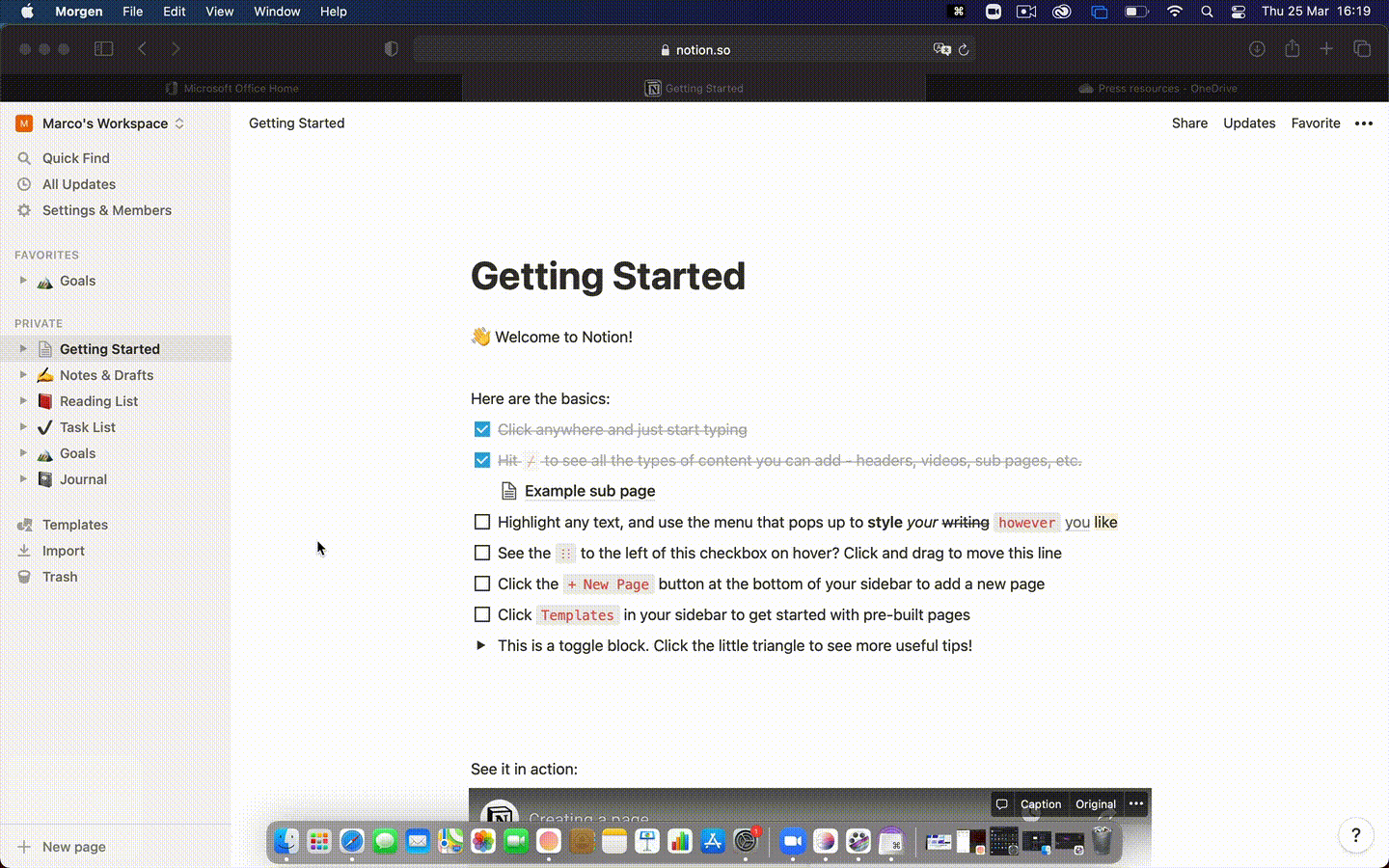 Another highlight of Morgen is the fact, that you can use it while you are offline. Even if you do not have access to the internet, you can still create, update, and edit events. Once you are online again, Morgen will sync all the events for you.
If your calendar is pretty busy, full of different events, meetings, and tasks, but you want to quickly jump to a specific event, Morgen features a powerful search to exactly do that. Morgen made it incredibly easy to find anything you are looking for, no matter if you are searching for participants, keywords, or locations.
Besides all those amazing features, Morgen also respects their user's privacy, as they state on their website "Privacy is not a compromise". They do not serve any ads, do not sell your data, and do not have any access to your calendar accounts. It is always great to see a tool with such a beautiful interface and such a great experience, still focusing on building a privacy-first tool.
---
The one feature that makes Morgen even more powerful
Quick backstory …
Task Managers and ToDo Lists are a great way to jot down all your open tasks and visualise them within a list view. I am using a task management tool myself (it is Todoist) and I enjoy the workflow of getting through my backlog early in the morning to see which tasks I should prioritise for my day. On another thought, it can totally happen that at some point your backlog gets bigger and bigger, because there are always popping up new tasks, but since you need to prioritise them in the first place, some tasks will never get solved and instead they will sit within your backlog for the most of the time.
This happened to me before and I was only able to solve this problem by changing my workflow while using my task management tool. While my backlog keeps growing I do not see it as a list of stuff I need to do next, the backlog is just a collection of tasks I want to note down so I can come back to them whenever I need them. On top of that, I also started to use a productivity technique that changed the way I was working on my tasks, it is called time blocking. Time blocking is a time management technique that asks you to divide your day into time blocks and each block is associated with a specific task. If you are working on a lot of different projects on a daily basis, if you have a hard time managing all your open tasks, and if your backlog keeps growing, you should give time blocking a try.
And at this point, Morgen comes in extremely handy. The key to time blocking is to prioritise your tasks upfront. I mostly do this in the evening for the next day or in the morning for that specific day. Since Morgen has task management features implemented straight in their calendar tool, everything is set up to use Morgen to do time blocking. Here is how it works. When you open up Morgen, you will see the calendar view in full. With a click on the icon in the top left corner, you can trigger the sidebar revealing the task section. The task view is super simple, so you can focus on what matters. Within the task view, you have two sections, one is called "Today" and the other one "Backlog". Beside that, you can also add more lists that basically act as categories. There can only be displayed two lists simultaneously. If you open up Morgen straight at the beginning of your workday, you can start jotting down your tasks. If there are any that you need to get done on that specific day, add them to the "Today" section. If you also come across some tasks that are important but do not yet have a due date simply put them in the backlog or add them to any other list you have created. Once you have finished jotting down your tasks for that day it is time to do the time blocking. With Morgen, this process works incredibly easily. Just drag and drop your tasks from your "Today" section right onto the calendar (I would suggest using the "Day" view for this procedure as you are planning your tasks for one day, but of course you can also use the weekly or even monthly view). Then, you need to give each task an estimated timeframe in which you will complete it. By default, if you drag and drop the task on the calendar this will be one hour, but you can always edit it by double-tapping straight on the task on your calendar or, which is even easier, simply hover over the edge of the time slot (it can either upper or lower edge) and then just drag the edge up and down, incredibly intuitive.
Make sure to block some time between your tasks to take a quick break and prepare for your upcoming task. Time blocking is super helpful to only focus on one task at a time for a specific timeframe. It is not essential to get the task completely done within this timeframe, it is just about focusing solely on one thing without any distractions.
Before I started to use time blocking, I was jumping back and forth between different tasks and projects. Time blocking helps you to structure your work and organise your whole workday. Morgen is a great tool that helps you achieve exactly that, a structured and organised workday.
---
How much does Morgen cost and what plans are available?
If you want to give Morgen a try to see if it is a fit for your workflow, you can do so right now by signing up for a 14-day free trial. After that, Morgen Pro will cost you €7.50/$9 per month (if billed annually, monthly billing will cost you €11/$14 per month). Included in Morgen Pro are all the amazing features we just discussed, unlimited calendars and tasks, unlimited devices, unlimited scheduling links.
There is a second plan which is called Morgen Teams, and as the name implies it is suitable for teams of 3 people and more. The Team plan includes everything as in the Pro plan, but additionally, you will get team-level coordination tools, team-level analytics and workflow suggestions, and team-level scheduling assistance. Those are all features on which the team at Morgen is currently working at. You can apply for a Morgen Teams plan right now to become an early adopter and help to shape the future of Morgen.
Additionally, Morgen also offers special conditions for students, academics, or non-profits. If you are eligible, you will receive a 50% discount. Simply contact the team at Morgen to get your discounted plan activated.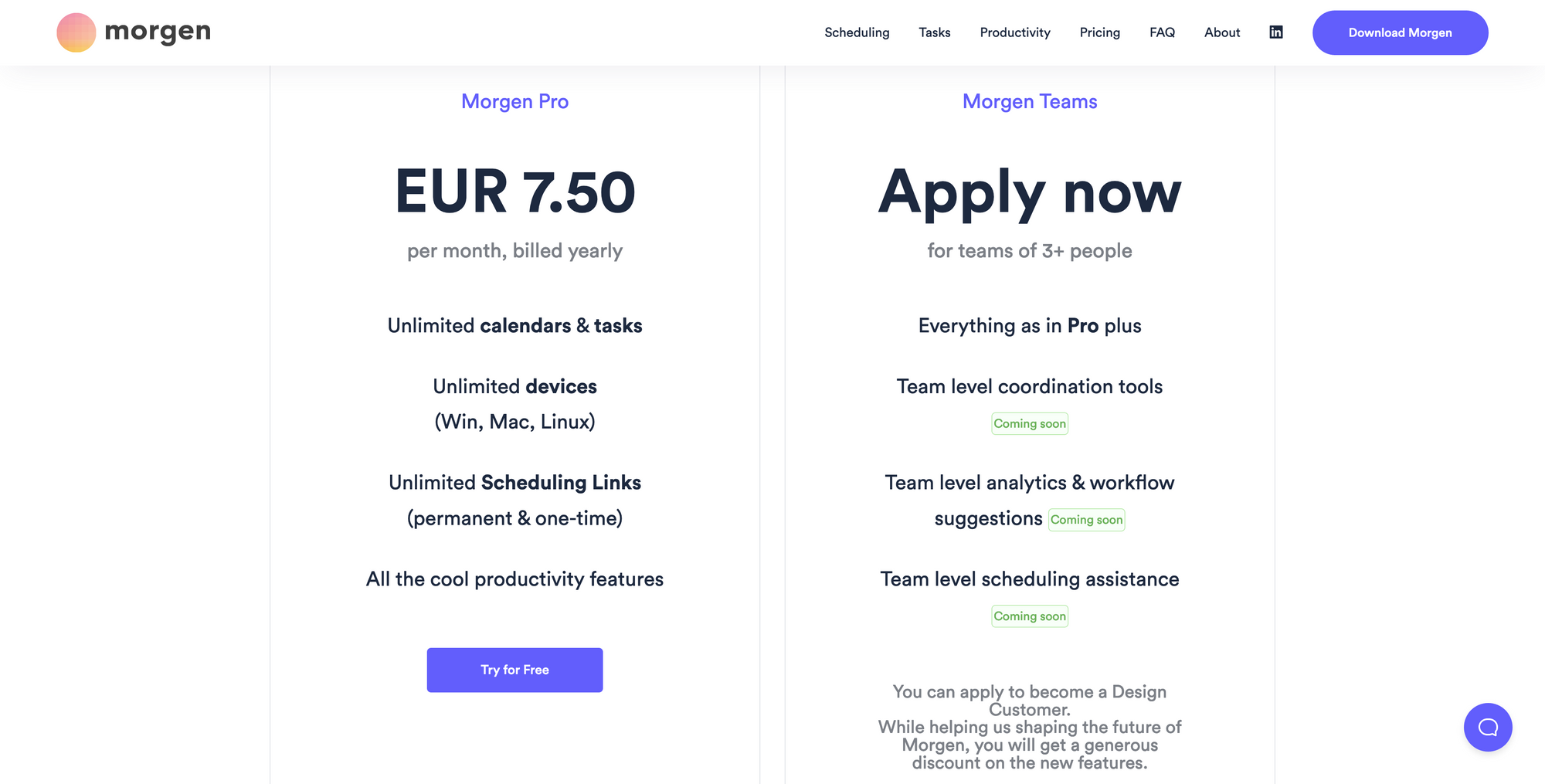 ---
Feedback, drawbacks, flaws: What I would like to see within Morgen
I totally get the fact, that Morgen focuses to be available cross-platform on desktop first, as this is the place where most of our digital work happens. But, I would love to see mobile apps, for both Android and iOS, as it would be an incredible productivity boost if Morgen would bring their awesome features to mobile apps, so you can plan and structure your work also on the go. I talked to the founder, and I can tell you that mobile apps are planned, but as there is currently no ETA, the focus, for now, relies on further polishing the desktop version of Morgen.
As mentioned earlier in this post, I am a big believer in combining task management features with your calendar. Morgen is on the right path of doing this, but I have the feeling that the task feature could be more prominent. By that, I mean giving the user more functionality. For example, the task lists within the task view are limited to two being displayed at the same time. It would be great, to have the possibility to display more lists at the same time, since for now you always have to switch back and forth between lists.
In my opinion, Morgen could make more out of the task feature. Right now they are cramped within the sidebar, so I am thinking of possibly giving them more real estate, maybe a dedicated view, or a way to edit, update, and track down your tasks faster. As for now, you can click on a task within your list, and a small window will appear which gives you the possibility to set a due date, a priority, and add some notes. A more prominent view of this window is what I am thinking about. More functionality regarding taking notes associated with specific tasks would also be a very welcomed feature.
I feel it is already a great workflow of jotting down your tasks and then simply dragging and dropping them on the calendar to perform time blocking. On the other hand, I think there is definitely room to improve and make the tasks feature even more powerful.
As Morgen is already a very keyboard-centered tool, I would also love to see a universal shortcut for something like Command+K which we already know from tools like Superhuman or Notion. This could not only be used as a search, but it could also trigger quick actions like adding tasks, events, blocked fields, etc. it would definitely be a powerful add-on.
Morgen is still an early product, so I am more than excited about their future and to see what they will come up with.
---
A special discount for Creativerly readers
If you made it this far, first of all, thank you. Let me know what you think about this new content section about deep dives on specific tools, and let me know about which tool I should write my next deep dive on.
If you like Morgen, make sure to give it a test, as they are offering a 14-day free trial. If you then decide to sign up for their Pro plan, I am more than happy to tell you that the team at Morgen provided all Creativerly readers with a discount code which will give you 10% off your first year with Morgen. All you have to do is simply using the code CREATIVERLY10 at checkout and you are ready to go.
So, make sure to give Morgen a try, and if you are ready to commit to this awesome tool, use the discount code to get 10% off.
---
Till next time! 👋‌‌‌‌
Support: Do you have a friend who is looking for inspiration, news about design, and useful tools and apps? Forward this newsletter to a friend or simply share this issue and show some support. You can also show some love by simply clicking the button down below and keep this newsletter a sustainable side-project by buying me a coffee. ☕️ 🥰
---
---
Some of the links in my newsletter and my blog posts are affiliate links. Those links are marked by an asterisk "*". If you buy something through the link, the product will not cost you anything more, but I will receive a small commission which not only supports Creativerly and my work but also helps me to keep this publication a sustainable side-project.