Newsletter
How to start an ambitious personal project & celebrating 100 Subscribers
In this week's issue of Creativerly: A non-linear personal notebook, the most advanced video chat ever created, how to be helpful, and a lot more.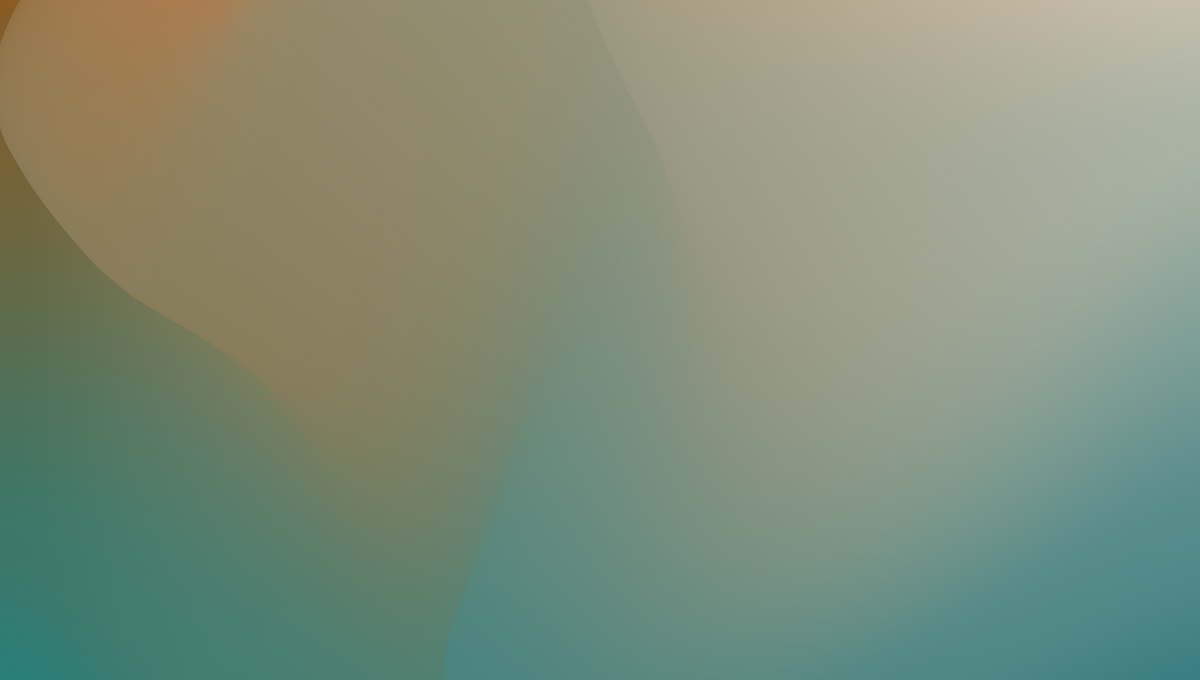 You are reading Creativerly, the weekly digest about creativity and productivity-boosting tools and resources, combined with useful insight, articles, and learnings from the fields of design and tech. The newsletter built for the creative community.
---
Hey and welcome to issue 61 👋
This week I reached my long-time goal for Creativerly: 100 subscribers. This just feels incredible. I am thankful for every single subscriber enjoying the content I am sharing every week. Thank you to all of you for sticking around!
As  I am always interested in the further development of the newsletter I  thought of moving the newsletter to a new service. I like Mailerlite and the functions it offers to create a newsletter. But I am not that big of a fan anymore of those heavily designed newsletters. Currently, I am aiming for a cleaner, more straightforward look. Then Substack came into my mind. Besides Creativerly, I am also writing a newsletter called datest (datest.substack.com), it is a publication at the intersection of design, tech, psychology, side-projects, work, and life. It runs on Substack, and I just love the experience there. It is clean, modern, professional, and has a big plus: since the newsletter issues have a blog-kinda look and feel, every single issue is always available on Substack so you can quickly click through it like you would on a blog.
Therefore  I will move Creativerly in the upcoming days (or within the next weeks)  entirely to Substack. So this will be the last issue send out with  Mailerlite. But no worries about the archive. This will take some time,  but I will also move the whole archive to Substack, but I will just publish it online, so you will not get spammed whenever I added an old issue.
You can check out Creativerly issue #60 right here on Substack, to get a taste of how it will look like.

If you have recommendations or feedback, drop me an email or a tweet. For now, enjoy the newsletter!  🥰
---
App, Software, Tools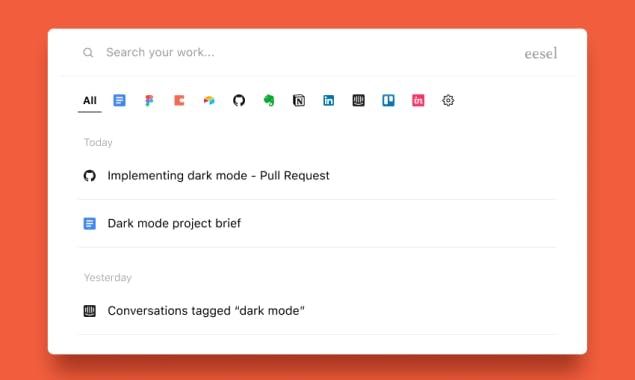 eesel is a Chrome extension that brings all your work from different tools into one place. It's based on browser history, so it automatically works with pretty much any tool. In fact, eesel runs entirely on your browser, so your work stays secure and never leaves your computer.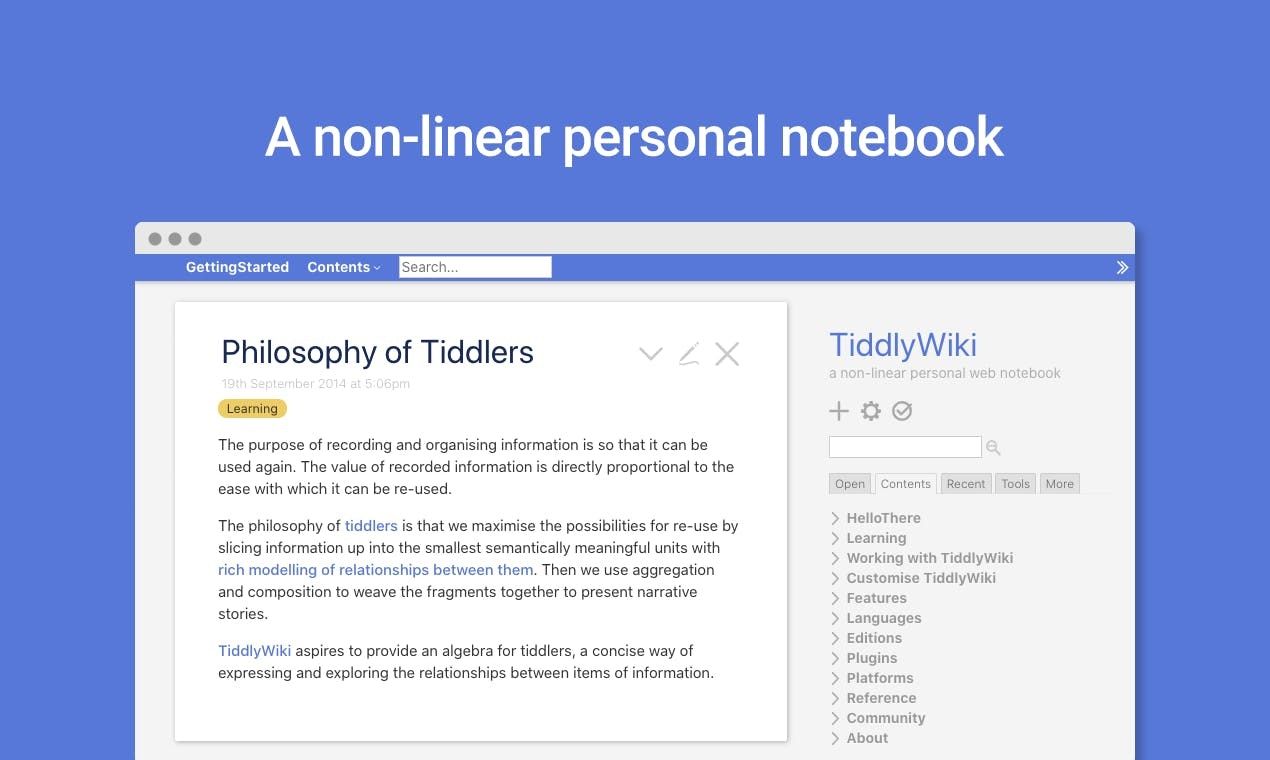 TiddlyWiki is a free, open-source tool for thought to capture, organize, and share complex information. Use it to take notes, keep your to-do list, outline an essay, or plan a novel. Record every thought that crosses your brain, or build a responsive website.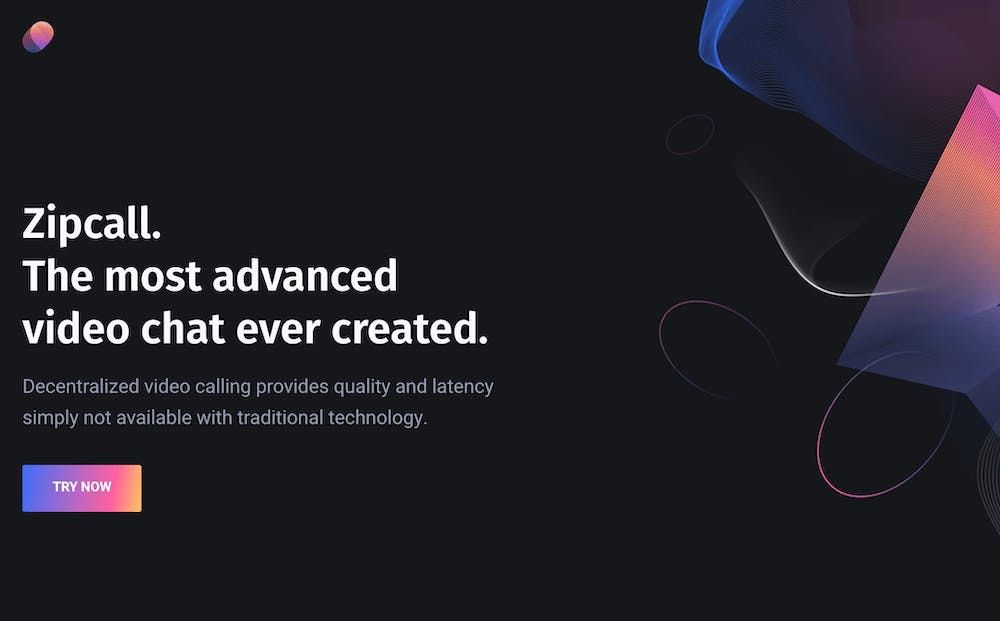 Simple, secure, and fast. Zipcall is built radically different. We left behind slow bulky servers, opting for decentralized peer to peer calls. We engineered a platform with maximum video quality and lowest latency.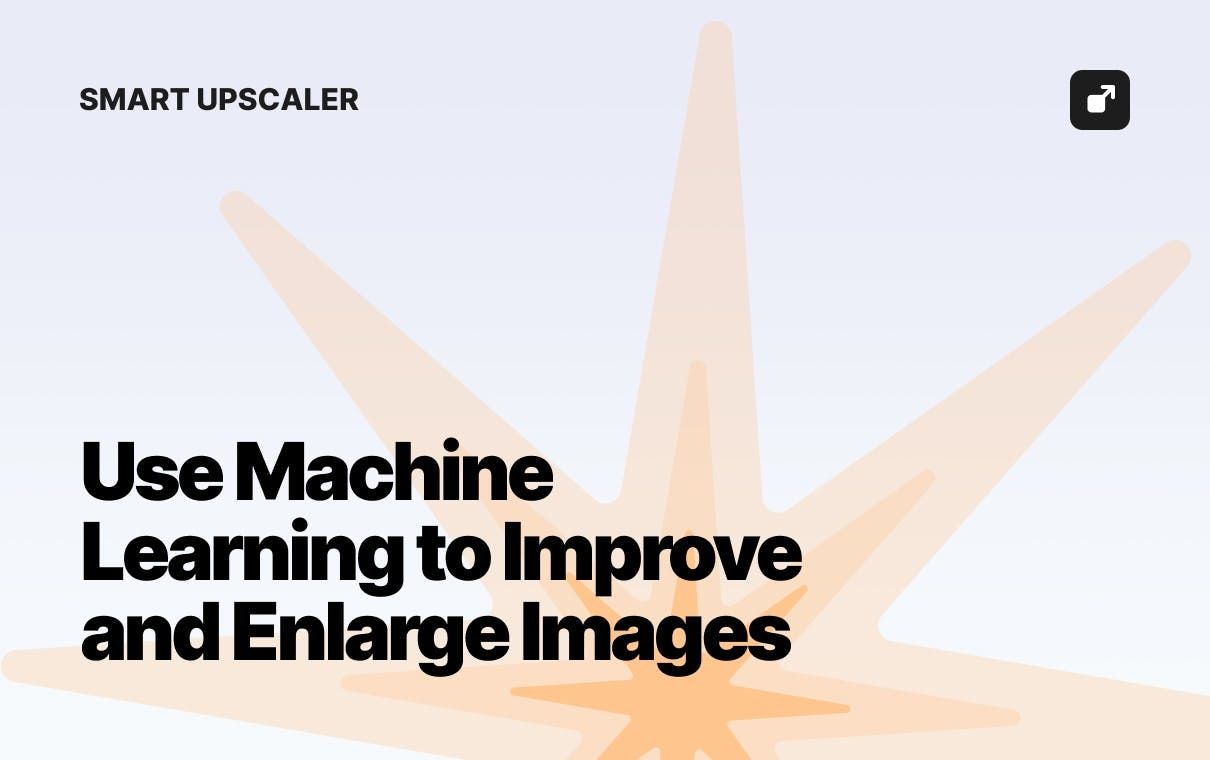 Harness machine learning to improve your images. Integrate sharpening, noise reduction, and upscaling all through our fully-automated process. Making your assets and user content pop has never been easier.
---
Goods & Gadgets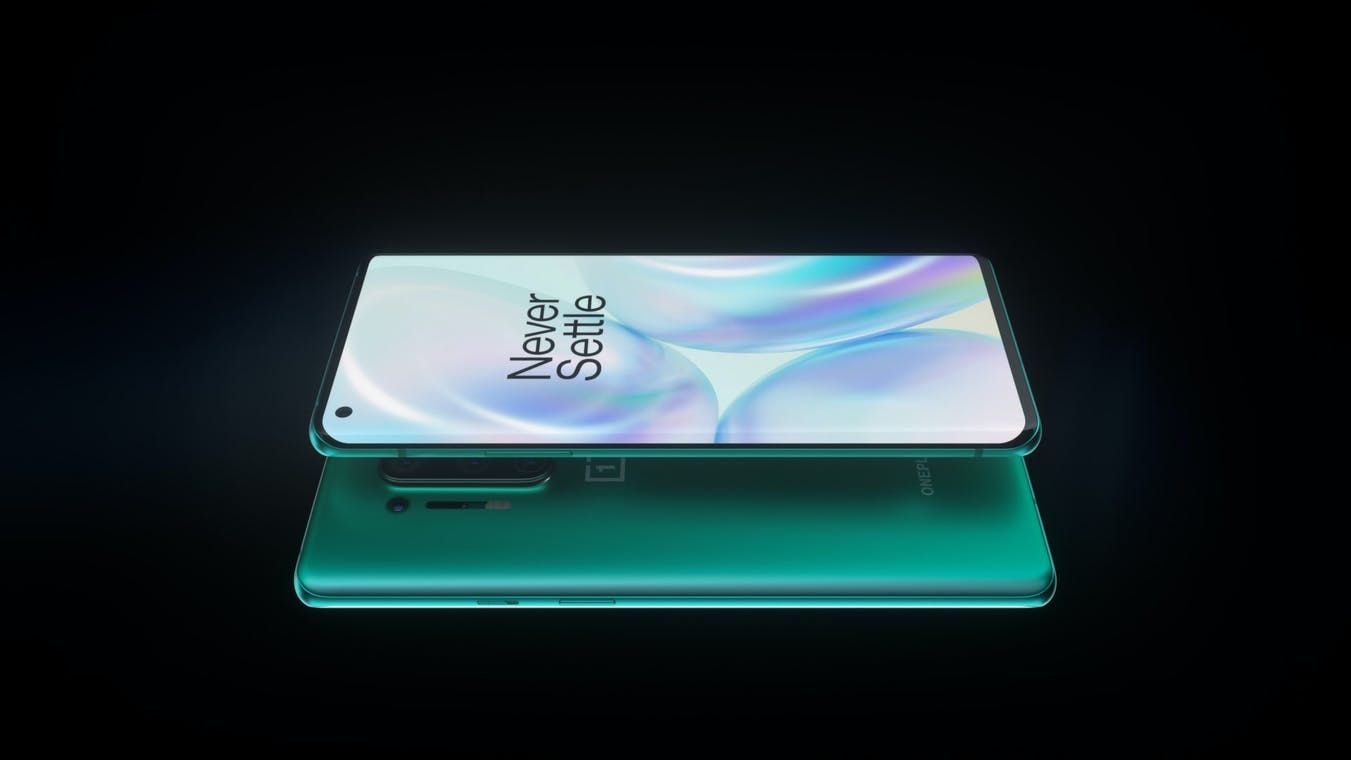 OnePlus' new flagship series, with a seriously fast and stunningly-detailed display with the new Qualcomm® Snapdragon™ 865.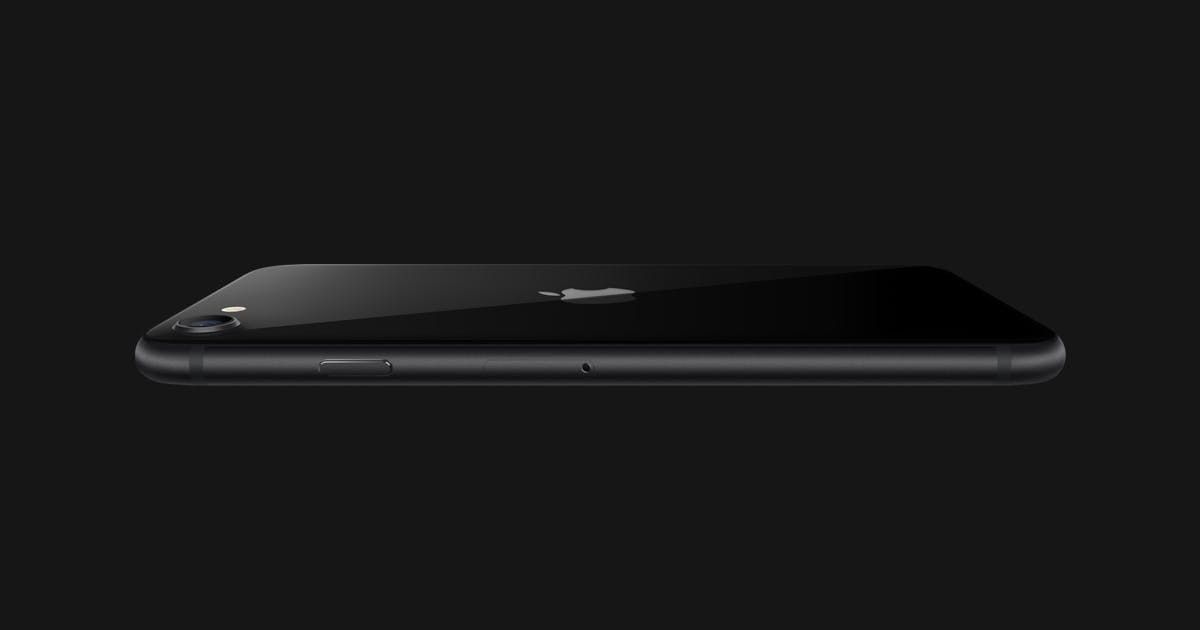 Black. White. Or red. In a small 4.7" design. With studio-quality portraits. Sharp 4K video. Long battery life. A13 Bionic – the fastest chip in a smartphone. And the security of Touch ID, with privacy built-in. iPhone SE. Lots to love. And less to spend.
---
Useful Resource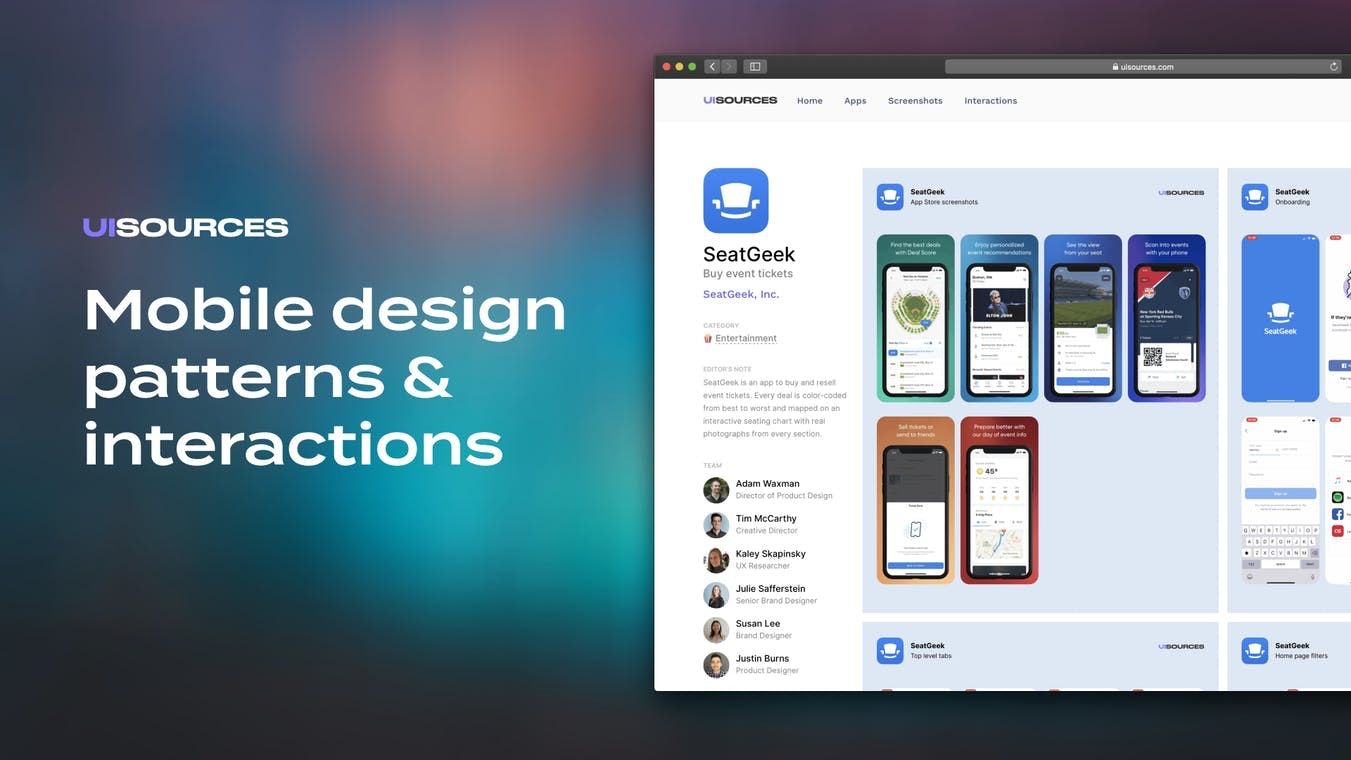 UI Sources is one of the largest repositories of mobile design patterns, screenshots, and micro-interactions. Built for designers, product managers, and CEOs to reduce iteration cycles, gain insights, identify trends & benchmark against competitors.
---
Mental Wealth
➢ How to Start an Ambitious Personal Project– Ask yourself: what are my motivations? To be sustainable, a personal project typically demands a high level of both excitement and interest. It's critical for this to extend to the process, not just the end result. Having published two books, the artist and writer Emily Spivack is frequently approached by people who want advice on crafting a book proposal or finding an agent. Her standard response: "Have you spent time with the project?" Writing a book is rarely a fast or lucrative proposition (characteristics that apply to a wide variety of creative endeavors). Without genuine interest, it's unlikely that the process will be sustainable, much less enjoyable—the satisfaction of an amorphous end result is not enough. "You have to really love it and be ready to spend a ton of time with it," she says.
➢ Design Thinking & Understanding the Product Design Process – Product design is more than just a single process. It is a flow of processes starting from the identification of the market opportunity to a clear definition of the problem and the design of possible solutions to address identified problems. However, for product designers, it is essential to understand that the concept of design thinking forms the very basis of the design process. It encapsulates all the methods and ideas used in human-centered design in just one concept. Fundamentally, design thinking aims to optimize the available resources from the designer's toolkit to address the existing need. One of the things that have helped great product designers is their ability to apply design thinking in the product design process. Design thinking helps focus on end-to-end product development rather than just the design phase.
➢ How to be helpful – "Be useful." As I've said many times here, I live by this rule. It's what inspires my product, my work, and my life day-to-day. Admittedly, it can take effort. Looking out for myself and my own time comes more naturally than going out of my way for others. And despite my best intentions, the efforts I do make aren't always as helpful as I imagine they will be. Through it, I've learned what works and doesn't work when I'm trying to help others, no matter the context. Get to the point. Cut out the disclaimers, small talk, excuses, buzz words, or lengthy introductions. Help as soon as possible, as clearly as possible. Especially when it comes to emails, we tend to pad our messages with fluff. Rather than helping, this wastes your time and the receiver's time. Just give people the answer or the assistance they need from the start.
➢ Inclusive Design vs Accessible Design – What does someone who's hard of hearing, someone with a severe ear infection, and commuter on a packed subway who forgot their earphones have in common? They would all struggle to interact with audio content in a digital interface. There are two primary ways to approach design that can solve problems such as this: accessible design and inclusive design. Accessible design has guidelines in place to assist people who are hard of hearing. But UX designers following those guidelines may ignore a temporary disability (the ear infection) and would likely never consider the commuter in their design process. On the other hand, inclusive design looks at the diversity of experience that may exclude a person from using an interface effectively. In fact, they may start with the commuter, and then consider the other types of people who could benefit from the same solutions. In the case of audio content, that may be subtitles or a transcript of the audio content.
---
Typeface of the week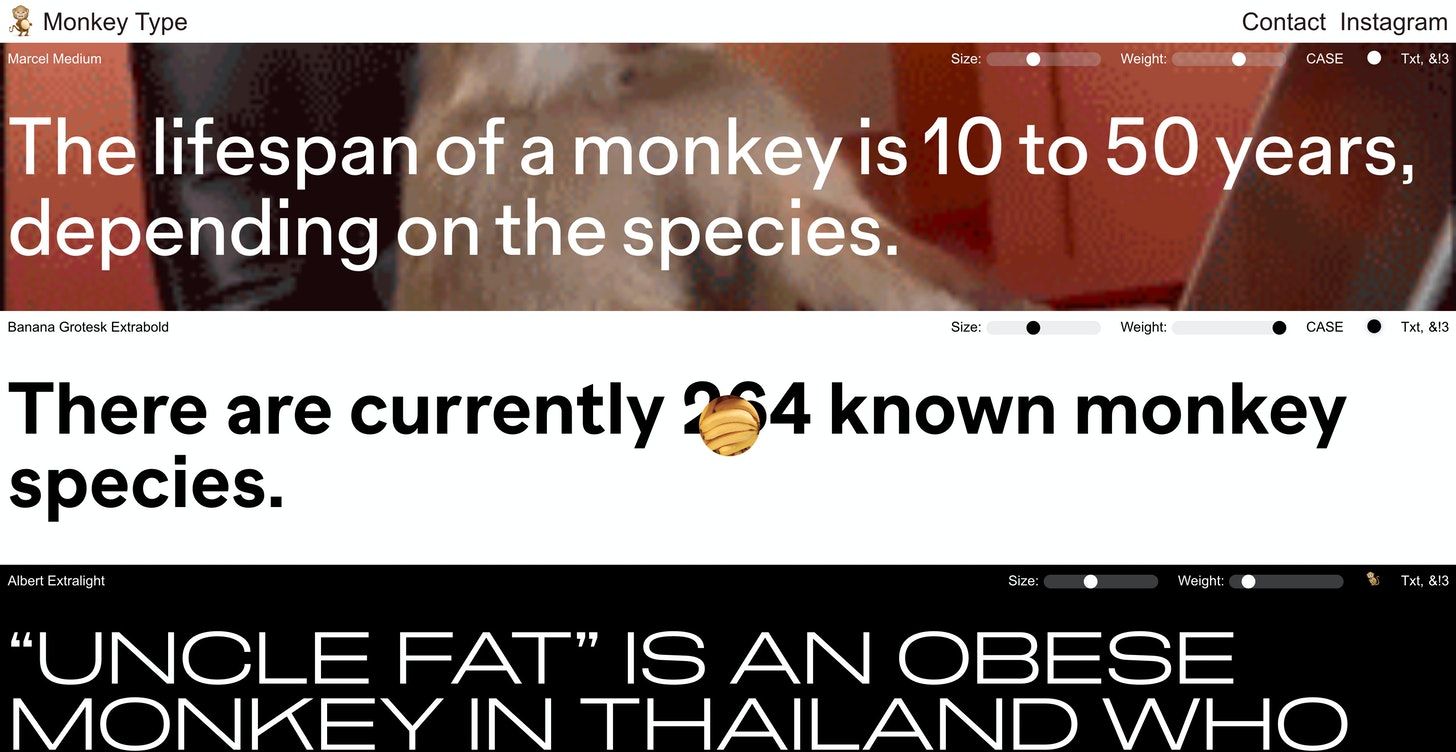 Banana Grotesk is a sans-serif typeface published in 2018 through Monkey Type, a mysterious type foundry made up of a group of anonymous designers. The design was based on an attempt to draw Akzidenz Grotesk from memory alone, combined with influences from Gill Facia. The family is available in eight weights but without italics.
---
Twitter thoughts
---
Till next time! 👋

Support: You have a friend who is looking for inspiration, news about design, and useful tools and apps? Forward this newsletter to a friend or simply share this issue and show some support. You can also show some love by simply clicking the button down below and keep this newsletter a sustainable side-project by buying me a coffee. ☕️ 🥰
---