Newsletter
How to stop procrastinating & How Outsiders Become Game Changers
In this week's issue of Creativerly: A privacy-first, open-source knowledge base tool, the cloud storage and platform for creative people, the newsletter operating system, and a lot more.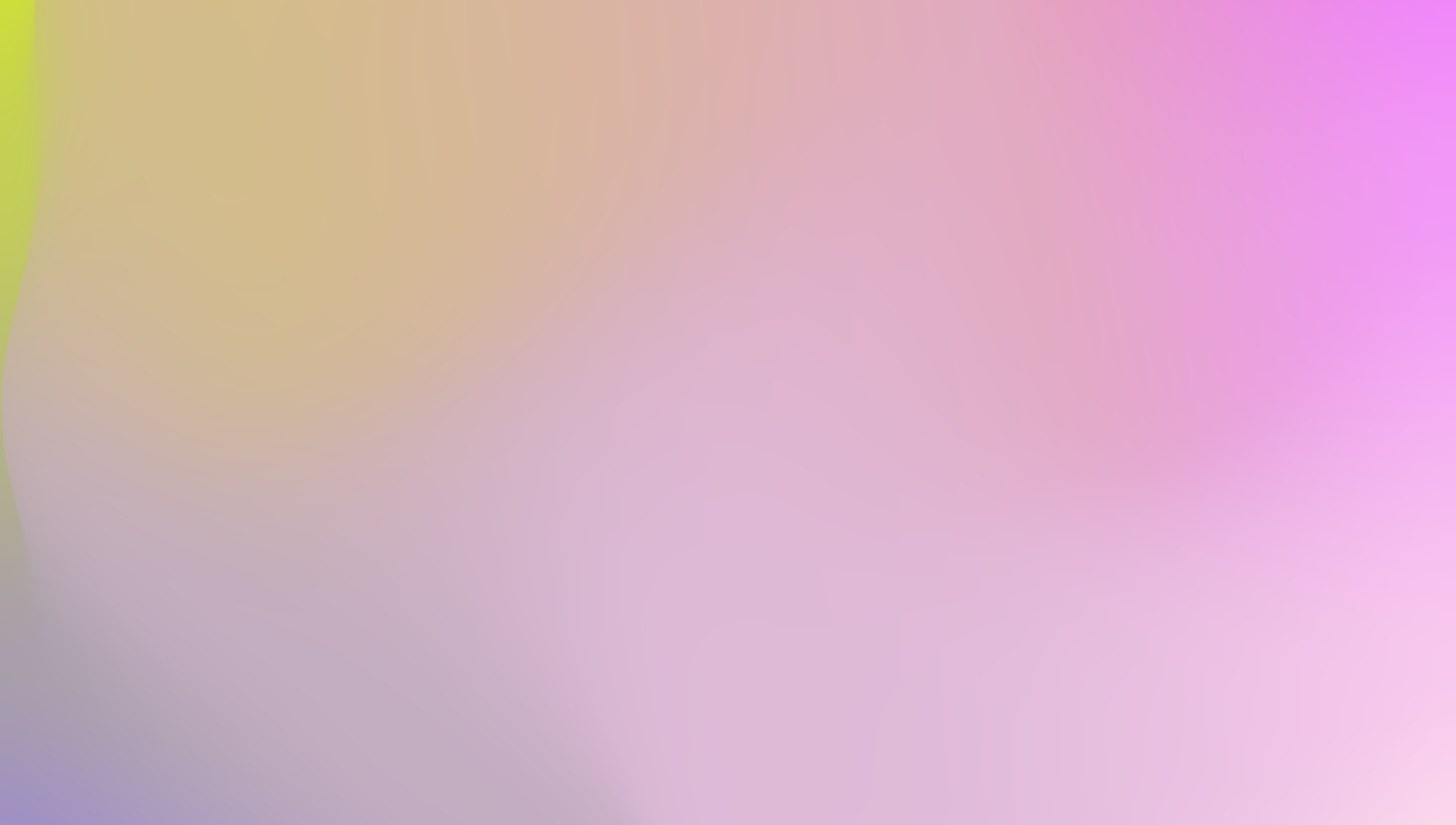 You are reading Creativerly, the weekly digest about creativity and productivity-boosting tools and resources, combined with useful insights, articles, and findings from the fields of design and tech. The newsletter built for the creative community.
---
Hey and welcome to issue 130 👋
The space of knowledge base tools is constantly growing, loads of new tools are launching, and already established ones keep getting bigger and bigger. I am writing, building, and growing my personal knowledge base for quite some time now. Everything started within Notion, where I basically just kept notes about the articles and books I have read, the podcasts I listened to, and the thoughts that came to my head. But then I got introduced to Roam and the one feature that basically changed the way I am taking notes, and that feature is called bi-directional linking, or backlinking. For the longest time, we were used to "mono-directional linking" as this is basically how the world wide web functions. You visit a site, you clicked on a link beforehand to land on that site, then you click another link on that site and somehow you land on another site, but forget how you initially came to this point where you are currently at.
A bi-directional link creates two connections. It gives us the power to connect our notes, to connect our thoughts, and ultimately it gives us a way to navigate through our thoughts. It is a beautiful way to take notes, create hierarchies, and dependencies. For me personally, it is always a pure joy when I take some notes on a recent article I read, create some links, and then realize I already linked to a certain topic. If that is the case, I start exploring my thoughts and especially my thought process by browsing through my backlinks, and ultimately browsing through my personal knowledge base. This process always sparks new thoughts which lead to more thoughts, more notes, more ideas, more blog posts, more projects, and so on.
While this process works for me, it is likely not working for everybody. We all take notes and capture thoughts differently. It does not matter which technique or which tool you use. For me personally, the most important part while taking notes and capturing thoughts is the fact that I am able to connect the dots, and once that is done I want to be sure to rediscover them in some way. Bi-directional linking is exactly the feature that allows me to do that.
I am currently testing out a new tool regarding taking notes and capturing my thoughts, read more about that down below.
If you have recommendations or feedback, drop me an email or a tweet. For now, enjoy the newsletter!  🥰
---
Apps, Software, Tools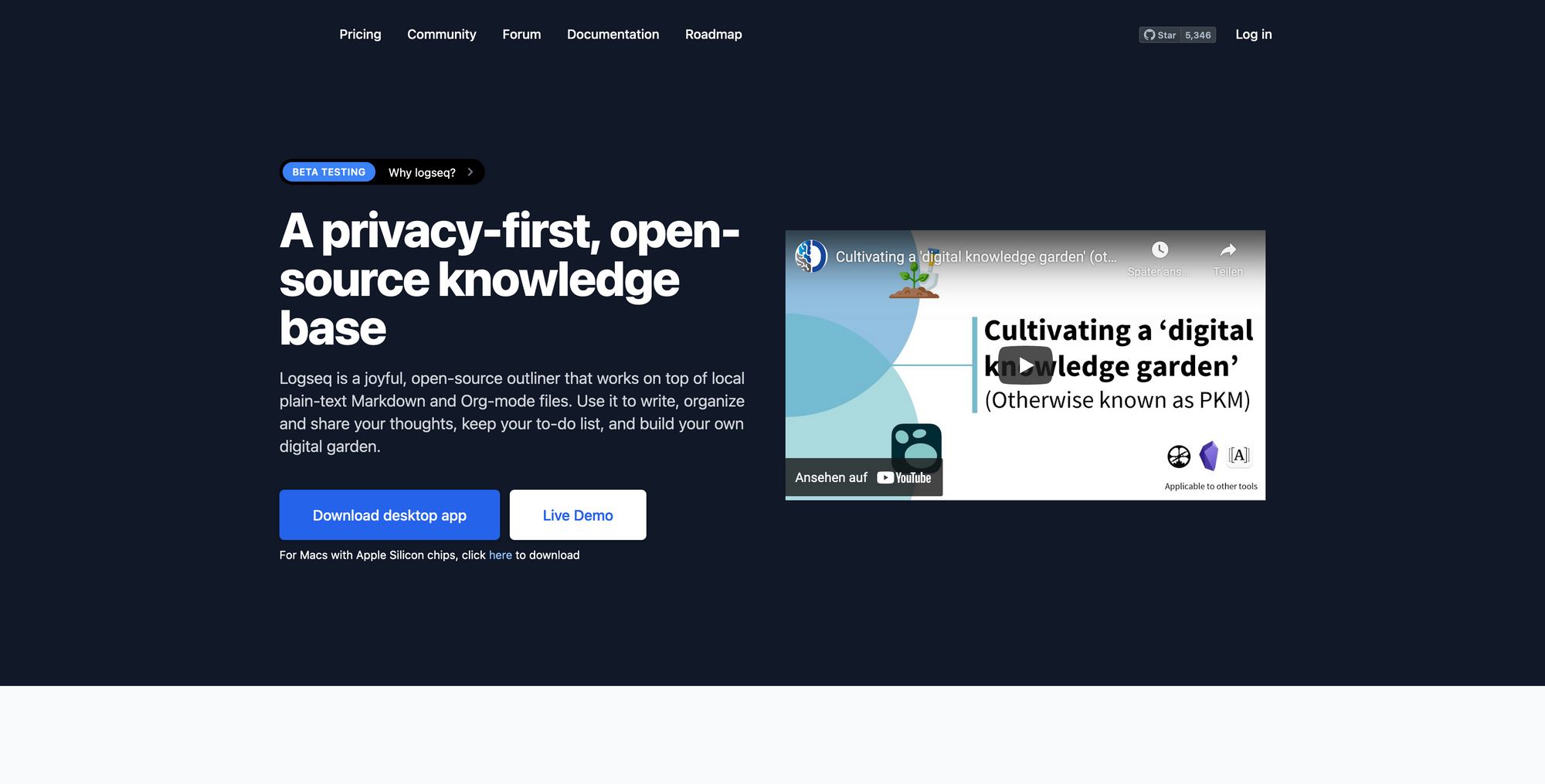 Over the last couple of years, the space of personal knowledge base tools has been incredibly interesting for me. A lot of tools launched in that space recently, and Logseq is the one I am currently trying out. I got super excited when I got the chance to try out Roam early on. It was the first time I used a tool that offered daily notes. I used to do bullet journaling every single day, so daily notes felt familiar for me, but I never took them digitally.
After Roam quickly introduced their pricing model, I got dragged away because they were asking $15 per month for a tool that felt like an early beta, just a web app, no native mobile or desktop apps. Also, there were some privacy issues, and ultimately the founder's behavior online was unacceptable. Therefore, I am super excited to Logseq a try. Logseq is a privacy-first, open-source, knowledge base tool. What I really love about Logseq (and that is also the reason why I love Workflowy so much) they are using the so-called outliner approach when it comes to note-taking. So, every single note you take is a node or a bullet point that can be indent or outdent. That makes it super easy to quickly jot down notes and thoughts, and create a specific structure, hierarchies, and dependencies.
Logseq is based on local plain-text Markdown and Org-mode files, which means your files and your data are yours, forever. As a knowledge base tool, Logseq of course features the ability to add backlinks to your notes. Because Logseq is Markdown-based you can also use it to jot down and keep track of to-dos.  
For now, I will probably use both Logseq and Obsidian. I connected them both to the same vault, so I can use Logseq for daily notes and task management, and whenever I want to long-form writing and research I head over to Obsidian, and I have to say, I really like that workflow right now. I will keep you updated about my experience with Logseq.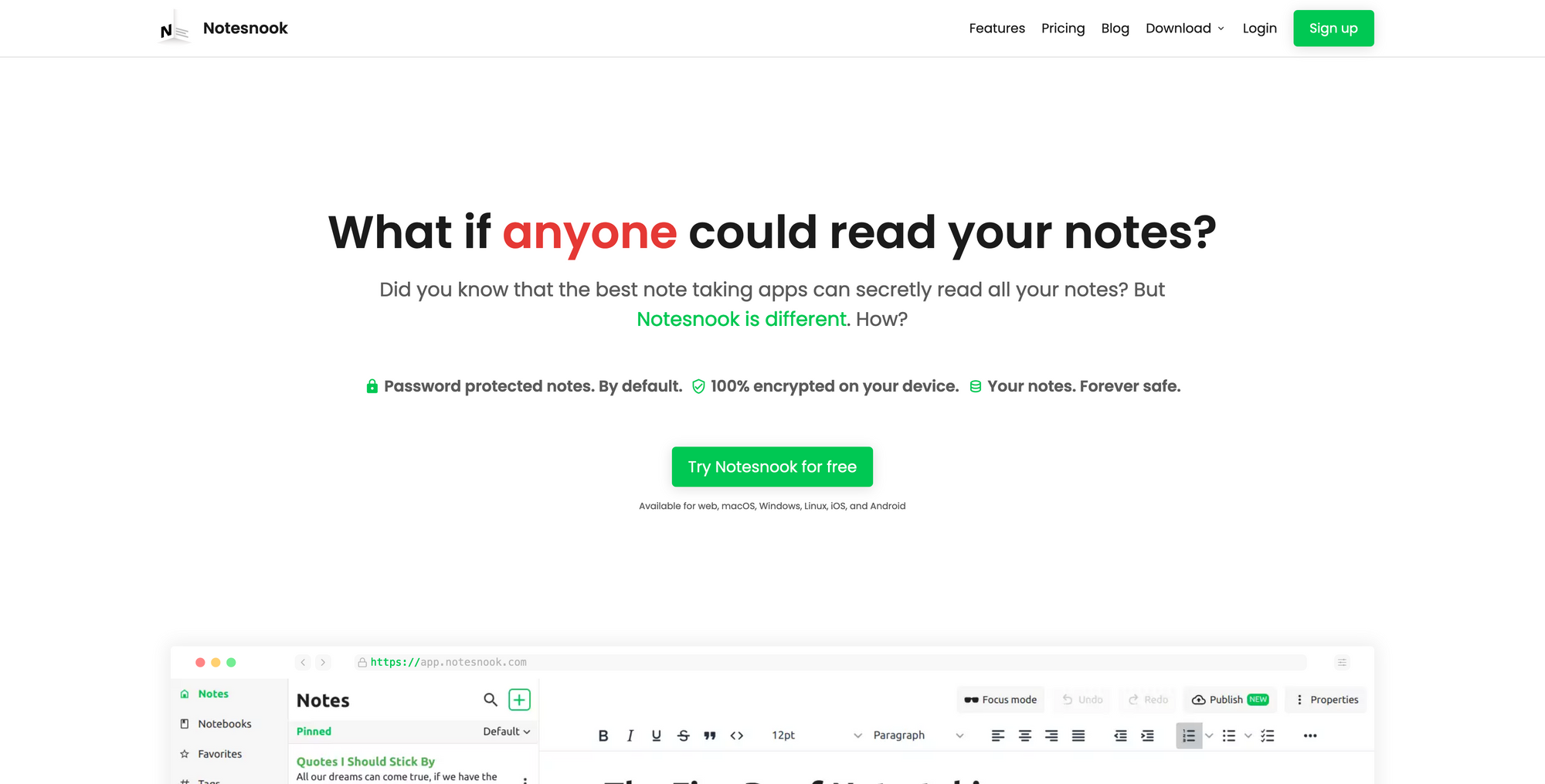 Notesnook is one of the most secure note-taking apps currently available. All notes are 100% encrypted on your device, and there are password-protected by default, so you can be sure that your notes and your data are yours forever. Notesnook features end-to-end encryption which means they can not sell your data. There is no tracking, no ads, no data mining, whatsoever.
Notesnook is truly designed to be a secure and private place for your notes. Also, it does not matter if you use the free or paid plan of Notesnook, there is no price on privacy, privacy is your right, and therefore you will get all the privacy features, no matter if you are paying for the tool or not. Besides all the amazing privacy features, you can also seamlessly sync all your notes to unlimited devices, work offline, write better, faster, and smarter.
Within Notesnook organization is flexible, which means you organize all your notes to remember and not to put them away. To organize all your notes you can either use folders, tags, favorites, colors, or everything together to structure your notes even more. Notesnook also features a powerful text editor that gives you all the tools to create beautiful notes. Notesnook gives you a variety of options to import all your existing notes to Notesnook. No matter if you already use Bear, Evernote, Joplin, Simplenote, or if you took your notes using .txt or .md files, Notesnook universal importing options got you covered.
Additionally, Notesnook is a true cross-platform tool, which means there are apps for macOS, Windows, Linux, iOS, Android, and extensions for all major browsers. Full support for privacy, awesome features, great design, available on every single platform, what more could you ask for?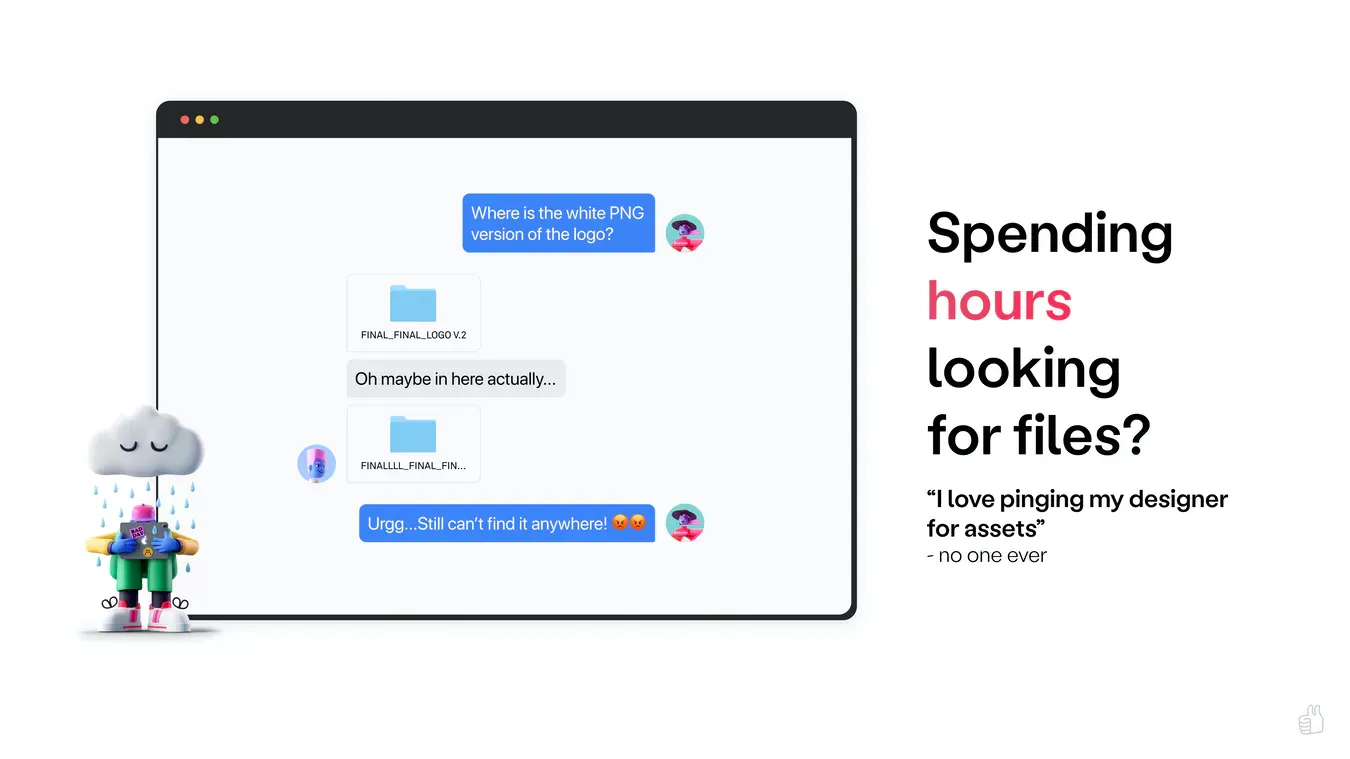 Playbook is a tool that makes your cloud storage beautiful. If you are relying on cloud storage for your personal projects or at work, Playbook could be a great tool for you to organize all your files. Playbook features unique ways to declutter, auto-tag, and intelligently organize all your creative work. Think of Playbook as the cloud storage and platform for creative people.
Playbook gives you the power to find the files you are looking for 10x faster, thanks to their visual file manager. On top of that, Playbook is ready for your collaboration work since you can comment, mention your colleagues, and discuss right within Playbook. Besides that, all your files will get present beautifully. Therefore, Playbook is a lovely tool to seamlessly browse, collaborate on, and share what you need with friends, colleagues, clients—or the whole world.
Currently, you can only sign up for the waitlist to get early access to the free plan which will give you 100GB of storage or you can also sign up to get an invite to the Pro plan which will give you 4TB of storage, which is insane. On top of that, every plan includes support for all file types and real-time collaboration and commenting.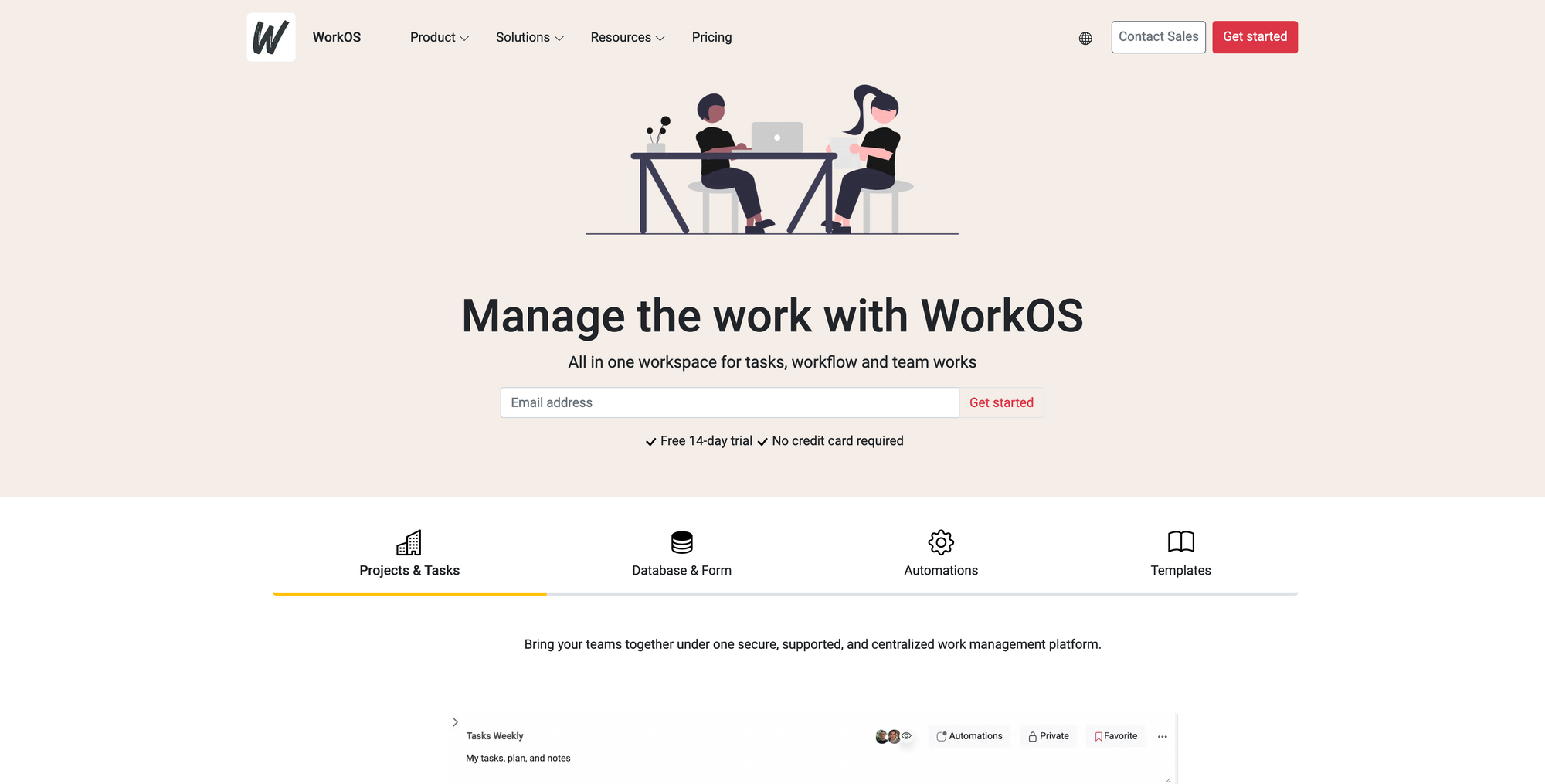 WorkOS is an all-in-one workspace to bring together all your tasks, workflows, and team works. You can think of WorkOS like the one secure, supported, and centralized work management platform where all your work, projects, and ultimately your team comes together. But WorkOS isn't only a great tool if you want to manage a lot of different projects and the associated tasks within one place, WorkOS also features the possibility to view your input data as a form, map, timeline, and more.
To ultimately boost your productivity, WorkOS offers workflows and automation, so you can automate the repetitive work in seconds so you can avoid human error and focus on what matters. To get you started even faster, there is no need to look at a blank page as WorkOS has built-in templates. While some people enjoy using different tools for different use cases, there are also quite a lot of people who prefer to keep everything nice and organized within one single tool.
There are indeed advantages and disadvantages to both. A huge advantage of a bundled tool just like WorkOS is the fact that you do not need to switch between different tools during your work, this could result in better efficiency and ultimately in greater productivity. No matter if you want to collaborate and organize campaigns, keep track of all your open tasks, or plan and track any project from start to finish, all in one place, WorkOS got you covered.
---
Useful Resource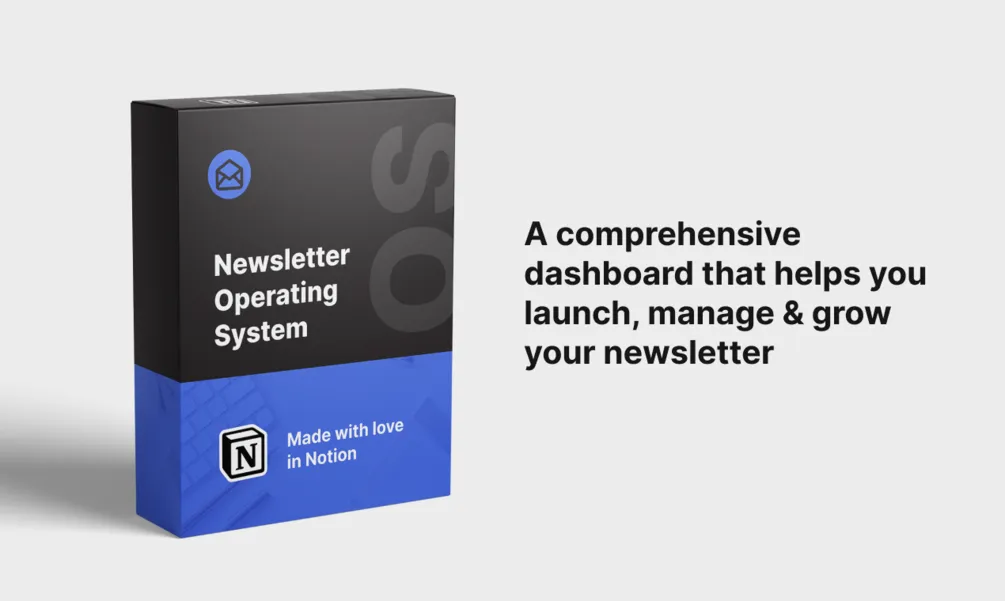 Since there are a lot of new people who joined Creativerly recently, I thought I reshare a resource that I absolutely love once again. If you are a newsletter creator yourself, Newsletter OS by Janel (who is writing and curating BrainPint) is the one and only product you need to boost your productivity and workflow. Newsletter OS is a super useful Notion Dashboard that will help you to curate, write, and grow your newsletter. Why do I love this so much? Well, in the first place I always love to see when Creators help out creators by launching such useful products. On top of that, Janel put 150+ hours and all her expertise into this resource! Here is what you will get with Newsletter OS: 120+ Tools To Help You Write & Grow Your Newsletter, Growth & Distribution Tips, 20+ Ideas on how to monetize, and a lot more.
Newsletter OS will cost you $49 (which is a great price and a great investment) but Janel was so kind to provide all Creativerly readers with a special discount. Just use the code "creativerly" at checkout which will give you $7 off your purchase. You can also use this link which will take you directly to Newsletter OS with the discount already applied. Do not miss out on this great offer.
---
Mental Wealth
➢ How Outsiders Become Game Changers – "Every once in a while, an outsider comes along with a new vision or a new way of doing things that revolutionizes a scientific field, an industry, or a culture. Take the case of Katalin Karikó, who defied all odds to pioneer the mRNA technology that ultimately gave the world Covid-19 vaccines in record time. Daughter of a butcher and raised in a small adobe house in the former Eastern bloc with no running water or refrigerator, Karikó started working with RNA as a student in Hungary but moved to the United States in her late twenties. For decades, she faced rejection after rejection, the scorn of colleagues, and even the threat of deportation. Yet today, Karikó's foundational work on mRNA is at the heart of the vaccines developed by BioNTech/Pfizer and Moderna, and many researchers are now calling for Karikó to win the Nobel Prize."
➢ Is there a perfect productivity system? – "Every year, dozens of new productivity systems pop up, each of them promising a more efficient, better way to work. And, every day, people try one of these new systems in the hope of better managing their work as well as their mental health. Talk to any knowledge worker and they will have tried at least one of the most popular productivity methods out there — with or without success. The question is: is there really a perfect productivity system? Let's cut to the chase: there is no universally perfect productivity system. A system that works for a hyperactive young developer pursuing a degree on the side won't work for a director of operations with three kids. Someone working from home may need a different system than someone commuting to work. An early bird will have a different work schedule from a night owl. And that's alright."
➢ The Non-Obvious Creative Process – "Rohit Bhargava fascinated me when I first heard him speak about non-obvious trends on Pivot Podcast several years ago. The process he uses each year to determine the latest business trends has the rigor of true creative processes, like design thinking and creative problem-solving. Rohit's process is called the Haystack Method and it includes five steps. The Haystack Method: Gathering – Save interesting ideas. Aggregating – Curate information clusters. Elevating – Identify broader themes. Naming – Create elegant descriptions. Proving – Validate without bias. Many people believe that creativity is willy-nilly and chaotic. It's not, or, at least, it shouldn't be. Done right, creativity is an in-depth process that uses a full spectrum of thinking skills to arrive at unique, elegant, and useful solutions. I wrote about how the Haystack Method aligns with the universal creative process here."
➢ How to stop procrastinating – "At university, many people talk about their procrastination; they'll joke: 'Have you heard about the procrastination conference? It was postponed – again!' In academia and beyond, procrastination is usually seen as a bad habit that many wish they could break. Notwithstanding the jokes made about it, some people genuinely suffer with their procrastination and struggle to get their lives in order, falling prey to the problem over and over again. Procrastination can become a vicious cycle. Trying to achieve something and failing to act on your intentions can feel frustrating and depressing, and this can then lead to even more procrastination. Research on procrastination confirms that it's related to negative outcomes – people who are inclined to more procrastination tend to have lower life satisfaction, lower achievement and poorer health."
---
Appendix
➢ ICYMI
For those of you that are new here, I created a database that currently gets filled with every single tool, software, resource, and article I have shared within Creativerly. I updated the database over the last few days with some new entries, so make sure to check it out. This is a subscriber-only feature, so all you have to do is log into your account and head over to Creativerly's database.
➢ Quick Bits
How Figma Became Design's Hottest Startup, Valued At $10 Billion / Google will let minors request to have their pictures removed from image search / Norton and Avast are merging into an $8 billion antivirus empire / Here's why Apple's new child safety features are so controversial / Apple details the ways its CSAM detection system is designed to prevent misuse / Hacker is returning $600M in crypto, claiming theft was just "for fun"
---
Twitter thoughts
---
Till next time! 👋‌‌‌‌
Support: Do you have a friend who is looking for inspiration, news about design, and useful tools and apps? Forward this newsletter to a friend or simply share this issue and show some support. You can also show some love by simply clicking the button down below and keep this newsletter a sustainable side-project by buying me a coffee. ☕️ 🥰
---
Some of the links in my newsletter and my blog posts are affiliate links. Those links are marked by an asterisk "*". If you buy something through the link, the product will not cost you anything more, but I will receive a small commission which not only supports Creativerly and my work but also helps me to keep this publication a sustainable side-project.