Newsletter
Intelligent vs Smart & Plain text todo lists
Building your digital garden, acreom's new light theme, WordPress introduced the 100-Year plan, what AI teaches us about good writing, and a lot more in this week's issue of Creativerly.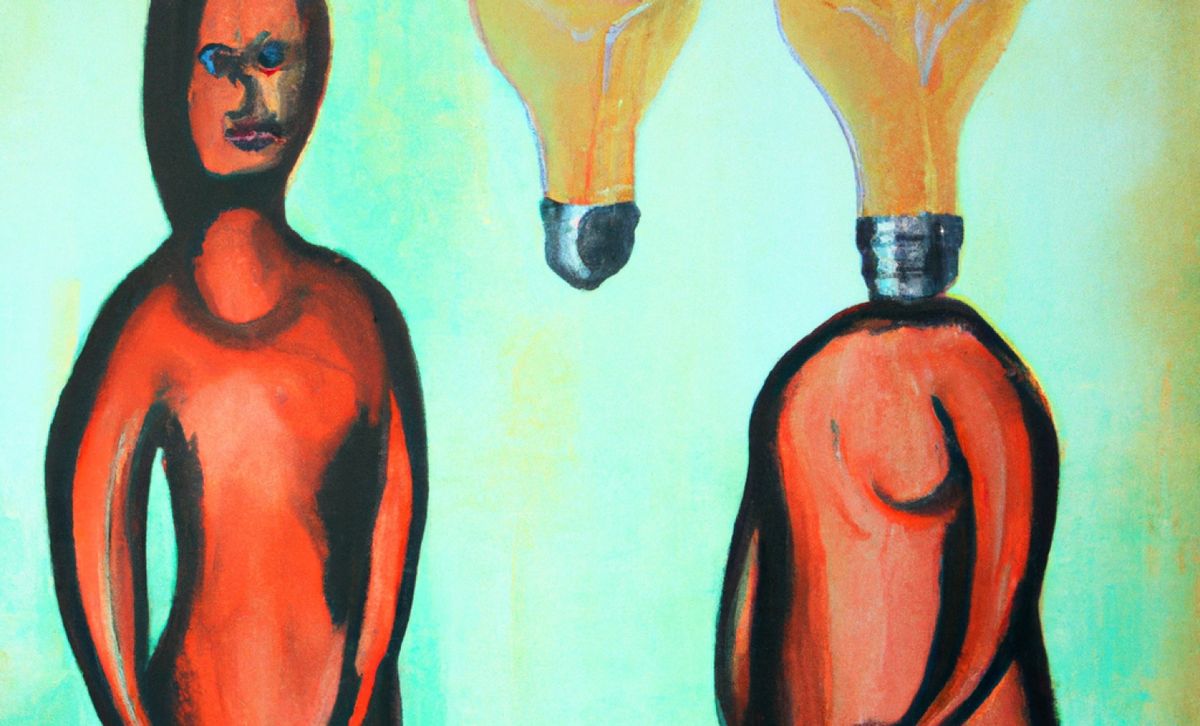 My name is Philipp and you are reading Creativerly, the weekly digest about creativity and productivity-boosting tools and resources, combined with useful insights, articles, and findings from the fields of design and tech. The newsletter built for the creative community.
---
Hey and welcome to Creativerly 237 👋
I recently started working on my personal website again. While designers are often joking around that it is the most tedious task to work on your own personal website or portfolio, I felt pure joy designing the newest iteration of mine. Maybe the reason for that is the fact that it has been a couple of years since I worked on it for the last time. Another reason might that I get to learn a tool while building the next iteration of my personal website. I decided to give Framer a try. Framer became one of the most-hyped design tools as of recently. Just after using it for a couple of hours, I can confirm that the hype is real. It feels magical being able to actually design a website and publishing your design right away.
There is a still a learning curve, but I would say that its not as steep as Webflow's, which has been the rising star within the field of web design, until now, since Framer is evolving fast, shipping regularly, and an increasing number of people decide to build their personal websites, landing pages, blogs, and more with Framer.
I am still in an early stage of the new iteration of my personal website. I have a couple ideas I would like to build and it feels incredibly refreshing to do within Framer, learn the app, and seeing everything coming together. While spending some time within Framer's community it is also motivating to see what other folks are building and have already built with Framer. It is an incredibly powerful tool that opens up a so many opportunities.
I will keep you posted about my experiences with Framer, and obviously I will share my personal website with you once I am done.
---
Apps, Software, Tools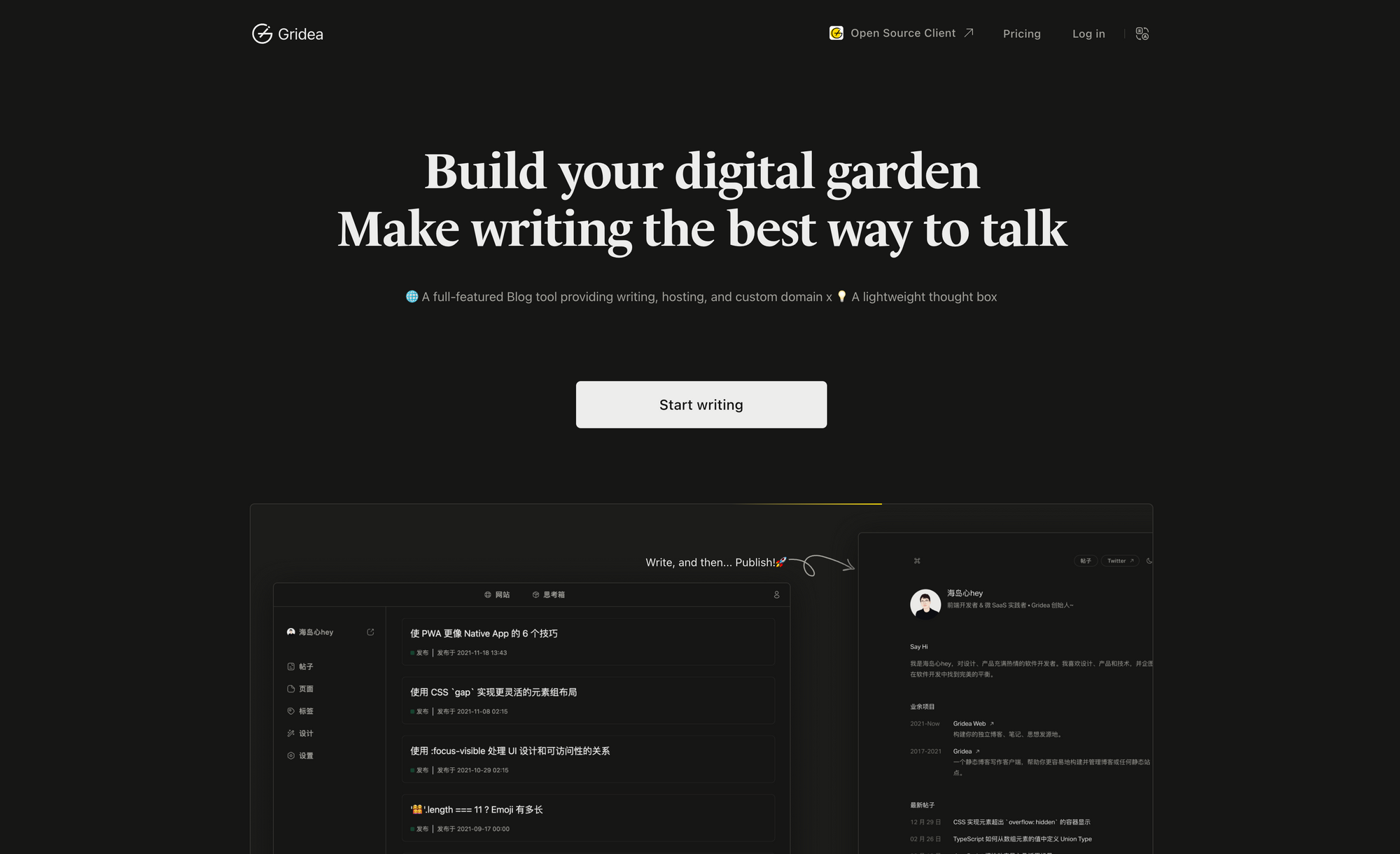 With the rise of personal knowledge management apps over the course of the last couple of years, there is a term that became equally popular, which is "Digital Garden". Andy Matuschak's Evergreen notes became a model for loads of people. When we talk about Evergreen notes, we mean notes that are written and organized to evolve, contribute, and accumulate over time, across projects. An increasing number of people wanted to curate their own little space on the internet, and set up a digital garden for their thoughts, ideas, and collections of knowledge. Anne-Laure Le Cunff, founder of Ness Labs, set up a guide on how to set up your own digital garden. The guide introduced different options to create and set up a digital garden, e.g. you could use Obsidian Publish, create a public Roam database, Notion, or TiddlyWiki. If you want more options to customise your digital garden, it would involve additional technical skills to leverage Jekyll, Eleventy, or Gatsby to build the digital garden you are dreaming of.
Gridea is a tool that claims to make the set up of your digital garden as streamlined as possible. Gridea is a full-featured blog tool providing a platform to write and host your thoughts on your own custom domain. One of the lovely advantages and features of Gridea is that the app has been optimized for mobile use too, which means you can write, edit, and publish with ease, no matter where you are. You can also be sure that your writings will be secure and your digital garden accessible and fast, since Gridea uses Vercel's edge network and Supabase's data storage, ensuring your website is safe, reliable, and fast.
By adding custom code, you have the possibility to make your website unique and customize your homepage. With just a few clicks, you can add your own custom domain to Gridea. Thanks to a beautiful interface and markdown support, you can focus on content and do not have to worry about formatting. Gridea offers a great out-of-the-box experience to get your writings online, and publish a blog and a digital garden. With additional features like a built-in search, tags to structure your writings, RSS, dark mode, and image hosting, Gridea offers a lovely experience. With a dedicated feature like the Thought box, Gridea even offers you a space to store your fleeting thoughts which could lead to new writings, ideas, or even more thoughts that you can then publish to your digital garden.
I have the feeling that the term "digital garden" is a bit misleading for Gridea. From my point of view, Gridea is a simple blogging platform that allows you to set up a blog quick and easy. A tool that claims to give users the possibility to create a digital garden should expand a bit on the features that are needed to do so. The idea of a digital garden is create and publish connected thoughts and notes, which involves features like backlinks so visitors can actually explore the topics you are writing and thinking about. It does not seem like Gridea is offering anything in that direction, which gives me the impression that a tool like Obsidian Publish might be the better call if you want to publish your thoughts and ideas within a public digital garden. Nevertheless, Gridea is a relatively new tool, which means it will probably evolve and introduce new features soon.
Gridea costs $10 per year and offers secure professional cloud hosting, SSL, up to three websites, custom domain support, unlimited image uploads, unlimited posts, unlimited pages, unlimited thought boxes, and additional features that are coming in the future.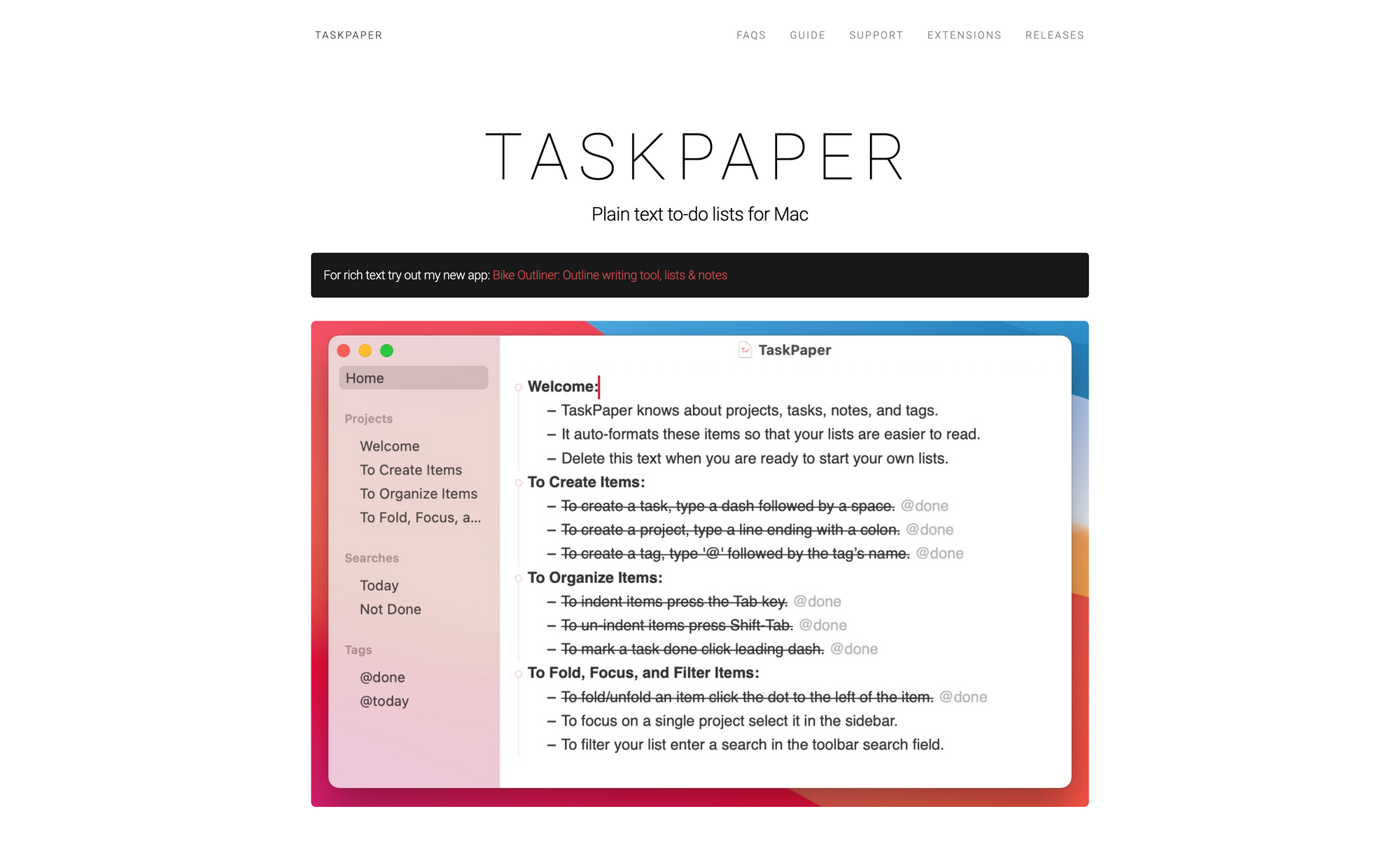 In case you are a fan of simple and minimal todo lists, you should check out TaskPaper. TaskPaper is a plain text todo list for macOS. While TaskPaper feels like a plain text editor, it is actually backed by a powerful outliner. TaskPaper is created by Jesse Grosjean, who is the founder and developer of Hog Bay Software.
Create and type your lists into TaskPaper with ease. Each line that you type is formatted into a project, task, or note. Thanks to the outliner approach that TaskPaper is using, you can fold, focus, and filter to cut big lists down to size. With saved searches you have the power to quickly filter the items in your lists and blaze through your action points. Using a tool like TaskPaper reminds you of the fact that there are multiple apps out there which are bloated and over engineered. TaskPaper has limited features, but everything it does simply works as you would expect it.
Since TaskPaper is based on an outliner, creating tasks and managing them is incredible fast. You can even use dates o schedule tasks and add more context to them. Additionally, TaskPaper features tags, which give you even more possibilities to not only structure and organize your tasks but also quickly find the ones you are looking for and planning to work on next. It is an incredible streamlined workflow. Another advantage of TaskPaper is that it does not force a particular system on you. The basic list elements that you can create within the app can be used to fit your workflows. With scrips and themes you can even go beyond that.
Besides that, TaskPaper files are future proof. Since those files are plain text files, you can edit them in any text editor or use one of the many TaskPaper compatible apps created by other developers. With TaskPaper you can not only organize your projects, fold, focus, and filter to make big lists small, you can also drag and drop to organize your lists, manage dates and times, import and export with Apple's Reminders app, use LESS/CSS powered stylesheets for theming, and extensive Javascript API for scripting.
TaskPaper is available for macOS. It will cost you $29.99. If you have an active Setapp* subscription, you can download and install TaskPaper right away.
---

I have been a
Setapp
user for years and it is one of those subscriptions I do not want to miss anymore. With Setapp you get access to over 240 first-class apps, but you need a single subscription. It is worth checking out if and how many of the apps you use regularly on macOS or iOS are available within Setapp, since there is the opportunity to save a lot of money.
My personal Setapp highlights are Craft (the Pro Plan would cost you $5 per month), CleanMyMac X (which costs $40 per year), Elephas (again, $5 per month), Ulysses (another $40 per year), NotePlan (which adds $99.99 per year to the bill), and Paste (which usually costs you $14.99 per year). As access to all of those apps wouldn't be already awesome, Setapp continuously adds new apps to its subscription.
No matter if you want to save money on all the apps you are using on a daily basis or if you just want to have access to a growing library of incredibly powerful apps, Setapp is the one subscription to check out. Pricing starts at $9.99 per month for one Mac.
This is an affiliate link to support Creativerly. If you are interested in putting your tool, product, or resource in front of over 2000 creative minds, consider advertising in Creativerly and book a sponsor or classified ad spot. Find all the important information at creativerly.com/advertise.
---
Fresh Updates & News
With the newest update, acreom shipped a new light mode, which was long-awaited from the community. Pro users have the possibility to choose between different accent colors to personalize the look of the app.
Besides that, acreom introduced Xray, a new personal assistant which you can ask queries about your knowledge base in your natural language. Xray uses OpenAI's API to access GPT and therefore it only works with acreom's cloud vaults. Nevertheless, a locally self-hosted LLM will be available soon.
The latest releases and improvements from Skiff include the possibility to filter your emails based on subject and body content. All filtering within Skiff Mail happens client-side, which means your emails stay private. Additionally, the upload experience of Skiff Drive has been improved, by giving the user the options to retry, cancel, and see progress indicators, as well as better performance, and the possibility to switch your files privately in no time. Besides that, Skiff Pages has also received an update. You can now upload, download, and preview full files inside Skiff Pages. From PDFs and spreadsheets to images and audio, Skiff Pages are now even more powerful and flexible.
Recently, WordPress introduced the so-called 100-Year Plan, a plan that ensures that your stories, achievements, and memories are preserved for 100 years. The plan will cost you $38,000. Yes, you read that right, $38,000 for keeping your content preserved for the next 100 years. The 100-Year Plan gives you an opportunity to secure your domain for a full century. At the platform level, WordPress maintains multiple backups of your content across geographically distributed data centers, automatically submit your site to the Internet Archive if it's public, and will provide an optional locked mode. Besides that, it will give you access to the very best managed WordPress experience with unmetered bandwidth, best-in-class speed, and unstoppable security bundled in one convenient package.
The newest Reflect update leverages the its AI integration even more. Using backlinks when taking notes is a powerful way to organize your information, but at the same time it is quite a manual process that involves a lot of typing. Therefore, Reflect released an update that lets you select a paragraph of text and automatically add backlinks. AI will analyze the selected paragraph and add backlinks to it. This is an incredible powerful update, that will not only save you some time since you do not have to type that much, but it will also help you build up your knowledge base effortlessly.
---
Mental Wealth
❯ How to find product-market fit and the signs you've nailed it – 'Anyone building a startup needs to figure out if their idea has product-market fit — that is, you need to validate that there's a market for it and that people will pay for your product — before ploughing time and money into the company'
❯ What AI Teaches Us About Good Writing – 'As soon as I sit down to write, I feel compelled to scrub my bathtub and reorganize my filing cabinet — the most tedious chores suddenly become more appealing than the task at hand. Writing can feel so daunting that we've invented the term writer's block to describe the unique sensation of its challenge, and we debate whether the ability to write well is learned or simply innate.'
❯ Intelligent vs. Smart – 'Here's an important distinction to make in life. Some people are intelligent but don't have a lick of smarts. Their ability to succeed in the world might surprise you on the downside. Others lack intelligence but gush smarts. Their potential will surprise you on the upside.'
❯ The Most Misunderstood Concept in Psychology – 'Recently, I asked a group of adult children of immigrants from the former Soviet Union about attempts to enforce boundaries with their parents. (It's a group of which I am a member: class of '89, Leningrad to Texas.) Rarely have I received so many responses from sources so quickly.'
---
Do not miss out on this ...
❉ Sourcing the smartest articles on the Web - Thought provoking ideas and insights delivered straight to your inbox daily! Subscribe to The Smartr Daily for free.
❉ Think tasks, not apps. Setapp* is you one-stop subscription to solving every task on Mac and iPhone.
❉ Fathom is cookie-free, GDPR compliant, privacy-first website analytics software. Get $10 off your first invoice and a 7-day free trial when you use this link*.
These are paid promotions or affiliate links to support Creativerly. If you are interested in putting your tool, product, or resource in front of over 2000 creative minds, consider advertising in Creativerly and book a sponsor or classified ad spot. Find all the important information at creativerly.com/advertise.
---
Appendix
❯ ICYMI
I just launched ProductivePrivacy, the directory website that highlights privacy-focused, open-source, and end-to-end encrypted productivity apps. I built the site already some time ago, but now I gave it an update, added some more apps to it, created content around the topics of privacy and productivity apps, and added a casual newsletter to inform interested folks whenever I add additional apps, publish a new blog post, or find some interesting news to share.
❯ Quick Bits
---
Till next time! 👋‌‌‌‌
Support: Do you have a friend who is looking for inspiration, news about design, and useful tools and apps? Forward this newsletter to a friend or simply share this issue and show some support. You can also show some love by simply clicking the button down below and keep this newsletter a sustainable side-project by buying me a coffee. ☕️ 🥰
---
---
Some of the links in my newsletter and my blog posts are affiliate links. Those links are marked by an asterisk. If you buy something through the link, the product will not cost you anything more, but I will receive a small commission which not only supports Creativerly and my work but also helps me to keep this publication a sustainable side-project.
Creativerly is proudly published with Ghost*.