Newsletter
Is there a perfect productivity system & Every fricking character at your fingertips
In this week's issue of Creativerly: keep track of your notes, books, and meetings, making things obvious, the 5 most important links from the web, and a lot more.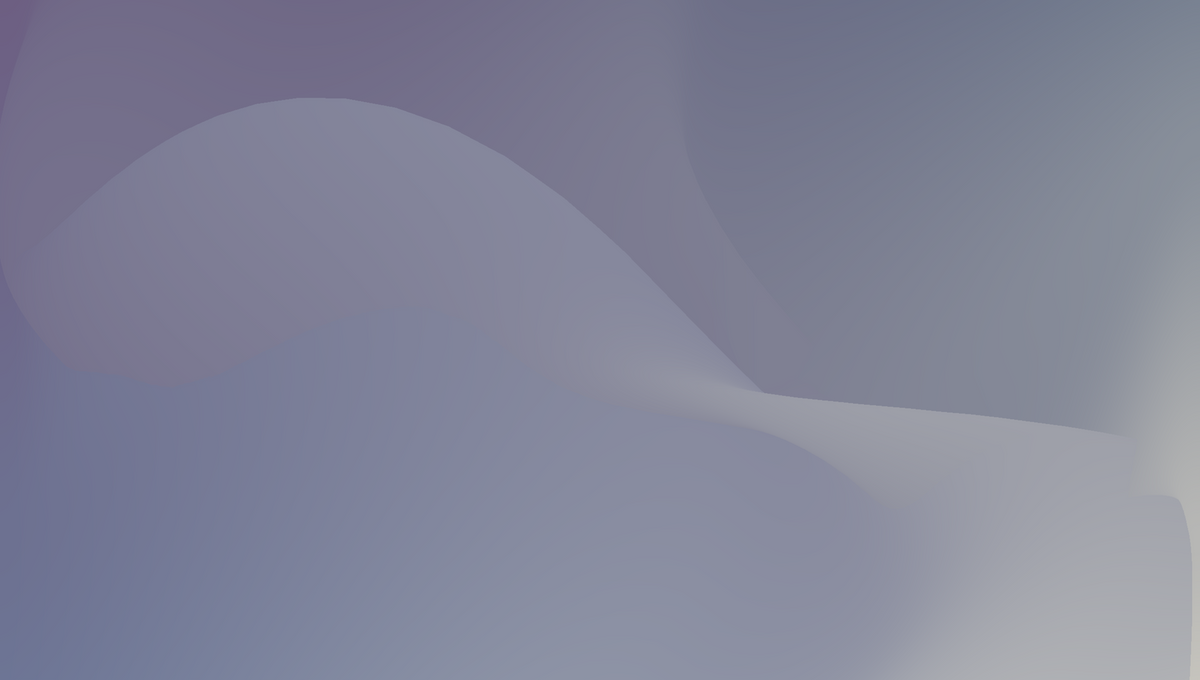 You are reading Creativerly, the weekly digest about creativity and productivity-boosting tools and resources, combined with useful insights, articles, and findings from the fields of design and tech. The newsletter built for the creative community.
---
Hey and welcome to issue 126 👋
If you are reading this issue of Creativerly on Sunday, July 18, it will be the last day of my vacation. I logged off the last week and enjoyed some time off with my friends and families. It was much needed. It reminded me once again how important it is to shut down your computer, put your phone away, and simply enjoy life with the people you love most. Not only is it important to log off and spend time with your family, but it is also super important to recharge and get back some energy.
Also, I need to take time off from working on my projects, to realize how much I love working on them. Looking back at 2 1/2 years of writing and curating Creativerly, there have been some days where I ran out of steam and had a hard time finishing up a new newsletter issue. And that is totally fine. Do not force yourself into something that you do not enjoy that much. Put that project on the side, work on something else, or log off completely, and come back to it whenever it feels right to you.
The beauty of working on side projects is the fact that you are creating your own schedule, you set your own deadlines, and you work on your own timeline. If you need some time off of a side project, just take it. If it does not feel right working a specific side project, put it on a side, maybe you come back to it, maybe not, both scenarios are completely fine. Do not hold on to something because you think you have to, because you simply do not have to. If you want to move on, work on something else, start a new side project, do so.
For me personally, Creativerly turned from a hobby into a side project, a passion, a routine, a habit, and simply something I love doing and creating every week. I love working on it, and I love evolving it. But if this wasn't the case, I would probably move on.
If you have recommendations or feedback, drop me an email or a tweet. For now, enjoy the newsletter!  🥰
---
Apps, Software, Tools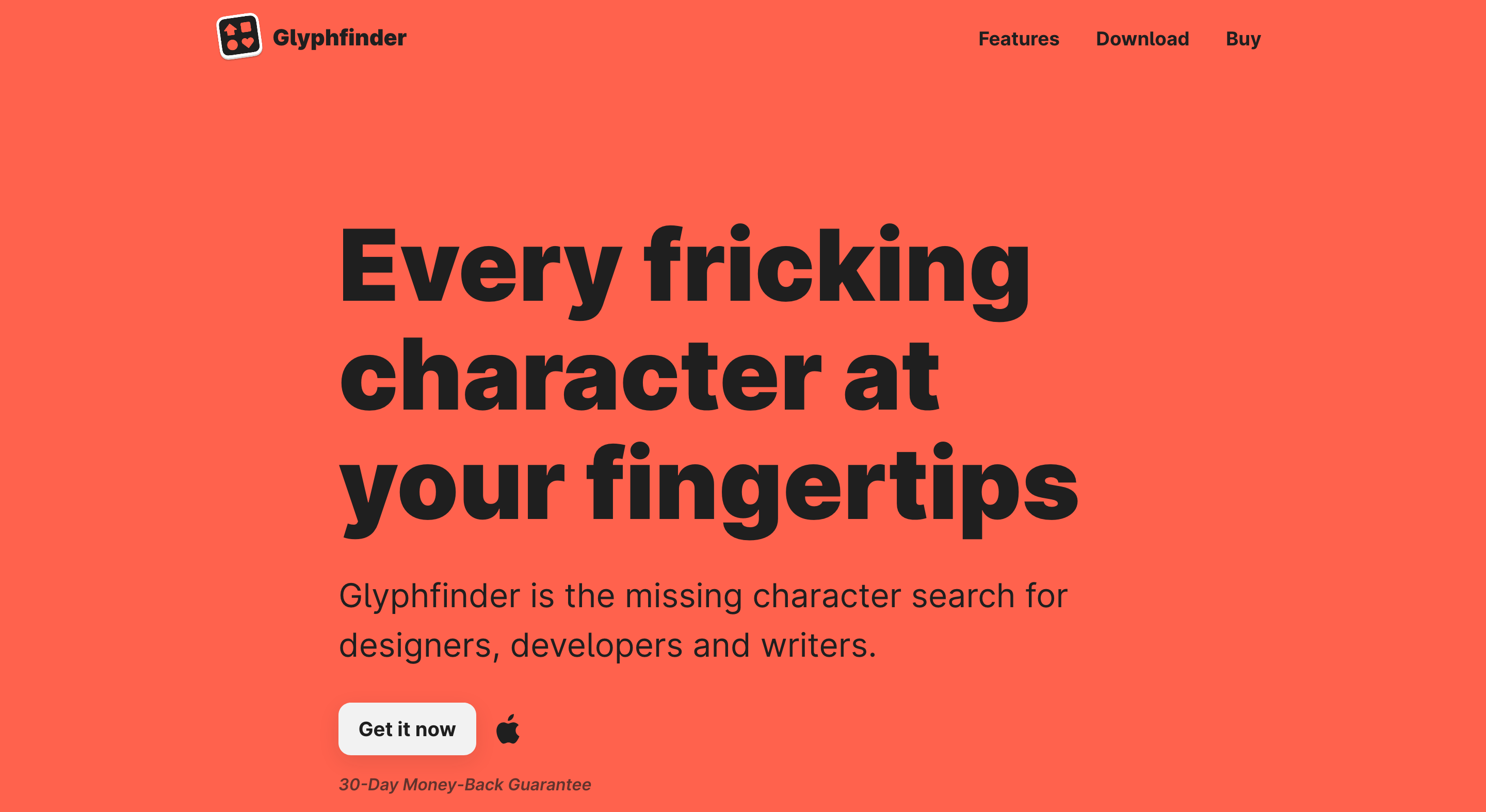 It is no secret that small and lightweight apps, that serve one specific purpose, are my absolute favorite tools. Glyphfinder is one of them, a lovely app for your Mac (and it is also available for Windows). Glyphfinder gives you access to every fricking character you can probably think of, straight at your fingertips, all it needs is a keyboard shortcut. Using the native emoji search from macOS never felt satisfying for me, and therefore I decided to look for a replacement. I am more than happy to have found Glyphfinder, as it is incredibly easy to search and find the needle in the Unicode haystack as you can search for words, categories, look-alikes or colors, simple as that.
Most people find it easy to remember any character or emoji visually. Glyphfinder has integrated look-alikes within their tool, so you can find characters without knowing their names. Since all emojis within Glyphfinder are added and tagged manually, it is probably the best emoji search you can use with your Mac. By default, Glyphfinder takes a spot in your menu bar. But if you are preferring a keyboard-centered workflow, the best emoji search is just one shortcut away. Glyphfinder's enormous database consists of over 30.000 characters and emojis, all straight at your fingertips.
On top of that, Glyphfinder features the fastest search to quickly scan through those 30.000 characters so you can be sure to find the right one you need. Glyphfinder is available for both macOS and Windows, it costs $6.99 (which is an amazing value) and it is also included in a Setapp subscription.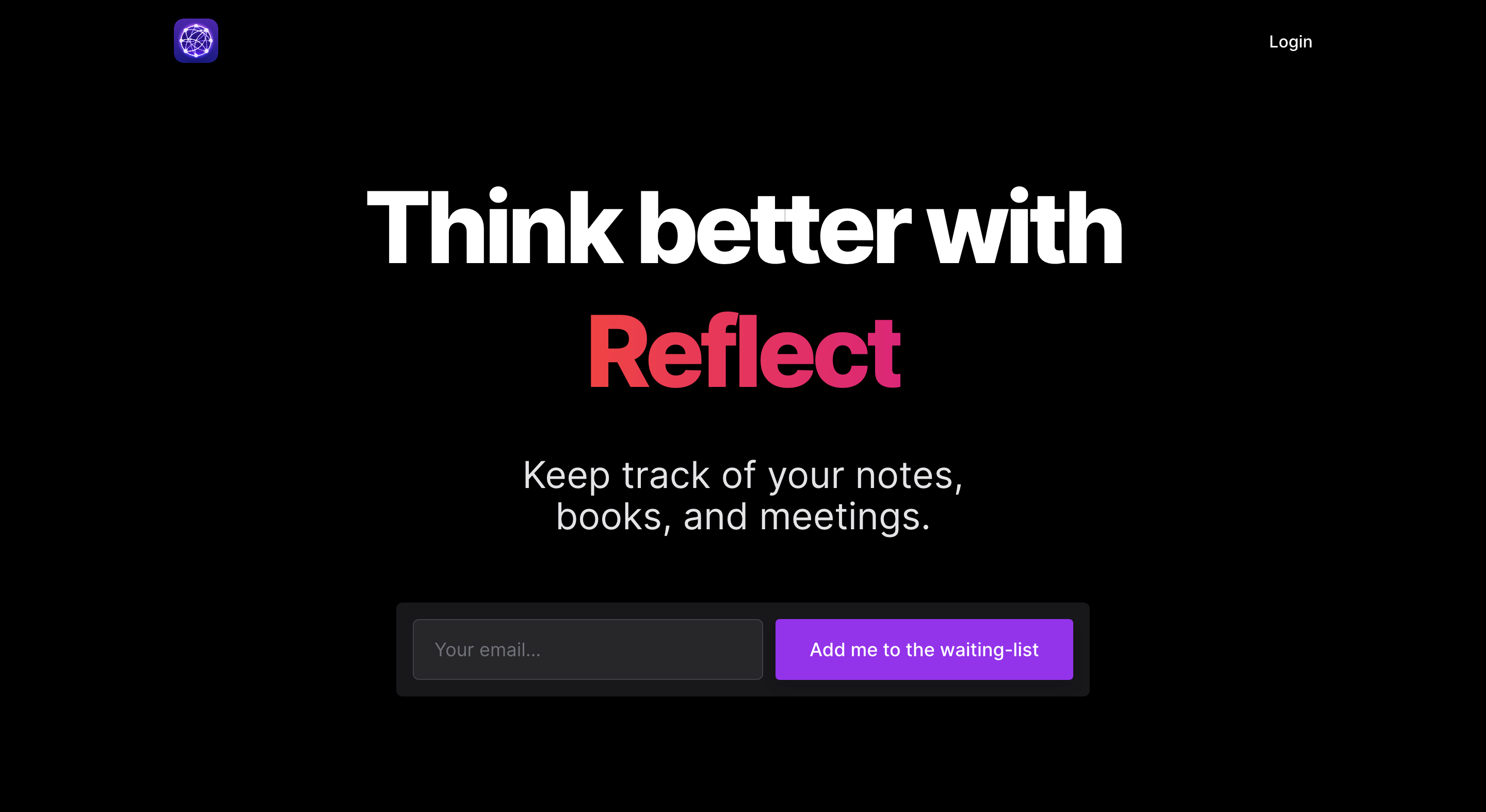 We have a new contender in the space of personal knowledge base and networked thinking tools, and it is called Reflect. Currently, we do not know that much about Reflect, but here is some information up-front. Reflect is built by Alex MacCaw, founder of Clearbit. It will be a tool for personal knowledge base building. Reflect will feature backlink relationships, and you will also have the possibility to visualize those relationships by using a graph view, which looks pretty similar to other tools like Roam or Obsidian. Additionally, Reflect will automatically sync and back up all your notes on all your devices, all of that happens with end-to-end encryption.
This is a highly appreciated feature, as there has been quite a lot of concerns regarding the security of other knowledge base tools like Roam, and others. Obsidian, for example, gives the user the possibility to use a local folder to store all the notes, so you can be sure that everything will be safe. But, they just introduced their mobile apps, so now it will be possible to sync your notes through Obsidian's own sync to other devices. They are working to support other synching options in the future. What is really interesting about Reflect, is the fact that they are API first, which means they will offer integrations with other tools and services. On their website, they already teased an integration with Kindle and Rest API. So, we can be excited about this upcoming tool.
You can sign up for their waiting list right now.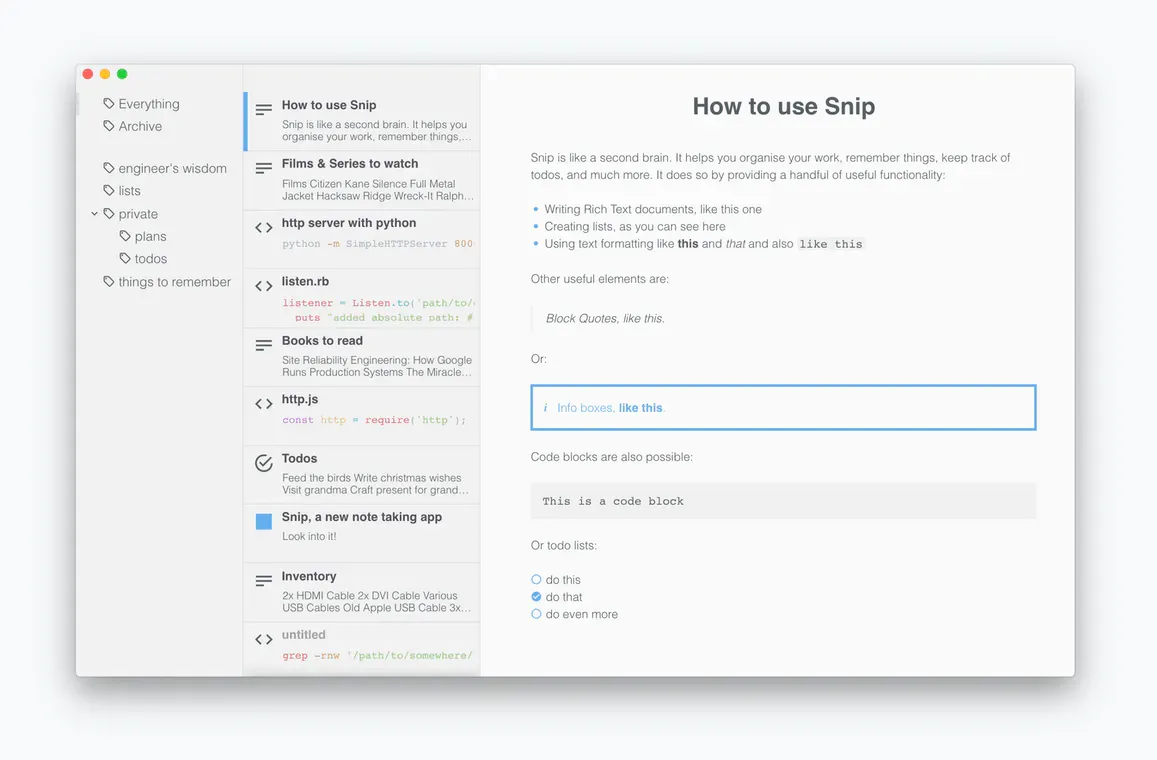 Snip is a lightweight, but powerful note-taking app with a straight focus on privacy. By default, all the notes you create with Snip are stored locally on your drive, being online is only optional. If you want to synchronize your data, you can choose how it should happen (for now Snip only supports saving to the file system, but a dedicated web service called the Snip Cloud is already in the works). Snip offers different kinds of notes, all within one tool. No matter if you want to Rich Text, Code Snippets, Todo Lists, or Sticky Notes, Snip got you covered. If you love to write Markdown, you can do so too, and Snip turns your written notes straight into Rich Text.
To structure all your notes, Snip is offering tags and folders, but in a slightly different way. Tags are folders, and folders are tags. That means you can use in the classic sense, e.g. lists, if you use a slash, like private / plans, you can organize your content in a folder-like structure. Snip even features the powerful shortcut CMD + K which will give you quick access to links and code snippets. Currently, Snip is available for macOS, Windows, and Linux. It is still early days for Snip, so you can be prepared for more features to come in the near future.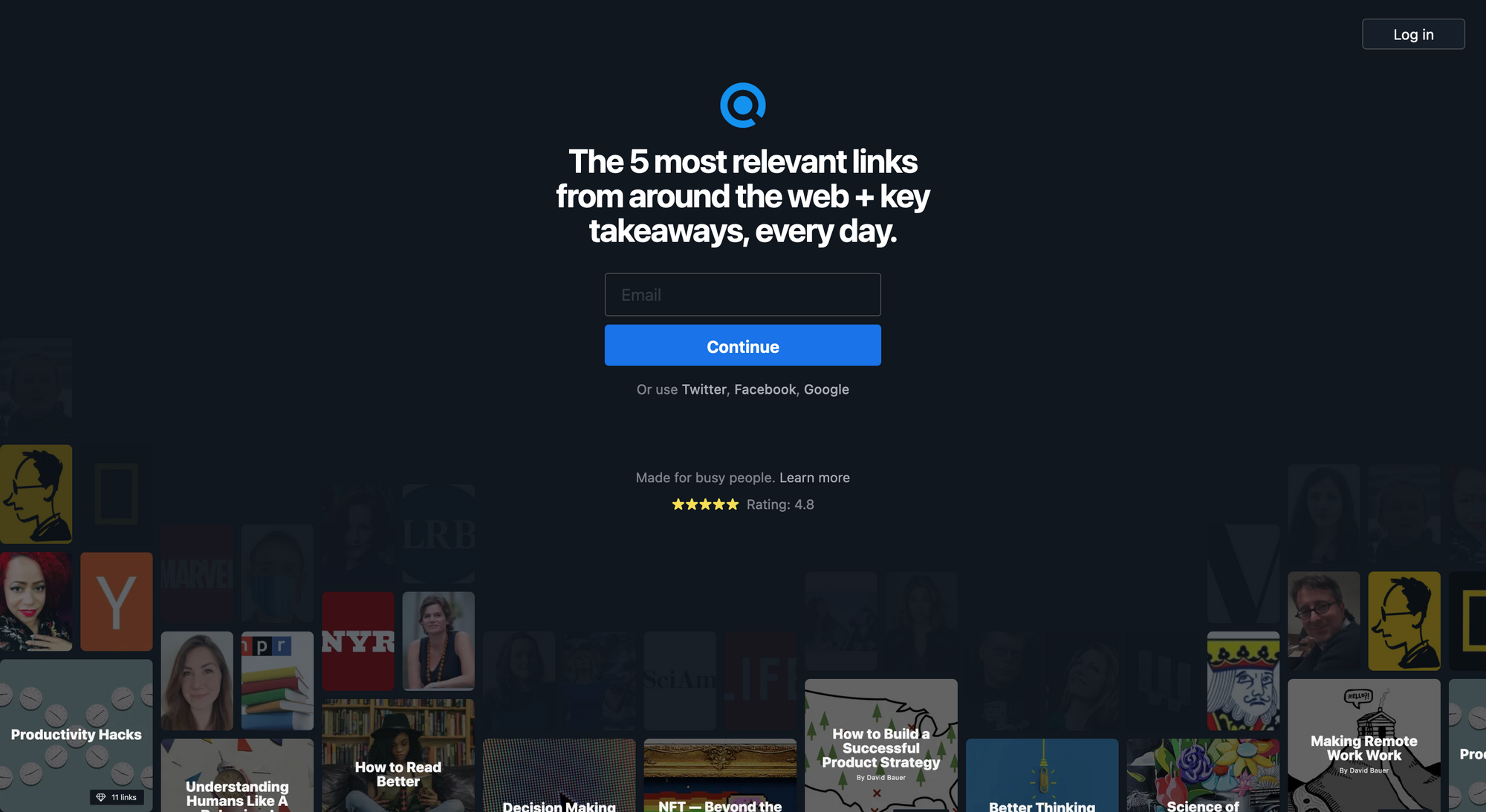 Whenever I am searching for articles to feature within Creativerly, or to read on a Sunday in combination with a cup of tea or coffee, I always browse through Refind. Refind is an incredible tool to search and explore articles from different categories and tags. Refind works on the web, as a mobile app, and as a newsletter, to find the five most relevant links from around the web combined with key takeaways every single day. After creating an account you can follow your favorite topics, sites, publishers, thought leaders, and friends.
Refind will do the rest for you and put together a great selection of the most important links. If you want to explore a specific topic, Refind also offers Deep Dives into new topics that spark your interest. There is also a reading list integrated into Refind, so you can save any link you come across to read later. On top of that, Refind's reading list is explicitly designed to help you actually read what you wanted to read. If you want, you can create collections based on your interests to structure all your saved links. Refind is available for iOS, Android, as a Chrome extension, and a web app.
---
Useful Resource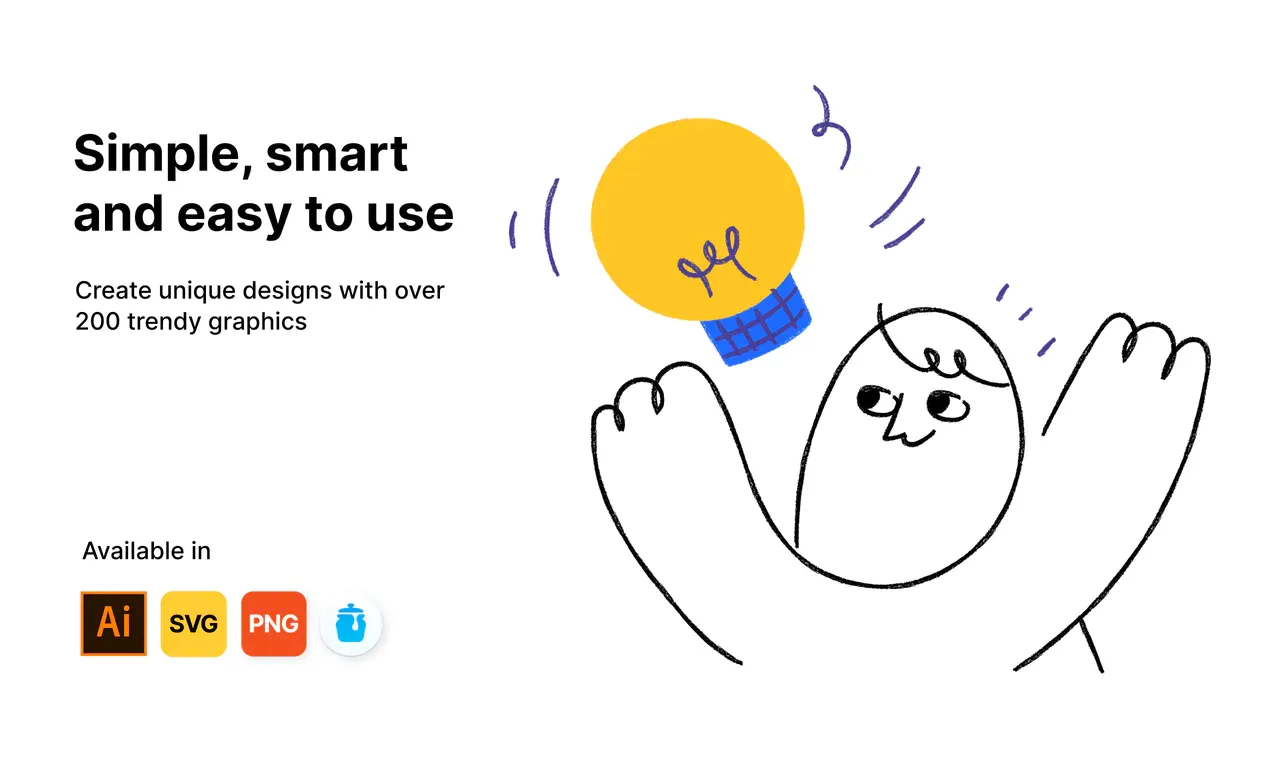 Avid Creativerly readers might already know that I love all kinds of different illustration styles. They simply look great during an onboarding, on a landing page, or as a header on a website. I am a huge admire of illustrators and their skills, creativity, and craft to create awesome illustrations for the biggest companies and magazines. On the other hand, I also love creative minds who use their skill to create lovely illustrations and share them with everybody, so they can include them in their designs. Simple Illustrations is a great example of that. Simple Illustrations is a set of over 200 creative doodle illustrations with beautiful colors and artistic brush strokes that will certainly bring life to your projects and keep your users entertained. Head over to their website to get a taste of all the scenes included in the pack. Spoiler: they look amazing.
---
Mental Wealth
➢ Inside Big Tech's angry, geeky, often petty war for your privacy – "James Rosewell could see his company's future was in jeopardy. It was January 2020, and Google had just announced key details of its plan to increase privacy in its Chrome browser by getting rid of third-party cookies and essentially breaking the tools that businesses use to track people across the web. That includes businesses like 51Degrees, the U.K.-based data analytics company Rosewell has been running for the last 12 years, which uses real-time data to help businesses track their websites' performance."We realized at the end of January 2020 what Google was proposing was going to have an enormous impact on our customer base," Rosewell said. Under the banner of a group called Marketers for an Open Web, Rosewell filed a complaint with the U.K.'s Competition and Markets Authority last year, charging Google with trying to shut out its smaller competitors, while Google itself continued to track users."
➢ Is there a perfect productivity system? – "Every year, dozens of new productivity systems pop up, each of them promising a more efficient, better way to work. And, every day, people try one of these new systems in the hope of better managing their work as well as their mental health. Talk to any knowledge worker and they will have tried at least one of the most popular productivity methods out there — with or without success. The question is: is there really a perfect productivity system? Let's cut to the chase: there is no universally perfect productivity system. A system that works for a hyperactive young developer pursuing a degree on the side won't work for a director of operations with three kids. Someone working from home may need a different system than someone commuting to work. An early bird will have a different work schedule from a night owl. And that's alright."
➢ Make things obvious – "Good interaction design is about keeping things obvious. Be it restraining complexity. Simplifying the complex. Or making a way forward clearer. In the cross-gov slack a question was raised about the best way to show users something was being processed. And that the user would have to wait for a while. The request was long enough that the designer was worried about a user either trying to refresh the page. Or quit the service. There are many things you can do to give the user reassurance or understanding. Disabled buttons, spinners, skeleton pages, spinners in buttons, animations, progress bars etc. But creativity in this situation is your worst enemy. One thing that seeing your users use your designs shows you is that anything smart doesn't work. In isolation things like spinners in buttons can seem like smart solutions. Surely the thing the user clicked is a great place to give feedback?"
➢ Happiness Comes from Making Others Feel Good – "Martin Luther King Jr. said the "surest way to be happy is to seek happiness for others." New research published by a team of psychologists at the University of Missouri-Columbia suggests that King's words are as true today as they were a half-century ago — that our own happiness is, in part, influenced by the kindness and generosity we show others."
---
Appendix
➢ Featured Newsletter
I am a fan of both mobile OS, iOS and Android, and I am also using two smartphones, an iPhone and an Android Smartphone, not only because I need both for my work as a Product Designer but because I simply enjoy using both OS.

One of my favorite newsletters to stay up-to-date about everything regarding Android is Android Intelligence written by JR Raphael. There are countless blogs, newsletters, magazines covering Android stories, but Android Intelligence is a lovely write-up consisting of practical tips, personal recommendations (love that), and a plain-English perspective on the news that matters.

Android Intelligence goes beyond product announcements, it is a better way to stay informed about Android news. Sign up here!
➢ ICYMI
The long-awaited Obsidian mobile app is finally here, for both iOS and Android. Obsidian quickly became one of the most popular knowledge base and networked note-taking tool. It is also my preferred tool for deep thinking sessions, and taking notes on books, articles, and podcasts. With the newly introduced mobile apps you now have the possibility to take your mobile knowledge base with you on the go.
➢ Quick Bits
Soon you could access Windows from an iPad with Microsoft's new cloud service / Netflix working on its own gaming platform — which may never be available on the App Store / Amazon bought Facebook's satellite team to help build Starlink competitor / Google fined €500m by French competition authority / Twitter is killing Fleets / TED will offer exclusive audio chats on Clubhouse
---
Twitter thoughts
---
Till next time! 👋‌‌‌‌
Support: Do you have a friend who is looking for inspiration, news about design, and useful tools and apps? Forward this newsletter to a friend or simply share this issue and show some support. You can also show some love by simply clicking the button down below and keep this newsletter a sustainable side-project by buying me a coffee. ☕️ 🥰
---
---
Some of the links in my newsletter and my blog posts are affiliate links. Those links are marked by an asterisk "*". If you buy something through the link, the product will not cost you anything more, but I will receive a small commission which not only supports Creativerly and my work but also helps me to keep this publication a sustainable side-project.