Newsletter
Level up your productivity & How to gain more from your reading
In this week's issue of Creativerly: the best note-taking app for creatives, how to think, a new era of professional social networks, and a lot more.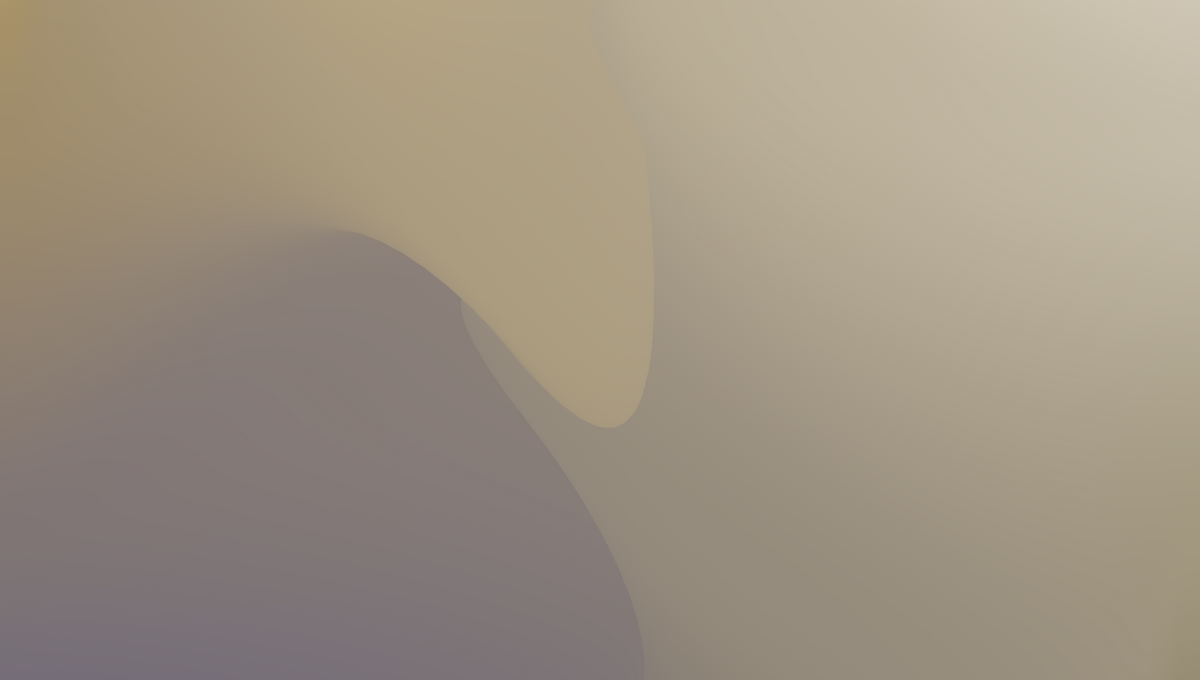 You are reading Creativerly, the weekly digest about creativity and productivity-boosting tools and resources, combined with useful insights, articles, and findings from the fields of design and tech. The newsletter built for the creative community.
---
Hey and welcome to issue 129 👋
Well, I think we can all agree that LinkedIn can be an incredibly noisy, overwhelming, blatant, and obtrusive place. There are people who entitle themself as "thought leaders" sharing business advice which they recently read in a self-help book, and then (my timeline on LinkedIn is currently getting flooded with those kinds of posts) there are people who share UI/UX best practices and comparisons asking the readers which interface looks better, and most of the time it is pretty obvious. LinkedIn once was a professional network to make connections with people from different fields and interests. But it got over rolled by the so-called "thought leaders" and "LinkedIn Influencers", pseudo HR managers flood your inbox with job offerings that are all generated automatically. LinkedIn isn't a professional network, it is just an incredibly noisy place.
Nevertheless, I am super excited to see that there is quite a lot happening currently in the field of professional networks. For example, there is read.cv which is a new platform to make meaningful and professional connections with people around the world. Read.cv gives you full control over your profile, you can arrange it however you want it to be. It lets you create a beautiful-looking profile to showcase your work, publish your notes, case studies, code samples, art explorations, and probably anything else you can think of, by creating dedicated pages for that use case. What makes read.cv super unique is the fact that there are no likes or comments, just private replies. Anything that gets posted on read.cv can be replied to, but since your profile is only yours, all messages will get directly send to your private reply inbox. The explore page of read.cv is a lovely showcase of all the creative people joining on the website and showcasing their work. Become a part of it.  
Another professional social network that became incredibly popular in the last few months is without a doubt Polywork. I got aware of Polywork after Brian Lovin shared within a Tweet that he is using Polywork as his personal changelog. I loved that idea and immediately got hooked. Polywork is a professional social network to empower you and your work to represent who you are. You are more than a single job title. People are working on side projects, writing blog posts, volunteering, creating content, and others, but there is no real place to showcase that kind of work. But Polywork is exactly that place to express who you are. At Polywork you can tell your story, share it with others, and connect with others. This is what LinkedIn should have been. Polywork is a lovely place. If you want to become part of it, you can sign up for their waitlist right now. If you want to skip this waitlist, I got an invite code which is philipp-gyarados, but be aware it is limited to 10 people, so you better be fast.
LinkedIn is not a professional social network, it is just an incredibly noisy place.
If you have recommendations or feedback, drop me an email or a tweet. For now, enjoy the newsletter!  🥰
---
Apps, Software, Tools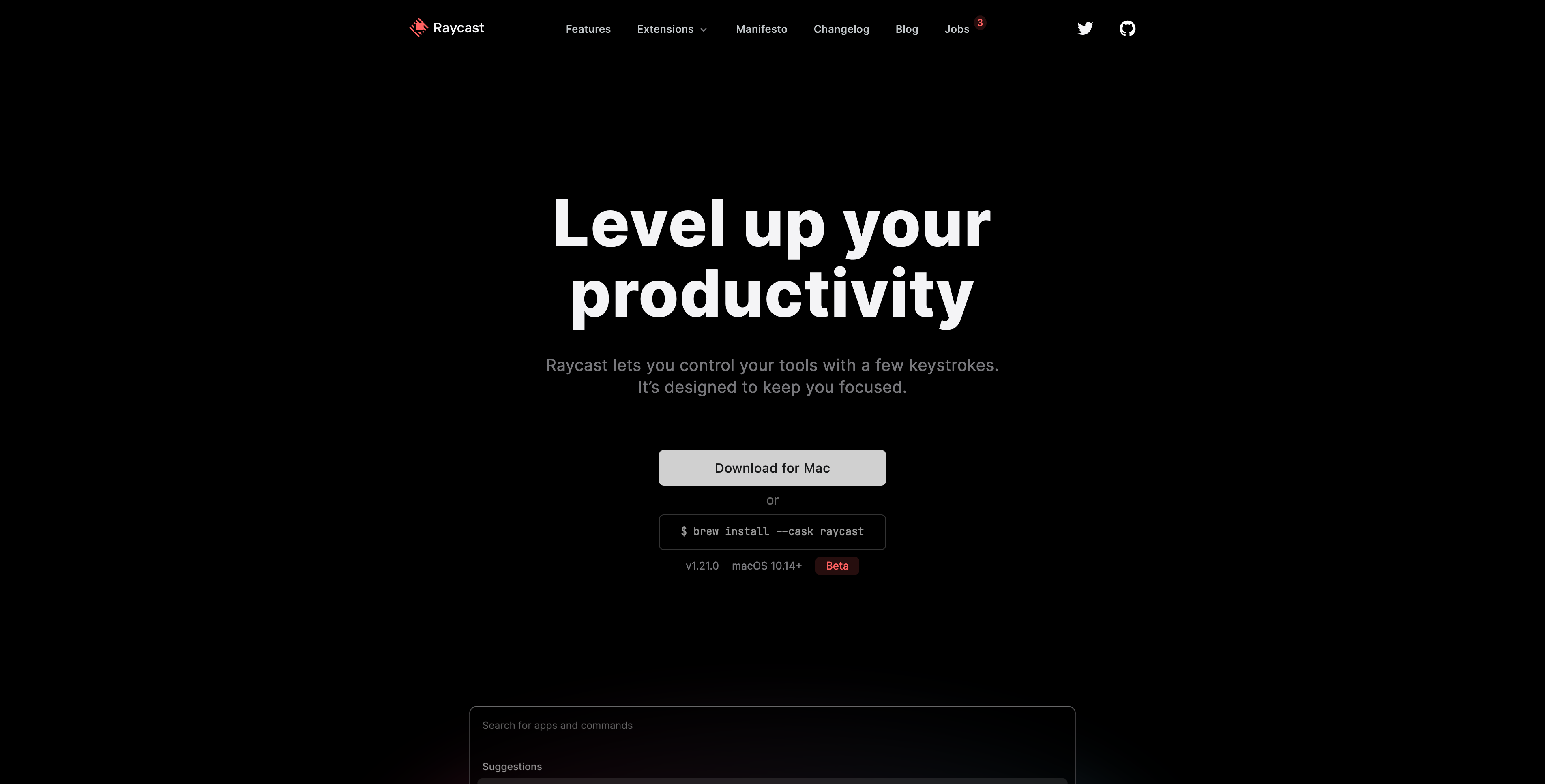 If you are a fan of a keyboard-centered workflow, you will definitely love Raycast. Raycast lets you control your tools with a few keystrokes and it is designed to keep you focused and level up your productivity. At the core, you might recognize some similarities to Alfred, an award-winning app for macOS which boosts your efficiency with hotkeys, keywords, text expansion, and more.
The basic features of Raycast also include the ability to launch apps, switch between them, quit running ones, copy details, and more, all and everything with just a few keystrokes. On top of that, Raycast has a built-in powerful search so you can search for files and folders, but it also features Quick Look functionality so you can parse quickly through your files to find exactly what you're looking for. Raycast also is capable of solving complex math equations or convert time zones, units, and dates.
Besides that, Raycast features a clipboard history, quicklinks, snippets, system commands, and other extensions, so you can trim Raycast to your needs and workflow. Raycast is an incredible tool, which lets you perform tasks and actions within seconds. Every action is optimized for speed and accessible via keyboard shortcuts. The app is built natively to be fast, lightweight, and efficient. Raycast is also focusing on security by default since there is no login needed and everything is stored encrypted on your local disk and nothing sensitive is tracked. You and your data stay anonymous.
If you want to help to form the future of Raycast make sure to join their Slack community. Otherwise, download Raycast for your Mac right now and give it a try.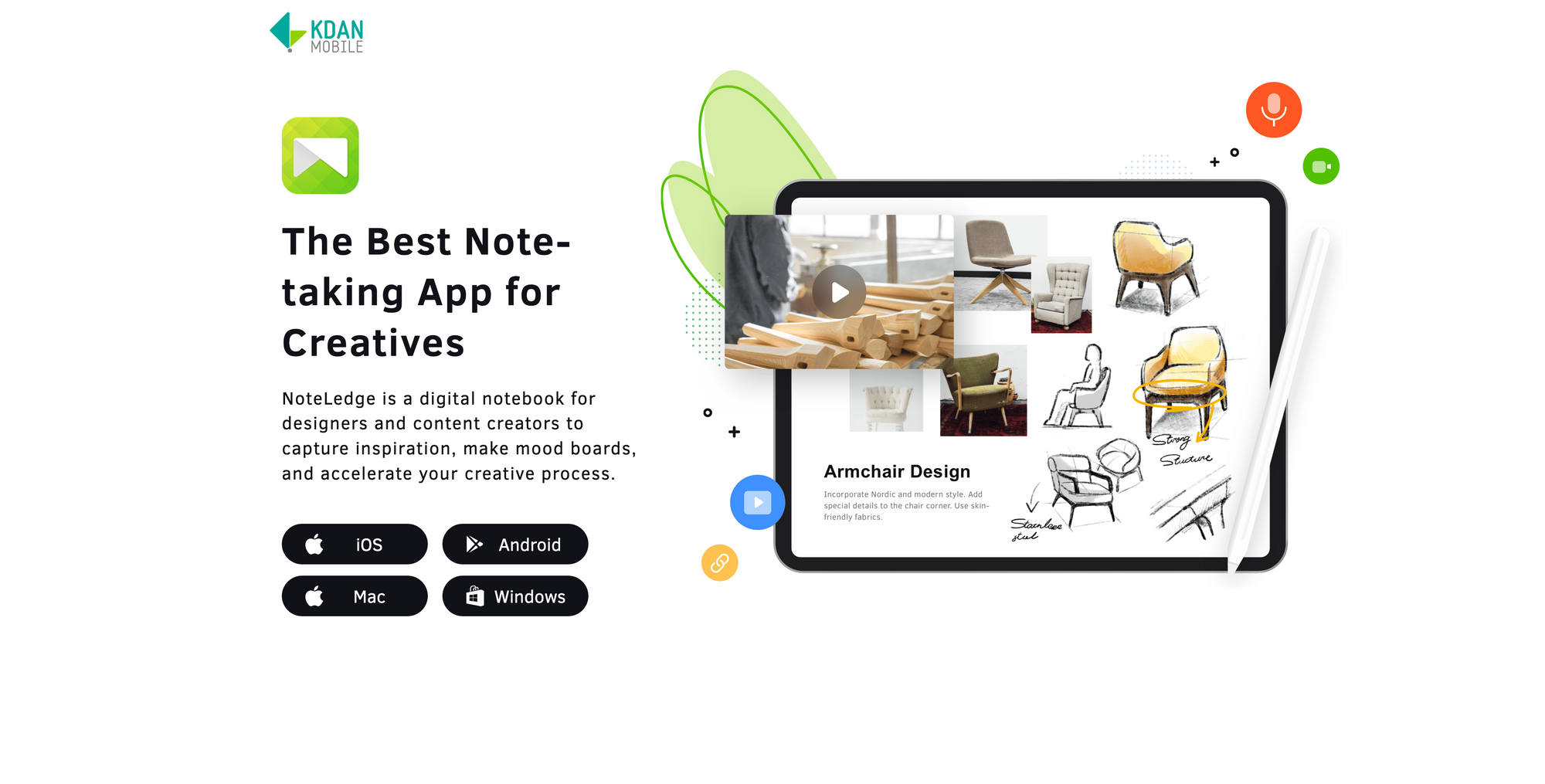 NoteLedge is a dedicated note-taking app for creatives. Think of it as a digital notebook for designers and content creators to capture inspiration, make mood boards, and accelerate your creative process. What makes NoteLedge super exciting is the fact that it is available cross-platform on iOS, macOS, Android, and even Windows, so you can take your notes with you whichever operating system you are using.
NoteLedge is not only about note-taking, but it is also a tool to capture and embrace your ideas, record your thoughts, start your design process, and simply create, all in one place. NoteLedge comes with powerful multimedia tools for you to capture inspiration anywhere. Discover and save ideas from Pinterest and websites. Take notes and add annotations to highlight what matters most. Of course, NoteLedge also features mood boards to visualize your ideas.
NoteLedge's workspace also gives you the ability to quickly sketch out new designs or drawings, there is even a variety of brushes made for designers included. If you need to, you can export all your notes to PDF (even with multimedia content embedded). If you want to showcase and present your notes, drafts, sketches, to your team or clients you can do so with the built-in slideshow feature. There are several use cases for NoteLedge but since you are the creative person to use it, you decide how to integrate it within your workflow.
NoteLedge is free to use on all platforms.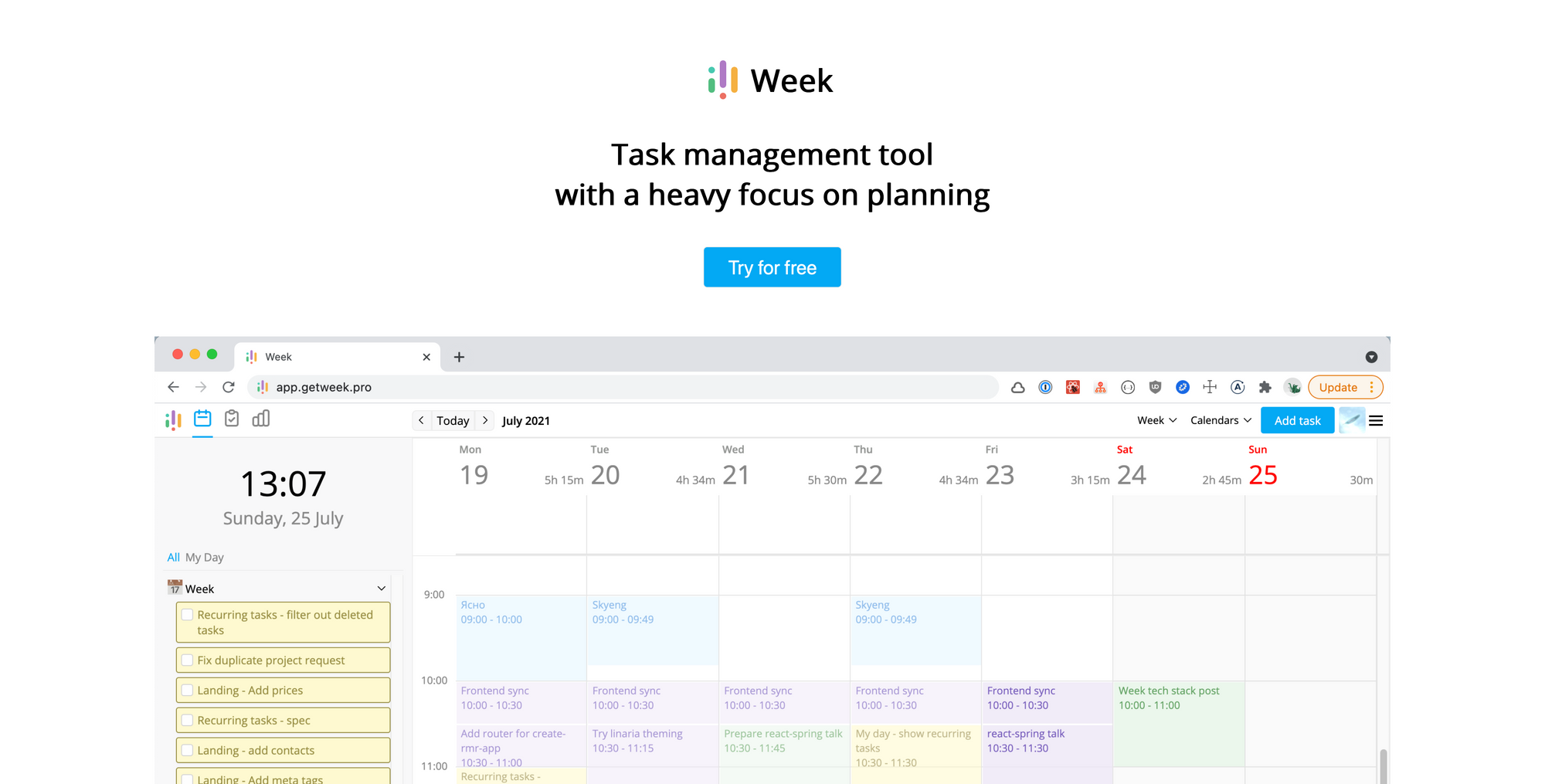 I already said it quite often, but let us talk about this again. A calendar tool of the 21st century should not be a tool to only keep track of events and meetings, it should be a tool to plan your day, your week, and your month, and ultimately your year if that is your thing. Your calendar should be your productivity hub.
Therefore, it is crucial to have a calendar tool that is capable of also doing tasks and notes. Week is a task management tool but with a heavy focus on planning. Most task management tools are simple to-do lists. Over the course of several days or weeks, your list will grow as you add more and more to-dos to it. In the end, you will have a list full of todos and probably more work than before. Week is a task management tool where the calendar is the main part of the app. This gives you the power to directly plan, schedule, and organize your to-dos. To get things done you have to schedule them first and Week helps you to do exactly that.
Create projects, assign them different colors and see how you spend your day. Week offers you a list view to jot down all your to-dos and a calendar view to keep track of planned tasks, events, and meetings. If you want to plan and schedule a task, all you have to do is simply drag and drop the task on the dedicated date.
You can use Week completely free for up to 3 calendars if you need more you will soon be able to upgrade to a paid plan which will cost you €4 per month.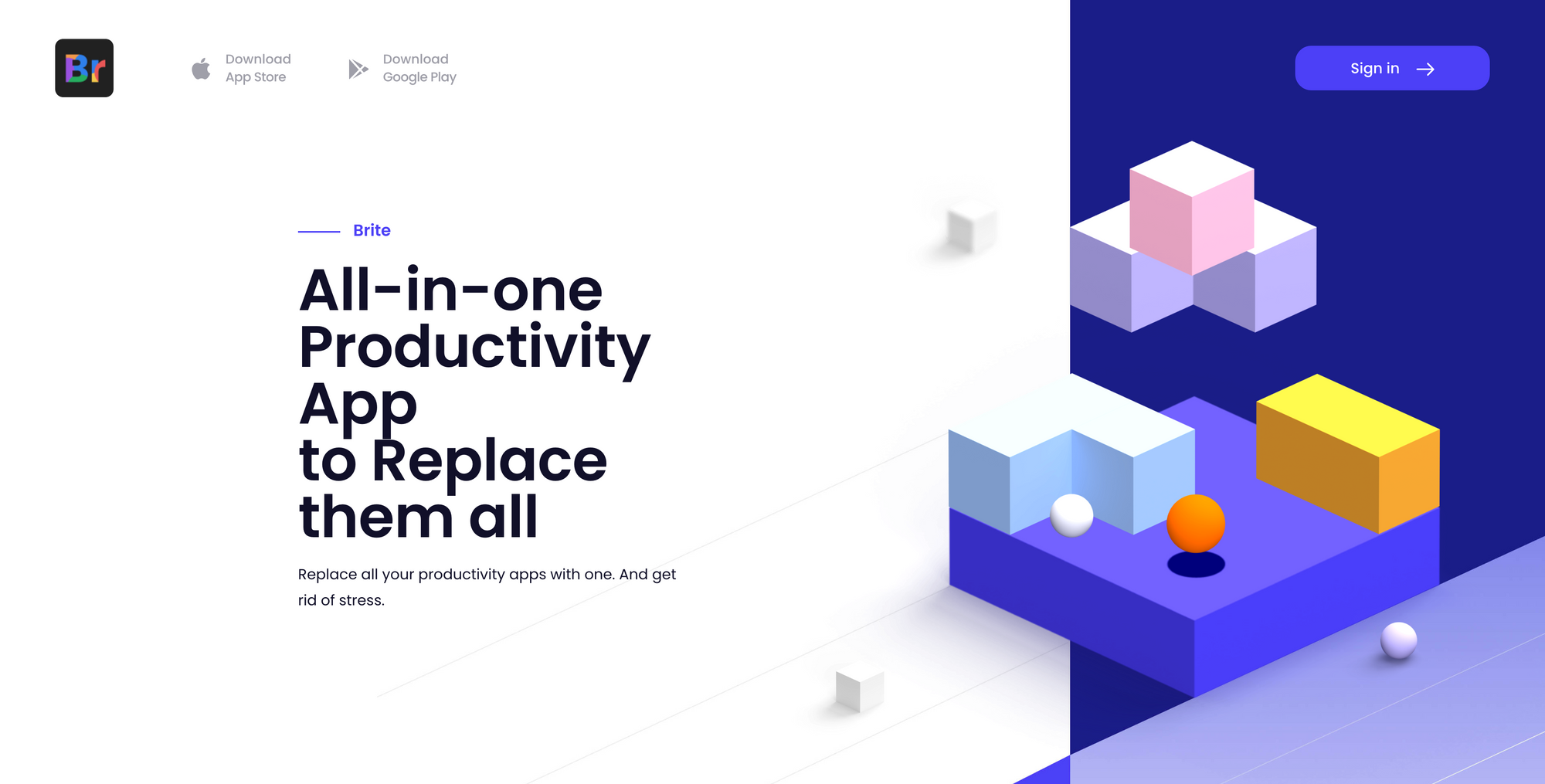 Brite wants to remove all your productivity apps and unifiy them all within one tool. Brite gives you the power to build the productivity tool of your dreams. You are probably asking yourself how Brite is going to achieve that. Well, Brite features over 20 building blocks, are for example blocks for a task manager, ideas, habit tracker, goals, and so on.
Using those blocks and widgets, you will be able to put together the productivity tool that perfectly fits your workflow. Brite's My Day section is your interactive schedule for each day, customized by only the widgets you need. Brite also features a notes tool, to take notes, create documents and sheets. You will also have the possibility to share your notes and documents with your team.
Brite's task manager helps you to keep track of all your open tasks and goals. It lets you create several to-do lists for your projects, add your to-dos, subtasks, and structure everything. Brite is a cloud-based service which means you can synchronize all your projects from macOS, to iOS, and Android.
You can use Brite for free with basic features, if you need more features and more cloud space you can upgrade to a paid plan.
---
Useful Resource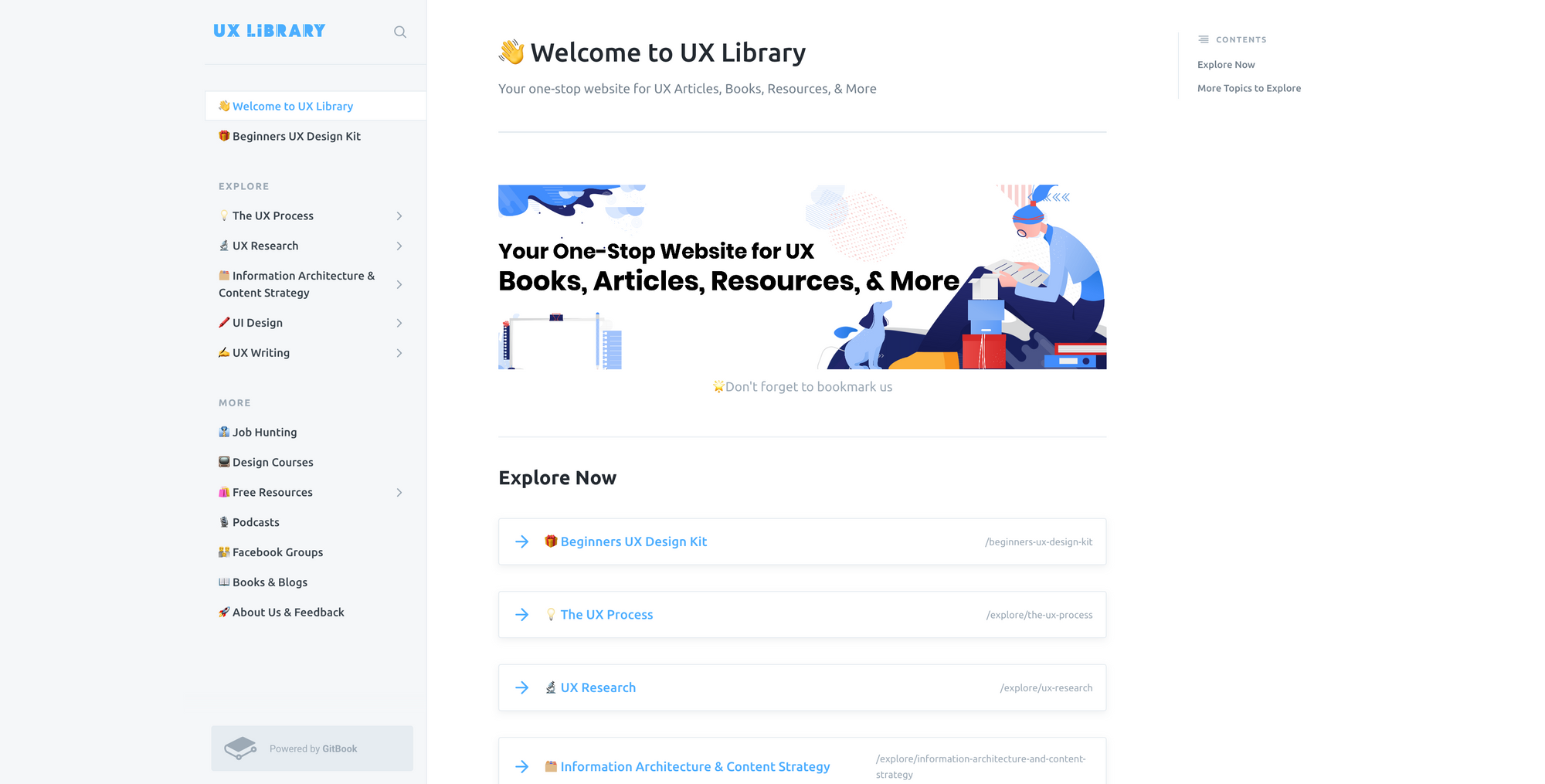 If you are looking to start your journey within the field of UX design, UX Library is your go-to resource. It is an incredible library full of articles, books, resources, and more. No matter if you are a beginner or if you are already working in the field for quite some time, UX Library should be an instant bookmark for you. UX Library features articles and books about the topic of UX Writing, the UX process, Information Architecture, Content Strategy, but also tools, templates, and software for UI Design, UX Research, and UX Writing. UX Library is a lovely resource and pure joy to scroll through.
---
Mental Wealth
➢ How to Think: The Skill You've Never Been Taught – "No skill is more valuable and harder to come by than the ability to critically think through problems that you haven't encountered before. While schools teach us how to solve problems, they don't teach us the art of thinking. Thinking is one of those things that can be learned but can't be taught. Poor thinking has a cost. When it comes to thinking the mind has an optimal way to be operated. When operated correctly you'll find yourself with plenty of free time. When operated incorrectly, most of your time will be consumed correcting mistakes. Good thinking makes the future easier, while poor thinking makes it harder. Good thinking means better decisions. Better decisions allow for more free time, less stress, and more opportunity. Poor thinking, on the other hand, leads to decisions that consume time, reduce options, and increase our stress. How can we learn how to think?"
➢ How to gain more from your reading – "Have you ever wondered how some people see so much in what they read – whether they're reading novels or stories, poems or plays, essays or memoirs, or something entirely different? One of the pleasures of reading literature well is the satisfaction of being tuned in to what a literary work shows and suggests – and to how it does those things. You probably already enjoy the ways that literary works entertain you, instruct you, move you. Recognising and understanding how they accomplish these things will enable you to deepen your appreciation still further and gain even more reward."
➢ How to Tell Whether You're Stressed or Depressed – "Stress and depression can look and feel very similar to each other. Some of the common symptoms for both include issues with sleeping, eating, concentration, and mood, as well as difficulties performing daily tasks. Physically, there's a lot of overlap between stress and depression, as both affect the immune system, leading to an increase in certain inflammatory markers. For depressed patients, the changes in their brain are similar to what is observed in chronic stress. And chronic stress, when left untreated, can lead to depression. For example, adults who experienced a high level of adversity during their childhood, which results in toxic stress, have much higher rates of depression."
➢ Harder Than It Looks, Not As Fun as It Seems – "There's a saying – I don't know whose – that an expert is always from out of town. It's similar to the Bible quote that no man is a prophet in his own country. That one has deeper meaning, but they both get across an important point: Everyone's human, everyone's flawed, nobody knows everything. So it's easiest to convince people that you're special if they don't know you well enough to see all the ways you're not. Keep that in mind when comparing your career, business, and life to others. Good advice that took me a while to learn is that everything is sales. Everything is sales. It's usually framed as career advice – no matter what your role in a company is, your ultimate job is to help sales. But it applies to so many things."
---
Appendix
➢ Featured Newsletter
Most of you might already know James Clear's 3-2-1 newsletter, but as it is one of my most-loved newsletters I thought I should share it with you nevertheless.

For those of you who do not know James Clear, he is the author of the New York Times bestseller Atomic Habits of which he sold over 5 million copies worldwide. His weekly newsletter 3-2-1 has over 1 million subscribers and is probably the best resource for wisdom, wellness, and thought-provoking ideas and quotes. In every newsletter, James Clear shares 3 ideas from him, 2 quotes from others, and 1 question for you. A lovely format and pure joy to read through. Check it out.
➢ ICYMI
As Creativerly recently crossed the magical milestone of 1000 subscribers, I gathered all my insights, experiences, findings, and tactics on building and growing a weekly newsletter within a blog post. I always want to give something back to this awesome community and therefore decided to share everything I have learned, hoping you will also profit from it.
➢ Quick Bits
Brave's nontracking search engine is now in beta / Emojipedia Joins Zedge / Apple engineering manager put on administrative leave after complaining about sexism at work / Google will kill off very old versions of Android next month / Twitter works with news sites to tackle disinformation / Oppo's latest under-screen camera may finally be capable of good photos / Oh, Facebook changed its privacy settings again / Even CAPTCHAs aren't safe from hackers any more / Zoom to pay $85M for lying about encryption and sending data to Facebook and Google
---
Twitter thoughts
---
Till next time! 👋‌‌‌‌
Support: Do you have a friend who is looking for inspiration, news about design, and useful tools and apps? Forward this newsletter to a friend or simply share this issue and show some support. You can also show some love by simply clicking the button down below and keep this newsletter a sustainable side-project by buying me a coffee. ☕️ 🥰
---
---
Some of the links in my newsletter and my blog posts are affiliate links. Those links are marked by an asterisk "*". If you buy something through the link, the product will not cost you anything more, but I will receive a small commission which not only supports Creativerly and my work but also helps me to keep this publication a sustainable side-project.