Newsletter
Make a personal changelog & A long-term memory assistant in your pocket
In this week's issue of Creativerly: A simple tool to structure thoughts, a smart calendar assistant, how basecamp blew up, and a lot more. You are reading Creativerly, the weekly digest about creativity and productivity-boosting tools and resources, combined with useful insights, articles, and findings from the fields of design and tech. The newsletter built for the creative community.
---
Hey and welcome to issue 116 👋
As I told you from previous Creativerly issues, I am working on some additional features to expand the content of Creativerly. A recent idea was to create an additional community space for all Creativerly members. I love to engage with my subscribers and discuss all sorts of topics. I love to answer your questions, share my experiences, and learn together. The Creativerly community would be a dedicated place for this, but it would also be a place we could shape together.
I have prepared a short and quick survey, which I would really appreciate if you could take a few minutes and fill it out. I want to get to know from you if you would enjoy having a community space to discuss, share, and simply having a good time. As mentioned, the survey just takes a few minutes, and it would mean a lot if you could share your thoughts and recommendations.
You can find the survey right here.
Thank you in advance to all of you!
If you have recommendations or feedback, drop me an email or a tweet. For now, enjoy the newsletter!  🥰
---
Apps, Software, Tools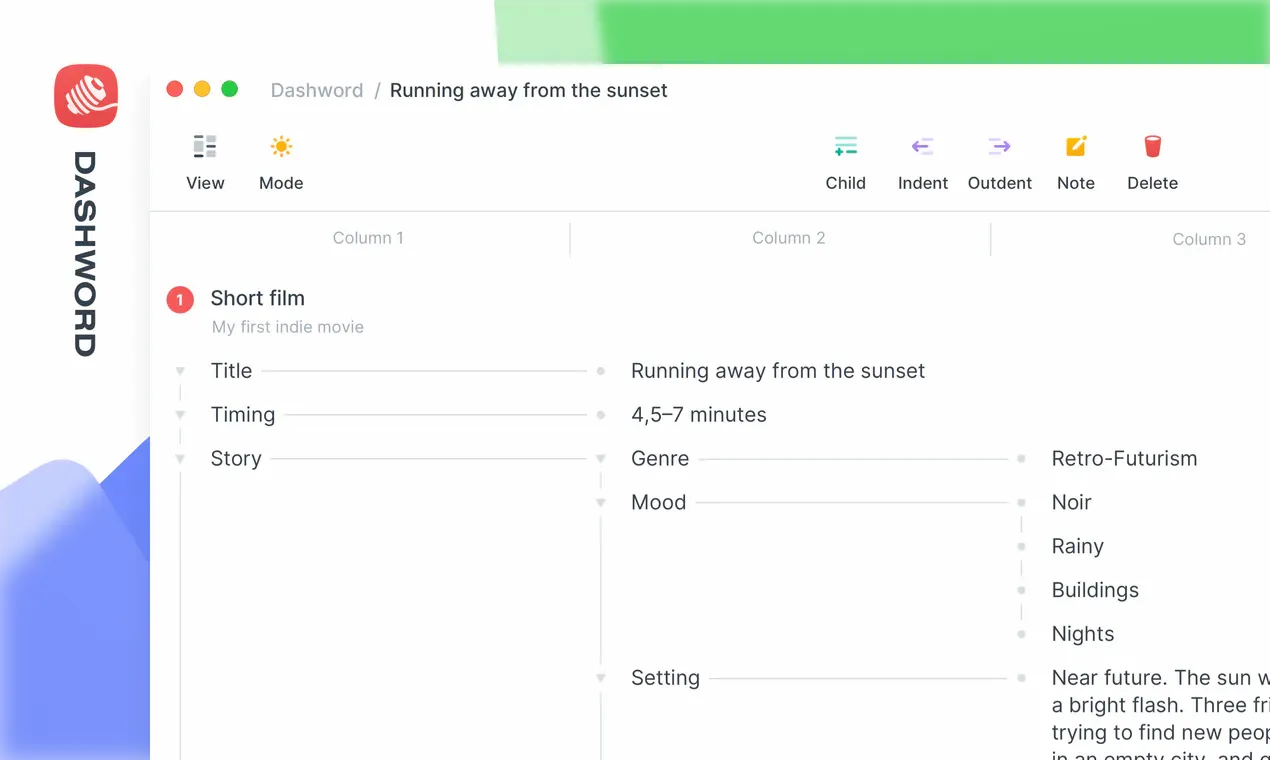 When it comes to note-taking and structuring and organizing thoughts and plans, I love to work within Outliner-Tools (like Workflowy, which is an all-time favorite of mine). The biggest advantage of such tools is the fact, that they basically work like our brains. When you think about a new idea and created connected thoughts, you think hierarchical. Our brains do not scan for folders, pages, tags, etc. first and decide to put the information there. The thoughts just come in. Dashword supports our native thinking process. It is a super handy tool to structure thoughts, plan projects, create concepts or anything else by creating hierarchical notes. Hierarchical notes mean every note you take is a bullet point, and you can indent and outdent those bullet points to create a structure of your thoughts.
The huge advantages of outliner tools, just like Dashword, is the fact that you do not have to think where to put your notes and thoughts first, you simply start writing, create notes, create bullets, indent some of them to create dependencies. Dashword also features two different views of your notes, list and column. The list view is the more common way to display hierarchical notes, you simply start writing at the top, and all your bullets, and your list, continues to grow downwards. The column view works a little bit differently but is definitely an interesting and new approach to hierarchical note-taking. The column view gives you the possibility to arrange your information, so it becomes easier to display dependencies between certain notes and bullets.
Besides all of that, Dashword is a beautifully designed app, and it is currently available for macOS and Windows, with an iOS app to come. On top of that, the makers behind Dashword also work on features like search, tags, real-time collaboration, internal links between nodes, checklists, and more. Definitely a tool to keep an eye on.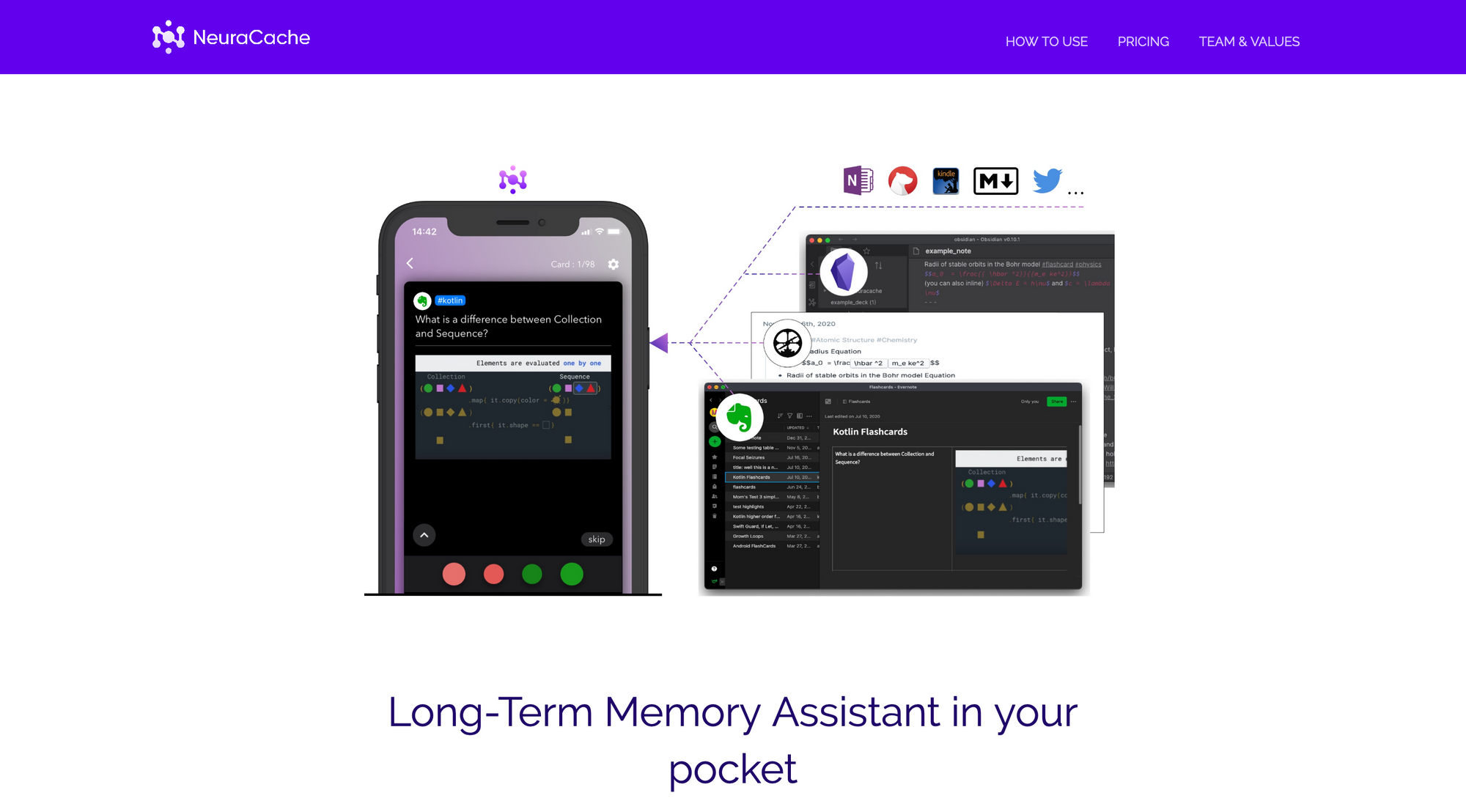 As mentioned in a previous version of Creativerly, I am currently looking into spaced-repetition and I am using RemNote as my preferred tool for it, since they feature what they call Smart Cards. Neuracache is another super interesting tool if you want to start with spaced repetition. The biggest advantage of Neuracache is the fact, that it works with your current note-taking system, since it works with powerful integrations with Bear Notes, Evernote, OneNote, Roam, Obsidian, and even Markdown files. Neuracache is your long-term memory assistant, straight in your pocket. Neuracache lets you create flashcards with spaced repetition from the notes you take. All the notes you take in your preferred tool, can be turned into flashcards, to learn and remember.
Neuracache is fully secure, as your notes never leave your phone and are only stored on your device. And of course, you can study totally offline, your flashcards are always available for you. I also love the fact, that Neuracache does not require an account, no need to sign up, just start using it. I am super excited to find out about more tools tackling the area of spaced repetition, as it is a top-notch way to study, learn, and remember. Neuracache is a nice mobile app, available for iOS and Android, that integrates into your current note-taking system.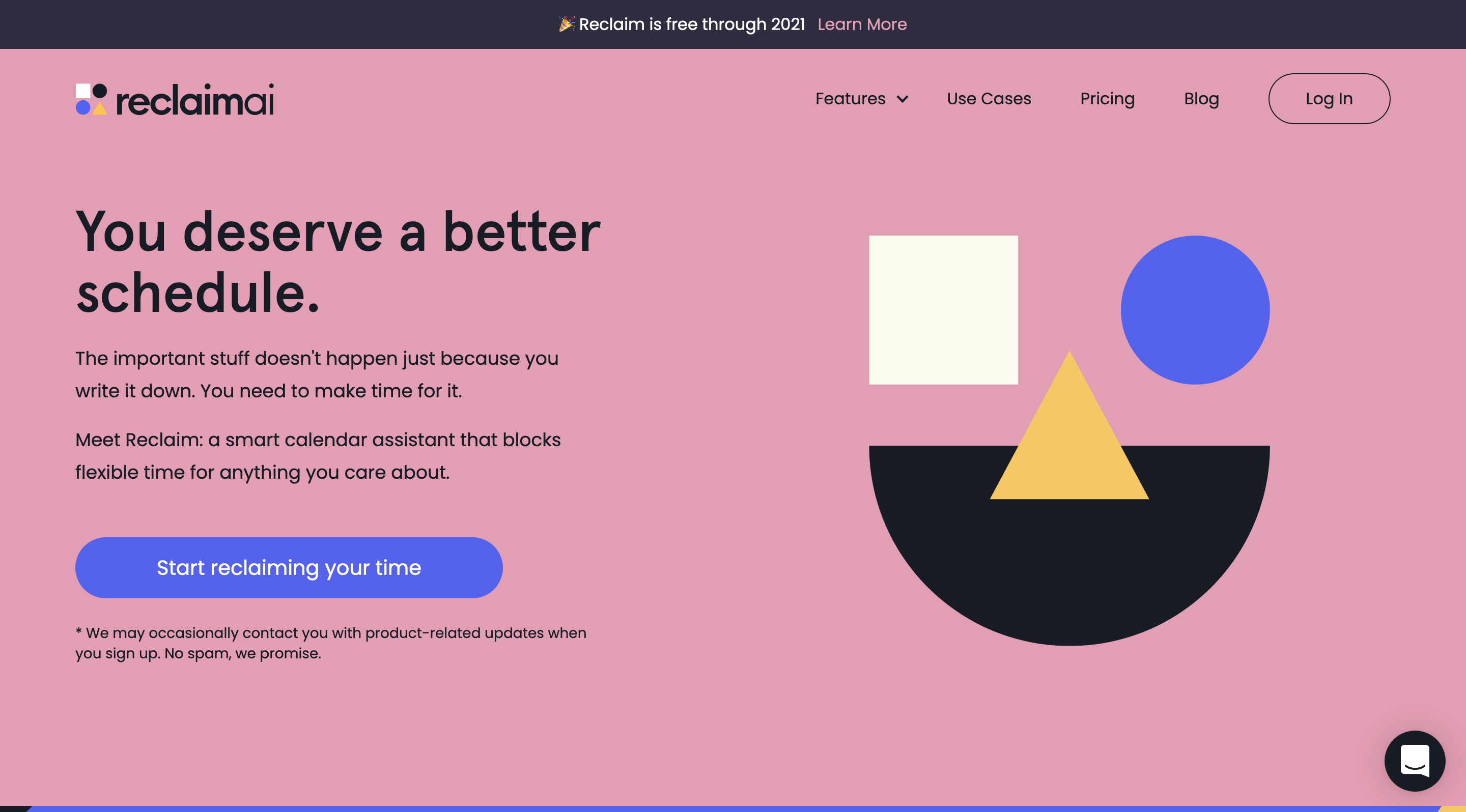 I stumbled across Reclaim already a while ago, because I fell in love with their web design. I keep track of websites that I love because of their design, and since I browsed through this list a couple of days ago to get inspiration, I rediscovered Reclaim. Reclaim is a smart calendar assistant that blocks flexible time for anything you care about. But how does that actually work? You can connect your personal or work calendar with Reclaim, and tell it what you want to make time for. Express your needs, give it a rough idea of how you want to structure your day, and let Reclaim do all the magic. Reclaim will dynamically shift events from Free to Busy as it notices your calendar filling up. If you need to restructure some parts of your calendar, reprioritize your goals or your schedule changes, Reclaim got your back and rebalances your entire agenda, just like a handy assistant. What is also super interesting about Reclaim is the fact, that it analyzes your week and gives you quick stats on where your time goes. If you want to get more insights on how Reclaim can help you structure your day, your week, and ultimately your life, you can check out all the different use-cases described on their website. Because of the pandemic, and people struggling with structuring and organizing their time and schedule, Reclaim is free through 2021. So, sign up and give it a try.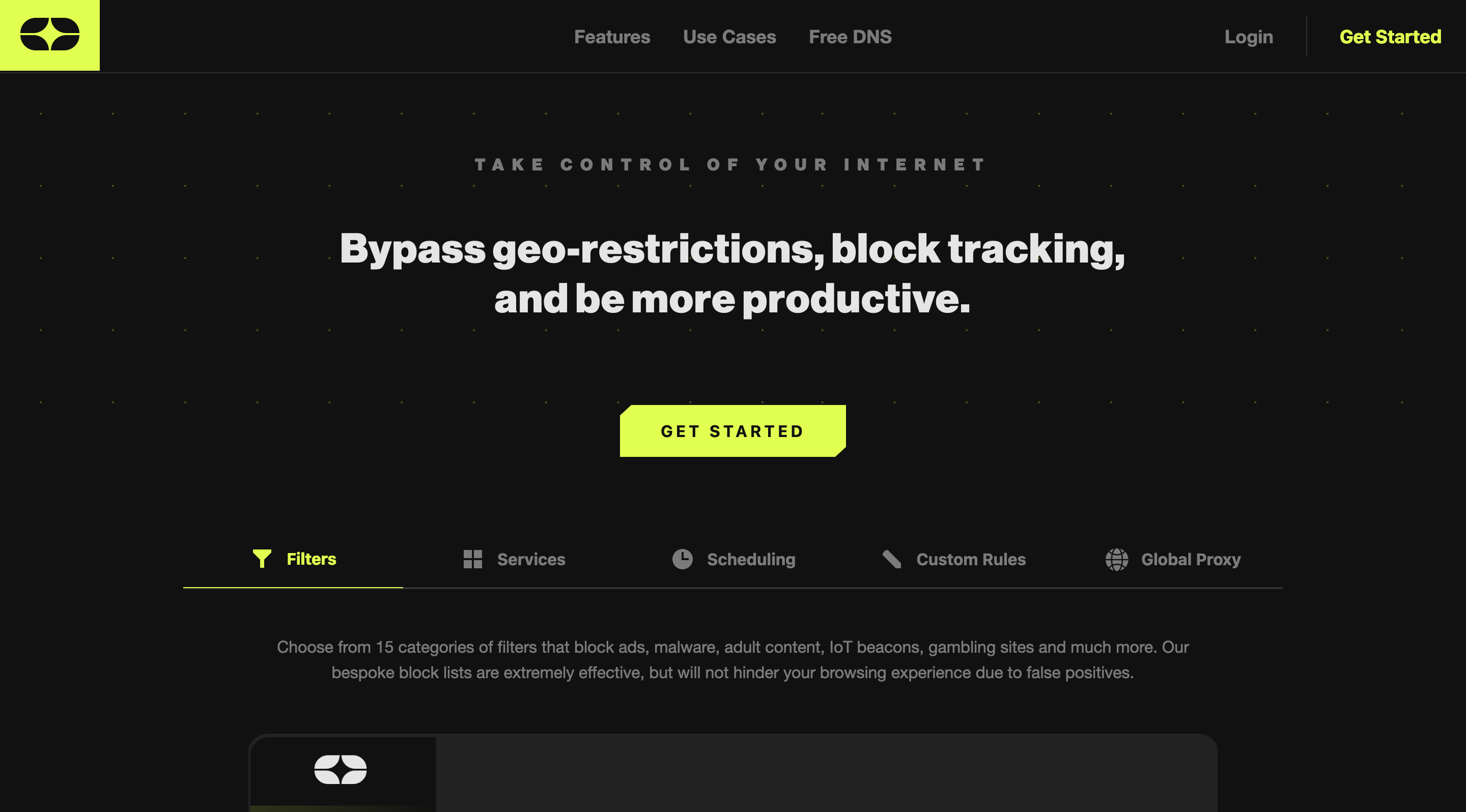 Controld is the ultimate privacy dashboard you need if you want to take care of your data privacy and browse anonymously. Controld gives you the power to choose from 15 categories of filters that block ads, malware, adult content, IoT beacons, gambling sites, and much more. But, why would you need a service or tool like Controld? Well, when you browse the internet you get exposed to various trackers, ads, and various other privacy-invading malware. While those trackers and ads harvest your personal data, they also slow down your browsing experience. Controld helps you to block all those unwanted ads and tracking. With the flip of a switch, you can simply block 15 categories of domains like malware, ads, social networks, adult content, IoT telemetry, as well as over 70 services so you can prevent them from harvesting your data or wasting your time. You can even create custom rules for individual domains. This comes in super useful if you want to override block lists for example. There are several more use cases where Controld comes in super handy, so make sure to head over to their website and check it out.
---
Useful Resource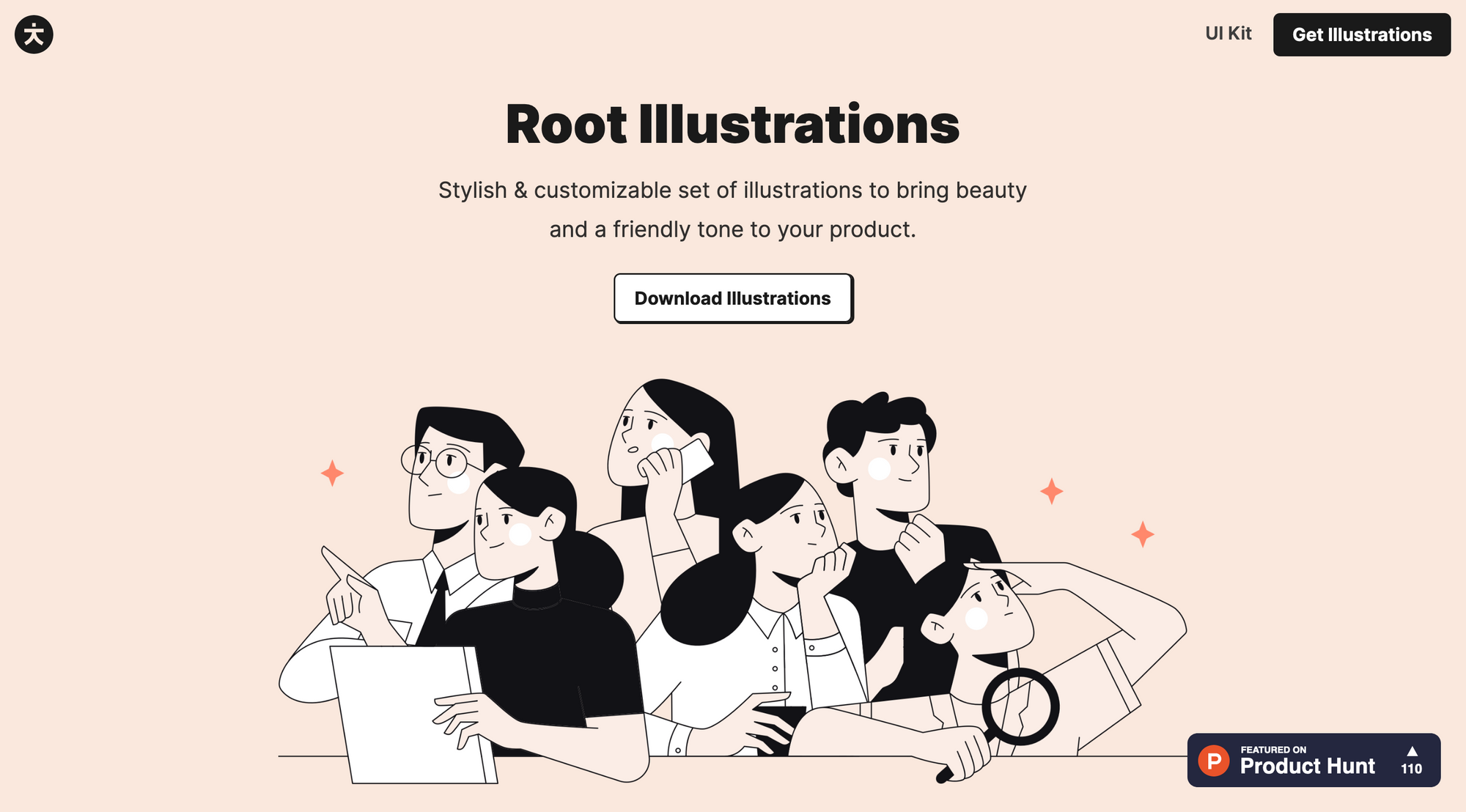 Root illustrations is a beautifully designed kit of a stylish and customizable set of illustrations. The whole kit comes with an illustration constructor, which gives you the possibility to completely customize the illustrations to your needs. All illustrations are 100% vector, which means you get a scalable and printable set of graphics, fully compatible with Sketch and Figma. All illustrations are set up using components, so you can create and customize the illustrations you need for your projects. Head over to their website to get a taste of the awesome illustrations you will get from the kit.
---
Mental Wealth
➢ Make a personal changelog – "Over the years I've made dozens of websites, started and ended a handful of side businesses, hosted industry events, interviewed hundreds of people, written blog posts, reviewed apps, and generally used design and code to chip away at problems that I find interesting.Despite all this, the world still expects my intersection of skills and experiences to fit neatly into a single title. For me, it's product designer.What a reduction! To fight this oversimplification, I've spent hundreds of hours tinkering on my personal website you see right now, trying to build it in a way that lets me share my interests, abilities, and experiences more completely with anyone."
➢ How Basecamp blew up – "At 8AM PT on Friday, a bleary-eyed Basecamp CEO Jason Fried gathered his remote workforce together on Zoom to apologize. Four days earlier, he had thrown the company into turmoil by announcing that "societal and political discussions" would no longer be allowed on the company's internal chat forums. In his blog post, Fried said the decision stemmed from the fact that "today's social and political waters are especially choppy," and that internal discussions of those issues was "not healthy" and "hasn't served us well." The public reaction had been furious, and Fried said he was sorry for the way the new policies had been rolled out — but not for the policies themselves."
➢ Resetting the App Store – "Apple launched the App Store in 2008, and tightened up the payment rules in 2011, and we've been arguing about it ever since. In many ways the issues haven't really changed - it's just that the numbers got a lot bigger. Almost everyone understands that some kind of locked-down, sandboxed software model has been a huge step forward for both users and developers. If there's one lesson to take from the last few years in tech, it's that allowing any random developer to do whatever they want with your device and your data is not a good idea (and that saying they can do it if the user gives permission just creates a target). Equally, a built-in, one-tap-to-install app store with  frictionless payment led to an explosion of software creation and developer revenue. Trust was a huge problem, distribution was a huge problem, and Apple solved both."
➢ Every design is a system – "When I encounter inexperienced designers, there's one thing that always sticks out about the way they think. Or more specifically, the way they don't think.They don't think of every design project as a design system. They don't appreciate the interconnectedness of their design decisions. They solve design problems in isolation, not as a whole.In short, noob designers lack system thinking, and it holds them back from thriving in the big and meaningful projects they dream of. This worries me because skills and tools can be taught, but new modes of thinking are difficult to adopt. There's a lack of system thinking in our modern design education."
---
Twitter thoughts
---
Till next time! 👋‌‌‌‌
Support: Do you have a friend who is looking for inspiration, news about design, and useful tools and apps? Forward this newsletter to a friend or simply share this issue and show some support. You can also show some love by simply clicking the button down below and keep this newsletter a sustainable side-project by buying me a coffee. ☕️ 🥰
---
---
Disclaimer: My posts may contain affiliate links. If you buy something through one of those links you won't pay a penny more, but I'll get a small commission, which supports this blog and also my side-projects. So consider buying something through my links. Thank you!