Newsletter
Make sense of your knowledge & Regain control over your days
In this week's issue of Creativerly: Writing purely, Say ehlo to the future of collaboration, Calmer Notes, and a lot more.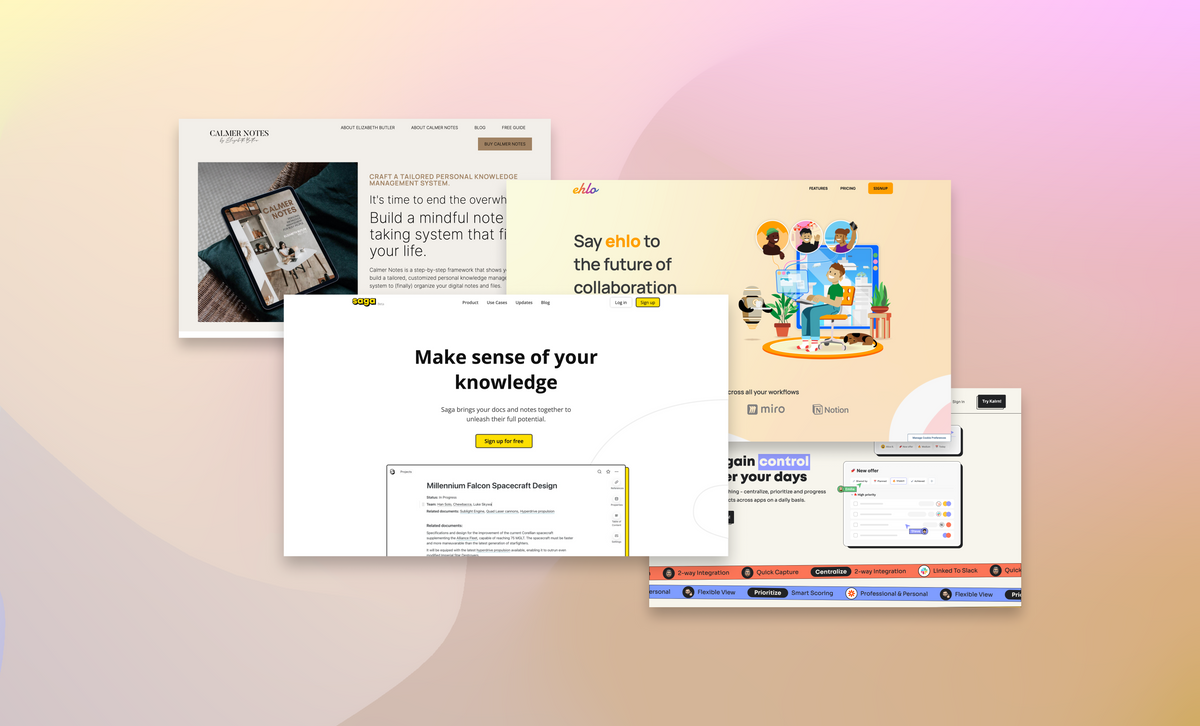 You are reading Creativerly, the weekly digest about creativity and productivity-boosting tools and resources, combined with useful insights, articles, and findings from the fields of design and tech. The newsletter built for the creative community.
---
Hey and welcome to Creativerly 160 👋
Avid Creativerly readers already know that I am a privacy advocate who tries to spread the word about privacy-focused tools and services. For quite some time, I have been maintaining an Airtable database packed with privacy-focused, open-source, and end-to-end encrypted productivity tools. To make this database publicly available to all of you, I am delighted to announce ProductivePrivacy. ProductivePrivacy is a directory website, fueled by my Airtable database of privacy-focused productivity tools, displays them in an alluring list which you can browse conveniently to find privacy-focused, open-source, and end-to-end encrypted productivity tools and alternatives to the ones you are currently using.
As part of this launch, I set up a casual newsletter in which I will share updates regarding the directory, privacy-focused productivity tools in general and the area of data privacy and open-source software in general. ProductivePrivacy should be a constantly-growing directory, which means if you know about any privacy-focused productivity tools that would be a great fit for the directory, get in contact and let me know about it, as I happily add them to the site. As a next step, I am planning to grow the directory, constantly add new tools, and also polish the site. Working with Softr for the launch of the directory was great since it was a real time-saver to just get the directory out there.
Right now, I am working already on the next version of ProductivePrivacy, as I would like to introduce a blog, polish the design to my likings (which is currently not possible with a no-code tool just like Softr) and introduce some other features. I will keep you in the loop regarding the progress I make. For now, enjoy browsing through the entries within the ProductivePrivacy directory.
---
Get more traffic from search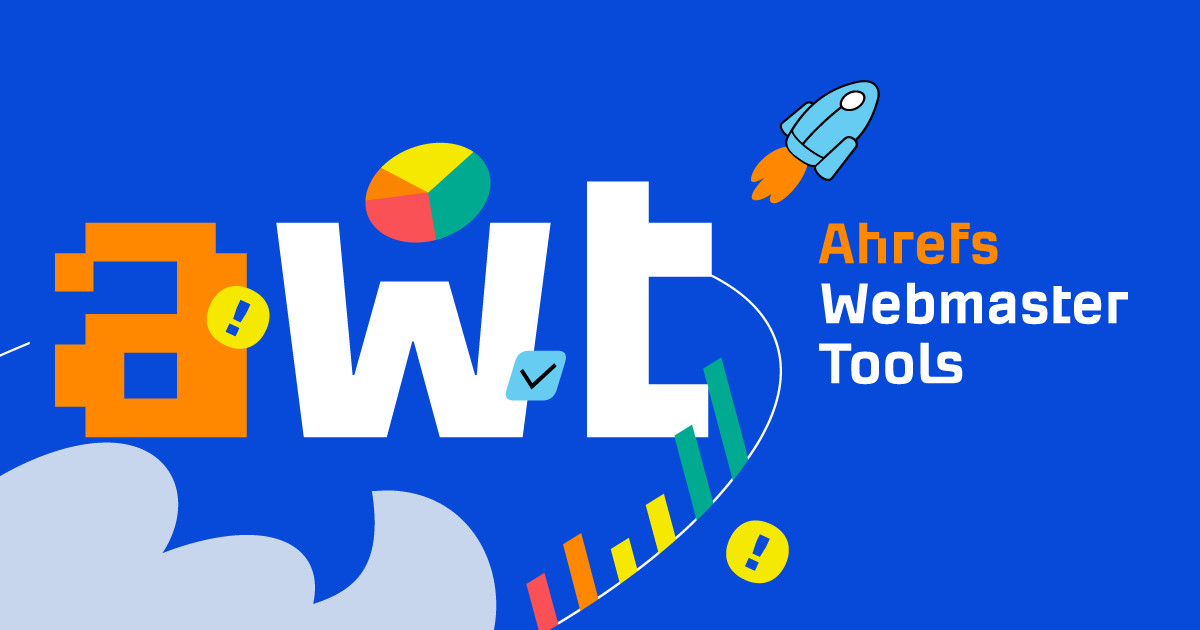 Ahrefs Webmaster Tools helps you to improve your website's SEO performance. If you are looking for tools to monitor your SEO health, know your backlinks, and see all the keywords that bring traffic then you should sign up to Ahrefs Webmaster Tools now. It is free!
---
Apps, Software, Tools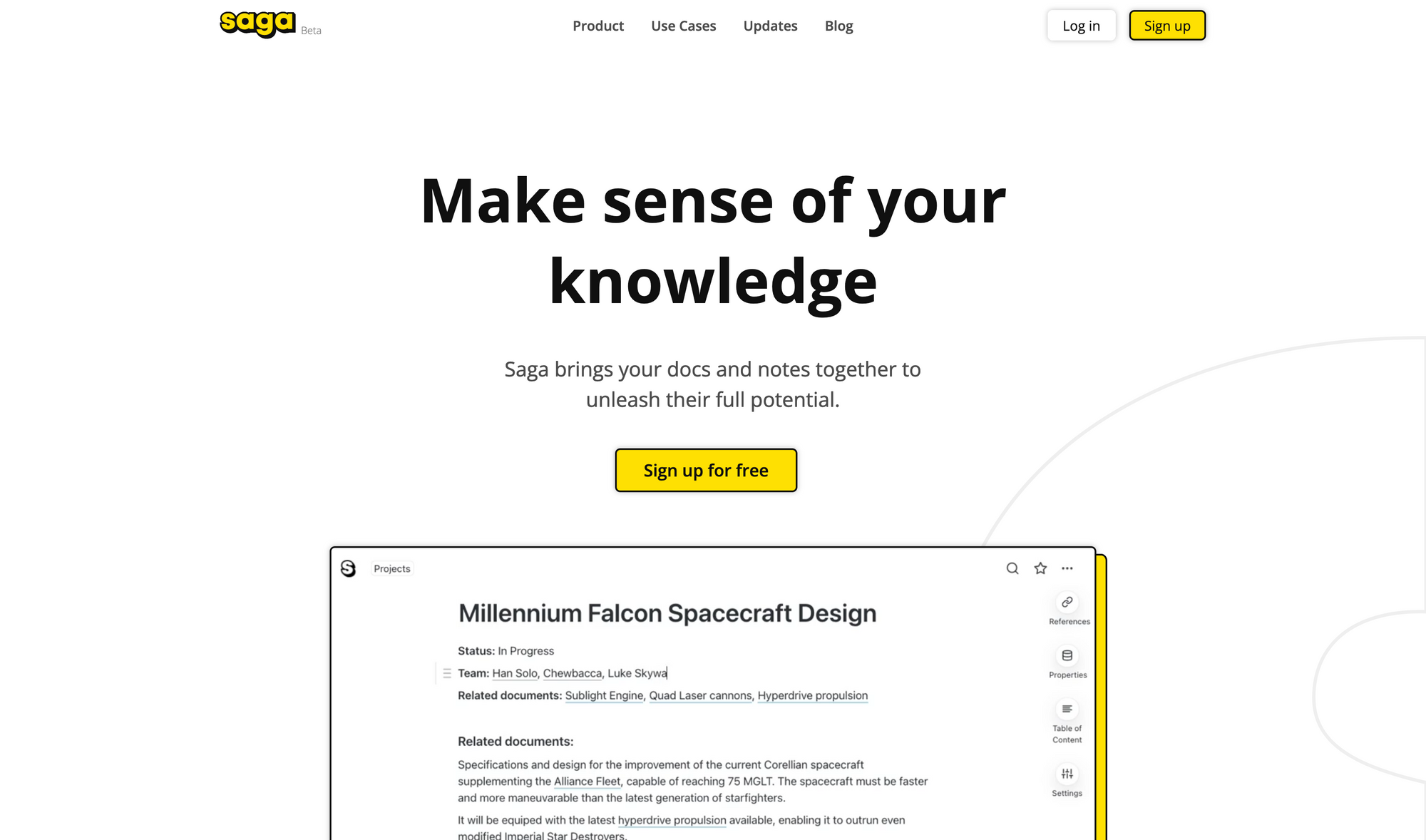 Saga is an upcoming and intriguing tool that allows you to create a knowledge hub for yourself or your team. With Saga you will be able to bring your docs and notes together in one place to unleash their full potential. There is one feature that turns Sags into a powerful tool that boosts your productivity by saving time. And that feature is called autolinking. While you are writing down your notes and crafting your documents, Saga intelligently recognizes what you are writing. Thanks to autolinking, creates cross-references to other parts of your knowledge base. This saves you time and helps you to discover what is relevant.
The links created within Saga to connect your notes and docs are called references. Those references help you to instantly see where your notes and pages are mentioned. Folks, who are actively observing the space of Personal Knowledge Management, are already aware of how powerful it can be to see the connections you have made across your notes and docs within your knowledge base. If you want to share your knowledge base and showcase the references and documents have created with the public, Saga gives you the possibility to turn whatever you are working on into a webpage with a single click.
Saga is currently in beta, which means you can sign up for their waitlist right now. As part of their roadmap, they are planning to add integrations to search and even drag and drop from tools like Google Docs, Gmail, Slack, and others. Additionally, Saga is planning to bring collaboration features and functionality to their tool, so you can write documents and notes together in real-time, share your work with others, and expand your team's knowledge. Saga is a Great Tool if you want to take notes and create docs, do business research, keep track of meeting notes, set up a project wiki, or do product management.
Saga features a beautiful interface with a powerful editor, that gives you possibilities to write effortlessly. If you want to create a knowledge hub that works for you, you should take a look at Saga.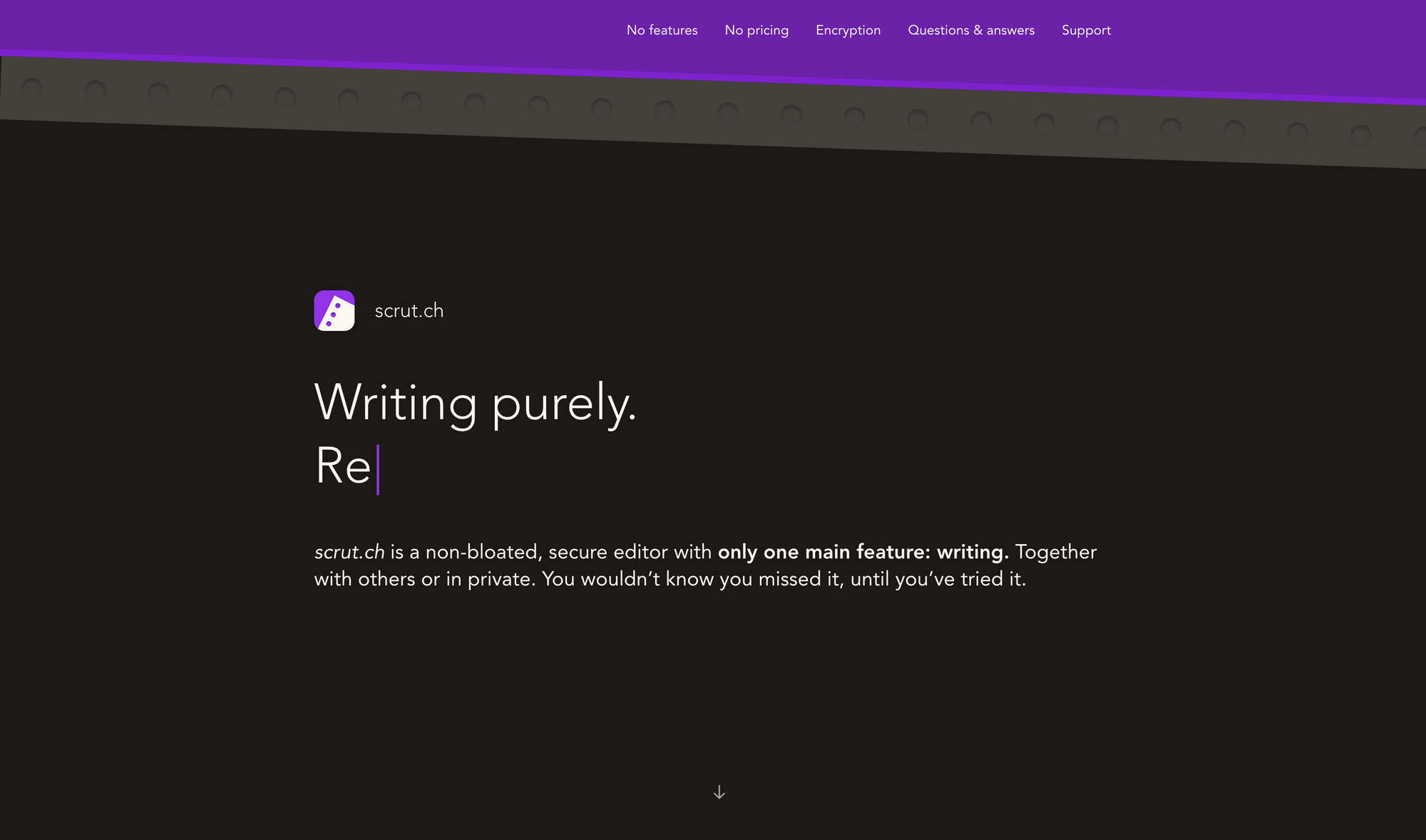 As I am finishing up my personal website philipptemmel.com, I am also getting back into writing blog posts and long-form writing in general. My preferred writing environment is iA Writer, but I enjoy finding out about new tools entering the area of distraction-free writing apps. Recently, I found out about scrut.ch, a non-bloated, privacy-focused, clear and lucid app, that focuses on one main feature: writing.
Scrut.ch is such a distraction-free writing environment, that it even states on its website that there are literally no shiny features, and instead of highlighting what scrut.ch can do, it rather lists and summarises what it's missing. So, when you want to use scrut.ch be aware that there are no sign-up, login, or cookies required, there is no rich-text-editor but markdown, no ads, no tracking, no images or files, no themes or templates, no apps just a progressive web app, no folders or tags, no clutter, just you and your writing, pure focus. By visiting scrut.ch's YouTube Channel you can get some more insights on the app itself, and functionalities like shortcuts, or sharing your writings.
Scrut.ch is completely free of charge. There is no pricing, and no subscriptions involved. However, as scrut.ch needs to be developed and maintained, therefore if you are using the tool, consider supporting the development of scrut.ch with their options for donations. One huge advantage of scrut.ch is definitely its focus on privacy. Scrut.ch is using end-to-end encryption which means everything entered into scrut.ch's editor gets encrypted before it leaves your device.
Scrut.ch is being developed and maintained by André Simmet as a side-project. Therefore, I encourage you if you are using scrut.ch to support the project, and support André Simmet.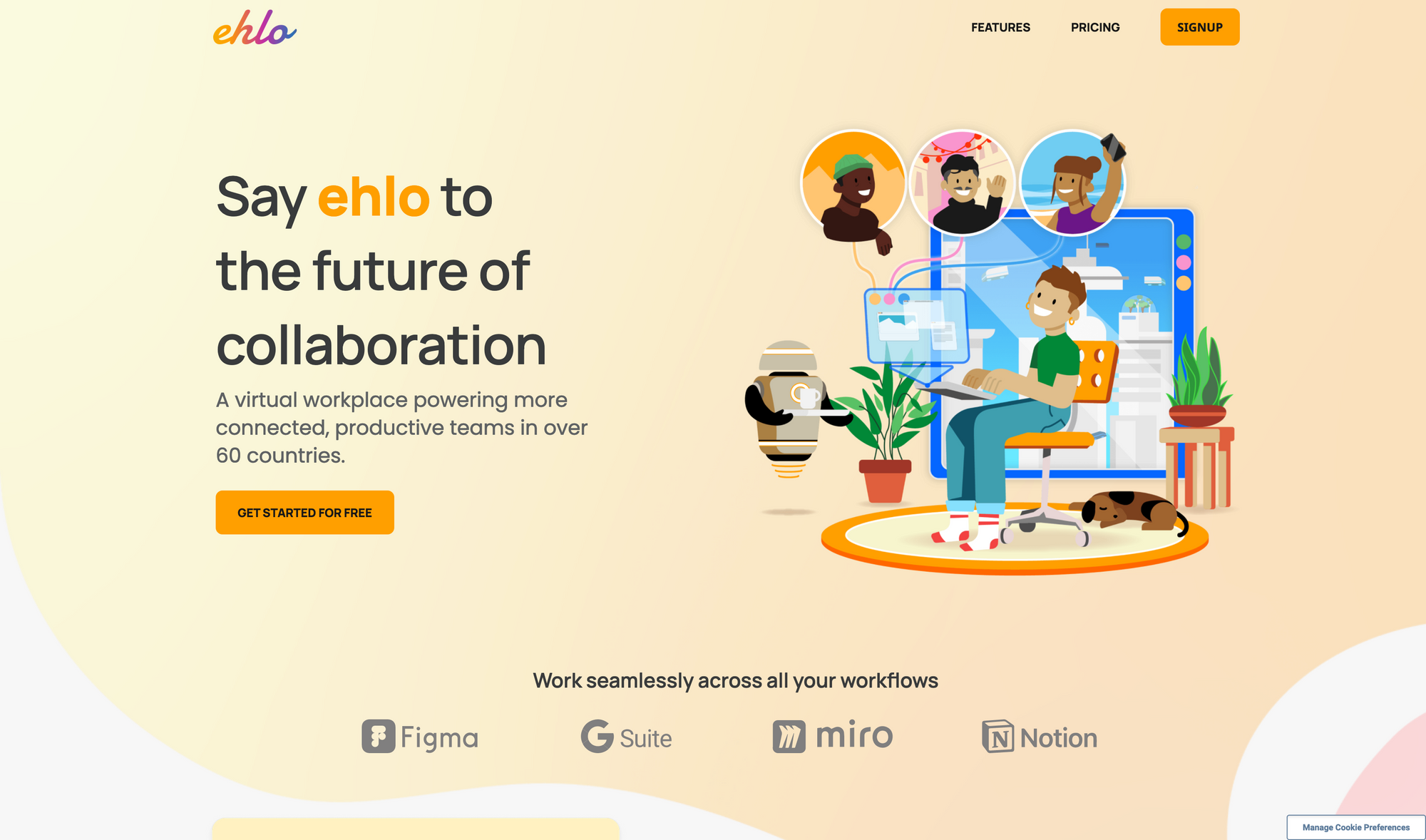 Ehlo is a tool that creates a virtual workplace for your remote team and helps you empower the connection between your team members. Remote work is here to stay. More and more companies decide to implemented remote work or a hybrid model to give their employees the possibility to work from anywhere they want. When your team is spread across different countries, it is more important than ever to empower the connections between your team members.
Ehlo lets you create a virtual workplace within which all your team members are within cursor's reach. If you plan to start a conversation, you can do so by sending a knock to your colleague or hopping on a call, all with just one click. If you ever wanted to bring your remote team closer together, ehlo is a great tool to do so. Ehlo's workplace lets you connect to your teammates even if you are not on a call by simply seeing who is around. If you want to take a coffee break or a social catch, simply invite your teammates and hang out together.
Additionally, ehlo not only empowers the connection between your colleagues, but it also boosts your team's collaboration. Ehlo's lightweight video calls make it incredibly easy to add video collaboration to all of your workflows with a single click. Teams and companies around the world use ehlo already for Project Updates, Daily Standups, Coffee Breaks, Brainstorming Sessions, Pair Programming, and a lot more. If you also want to inspire and connect your teams give ehlo a try. Ehlo also supports privacy by default, as the tool is using Web RTC enterprise-grade encryption and no app tracking.
If you want to give ehlo a try you can sign up for their beta right now. In the future, there will be the Startup Plan, which will be free and includes unlimited audio and video calls, unlimited rooms, up to 10 saved resources and basic support. If you are looking for unlimited resources and premium support, you will be able to upgrade to the Growth Plan which will cost you £6 per month, but it is currently free during their beta.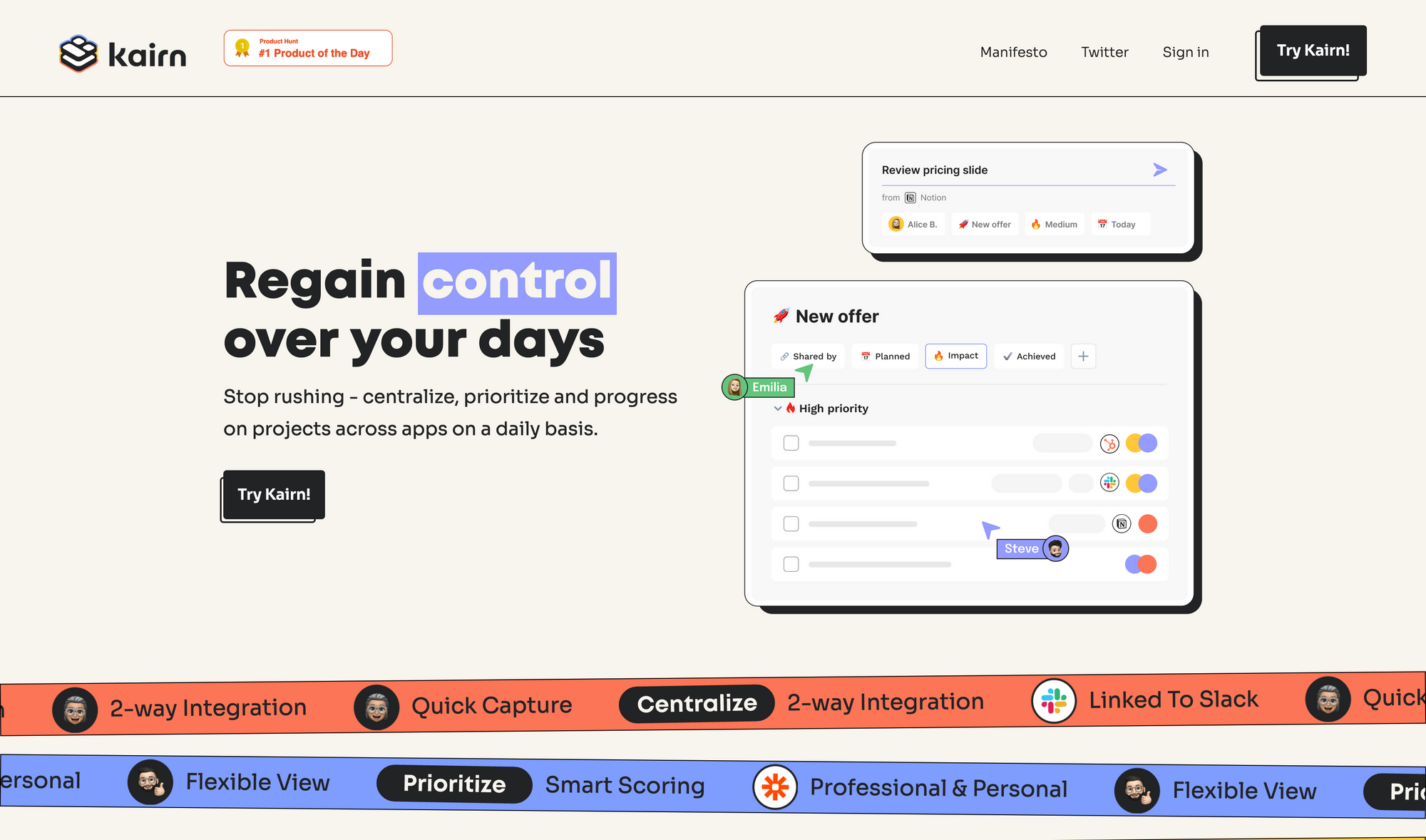 Working and spreading your projects across different tools can sometimes lead to the fact that important bits will get lost. Kairn is a tool that wants to help you centralise, prioritise, and progress on your projects across all the apps you use on a daily basis.
Keeping track of everything you need to do across the tools you use on a daily basis can be hard and exhausting. Kairn helps you to centralise your work so you get clarity on what to do in one place. Kairn is powered by smart integrations which means there is no need to search through your tools to find the tasks you are looking for since Kairn does it for you. With Kairn you can additionally add tasks in a click just as they happen since Kairn links the task to the right page for you. This is possible because Kairn features a 2-way-integrations.
On top of that, Kairn makes sure that you prioritise the things that matter. Managing projects on a daily basis but also long-term has never been that easy. Kairn offers the project view and the task view so you can always stay on top of your work, as you can select the views according to your needs and style. No matter if you working on your own or within a team. Kairn is designed for both, professional and personal work, as only data in shared projects can be accessed by your team, the rest is yours only.
You can try out Kairn today for free with unlimited projects, unlimited connected apps, unlimited members, and up to 500 tasks updated per month. This is an incredibly generous free plan so you can get a taste of how powerful Kairn can be for you and your team. If you need unlimited task updates, an activity log and a collaborative workspace which are both features soon-to-come, you can upgrade to Kairn's paid plan which will cost you $5 per month per user. On top of that, there is also a plan for bigger teams with additional permission management, admin tool, and public boards and guests, which will cost $10 per month per user.
---
Useful Resource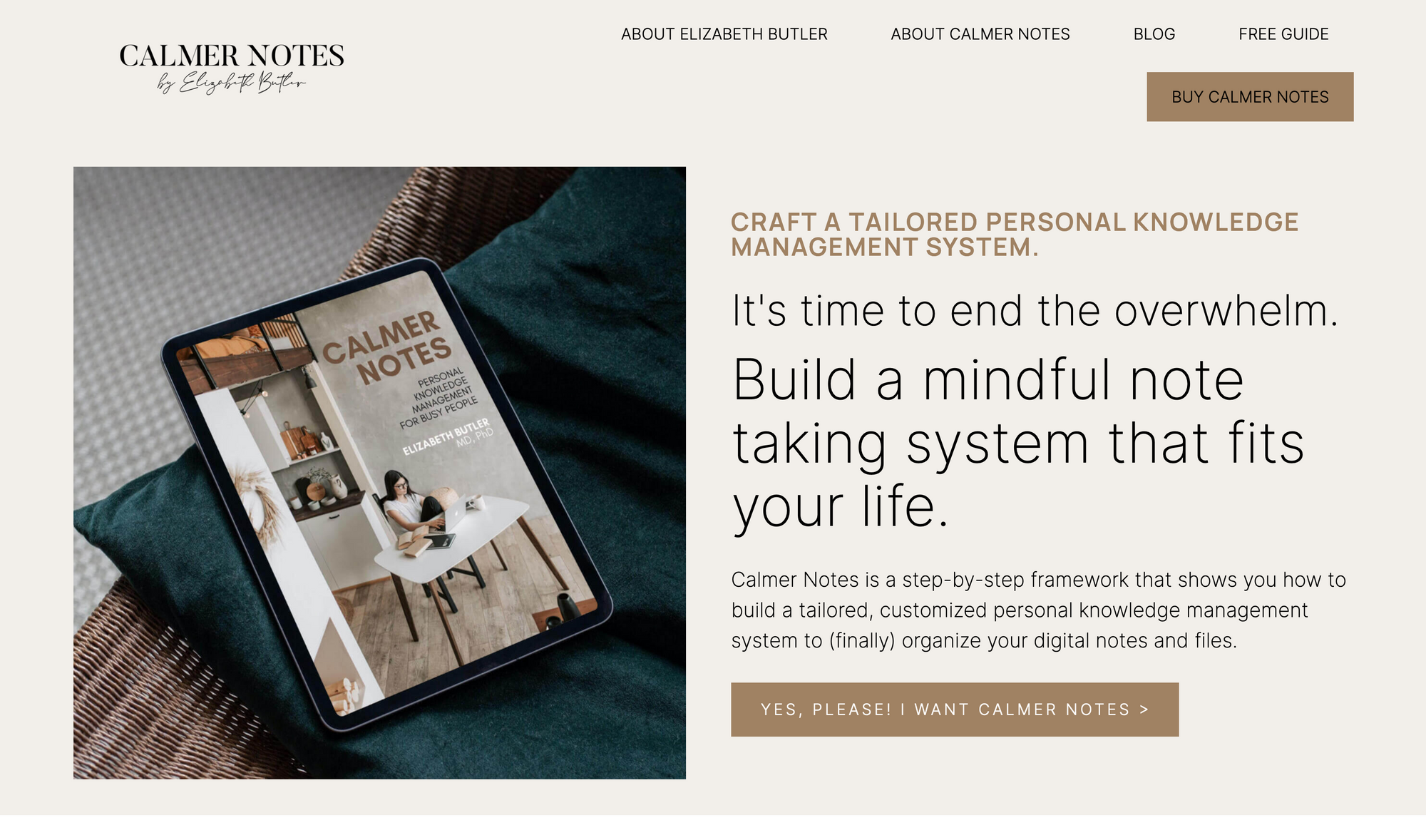 Recently, I bought Calmer Notes, an incredible resource by Elizabeth Butler, a physician, researcher, and working parent, who has spent many years figuring out the best ways to manage digital notes, documents, and information. In Calmer Notes, she shares her experience with you.
If you are currently struggling, to create, set up, and maintain your personal knowledge management (PKM) system that works for your life, Calmer Notes will help you to develop a streamlined method to organize your ideas, notes, and documents so you can feel more clear, creative, and calm. No matter if you want to create a PKM system for your professional or personal life, Calmer Notes is a powerful resource, that will help you achieve your PKM goals.
Calmer Notes will teach you how to identify existing pieces of your PKM system, how to choose the right note-taking app, how to design and create a personal knowledge management system that works for you, and a lot more. If you want to start managing your personal knowledge in 2022, Calmer Notes is the only resource you need.
---
Mental Wealth
➢ Build the smallest, simplest thing you can – "Here's how I think about software development: All code is an assumption until it meets its real-life context: its user, real-world data, the situation it'll be used in. The goal in a startup should be to prove all your core assumptions as quickly as possible. Whereas in an agency setting, say, or perhaps even in a larger company, there's a defined deliverable, code in a startup is never done: you're constantly iterating on it to get closer and closer to the right fit for its context."
➢ Should you ever NOT listen to user feedback? – "User feedback is always right. Right? Well…yes, and no. Product designers are faced with a flood of feedback each day, from direct feature requests from customers, to feature ideas from sales reps on your team, to complaints via email, rating websites, and social media, customer service tickets, and more."
➢ We're Killing Ourselves with Work – "After years of being encouraged to choose a job I love so I'll never work a day in my life, I figured I had found my ticket: science. Like many academics, I identify with my work. I pursued a Ph.D. largely because I've always thought of myself as curious and enthusiastic about nature, particularly the brain. Research at a university felt like a natural extension of those traits."
➢ Doing Something Once Vs. Doing It Every Day – "The older I get. The more I think about the following: It doesn't matter what you have done. But what you keep doing consistently that counts. This is easily sensible in all types of sports. I mean, you can't win an Olympic medal if you train once. You need to show up every day to have a chance at qualifying – winning is a whole other thing."
---
Classifieds
If you are interested in putting your tool, product, or resource in front of over 1500 creative minds, consider advertising in Creativerly and book a sponsor or classified ad spot. Find all the important information at creativerly.com/advertise.
---
Appendix
➢ ICYMI
Creativerly's advertising spots for Q2 2022 are now open! If you want to put your product, tool, app, resource in front of over 1500 creative minds interested in creativity and productivity, then you might consider advertising in Creativerly. Head over to creativerly.com/advertise for all the important information and get in contact if you have any additional questions.
➢ Quick Bits
---
Twitter thoughts
---
Till next time! 👋‌‌‌‌
Support: Do you have a friend who is looking for inspiration, news about design, and useful tools and apps? Forward this newsletter to a friend or simply share this issue and show some support. You can also show some love by simply clicking the button down below and keep this newsletter a sustainable side-project by buying me a coffee. ☕️ 🥰
---
---
Some of the links in my newsletter and my blog posts are affiliate links. Those links are marked by an asterisk. If you buy something through the link, the product will not cost you anything more, but I will receive a small commission which not only supports Creativerly and my work but also helps me to keep this publication a sustainable side-project.