Newsletter
You are a network & Make web design feel like home
In this week's issue of Creativerly: Icon management - solved, the simplest way to create device mockups, spontaneous voice rooms, the problem with design is designers, and a lot more.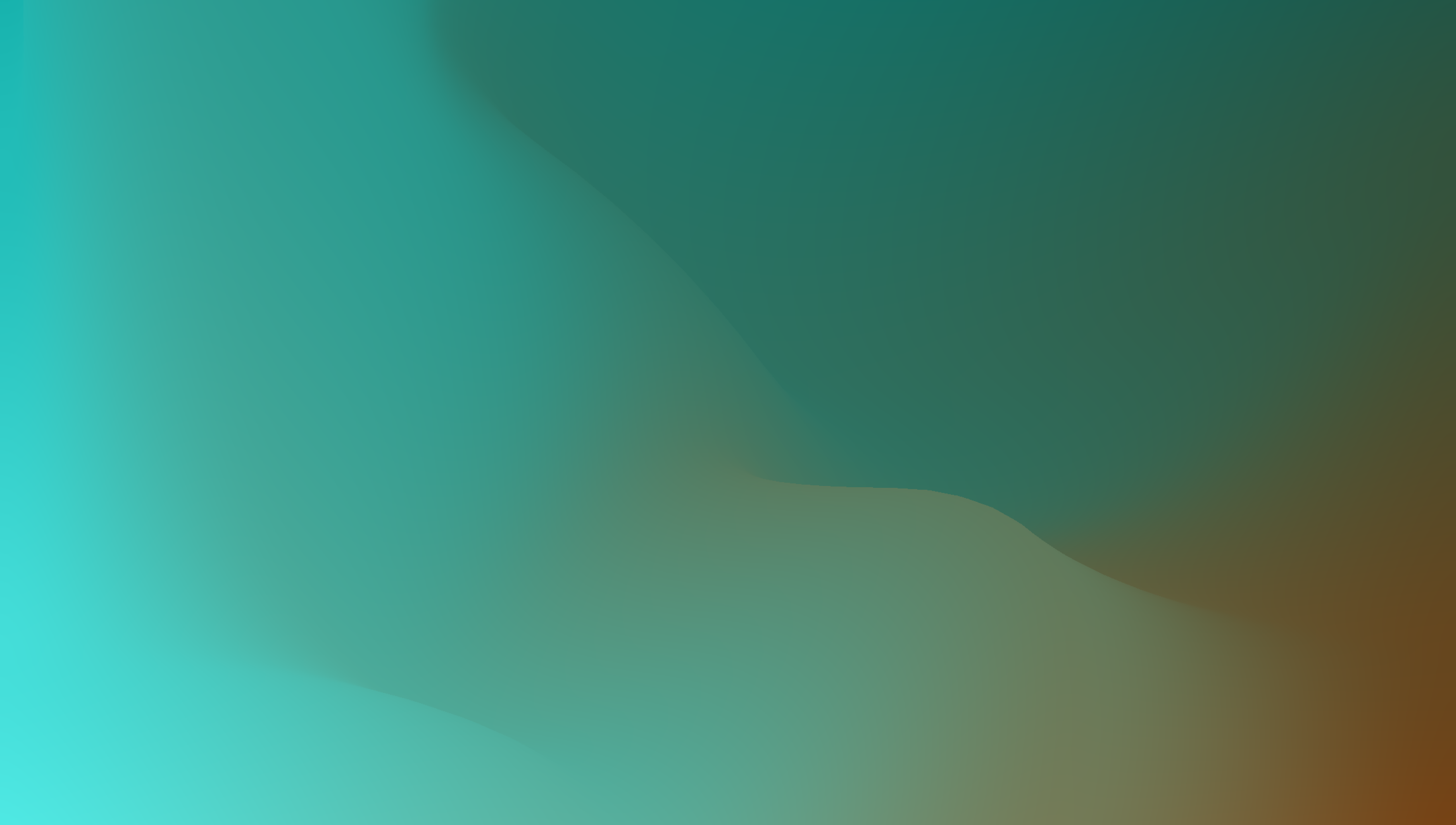 You are reading Creativerly, the weekly digest about creativity and productivity-boosting tools and resources, combined with useful insights, articles, and findings from the fields of design and tech. The newsletter built for the creative community.
---
Hey and welcome to issue 118 👋
Thank you again for taking part in Creativerly's community survey over the last few days. I am closing the survey for now and will present you with some insights I got. First and foremost, a lot of Creativerly's subscribers would welcome and appreciate a dedicated community space. People who voted in favor of a Creativerly community space were especially looking for a dedicated space to connect with like-minded people for collaborations, discuss and share new tools, share experiences and use cases of specific tools, talk about productivity techniques and how to apply them, learn together - build together, product reviews, tips and tricks regarding tools, and simply a place for more interaction.
A community space from Creativerly for Creativerly readers can be all of that. But, I do not simply want to create a community space for the sake of having a community space. Creating, maintaining, and moderating a community, keep the conversations and discussion going is hard and takes a lot of time and effort. Therefore, I need to think through this idea. Getting all those insights from you helped out a lot to further form the idea of creating and building a Creativerly community space.
As for the platform, a lot of you voted for Discord, as it gets more and more popular alongside content creators, who want to create a space to interact with their audience. I can see that too. I am part of several Discord Communities and I absolutely love the platform. On second place there was Slack, as Slack also hosts a lot of private community spaces, but compared to Discord it feels more like enterprise software and Discord might be a more personal option.
People who voted against a Creativerly community space, argumented with the fact that they do not have time to take part in yet another community, or that they are not interested in discussing certain tools and resources. I totally respect that, and at some point I also had community fatigue as more and more content creators I follow launched their own community space. While I totally get the point of those people, their arguments are no reason for me to actually get rid of my idea. Simply because some of my subscribers do not want to commit to another community or do not have time to take part in a community, does not mean I discard my idea, especially when the majority would love to have a dedicated community space as part of my newsletter.
Anyways, thank you for taking part in the survey, thank you to everyone who shared their thoughts, opinions, recommendations, and suggestions regarding building and creating a Creativerly community space. I really appreciate it, and I am incredibly thankful having such an interactive audience. All of you helped me out a lot, and the thoughts you shared with me led to new ideas, and gave me great insights. I will keep you all updated about this.
If you have recommendations or feedback, drop me an email or a tweet. For now, enjoy the newsletter!  🥰
---
Apps, Software, Tools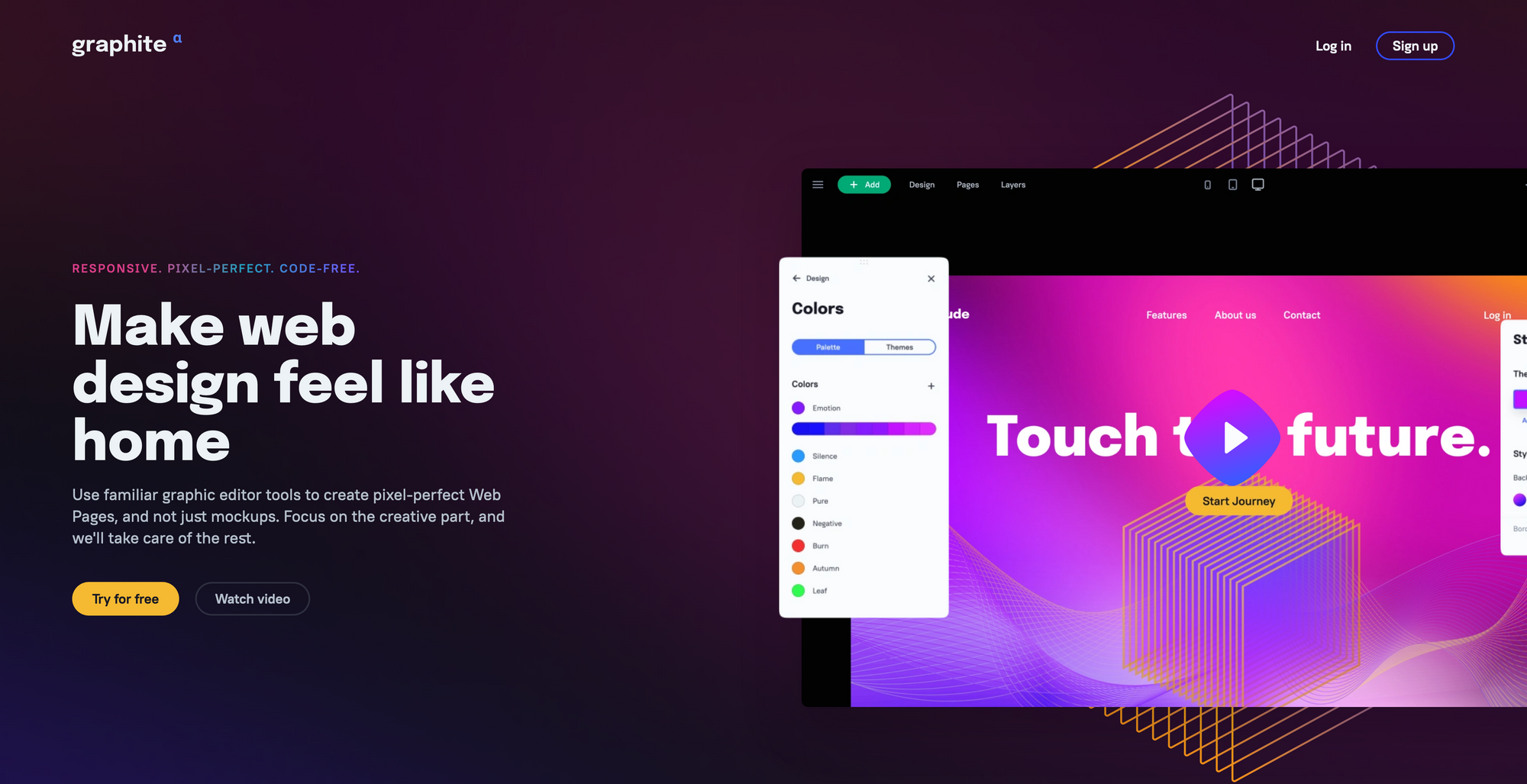 Graphite is a beautifully, free online website builder. It got built with web designers' best interests in mind. Graphite features familiar graphic editor tools to create professional-grade web pages and publish them online without working with HTML, CSS, or JavaScript code. Graphite gives you all the design freedom you need. Start with a template or completely from scratch, customize the responsive grid, and switch between absolute and auto-layout positioning on the fly, if you are done one click is all it needs to publish your website and see it live. Graphite has a superior suite of features, which give you full control over the design of your website.
Work with a design system to create custom presets and introduce changes across multiple projects at any scale necessary, add animations and bring your design elements to life, pack your ideas within components to boost your productivity as you reuse certain elements, publish your website and set it live only with one click. If you are looking for an all-in-one web ecosystem, Graphite got you covered, it has all the tools necessary to get the job done, everything you need – packed in one versatile reliable solution. Design system, layout engine, asset management, content management, code tools, hosting, domains, and SSL, with Graphite you are ready to go.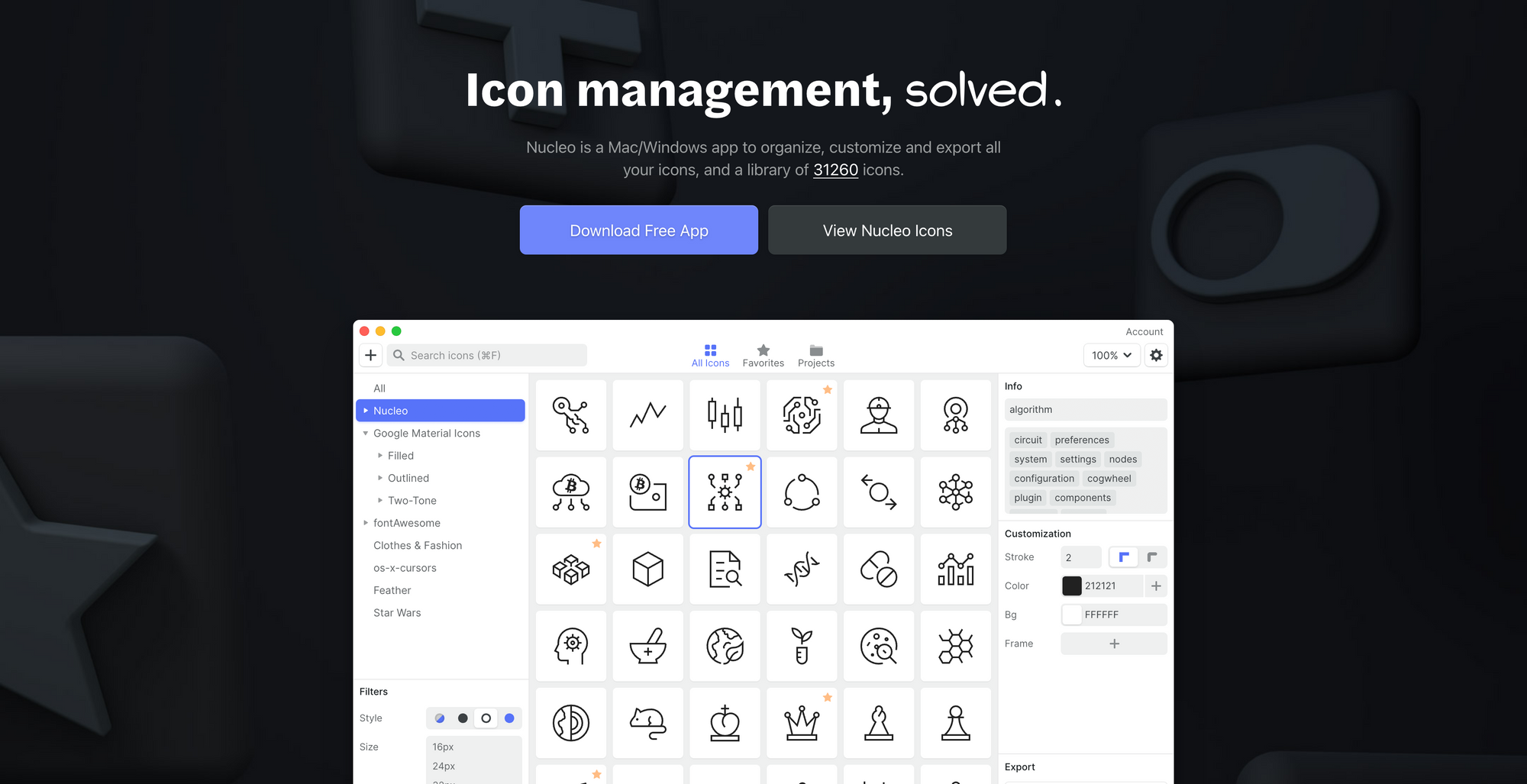 If you are working in the field of User Interface Design, you will probably work with a lot of icons, no matter if you are using libraries like material design icons, or completely custom-build ones. As you create more and more screens and views, your icon library will also grow. At this point, Nucleo comes in really handy. Nucleo is an app (available for Mac and Windows) to organize, customize and export all your icons. On top of that, it comes with its own Nucleo library which contains over 31.000 icons. Simply import your icons into Nucleo and start organizing them. You can create collections and projects to further structure all your icons. Nucleo works with your favorite Mac and Windows app, all you need to do is drag-and-drop your icons from Nucleo to your design tool.
Nucleo also features in-app customization tools, so you can quickly change and edit colors, stroke, background, or the frame of your icons. If you are working across a team with developers, Nucleo gives you advanced export features, so you can export multiple icons, set custom resolutions, create icon fonts and SVG symbols, and copy inline SVG code, grab CSS class names and manage SVG symbols with no need for demo files. If you want to collaborate on your projects you can do so too by simply creating a team and add members to your collections and projects. Nucleo is the ultimate icon management tool.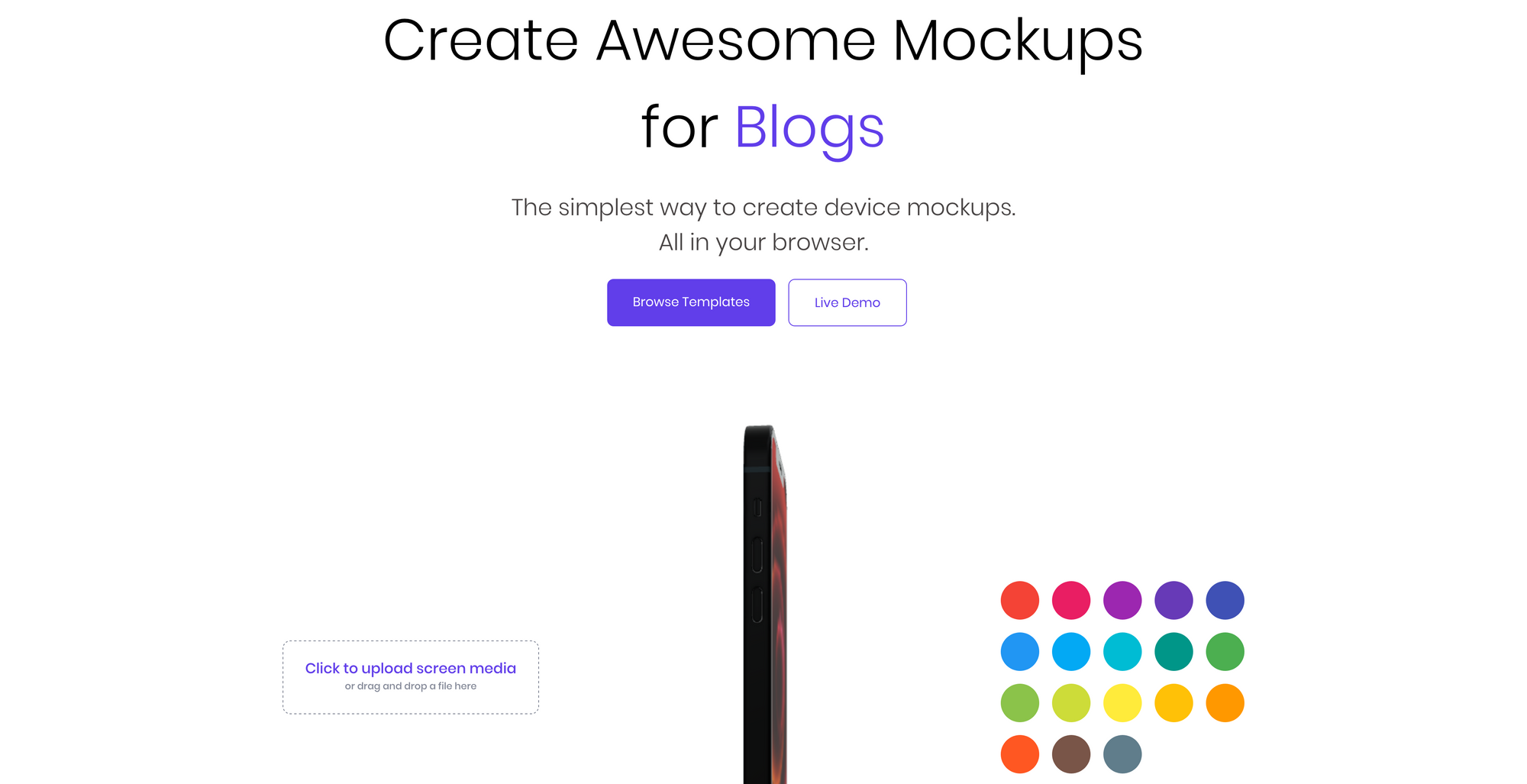 Do you want to promote your app with an eye-catching video, featuring 3D devices, beautiful scenes, and modern animations? Then you should definitely check out Previewed. Previewed gives you all the possibilities to create outstanding app promo videos, straight in your browser. If you do not want to start from scratch, Previewed offers high-quality templates to give you a starting point. But it does not end there, Previewed is also the simplest way to create studio-grade mockups to showcase your app on your website, social media, in presentations, on your blog, or anywhere else.
Previewed also features all your favorite devices, iPhones, iPads, Android Mobile & Tablets, in studio-grade 3D renders. Above that, everything is fully customizable. Choose from 100s of fonts and add them to your mockups. Add custom images or use our collections to create mockups with unique elements. Position and rotate any component, however you like. And a lot more. You have to try out and play around with Previewed to realize how powerful it actually is. You can even do that completely for free. Simply sign up for an account, choose a template, upload an image or a screen recording of your app, and start customizing. Previewed is an incredibly useful tool, and the ultimate creativity and productivity boost when it comes down to create beautiful mockups and promotional material for an app.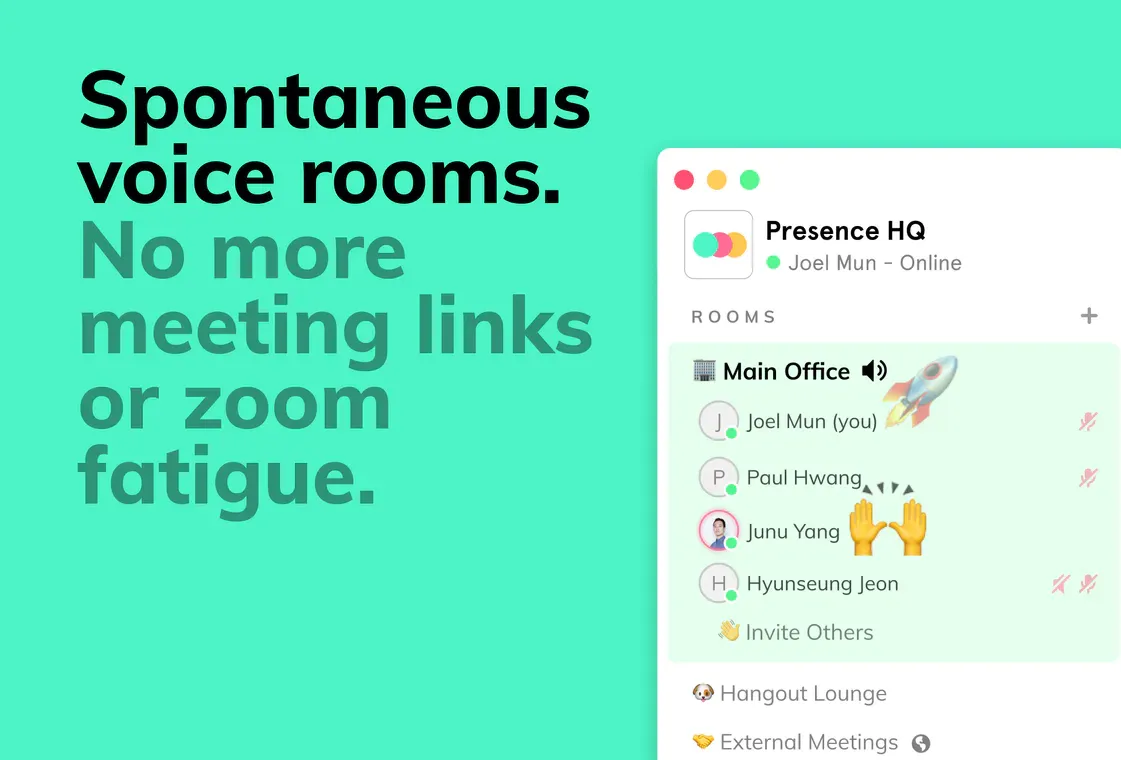 Presence wants to help remote teams work closer and more effectively together. How? Via live drop-in voice rooms and asynchronous voice chat. Presence lets you create spontaneous voice rooms, so you do not get flooded with meeting links anymore. Simply see where people are already hanging out and join the conversation with just one click. On the other hand, you can also talk quickly walkie-talkie style without being interruptive by using live silent captions and transcribed voice notes. One of the most powerful features of Presence, in my opinion, are the auto transcribed meeting notes, which make it effortless to go back, find, and share important highlights.
Besides that, Presence also features screen sharing, live emojis, ephemeral chat, and a lot more. Presence is the perfect tool for spontaneous virtual office interactions, creative jam sessions, employee onboarding, and a lot of other use-cases, which they featured on their website, so you can check them out. Presence is available for macOS and Windows, and you can use the tool for free for up to 5 team members, up to 500 transcription minutes monthly, and 720p screen sharing. If you need more team members or 1080p screen sharing, you can upgrade to the basic plan which will cost $6 per month and member. The Pro plan gives you even more features, e.g. 2K+ screen sharing, and will cost you $9 per month and per member.
---
Useful Resource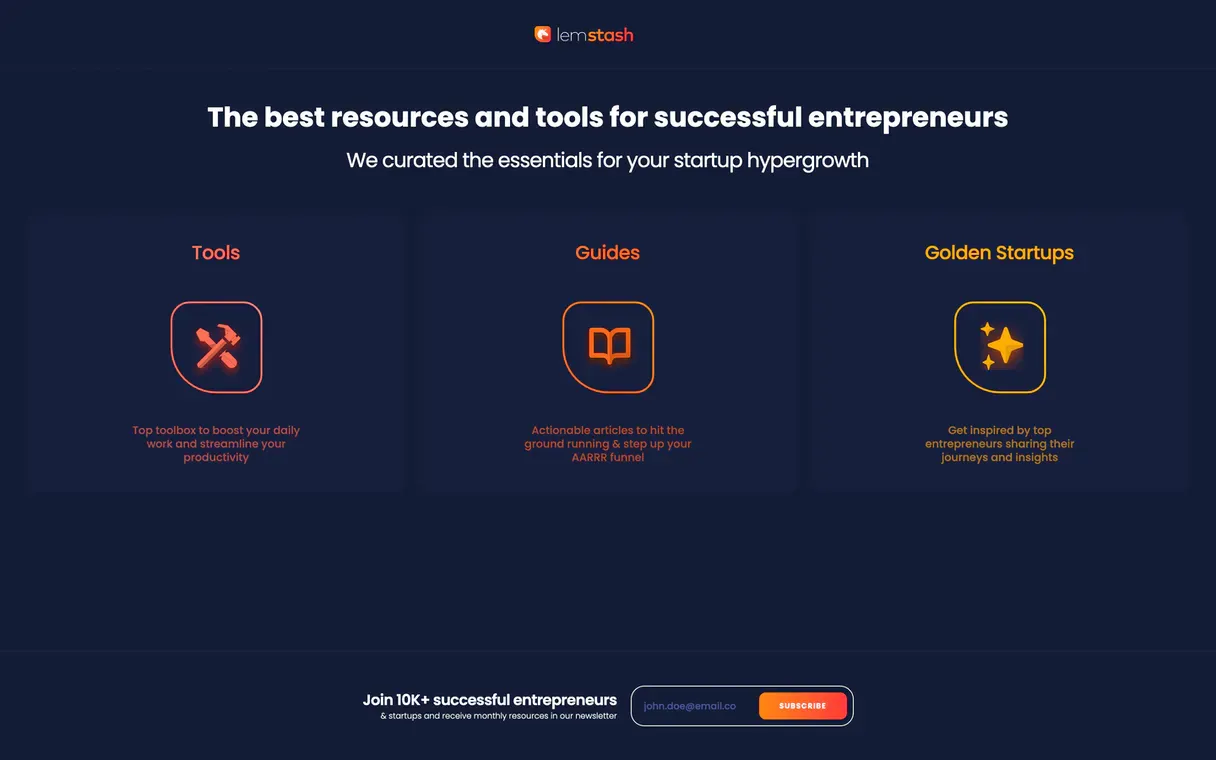 lemstash is a super directory packed with incredibly useful tools and resources, especially aimed at entrepreneurs and startup founders, but also as an individual you can definitely find useful tools and resources within the directory. The curated directory contains 250+ handpicked tools and guides that will help you in building and growing your startup. The tools are structured and filtered by using different categories, so you can quickly find what you are looking for.
lemstash also features super-useful guides about topics like onboarding, copywriting, growth, or revenue. The "Golden Startups" category gives you real-world examples of people who successfully built, launched, and grew their products and startups. Definitely worth checking out!
---
Mental Wealth
➢ The new rules of the "creator economy" – "LOOK AT YOU down there, trying to run for your life," jeers Summer Solesis, peering down at the camera. "You don't stand a chance against my giant, size 11 feet!" Standing over her phone, she pretends to stamp on the viewer, who gets the effect—sort of—that Ms Solesis is a "giantess with dirty feet getting rid of the tiny men infesting my house", as one video is captioned. The production quality is low-fi, but viewers seem not to mind. "Unforgettable sweet crushing," swoons one fan, Sven, in the comments below."
➢ The joys of being an absolute beginner – for life – "One day a number of years ago, I was deep into a game of draughts on holiday with my daughter, then almost four, in the small library of a beachfront town. Her eye drifted to a nearby table, where a black-and-white board bristled with far more interesting figures (many a future chess master has been innocently drawn in by "horses" and "castles"). "What's that?" she asked. "Chess," I replied. "Can we play?" she pleaded. I nodded absently. There was just one problem: I didn't know how. I dimly remembered having learned the basic moves as a kid, but chess had never stuck. This fact vaguely haunted me through my life. I would see an idle board in a hotel lobby or a puzzle in a weekend newspaper supplement, and feel a pang."
➢ The Problem With Design is Designers – " No procedural change to design will ever outperform the personal changes a designer is willing to make. When it comes to both results and the experience of achieving them, good design is so much more about what gets done and who does it than how. This is also why writing about design is almost always more compelling when it is about problems, context, and adjacent conditions than the procedures we follow to grapple with them. And yet, few things are as sacred to designers as process. To which I say, a process is only as good as its fit to the user. Designers continually evangelize procedures with the belief that they will and should work for everyone, when what they actually know is that they work for them. That knowledge is good. But it is self-knowledge masquerading as procedural expertise."
➢ You are a network – "Who am I? We all ask ourselves this question, and many like it. Is my identity determined by my DNA or am I product of how I'm raised? Can I change, and if so, how much? Is my identity just one thing, or can I have more than one? Since its beginning, philosophy has grappled with these questions, which are important to how we make choices and how we interact with the world around us. Socrates thought that self-understanding was essential to knowing how to live, and how to live well with oneself and with others. Self-determination depends on self-knowledge, on knowledge of others and of the world around you. Even forms of government are grounded in how we understand ourselves and human nature. So the question 'Who am I?' has far-reaching implications."
---
Appendix
➢ ICYMI
Google just launched their huge update to their design language and system called Material You. A big part of Material You is "personal customization". Google also made accessibility their core mission. With Material You we will get a lot of updated UI components and I am totally ready for it. The screenshots Google shared early on look beautiful and I can not wait to see it live on a device in my hands.
➢ Quick Bits
Apple CEO Tim Cook testifies in Epic legal battle / Clubhouse is now available to all on Android / Microsoft is (finally) killing off Internet Explorer entirely / Android 12 upgrades privacy features to give you more transparency and control / Amazon investigated by German anti-trust watchdog
---
Twitter thoughts
---
Till next time! 👋‌‌‌‌
Support: Do you have a friend who is looking for inspiration, news about design, and useful tools and apps? Forward this newsletter to a friend or simply share this issue and show some support. You can also show some love by simply clicking the button down below and keep this newsletter a sustainable side-project by buying me a coffee. ☕️ 🥰
---
---
Some of the links in my newsletter and my blog posts are affiliate links. Those links are marked by an asterisk "*". If you buy something through the link, the product will not cost you anything more, but I will receive a small commission which not only supports Creativerly and my work, but also helps me to keep this publication a sustainable side-project.