Newsletter
The Social Dilemma & Manage your time, not your calendar.
In this week's issue of Creativerly: Simple & powerful task lists for teams, all-in-one website builder, trust your inner voice, and a lot more.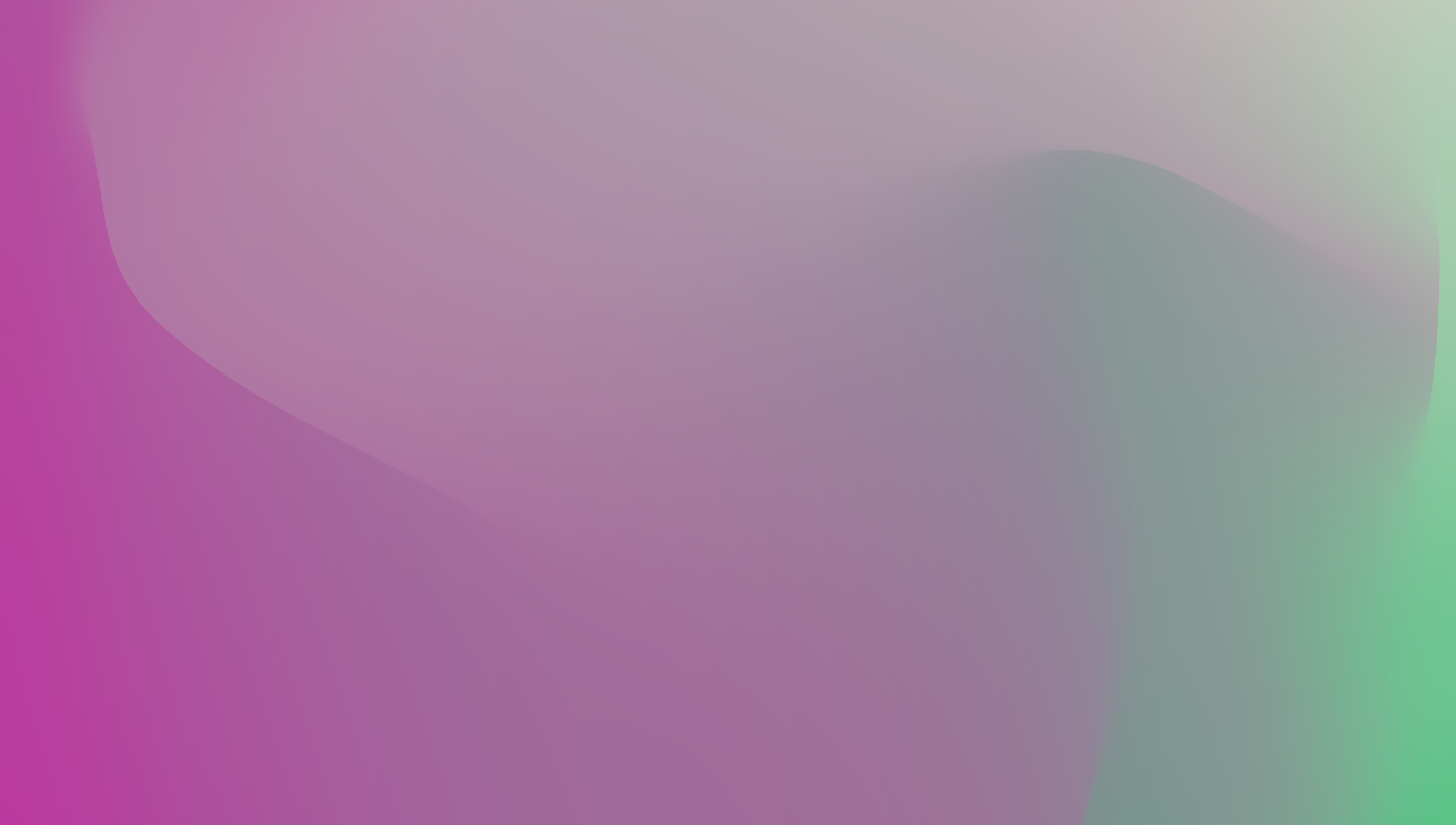 You are reading Creativerly, the weekly digest about creativity and productivity-boosting tools and resources, combined with useful insight, articles, and learnings from the fields of design and tech. The newsletter built for the creative community.
---
Hey and welcome to issue 82 👋
On September 8th Netflix dropped one of their most important documentary called The Social Dilemma, and I encourage every single of you to watch it. The Social Dilemma is a documentary about our growing dependence on social media. Early employees of Google, Facebook, Instagram, and Pinterest, give us insights about ideas and motivations behind the implementation of certain features. What is even more interesting, the same people also talk about why they quit working for the mentioned companies, why they blocked their apps, why they encourage their families and friends to stop using apps and products by them, and some of them are even working on new solutions and products that are fighting against the companies they used to work at.
I am thankful that a company like Netflix (with its incredible reach) shares and pushes this kind of documentary that much. It is important that non-tech people see this and get very useful and eyeopening information and insights. Everyone who is using Facebook, Instagram, Google, Youtube, etc. should be informed about all the shady business which take place behind the scenes, to generate an insane amount of money by profiting from all the personal data they collect from their users. People need to be better informed of how those companies use personal data to completely manipulate the way we consume news and media.
So sit down, take your time, and watch The Social Dilemma. After that, join the discussion, inform others, and spread the word. Talk to your parents which might not know anything about this. Everyone can take small steps to fight against big tech. Stay curious, stay informed.
---
Since some of you told me that they enjoy it when I share the newsletters I am subscribed to, therefore I am sharing another one with you today: BrainPint.
BrainPint is a curated newsletter for the curious, with interesting reads, tools & learning resources sent out weekly. Janel carefully curates this newsletter every single week, with great content. If you want to get a taste of what you can expect from the BrainPint, check out one of the most recent issues about Learning to Unlearn.
If you have recommendations or feedback, drop me an email or a tweet. For now, enjoy the newsletter!  🥰
---
Apps, Software, Tool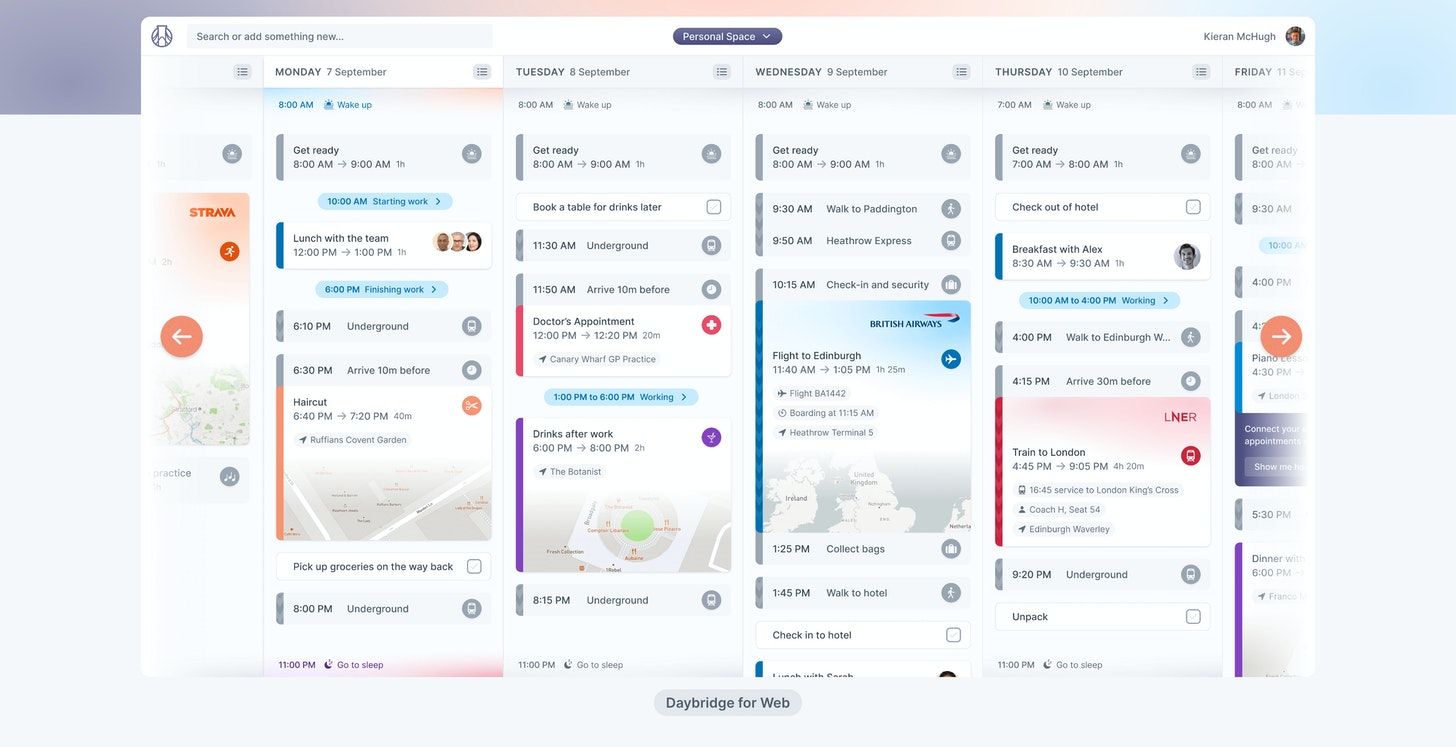 I came across Daybridge a couple of months ago. Back then Kieran McHugh (the founder of Daybridge) was a leading Software Engineer at Monzo, and shared casually updates on the Twitter page of Daybridge. Fast-forward to September 2020 and Kieran went full-time and raised £750,000 from Passion Capital for Daybridge. Daybridge is a new way to manage your time and not your calendar. On the website, you already get a glimpse of how Daybridge will look like, and I have to say, it is gorgeous. Kieran did an incredible job pushing the product to this state all by himself. Unlike most calendars, Daybridge doesn't confine you to a half-empty grid. There are spaces and smart cards. "Each of your Spaces has its own timeline. Smart cards live on your timeline. They put helpful, relevant information and actions right at your fingertips." With the investment, Kieran will kick off development as well as growing a founding team. Currently, you can sign up for their beta program, so you will get informed once they have the first iteration to test out. If you want to get more insights about the investment, Daybridge, and also Kieran McHugh make sure to check out the recently released TechCrunch article. I am way to excited to see how Kieran is building up a team around Daybridge and bring the product to life. All the best Kieran!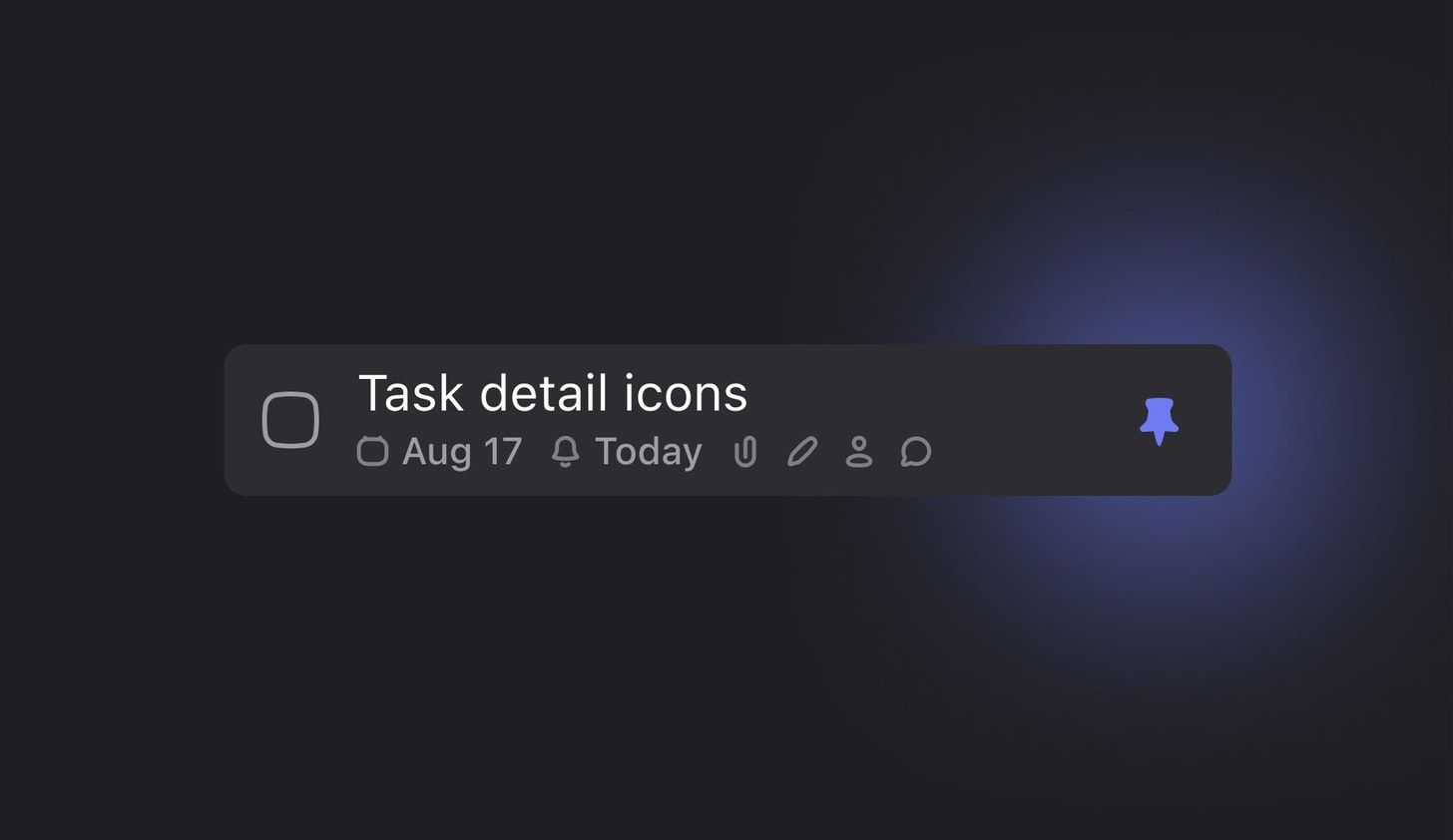 Well, we do not know a lot about Check, just that Andreas Storm (Product Design at Ottonova) and Martin David are building it, in a pretty much stealth-like mode, since the image above is one of the very few insights we already got. The landing page at usecheck.com is a gem, very minimal, but I can watch that cube animation for days. What we know so far, is the fact, that Check will be a "to-do app with a focus on simplicity" plus, we already got a glimpse at their iconset, which will be used in the app. That's it. Yes, that's it. You can sign up right now for early access on the landing page, but no other action points. We just have to wait, to see what Andreas and Martin come up with. Nevertheless, they know how to trigger your excitement.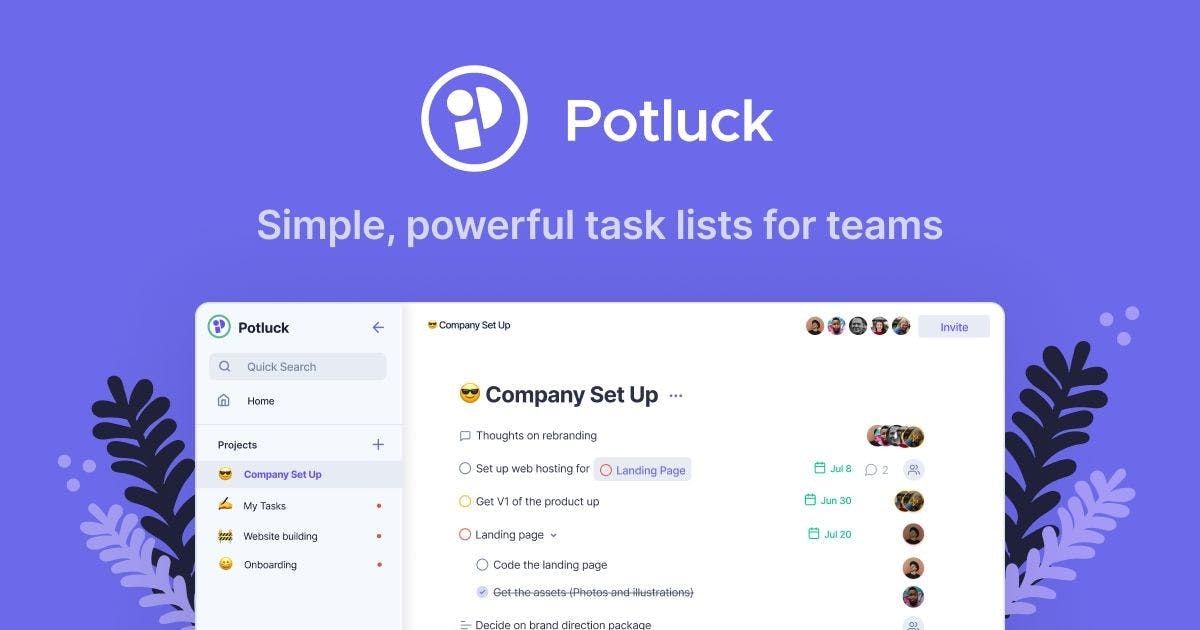 If you are searching for a lightweight, simple, powerful, and good-valued task management tool for your team, you should definitely check out Potluck and their recently released version two of the app. One thing about Potluck that immediately got my attention is the pricing. Potluck will cost you a total of $15/month for unlimited users. Let's say you have a team of ten, using other task management tools like Trello, Asana, or Monday will cost you $100/month or even more. Looking at features like embedded lists (you can nest tasks infinitely), bi-directional linked tasks (you probably already know how this works if you tried out Roam), playbook builder, and polls, $15/month will deliver you and your whole team incredible value. Most people who start a business think they need to use tools that are used by big companies and big teams. But actually they don't need it, they need Potluck, so they get things done while staying small. If a company grows, so does their tools.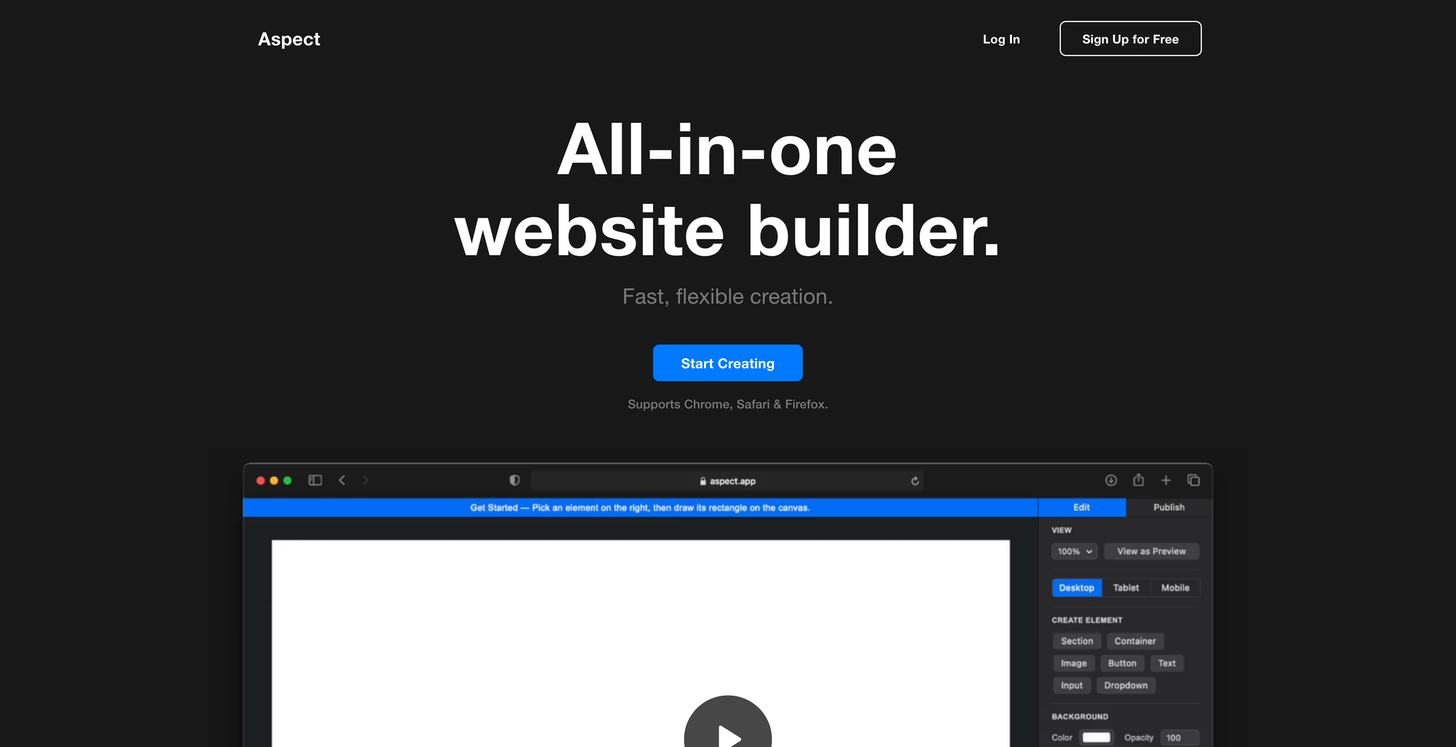 Aspect is an incredible tool I came across on Reddit. Most of you might say, that it looks a lot like Webflow, and yeah, it does, but it tackles a completely different approach. Apsect lets you create websites by drawing on a canvas. Think of it like you are using a design tool like Sketch or Figma, but every element you create on your canvas actually generate code. An all-in-one, blazingly fast, website builder. And there is also the major difference to Webflow, which is pretty much owning the niche of no-code/low-code website builders. Webflow has a steep learning curve because you still need a basic understanding of how CSS works. Aspect works with the ease and flexibility of creating slides in Keynote or PowerPoint. Incredible tool.
---
Goods & Gadgets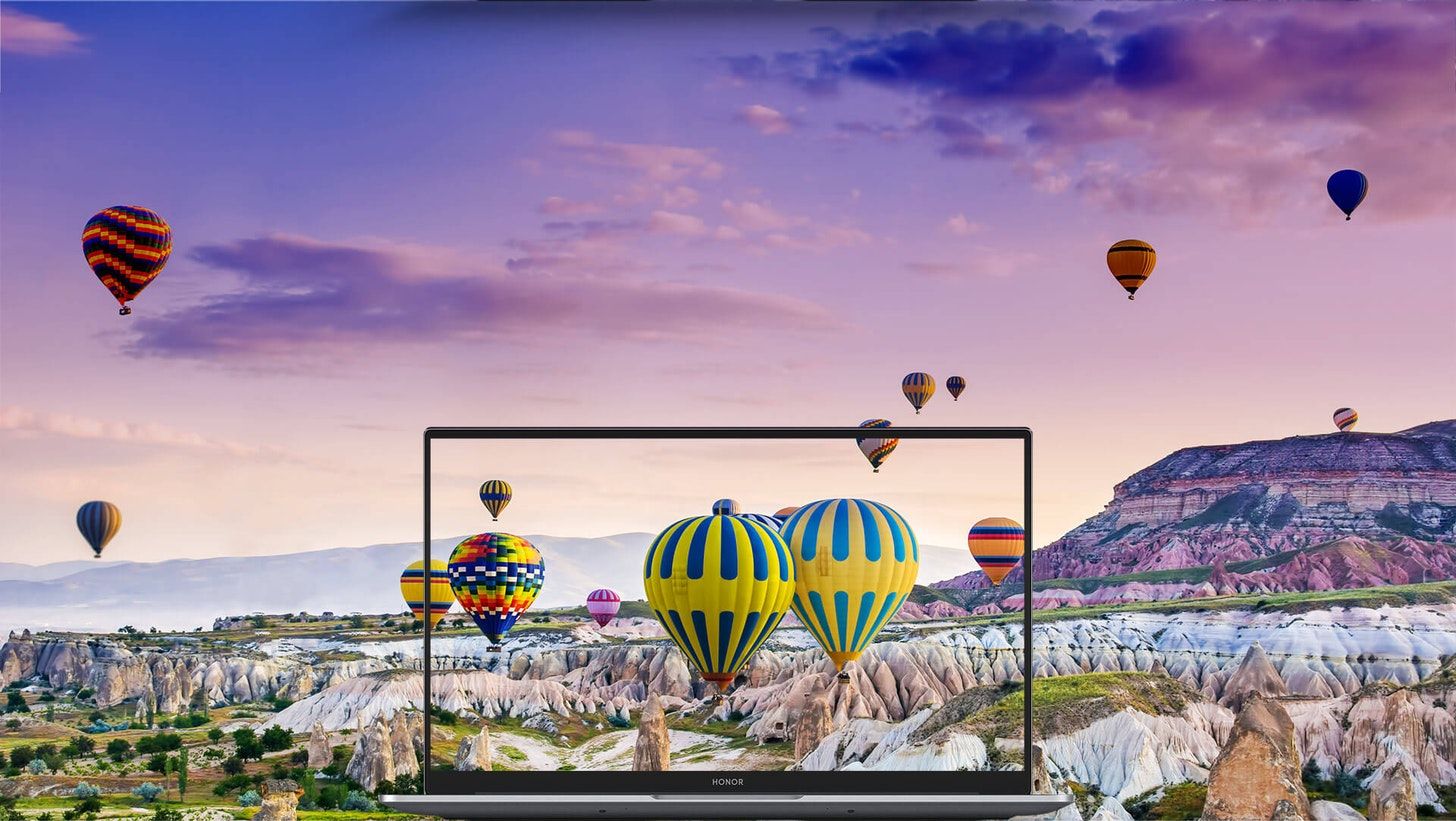 Recently, I stumbled across this Laptop by HONOR called the MagicBook Pro and I immediately thought that this looks pretty similar to a MacBook, even more, the product name is also very similar, MagicBook (MacBook) Pro, I mean seriously? Nevertheless, reading through the specs and ultimately getting aware of the pricing, I was kind of surprised. This 16.1" Laptop, with an aluminum body, up to 16GB RAM, Virtual Surround Speakers, Fingerprint Power button, and even more, is yours for €799,99 (only until September 20th). That is quite a great value. I have never owned a Laptop by HONOR, in fact, I am a MacBook User for 10 years, so I have no insights about the actual performance of a MagicBook, but just looking at the specs, this could be a really interesting Laptop.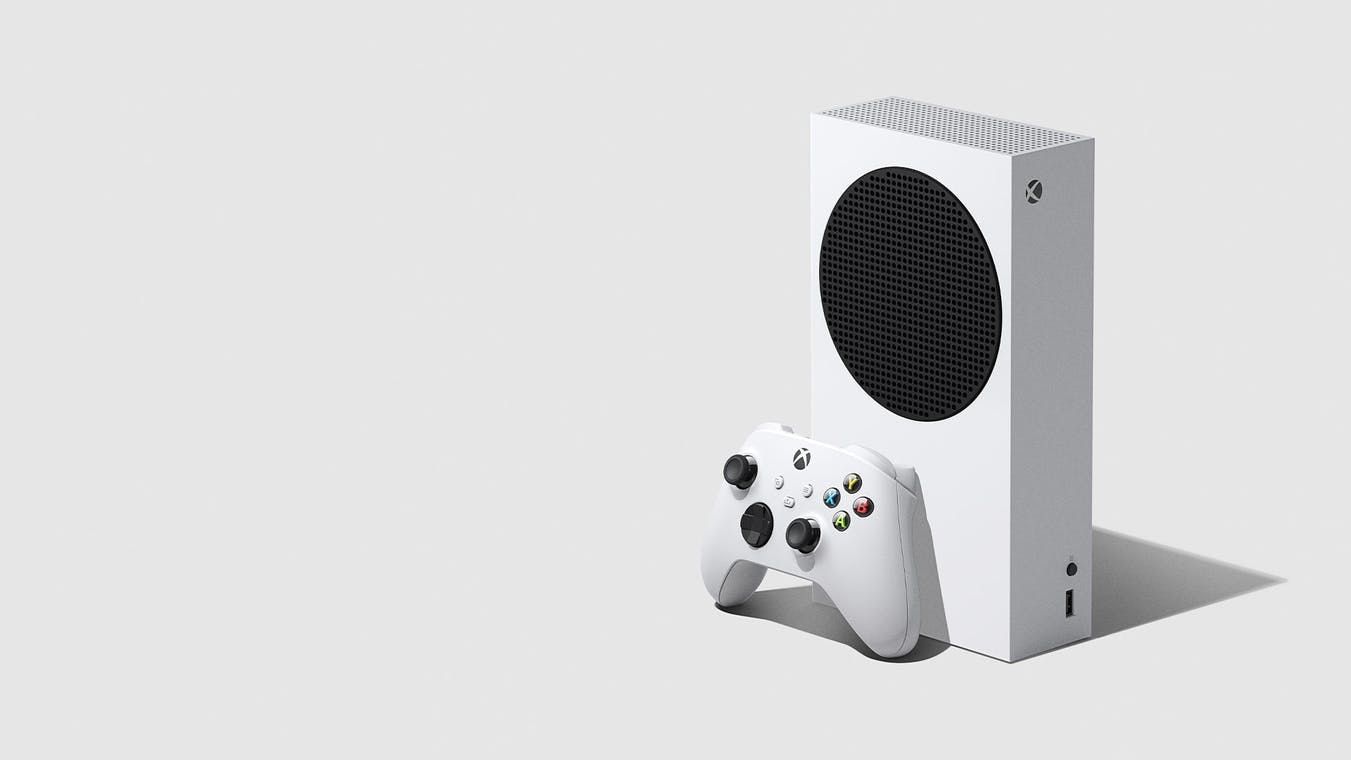 First things first, I am a Playstation guy, I always was one, since a little kid. When I saw the Playstation 5 for the very first time, I was incredibly disappointed, because the design, well, it is not that visually appealing to me. Now, Microsoft revealed the XBox Series S, and I have to admit I have never seen a gaming console that beautiful. Even if you are not a gamer, this thing would be a perfect accessory for your Appartement (I am not saying that I would buy this just as an accessory for my Appartement, but you get what I want to say). The design reminds me of Dieter Rams and his countless radio and speaker prototypes. I am also a big fan of the idea of having an all-digital console. All the games I recently bought, were digital downloads. It is just more convenient having them stored on a drive instead of stacking them on a shelf. What do you think about the XBox Series S? Especially I would be interested in your thoughts about the design compared to the Playstation 5.
---
Useful Resource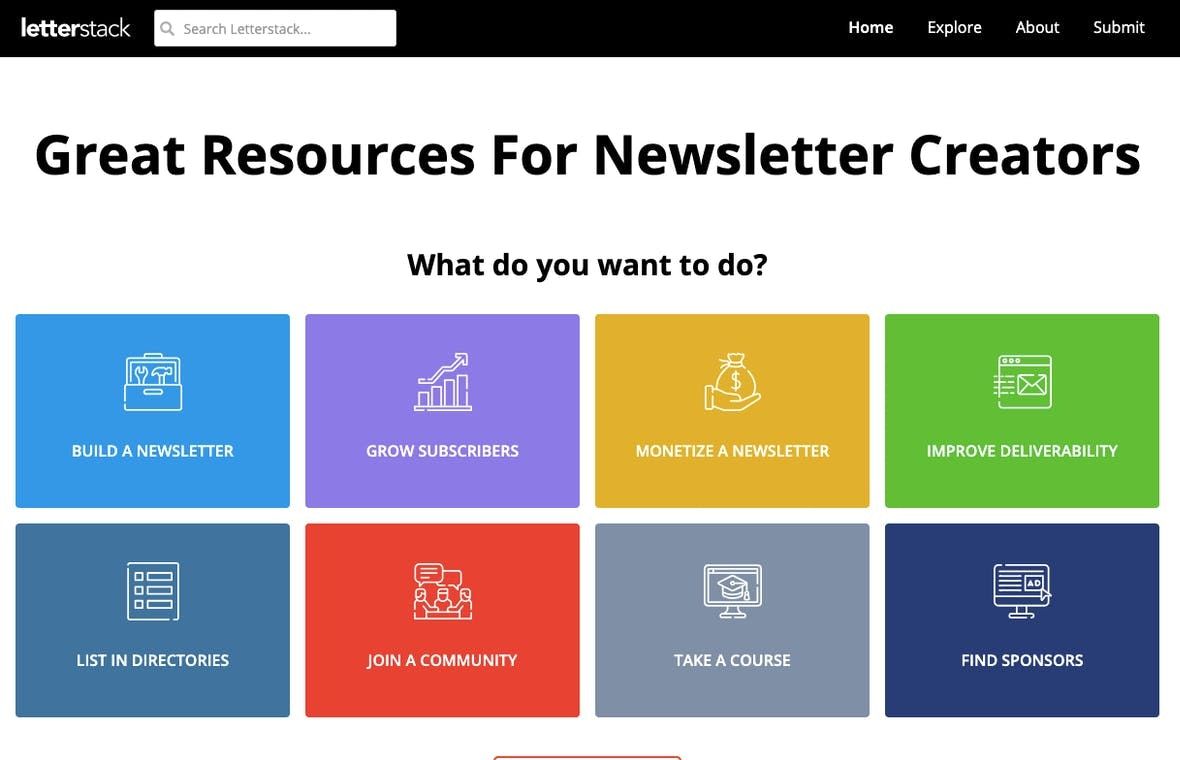 Although tools like Substack make it incredibly easy to start a newsletter straight away, there are still some fields and parts of a newsletter which can be a little bit overwhelming for beginners. Thankfully, Paul Metcalfe created Letterstack, a directory full of resources building, growing, and monetizing a newsletter. Dive deep into a collection of articles, podcasts, videos, and other resources. This is a treasure trove for everyone who wants to start a newsletter, but also for newsletter pros who are searching for the quintessence to kickstart their newsletters.
---
Mental Wealth
➢ 12 apps to elevate your UX process – "Just like having dinner is not just eating, being a designer is not just designing. (As much as we wish it was.) When a chef prepares a meal, they plan, collect ingredients, prepare, test, and plate their creations. Similarly, a designer must plan, prepare, test, and present their masterpieces. Just as a chef must utilize many tools besides their knives, designers can't create with Sketch alone. There's a lot of work to find the problem, figure out the solution, hack away at the barriers to solving it, and get the solution out the door. This article features a collection of apps from my Chrome bookmarks that I actually use throughout my entire UX process."

– If you want to read more by Alissa, make sure to check out her newsletter UX Adjacent, about technology, productivity, self-improvement, and creativity for UX professionals.
➢ Going Postal - A psychoanalytic reading of social media and the death drive – "I QUIT TWITTER and Instagram in May, in the same manner, I leave parties: abruptly, silently, and much later than would have been healthy. This was several weeks into New York City's lockdown, and for those of us not employed by institutions deemed essential—hospitals, prisons, meatpacking plants—sociality was now entirely mediated by a handful of tech giants, with no meatspace escape route, and the platforms felt particularly, grimly pathetic. Instagram, cut off from a steady supply of vacations and parties and other covetable experiences, had grown unsettlingly boring, its inhabitants increasingly unkempt and wild-eyed, each one like the sole surviving astronaut from a doomed space-colonization mission, broadcasting deranged missives about yoga and cooking projects into an uncaring void. Twitter, on the other hand, felt more like a doomed space-colonization mission where everyone had survived but we had to decide who to eat. Or like a drunken 3 AM basement fight club, a crowd of edgy brawlers circling each other, cracking their knuckles, waiting for an excuse. Only, it didn't have any of the danger, or eroticism, or fun you might expect from a fight club."
➢ Media 2020: Rise of the Renaissance Creator – "In my last piece, I proposed that the media companies of tomorrow should look like the record labels of today. In the music industry, talent is the driving force behind its business. Talent is the source of the reputation and the end of the line when it comes to driving financial returns. Without world-class talent creating great products, it doesn't matter how well you promote or polish it — the results will be the same. The "monetize the individual" disruption in media serves as an opportunity for business reinvention of companies who choose to recognize and react to this newly acknowledged trend forming. It's not just about enabling and liberating talent, but more importantly about maintaining, supporting, and growing that individual's business better than they're able to do on their own or elsewhere. The future media business will extend to newfound territory that fortunately for them, is right in its wheelhouse: Talent Management (Artists and Repertoire A&R)."
➢ Trust Your Inner Voice – "We all have multiple voices inside of us, vying for our attention. The trick is to know which ones to listen to. And the most helpful one is always going to be your true inner voice—the voice that stands up for you and is best aligned with your goals and dreams. It's this voice that reflects the true "you," and because of that, it's the one voice that should always be trusted. I like to think of my mind as a boardroom with an ongoing meeting that directs my thoughts. The big emotions are there to speak up (joy, sadness, fear…think Inside Out), but there are also more nuanced voices, like shame, excitement, discouragement, hopelessness, pride, anxiety, and so on. Some of these voices are stronger than others, probably because they've had more practice speaking out, or because I've encouraged them by acting on the ideas they give me. But that leads me to ask myself: where is the "me" voice in this meeting? Where is my inner voice?"
---
Typeface of the Week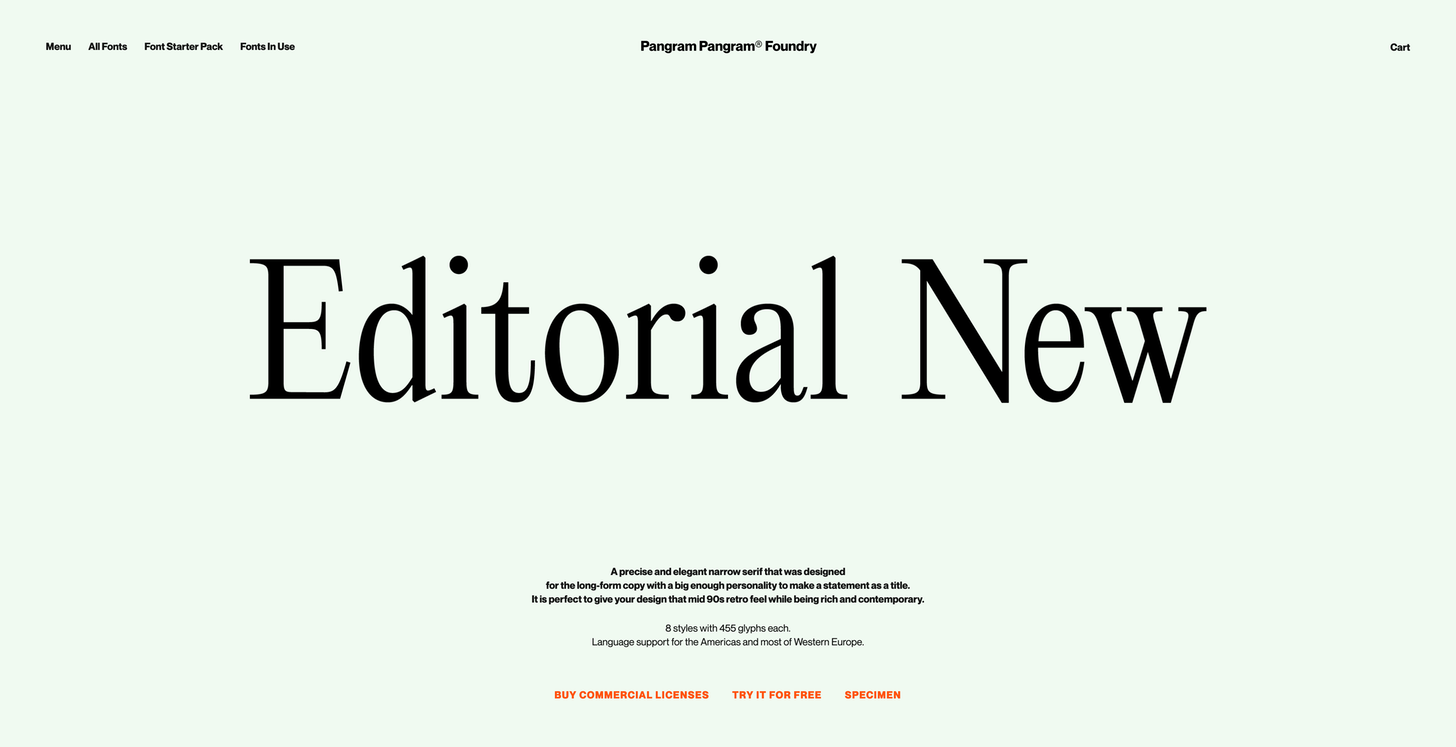 Editorial New is a serif typeface designed by Mathieu Desjardins and published through Pangram Pangram in 2019. The design features condensed proportions and brings to mind the style of narrow serif that was popular during the 1980s and 1990s, such as Times New Roman condensed and Apple's version of ITC Garamond. The family is available in eight weights but without italics.
---
Twitter thoughts
---
Till next time! 👋

Support: You have a friend who is looking for inspiration, news about design, and useful tools and apps? Forward this newsletter to a friend or simply share this issue and show some support. You can also show some love by simply clicking the button down below and keep this newsletter a sustainable side-project by buying me a coffee. ☕️ 🥰