Newsletter
Meetings made for remote teams & Some blogging myths
Why single-purpose apps are fun, the supercharged menu bar search, Obsidian Importer, and a lot more in this week's issue of Creativerly.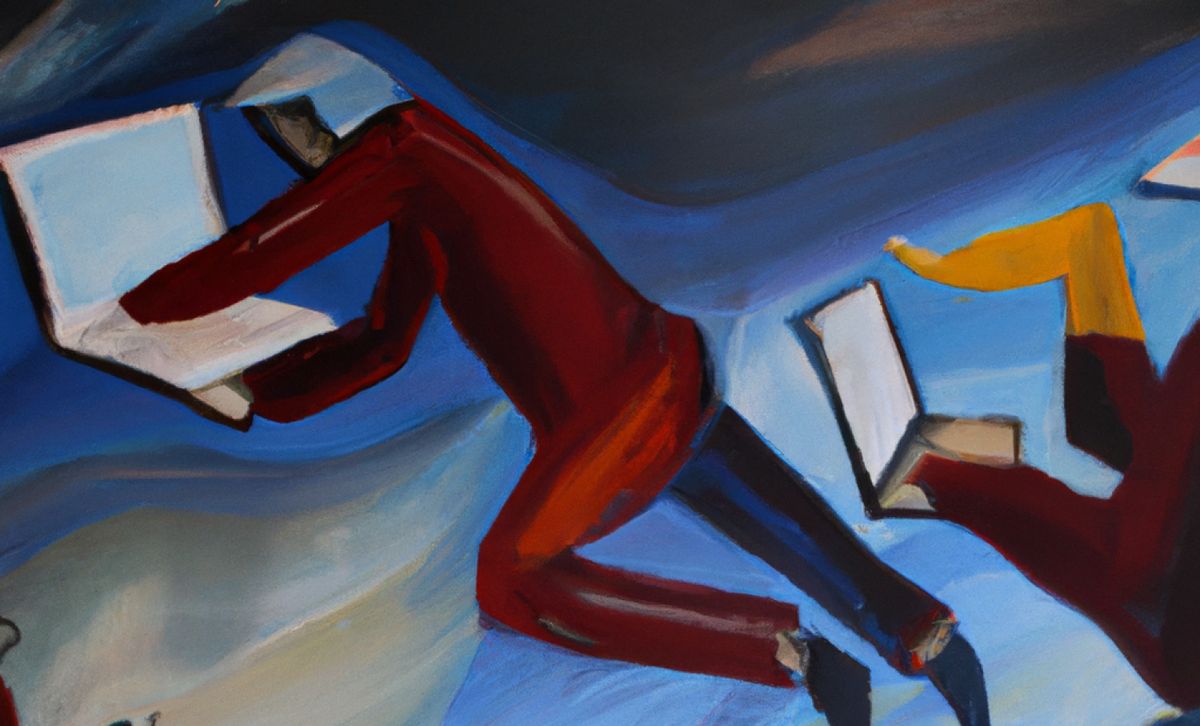 My name is Philipp and you are reading Creativerly, the weekly digest about creativity and productivity-boosting tools and resources, combined with useful insights, articles, and findings from the fields of design and tech. The newsletter built for the creative community.
---
Hey and welcome to Creativerly 230 👋
On a daily basis, I am using a large number of different apps. No matter if I need to write something down, create a design for an idea, manage my projects and open tasks, read articles, or browse through social networks, my workflows count various apps and tools. While productivity and creativity apps give you access to various workflows and are suited for different use cases, I am especially a fan of minimal, lightweight, and single-purpose apps. While multi-functional apps often dominate the market, a rising trend of single-purpose apps has emerged, capturing users' hearts and attention, and I am one of those users.
Single-purpose apps are celebrated for their simplicity. Unlike their multifunctional counterparts, which can sometimes overwhelm users with a myriad of features, single-purpose apps concentrate on performing a single task efficiently. The appeal of single-purpose apps lies in their ability to deliver a focused experience. By concentrating on a specific task or function, these apps excel at their designated purpose, resulting in a more enjoyable and immersive user experience. Whether it's a meditation app guiding users towards inner peace or a language learning app enhancing linguistic skills, single-purpose apps foster deeper engagement and motivation to achieve specific goals. One of the most significant advantages of single-purpose apps is their minimal learning curve. Since they focus on performing a single task, the app's functionality is straightforward and easy to grasp. Users can quickly familiarize themselves with the app's features, reducing the time spent on tutorials and guides.
Among my favourite single-purpose apps you will find Pixelsnap*, a lovely app to measure anything on your screen fast and easily, Pika, a beautiful colour picker, and CleanShot*, a screenshot app which I use every single day multiple times. Especially apps like the ones I have named get me incredibly excited since they do one thing incredibly well. And that is the reason why they are so joyful to use. I am always a bit biased when an app claims to be "the one app to rule them all" or "the one app that replaces all your subscriptions", because on one hand, that is never going to happen, and on the other hand, I do not want that. There are loads of multifunctional apps out there that have proven, offering multiple features often means not doing a single feature right. Therefore, I stick with single-purpose apps.
They are fun, powerful, lightweight, and they simply work.
What are your favourite single-purpose apps?
---
Transform Your Workflow 🚀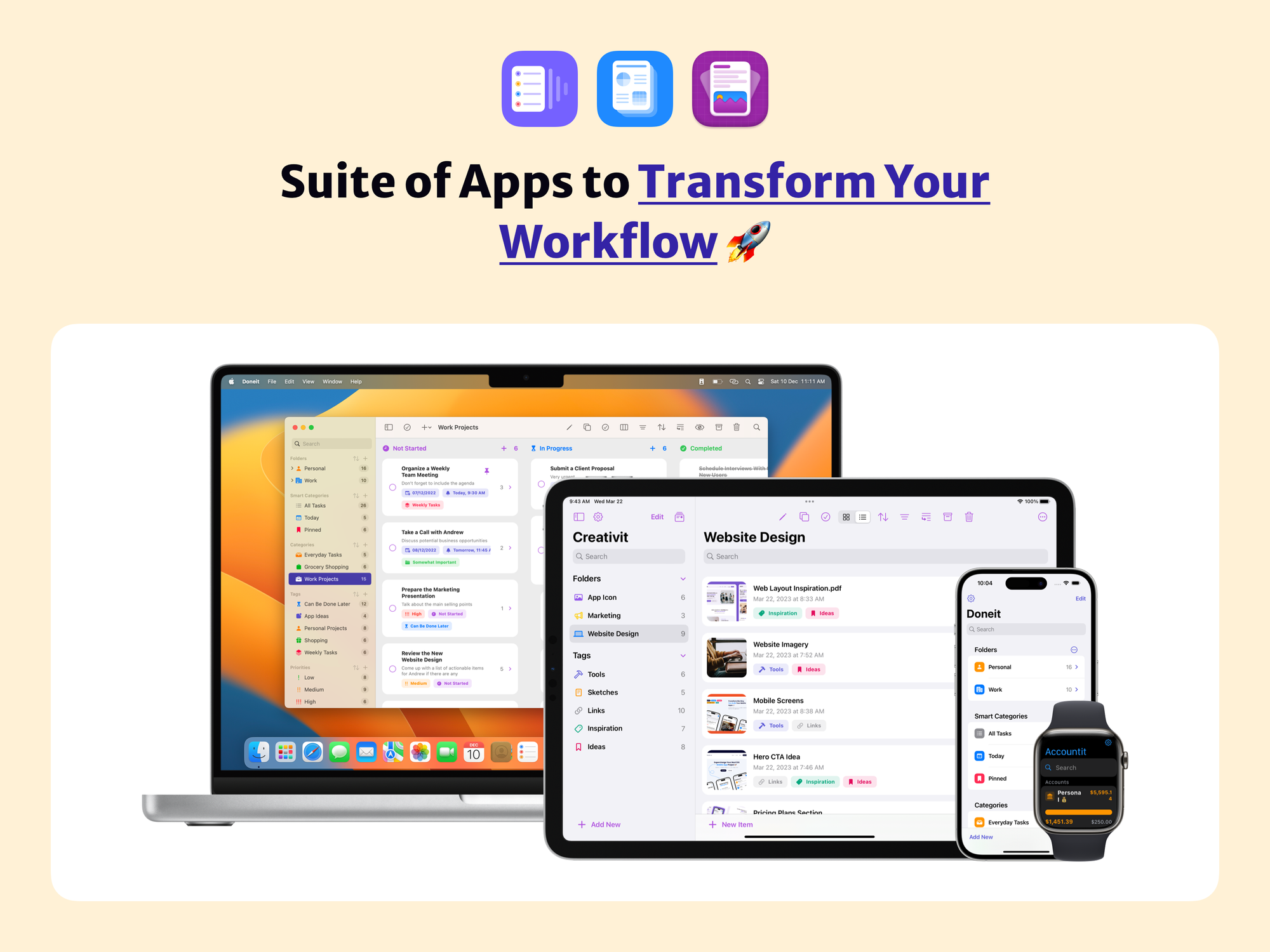 A suite of native apps for iPhone, iPad, Mac, and Apple Watch that combines Doneit, Accountit, and Creativit apps into one simple subscription and is designed to help you effortlessly accomplish all of your day-to-day tasks.
This is a sponsored message to support Creativerly. If you are interested in putting your tool, product, or resource in front of over 2000 creative minds, consider advertising in Creativerly and book a sponsor or classified ad spot. Find all the important information at creativerly.com/advertise.
---
Apps, Software, Tools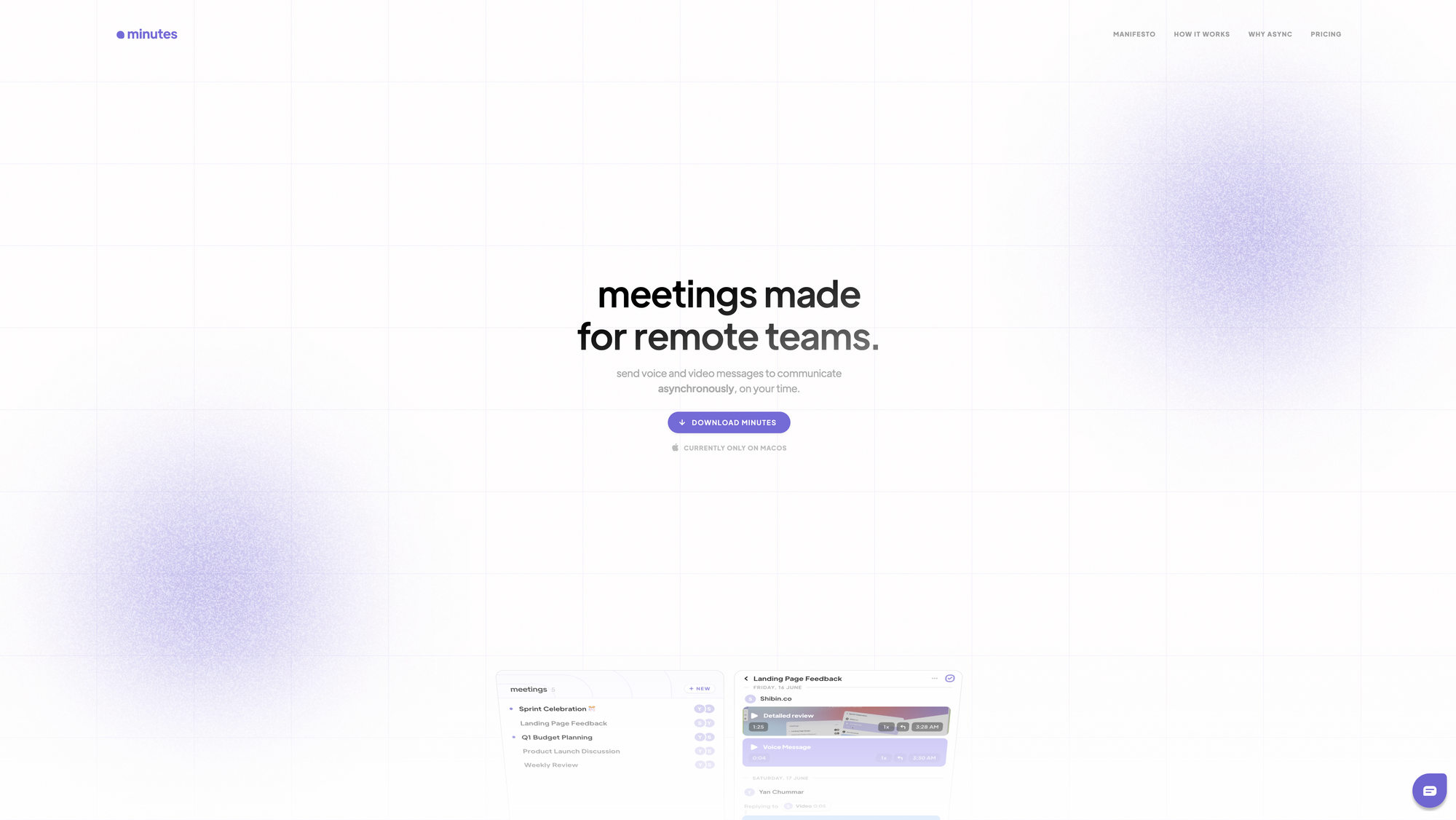 They are already multiple companies that are embracing an asynchronous way of collaborating and communicating within a team. An increasing number of apps and tools are launching within that space making it easy and streamlined to keep everyone in the loop. Minutes is an app to improve asynchronous communication. With minutes you can send voice and video messages to communicate projects, ideas, work, and more with ease and on your own timeline.
Minutes lives right within your Mac's menubar. It gives you an unobtrusive, simple, and minimal UI so you do not get distracted from work, but still be able to play and send messages from where you are at the moment. Using minutes is super easy. To start an async meeting, you start by setting a concise meeting title. With the title, you can define the purpose, set the tone, and align the team's expectations of the meeting. Next, you send a voice or video message. With a single click, you can record your thoughts instead of writing down lengthy messages. That lengthy message often lead to people just skimming through them because it is hard to extract the most important bits and parts of them. Using voice or video messages is quicker, more personal, and reduces misunderstandings. Once the discussion is over, you can end the meeting. Minutes will organise your workspace and archives meetings for future reference.
If you hate sitting in long meetings, getting interrupted while working or don't want to worry about syncing across timezones, and if you like to get more hours of focused work, enjoy working from anywhere, anytime, and if you want to spend more time on your personal life, you should give async work and especially minutes a try. Minutes helps you to make your work sync, your meetings async, and your team collaborations async, so that you can spend more sync time with your family, friends, and for finding your work-life balance.
To give minutes a try, you can use the Personal plan which will give you access to up to three meetings, you can add up to three members, but you will miss out on the meetings archive and you get a limit on the recording length. The Pro Plan which will cost you $6 per user per month lets you create unlimited async meetings, invite unlimited team members, have no limits on screen and audio recordings, and get access to archived storage for old meetings.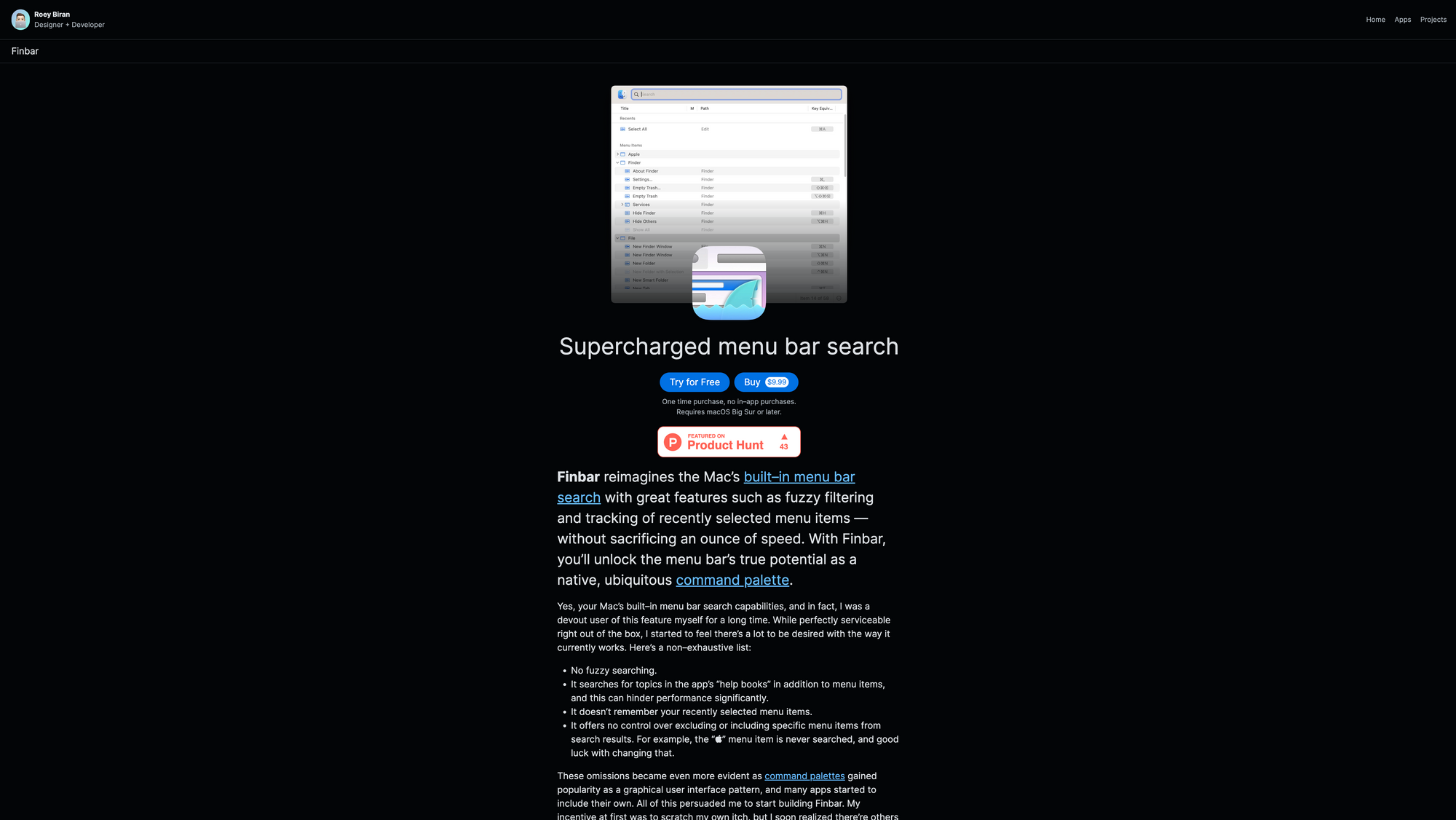 Once your Mac becomes the centralized place for all your work and projects, including notes, docs, files, apps, and anything else, you need a powerful search to stay on top of all your files, so you can be sure to find anything you are looking for fast and easy. Finbar is a lovely app which reimagines macOS' built-in menu bar search (not to be confused with the spotlight search).
The Finder and most apps on your Mac feature a Help menu, sitting within the menu bar, which gives you easy access to information about macOS, your Mac, and the apps you use. Finbar extends this search with lovely features like fuzzy filtering and tracking of recently selected menu items. If you ever wanted to unlock the menu bar's true potential as a native, ubiquitous command palette, then you should definitely give Finbar a try. Finbar is an app by Roey Biran who is a designer and developer. Since Roey has been an avid user of Mac's built-in menu bar search capabilities, he discovered some possibilities to turn the feature into an even more powerful command palette. Roey found out that the menu bar search did not offer fuzzy searching, it only searches for topics in the app's "help books" in addition to menu items, it does not remember your recently selected menu items, and it offers no control over excluding or including specific menu items.
Therefore, he decided to build Finbar, especially since at the time of discovering the menu bar search's flaws, command palettes gained popularity as graphical user interface patterns, and many apps started to include their own. Those were reasons enough to start building Finbar.
Finbar was designed to do one thing and to do it well. It is blazing fast. Since it was built exclusively with native Apple technologies, Finbar will retrieve your desired menu item in no time. While waiting patiently in its own little spot in the menubar, Finbar does virtually take no resources. Thanks to Finbar's fuzzy search you can find the menu item you were looking for faster and with minimal typing. As you are using Finbar more and more, it will remember every menu item you have selected, gradually accumulating a list of your favourite menu items. With just a few keystrokes you can traverse the most complex of menu bar hierarchies, since Finbar turns every menu bar into a browsable outline, just like the Finder does for your file system. Besides that, you can also extend Finbar with custom scripts, create intricate rules, show menu item shortcuts, and more.
Finbar is exclusively available for macOS (requires macOS Big Sur or later), you can download and give it a try for free, and support Roey Biran by buying it for $9.99.
---
Fresh Updates & News
As reported in last week's issue of Creativerly, Bear 2, the biggest update in over a year has been shipped and is live now. Bear quite some time, Bear has been one of the most popular markdown editors for macOS, iOS, and iPadOS. With Bear 2, Shiny Frog (the company behind the app) introduces over 20 new and exciting features, users have been waiting for, for a while. Among those features, you will find Tables, Markdown hiding, Nested Styles, Backlinks, Table of Contents, Footnotes, Link Previews, and a lot more. Besides the technical improvements and features, Bear 2 also introduced six new themes and a refreshed UI.
With the native Backlink feature, Bear made a huge leap towards becoming an even more powerful app to build up a knowledge base. While Bear had wikilinks for a while, there were no backlink functionality and no place where those connections were highlighted. But now, Bear is as powerful as ever. Incredibly exciting to see and experience this new update.
The most important thing for loads of users who are looking into a new note-taking or knowledge management solution is having the possibility to either import or export their notes and content, so they can be sure that there is no vendor-lock in and they can move their notes whenever they want. Apps come and go, but your files and notes should last forever.
To make it easy to convert your notes from various formats to Markdown files, Obsidian just introduced a new official, an open-source plugin called Importer. Since Obsidian has the vision that all your data should be future-proof and easily accessible, no matter where you are, they want to make it easy to convert your notes into a format that you own and can use with any app that supports plain text files. By converting your notes to plain text files, you take ownership of them. As of writing this, the first conversion format Obsidian added is .enex for Evernote. People who are active within the note-taking and PKM community will probably have heard the news that Bending Spoons, the company that acquired Evernote, took over operations, hiked subscription prices, and laid off all of the remaining Evernote staff. Therefore, this is an incredibly smart move from Obsidian.
In the future, Obsidian will add more conversion formats to make it easy to convert your notes and import them.
---
Mental Wealth
❯ Turning Fear of Failure into Increments of Curiosity – "When I was younger, I badly wanted to live in Japan. Japan is a country with very strict immigration laws, but my university had an exchange program where you could go spend a semester and study in another country. There was only one problem: the Japanese university they had a partnership with was one of the most selective in the country. I remember thinking: "There is no way I'll get accepted." I told my mom about my doubts."
❯ Why You Believe The Things You Do – "I remember reading an article years ago about a father in Yemen who lost a son to starvation, only to have another child fall dangerously ill. Desperate, he turned to tribal elders who recommended a folk remedy: Shove a burning stick through the sick child's chest to drain the illness. The father agreed."
❯ What's The Perfect Design Process? – "Design process is messy. You might be following a structured approach, but with all the last-minute changes and overlooked details, too often, it takes a life of its own. And before you know it, you are designing in a chaotic environment full of refinements, final-final deliverables, and missed deadlines."
❯ Some blogging myths – "A few years ago I gave a short talk (slides) about myths that discourage people from blogging. I was chatting with a friend about blogging the other day and it made me want to write up that talk as a blog post."
---
Do not miss out on this ...
❉ The future isn't a mystery. Want to receive the latest in business, entertainment, and internet culture right to your inbox every single morning? That's what TheFutureParty newsletter is all about.
❉ Powerful ideas in 15 minutes, with Blinkist. Join now and start up-levelling your small talk game. Get access to over 5,000 book titles alongside 20 million other readers.
❉ Fathom is cookie-free, GDPR-compliant, privacy-first website analytics software. Get $10 off your first invoice and a 7-day free trial when you use this link*.
These are paid promotions or affiliate links to support Creativerly. If you are interested in putting your tool, product, or resource in front of over 2000 creative minds, consider advertising in Creativerly and book a sponsor or classified ad spot. Find all the important information at creativerly.com/advertise.
---
Appendix
❯ ICYMI
The Creativerly Database is an Airtable database featuring (almost) every single tool, resource, and article that has been featured within the newsletter. I am in the process of adding all the tools, resources, and articles. It hasn't received an update in a while, but I am back at it adding all the apps, tools, articles, and resources I am writing about and curating in Creativerly. Head over to The Creativerly Database and browse through it.
❯ Featured Newsletter
Acclimate is a lovely newsletter written by Rick Jarrell, about climate business, tech, and policy. By joining over 3,000 subscribers, you get plugged in to the energy transition. If you want to stay informed and up-to-date about what is happening within the field of climate tech, business, and policy, make sure to check out Acclimate*.
❯ Quick Bits
---
Till next time! 👋‌‌‌‌
Support: Do you have a friend who is looking for inspiration, news about design, and useful tools and apps? Forward this newsletter to a friend or simply share this issue and show some support. You can also show some love by simply clicking the button down below and keep this newsletter a sustainable side-project by buying me a coffee. ☕️ 🥰
---
---
Some of the links in my newsletter and my blog posts are affiliate links. Those links are marked by an asterisk. If you buy something through the link, the product will not cost you anything more, but I will receive a small commission which not only supports Creativerly and my work but also helps me to keep this publication a sustainable side-project.
Creativerly is proudly published with Ghost*.