Newsletter
Organize your brain & The Side Project Prophecy
In this week's issue of Creativerly: Streamline your task flow, plan - track - and manage any type of work, work together with clarity, and a lot more.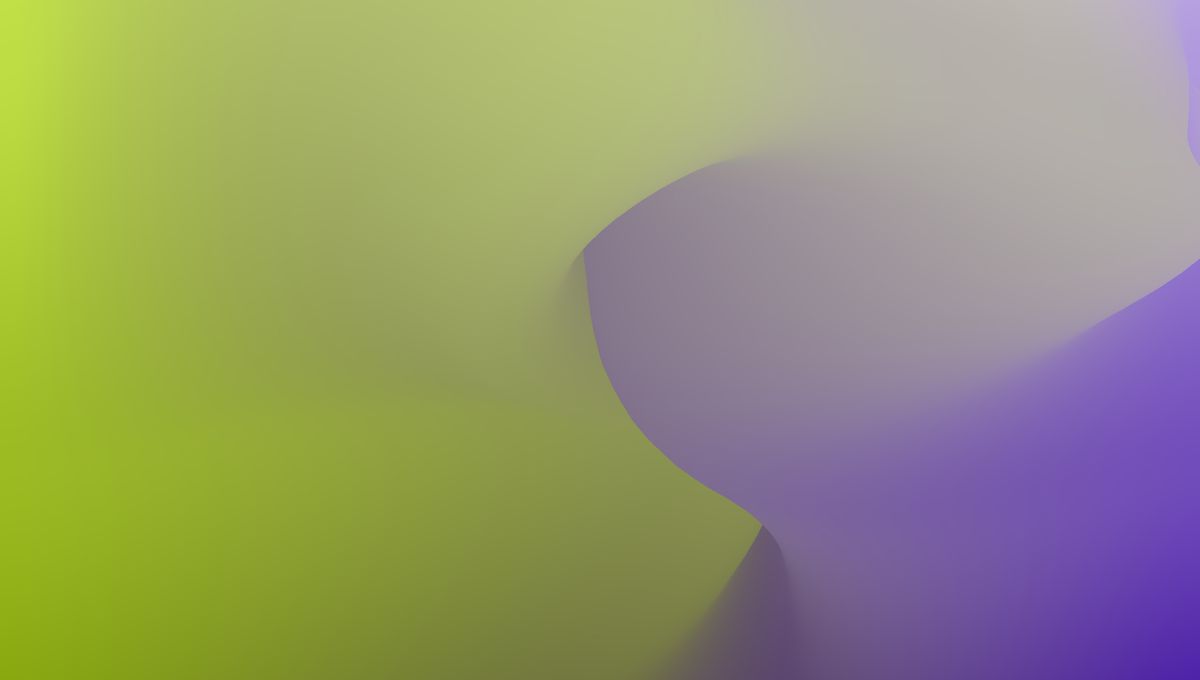 You are reading Creativerly, the weekly digest about creativity and productivity-boosting tools and resources, combined with useful insights, articles, and findings from the fields of design and tech. The newsletter built for the creative community.
---
Hey and welcome to Creativerly 154 👋
Over the last couple of weeks, I settled with Craft as my PKM tool although I am still switching to Obsidian for some use cases. I always struggled to find the right tool for me, but as I went through Calmer Notes by Elizabeth Butler*, I learned that I need to look for the 80% solution, as they will probably never be the ultimate PKM/note-taking tool that suits my workflows 100%. As part of Elizabeth Butler's Calmer Notes method, I created a list highlighting features that I ultimately need within a PKM tool. Besides that, I also thought about nice-to-haves, and features that are not that important to me.
As part of this thought process, I came to the conclusion that one of the most important things is the fact, that I need access to my PKM wherever I am, no matter which operating system I am using. Craft is natively available for the Apple ecosystem but they also have a pretty powerful web app, that gets better and better with every update. Obsidian is also available for literally every single platform. Another important feature for me is the possibility to take daily notes. For that kind of purpose, I really like to use the outliner approach by simply adding bullets for every single note, bit, thoughts, and ideas I want to capture. While taking daily notes with Craft or Obsidian I have to kind of "fake" the outliner approach by adding the bullets manually by simply using the list format.
Other tools like Logseq or Workflowy for example feature the outliner approach natively. The issue I have with this is the fact that I need the ability to break out of the outliner approach when I want to create long-form content, like taking articles or book notes or writing blog posts. That is among the reasons why I decided to stick with Craft (and Obsidian) for now because I am fine with creating the outliner approach manually for daily notes, but whenever I want to create long-form content, Craft simply lets me create beautiful documents and pages.
If you are also having a hard time finding the right PKM tool for your workflow, I can highly recommend checking out Calmer Notes by Elizabeth Butler* as it will help you find your 80% solution with active actions you can take to craft out your goals and needs while you are building your personal knowledge management system.
---
Get more traffic from search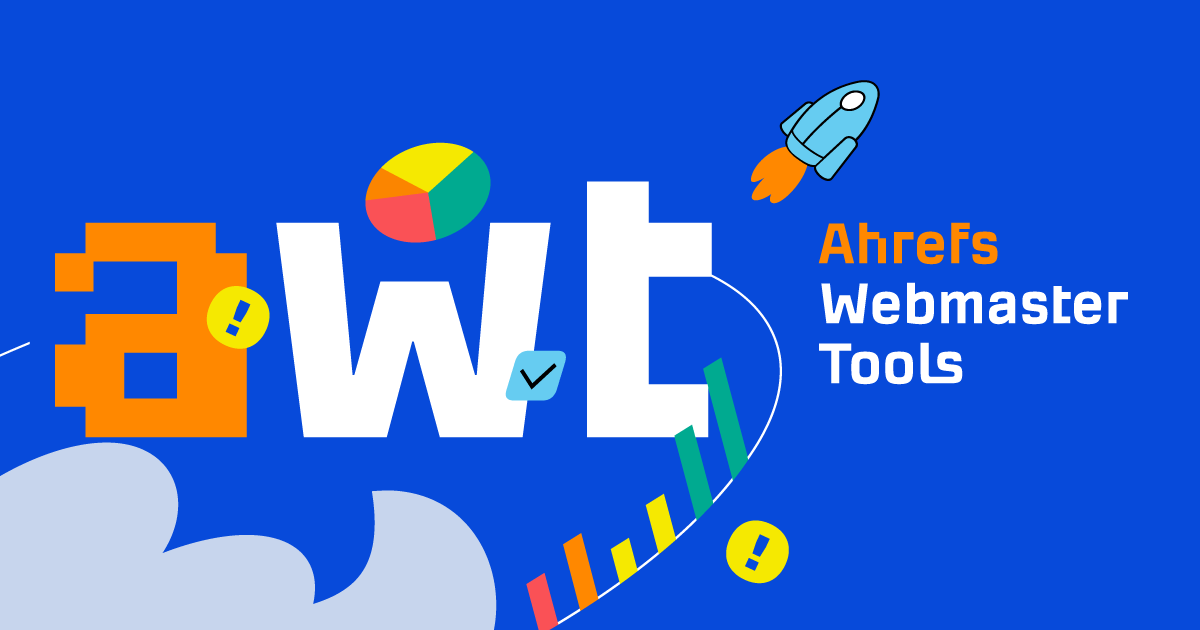 Ahrefs Webmaster Tools helps you to improve your website's SEO performance. If you are looking for tools to monitor your SEO health, know your backlinks, and see all the keywords that bring traffic then you should sign up to Ahrefs Webmaster Tools now. It is free!
---
Apps, Software, Tools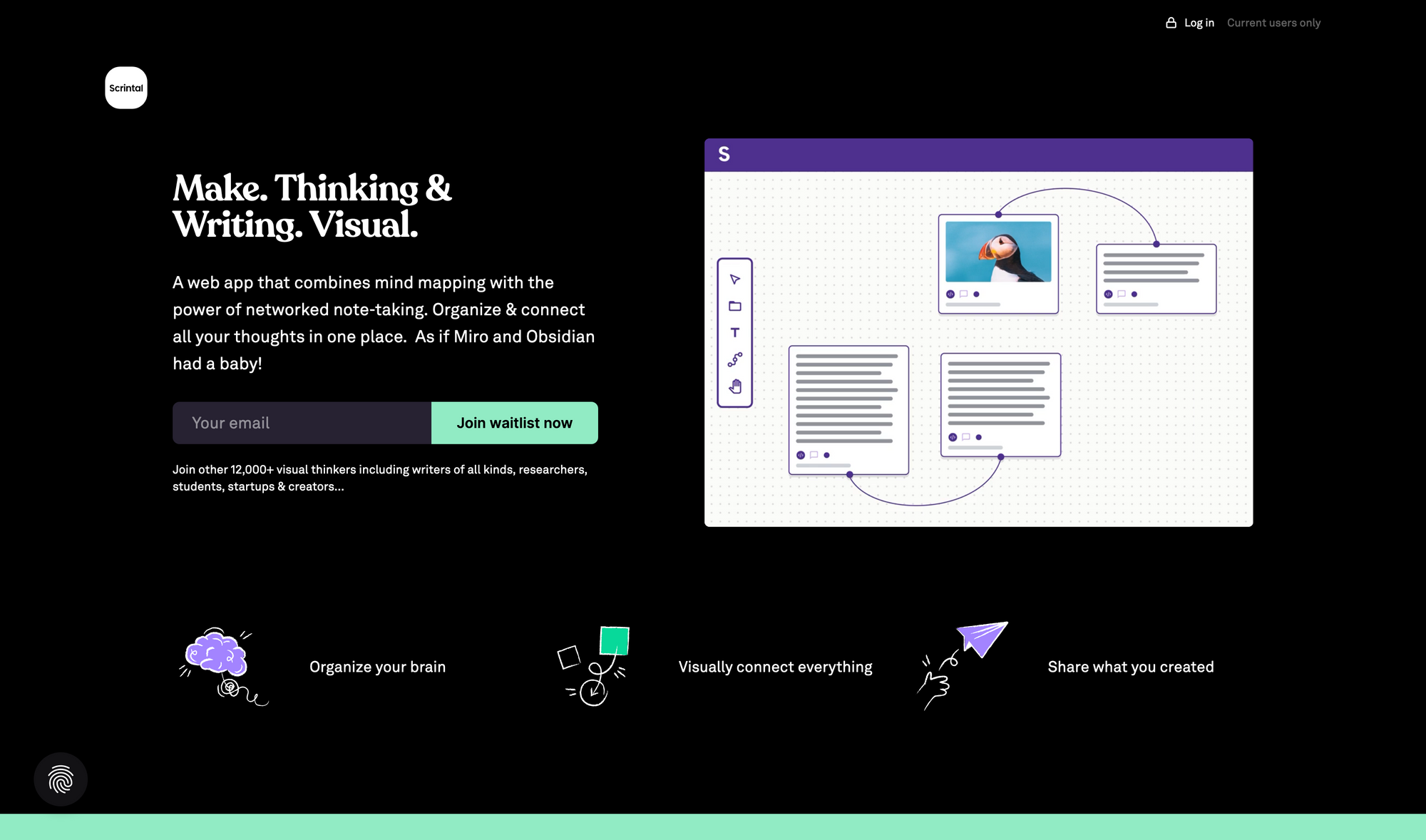 Scrintal is another incredibly interesting tool entering the space of PKM and networked-thinking tools. I found out about Scrintal while browsing on Twitter and I immediately added it to my "watchlist" on which I gather new, upcoming, and exciting tools I want to keep track of. As the whole PKM space is growing and evolving incredibly fast, it is always exciting to find out about a new tool.
Scrintal is using a different approach to popular PKM tools you are already know of. It combines mind mapping with the power of networked note-taking. With Scrintal you can organize and connect all your thoughts in one place. I am usually more a traditional note-taker, but I am intrigued by the visual approach Scrintal is using. The one big drawback with traditional note-taking is the fact, that it is possible to easily lose context of the thoughts, ideas, and notes you take when you do not have a solid structural system. Tools like Obsidian and Logseq try to visualize your connected thoughts with the Graph View. It is a nice way to see all your thoughts connected with each other. But as it gets bigger and bigger it is hard to actually browse your knowledge graph if you wanted to so.
Scrintal's visual approach of networked thoughts will give you the possibility to see the details and the big picture of your notes in one place, which makes it easy to find the relevant information your are looking for. It is a lovely tool to brainstorm ideas, see and manage multiple projects at one, outline and craft your thoughts, research different topics, or plan your writing and blog posts. Scrintal gives you a clean whiteboard interface which is your very own creative thought space. You can easily take atomic notes by using the Zettelkasten method. If you want to focus on a dedicated note, you can expand it. Bi-directional links are generated by simply connecting your atomic notes by dragging a connection between them.
The infinite canvas of Scrintal also gives you the possibility to re-arrange and organize all your notes. You can drag them around, zoom in or out to get the big picture. Scrintal lets you export your notes, findings, and insights into all standard formats, which lets you import them into other tools you use. This makes it easy to integrate Scrintal into your current workflow. Scrintal is still in an very early stage, which means to can join over 12,000 people and sign up for their waiting list. I am super excited about Scrintal, and I am very much looking forward to give it a try.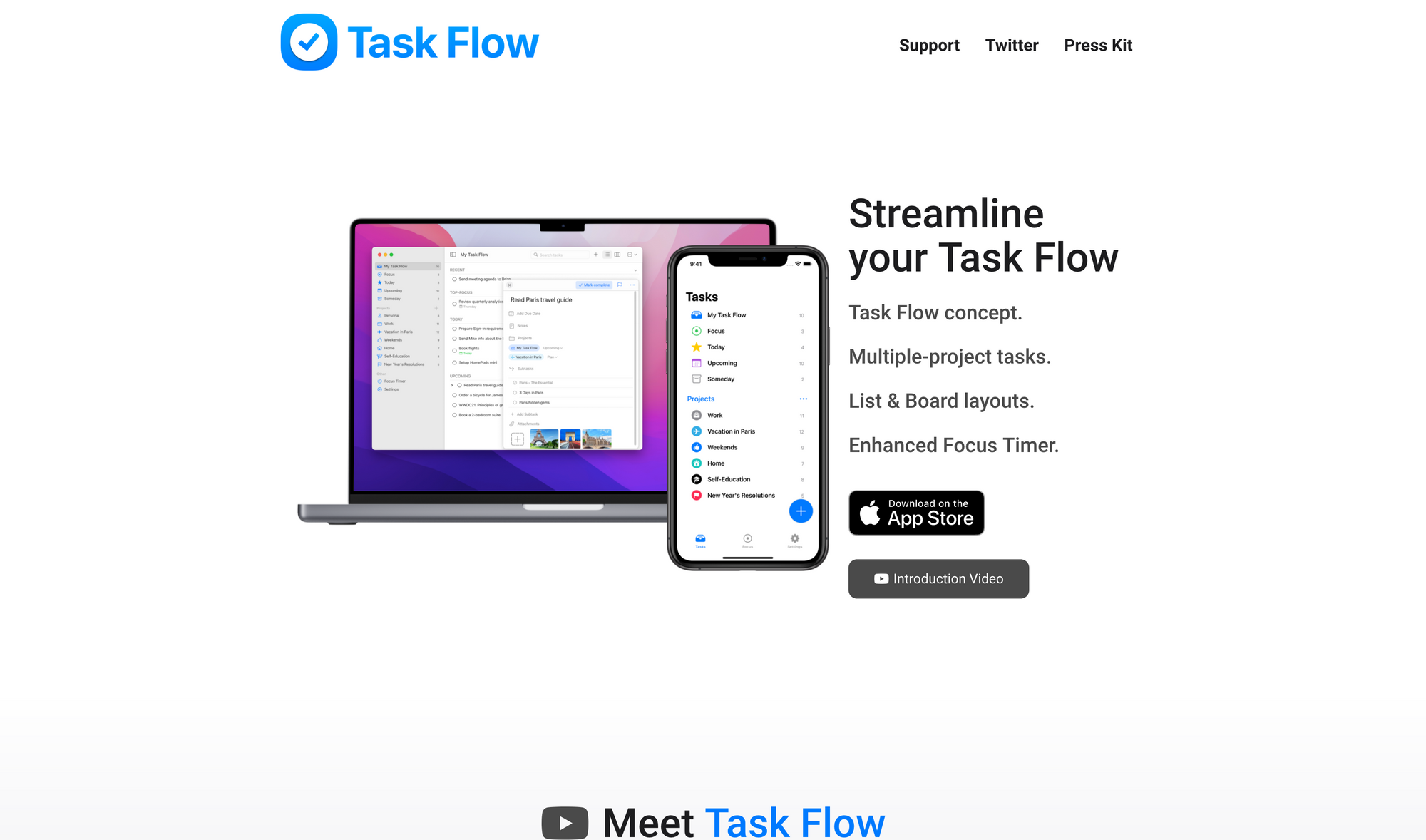 Task Flow is a beautiful task management tool built for the Apple ecosystem. If you can not decide whether you want to use boards or lists to manage and organize your tasks, Task Flow lets you select the layout that matches your workflows and projects best. You decide whether you want to use Sectioned Lists or Board Pipelines (Kanban) so you can also follow your workflow. Task Flow follows a dedicated task flow concept. That means when you are using Task Flow you do not need to waste your time to browse through all of your projects to select which task needs to be done next. All you have to do is to add the tasks that you are about to tackle on from your projects to "My Task Flow" and you are ready to get things done.
My Task Flow gives you a beautiful overview of the tasks you need to tackle on next. This is a lovely workflow since you actively have to decide what tasks need your priority focus. Therefore, you will not find yourself browsing through all your projects and your open tasks anymore. Task Flow also lets you manage your due dates easily. The My Task Flow view features time-based sections which are perfect for dealing with long-term tasks without using due dates. The different sections of My Task Flow lets you easily re-arrange your tasks. Whenever you feel you are done with today's tasks, you can simply drag the other tasks over to the "Upcoming" section to tackle them the next day.
If you need to structure your tasks, Task Flow lets you set up multiple projects. You can set up sections within those projects and add your tasks to them. To add another structural layer to your tasks you can even create subtasks and also add attachments to them. On top of that, you can add notes to add more context to your tasks, and set priorities so you know which tasks need to be done first. Task Flow features a beautiful interface with useful and intuitive swipe actions to quickly move, drag, edit, and delete your tasks. You can use Task Flow for free, the paid plan will cost you $0.99 per month, $9.99 per year, or $19.99 lifetime.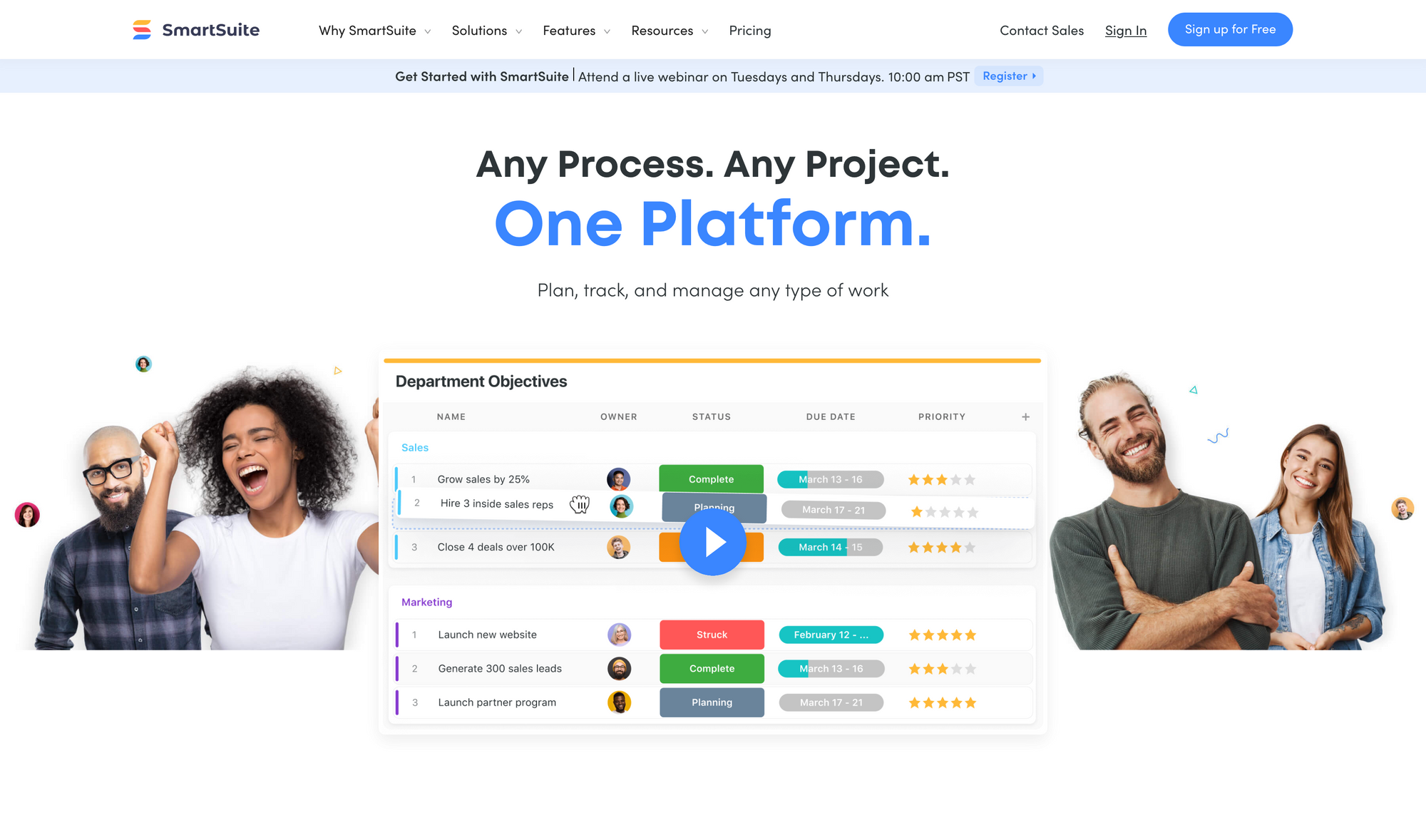 SmartSuite is a powerful project management tool to plan, track, and manage any type of work. With their collaborative work management platform, SmartSuite enables teams across the globe to plan, track, and manage workflows, no matter if you and your team are working on a dedicated project, an ongoing process, or if you simply want to bring routine to your everyday tasks. SmartSuite is packed with awesome features that can be customized to support your and your team's workflow process no matter what project you are working on.
SmartSuite offers a wide range of different views to visual all of your work. There is a Calendar View, which lets you view records in a calendar format. If you want to view your data as visual cards, you can switch to Card View to see logos, images, PDFs, documents, and other rich content beautifully visualized. Besides that, SmartSuite also lets you visualize your work in Kanban View, Timeline View, Map View, Grid View, and Chart View. Another lovely feature of SmartSuite is the fact, that you can have conversations right where the work happens. Add comments and communicate with your team without getting pulled out of your focus on work, no context-switching, talk about the important stuff exactly where your work happens.
To get even more productive with SmartSuite, it gives you the possibility to set up automation to save time and boost your productivity. For example you can set up an automation for when the status of an issue is set to critical, that your executive immediately gets notified, or whenever you set a release status for a new feature to active, there will be an automatically generated entry to your release calendar. SmartSuite's automation helps you to be more productive by leaving the repetitive stuff, so you can focus on what matters most. To get you started right away with SmartSuite, they are offering various visual and customizable templates for every use-case, you can even create your own ones.
SmartSuite is available on the web, tablet, and mobile devices, both iOS and Android. You can streamline your workflows with powerful integrations for Figma, Asana, Mailchimp, Hubspot, and many more. SmartSuite is available for $10 per user per month (billed annually) for the Team Plan which includes 10GB of file storage per solution, 25 solutions, 5,000 records per solution. There is also a Professional Plan for $25 per user per month (billed annually) and an Enterprise Plan for $35 per user per month (billed annually).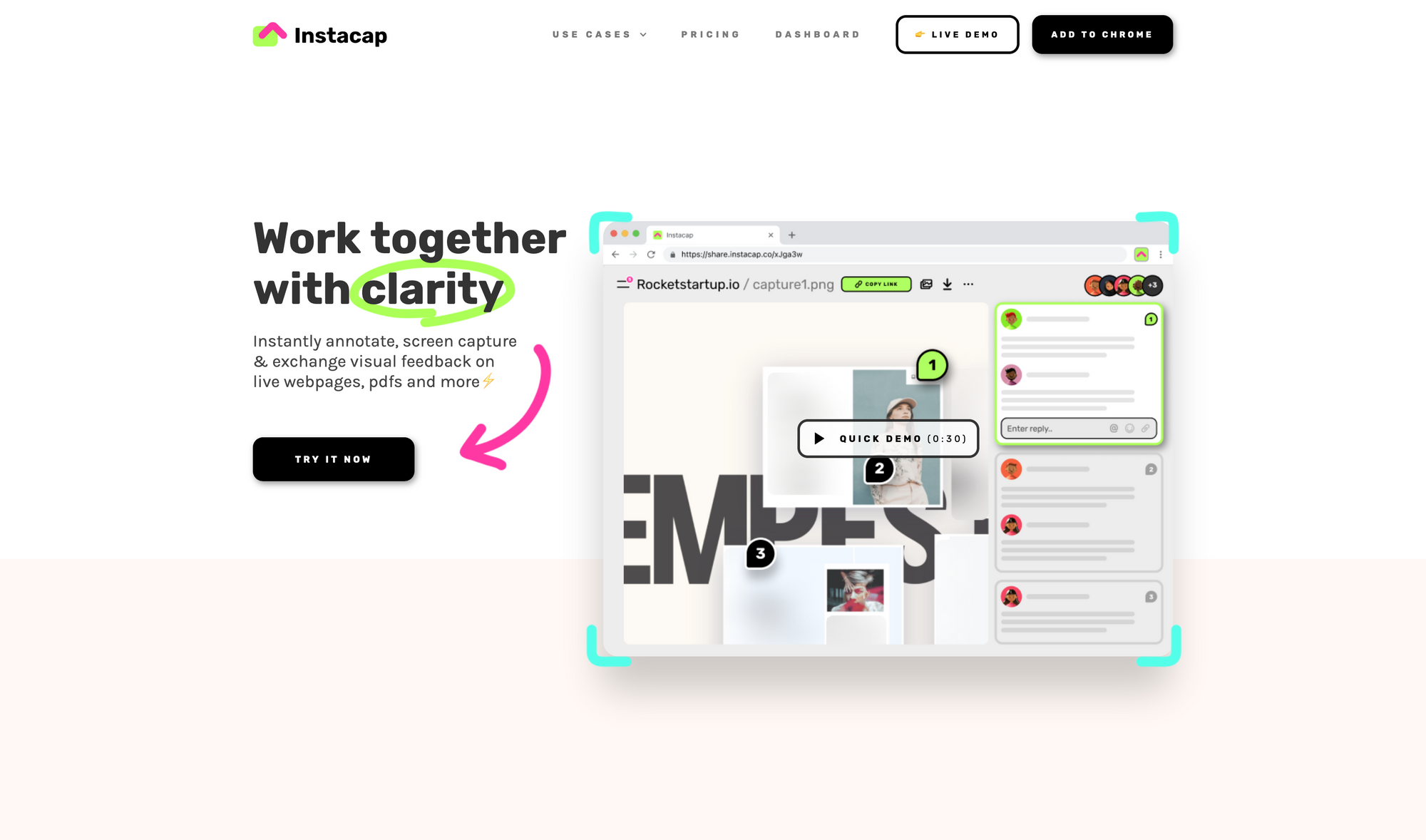 Instacap gives you the possibility to work together with clarity by instantly annotating, screen capturing, and exchanging visual feedback on live webpages, PDFs, and more. Remote work is here to stay, and so is asynchronously work. When working together with a remote team, collaboration is incredibly important. Instacap supports asynchronously work. If you are looking for visual feedback on a dedicated webpage you have designed, or a PDF you just have created, all you need to do is share a single link with your team and colleagues. There are no sign-ups or any meetings needed. Just share your link, and avoid long explanations or countless messaging back and forth.
Instacap lets you also annotate and screen capture in one simple step. With Instacap, there is no need to open multiple apps. It lets capture a full scrolling webpage with ease. After you have created the screen capture you then can add your annotations, comments, and feedback. This makes Instacap such a powerful feedback tool when you are collaborating on a new design for a website for example. But Instacap does not only work for collaborating on new website designs and gathering feedback on webpages. It also lets you collaborate on documents, PDFs, images, and more. With Instacap you can collect and share visual feedback on top of any PDF or document, and organize it automatically in one place.
When you have the feeling that text and written feedback is not enough, you can even record your screen or voice to add even in-depth explanations and take your feedback to another level. So, whenever text and typing are too slow or limiting for you, you can add transcribed voice notes instead. No matter if you are working in design, marketing, software, development, or anything else, Instacap helps you get all team members on the same page. Instacap is available as a Chrome Extension and as a web app. You can use it for free for up to 15 sharable capture links. If you need up to 100 sharable links you can sign up for the soon coming Individual Plan for $5 per month. If you are working across a team the Team Plan will be available soon for $6 per seat per month.
---
Mental Wealth
➢ Good leaders ask good questions – "A common myth is that leaders make all important decisions. This assumes leaders should own decision making instead of focusing on what's more important: the decision making process. The reality is that the best leaders I know are the ones that provide clear direction, hire the best people around them, and do an amazing job of learning and coaching through asking the right questions. It shines less of a light on them, that's intentional. Good leaders are good at standing behind the scenes holding the light for their team, not in front of them blocking their view."
➢ Learned optimism: how to cultivate a talent for positive thinking – "Are you more of a glass half full or half empty kind of person? Those who develop the ability to see the world from a positive point of view can reap significant benefits including improved health, lower stress levels, increased career success, and even a longer lifespan. This is the surprising power of learned optimism. Learned optimism is the concept that a positive mindset can be cultivated, even in those with pessimistic tendencies. Heavily influenced by psychologist Martin Seligman, learned optimism is part of the positive psychology movement. By learning how to cultivate positivity in everyday life, you can improve your productivity and your mental health."
➢ The Side Project Prophecy – "If you're like me, you've found yourself in a situation where you were so excited to pursue a new goal, start a new side project, or explore a new hobby, that you just couldn't wait to tell the world. So you tweet about it, get a flood of positive encouragement, and then...whoosh, suddenly the motivation has evaporated, another domain name laid to rest in the graveyard of side projects."
➢ When You're Confused, Clarify Your Intentions – "Whenever you get confused, it's often super helpful to pause and clarify your intentions. Just declare what you actually want in a sentence or two. Express it aloud or in writing. Then let it sink in and see how your body, mind, and feelings react to it. Does your intention feel like a true expression of your desires? Does it feel a little off still? Do you like the internal reaction it creates within you? Does some part of you object, and if so, what's the specific objection, and how could you resolve that? Keep tweaking your intention till you feel satisfied with it, like you really feel that it's yours. With practice you'll often find yourself crafting nicely aligned intentions on the first try."
---
Classifieds
If you are interested in putting your tool, product, or resource in front of over 1400 creative minds, consider advertising in Creativerly and book a sponsor or classified ad spot. Find all the important information at creativerly.com/advertise.
---
Appendix
➢ ICYMI
If you want to put your product, tool, app, resource in front of over 1400 creative minds interested in creativity and productivity, then you might consider advertising in Creativerly. Classified spots are still available throughout February and March. If you are interested in booking an advertising spot in Creativerly head over to creativerly.com/advertise for all the important information.
➢ Featured Newsletter
Since you are subscribed to Creativerly, I am pretty sure you are interested in creativity and productivity-boosting tools and resources. Therefore, I would like to introduce you today to another great newsletter, sharing bite-sized reads, productivity tools, and resources to be creative at what you do. Vidya is writing and curating The Curious Bunch, a lovely round up of productivity tools, insightful articles, and awesome resources. I am a huge fan of how Vidya analyzes her Curious Picks in the form of informational bits. With every tool she shares, she highlights advantages, limitations, and similar websites to explore. If you want to get a taste of The Curious Bunch you can check out two popular issues Unconventional Goal Setting Methods You Should Try! and Tired of all your bookmarks? The Curious Bunch is an insightful, well-written, and carefully curated newsletter, full of happy vibes. Make sure to sign up.
➢ Quick Bits
---
Twitter thoughts
---
Till next time! 👋‌‌‌‌
Support: Do you have a friend who is looking for inspiration, news about design, and useful tools and apps? Forward this newsletter to a friend or simply share this issue and show some support. You can also show some love by simply clicking the button down below and keep this newsletter a sustainable side-project by buying me a coffee. ☕️ 🥰
---
---
Some of the links in my newsletter and my blog posts are affiliate links. Those links are marked by an asterisk. If you buy something through the link, the product will not cost you anything more, but I will receive a small commission which not only supports Creativerly and my work but also helps me to keep this publication a sustainable side-project.