Newsletter
Shortcut your way through all your work & Play at work
In this week's issue of Creativerly: A self-hosted and open-source Notion alternative, one of the most important public accessibility library, manage work not people, and a lot more.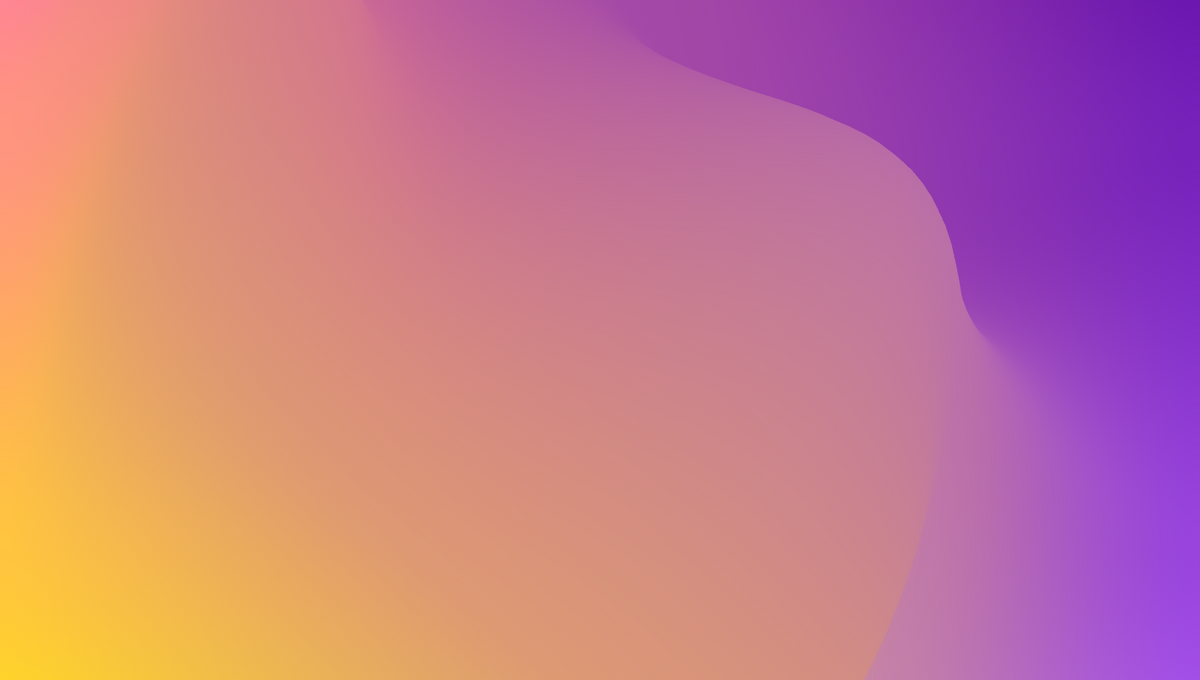 You are reading Creativerly, the weekly digest about creativity and productivity-boosting tools and resources, combined with useful insights, articles, and findings from the fields of design and tech. The newsletter built for the creative community.
---
Hey and welcome to issue 115 👋
I am adding the last touches to finish up some changes coming to Creativerly real soon. One of them will be a change to the overall website. Most of you will know by now, that I use Ghost as my publication software. There are quite a lot of themes (both free and paid) available for Ghost, but I decided to go with the default theme of Ghost, which is called Casper. I liked the look of it, and since it was the default theme, I was ready to go straight after setting up my publication. With the most recent major update, Ghost v4, the default theme also got a little revamp. I decided to stick with the old version, as I maid some changes to the code. But since I want to use the now natively into Ghost integrated members-feature to share members-only content, I thought it might be time to switch to the newest theme version too. So, here is a little heads-up about what will change once everything is finished and set up:
With the new version of Creativerly all subscribers will be members of Creativerly. That means, that you basically will have an account associated with the email you have used to sign up to Creativerly. You can use this email to sign in to Creativerly, and once I have published members-only content, you as a subscriber and member of Creativerly, will be able to view that content. I decided to make those changes, as I want to provide more value and rewards for people who sign up to Creativerly. It has been over two years since I have started this project, and it has been always my goal to further evolve it and tailor the content.
There are some more changes and ideas in the pipeline, which I will share with you over the upcoming weeks, as I want to discuss those things with you, members of Creativerly, up first since I love to work out those things with you instead of simply pushing changes to Creativerly.
Exciting times ahead!
If you have recommendations or feedback, drop me an email or a tweet. For now, enjoy the newsletter!  🥰
---
Apps, Software, Tools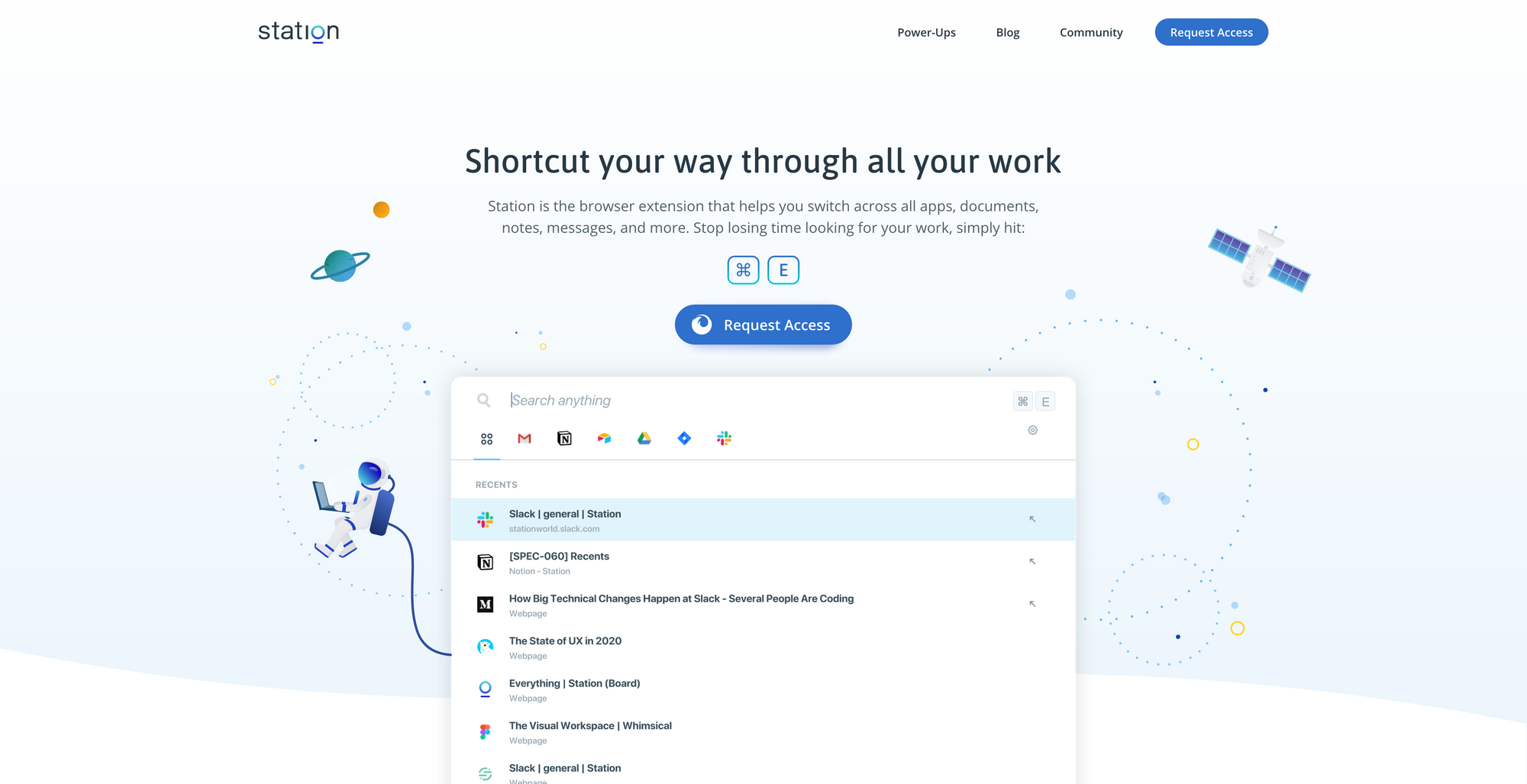 Station once called itself "One app to rule them all". It was one of the most upvoted apps on Product Hunt, and it became an incredibly popular tool. Station basically was a desktop app, that unified all you web apps within one nice and productive interface. Since Station struggled to deliver a fast enough product that could solve one single problem really well, they decided to rebuilt Station back in 2020, the new Station was born. Station is now a browser extension that helps you switch across all apps, documents, notes, messages, and more. One simple keyboard shortcut is all you need to unlock the powerful features and interface of Station. Station gives you the possibility to switch effortlessly across any page and stop wasting time looking for your work.
If you get lost within a lot of bookmarks easily, Station has a nice feature for you, that automatically shows you your recent history for all of your apps and your most-used pages. You can even connect your favorite and most-used apps directly to Station, so you can visualize scattered information in an actionable way. On top of that, Station focuses to build a privacy-first tool. No data is stored on their servers, everything will within your browser, which means your data will stay secure. You can request access to Station right now.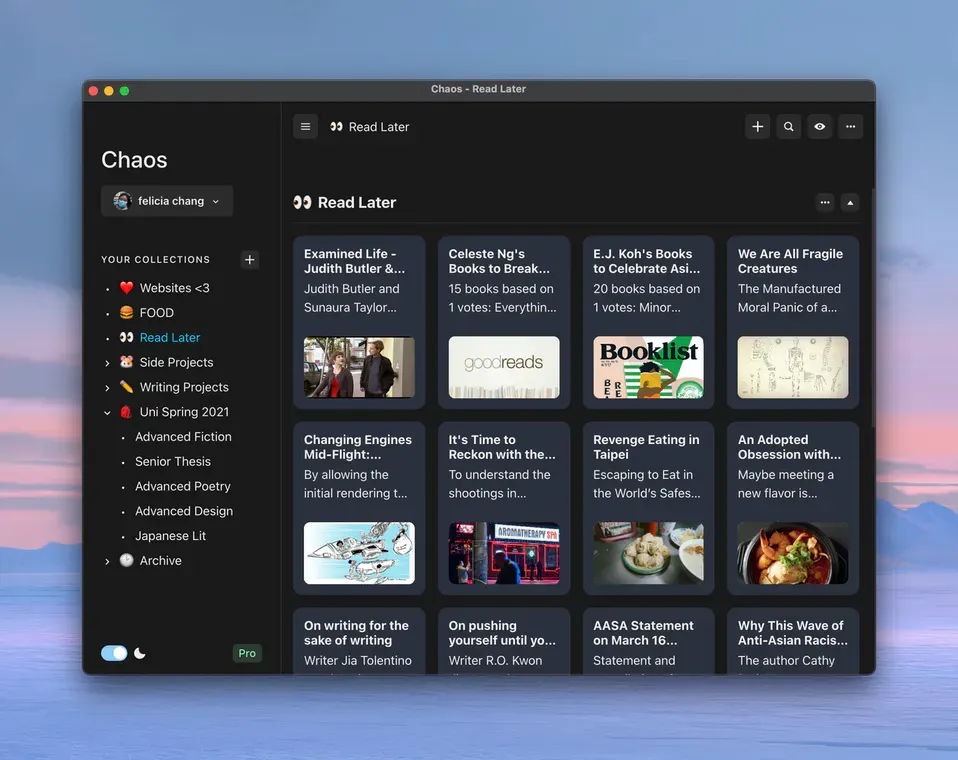 I have been using Raindrop as my go-to bookmarking tool for years now, but I also tried out couple others like mymind for example. The struggle I had with mymind in first place, was the fact that you could not add your own layer of organisation. All the bookmarks you saved, where structured and organized by mymind's AI. They changed that, so you can add your own tags as an organizational layer, so I will definitely give it another try. But, I also just found out about Chaos (not sure if I like the name, since a bookmarking tool should prevent Chaos and it is somehow has a negative taste), a bookmarking tool that immeadiately caught my eye as it is beautifully-designed. First of all, Chaos lets you save anything from the web, along with you local images and documents. But I think it is fair to say, that most of the bookmarking tools out there are doing exactly the same.
What is really interesting about Chaos, is the fact that it supports infinite nesting and in-app previews. Infinite nesting is a great way to structure and organize all your content and bookmarks the way you want it. You can create a parent collection and structure it within infinite child collections. If you want to clean things up, features like bulk management, which lets you drag-select multiple items at once, come in really handy. I am also a huge fan of the split-screen feature, which lets you open to bookmarks side-by-side within Chaos. This is super useful if you do some research work for example, or if you want to work within your docs, and keep an article, video, or any specific website open at the same time.
As mentioned earlier, Chaos caught by eye because it features a really nice UI, I like the cards layout, it has dark mode, and overall the design looks very structured, so you can easily scan through all your bookmarks. Currently, you can only sign up for the waitlist of Chaos. The website says there will be a basic free plan, which is limited to 50 items, and a pro plan (which will cost $4 per month) which will give you unlimited items.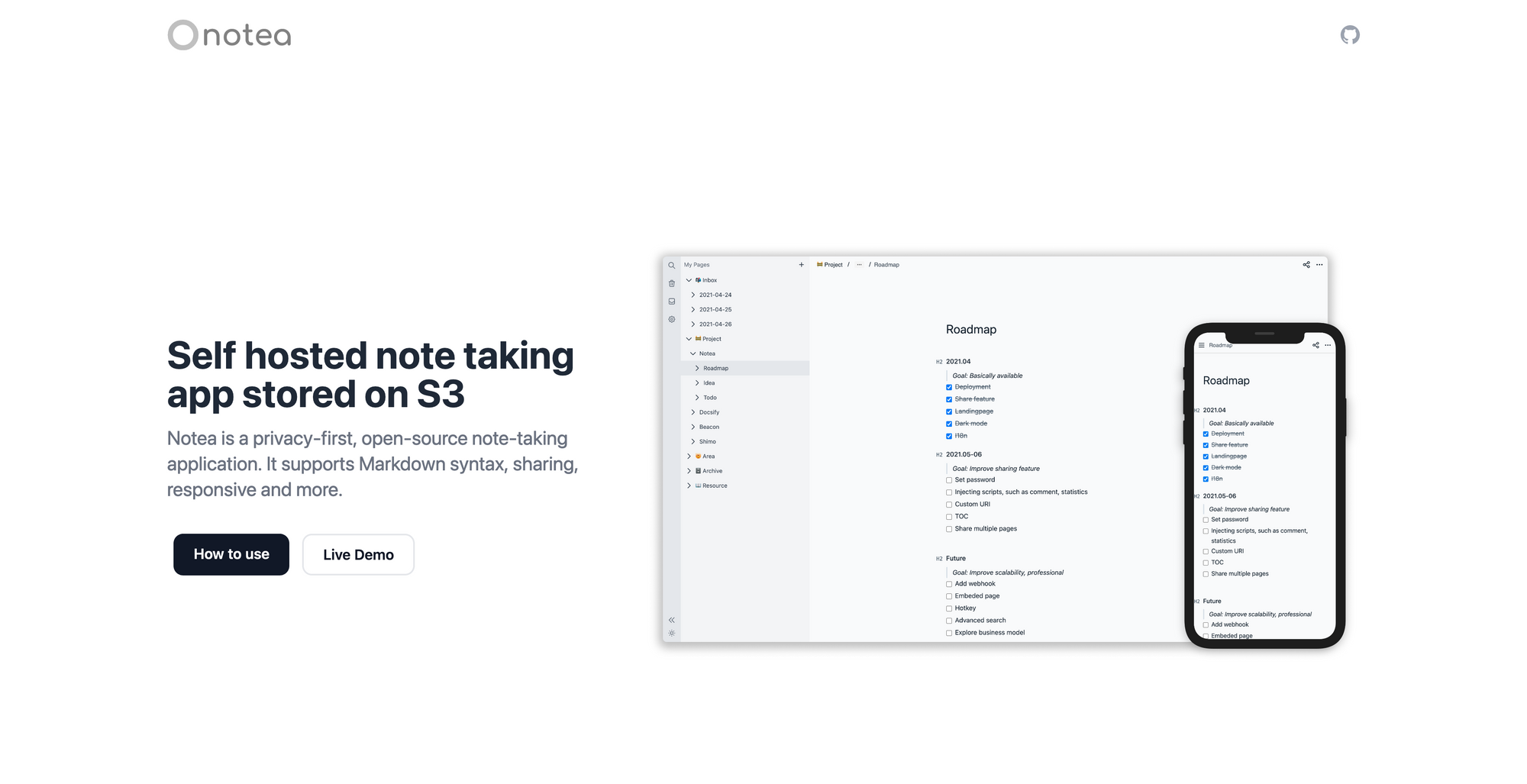 Notea is an exiting new note-taking and project management tool, that is completely open-source, privacy-first, and self-hosted. When you take a first look at Notea, you will quickly realize the similarities to Notion and I somehow get the impression, that this somehow was the intention. On Product Hunt, someone in the comments asked if Notea is the open-source and privacy-first equivalent to Notion, as Photopea is open-source equivalent to Photoshop, and I think this is a pretty good comparison. So, Notea is fully markdown compatible, and you can even publish your content on the web, and share your docs, wikis, blogs with others.
If you want to use Notea, you need to self-host it, it can be deployed to Vercel or Netlify, or even your own server via docker. If you want to get a taste of Notea first, there is a live demo version you can check out and play around with. There is a quick start guide that will help you to set up Notea, but nevertheless you will definitely need some knowledge regarding Next.JS, Vercel or Netlify, to actually get started with Notea.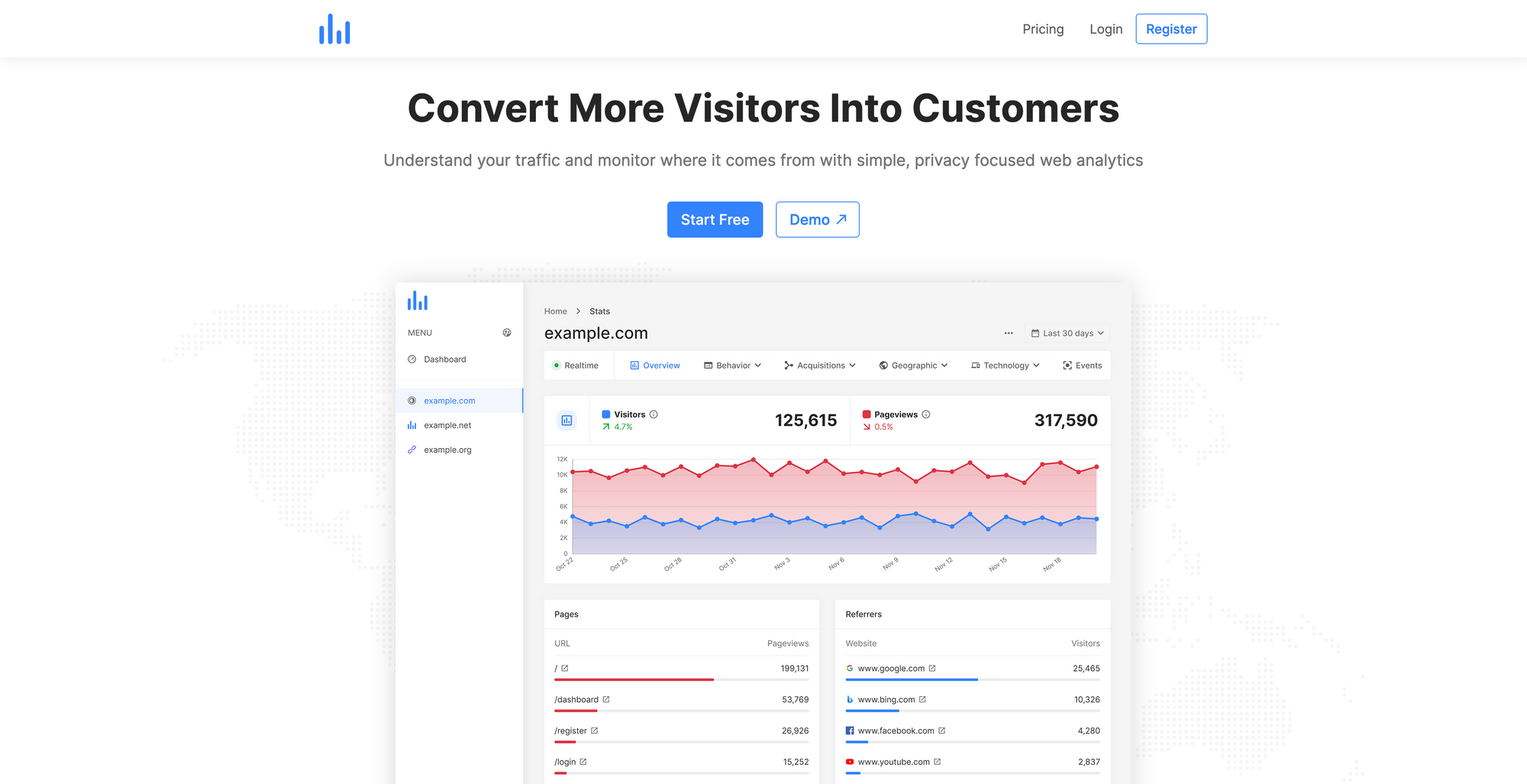 As I am finishing up my blog post and database of privacy-first Google Analytics alternatives, I just come across a new privacy-focused analytics tool, called Qatir. Qatir is a simple, privacy-friendly, and beautifully designed analytics tool. Qatir does not collect any cookies, there is no IP tracking or fingerprinting. It is fully compliant with GDPR, CCPA, and PECR. Qatir's tracking code has less than 1kb, so you can be sure that all your pages will stay and load blazingly fast. Their dashboard gives you all the important insights you need at first glance.
You can use Qatir on your website completely free for up to 10k page views per month. You can even install it on unlimited websites. If you need more, pricing starts at $6 per month (or $48 per year) for up to 50k page views per month. It is great to see more and more privacy-friendly Google Analytics alternatives are getting developed, and I will keep continue to share those alternatives and raise awareness.  networked thoughts and link all your notes together. Sign up for early access now.
---
Useful Resource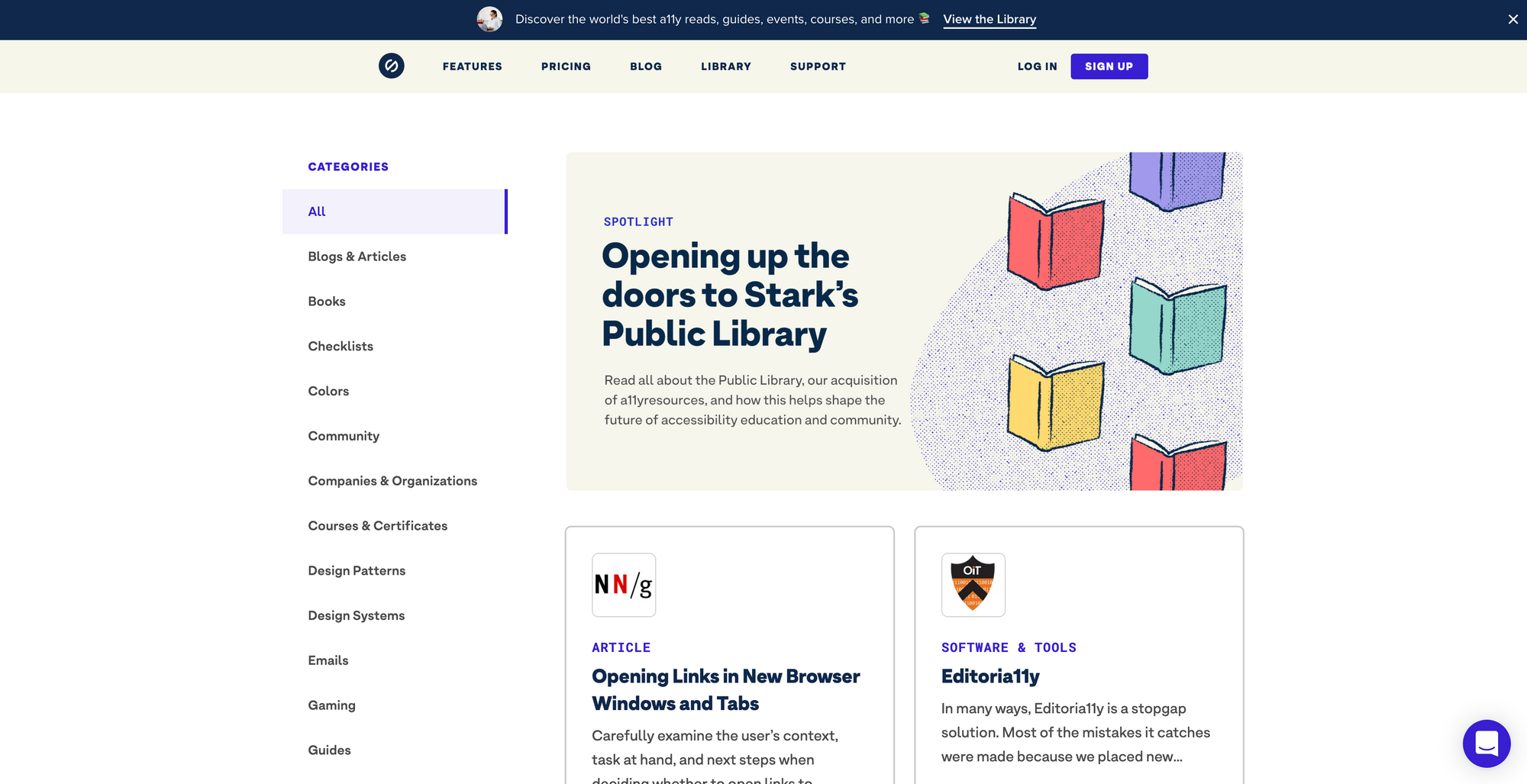 Stark is a Suite of Tools that helps companies of all sizes to make their software products more accessible and compliant. Back in March, Stark opened up the doors to their Public Library, the largest, centralized accessibility resource on the internet.
Stark's Public Library contains around 1,000 carefully curated articles, tools, courses, and guides, all within the area of accessibility. And it all covers a spectrum of topics like Gaming, Software & Tools, Standards, and more.
The Stark Public Library is one of the most important resources out there to learn about accessibility as it is one of the most (if not the most) important topic while building products in the digital world. The Public Library by Stark is go-to place for educational content throughout the topic of accessibility.
---
Mental Wealth
➢ Why It's Useless To Wonder About the Life You Never Had – "Do you ever think about the person you could've become if you started your life over and made wildly different decisions throughout? I've played that game many times. If my parents hadn't won the green card lottery and decided to move to the United States in 1999, I would have grown up in Bulgaria. I probably wouldn't have become a journalist, most likely wouldn't be working on a newsletter full-time, and our paths, dear reader, definitely wouldn't have crossed. In a recent feature titled What If You Could Do It All Over, Joshua Rothman writes, "Swept up in our real lives, we quickly forget about the unreal ones." What would the alternate non-journalist, Bulgarian-living Polina think about the real one living in the U.S. today?"
➢ Play At Work – "I love to watch my children play. How they invent things and stories. How they jump into roles and, just as quickly, change roles again. How they interact and react to each other's ideas and the twists and turns of their play. Let's cook something! Oh, we are knights now! Can you see our horses? Aha, the wizard arrives in his spaceship! Where is his magic wand? And all of a sudden, an ordinary wooden stick turns into a magic tool. Problem solved! They can play like this for hours, inventing the most amazing, wondrous, and, in the eyes of us adults, silly and absurdly illogical things. This is the way kids explore their surroundings and learn. They look at something and not only think about what is but also imagine what could be. Without rules, free from doubt, and free from fear. Then, they try out their idea and immediately find out what works and what doesn't."
➢ Manage Work not People – "Lean / Kanban was always about managing work instead of managing people. Often mention as Manage the flow. Organizations are about organizing people, but they should be about organizing work instead. As organizations grow, it's harder to make an impact and easier to get benefits. Safi Bahcall, the Loonshots book, says that as organizations are growing, the perks become much easier to get rather than impact(outcomes). That's why politics and empire-building strike. Leaders need to be explicit about managing flow. Otherwise, organizations tend to focus on local hierarchies and produce local optimization(classical Lean issue).  If we should manage work/flow instead of people(Some coachs also called it to manage the system). Should we have teams? Are teams silos? Are silos always bad and wrong? When should we create a team? When should we decommission a team? Work often happens on teams, people leave and join companies because of teams, but would teams get into the way sometimes? How to properly handle cross-team coordination?"
➢ The secret to a meaningful life is simpler than you think – "Some people seem to spend their whole lives dissatisfied, in search of a purpose. But philosopher Iddo Landau suggests that all of us have everything we need for a meaningful existence. According to Landau, a philosophy professor at Haifa University in Israel and author of the 2017 book Finding Meaning in an Imperfect World, people are mistaken when they feel their lives are meaningless. The error is based on their failure to recognize what does matter, instead becoming overly focused on what they believe is missing from their existence."
---
Appendix
➢ Featured Newsletter
This week's featured newsletter just got added to my reading list a couple of weeks back. Leo Mascaro is a NYC-based Photographer and Content Curator, and he is a Creativerly subscriber. Leo recently started his newsletter called Shuffle Sundays. Since he already consumed quite a lot of content online, he thought it would make sense to share his recommendations of things to watch, read, listen to, with fellow creative folks.

And yes, it was a great decision to do so, because Shuffle Sundays always spark some curiosity with every single issue I read. It is the perfect Sunday-reading-digest. Sit down, grab a cup of coffee or tea, and get lost in awesome music, inspirations, films, and more, carefully curated by Leo Mascaro. To get a taste of it, you can check out the archive here, and directly subscribe to Shuffle Sundays right here.
➢ ICYMI
Basecamp, the productivity tool founded by Jason Fried and David Heinemeier Hansson, was all over Twitter during the last few days, as a third of the companies employees decided to leave Basecamp, after the founders announced some new company-wide policy changes (that included "No more paternalistic benefits" or "No more societal and political discussions").

You can read the full announcement regarding the changes published by Jason Fried here, and you can read a great analysis and write-up of the whole situation here, written by Casey Newton from Platformer.
➢ Quick Bits
Spotify's Daniel Ek joins forces with Arsenal legends in bid to buy club / Alibaba is concerned about how Apple's new privacy policies will affect its business / Verizon tries to sell Yahoo and AOL after spending $9 billion on fallen giants / Tim Cook warns of Apple product shortages / Cyber-attack hackers threaten to share US police informant data / Basecamp's Ban on Political Talk Prompts Wave of Employees to Quit
---
Twitter thoughts
---
Till next time! 👋‌‌‌‌
Support: Do you have a friend who is looking for inspiration, news about design, and useful tools and apps? Forward this newsletter to a friend or simply share this issue and show some support. You can also show some love by simply clicking the button down below and keep this newsletter a sustainable side-project by buying me a coffee. ☕️ 🥰
---
---
Disclaimer: My posts may contain affiliate links. If you buy something through one of those links you won't pay a penny more, but I'll get a small commission, which supports this blog and also my side-projects. So consider buying something through my links. Thank you!