Newsletter
The art of asking the right questions & Edit your writing, like editing a photo
How I read, an AI-powered writing app with a new approach, Beam shutting down, ask this questions at your next meeting, and a lot more in this week's issue of Creativerly.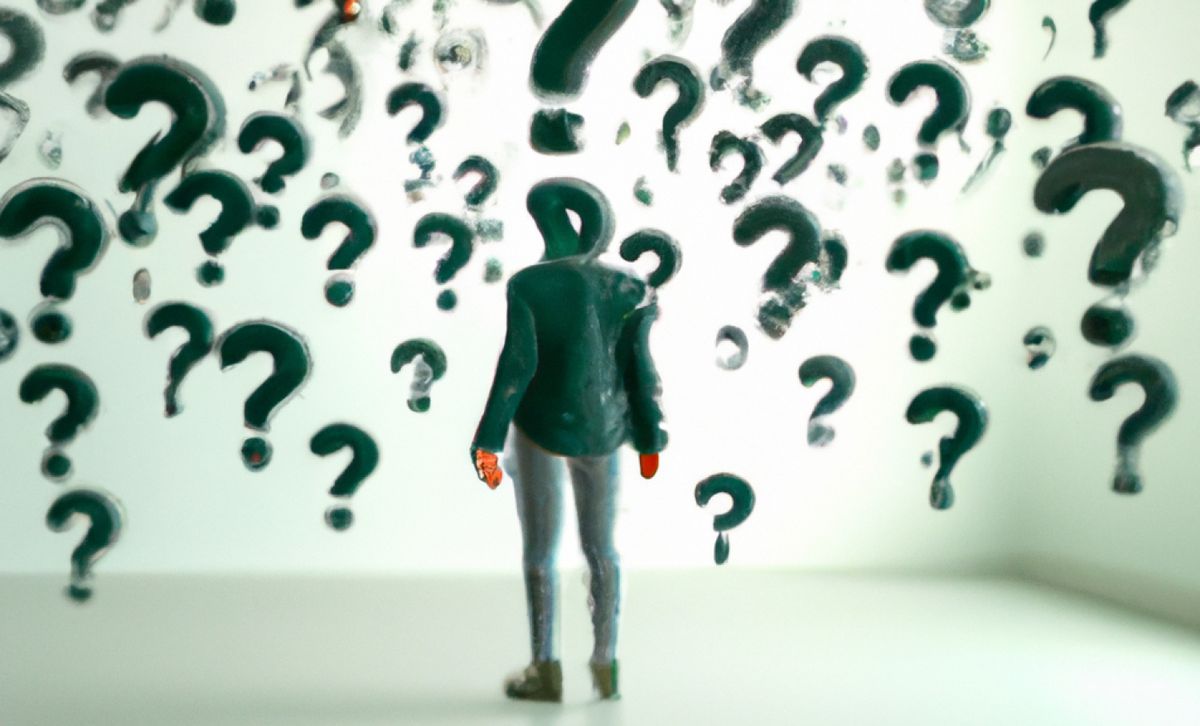 My name is Philipp and you are reading Creativerly, the weekly digest about creativity and productivity-boosting tools and resources, combined with useful insights, articles, and findings from the fields of design and tech. The newsletter built for the creative community.

---
Hey and welcome to Creativerly 213👋
In the past, I had ups and downs regarding my reading habit. As a child and as a teenager, I only touched a book because I had to read a couple of pages for school, but in my free time I never sat down to read anything, maybe a magazine, but that was it. I really got into reading at the age of 20. Most of the time, I read fiction for enjoyment. I got hooked. Sitting down with a new book became my most relaxing activity, both physically and mentally. While reading thrillers and novels I felt like becoming a part of the story. It was my getaway from stress, anxiety, and other situations in which I needed some time for myself.
At some point, I started to read non-fiction more and more. Suddenly, I read and learned about so many different things. I wanted to make sense of that information and started taking book notes, highlighting sentences, and building a knowledge base to have a home for all the things I read and learned. Fast-forward to today, and reading is as accessible as ever. You do not have to read physical books (although I still love the feeling of a physical book, highlighting sections, and writing directly onto the pages), you can read millions of eBooks on your phone, tablet, online, or a dedicated eBook reader. You can buy and read books from authors from all over the world. Knowledge has never been accessible as nowadays.
Reading became a core part of my life. I have books lying around everywhere in my apartment. I am following online magazines, writers, bloggers, content creators, and others via RSS feeds. So whenever I have a couple of minutes, instead of mindlessly browsing through the internet, I open up my RSS reader app and I will always find an interesting, valuable, and read-worthy piece of content there. If I am reading on my phone and I found an article that I would like to take some notes on, I mark it as a favourite, so I know whenever I am back in front of my computer or iPad I go through the article again and add some notes in my PKM app.
My reading backlog is an ever-growing one, but that is on purpose, since then I will never experience the situation that I have nothing to read. There are always a couple of books on my shelves, some on my eBook reader, articles within my RSS reader, and newsletters within my inbox that I have not read yet, so I always have a selection to choose from. I prefer browsing and exploring my reading backlog instead of doom-scrolling through any kind of social network (although this sometimes still happens). Speaking of my reading habits, I am also excited about the sponsor of this issue of Creativerly, since it is a service that also fuels my reading, learning, and discovering of new books. The service I am speaking about is Shortform. Shortform provides powerful, insightful, easy-to-read guides and 1-page summaries of the world's most popular books from different categories. Shortform is one of those sponsors who is simply the perfect fit for Creativerly, since I am using the service myself, it is of great value to me, and I truly believe Creativerly readers could profit from it. Therefore, I am also excited that Shortform offered a little special only for Creativerly readers. So, read on and find out about it later in this newsletter.
Also, let me know what you are currently reading. I am always on the hunt for new books to add to my reading list. You can also follow me on Literal to keep up to date with what books I am consuming.
---
Apps, Software, Tools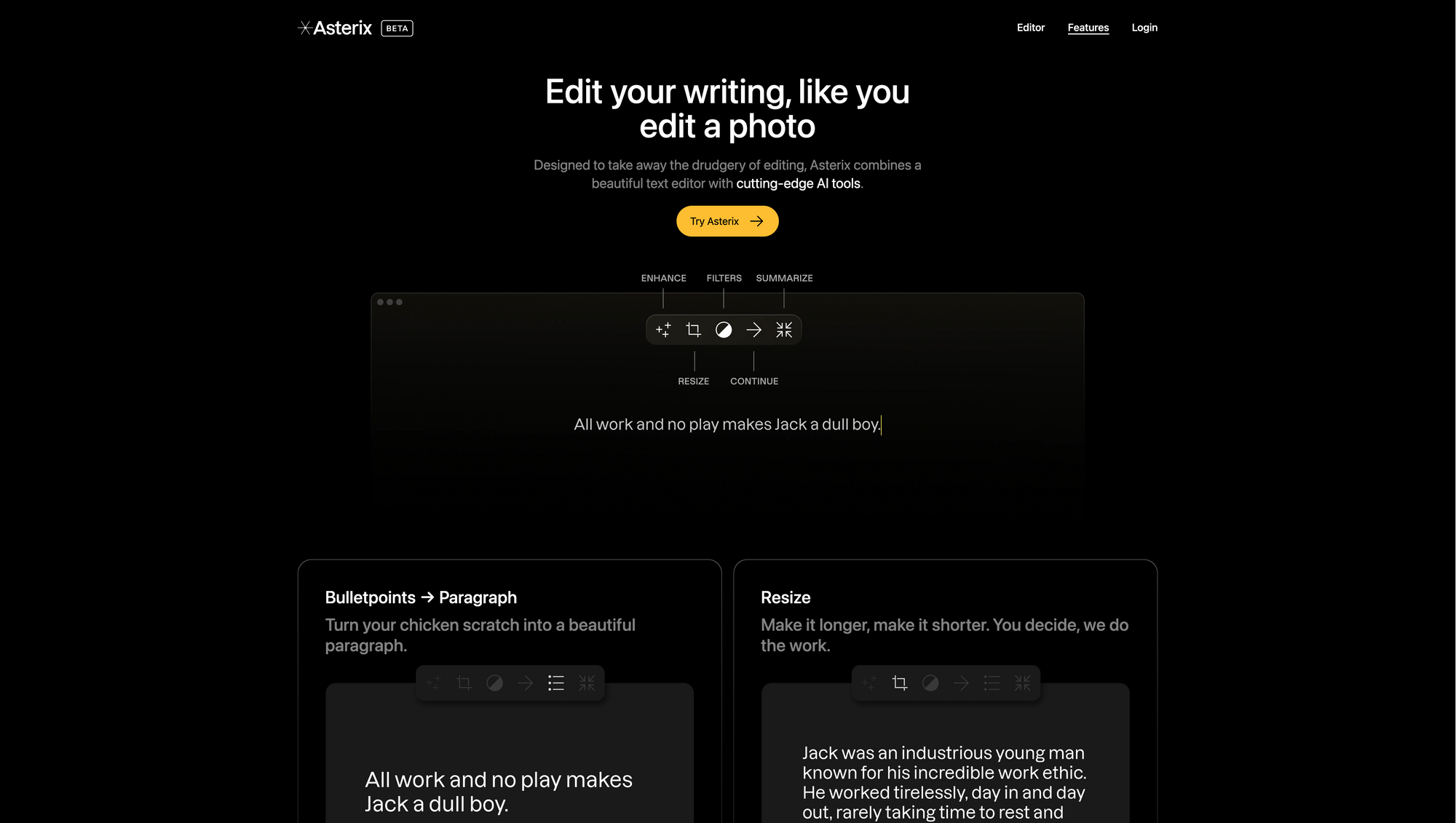 During my research for one of my upcoming articles about the state of AI-powered writing apps, I stumbled across Asterix, and AI-powered writing app with a dedicated focus on editing. Asterix was designed to edit your writing like you edit a photo. This sparked my interest. It feels like with the recent AI-boom, the market got flooded with writing apps and tools that are powered by AI. As services like ChatGPT or Chat by copy.ai became incredibly powerful, AI-powered writing apps need to stand out with dedicated features that are actually focused on improving the writing, or in the case of Asterix, the editing experience.
Asterix combines a beautifully designed text editor with cutting-edge AI tools. As of writing this, Asterix is still in an early stage. Although the editor is still in beta, it is already packed with exciting features. One of them gives you the possibility to go from bullet points to paragraphs with a single click. When you are starting to explore some ideas for a new blog post or article, you probably start jotting down some quick thoughts in the form of bullet points. Most of the time, this is exactly how I start writing a new piece. I do not think in paragraphs. All I want is to quickly get everything out of my head related to a specific topic I want to write about, and bullet points or the outliner approach of note-taking and writing is the perfect way to do so. Once you are happy with the quick thoughts and ideas you wrote down, the next step would be to make sense of those bullet points and turn them into actual sentences and paragraphs. Asterix makes this process as easy as it can get since it gives you the power to turn your bullet points into paragraphs. Simply select a couple of bullet points and let Asterix handle the rest.
Besides that, Asterix gives you a couple of options once you turned your bullet points into a paragraph. You can either make it longer or make it shorter, thanks to Asterix' "Resize" feature. Once I found out about the resize feature, I understood why Asterix claimed to give users the possibility to edit text like editing an image. The next feature makes those similarities even more clear. Once you have selected a sentence or a paragraph in Asterix, you can apply filters (just like image filters) to your text and automatically change the tone of your writing as easily as pressing a single button. With just a few clicks you can change your text to sound more professional, casual, persuasive, friendly, concise, or confident. A lovely and powerful feature.
In addition to that, Asterix is also packed with features you probably already know from other AI-powered writing tools. The "Enhance" feature re-writes your sentence, paragraph, or your whole text. With the "Continue" feature, you have the possibility to overcome writer's block and let Asterix continue with your writing. The "Summarise" feature summarises what you have written.
As a next step, Asterix is focusing on building extensions, so it works in all kinds of places like Gmail, Google Docs, Slack, Scrivener, Word, and more. Basically, Asterix wants to be available in all of the places you write. To give Asterix a try, just sign up on its website, and try out and experience the editor. As mentioned earlier, Asterix is still in an early stage and the version you can try out right away is a beta version.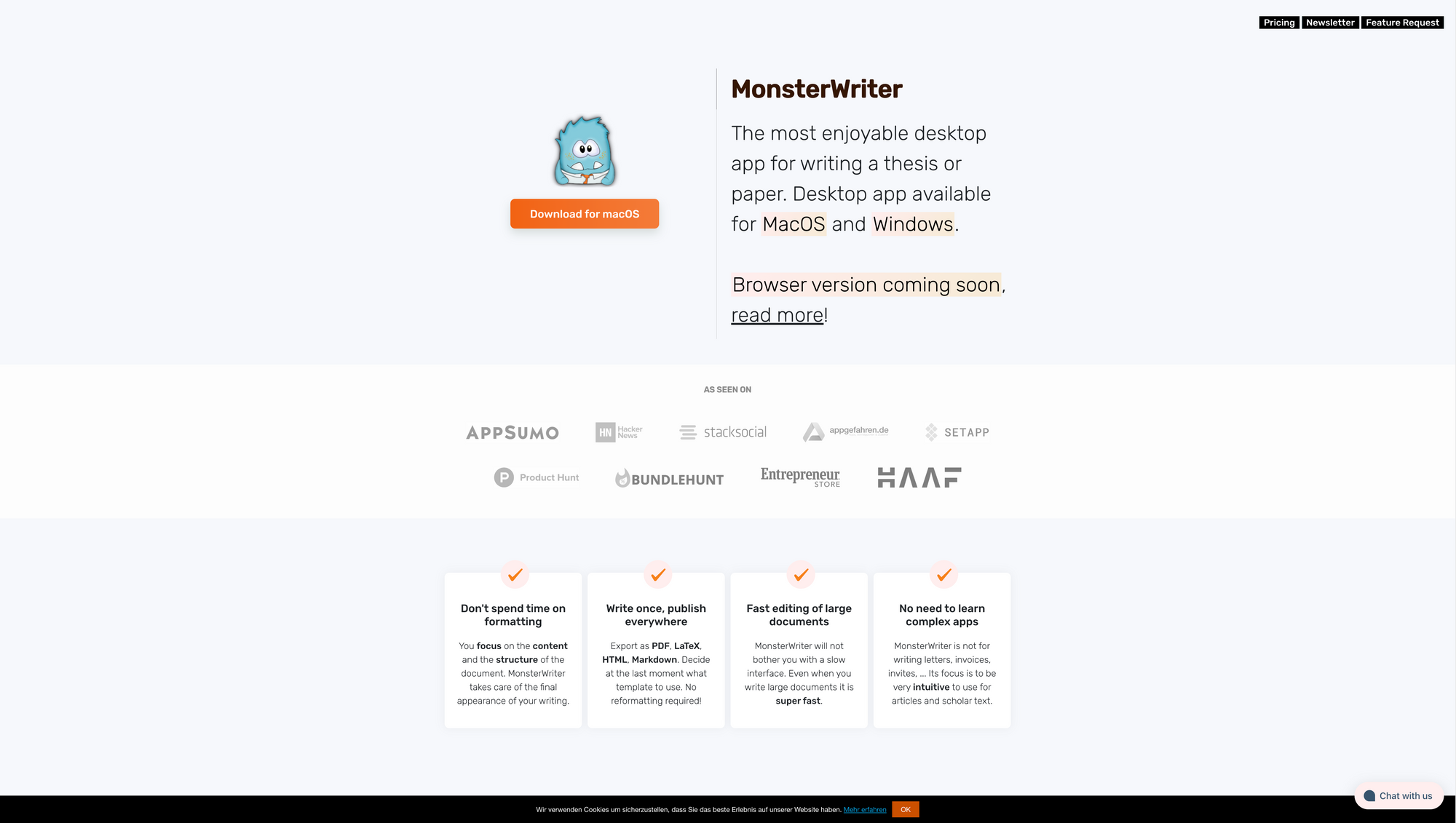 MonsterWriter is one of the most popular desktop apps for writing a thesis or a paper. The reason I am highlighting it in this version of Creativerly is the fact that you can currently grab MonsterWriter at a huge discount over at Bundlehunt*. So, let us dive in and take a closer look at MonsterWriter.
MonsterWriter is a desktop writing app available for macOS and Windows. One of its powerful features is the way it is handling formatting. With MonsterWriter you do not need to spend time on formatting. You get the chance to focus on the content and the structure of your document and MonsterWriter takes care of the final appearance of your writing. At every stage of your writing process, MonsterWriter offers you the tools required for what you are currently doing. MonsterWriter might not be as feature-rich as other writing apps, but at the same time, it offers the right number of features and options in a non-intrusive way. Even when you write large and long documents, editing in MonsterWriter feels incredible fast. The minimal interface of MonsterWriter makes sure to not bother or distract you during your writing process. Another advantage of that is there is no need to learn yet another complex app. In MonsterWriter it is all about writing, open the app and start writing.
Additionally, MonsterWriter shines when it comes to exporting options. Once you are finished with your writing, you export it as PDF, LaTeX, HTML, or Markdown, and MonsterWriter lets you decide at the last moment without the need to reformat anything. With MonsterWriter you write your articles once and get the chance to publish them everywhere, thanks to simple but still powerful exporting options. One of the most important aspects of writing apps is to offer a distraction-free interface. Since during your writing process, you do not want to get distracted by unintuitive UI elements, shiny buttons and icons, or anything else. You want to focus on your writing. MonsterWriter packs the feature you need to create a powerful output of your writing in a minimalistic and distraction-free interface.
Since MonsterWriter is especially focused on users who want to write articles, a thesis, and scholar text it offers easy insertion of citations and cross-references. Via a context menu, you can quickly insert footnotes, inline-equations, or references. The most powerful feature of MonsterWriter comes into play once you have finished writing. As already mentioned, you just export your thesis or article with a few click and configurations, and MonsterWriter takes care of formatting your whole document thanks to automatic typesetting.
MonsterWriter is available via a one-time payment. The Single User license will cost you $34.99, which gives you access to MonsterWriter forever. To give the app a try, you can also download a trial for macOS and Windows. As of writing this, MonsterWriter is also working on a browser version, which is coming soon. To get access to it, you can sign up for the waiting list. Besides that, MonsterWriter gives you the option to with a blog post. If you have published an article about MonsterWriter and included a link to its website you can send the article to MonsterWriter and you will get a license for free. Readers who have an active Setapp subscription* can download and install it right away since MonsterWriter is part of Setapp. Lastly, you can grab MonsterWriter at a huge discount currently over at Bundlehunt*. As mentioned, usually the Single User license costs you $34.99, but on Bundlehunt you can grab the license for $2.50 along with some other powerful apps like Doneit, Swish, Hazeover, Presentify, QuartzCode, and loads more.
---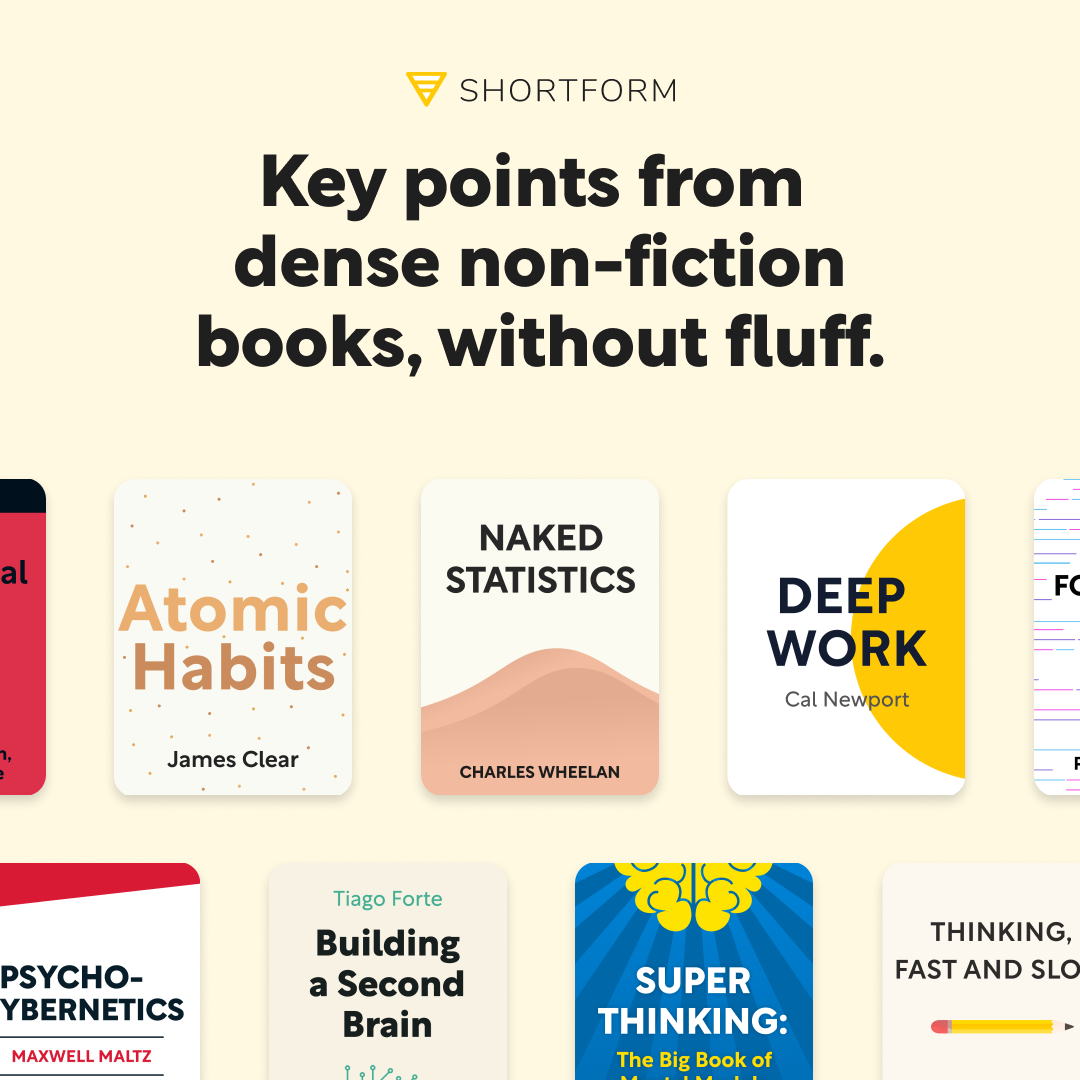 This is a paid promotion to support Creativerly. If you are interested in putting your tool, product, or resource in front of over 2000 creative minds, consider advertising in Creativerly and book a sponsor or classified ad spot. Find all the important information at creativerly.com/advertise.
---
Fresh Updates & News
In March, Around shipped some exciting updates to its top-notch video-call tool. First and foremost, Background Blur is currently in Beta. Around's video circles in general are designed to hide a large portion of your background, but users who are still seeking for a bit more privacy, Background Blur will be a handy feature to fully obscure your video background so the focus stays on you instead of your environment. In addition to that, Live Transcriptions are now available. As soon as you press record within Around, you get the chance to see what is being said in real-time, ensuring you never miss an important thing. Live Transcriptions are also searchable, allowing you to recall something that was said earlier in the meeting. To make Around more stable for people who are in the same room, it improved Echo Prevention giving users the possibility to hide any number of the video circles of other Echo Prevention group members.
Around is one of the most popular tools for video calls. It got founded back in 2018 and quickly attracted investors like Naval Ravikant, Ryan Hoover, Initialised Capital and others. Around use small video circles floating freely on your screen so you can keep your context while talking to your team members and colleagues. There is no need to open up a new tab within your browser or having a Zoom window laying on top of your other apps. Back in June 2022 Around announced that it got acquired by Mira, the $17.5 billion visual-collaboration giant. Both parties stayed silent regarding the acquisition value although different parties are putting the value close between $250 million and $300 million, while another person with knowledge of the deal said the value was far less than $250 million.
While we recently entered a browser revolution with apps like Arc, SigmaOS, or Stack rising to popularity, the same revolution now counts its first victim. Beam, the browser that entitled itself not as a browser but as a new type of software for healthy thinking on the internet, sent out an email on March 13th, informing its users that the development and support of Beam have stopped. The app itself remains functional and available on its website, but there will be no new updates. Beam offered exciting features like automatic tab grouping, and the possibility to capture an entire block of text or a single sentence and store it within a web diary. While being a browser, Beam was a note-taking tool with a built-in Journal featuring backlinks.
Within the email that informed users about the shutdown of Beam, the team announced it is working on the next idea, which is Beam Widget, an iOS app that lets you add a widget to your home screen to share the latest cool links directly your friends' Home Screen.
Beam got founded by Dom Leca and secured investments by Spark Capital, Harry Stebbings, Andrew Wilkinson, Christian Reber, and others. Dom Leca announced on Twitter in November 2022, that Beam will shut down, but development officially stopped in March 2023.
In the most recent update, acreom redesigned its task experience, making it faster to capture, easier to track progress, and improving accessibility. Additional improvements include recurring tasks, inline editing in markdown, a new tasks page with all tasks, better filters, capturing and accessibility, and linking tasks to pages. Besides that, the update included major improvements to syncing, better communication of sync state, sync between mobile and desktop apps, and the possibility to work offline.
Acreom is a beautifully designed app for capturing notes, breaking down issues, tracking your progress, and creating a knowledge base. It offers a new interface that follows the approach of capturing first and organising later. With acreom you can capture ideas and issues effortlessly with daily documents, breeze through your agenda by syncing your calendar, and access and sort out relevant tasks instantly. Acreom is available as a web app, for macOS, Windows, Linux, iOS, and Android, offering a full cross-platform experience.
---
Mental Wealth
➢ The Luckier You Are The Nicer You Should Be – "An important skill – an incredibly hard one – is identifying when things in your life are temporarily too good, and preparing for the inevitable adjustment. It's so difficult, because most people's willingness to put up with hard times relies on the idea that you'll eventually be rewarded with good times. When good times come, you feel like you earned it, and nothing is easier to justify than deserved reward. But there's an irony here."
➢ The art of asking the right questions – "Many people, myself included, can find asking questions to be daunting. It fills us with worry and self-doubt, as though the act of being inquisitive is an all-too-public admission of our ignorance. Unfortunately, this can also lead us to find solace in answers — no matter how shaky our understanding of the facts may be — rather than risk looking stupid in front of others or even to ourselves."
➢ Worried you're not normal? Don't be – there's no such thing – "Have you ever wondered whether or not you are normal? Think about the last time you asked yourself that question. What did you mean? Maybe you were considering if an attribute was healthy or not. Perhaps you were concerned that the way you look or behave didn't quite meet a perceived ideal. Or maybe you simply wondered whether you fitted in: do you think and act and live 'like everyone else'?"
➢ Ask This Question at Your Next Meeting – "When was the last time you left a work meeting feeling inspired, motivated, or energized? If you're like most people, the answer is seldom.Team meetings, in particular, suffer a dreadful reputation. They're considered unproductive, unnecessary, exhausting, disorganized, and stressful. Worse, they eat up valuable time, prevent us from moving the needle on important projects, and leave us wondering why we can't seem to get anything done during regular work hours. We all hate meetings. But what if we didn't? What if meetings accelerated the progress they now stifle?"
---
Do not miss out on this ...
Get smarter every day. Every day Refind picks 5 articles that make you smarter, tailored to your interests. Loved by 200,000+ curious minds. Subscribe to get 5 links per day.
Think tasks, not apps. Setapp* is you one-stop subscription to solving every task on Mac and iPhone.
The GIST is a forever-free newsletter that provides a refreshing female perspective on the mot important headlines in sports. Sign up today.
These are paid promotions or affiliate links to support Creativerly. If you are interested in putting your tool, product, or resource in front of over 2000 creative minds, consider advertising in Creativerly and book a sponsor or classified ad spot. Find all the important information at creativerly.com/advertise.
---
Appendix
➢ Featured Newsletter
Are you thinking about creating and building a niche site, newsletter or any other online publication? Niche Media Publishing sends out weekly tips on growing nurturing and monetising an audience. Within the newsletter, you will get insights on how to produce the best content for your audience, how to grow with the best paid and organic traffic tips, how to monetise your content and get paid, and a lot more.
Signing up to Niche Media Publishing is completely free.
➢ Quick Bits
---
---
---
Some of the links in my newsletter and my blog posts are affiliate links. Those links are marked by an asterisk. If you buy something through the link, the product will not cost you anything more, but I will receive a small commission which not only supports Creativerly and my work but also helps me to keep this publication a sustainable side-project.