Newsletter
Welcome to Creativerly's new home & The Art of Decision-Making
In this week's issue of Creativerly: How to overcome a creative block, a tool to create your team's knowledge base, the art of decision-making, and a lot more.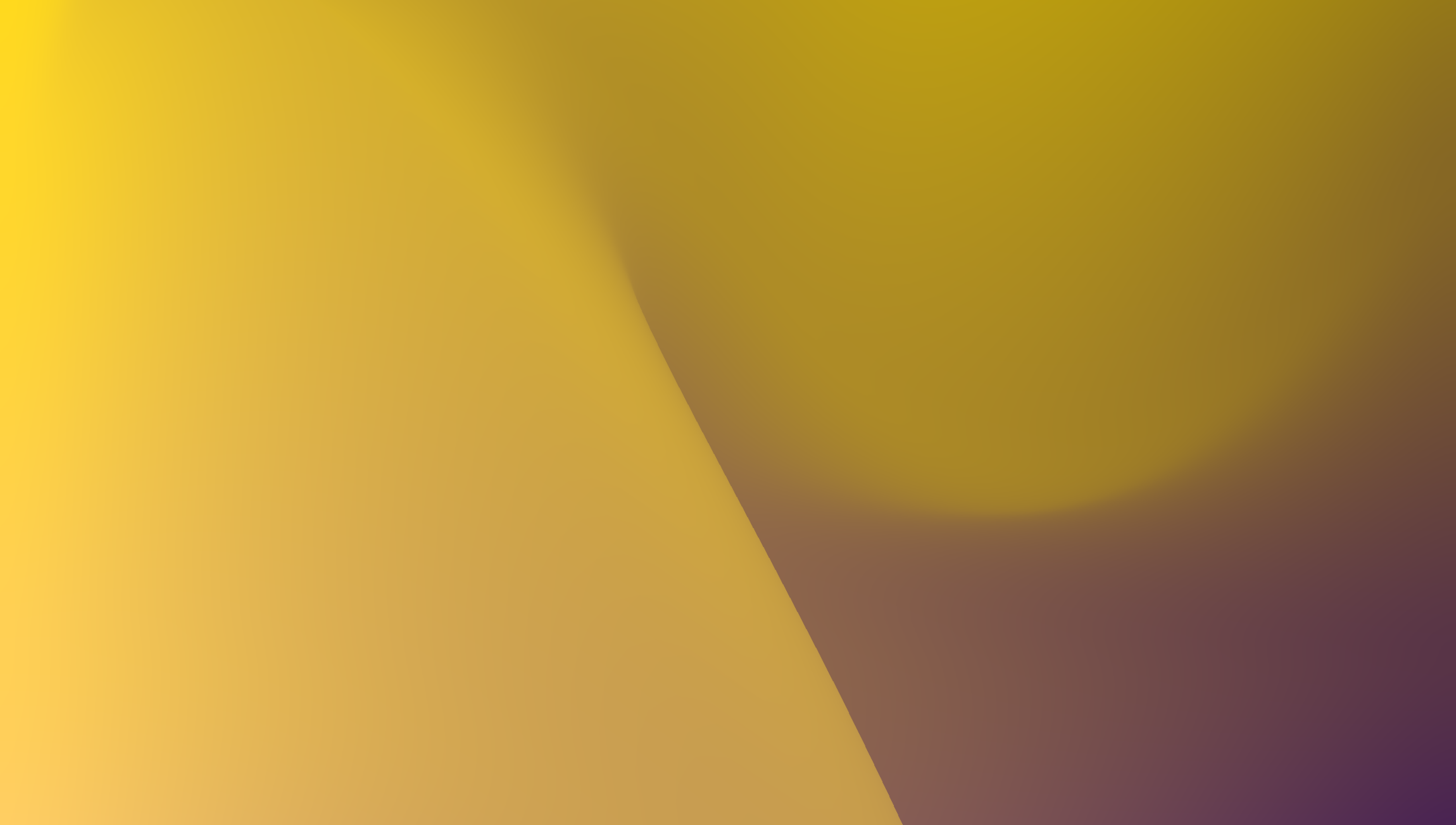 You are reading Creativerly, the weekly digest about creativity and productivity-boosting tools and resources, combined with useful insights, articles, and learnings from the fields of design and tech. The newsletter built for the creative community.
---
Hey and welcome to issue 99 👋
Today is the day. This is the very first version of Creativerly sent out using Ghost + Mailgun, my new tech stack. I prepared this move for quite some time, and I am super excited to finally have everything set up.
First of all, for everyone who do not know what Ghost exactly is, here is a quick introduction. Ghost is an open-source, full-stack, publishing platform, that gives you the possibility to set up a blog and newsletter, and memberships + subscriptions. They have a managed hosting service called Ghost(Pro) that costs $29/month. Since that pricing was a little bit to steep for myself I decided to self-host Ghost using the DigitalOcean Droplet.
In general, Ghost is an awesome platform, giving me the possibility to turn Creativerly into a full-fledged publication. Recently, I sat down and was thinking about what Creativerly could become if I just keep writing and publishing content. At the bottom of things, I just want to add new content sections (just like the recent interview I did with Noemi Stauffer), but I also got some blog posts in the pipeline. More content means more stuff to structure and organize. Ultimately Substack does not give me the features and functions to build the right home for Creativerly as a publication. Ghost is also lacking some features compared to WordPress for example, but I am confident that Ghost is building what I am looking for in the future, and I am excited to be part of that journey.
For a more in-depth look and the reasoning why I moved away from Substack, you can check out my newest blog post. If you have any questions, recommendations, feedback or just want to talk, let me know and drop me an email at philipp@creativerly.com (this is my new email from which I will send out all upcoming newsletters, so make sure to add it to your address list, so it will hopefully will not end up in spam).
Also, you might have realised that Creativerly got a new typelogo, which is set in Redaction. Curious to hear your thoughts about the little design update.
Anyways, I am extremely happy to finally have made the move to Ghost, and I am also incredibly excited about Creativerly's future.
If you have recommendations or feedback, drop me an email or a tweet. For now, enjoy the newsletter!  🥰
---
Apps, Software, Tools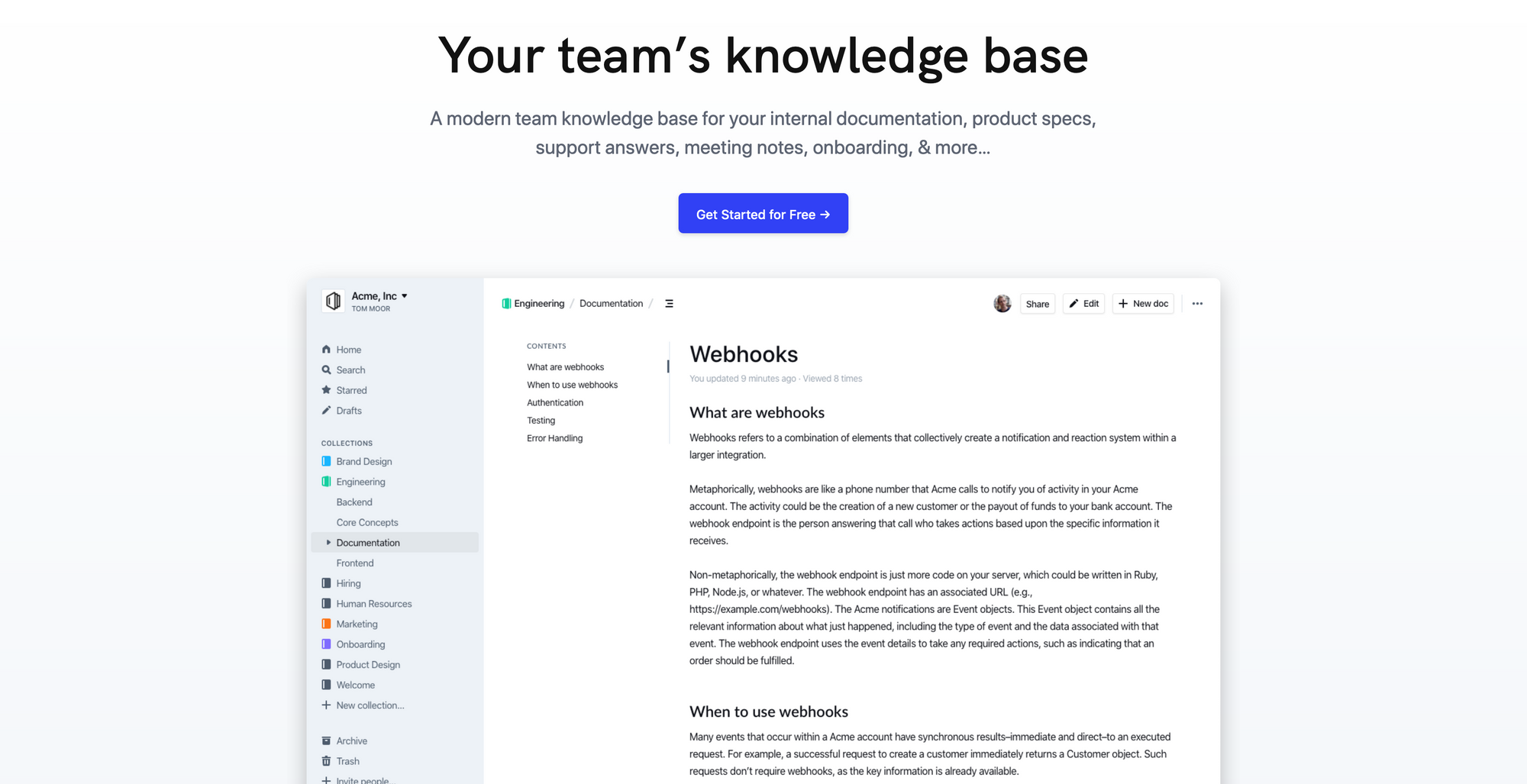 Creating and building up a knowledge base is not only pretty popular for individuals but also becoming more and more an incredibly useful tool for companies and Outline is the perfect tool for it. With Outline you can create your team's knowledge base with ease. No matter if you are planning to create a team knowledge base for your internal documentation, product specs, support answers, meeting notes, onboarding, Outline got you covered. Let us take a look at a few examples of how to actually use Outline. During the pandemic a lot of companies transitioned to 100% remote. With that, those companies are facing some new challenges. For example, onboarding new hires. Outline can help you to streamline the whole onboarding process. With Outline you onboard new team members easily through internal guides, resources, and checklists. Or maybe create a company handbook. Make it accessible, searchable and easily updatable so everyone can find the information they need. There are tons of other ways how Outline can boost your workflow during the setup of your team's knowledge base. Head over to their website to get a glimpse of how powerful Outline is. In general Outline is blazingly fast (they literally managed to ensure millieseconds in responds time), secure, open-source, and intuitive. Give it a try.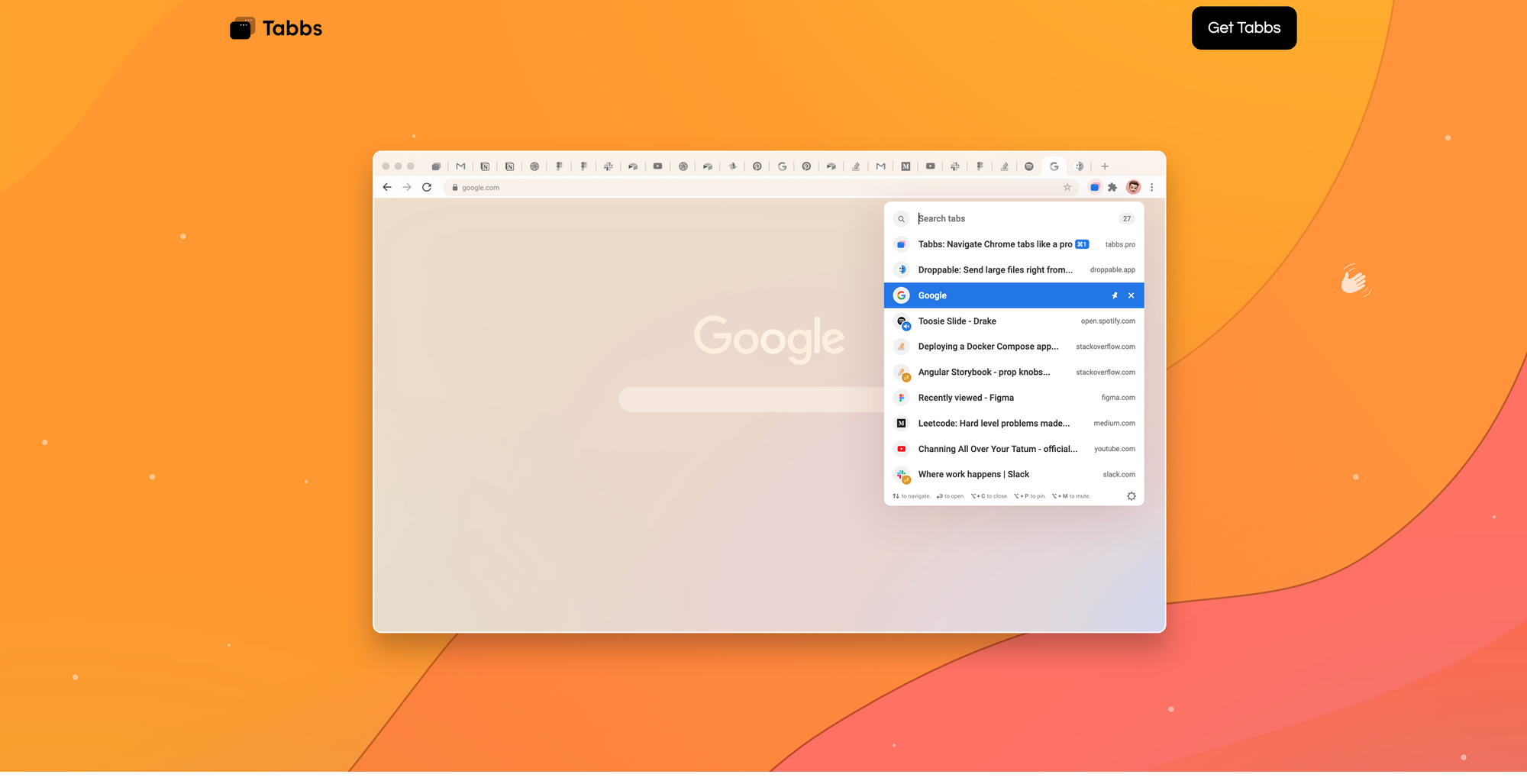 Every single day, when I log into my Mac and open my browser, I get greeted with a lot of open tabs, a lot of tabs. It has been an ongoing challenge to find a tab manager (especially for Firefox) that suits my workflow. The biggest issue I had while being on the hunt, was the fact, that I had a hard time kicking by habit of opening so much tabs and working across all of them. Most tab managers have their own kind of workflow, e.g. grouping your tabs, creating lists, or spaces. Tabbs is doing things differently. Instead of creating a completely new layer, workflow, and UI to the browser, it simply adds a intuitive navigation. Therefore, Tabbs helps you control and navigate your tabs "chaos". With a simple and known shortcut (especially for Notion, Superhuman, Airtable, etc. users), CMD + K, you open Tabbs and can search through all your open tabs. But that is not it: Tabbs lets you also free up memory with a feature called "Tab Nap", close tabs, mute tabs that are playing audio, or pin the ones you visit often. Super handy tool. Unfortunately, it is only available for Chrome, but the maker stated on their Product Hunt Launch, that a Firefox version might come as a future update.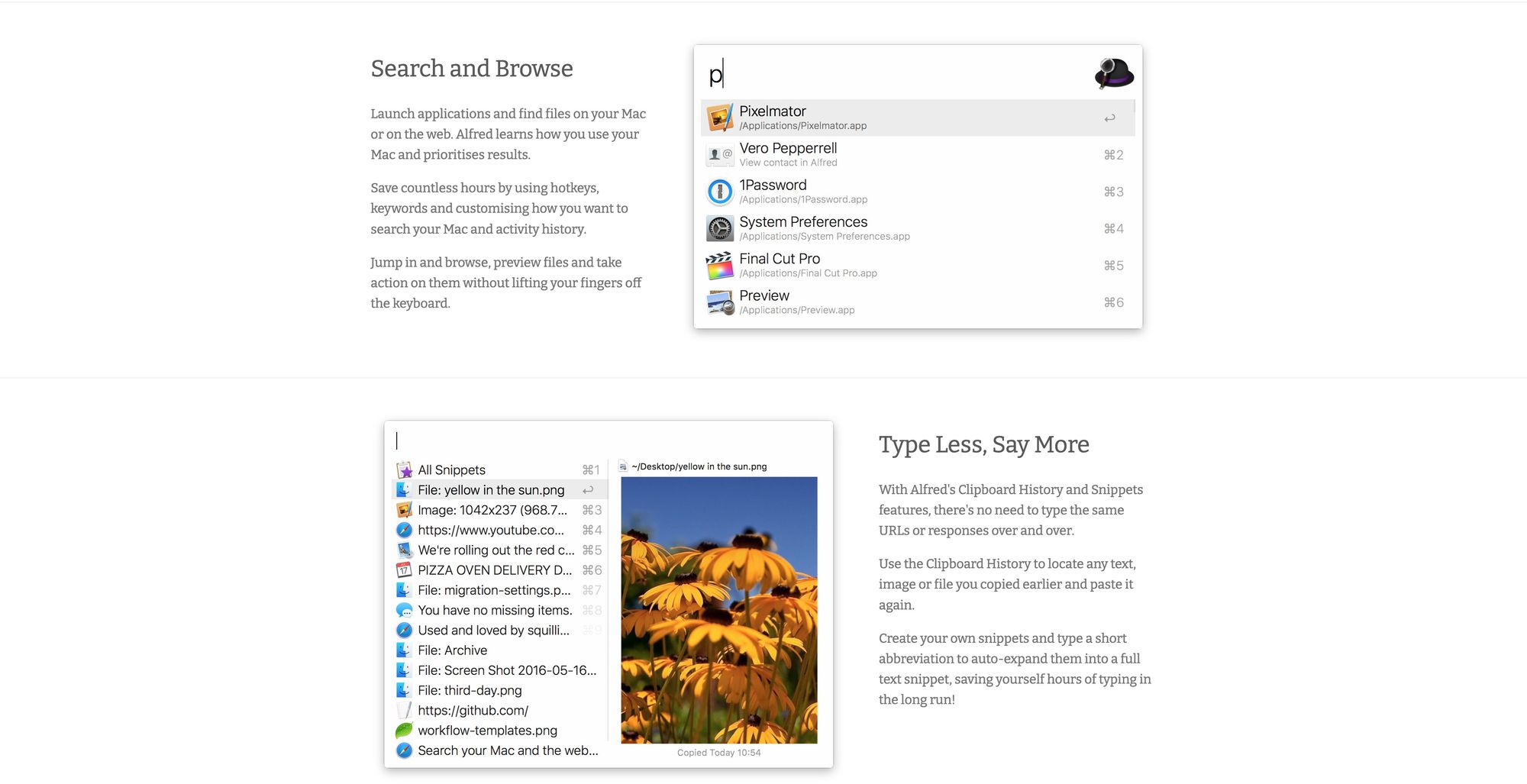 I am pretty sure some of you will already know about Alfred, an award-winning productivity app for MacOS, that has been around for years. So, Alfred is not a new find of mine but deserves it nevertheless, to be amongst Creativerly's favorite tools. Alfred might be my all-time favourite tool, that I install immediately whenever I set up a new Mac. For those of you that do not know about Alfred: Alfred is basically a launcher app, that boosts your efficiency and replaces the native MacOS spotlight search. Why would anyone want to replace the native MacOS search you might ask yourself. Well, because Alfred is much more powerful, since it gives you complete control to set up hotkeys, keywords, text expansions, and a lot, a lot more. Alfred delivers productivity directly at your fingertips. With Alfred you launch all your apps and find all your files blazingly fast, without moving your fingertips of your keyboard. I personally also use Alfred to browse the web. I created custom search keywords, so I just hit the shortcut for Alfred (for me it is Alt + Space), I type want (if I want to start a search with Qwant) or duck (if I want to create a search with DuckDuckGo) and simple hit enter afterwards. This action opens a new tab in my default browser with the search query. Super handy! I am using Alfred for years, and I still discover more and more useful bits and workflows. It is such an amazing app I am recommending to everyone (who uses a Mac).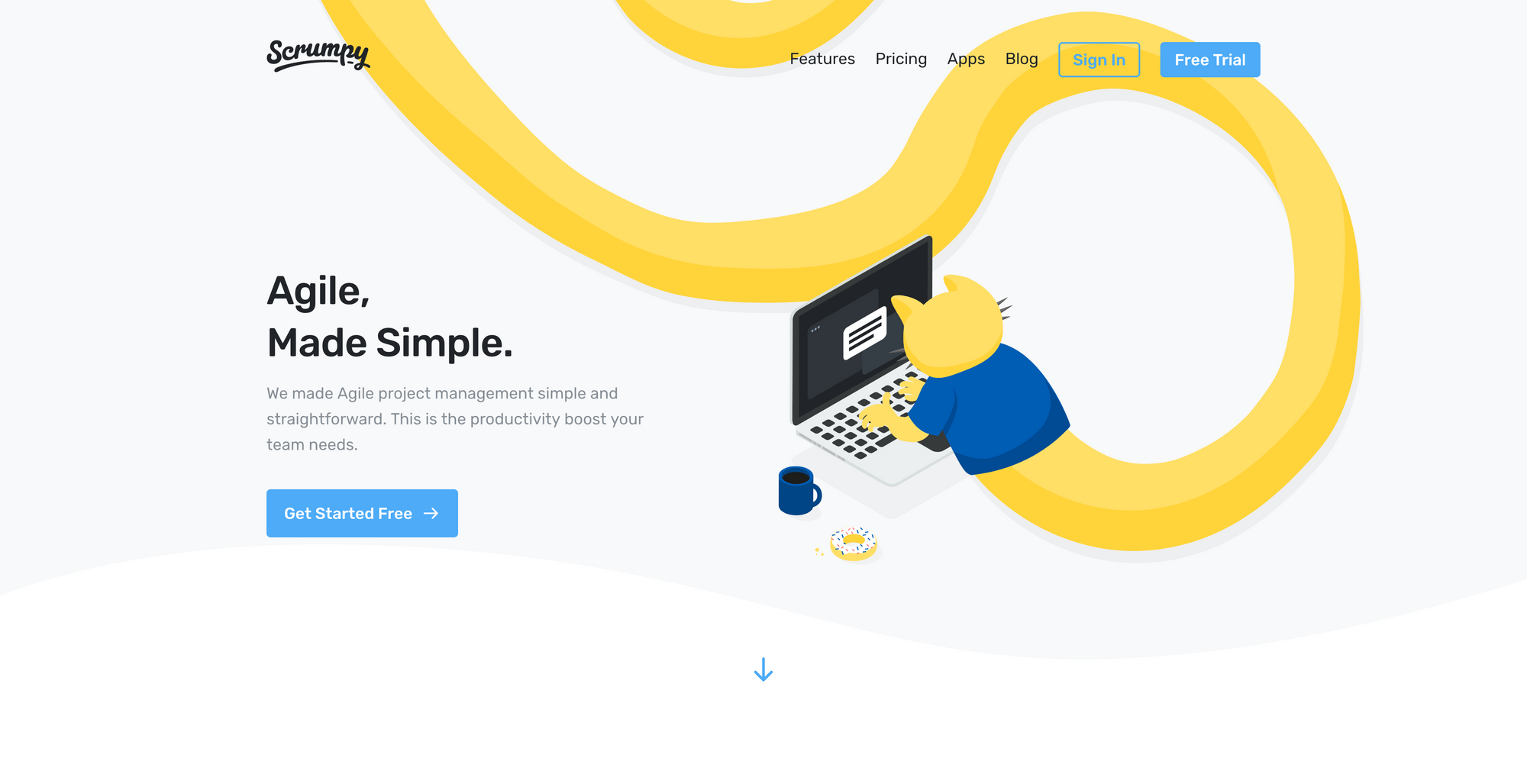 Agile project management does not have to be complicated and overwhelming. Scrumpy makes agile project management as simple and straightforward as it never has been. Most project management tool misses one important point: they do not actually help you to focus on your work and boost your productivity, they force you to use a specific system they created within their tools. Scrumpy is as simple as agile project management can get. Add tasks to your backlog when ideas come up. Group them with tags, discuss details with your team and keep track of everything. Want to work on sprints? Sure, Scrumpy lets you work on the important things, enjoy the flow of your work, and visualize your progress. Scrumpy is blazingly fast, has a built-in search to find all the relevant information with just some clicks, you can add unlimited clients or freelancers to your projects, and notifications are not obtrusive, but inform you about the relevant changes and updates regarding your projects. On top of that, Scrumpy is also an Open Startup, which means they have a dedicated page on their website, where you get insights about current user statistics, but also information about their revenue. Currently, Scrumpy is available for both macOS and Windows. A great and handy tool, built in Berlin.
---

---
Useful Resource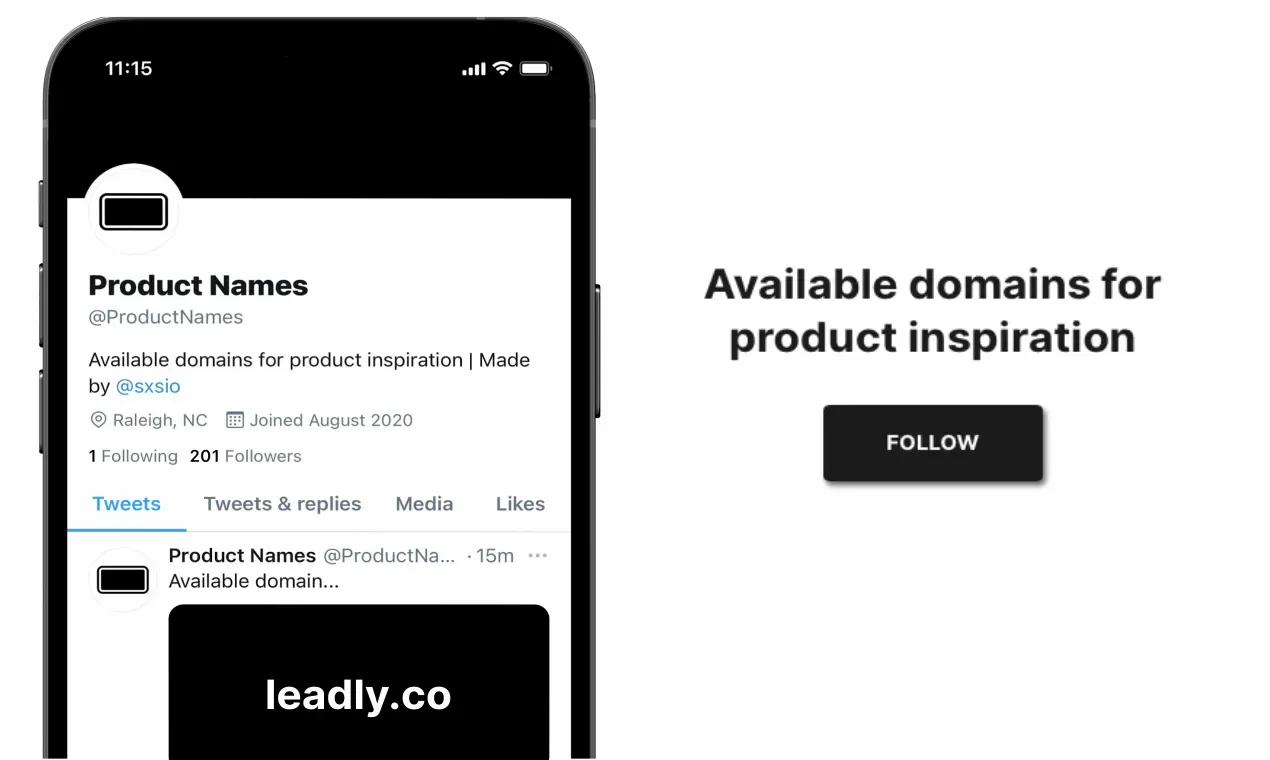 One of the first things that people, who work on side-projects, do is securing a domain with their dedicated project name. But sometimes, it takes hours or days if you have to find the project or business name. Product Names is an incredibly useful resource, that makes things easier. Product Names is a Twitter account (managed by Stephan Shaw) that tweets out available domain names. Simply follow Product Names on Twitter and get all the available domain suggestions delivered straight to your Twitter Feed. It also works as an inspiration if you are currently looking for a business or project name, just browse the Twitter feed and secure your name and your domain. Super useful, super helpful!
---
Mental Wealth
➢ The Art of Decision-Making – "In July of 1838, Charles Darwin was twenty-nine years old and single. Two years earlier, he had returned from his voyage aboard H.M.S. Beagle with the observations that would eventually form the basis of "On the Origin of Species." In the meantime, he faced a more pressing analytical problem. Darwin was considering proposing to his cousin Emma Wedgwood, but he worried that marriage and children might impede his scientific career. To figure out what to do, he made two lists. "Loss of time," he wrote on the first. "Perhaps quarreling. . . . Cannot read in the evenings. . . . Anxiety and responsibility. Perhaps my wife won't like London; then the sentence is banishment and degradation into indolent, idle fool." On the second, he wrote, "Children (if it Please God). Constant companion (and friend in old age). . . . Home, & someone to take care of house." He noted that it was "intolerable to think of spending one's whole life, like a neuter bee, working, working. . . . Only picture to yourself a nice soft wife on a sofa with good fire and books and music perhaps.""
➢ Creativity and Personality Types: Are Certain Types More Creative? – "When we think about "creative people," most of us think of a certain "type" of person: idealistic, artistic, moody, introverted. Maybe we think about cluttered desks or messy rooms, or perhaps we think all creatives are original and quirky. It's true that when it comes to creativity and personality types, certain "types" come to mind right away. "
➢ Stumbling Blocks and Obstacles: How to Overcome Creative Ruts –  "How do you overcome creative block? It's a simple question, but one that we wrestle with as creatives over and over again. Just when we think we've found the answer to move past a current rut, a new challenge arises. Feeling stuck happens to all of us—newly minted graduates, creatives early in their practice, mid-career practitioners, and seasoned pros. Although I help creative professionals get unstuck frequently through my work as a career coach, I decided to turn to the internet for help answering this question: How do you overcome creative block? More specifically, I asked my Instagram followers, who generously shared practical tips, what helps them move forward, how to preemptively tackle getting stuck, and questions for further exploration when creative block strikes."
➢ Scaling down: on seeking fewer goals, relationships, and experiences – "We have heard it so many times: quality matters more than quantity. Yet, we struggle to apply the adage. We try to earn as much money as possible; to visit many places; to make lots of friends; to read loads of books. In many areas of our lives, quantity seems to trump quality. Thanks to the work of psychologist Barry Schwartz published in The Paradox of Choice, marketers are aware of the less-is-more effect. As a result, they strive to simplify consumers' lives by providing them with a limited number of options. But marketers don't need to hold a monopoly on simplifying our lives. You may also already know that money truly doesn't buy happiness—at least past a certain point. Could we benefit from scaling down our goals, our relationships, and even our experiences?"
---

---
Last Week Quick Bits
---
Twitter thoughts
---
Some of the links in my newsletter and my blog posts are affiliate links. Those links are marked by an asterisk. "*". If you buy something through the link, the product will not cost you anything more, but I will receive a small commission which not only supports Creativerly and my work, but also helps me to keep this publication a sustainable side-project.