Newsletter
The TinyMBA Giveaway & The digital writing platform
In this week's issue of Creativerly: The GTD Task Manager, All your work notifications in one inbox, how to take things less personally, and a lot more.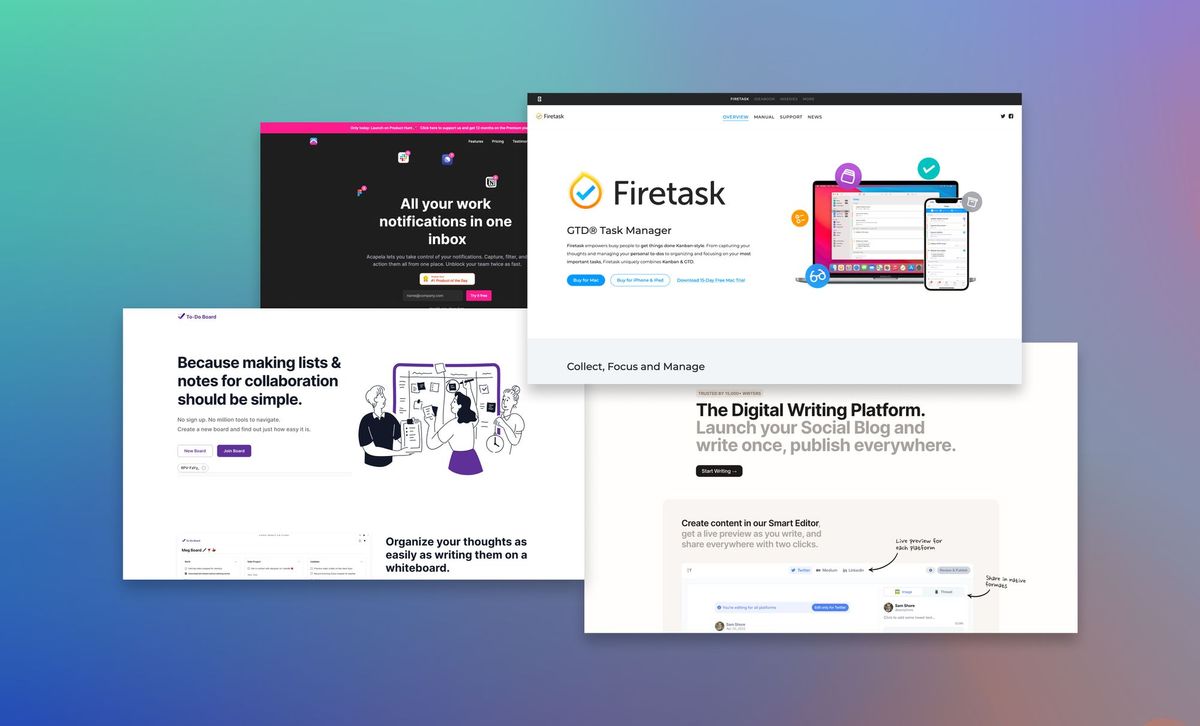 You are reading Creativerly, the weekly digest about creativity and productivity-boosting tools and resources, combined with useful insights, articles, and findings from the fields of design and tech. The newsletter built for the creative community.
---
Hey and welcome to Creativerly 169 👋
With this issue of Creativerly, I am excited to present to you my first giveaway! What am I giving away? Two copies of The TinyMBA by Alex Hillman, a highly acclaimed book packed with 100 ideas to evaluate and execute on your built-in advantages, play the Long Game of Business, and build your own business that lasts. How do you enter the giveaway? Head over to Creativerly's Twitter Account, like and retweet the giveaway Tweet, and you are set and ready. Is this giveaway open to worldwide residents? Yes, it indeed is. You can enter the giveaway, no matter where you live. When will the giveaway end? The giveaway ends on Wednesday, May 18th at 19:00 CET / 10:00 PST / 13:00 EST and the winners will be contacted via Twitter shortly after.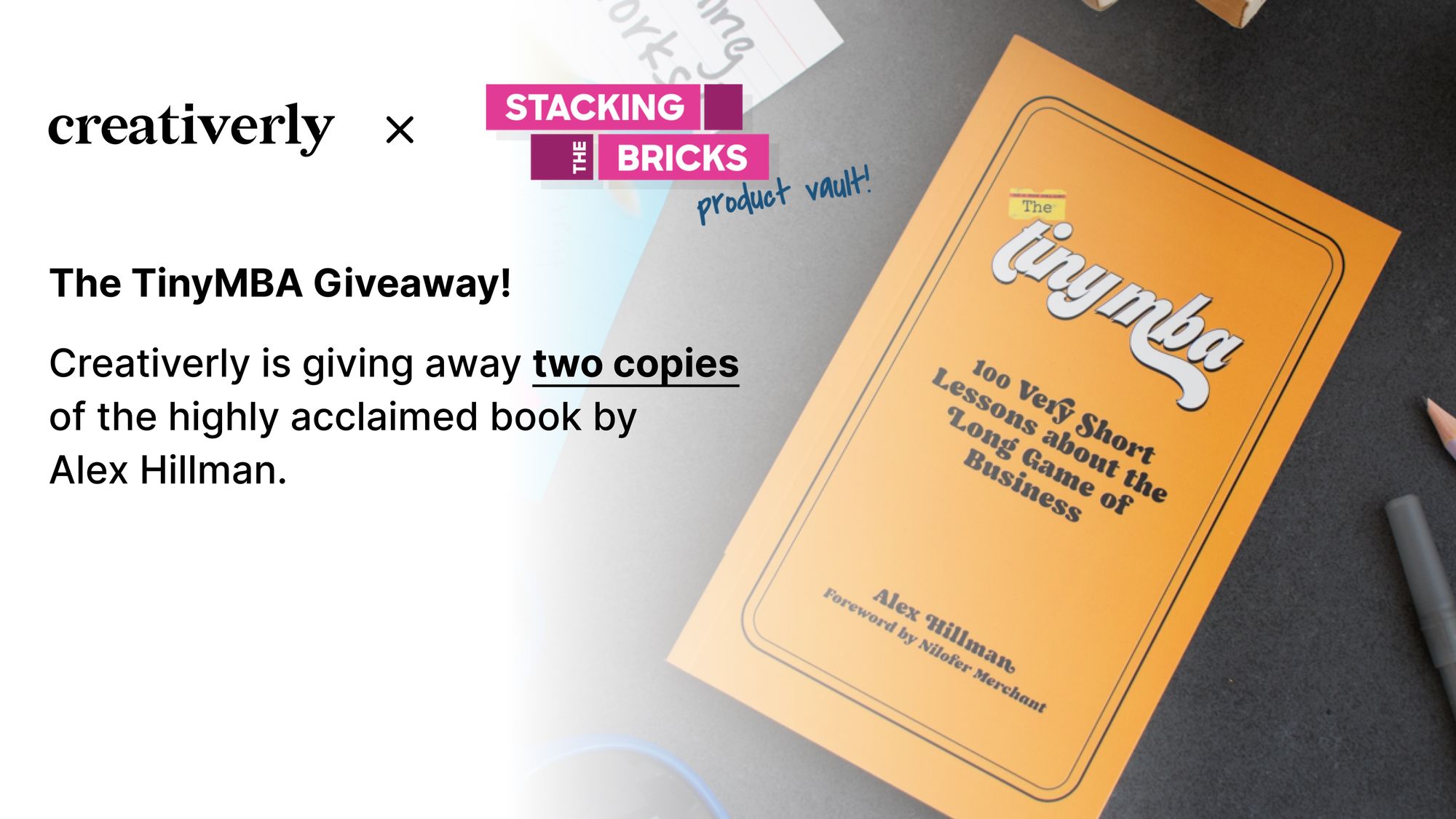 When I started reading The TinyMBA by Alex Hillman, I immediately got hooked, because the book is using a new approach, which I did not stumble across earlier. The book features byte-sized information across the pages. Every page contains one paragraph of information, questions, or incentives. So, theoretically speaking you can fly through the book within probably an hour or so. But on the other hand, you can also read the short paragraphs, and take your time to think about them. The TinyMBA is not yet another business book, it helps you create thinking patterns, patterns that you can use to evaluate what you just read, patterns that will help you to think about what you just read, and patterns that will trigger your brain.
Therefore, The TinyMBA is not just another business book, it is a valuable resource, packed with thought-provoking ideas about entrepreneurship and business practice, written for everyone who is in the process of starting a business no matter what size or industry you are planning to enter. So, make sure to head over to Twitter, like and retweet the giveaway Tweet, and take your chance to win one of two copies of The TinyMBA by Alex Hillman. Find the direct link to the giveaway down below. Good luck to everyone who is entering.
---
Privacy-friendly web analytics for your peace of mind.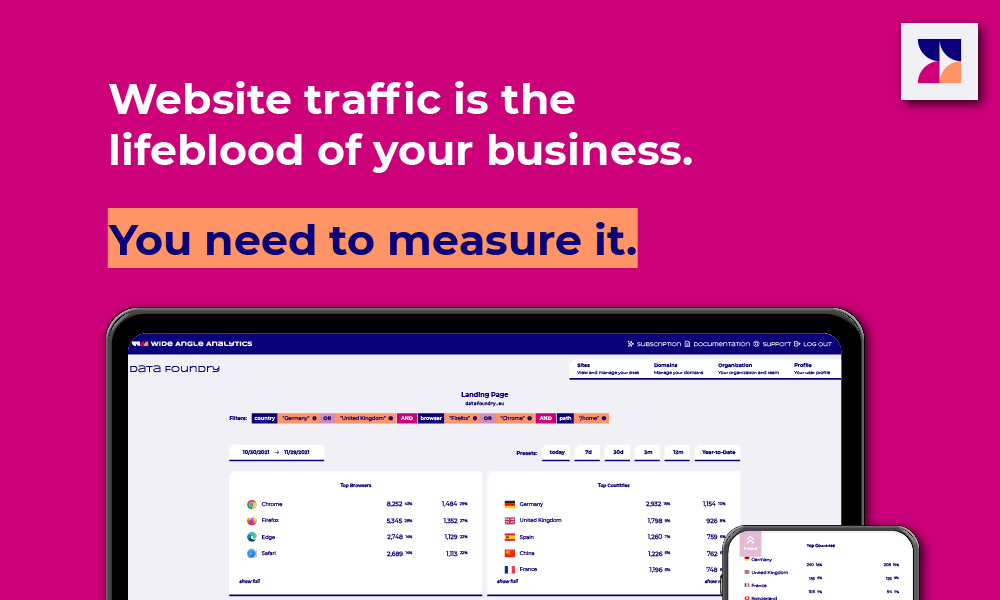 Wide Angle Analytics is a cookieless alternative to Google Analytics. Uncover value with colourful charts and flexible filters. Improve tracking quality and avoid AdBlockers. Invite others to collaborate. Pay per site, not the number of visits. Focus on business, not the limits. Try risk-free!
This is a sponsored message. If you also want to highlight your app, tool, resource, newsletter, job offer, in front of over 1700 creative minds, head over to creativerly.com/advertise and get in contact.
---
Apps, Software, Tools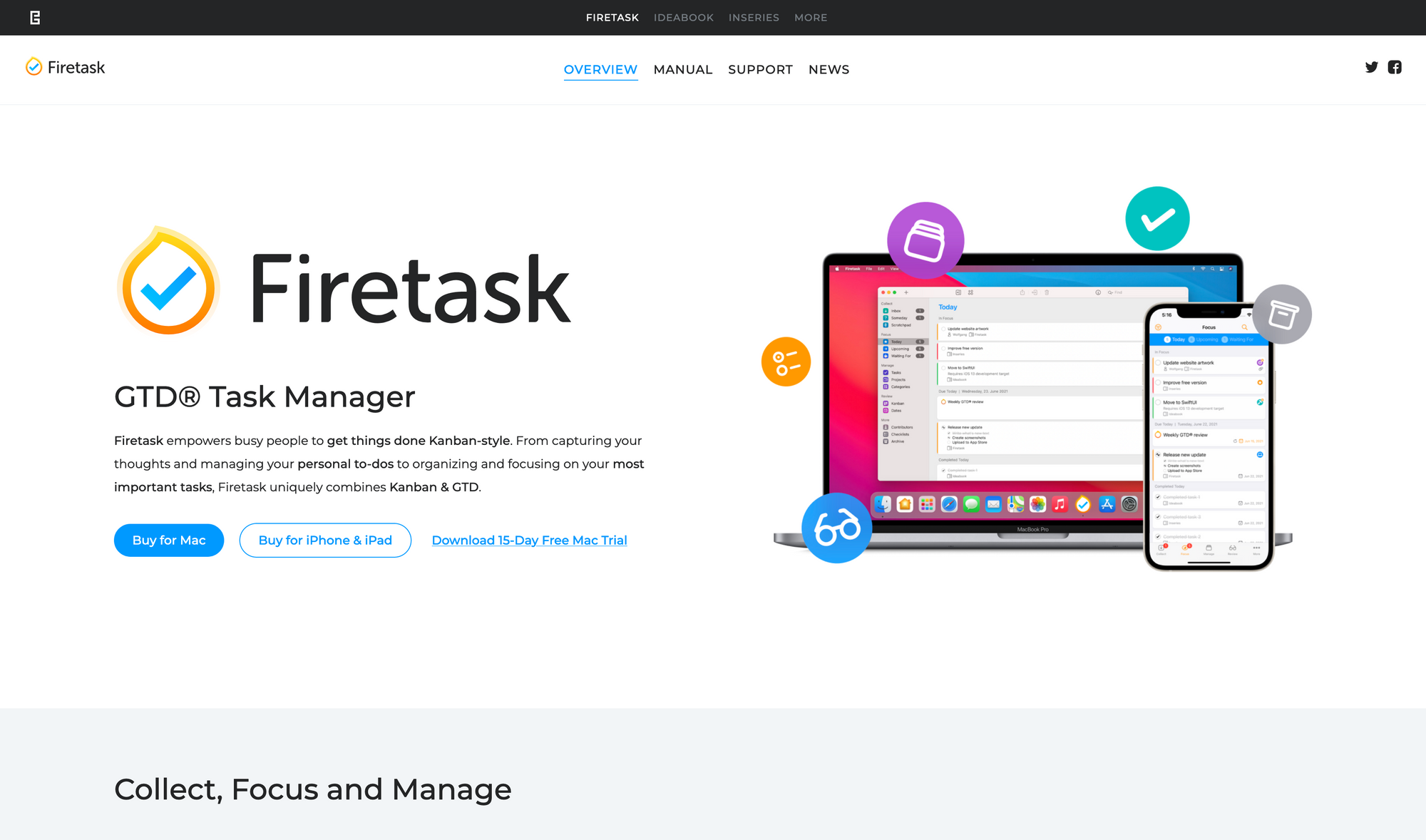 Firetask recently got suggested to me by my great friend Yannick Lunk, a fellow Product Designer and outstanding Icon Designer. Firetask is an app with a dedicated focus on Getting Things Done (GTD), the highly acclaimed management and productivity method by David Allen. No matter if you are looking for a tool to capture your thoughts and manage your personal to-dos, or if you want to organise and focus on your professional and most important tasks, Firetask is a great app that got you covered.
First and foremost, Firetask combines Kanban and GTD. So, Firetask lets you collect, focus, manage, review, and organise all your thoughts and tasks. When kicking off a new project, you will probably sit down and think of the first tasks to get everything going. With Firetask you can enter a number of tasks and the process of doing it is simple and fast as writing a few lines of text. All the important organisational features like assigning projects, adding categories, creating priorities, setting up due dates, and even delegating tasks via tagging are all available with a few keystrokes, so you never need to lift your hands off your keyboard. To stay on top of your tasks, Firetask features a "Today" view, which shows you all the tasks that are in focus, due or scheduled for today, or are already in progress. This clear overview gives you the one and only insight you need for your most important tasks.
As Firetask is project-oriented, the tasks you create within Firetask can be part of a project, but it is not necessary to assign them to a project. To structure and organise your tasks you can also use categories to provide additional context. This process is especially useful if you want to break down your unnumbered tasks into manageable units. As mentioned earlier, Firetask has a dedicated focus on Kanban functionalities. A Kanban view gives you a clear, rich, and lucid overview of all your tasks. Within Firetask you can use five Kanban boards optimised for your personal task management. There are not that many tools that feature such an intuitive GTD workflow as Firetask does. Firetask's navigation is based on the major GTD phase, which is Collect (Capture), Focus, Manage, and Review. So, if you are looking for a task management tool to perform GTD, you should definitely take a look at Firetask.
Firetask lets you create projects and portfolios, actions and checklists, you can have multiple kanban views, a calendar visualisation, and a lot more. Firetask is available for macOS, iPhone, and iPad. The macOS app will cost you $39.99 as a one-time purchase, the iPhone and iPad app is a unified purchase for $14.99 one-time. Firetaks syncs your account and data via Apple's iCloud, all your tasks stay on your devices and on your iCloud account only.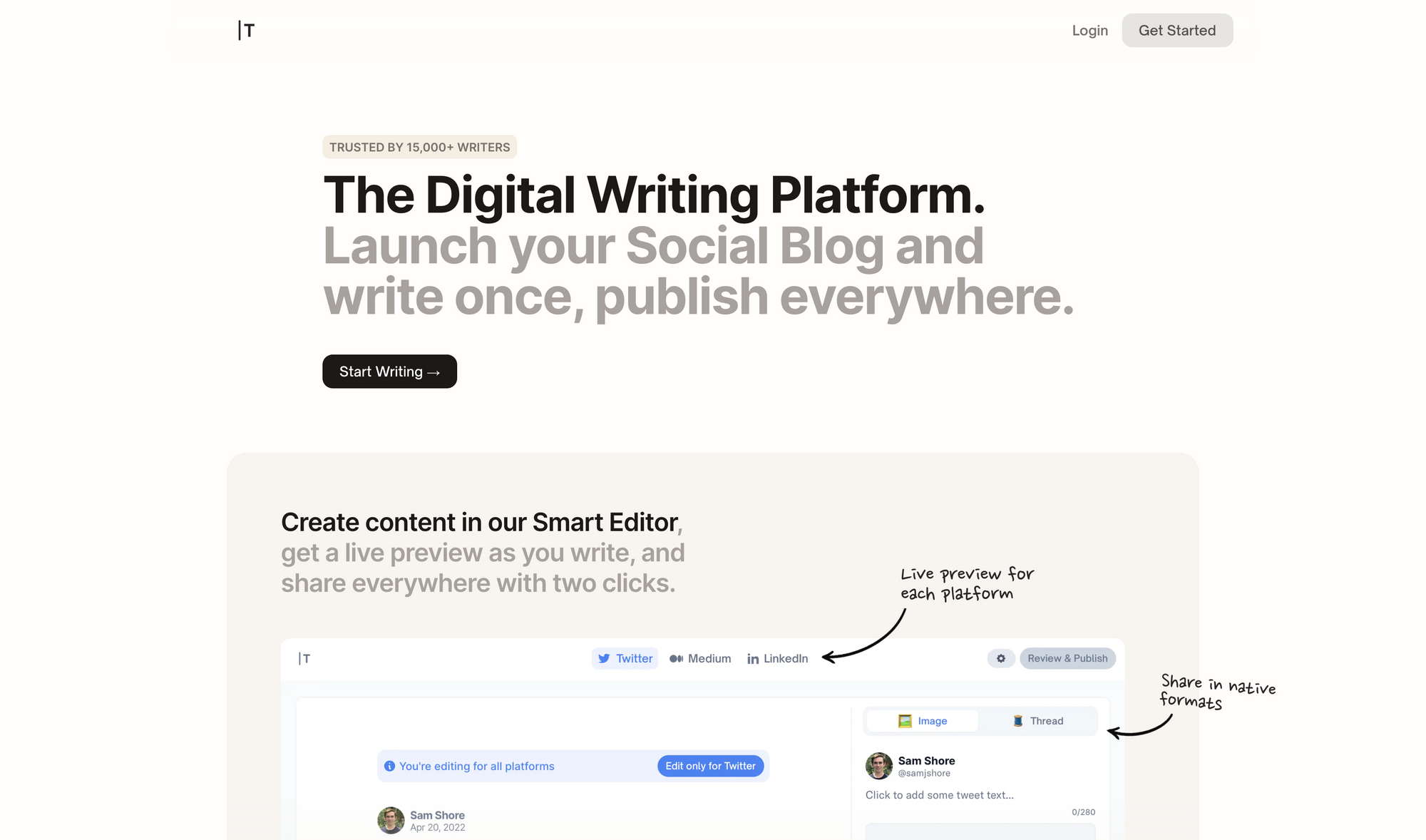 Digital writing is getting more important every single day. When I take a look at my Twitter timeline, I am excited about the fact that more and more people are getting back into writing a personal blog, newsletter, or both. Writing is an incredibly creative process, it helps me structure my thoughts and ideas, be serious about the notes I take, and ultimately it also helps me with my design process when I am working on user interfaces and experiences. While more and more people are getting back into writing, they are asking themselves where they should publish.
With Typeshare, you do not need to ask yourself this question, because Typeshare is the digital writing platform that lets you set up your social blog to write once and publish everywhere. Typeshare features a powerful smart editor, that gives you a live preview of the content you write, so you can see how it will actually look on the platform you are about to publish. Once you are done with the writing part you can share it everywhere with two clicks. For people who already publish content on a regular basis, Typeshare gives you access to templates which make writing a breeze. No matter if you want to publish a how to guide, a personal story, your favourite tools, a life lesson, a curated list, or anything else, Typeshare got you covered with powerful templates to boost your writing sessions. On top of that, Typeshare features content blocks which help you build your post. As of writing this, Typeshare features integrations for Medium, Twitter, and LinkedIn, which means you can publish to those three platforms for now.
Once you have published your content, Typeshare provides you with analytics to learn from data and track your writing progress. All your analytics are presented in a clear interface which makes them easy to understand and keep track of. The analytics feature of Typeshare is part of their Pro Plan, so when you sign up for a free account you do not have access to this feature. Typeshare is not only a great platform that lets you publish to LinkedIn, Twitter, and Medium. It also lets you create a digital home as you will create and launch your own social blog once you have signed up for an account. This social blog will be the home for everything you create online. No matter what you create online, posts, products, designs, threads, tweets, articles, podcasts, anything can be added to your social blog. All this content can be added to your social blog in form of cards. You can even create and organise your content into collections which you can then share with your audience and readers.
The basic features of Typeshare are free, which means you can create your social blog, publish to Twitter, LinkedIn, and Medium, organise posts into collections, and get access to basic themes and templates, all for free. The Pro Plan will give additional access to premium themes and templates, unlimited collections and social blog cards, as well as for analytics and the possibility to create a custom theme.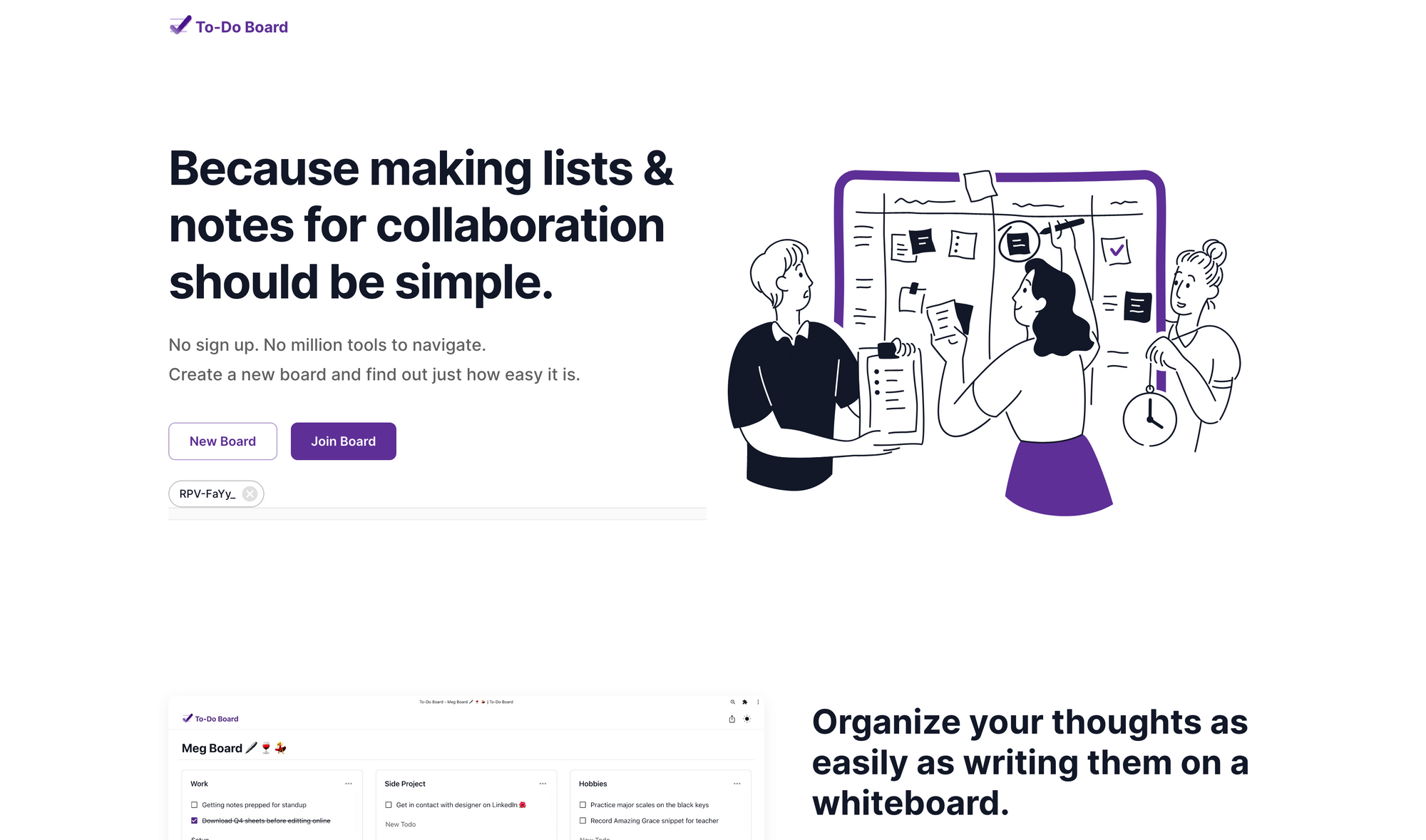 To-Do Board is an incredibly interesting tool because it does not need a sign-up or a million tools to navigate. All you have to do to use it is create a new board or join an already created board, to start working on a project either on your own or collaborate with your team or clients. To-Do Board entitles itself as "the easiest way to track and share your to-do lists". As it already removed the friction of setting up yet another account for another tool to use, this statement seems very plausible.
To-Do Board lets you easily organise your thoughts as easy as you would write them down on a whiteboard. While there are loads of different tools for that specific use case, most of them feel overwhelming and bloated with features you probably do not need. To-Do Board keeps it simple and clean. It gives you the possibility to create an intuitive structure to write out lists and notes with a whiteboard feeling. Once you have created a board within To-Do Board you can start adding lists. This gives you an easy way to structure and organise your project into different project areas. If you are using To-Do Board with a colleague or your team, you can create lists with the names of your teammates to assign them different tasks. Or you can set up a personal board to keep track of your work, side projects, hobbies, families, and friends all within one view. To share a board with your colleagues, team, friends, or family, all you have to do is copy the link of the board and send it to your collaborators. Besides that, users can also join an already created board with the ID Code of that board.
No matter if you are working on group projects, or if you are looking for a simple and easy-to-use tool for task or project management, To-Do Board is a great solution. As mentioned earlier, once you have created a board you can add lists to it to structure your tasks. Additionally, To-Do Board lets you also add notes so you can keep track of important thoughts and ideas or give your tasks more context. There is no pricing information available, so it seems like To-Do Board is free (at least for now). You can create a board straight away without the need of setting up an account. Once you have created a board and you would like to share it with others, it needs just a few clicks and you are all good to go.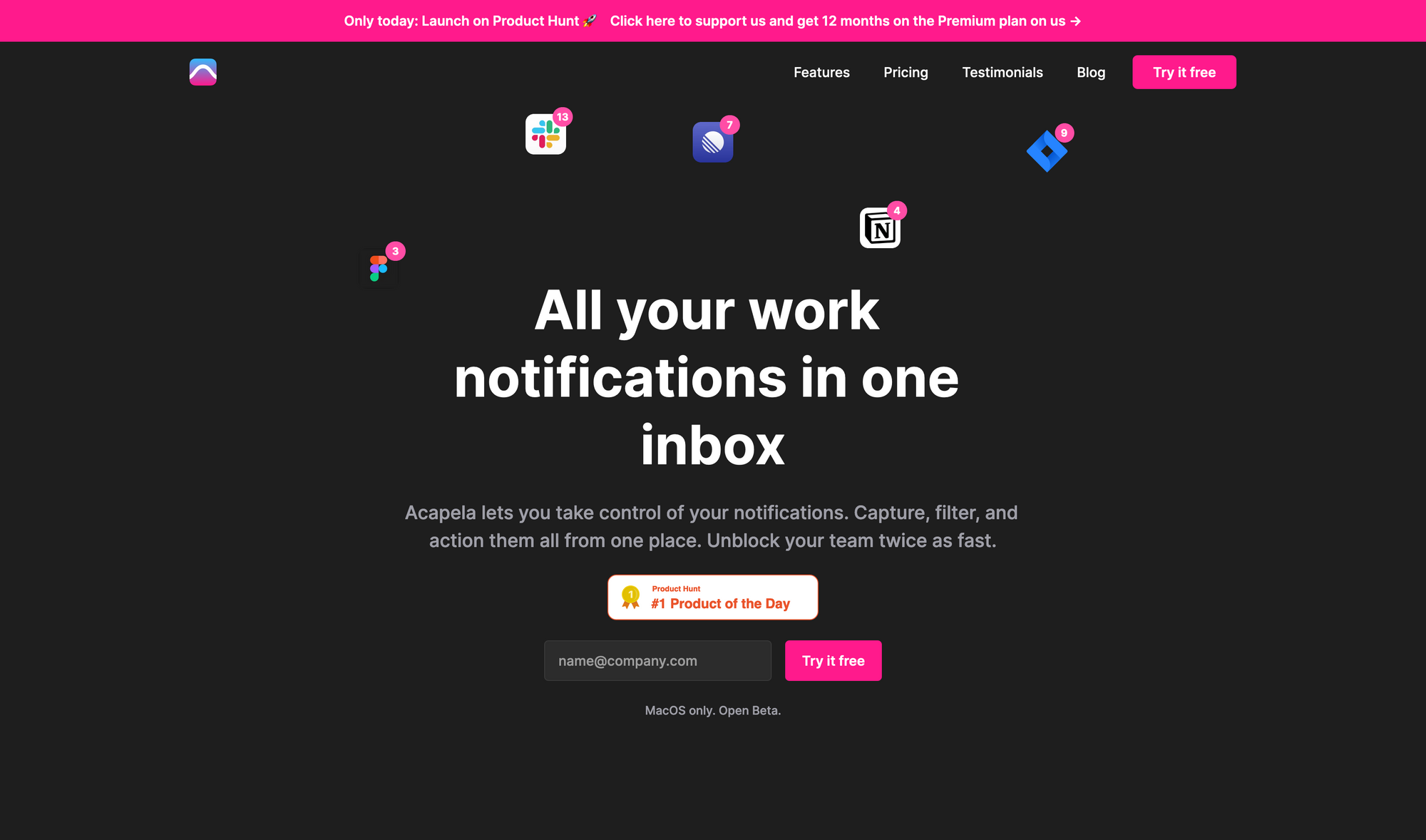 Is your and your team's work scattered across different tools and do you have a hard time keeping track of all the different notifications? Then you should take a look at Acapela, a tool that pulls all your work notifications into one unified inbox. Acapela is a dedicated tool to take back control of all your notifications by capturing, filtering, and taking action on them from one place.
When you set up Acapela you can connect all the tools you use on a daily basis. Once Acapela has connected to them, you will have the ability to get a high-level view of all your notifications without checking every single tool over and over again. This gives you the possibility to filter out the noise. Acapela lets you set custom filters. So you are in charge of deciding which notifications you want to respond to first. On top of that, you also get the chance to get rid of disruptive notifications that disturb your focused work hours. Gathering all your notifications in an inbox view brings peace of mind because you can always be sure that nothing goes missing. With Acapela you always stay on top of your notifications. Besides that, every message that drops within your inbox is accounted for until you reply, snooze, or resolve it.
Acapela was designed with a keyboard-first approach, which means you can navigate through the app with loads of different keyboard shortcuts, efficient and quick. On top of that, pre-loaded notifications mean Acapale is lightning fast, smooth, and delivers an instantaneous workflow. The main goal of Acapela is to help you reach inbox zero, but for all your work communication. As Acapela is currently in open beta, the only platform it is supporting is macOS, at least for now. There is a free plan available, which is limited to three integrations, two custom inboxes, and one Slack workspace. This gives you the possibility to try out Acapela as long as you like. Once you need access to more integrations and more custom inboxes, you can upgrade to the Premium Plan which will give you 10 integrations, 5 custom inboxes, and 3 Slack workspaces. If this still does not fit your needs, there is also the Unlimited Plan, which gives you access to, you guessed it right, unlimited integrations, unlimited custom inboxes, unlimited Slack workspaces, and a dedicated Gmail and Google Suite integration.
Acapela is a great tool for fighting agains interruptions, FOMO, and context switching. Once you bring all your work notifications into one place, you will experience calmer and more focused workdays.
---
Mental Wealth
➢ How to take things less personally – "The other day, I found out that one of my close friends had an extra ticket to a football playoff game, and he invited another friend instead of me. Hurt by this apparent slight, I thought I must have done something to make my friend mad, but I couldn't figure out what it was. I also wondered if my friend thought I'd be a boring guest who's not much fun to bring to a game. I wasn't quite sure at first how to handle it, but eventually I decided to casually share what I'd heard the next time I saw him. He replied: 'Yeah, I thought about asking you, but I know you don't like football,' which made me laugh – in part because it was true, but also because I had been so focused on what I believed this incident said about me that I overlooked a more likely explanation for his decision."
➢ User disengagement – "Over time, I have come to realise that the term user "engagement" in software, more often than not, is a thinly veiled proxy for user entrapment, whether intentional on the part of software designers or not. The trend of shallow user numbers and "engagement" metrics taking centre stage in business valuations has created perverse incentives at a massive scale for software to indulge in unethical practices of "engaging" users at any cost, with no respect for the limited and fast eroding levels of cognitive resources. Speaking of cognitive resources and attention, a significant amount is lost daily to the juggling of apps all attempting to steal as much attention as possible. How much attention can a human meaningfully divide between an ever increasing pool of software, all racing to the bottom in their attempts to build a "captive audience"?"
➢ The psychology of negative thinking – "Of course, we all have negative thoughts from time to time. After all, our thought processes are affected by what we experience around us, and it's normal to experience both good and bad times. However, when negative thinking becomes the norm, it can contribute to mental health problems including social anxiety, low self-esteem, and even depression. To avoid falling into that pattern, let's explore the science of negative thinking and how you can develop a more mindful relationship to your thoughts."
➢ The plain-text internet is coming – "The web is overrun with junk. This is so obvious, I almost don't need to say it. But I will: Between the pop-ups, the autoplaying videos, the cookie banners, the incessant calls for sign-ups, the coupon offers, the "Don't forget to subscribe!" reminders on top of the other "Don't forget to subscribe!" reminders, the in-line ads slowing the page down, the slew of trackers also slowing the page down … you get the idea. For lots of reasons, some good and some bad, much of the internet has become totally unusable."
---
Do not miss out on this …
Join 50k+ smart people on Refind and get 7 new links every day that make you smarter, tailored to your interests, curated from 10k+ sources.
Craftwork is offering high-quality interface assets for designers & startup creatives. No matter if you are looking for illustrations, UI kits, or icons Craftwork got you covered.
Think tasks, not apps. Setapp* is you one-stop subscription to solving every task on Mac and iPhone.
These are paid promotions or affiliate links to support Creativerly. If you are interested in putting your tool, product, or resource in front of over 1700 creative minds, consider advertising in Creativerly and book a sponsor or classified ad spot. Find all the important information at creativerly.com/advertise.
---
Appendix
➢ ICYMI
Highlight your app, tool, resource, or service in front of over 1700 creative minds coming from different backgrounds like design, development, journalism, VC, Indie Hacking, and others. The Creativerly audience is actively looking for tools and resources which boost their creativity and productivity. If you are interested in booking a sponsor spot in Creativerly head over to creativerly.com/advertise for all the important information.
➢ Quick Bits
---
Twitter thoughts
---
Till next time! 👋‌‌‌‌
Support: Do you have a friend who is looking for inspiration, news about design, and useful tools and apps? Forward this newsletter to a friend or simply share this issue and show some support. You can also show some love by simply clicking the button down below and keep this newsletter a sustainable side-project by buying me a coffee. ☕️ 🥰
---
---
Some of the links in my newsletter and my blog posts are affiliate links. Those links are marked by an asterisk. If you buy something through the link, the product will not cost you anything more, but I will receive a small commission which not only supports Creativerly and my work but also helps me to keep this publication a sustainable side-project.