Newsletter
The effortless online mockup editor & You are (not) alone
A better daily planner, the app that replaces all other colour tools, Taskade and Spline introduce their AI integrations, Arc for iOS is here, and a lot more in this week's issue of Creativerly.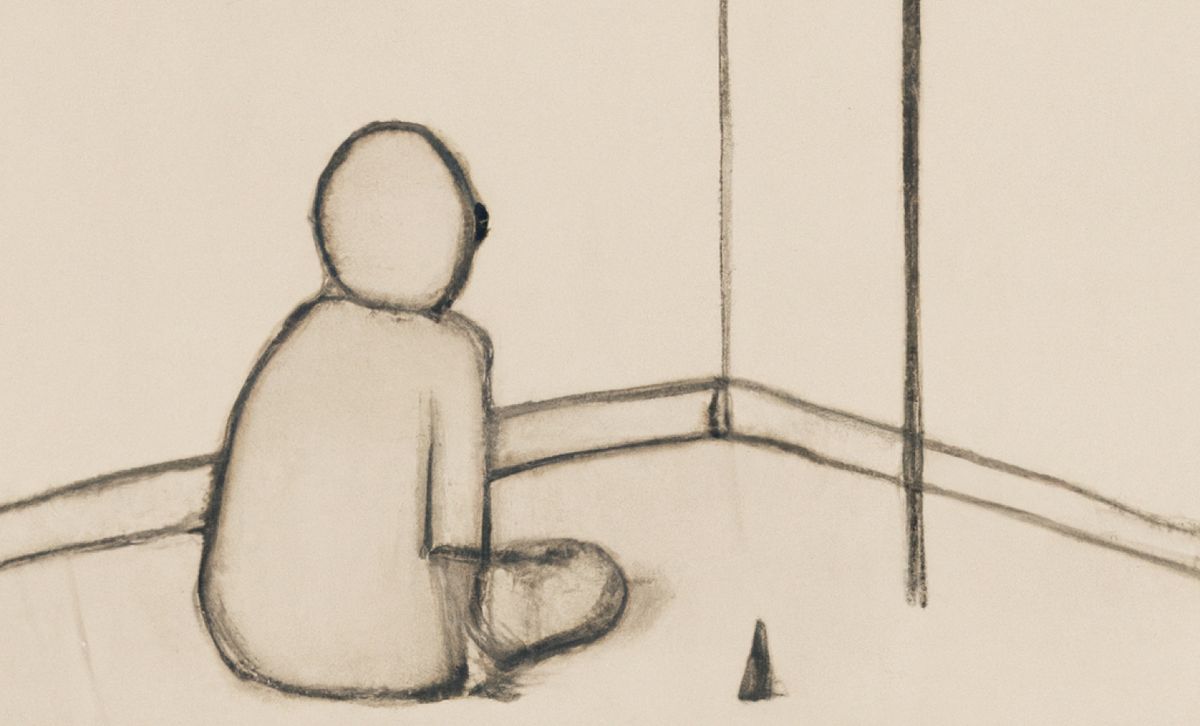 My name is Philipp and you are reading Creativerly, the weekly digest about creativity and productivity-boosting tools and resources, combined with useful insights, articles, and findings from the fields of design and tech. The newsletter built for the creative community.
This issue of Creativerly is brought to you by
Shortform
, the easiest way to learn the ideas you always wanted to learn from all those books you always wanted to read.

---
Hey and welcome to Creativerly 215 👋
A couple of weeks ago I teased that I am writing a new article about the apps, tools, and services I use daily to write, build, grow, and maintain Creativerly. I am excited to let you know, it is done. With over 8,000 words it became one of the longest pieces I have written so far. The Building Blocks of Creativerly is a deep dive into my workflows and processes. While I am sharing and writing about new apps and tools on a regular basis, I often got asked which apps I am using myself. The answer to that question can be found within The Building Blocks of Creativerly which will be live and published on Tuesday, April 4th.
Since the piece is a deep dive into a couple of apps and workflows, it will get sent out through my second newsletter, Creativerly: Deep Dives. If you want to be among the first to read it make sure to sign up for my second newsletter (you can do so by logging into creativerly.com with the email you used to sign up for the newsletter, then visit creativerly.com and click on the account badge in the bottom left corner, there you can turn on the subscription for the second newsletter). Nevertheless, the post will also be published on Creativerly.com.
It is always an exciting feeling for me once I finished another new piece. I truly love writing long-form articles. While my writing backlog is an ever-growing one, over the last couple of weeks I made huge progress with loads of upcoming articles. The last week, I sat down and did some initial planning, since I felt a little bit overwhelmed with the workload of my side projects. It was a sign to sit down and remind myself that the beauty of side projects is the fact that there is no pressure of building something. Sometimes, I want to work on too many things at the same time. But, after a great planning session, I set my focus and action points for the upcoming weeks and months. For Creativerly, this mainly means finishing up my article about privacy-friendly Gmail alternatives and my deep dive into Penpot, the open-source Figma alternative. Once those two are done, I take a look at my writing dashboard and plan the next few articles. Besides that, my main focus for the upcoming weeks though is finishing up and publishing the new website for ProductivePrivacy, my directory of privacy-friendly, open-source, and end-to-end encrypted productivity apps.
So, exciting times are ahead. I am already looking forward to hearing your thoughts about Creativerly's building blocks once they post it out on Tuesday, April 4th.
Enjoy this week's version of Creativerly!
---
Apps, Software, Tools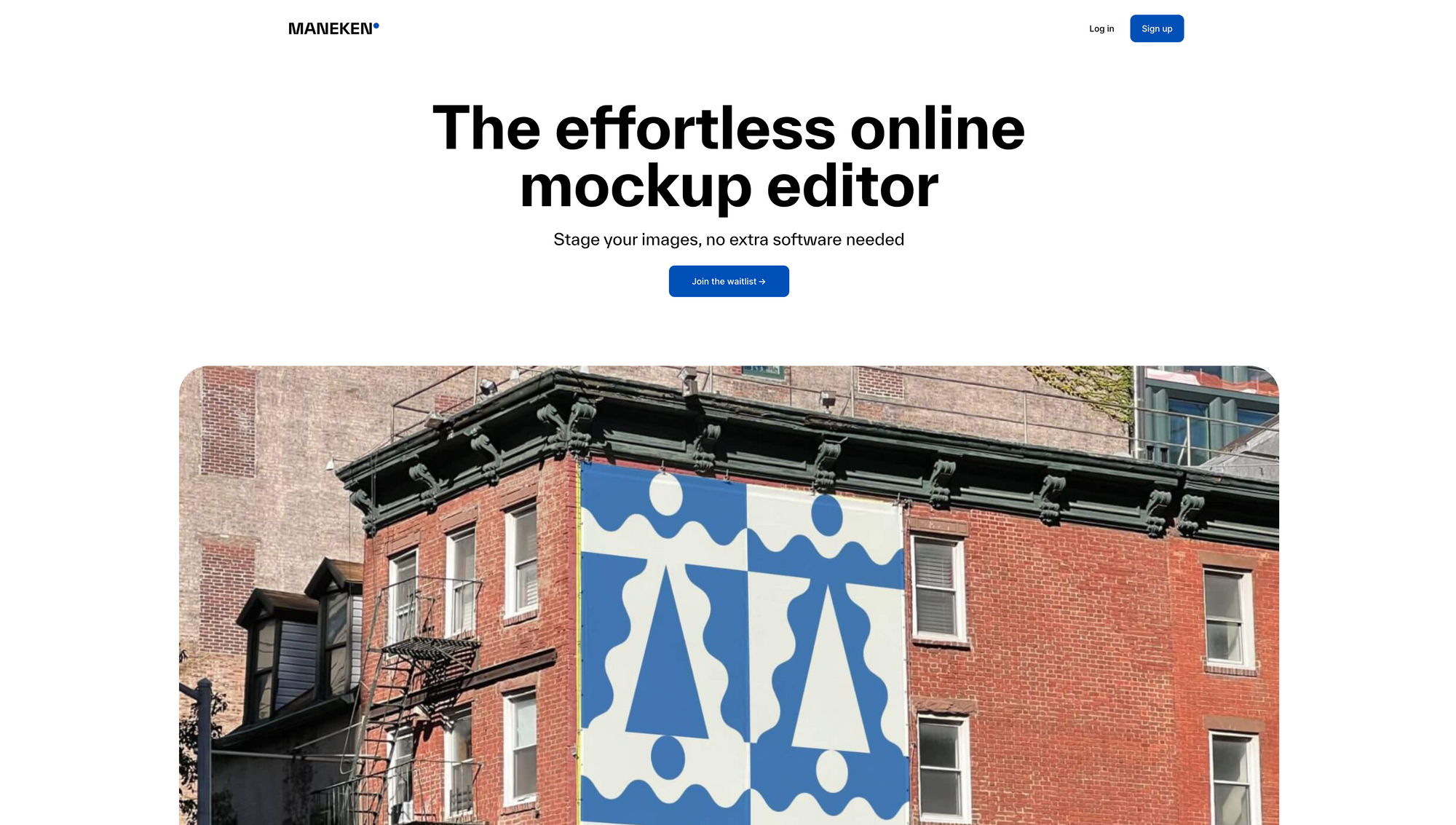 While browsing through the new, calm, and designer-focused social network app "Posts" by read.cv (I got a couple of invites if you would like to join, just send me an email with either your read.cv account or your email address) recently, I stumbled across Maneken, an upcoming online mockup editor.
I have a background in classical graphic design. My design career started with creating posters for a variety of music event series in my hometown. Since I was a DJ and Producer myself, I got in contact with record labels and got the chance to create artwork for music releases too. My work got extended with merchandising, flyers, signs, and websites. To showcase my work, I was always on the hunt for artistic mockups. I spent hours creating my own, editing and adjusting the elements in Adobe Photoshop. As I thought, that this process took too much time, I bought a couple of mockups, which I used over and over again. I built up my mockup library. While it was nice to browse through a variety of mockups whenever I wanted to showcase a poster or flyer, it was a tedious process at the same time, opening up a mockup in Photoshop, realising it is not what I am looking for, opening another one, same thing, suddenly Photoshop crashed (which happened way too often) and I had the feeling that my creative phase is over. This backstory is the reason I got excited when I found out about Maneken, an effortless online mockup editor to stage your images without the need of any extra software.
Although I fully transitioned to Product Design over the last couple of years, I still enjoy creating posters in my free time.  It feels like getting back to my roots. If I had a tool like Maneken back then, my workflows would have been so much more efficient. Mockups are great to showcase your content in any kind of medium. Maneken's goal is to make this process as easy, simple, and straightforward as possible. Based on the screenshot displayed on its website, Maneken features a beautifully clean and distraction-free interface, with just a few actions and controls. Compared to Photoshop's interface which is cluttered, overloaded, and unintuitive, Maneken focused on creating the exact opposite.
Maneken is offering a catalogue of varies mockups which you can use to showcase and display your work. According to some screenshots on the website, mockups range from posters and signs, to tote bags, merchandising in general, and iPhones. Maneken offers a powerful and flexible way of working with mockups. To preview your designs and your work, you only have to drag and drop your media directly onto the mockup, done, simple as that. Maneken even supports video. With fine-grain controls, Maneken gives you the chance to create the perfect layout and apply photo effects, to trim any mockup to your liking and needs. Once you are satisfied with the result, you can export web-ready assets, and download or share images and videos directly to social media.
On March 29th, Maneken kicked off its private beta. To get access, you need to sign up for the waitlist. New spots will get opened over time. I haven't received access yet, but I am looking forward to giving Maneken a try. Especially, since it seems like it will be fully responsive, so it works on any device. Maneken is a project by Marvin Schwaibold, Principal Product Design Lead at Linktree, and Jesper Vos, Principal Creative Technologist at Linktree. Make sure to give them a follow to stay up-to-date about Maneken.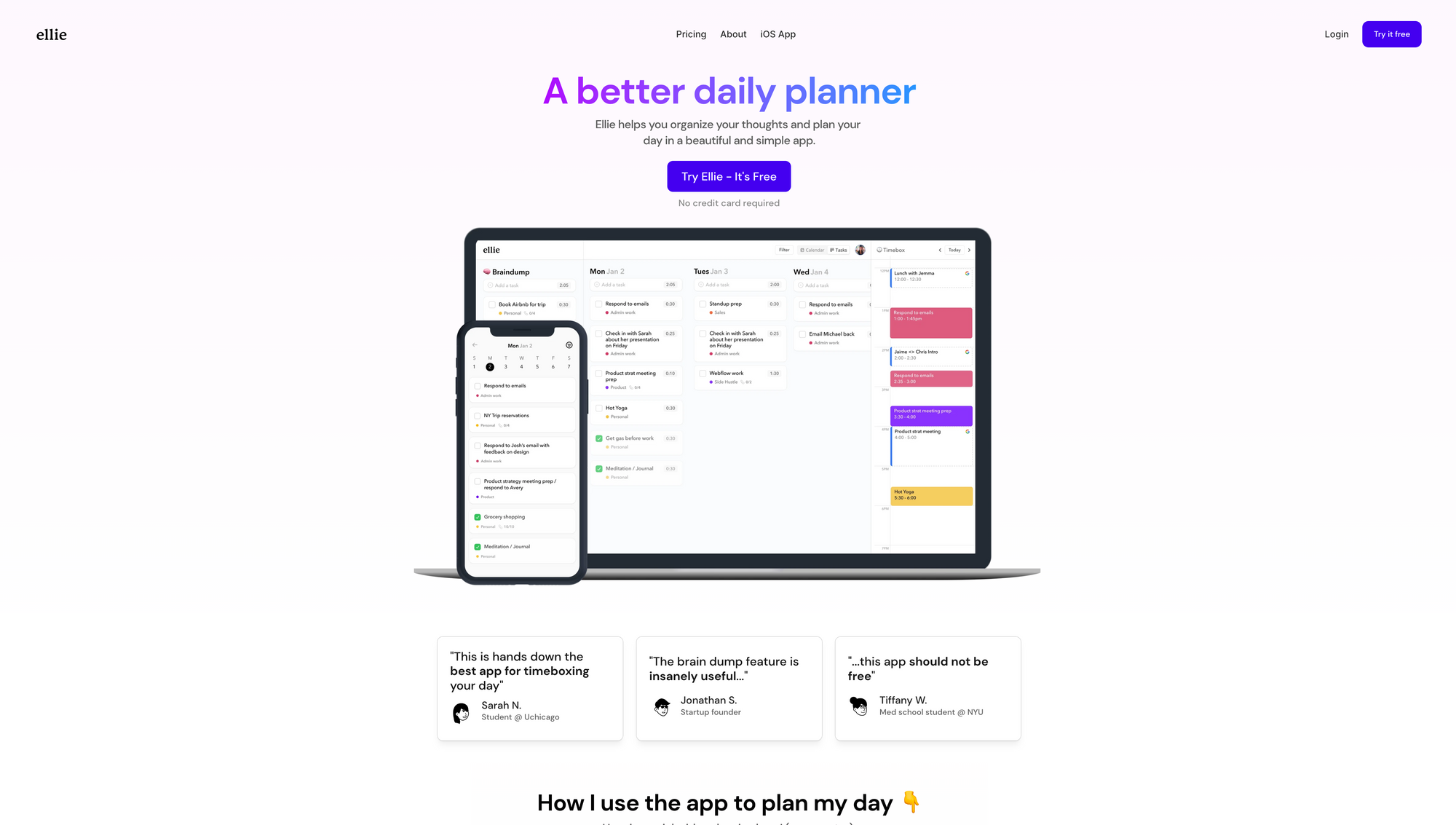 Ellie is a beautifully designed daily planner, which aims to help you organise your thoughts and plan your day in one, simple app.
There are loads of planner and task management apps available. A large number of those are overloaded with features. Planner and task managers should be simple, and accessible, and they should feature a core focus: helping you get your things done. Ellie features a structured, organised, and clean interface, so you can always focus on what tasks are coming up next. On the left side of Ellie's interface, you get access to a section called "Braindump". I assume, most of us found ourselves in a situation, where we wanted to jot down some tasks just to free up some mental space. Ellie's braindump section was exactly made for that. If there are any tasks you would like to keep track of, but do not know about a more in-depth context for now, just put them into the braindump section of Ellie to save and store them, and to have to possibility to get back to them whenever needed. The main section within Ellie is structured as a daily kanban interface. It is an infinite timeline displaying todays and the upcoming dates. To schedule or re-schedule any tasks, you can drag and drop them to different dates on the timeline. The third section of Ellie, on the right side of the interface, is called the "Timebox Calendar". Ellie features integrations for Google Calendar and Apple Calendar, which allow you to view your upcoming events right within the Timebox Calendar in Ellie.
On top of that, the Timebox Calendar is also great for visually planning your day, since you can drag your tasks into the calendar. This way, you can see your tasks in context with all your upcoming events, which is a great way to plan your days. To further structure and organise your tasks, you can use labels within Ellie. With the filter function, you can then only display tasks associated with a specific label, which is powerful if you would like to manage and organise multiple projects within Ellie.
If you would like to give your tasks more context, Ellie supports subtasks. I am a huge fan of subtasks. Most of the time, when I jot down a task, it is part of a bigger project, meaning there are a couple of smaller tasks associated with it, that I need to focus on first before I can call the "main task" done. Ellis supports workflows this that. Besides that, Ellie is packed with loads of lovely features, like Siri shortcut support, focus mode, task rollover, recurring tasks, and more.
Another lovely aspect of Ellie is the fact that there is only one person building and maintaining it. Chris Raroque is the solo developer behind Ellie. If you are on the hunt for a simple app to structure and organise your tasks, put them into context with your calendar events, and support an indie- and solo developer, you should check out Ellie. It is available as a responsive web app and for iOS. The Personal Plan is free-to-use and includes unlimited task creation and access to the iOS and Web App. The Professional Plan will cost you $4.99 per month and includes all the features from the Personal Plan, plus timebox mode, Google Calendar integrations, labels and filters, unlimited labels and subtasks, and recurring tasks. If you are experiencing subscription fatigue, Ellie is also offering a lifetime license which will cost you $149.99.
---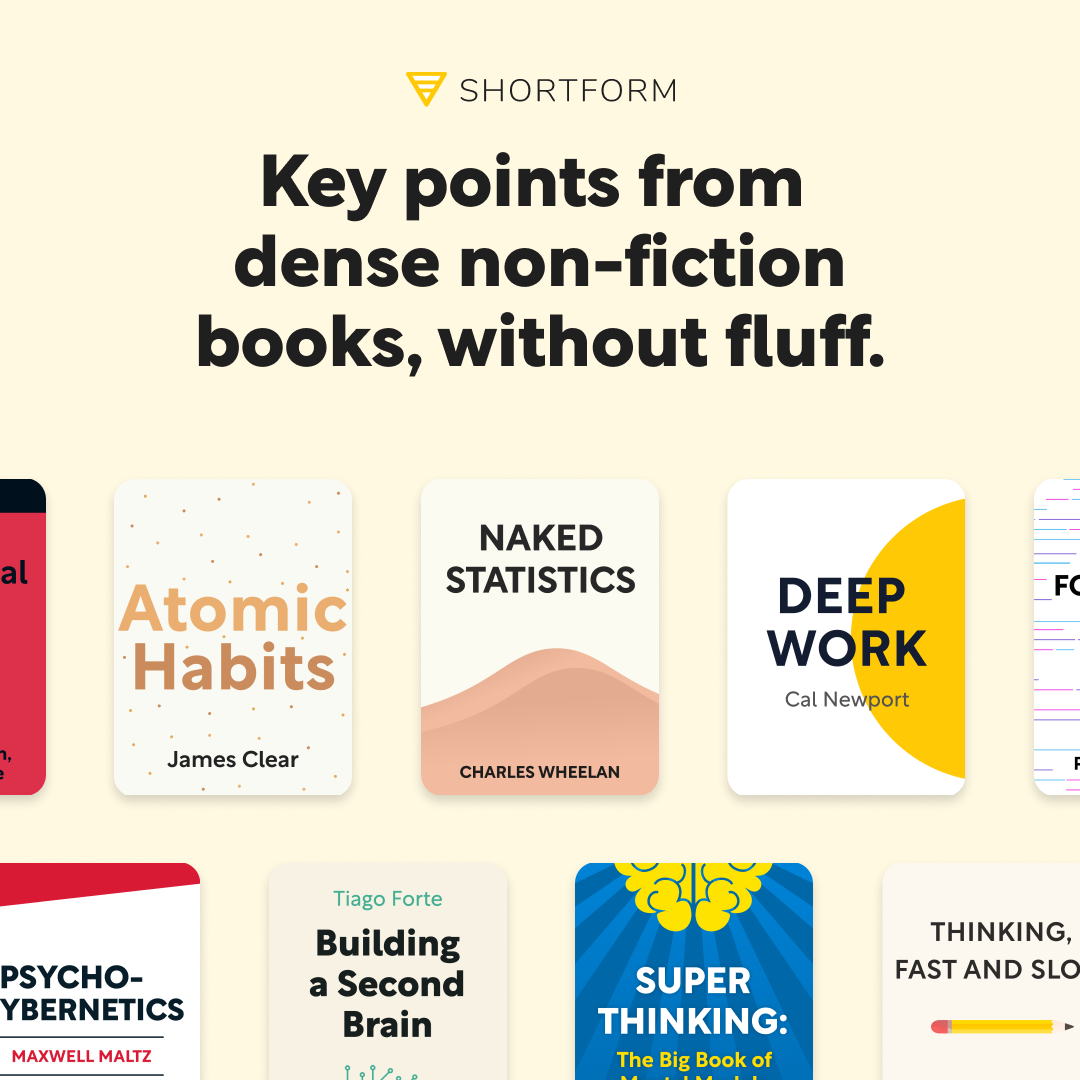 Sponsored Message
Learn faster and get smarter – with
Shortform
.
This issue of Creativerly is brought to you by Shortform, an awesome service that provides guides and 1-Page Summaries of the world's most popular and insightful books and articles. In the last two issues, I presented two of my three favourite books that are available as guides on Shortform. The first one was How to Take Smart Notes by Sönke Ahrens, the second one was Building a Second Brain by Tiago Forte, and the third one is Why We Sleep by Matthew Walker, PhD.
There is a high chance that you getting less sleep than you actually should. In his book, Matthew Walker, PhD unlocks some of the mysteries of sleep based on research from both in and outside his Center for Human Sleep Science. Shortform created an incredible guide which explores how sleep happens, its major benefits, and the best ways to get better sleep.
If you would like to read the full 1-Page Summary of Why We Sleep by Matthew Walker, PhD and get access to guides of the world's most popular books, sign up to Shortform now.
Creativerly readers are granted a
free trial and 25% off the annual subscription
, which means you get three months for free.
This is a paid promotion to support Creativerly. If you are interested in putting your tool, product, or resource in front of over 2000 creative minds, consider advertising in Creativerly and book a sponsor or classified ad spot. Find all the important information at creativerly.com/advertise.
---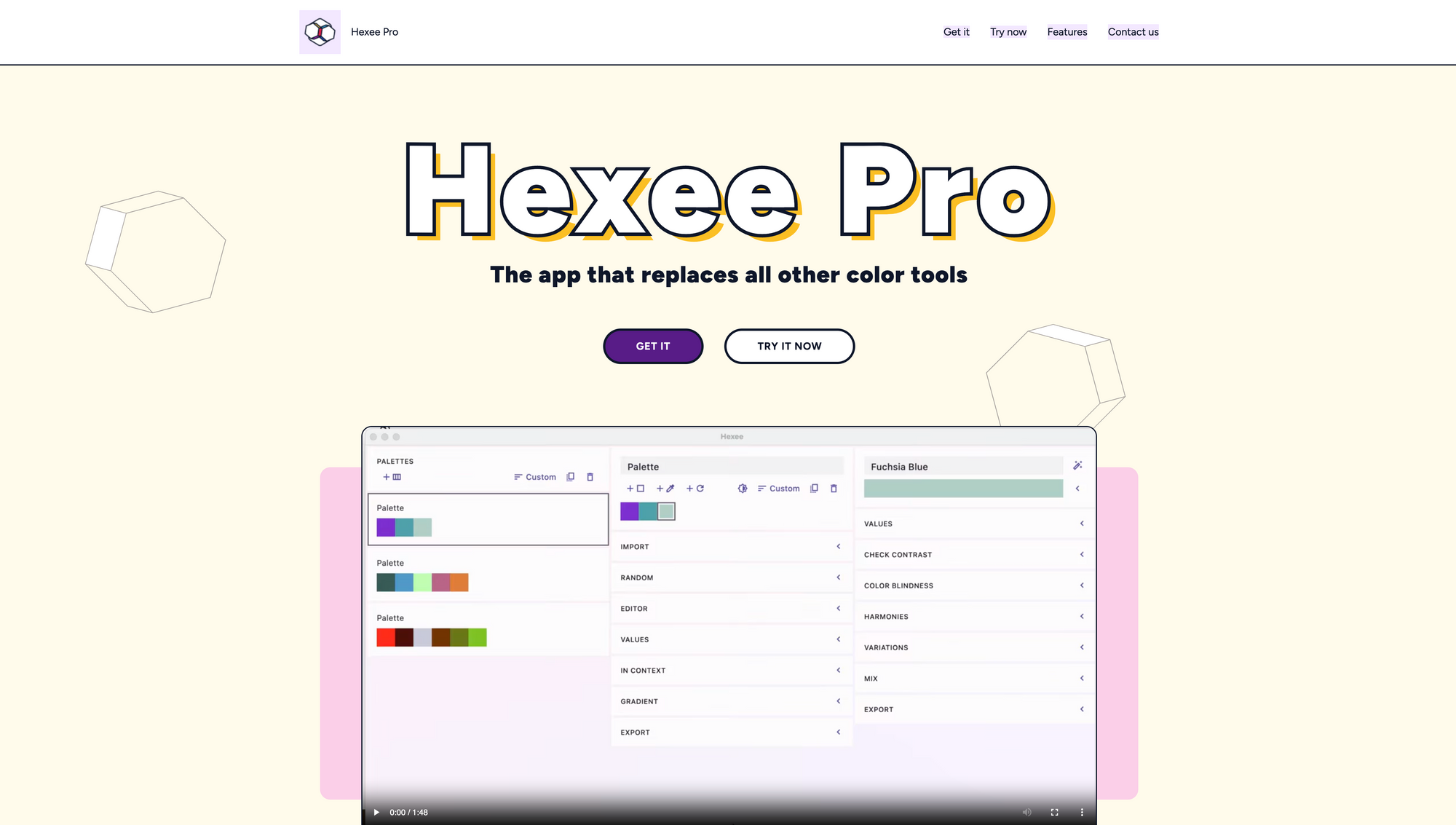 If you are working in the fields of web development, UI design, graphic design, and game design, or if you are looking for an easy-to-use colour tool in general, Hexee Pro is worth taking a look at. Read until the end of this section, to find a special offer just for Creativerly readers.
Hexee Pro is a lovely tool featuring a set of advanced colour tools for designers and artists. Whenever I am starting to work on a new project, at some point colours and especially colour palettes become a core focus. I tried loads of different tools to generate colour palettes, fine-tune certain colours, generate gradients, and check for accessibility. Often, all those processes involved switching back and forth between different tools. Hexee Pro has the huge advantage that it combines a wide set of colour tools in one single app. You can use Hexee Pro to create, edit, and organise all the colour palettes you use for your projects, you can fine-tune colours, generate tints and shades, and check different colour combinations for accessibility, all within a single app. Additionally, with just a few clicks you import and export to various formats. All the colour tools that are available within Hexee Pro have been carefully crafted for developers, designers, and artists, to create a great experience.
Another huge advantage of Hexee Pro is the fact that it allows you to work entirely offline. So, if you have no internet connection, Hexee Pro will still do its job. Besides the features I already mentioned, Hexee Pro lets you sort palette colours based on hue, saturation, and brightness, you can visualise the perceived lightness of colours, quickly pick colours from your screen, check the contrast of your colours, access predefined colour schemes for data visualisation and UI colour systems, text colours "in context" for maps, charts, and UI, work with advanced colour spaces such as HSL, HSB, LAB, XYZ, and CMYK, and a lot more. Hexee Pro is truly a top-notch and feature-rich colour tool that should be part of every developer's, designer's, or artist's toolbox.
Web developers who need to generate colour codes in CSS, JavaScript, or other programming languages, check contrast levels for accessibility, and import colour palettes from design software, will be eagerly excited about Hexee Pro, just like UI designers who need to generate colour palettes for user interface elements or fine-tune colours to meet accessibility standards. No matter if you are a web developer creating a website or application with a specific colour scheme, a UI designer creating a mobile app interface, a graphic designer working on branding for a client, or a game designer creating a new game, make sure to give Hexee Pro a try and experience its advanced colour tools. Besides all those amazing features, Hexee Pro is also privacy-friendly. It only collects anonymous crash reports, if need, but no other information is collected from your or from using the app.
By heading over to Hexee Pro on the web, you can try out the app for free. The macOS app will cost you €9.99 once, unlocking all the features, no recurring subscriptions, and no further in-app purchases. Alberto Malagoli, the solo developer of Hexee Pro, is a long-time Creativerly reader and was kind enough to offer three promo codes that will unlock Hexee Pro for free. The codes are 7XNHPFKK96TJ, 33PW7E3EKL7W, HW7XMLEEJ37A and can be applied within the App Store. Here is a quick guide on how to redeem promo codes in the App Store. Thank you so much, Alberto, for this offer.
---
Fresh Updates & News
The AI boom continues. At some point, I am feeling overwhelmed with all the news of companies introducing their AI integrations. It seems like companies are experiencing some sort of FOMO if they do not hop onto the waggon and add two big vowels to their websites. While I think AI is still some sort of bubble (I like to compare it to Web3, I mean who is still talking about the Blockchain or DAOs?), there are a couple of tools that take a creative approach when it comes to AI integrations. In this week's updates and news, I include two of them.
Companies are continuing to introduce AI integrations for their existing apps, and Taskade is among them. In a recent update, Taskade introduced "Taskade AI", giving users the possibility to access the limitless power of AI, and generate task lists, mind maps, and structured notes, right within Taskade. The goal of Taskade AI is to provide users with a 24/7 writing assistant. Taskade's AI-powered productivity platforms help you to create high-quality content in no time. No matter if you want to generate summaries, action items, or insights from any project or document, Taskade AI got you covered offering a faster way to work and instead focus on getting things done and growing your business. Besides the AI-powered writing assistant that provides real-time suggestions and rewrites as you type, AI within Taskade makes brainstorming and ideation a breeze by generating instant outlines in mind maps, structured notes, kanban boards, and more.
Spline shook up the design and creative scene last week, when they introduced the alpha version of Spline AI, bringing the power of AI to the 3rd dimension. With Spline AI, you will be able to generate 3D objects, animations, and textures by using prompts. Just describe want you to want to create, and AI will do the work. Additionally, you can also use prompts to modify objects, apply materials, add lighting, and more. As mentioned, Spline AI is currently in Alpha. There is a waitlist you need to sign up to. Spline will slowly open up access to ensure that they can constantly learn from early feedback and improve the AI integration, making sure the experience is high-quality for everyone.
I am incredibly excited about Spline AI. 3D modelling has been a field that has limited access since the software you needed to create a 3D objects and scenes were complex and hard to learn and master. Spline made 3D modelling accessible, and with the AI integration, they continue on that mission.
Arc for iOS is here. While it is not (yet) a full-fledged mobile browser of the super popular desktop browser, it is off to a great start. Arc for iOS gives you the possibility to access your spaces and tabs from Arc for Mac on the go. Additionally, you can save links from other apps to read later or view one of your Easels and notes. You can already feel the craft that people have been experiencing with Arc for Mac, is now available for iOS too.
If you want to experience Arc for iOS too, you can head over to arc.net and join the waitlist. Alternatively, you can also drop me a quick email, and I can send you an invite.
---
Mental Wealth
➢ The Wisdom of Non-Effort – "For those of us who find ourselves constantly busy and doing, it's often hard to imagine a more effortless life. Life is striving, pushing to make things happen, trying to catch up, overcoming inertia, trying to stay on top of things. An approach called "non-effort" might seem a bit nonsensical. But if this is you, notice how tense you are most of the day. Your jaw might be sore from clenching, your torso is tight, you are tired from so many activities, everything might seem like a struggle or marathon. What would it be like if life were more effortless, more relaxed, more trusting, more surrendered? Let's explore this, and see what might be possible."
➢ You Are (Not) Alone – "Loneliness is low-key the root of so many of the mental health and social welfare issues today, yet nobody seems to know how to talk about or solve it. Loneliness is a tough topic to tackle. It's so widespread, yet we still know little about how or why it happens."
➢ Will non-linear work days be the new hybrid working? – "For a long time, the concept of work-life balance felt like an unattainable myth; all it took was a global pandemic and the ensuing government-enforced lockdowns to show employers that their staff could work remotely and still get the job done. In fact, studies show that remote employees work more hours overall than those based in an office for part or all of the week—remote workers put in an extra 8.7 hours per week on average compared to their office-based colleagues who average 6.5 extra hours."
➢ Stoicism is popular right now, but there are some serious downsides – "Stoicism is a thing right now. If you like reading long-form articles or spend time in the "Popular Philosophy" section of a bookstore, you'll notice an awful lot of titles focused on it. This ancient philosophy is getting great traction at the moment. However, whoever does its PR should get a promotion, because while there is much wisdom in what the Stoics have written, there's also a lot of dubious content, too."
---
Do not miss out on this ...
With Meco, you can enjoy your newsletters in an app built for reading while giving your inbox space to breathe. Over 10k readers enjoy their newsletters (and decluttering their inboxes) with Meco - try the app today!
Smartr Daily is the essential newsletter for curious minds. It sources the smartest articles on the web and delivers thought-provoking ideas insights directly to your inbox every single day.
Organize your work and life, finally. Become focused, organized, and calm with Todoist*. The world's #1 task manager and to-do list app. Start for free.
These are paid promotions or affiliate links to support Creativerly. If you are interested in putting your tool, product, or resource in front of over 2000 creative minds, consider advertising in Creativerly and book a sponsor or classified ad spot. Find all the important information at creativerly.com/advertise.
---
Appendix
➢ ICYMI
Are you looking for the single source of information on all categories of apps you need as a knowledge worker? The Ultimate Productivity System for Knowledge Workers got you covered.
This article has been in the works for quite some time, but I am beyond excited to finally see it live and published. Tejas (Probably Nothing) and I met on Twitter. After a couple of messages back and forth, Tejas came up with the awesome idea to collaborate on writing an article. We put a lot of time and work into this article to build a 5000+ words long single source of information on all categories of apps you would need. Read it here.
➢ Featured Newsletter
The Daily Upside is a business newsletter that covers the most important stories in business in a style that's engaging, insightful, and fun. Started by a former investment banker, The Daily Upside delivers quality insights and surfaces unique stories you won't read elsewhere. Sign up here.
➢ Quick Bits
---
Thank you to the sponsor of this issue,
Shortform
, the easiest way to learn the ideas you always wanted to learn from all those books you always wanted to read.
Till next time! 👋‌‌‌‌
Support: Do you have a friend who is looking for inspiration, news about design, and useful tools and apps? Forward this newsletter to a friend or simply share this issue and show some support. You can also show some love by simply clicking the button down below and keep this newsletter a sustainable side-project by buying me a coffee. ☕️ 🥰
---
---
Some of the links in my newsletter and my blog posts are affiliate links. Those links are marked by an asterisk. If you buy something through the link, the product will not cost you anything more, but I will receive a small commission which not only supports Creativerly and my work but also helps me to keep this publication a sustainable side-project.