Newsletter
The end of writing & No Tracking, no bias
In this week's issue of Creativerly: Supercharged daily productivity, up your game, date-focused note-taking, and a lot more.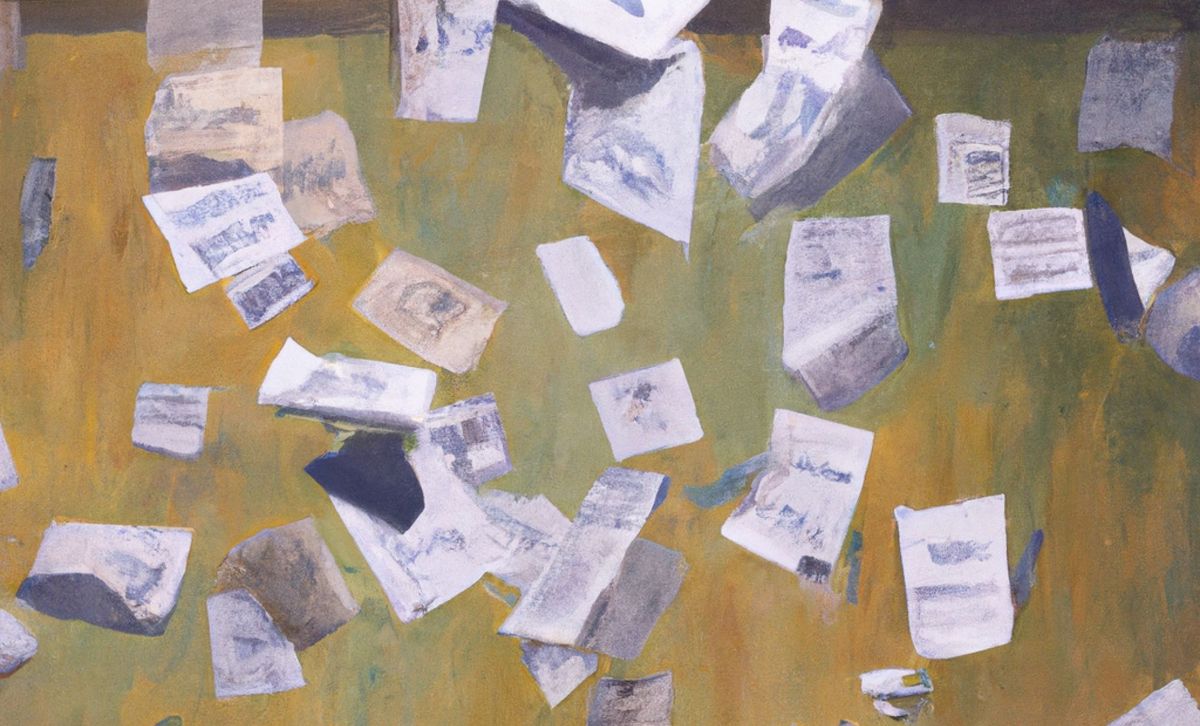 My name is Philipp and you are reading Creativerly, the weekly digest about creativity and productivity-boosting tools and resources, combined with useful insights, articles, and findings from the fields of design and tech. The newsletter built for the creative community.
---
Hey and welcome to Creativerly 207 👋
Over the last two weeks, I opened up a survey to learn about how and if readers of Creativerly are attracted to the content I create and share. I was a bit worried that Creativerly might support shiny-app-syndrome because I am writing about four apps within each issue. While going through all the responses I was overwhelmed to see how many people voted for 4 and 5 out of it regarding how much they currently enjoy Creativerly. That honours me as a content creator and writer.
There were over 50 people who took part in the survey (if you still want to participate and leave your thoughts, ideas, or suggestions, I leave the survey open for a couple more days, you can find the survey here), which is a huge success for me. More than 70% said that Creativerly does not support shiny-app-syndrome. People were mentioning that they signed up for Creativerly because they actually want to discover new apps. Additionally, another input that also came up pretty often was that people are consuming Creativerly to keep up with what is going on in the industry, what apps are launching, consuming it like news, and ultimately it comes down to every single individual what they are doing with this information. I just show you what is out there, if you decided to ditch an app and jump to another one I just wrote about, then this is up to you. It seems like, readers enjoy that I write down my personal thoughts about the apps I am featuring too, which helps them to go further than the first 'shiny' look.
Another input was that I might consider bringing some more variety to the apps I am writing about. One survey participant mentioned that there were multiple calendar apps featured in the past twelve months, and instead of featuring a new calendar app every month, I should look into creating newsletter issues with a dedicated focus on one specific area. In general, I like the idea, but ultimately I am writing about what just interests me. Having specific issues solely focusing on one specific area would force me into writing only about calendar apps, or only task management apps for a single issue, although I might have discovered new powerful project management I would like to write about too.
While I kept things still the same in this week's issue of Creativerly, I am planning to make some adjustments and experiments in the upcoming issues. All the answers, feedback, suggestions, and inputs are incredibly valuable to me and ultimately they proved me right regarding some of the initial ideas I had. I have the feeling that it could be of great value for readers of Creativerly to not only write about new apps and tools, but also about significant updates to already existing tools, and on top of that, share more insights about workflows and how people are using a specific feature of a specific app.
Thank you to everyone who participated in the survey, I appreciate every single input, and I am always open to any kind of feedback and suggestions to further evolve Creativerly not only as a newsletter but also as a publication.
---
Turn your Airtable or Google Sheets into modern business tools you need.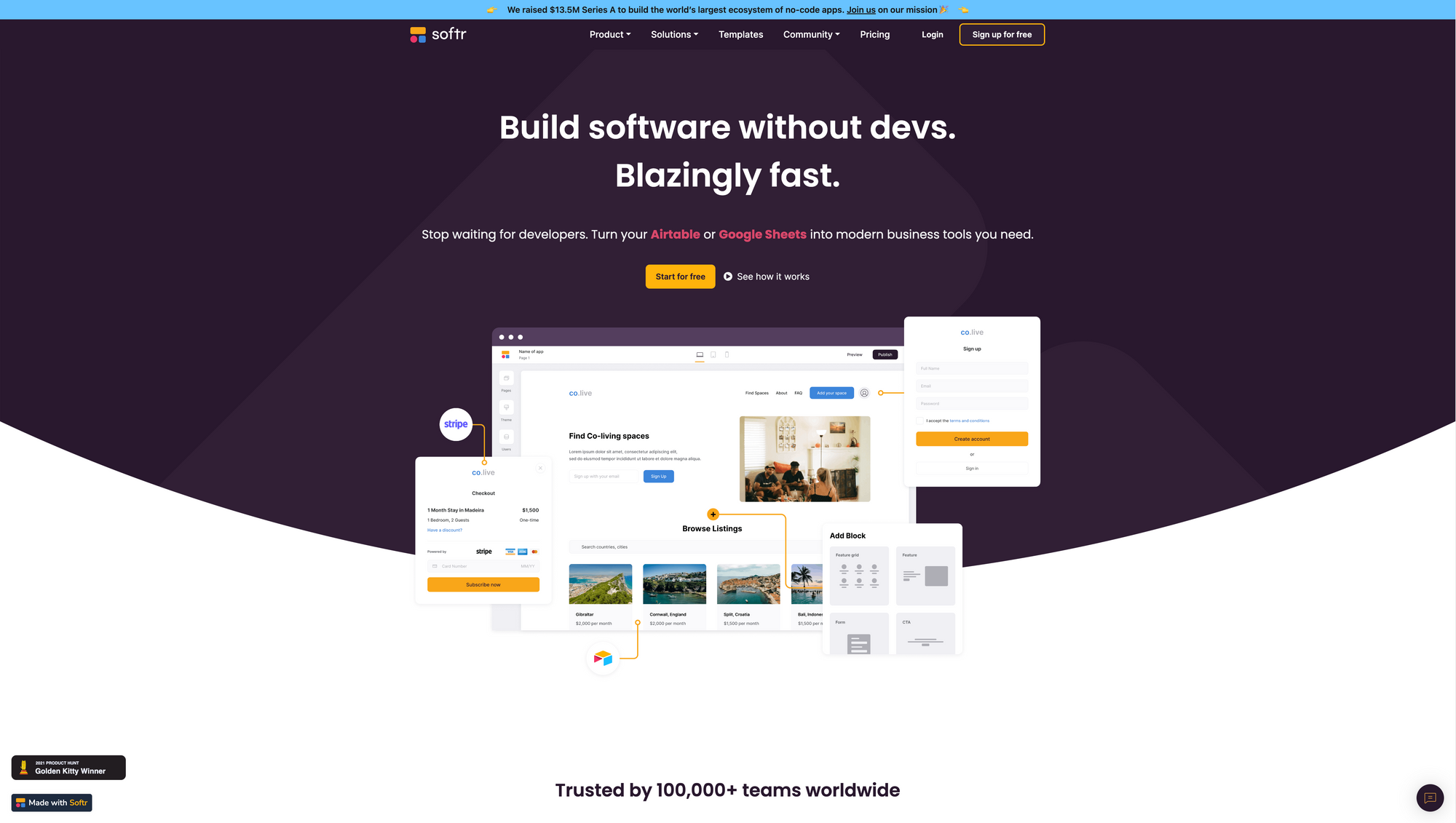 Softr lets you stop waiting for developers. Build software without devs. Blazingly fast.
This is a sponsored message to support Creativerly. If you are interested in putting your tool, product, or resource in front of over 2000 creative minds, consider advertising in Creativerly and book a sponsor or classified ad spot. Find all the important information at creativerly.com/advertise.
---
Apps, Software, Tools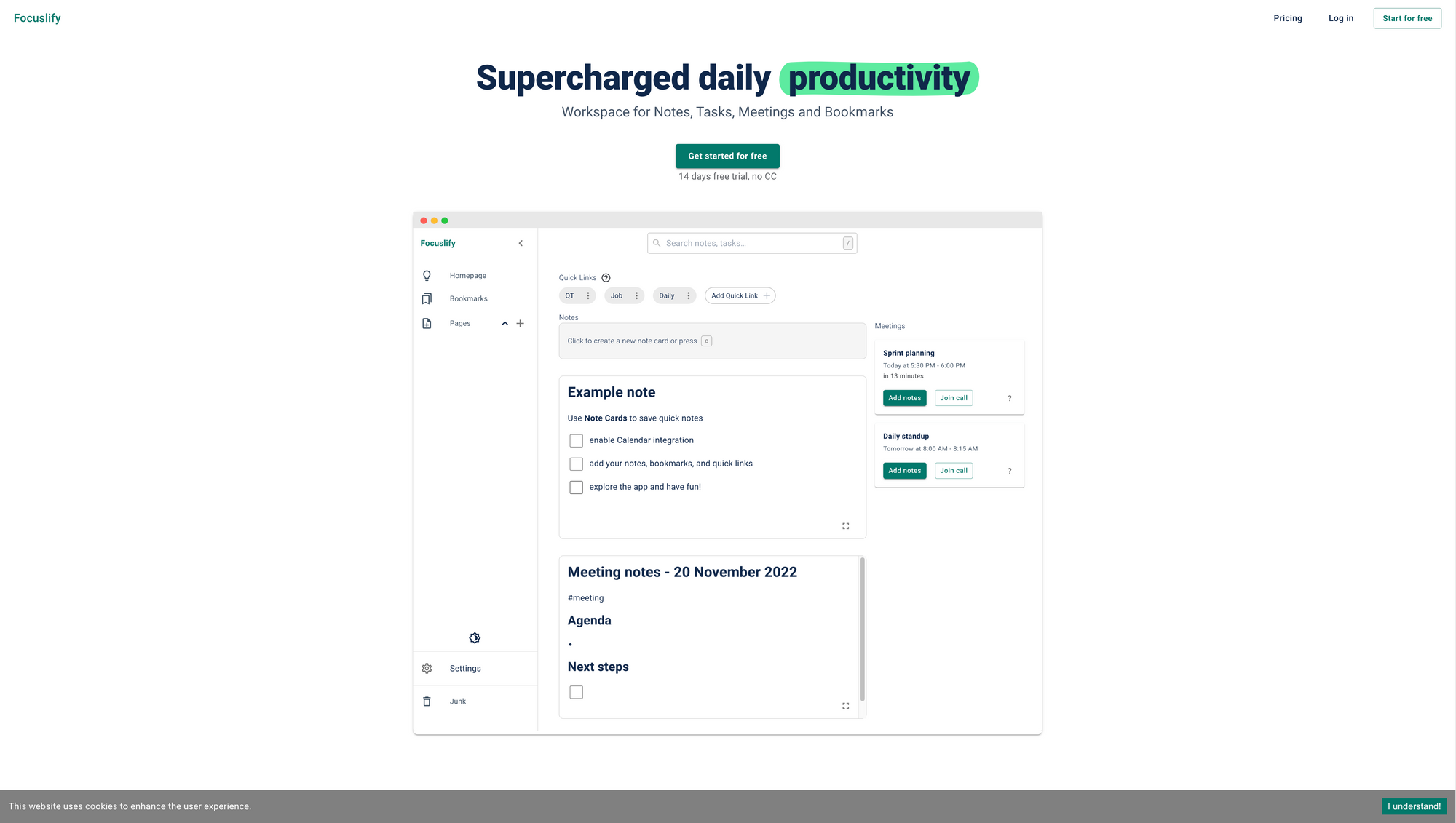 Focuslify is an app that gives you a workspace for your notes, tasks, meetings, and bookmarks.
The goal of Focuslify is to give you a place for effective but yet simple note-taking. If you are looking for a distraction-free experience without any clutter, Focuslify might be worth checking out. When you take notes within Focuslify, you create so-called note cards. You might already be familiar with this approach when you used or tested out Supernotes. The main idea behind note cards is to get rid of bloated files for taking notes. Focuslify lets you create simple note cards to organise all your notes. Once you created a note card you can style it with a rich text editor. Additionally, Focuslify also supports markdown, so besides using the rich text editor, you can also just write in markdown to quickly format your text. Within the note cards, you can jot down your daily notes, and tasks, create lists, paste images, create code blocks, and a lot more. With powerful keyboard shortcuts, you can blaze through the process of creating note cards, building docs, and formatting everything. Focuslify also allows you to share your notes with anyone easily.
By integrating your Google Calendar with Focuslify, you are able to view your upcoming events in a dedicated view, but also join any meetings and create meeting notes from predefined templates. Once the meeting is over and you finished your meeting notes, you can share those with others. The ability to pull all your calendar events into your note-taking app is incredibly powerful. While you are taking notes throughout your day, there is no need to switch focus to get an overview of your upcoming meetings, since Focuslify lets you join your meetings right from the app, and with just a few clicks you are able to take meeting notes directly connected to the specific meetings.
Besides the ability to take notes, manage projects, keep track of tasks, pull in your calendar events and meetings, Focuslify also lets you save links and gather bookmarks in the same space. With Focuslify you can organise bookmarks with categories. This means, when you set up categories, those will get displayed like a Kanban board. I am not sure if the Kanban board is the best way to structure and organise your bookmarks since once you create a lot of categories and add more and more links, navigating the Kanban can become a little bit hard. Nevertheless, quite often notes you would like to take are somehow connected to things you stumble across online. So, having the possibility to save your bookmarks to Focuslify, you can use this functionality as an inbox. Whenever you stumble across something, save it to Focuslify and once you get back to it, you see all the links you saved beforehand and then you can start making sense of those links and start taking notes.
To streamline your note-taking process you can use existing templates or create new and custom ones to automate your note creation. You can use Focuslify for free for up to 20 notes, 1 connected calendar, three bookmark categories, and 3 quick links. The Pro Plan gives you access to unlimited notes, calendars, bookmark categories, and quick links for $9 per month. The Business Plan includes everything from the Pro Plan plus advanced permissions, custom data export, advanced sharing, and priority support and onboarding.
Recently, I got excited about a browser revolution. Browsers became incredibly powerful. No matter if you are designing, writing, illustrating, creating 3D models, or anything else, browsers became important for day-to-day work. On the other hand, browser interfaces haven't changed much over the last few years. Major browsers haven't adapted to the new possibilities and opportunities that come while working within a browser. Seeing the growing popularity of browsers like Arc, SigmaOS, or Stack, I have the feeling that power users are looking for new ways to interact with the internet.
Wavebox is the newest browser I have discovered. The team behind Wavebox is building a revolutionary and feature-rich browser, especially for work and to raise your productivity to another level. If you are looking for ways to tidy up tabs, multi-account sign-in, a unified search, flexible workspaces, and much more, keep Wavebox on your radar and give it a try.
With Wavebox you can experience your browser like an OS in itself. It optimizes all your favourite web apps like Slack, Trello, Airtable, ClickUp, and others. Without the need to switch browsers or use different profiles, Wavebox nailed the multiple account sign-in experiences, which means you can stay signed in to all your web apps, including multiple Gmail, Asana, or ClickUp accounts. This gives you the power to stay fully focused during work since you no longer need to sign out and into different accounts to get stuff done. With a feature like this, you can structure and organise your work across different projects, both professionally and personally. When you are working within a browser, you are probably looking for great performance. Wavebox is blazingly fast. No matter if you are working within three, ten, fifteen, or twenty apps, Wavebox will make sure to deliver a flawless experience when it comes to performance.
To browse through your work and stay on top of everything, Wavebox features intuitive navigation. With both, vertical and horizontal toolbars, you have fast and easy access to all your web resources. With the quick switch feature and the possibility to customize keyboard shortcuts, you can speed up navigation within Wavebox even more. All your tabs within Wavebox are arranged by group or app. This gives you the power to always stay in context while you are working. Another lovely feature within Wavebox is the split screen. Wavebox gives you the freedom to configure split screen settings to your liking, so you can optimize your workflow. Workspaces bring together all your web resources for any project. With ease, you can add links to documents, shortcuts to web apps, sticky notes, desktop notification lists and much more. Workspaces can be private or shared with a team, which turns Wavebox into the perfect companion for you and your team to boost collaboration.
Since Wavebox is a Chromium browser, you use any extension from the Chrome Web Store. Additionally, Wavebox has a growing number of unique extensions baked into the browser, which give you access to features which are technically not possible with a Chrome extension. With Wavebox' unified search, you do not have to worry that your work gets scattered across the web since it unites everything under one roof. With a keyword search within Wavebox you can quickly find what you need in any tab, widget, page, or window.
The base version of Wavebox is free-to-use so you can try it out and see if it is a fit for you. But if you want to use all the features of Wavebox, you need to sign up to a paid subscription which is available for either €11.95 per month or €95.88 per year.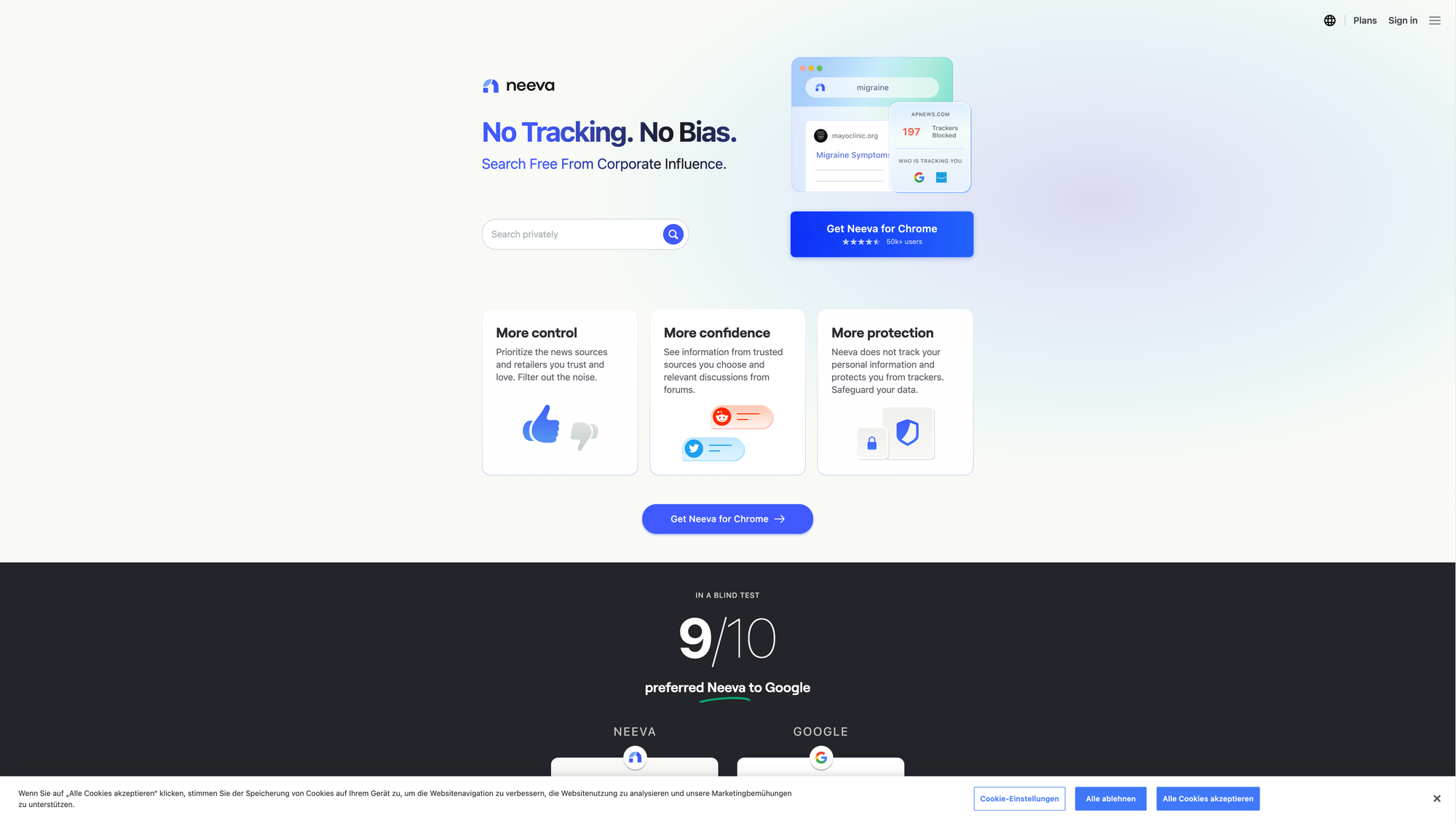 I wrote about Neeva before, but since the platform improved and changed quite a bit, bringing in more and more exciting features, I decided it is time to showcase it again and take a look at some new features.
Neeva has been founded by two ex-executives from Google and YouTube, with the goal to give you a choice in how you search and experience the internet. If you ever wanted to have a personal corner on the web, designed specifically for you, offering an ad-free and private experience, Neeva is the way to go. Neeva's mission is to serve its users and only its users. For the folks who are reading about Neeva for the first time, I am going to give you an introduction.
While Google is (unfortunately) dominating the search engine market, it is also making billions based on its users' data. Neeva is a privacy-focused Google alternative. They made every part of the search better for you, so you can search and browse the web with an ad-free, private, and customisable experience. When you perform a search with Google, you will get plastered with ads. Neeva gives you the possibility to search without ads getting in the way since your search results should be just what you want to see. Therefore, Neeva is committed to being 100% ad-free. If you ever wanted more control while searching the internet, more confidence when it comes to the information and sources within your search results, and more protection while searching the web, Neeva is definitely worth taking a look at.
With Neeva's browser extension which is compatible with all major browsers, you can block any kind of trackers from following you. Neeva is committed to never ever selling or sharing your data with anyone. Additionally, Neeva gives you the freedom to customize your search experience. You can choose the retailers you love and the news sources you want to see results from. Neeva also thought about delivering a great shopping experience, by getting expert-recommended shopping results. So, if you are searching for different products with Neeva, you can discover the best products aggregated in one place, and easily read through reviews from reputable sited and verified customers.
Besides giving you an awesome experience when it comes to searching the web, Neeva also gives you the possibility to sync your emails, calendar, and documents, so you can find everything you need from one single search bar. On top of that, Neeva is offering a mobile app for both iOS and Android which not only brings the search experience to your mobile devices, but they also act as a dedicated mobile browser app. The basic membership of Neeva is free and it only requires a free account. The premium membership of Neeva gives you the best-in-class privacy-protecting tools and other exclusive benefits. The premium annual plan will cost you $4.17 per month billed annually. It gives you access to private search and tracker blocking, unlimited ad-free searches, searching across personal accounts, an unlimited number of devices on the same account, and a premium password manager plus VPN.
There is no doubt that Agenda has to be one of the most-beautiful note-taking apps out there. Agenda is a great app to try out for anyone who is looking to take date-focused notes for planning and documenting projects. No matter if you are looking for a solid note-taking experience for professional or personal use cases, Agenda was made for anyone looking for a well-organized and easy-to-navigate tool that helps drive all your projects forward.
Agenda's lovely approach of organizing notes into a timeline gives you the complete picture while working on your projects. Loads of other apps focus specifically on the past, present, or future, but with Agenda, at any stage during your note-taking process, you always see the complete picture, thanks to the timeline approach. With ease, you can take notes on what is currently on your agenda, while preparing another for an upcoming meeting. Notes you have created in the past in Agenda can be used as breadcrumbs to get reminded of why you took the actions you did. Besides that, Agenda lets you attach dates to individual notes, and even link them to events in your calendar, which is a powerful way to bring more context to any meetings or events within your calendar. If you want to give notes a special status you can put them "On the Agenda", which lets you search for them more easily, but they also appear in a special group in the sidebar, so you can access them quickly.
What I also love about Agenda is the fact that it is available in English, Afrikaans, Dutch, French, German, Italian, Spanish, Polish, Portuguese, Russian, and Chinese, and Agenda is working on even more languages to deliver a localized experience. The notes you take within Agenda are beautifully styled. Sometimes it not only comes down to the actual things you write down but also how they look like. Agenda has powerful editing and stylization features like tags, links, tables, and lists. Agenda's styled-text editor combines the ease of plain text entry with the visually results of rich text. While taking notes, Agenda is also capable of working with tasks since there are different list styles, including checklists, available. As already mentioned, Agenda features a timeline approach. All your notes appear in a project timeline, but projects themselves can also be grouped into categories. Thanks to a powerful search, locating and finding your notes within Agenda can not be simpler.
If you want to stay on top of all the things to do in your life, Agenda gives you the possibility to add a reminder to a task with just a single tap. Once you set a reminder, you can edit, reschedule, or check it off straight within Agenda. Using Agenda on an iPad you get the chance to use an Apple Pencil to start taking handwritten notes or draw any sketches. Additionally, you can easily link to websites and filed on your disk, but Agenda lets you also simply drag and drop any files to attach them to your notes.
Agenda is available for iOS, iPadOS, and macOS. The basic version of Agenda is free. To get access to more premium features, you need to upgrade to the Premium Plan of Agenda. You can decide if you want to unlock the premium features either for iOS + iPadOS only, or for iOS + iPadOS + macOS. Buying the premium plan from your Mac always include all three platforms. Premium features include the possibility to collaborating with others, custom colors, powerful tags, recent projects, annotate and drawing extras, save searches, and more.
---
Mental Wealth
➢ How to figure out what to do next in your career – "We've almost made it through January! I hope the start of 2023 has been good to you. For many, this time of year brings real momentum towards the goals you've set out to achieve. In client sessions, I feel the energy of the new year painting a picture of possibility and expectation for the year ahead. There are dream job interviews happening, and resignations being handed in. There are new business plans, pivots and projects. Some of you won't be able to relate."
➢ The End of Writing – "You've heard the news. Microsoft bought 49% of OpenAI. Soon, ChatGPT will become the centerpiece of Word, PowerPoint, Excel, and Outlook. The majority of business matters are written in MS Office. AI will make its heart beat. As an employee, your job will be reduced to barking a couple of fuzzy commands, from time to time. ChatGPT will read, think and write for you. It's only a matter of time, until ChatGPT graduates from Office to Windows itself, runs the whole system, and makes the idea of apps look as old-fashioned as cassette tapes.1 Sounds like the pigs inviting the butcher for dinner. Does Microsoft know what they are doing?"
➢ Rethinking Hierarchy – "For all the hype and promise swirling around the idea of eliminating management to create agile, flat organizations, bosses and corporate hierarchies have remained extremely resilient. As we argued in the pages of MIT Sloan Management Review in 2014, under the right conditions, having such hierarchies in place is the best way to handle the coordination and cooperation problems that beset human interactions.1 They allow human intelligence and creativity to flourish on a larger scale. They provide a larger structure, with predictability and accountability, for specialists to do their work."
➢ Product design is going down a weird path, but we can still save it – "There was a time when we had artists carefully crafting their deep, emotional and ground-braking music, with end-to-end concept and amazing poetic lyrics, further compiling the carefully recorded masterpiece into an album and shipping physical copies for the world to admire — and still being financially successful at it — or when Hollywood films had slow, beautiful openings, stunning photography and iconic soundtracks, with apes beating the floor with bones in their hands while all the wall-shaking drums and horns played in the background."
---
Do not miss out on this ...
These are paid promotions or affiliate links to support Creativerly. If you are interested in putting your tool, product, or resource in front of over 2000 creative minds, consider advertising in Creativerly and book a sponsor or classified ad spot. Find all the important information at creativerly.com/advertise.
---
Appendix
➢ ICYMI
➢ Quick Bits
---
👋
Till next time!
Share or forward this post to your friends, if they are also looking for creativity and productivity-boosting tools and resources. If you need help discovering your next favourite task management, note-taking, or PKM app, Creativerly delivers the insights you need. Creativerly is an independent publication and I am writing and maintaining it in my free time. You can support Creativerly and my work by sharing it with the world,
booking an advertising spot
, or by
buying me a coffee
.
---
---
Some of the links in my newsletter and my blog posts are affiliate links. Those links are marked by an asterisk. If you buy something through the link, the product will not cost you anything more, but I will receive a small commission which not only supports Creativerly and my work but also helps me to keep this publication a sustainable side-project.