Newsletter
The fastest browser for work ever made & An editor with superpowers
In this week's issue of Creativerly: A tool for thought, get comfortable with being uncomfortable, returning to craft, and a lot more.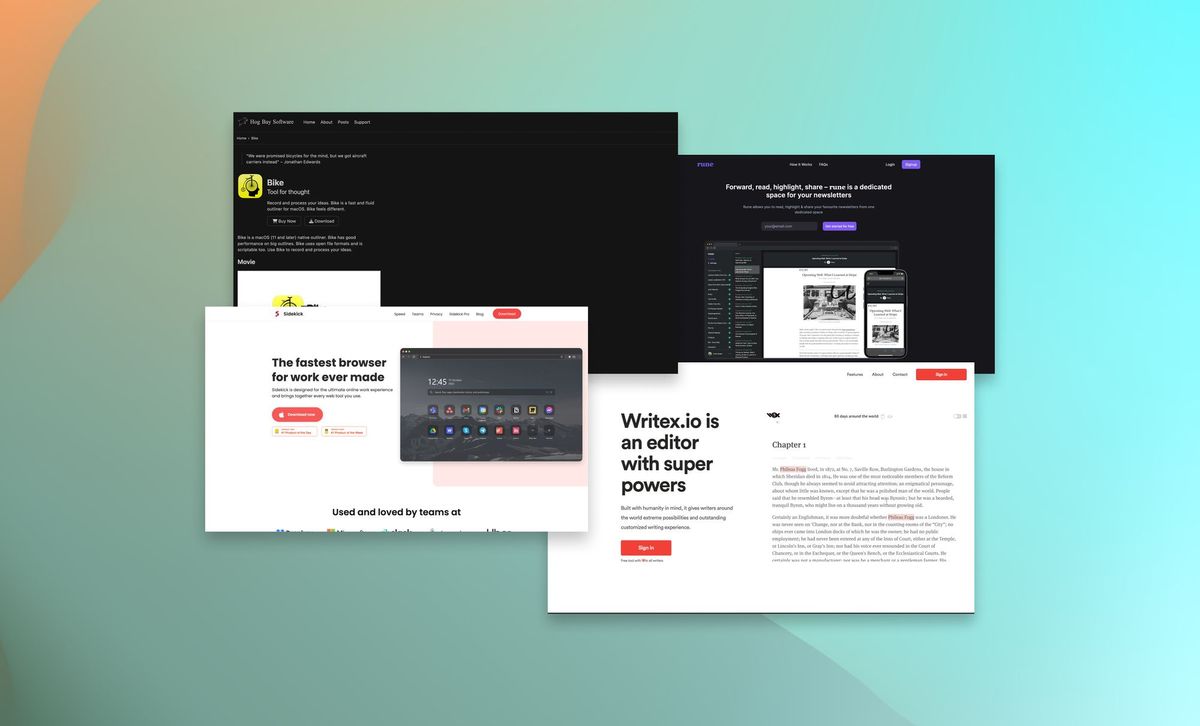 You are reading Creativerly, the weekly digest about creativity and productivity-boosting tools and resources, combined with useful insights, articles, and findings from the fields of design and tech. The newsletter built for the creative community.
---
Hey and welcome to Creativerly 176 👋
Recently, I read a newsletter issue by Dickie Bush and Nicolas Cole, the founders of Ship30for30, in which they shared insights on their strategy to take their newsletter to 100k subscribers. They wrote about their content strategy to be present on Twitter and LinkedIn, leveraging their content, and how to promote your products.
With Creativerly I never followed a dedicated content strategy or any kind of marketing measures. I just tried to be active on Twitter, since it already was my preferred social network. Until today, Twitter drives the second most traffic to Creativerly (the most traffic comes from Google). But after reading through the newsletter from Dickie Bush and Nicolas Cole, I thought about creating a content strategy for Creativerly. My goal would be to grow Creativerly. I want to get my content out there. Whenever I am posting more Tweets than usual, I realise a small spike in new subscribers for Creativerly.
Over the last two years, Creativerly has been mainly growing organically and by word of mouth. Every time I saw someone signed up to Creativerly, I got excited because I thought the subscriber found Creativerly on its own, and decided to subscribe after reading a couple of issues on the website. And that is the reason, why I love the slow growth of Creativerly, because everyone who signs up does it because they actually want to sign up and receive the newsletter. I have never been a fan of growth hacking new subscribers, forcing them to sign up and play some weird mind games to get into their heads. But as my writing is getting more serious every single year, I want to get Creativerly and the content I create out there. And that is the reason, why I am thinking about a dedicated content strategy, simply to create more awareness about what I am writing about.
Ultimately, Creativerly's growth also lead to partnerships with companies that are creating apps and tools I love. Therefore, this growth also made it possible to give something back to Creativerly's audience. In the end, this should be my main goal, to grow Creativerly to be able to give something back. One of the most-recent partnerships came together with Track, a new calendar app, that makes scheduling effortless. If you want to give it a try, you can use the code "CREATIVERLYTRACKGIFT" on the sign up page here****, to receive one full year for free, which is a value of $180.
I want to be able to provide more partnerships like that, discounts on certain kind of apps, and further evolve the content I create, so I can give back to you, to say thank you for awesome support I have been receiving over the past couple of years.
I am (still) just getting started.
---
Uncover All Sorts of Insider Secrets for Your Phone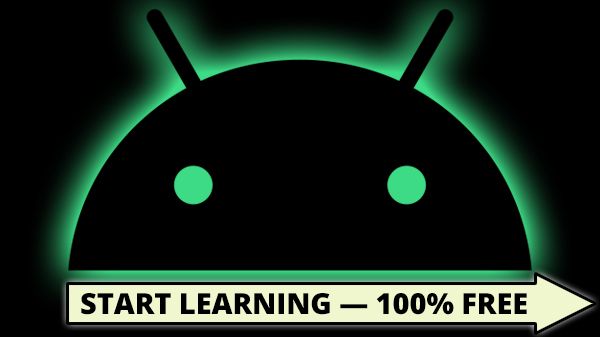 Got Android? Then you HAVE to check out Android Intelligence. It's a free weekly guide that brings you three smart tips every Friday. You'll learn tons of useful new stuff. Sign up now and get three bonus tips on your favourite subject this second:
This is a sponsored message or an affiliate link to support Creativerly. If you are interested in putting your tool, product, or resource in front of over 1700 creative minds, consider advertising in Creativerly and book a sponsor or classified ad spot. Find all the important information at creativerly.com/advertise.
---
Apps, Software, Tools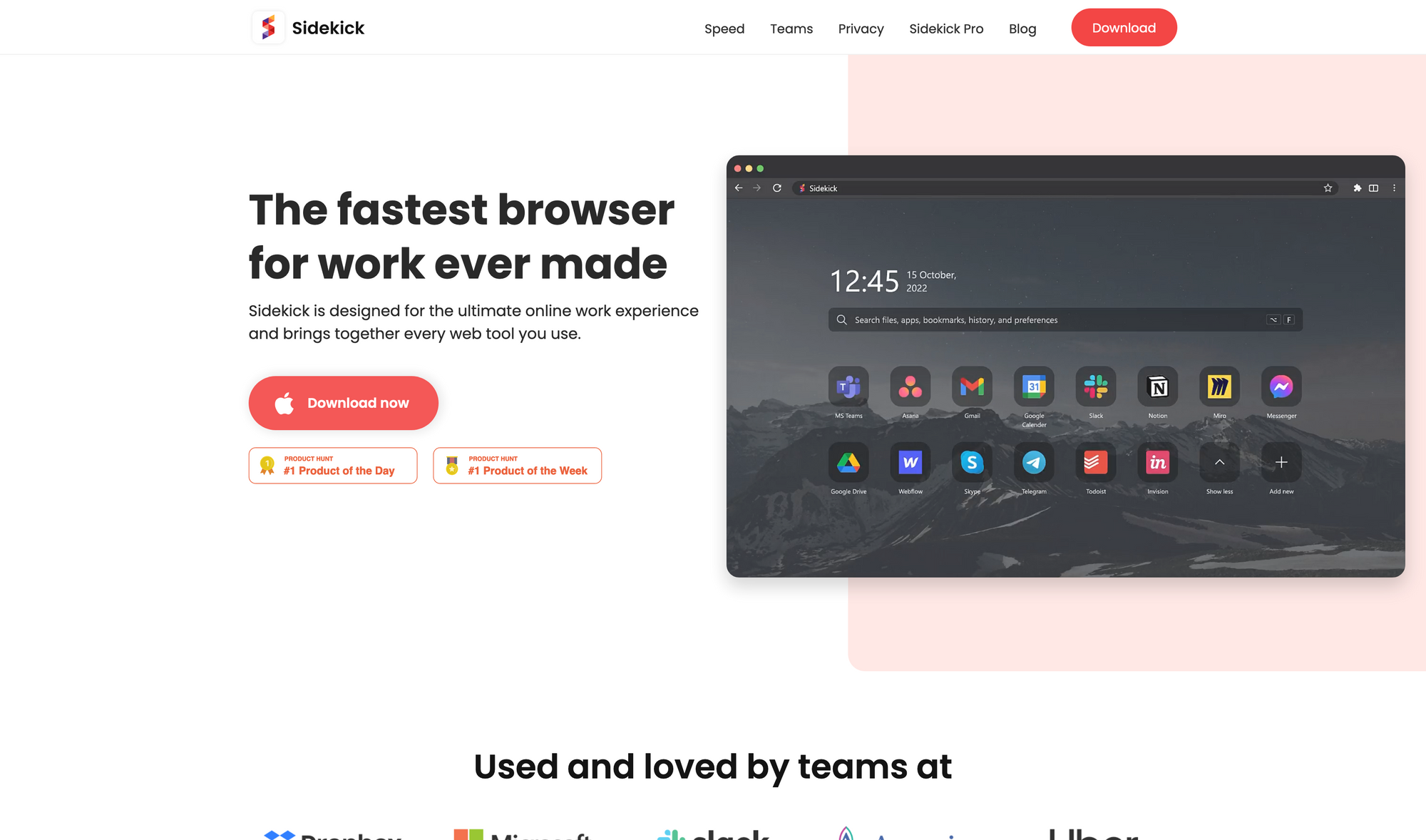 I have the feeling that we are currently experiencing a browser revolution. Within the last couple of months, more and more browser apps have been popping up on my timelines. Browsers became incredible powerful, in fact they became so powerful, that webs apps can deliver blazing fast performances. SigmaOS, Stack, The Browser Company, Beam, and others are all working on revolutionising the way we engage with the internet. But in this posting, I would like to focus on Sidekick, another powerful browser which I have been following since it became Product of the week and Product of the day on Product Hunt with nearly 3,000 upvotes.
Sidekick is a browser that was designed for the ultimate online work experience. It brings together every web tool you use. As more and more of the tools we use on a daily basis sit within our browsers, we need power, performance, and the ability to stay organised. In most browsers, you find yourself in a space where tabs are out of control and browser windows are all over the place. Additionally, if you use desktop apps, you will realise that some of them do not integrate well with the rest of your work which happens on the web. Sidekick wants to change that. Sidekick wants to help you to get rid of a slow performance, poor collaboration experience, high memory consumption, tab clutter, and getting lost so you can not find the tabs you actually need. With Sidekick you get access to lightning-fast performance, improved tab memory management, AI-based tab suspension, and the possibility to block any trackers.
Since loads of people spend most of their time in web applications, Sidekick reimagined the browser UX around apps, the result is a better way to work in the most productive applications on the web. Your most-used can be placed within Sidekick's sidebar, where you never lose your work in a sea of shifting tabs again. This gives you the possibility to turn your web applications into apps and put them in the sidebar to stay. On top of that, Sidekick lets you be logged in everywhere. You can add multiple accounts to the apps within your sidebar, so you can easily switch between them, with a single click. As Sidekick becomes your central work hub, you can also take control of notifications, as Sidekick gives you the possibility to get alerts from all your messaging apps in one place.
With powerful shortcuts like Option + F, you are able to search all your work instantly, no matter if you want to search across our apps, tabs, or workspaces, with Sidekick's search you get results within seconds. To organise all your tabs, Sidekick has a feature called sessions. This lets you group your tabs together into sessions. So, you can create multiple sessions and organise them around your workflows. All the sessions you create and use throughout your day are automatically saved. You can access your sessions from Sidekick's sidecar, where you are also able to pin, organise, or move your tabs. Besides all of that, Sidekick has a strong focus on privacy. The company will never sell your data, and blocks virtually every data-grabbing ads and trackers, so you can be sure that your data, searches, browsing history, and personal information always stays yours.
Sidekick is available for macOS, Windows, and Linux. You can use it for free forever with a limit of 5 apps in the sidebar and 10 apps in total. If you need unlimited apps, multiple workspaces, multiple app accounts, Split View, shared passwords, and custom web apps, you can upgrade to the Pro Plan which will cost you $8 per month (billed annually).
I am excited about the browser revolution, and I can not wait to see what other companies are building and how they are reimagining the way we interact with the internet and web apps. Sidekick is an incredible powerful browser, focused on boosting your productivity while working on the web.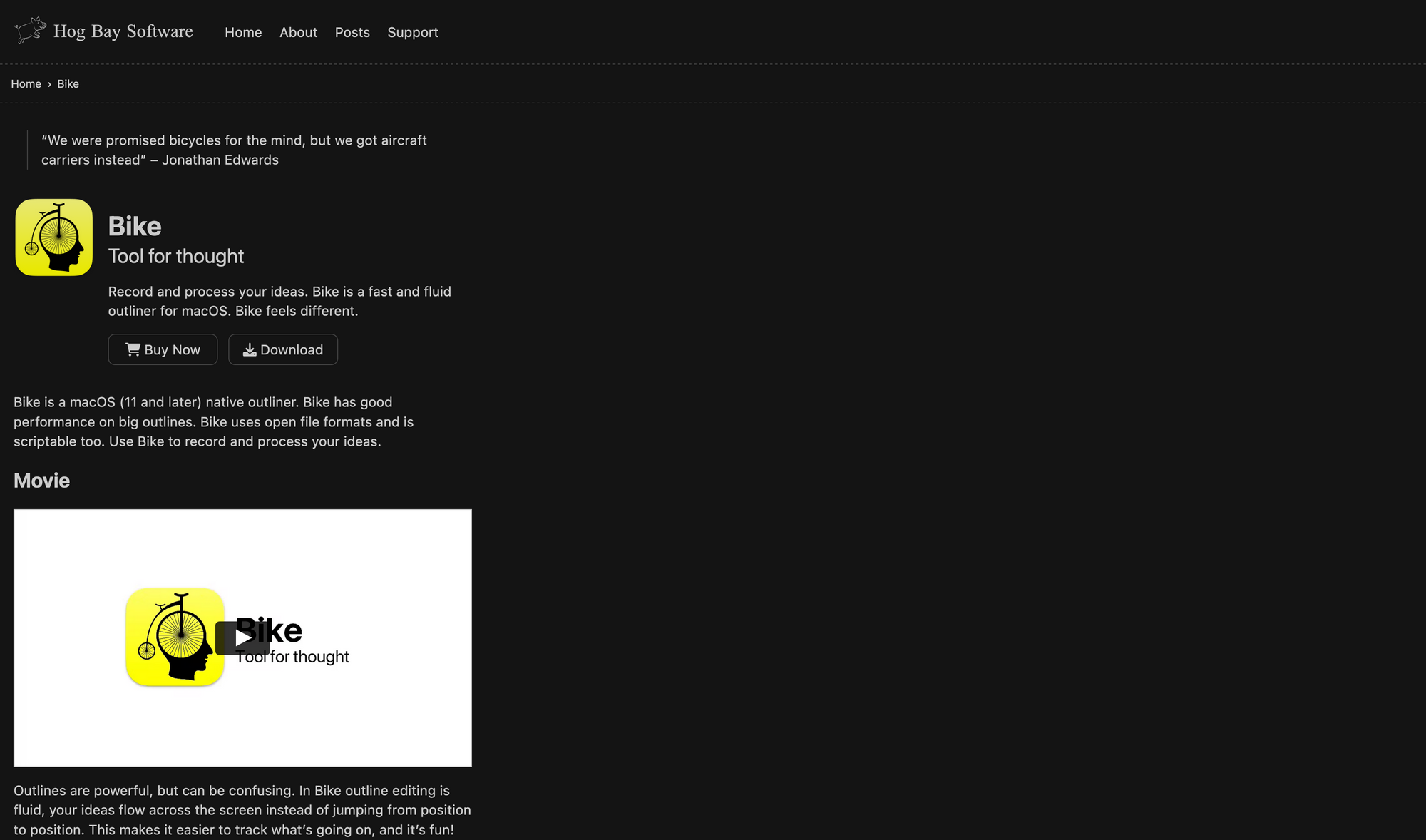 The space around Tools for thought is crowded. Over the course of the last two to three years, loads of folks started to work on new apps to build second brains and knowledge bases. While most of nowadays PKM and TfT apps are complex and have a dedicated learning curve, Bike is a fast, fluid, and simple outliner for macOS.
Bike is a native outliner, built by Hog Bay Software, a company by solopreneur Jesse Grosjean. Besides building WriteRoom (a distraction-free writing app for macOS) and TaskPaper (a plan text to-do list app for macOS), he recently launched his third app, a tool for thought named Bike. If you take a look at the apps Jesse has been designing and building, you quickly realise that he has a dedicated focus on shipping clean, lucid, minimal, but still powerful apps. Bike is small enough to fully understand all the features it has. Once you understand the app, it is flexible to be used for many purposes. As some of you might know, I am a huge fan of outliner apps. I have used Workflowy for years (and I still use it on several occasions) and it has been without a doubt the fastest way to take notes and capture my thoughts and ideas.
Outlining within Bike is fluid since your ideas and notes flow across the screen instead of jumping from position to position. Bike uses a keyboard-focused navigation which makes it easy and effortless to move around your ideas and thoughts, no matter how large your outline is. The Outlines you create with Bike are stored in text files using standard file formats, which means that the notes, ideas, and thoughts you jot down with Bike are open and accessible. Bike has limited features. This is an interesting approach, but I like the idea of limiting features by design. On the other hand, this limitation comes with downsides. Users who are looking for iPhone or iPad support, formatting options, and other features which might be relevant for a lot of serious note-takers, will not be attracted to Bike.
What makes Bike incredible powerful indeed is the keyboard navigation and editing. You can seamlessly move around multiple rows to change the hierarchy of your outline, sections can be collapsed and expanded individually or all at once, and on top of that you can focus on one section at a time. Bike is without a doubt one of the most beautiful and elegantly designed outliner apps for macOS. Since it is a native app, you can expect a fast performance from it. You can grab a free version of Bike to get a glimpse of the app. The full version is available either as a one-time license for $29,99 which gives you access to all features and one year of updates, or you can buy a subscription for $2,99 per month or $19,99 per year.
If you want to read an in-depth review about Bike, I highly recommend this article by John Voorhees on MacStories.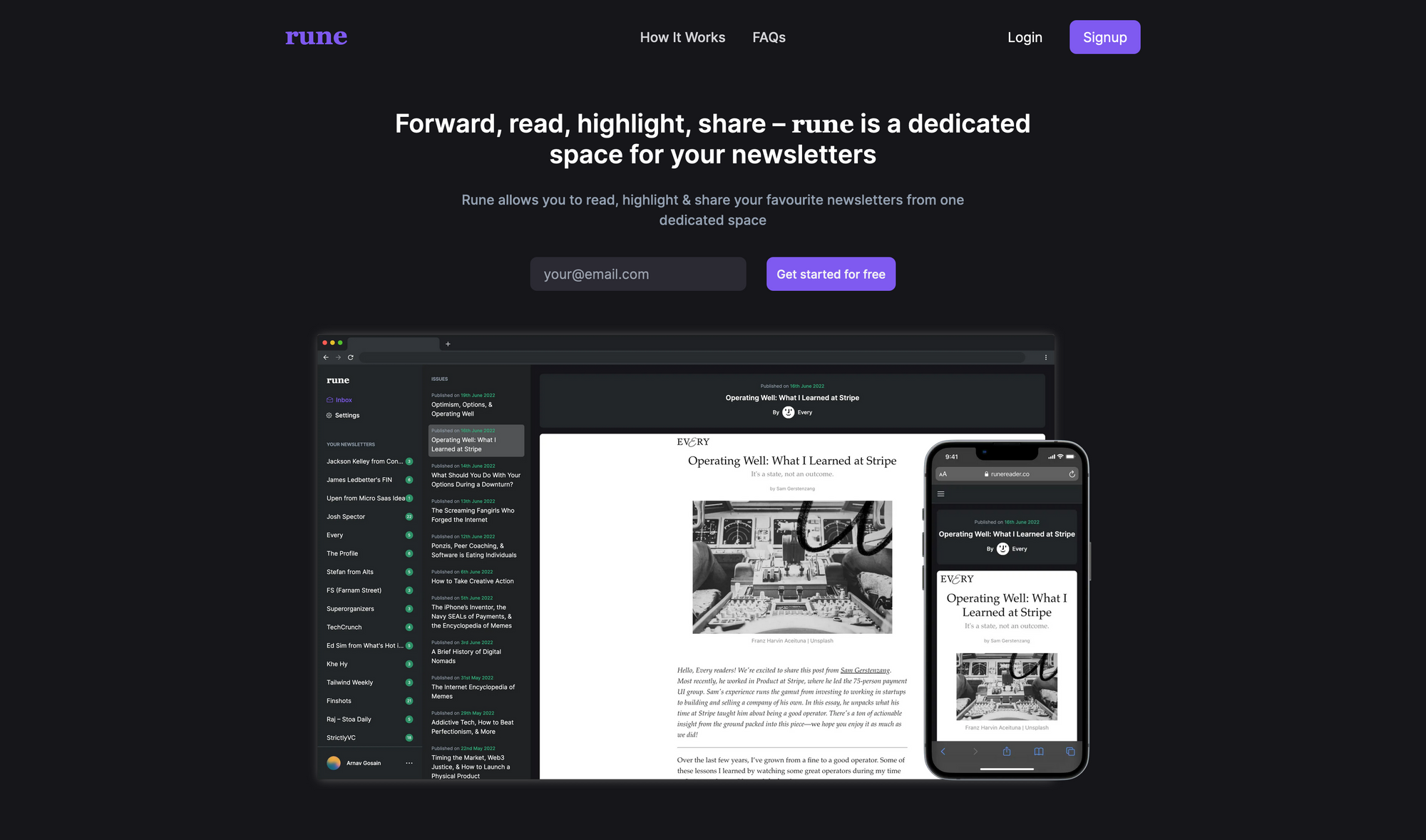 Newsletters are still one of the most popular informational mediums out there. Personally, I not only love writing this newsletter, but I also consume quite a lot of content from other fellow newsletter writers. Rune is a tool for folks who want to keep all their newsletter subscriptions in one place. If you want to create a dedicated space for the newsletters you are subscribed to, make sure to check out rune.
First of all, I want to state that there are quite a lot of newsletter reading apps out there, but rune is without a doubt one of the most beautiful ones. The interface, which you can get a glimpse of on its website, is clear and lucid with a gorgeous reading view, which is also mobile-friendly. Rune works just like any other newsletter reading app. Once you have signed up and created an account, you will get a unique @runereader.co email address. This email address can be used to to sign up and subscribe to your favourite newsletters or you can also set up autoforwarding your already existing subscriptions from any email provider. After that, you are ready to consume and highlight your favourite newsletters straight within rune.
As of writing this, rune is in public beta. During that public beta it does not cost anything to use rune's service. But, as stated on rune's website, there is a plan to introduce a pro subscription or a one-time purchase in the future.
There is one issue I have with newsletter reading apps, and that is the fact that they are newsletter reading apps. Personally, when I am subscribing to a newsletter, I not only want to read it, but I want to engage with the writer of the newsletter whenever I have a question, suggestion, or feedback. Therefore, I need the ability to respond to the newsletters that drop within my inbox. That is also the reason, why I stopped using newsletter reading apps and instead set up a dedicated email for newsletters. I use this email address to subscribe to newsletters, but since it is connected with my personal inbox and email provider (which is proton.me), I am able to engage with my favourite content and newsletter creators, whenever I feel there is the need to.
As a content creator myself, I also love to engage with my readers. It is always exciting when I receive emails from my readers with questions or feedback, and I love the email conversations and discussions which often result from that engagement.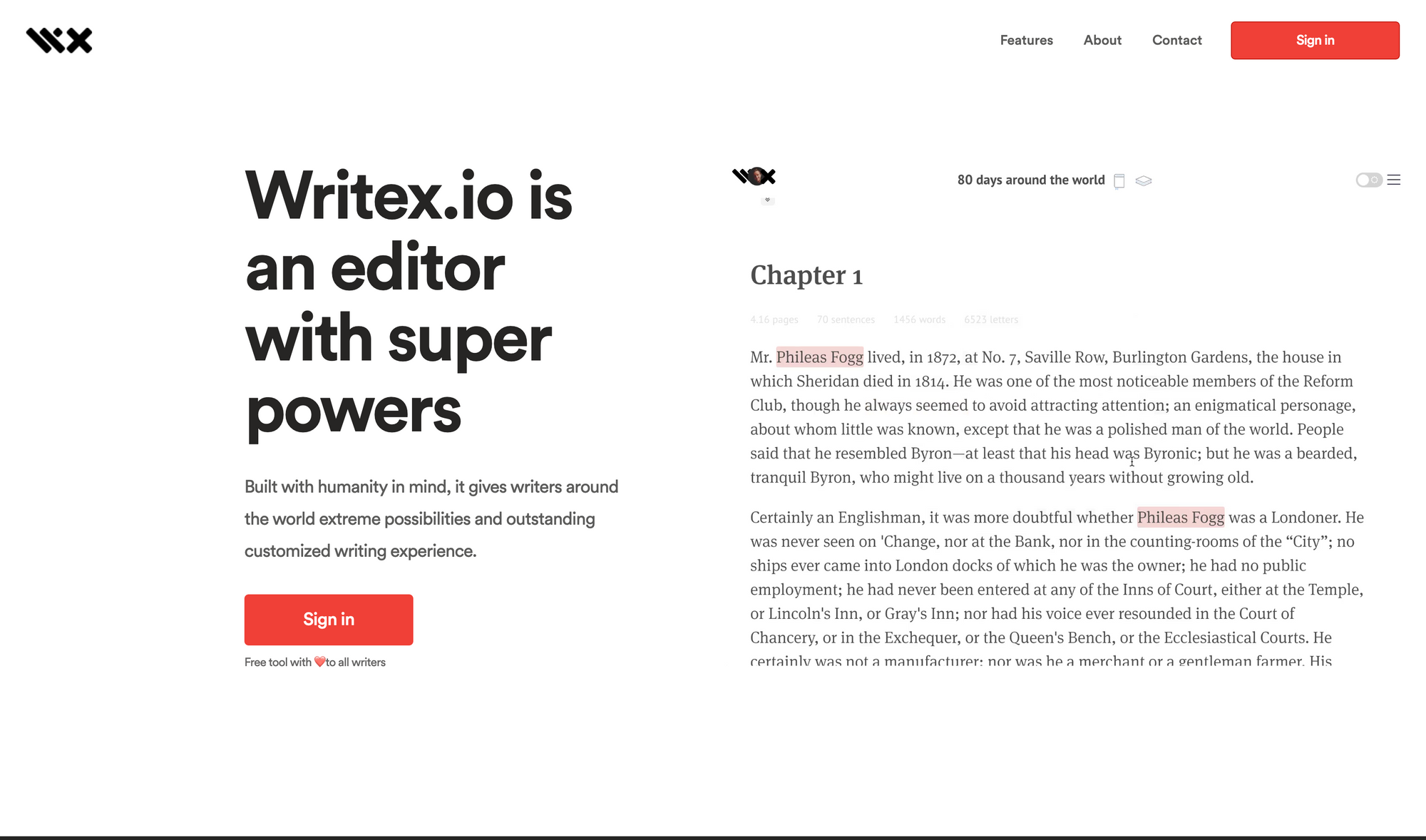 Writex is a writing tool powered by an incredible editor, that gives writers extreme possibilities and an outstanding customised writing experience. With Writex you are in full control of your writing experience. In fact, it lets you customise your writing experience, build your Wikis, use the power of static analysis to check readability and phonetic quality of your writing, use extremely advanced spell check for more than 20 languages, and a lot more.
There are loads of writing apps which do not give you the freedom to customise your writing experience as much as Writex does. Within Writex you can change the layout, decide what should be analysed, marked or shown. It truly lets you minimise or enrich your experience. Writex is a full-fledged writing tool, which means you can work on the draft, first version, second version, or any other version of your text at the same time. There is no need to remove text any more, since Writex supports multiple text versions. Writex' text analysis lets you check the spelling in more than 20 languages. Since it is powered by AI it can make a readability check for your target audience age and phonetic sounds.
On top of that, Writex features wiki functionalities, which lets you build your own knowledge base. There are different use case where wiki functionalities can power and boost your writing process. If you are writing a novel, Writex' Wiki will help you to work on characters, places, and events. If you are writing an article, you can save your investigations, resources, and facts within your Wiki. Or if you are writing a foreign language text, you can put all unknown words in Writex' Wiki and they will be marked in your text. Once you are done with your writing, Writex lets you export any version of your text to Medium (if you are writing an article) or to Epub for self-publishing.
Besides all of that, Writex has also a strong focus on privacy and securing its users' data. Therefore, Writex uses encryption on the database level and it does not save in local storage or uses any kind of cookies. On the roadmap, you will also find end-to-end encryption which will be added soon.
---
Mental Wealth
➢ Slow down, it's what your brain has been begging for – "It wasn't until I moved to the desert that I noticed the rain. Pregnant dark clouds smudge the sharp contrasts drawn by the punishing summer sun. The palette changes from verdant amber to moody violet. A sweet earthy smell wafts through the air. Bird songs and cricket chirps are hushed, replaced by booming clouds and howling winds. A pause. And then, in a grandiose and fearsome display, mile-wide opaque curtains of rain drench the scorched earth."
➢ Get Comfortable With Being Uncomfortable – "Stepping outside your comfort zone seriously improves your life. Humans have an evolutionary need to be challenged—to feel discomfort. That's the main revelation of journalist Michael Easter's The Comfort Crisis, a book about embracing discomfort to "reclaim your wild, happy, healthy self." Through his research, Easter discovered that living outside of our comfort zone is good for us, dramatically improving both our health and happiness. We may not enjoy whatever discomfort we expose ourselves to in the moment—be it a physical, mental, or spiritual hardship—but doing so is key to personal growth and even just plain contentment. However, if we're to take that first step outside of our comfort zone, we have to get comfortable with being uncomfortable. And we can't do that unless we master the internal triggers that tend to make us run back to the safety of comfort."
➢ Writing for Yourself Versus Writing for an Audience – "When I was in my MFA program, I embraced—and my teachers encouraged me to embrace—Toni Morrison's famous advice for writers: "If there's a book that you want to read, but it hasn't been written yet, then you must write it." Working in solitude with Morrison's words in mind, the only person I wrote for was myself. Typically, an imagined younger version of myself: that awkward teenage introvert not at home anywhere but in the world of books, that queer kid growing up in a repressive normative suburb, that first-generation college student bucking his working-class background and taking on debt at an expensive liberal arts institution—someone who would take comfort in what I was creating and feel less alone. On a deeper level, Morrison's advice spoke to me as a '90s youth steeped in grunge and hip-hop, both of which scorned selling out and pandering to the mainstream marketplace at the expense of authenticity."
➢ Returning to craft – "I recently made a few "fresh starts" in my life; moving countries and changing roles in my career were two of the most significant. With my job, I decided to move away from design leadership and return to being a product designer. However, I didn't anticipate that going back to the craft would also teach me to be a better leader. I went back to the craft because I missed delivering products and services for people. The transition away from management (where I mainly designed slide decks) back to designing products wasn't an easy switch; many of the tools and practices have changed over the years. For a while, I asked myself daily if I still "had it", whatever exactly "it" is. In sharing my reflections and learnings, I hope to spark a bit of curiosity in others, so they too might play with the idea of practicing again."
---
Do not miss out on this …
These are paid promotions or affiliate links to support Creativerly. If you are interested in putting your tool, product, or resource in front of over 1700 creative minds, consider advertising in Creativerly and book a sponsor or classified ad spot. Find all the important information at creativerly.com/advertise.
---
Appendix
➢ ICYMI
If you are interested in the fields of mindful UX and digital wellness, head over to Creativerly's interview with Clo S. from This Too Shall Grow which is out now. Get insights on the topics of mindful UX and digital wellness, the projects Clo is working on, the tools she uses, and a lot more.
➢ Quick Bits
---
Twitter thoughts
---
👋
Till next time!
‌‌‌‌
Support:
Do you have a friend who is looking for inspiration, news about design, and useful tools and apps? Forward this newsletter to a friend or simply share this issue and show some support. You can also show some love by simply clicking the button down below and keep this newsletter a sustainable side-project by
buying me a coffee
. ☕️ 🥰
---
Some of the links in my newsletter and my blog posts are affiliate links. Those links are marked by an asterisk. If you buy something through the link, the product will not cost you anything more, but I will receive a small commission which not only supports Creativerly and my work but also helps me to keep this publication a sustainable side-project.