Newsletter
How learning happens & The free design bootcamp
In this week's issue of Creativerly: A modern notes manager for Mac and iOS, a simple and powerful to-do assistant, why hyperlinks are blue, and a lot more.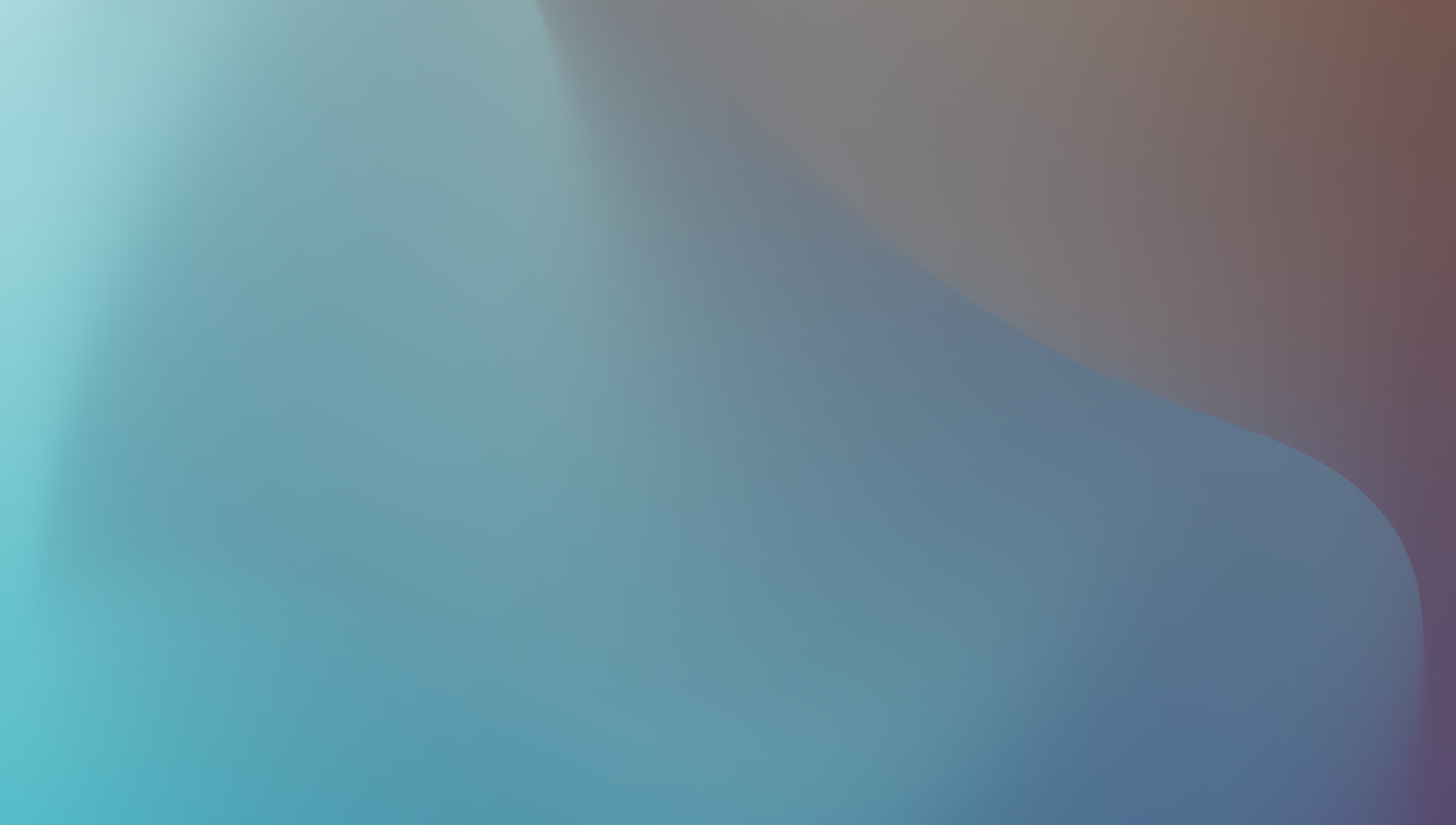 You are reading Creativerly, the weekly digest about creativity and productivity-boosting tools and resources, combined with useful insights, articles, and findings from the fields of design and tech. The newsletter built for the creative community.
---
Hey and welcome to issue 133 👋
By the time you are reading this issue of Creativerly, I will be off for some long-awaited and much-needed holidays. I am really looking forward to logging off for two weeks and enjoy some time in nature. But no worries, I somehow managed to finish and schedule this and next week's issue of Creativerly, so I can sit back and relax and you can still enjoy some new creativity and productivity-boosting tools, resources, and articles.
Those are the moments in which I am incredibly thankful for technology that enables me to upload a post, set a date, and then on that specific date my newsletter will get published automatically and send out to over 1200 people. This is amazing.
Tools are not everything, but they enable us to create awesome things. Just like scheduling a post to be sent out one week in advance. Besides that, other tools like Refind for example made it possible to search and find interesting, insightful, and exciting articles with ease so I could also fill and schedule the mental wealth section of Creativerly. My personal backlog of to-feature products and resources also came in really handy while finding tools and resources to share within Creativerly and schedule them. I created it within Workflowy since it is super easy to quickly jot down interesting links I want to come back to. The only thing which will be missing in the next issue of Creativerly is the Quick Bits section which is part of the Appendix. Since this section shares current news about all sorts of topics, it is not possible to schedule them upfront, because well I can not look into the future.
But no worries, with Creativerly issue 135 Quick Bits will be back, and I will be back in front of my computer, typing on my mechanical keyboard, and preparing new content for you.
If you have recommendations or feedback, drop me an email or a tweet. For now, enjoy the newsletter!  🥰
---
Apps, Software, Tools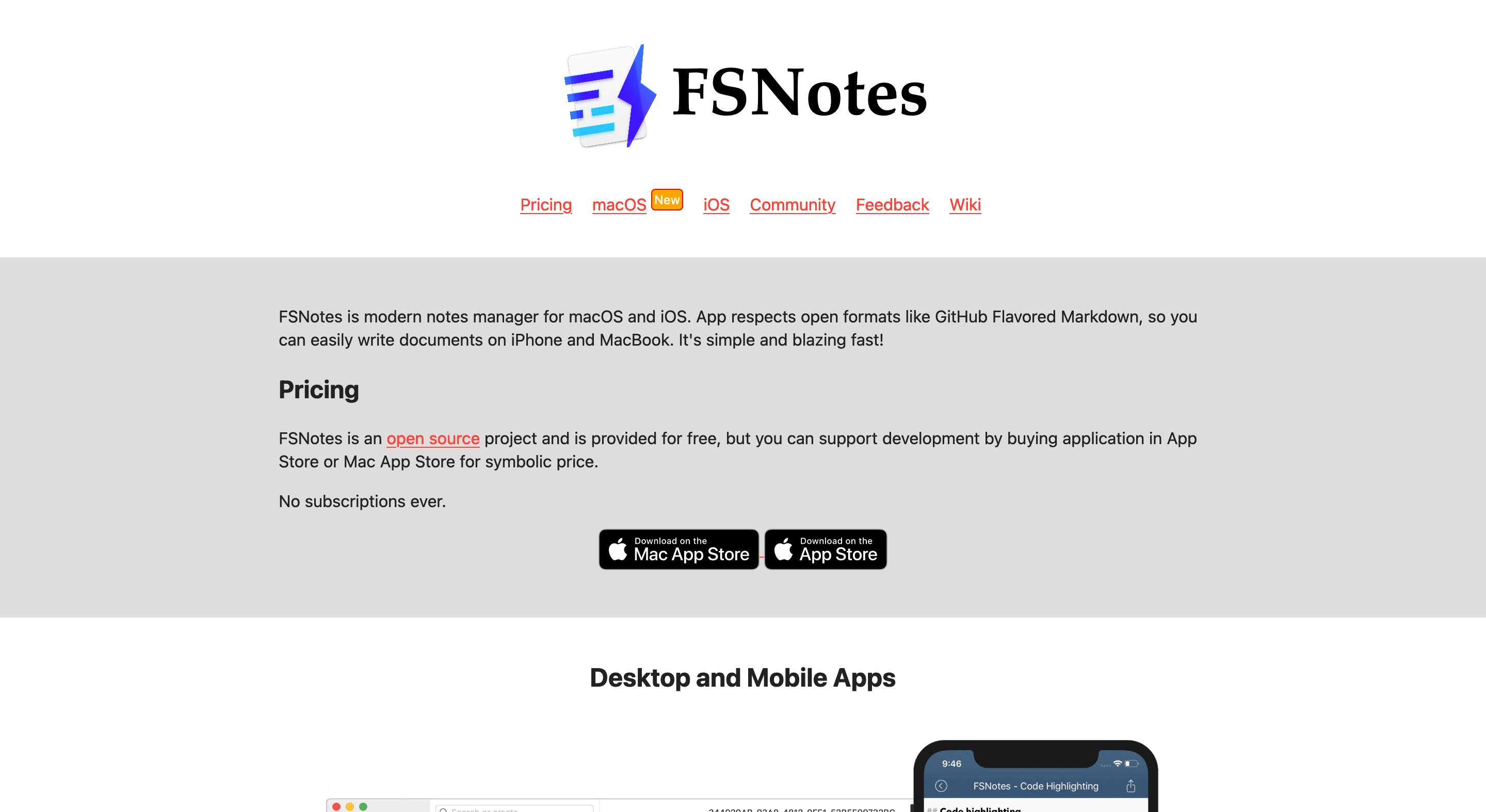 FSNotes is a project by Oleksandr Hlushchenko that has already been around since 2017. Recently, they introduced version 5 of FSNotes which brought some new, intuitive and useful features to the macOS version. FSNotes is a free and open-source note-taking app for iOS and macOS. The app is markdown-based so you can easily write and format notes and documents both on your iPhone and Mac. Although, FSNotes is available for free it is always welcomed to support open-source projects and their development.
Therefore, you can also buy FSNotes for as low as $4.99 for the macOS version and $2.99 for the iOS version. To access your notes on all your devices, they will get synced to your either by using iCloud or Dropbox, but you can optionally also use Git for versioning or backups of your notes. If you want to secure your notes and documents, you can lock them by using TouchID or your master password. FSNotes is built using SwiftUI which makes the app native, lightweight, and lightning-fast, no matter how many notes you have created and stored.
To structure and organize all your notes, FSNotes supports a multi-folder structure and also tags. With the newest update, version 5, FSNotes introduced new features like folder tree, printing documents with images, an improved search, improved shortcuts, and much more. Additionally, FSNotes also supports cross-note links or backlinking by using double square brackets.
I am a huge fan of open-source projects just like FSNotes, and I appreciate every single contributor.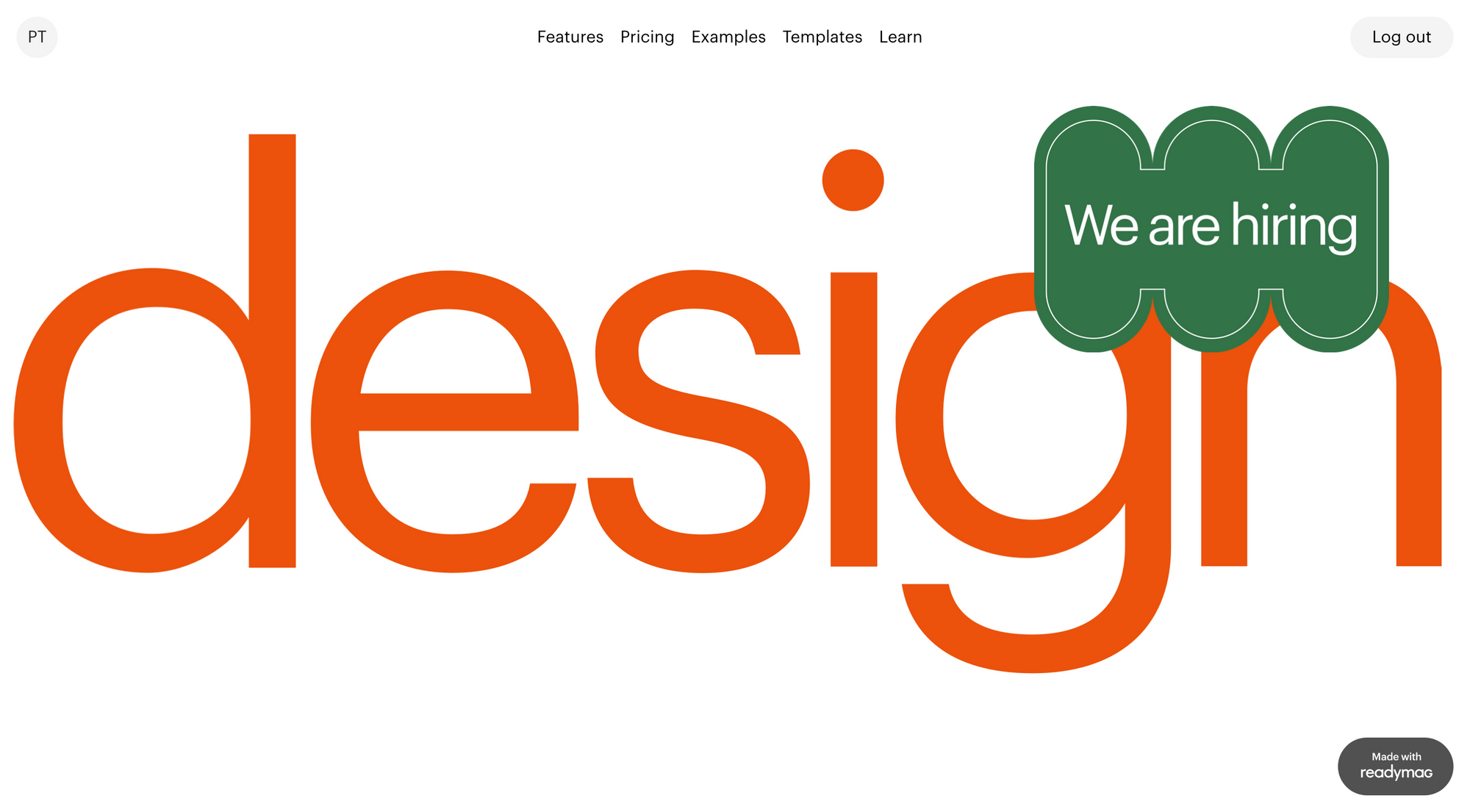 I am currently working on my portfolio or more precisely my personal website since I do not want to create a website solely to showcase my work, I also want to blog, and showcase my interests in general, WIPs, different projects, and more. Therefore, a personal website is a more suitable term. Until now, I used WordPress and Semplice to build my personal website. There are a few reasons, I want to ditch Semplice and therefore, I am currently on the hunt for alternatives. While doing my research, I re-discovered Readymag.
Readymag is a design tool, that sits right in your browser and helps you create any kind of web publication or website. No matter if you are planning to design and create landing pages, portfolios, magazines, multimedia long-reads, or pitch decks, Readymag offers you great features to let your creativity flow. The team at Readymag works on tools to empower creators and bring a new visual language to the internet. Readymag has been around for over 7 years, and over time it evolved into one of the leading tools to create websites, landing pages, and more without writing a single line of code.
With their easy-to-use and intuitive editor, you can literally create anything that comes to your mind. At the core, Readymag is based on building blocks that you simply drag and drop onto the canvas where you can further customize it. If you do not want to start from scratch you can choose from a wide variety of templates suitable for portfolio, editorial, magazine, presentation, and other purposes. Make sure to also browse through the showcase of websites made with Readymag as it is a great resource for inspiration when you just started to build your own website in Readymag.
Readymag is completely free-to-use for one published project at a time, and a limit to 10 pages within your project. The personal plan (which is perfectly suitable for a portfolio or personal website) starts at $15 per month and includes one published project, unlimited pages, and 10,000 page views per month.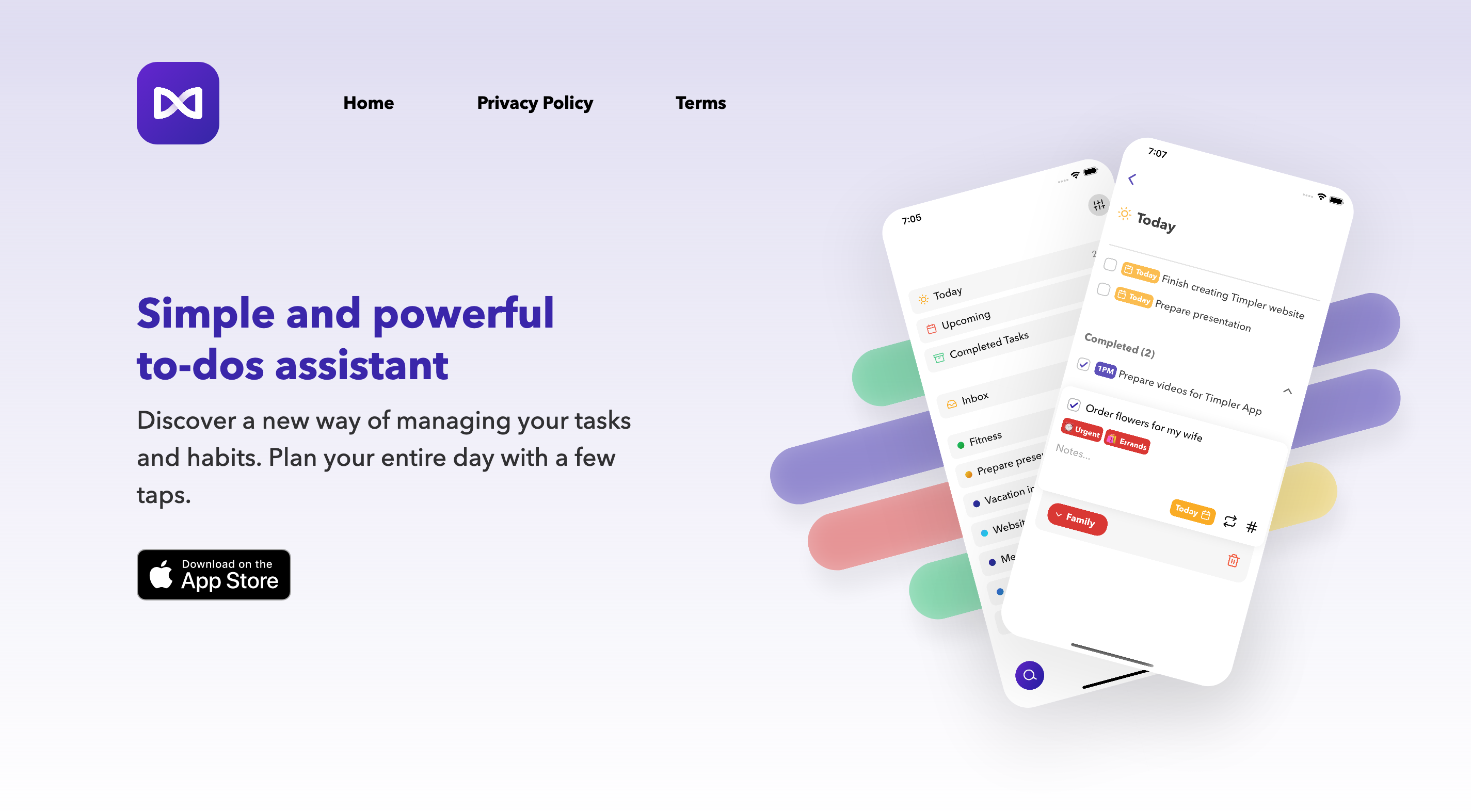 Timpler might be one of the most beautiful designed to-do apps out there. Currently, there are countless options for different tools if you are looking for a new task management software. Besides that, if you are looking for a new task manager to add to your workflow tech stack, you also do not need to use a classical task manager as more and more tools are adding new approaches and functionalities to the to-do list we know.
But now let us take a closer look at Timpler. Timpler is a simple but powerful to-do assistant currently available for iOS only, although I got the information from the landing page that an Android version is coming soon. Timpler is offering great ways to manage your tasks and plan your whole day with just a few taps. At the core, Timpler is designed to make organizing things incredibly easy. Timpler's beautiful interface lets you create new tasks or lists super quickly. With just a few taps you can add reminders, schedule the task, or simply move it to another list.
If you are looking for a tool that supports you while building up routines and habits, Timpler is the way to go. Since Timpler has the possibility to create auto-schedule habits, for example, "Read a book 3 times a week". Timpler then will try to schedule sessions of your habits automatically starting with days when you're not busy. To get a better picture of the tasks which you need to tackle next, Timpler has a dedicated "Upcoming" view which allows you to quickly browse through all your planned tasks. On top of that, Timpler also integrates with all your existing calendars. To always stay on top of your tasks you can organize and structure them by using tags.
It will also allow you to create better daily task suggestions set in the Today section. To further prioritize your open tasks, Timpler lets you set reminders for the things you simply can not miss. Timpler is a beautiful lightweight, minimal, but still powerful task management app.
Most video editing tools are bloated, hard to use, and not suitable if you just want to do some quick edits. This is where Claquette comes in really handy. Claquette might be the most easy-to-use but still powerful video utility tool for the Mac. Editing and working on video within Claquette feels so smooth. Do not expect that Claquette is going to replace Adobe Premier, Final Cut Pro or any other professional video editing software, but that is also not what Claquette is aiming for.
Most users who want to do just some little and fast editing to their videos do not need a bloated and overloaded software just like Adobe Premiere, although they kind of have to use it until they know that Claquette exists. Claquette is the perfect tool, if you are looking to crop and trim video files, convert them to GIFs, or create new videos by recording your screen or a connected camera. Whenever I am opening and using a complex and bloated video editing tool, I use it for exactly that reason, simple editing, cropping, and converting.
But working with video files within Claquette feels as easy as handling images. All you have to do is opening your video file with Claquette, and then use its great features just like the crop tool to cut out the relevant portions of your video or GIF. If you just want to use a specific section of your video, Claquette also comes with a trim tool to extract the highlights. If you are working with a lot of GIFs for a newsletter, social media, blog posts or anything like that, you are probably in the need of a tool that allows you to export good-looking GIFs and keep the file size as low as possible at the same time.
Claquette has all the tools to achieve exactly that. Besides all of that, Claquette offers a native experience for macOS which makes the app smooth and fast.
---
Useful Resource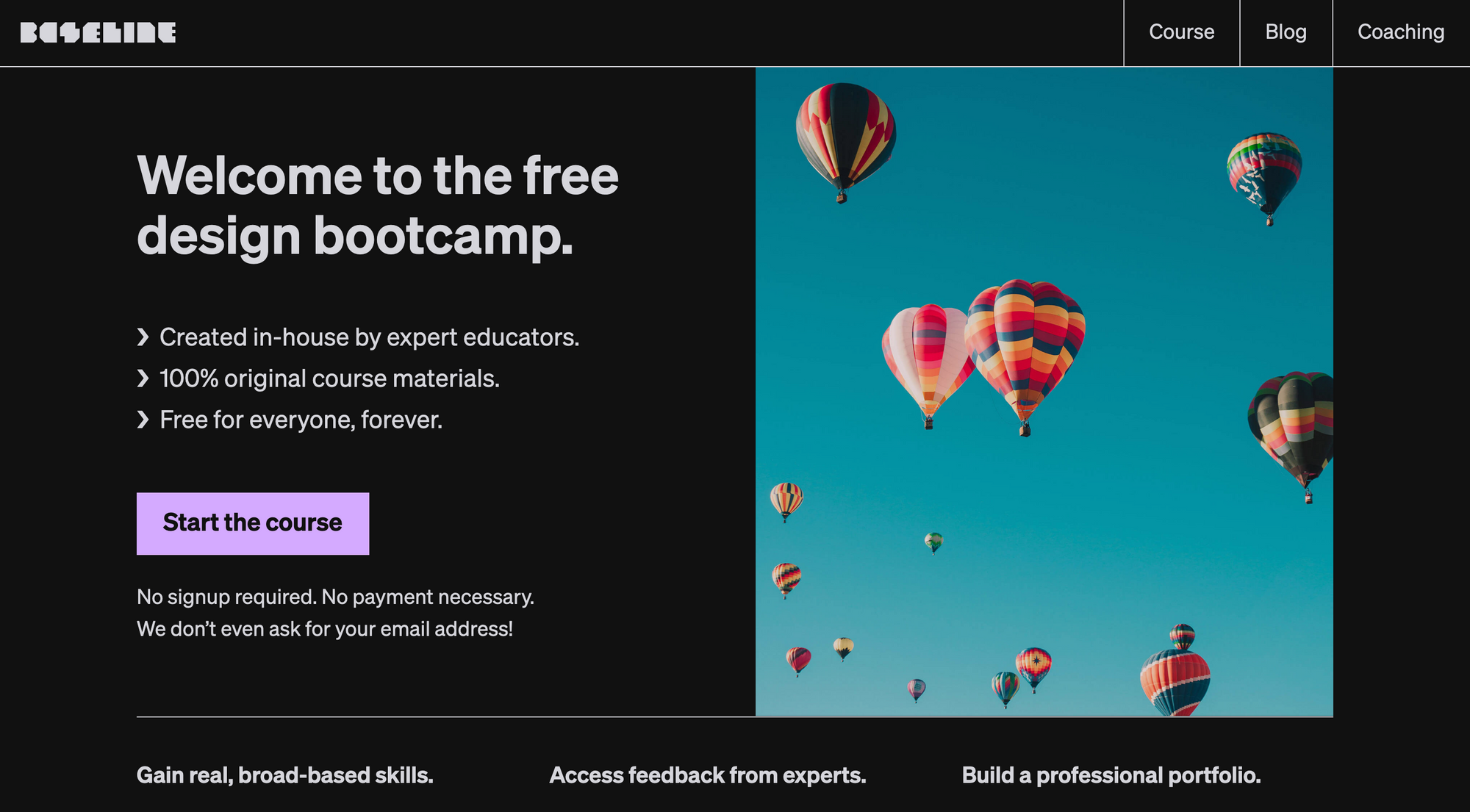 Baseline is a design bootcamp, created by in-house design experts and educators with 100% original course materials, all and everything for free for everyone, forever. Yeah, you read that right, if you want to start your Baseline design bootcamp, you do not need to pay anything, you even do not need to sign up, you can just start whenever you are ready. If you ever wanted to peak into the field of design Baseline is a great starting point.
The current course material includes an introduction to design with 24 hours of course material about design principles, tools, workflows, and collaboration. After that, 90 hours of course material about graphic design basics, applied graphic design, and graphic design portfolio briefs are waiting for you. In autumn 2021 Baseline plans to launch even more course material, this time focusing on digital product design.
Baseline is an amazing resource for everyone who wants to get started within the design area, they are offering countless hours of course materials, all and everything available for free, and on top of that you can learn and dive into those courses on your own schedule. Lovely!
---
Mental Wealth
➢ This is how to truly unlock your creativity – ""No one in his or her right mind would argue that quantity guarantees quality," bestselling novelist Stephen King wrote, "but to suggest that quantity never produces quality strikes me as snobbish, inane, and demonstrably untrue."Many of the people we think of as the most creative in history had staggeringly prolific levels of output in their careers. Charles Darwin published around 120 scholarly papers, Albert Einstein published around 250 papers, and Sigmund Freud published 330 papers. Thomas Edison held nearly 2,000 patents on his inventions. Johann Sebastian Bach composed more than 1,000 musical pieces, and Pablo Picasso is credited with more than 20,000 paintings, sculptures, and drawings."
➢ How to Have Better Conversations with Yourself – "You believe you have been treated unfairly at work. Your inner voice screams, "They are being unfair to me! I can't stand this! I deserve better." It is affecting your work and your relationships. In this blog, we are going to suggest a new way of talking to yourself under stress."Ethan, You Have Survived Worse" Humans may be one of the few species capable of self-reflection. Is self-reflection positive? Like most things in life, it depends. University of Michigan psychologist Ethan Koss relates this story in his book Chatter."
➢ Why are hyperlinks blue? – "The internet has ingrained itself into every aspect of our lives, but there's one aspect of the digital world that I bet you take for granted. Did you ever notice that many links, specifically hyperlinks, are blue? When a co-worker casually asked me why links are blue, I was stumped. As a user experience designer who has created websites since 2001, I've always made my links blue. I have advocated for the specific shade of blue, and for the consistent application of blue, yes, but I've never stopped and wondered, why are links blue? It was just a fact of life. Grass is green and hyperlinks are blue. Culturally, we associate links with the color blue so much that in 2016, when Google changed its links to black, it created quite a disruption."
➢ How Learning Happens – "Inspiration is the keystone of learning. It's the engine behind a student's motivation and the glue that makes ideas stick. But because our school system undervalues the necessity of inspiration, students don't learn as much as they could. Why do people learn things? Usually, because they need to. They're frustrated by something, either in themselves or the world. Maybe a loved one is sick. Maybe they're not making enough money to support their family. In both cases, they enter "Survival Mode" and are spurred to action. When the pain of the status quo hurts more than the pain of discipline, people are capable of extraordinary feats of learning. "
---
Appendix
➢ ICYMI
Whenever I reach a specific milestone I try to gather all my experiences, findings, and actions I took to reach that milestone and write a post about it. Back in July, I shared a post about everything I have learned while growing Creativerly to over 1000 subscribers. Recently, my post got shared within Revue's very own newsletter called "This week in Newsletters" alongside other posts by Stew Fortier, Bria Felicien, Ali Abouelatta, and Jonah Malin. Make sure to check out Revue's post right here.
➢ Quick Bits
Google's vague privacy cure-all is showing up in new proposals, but some say it could break the internet / Windows 11 ships on October 5 but without Android app support / Apple adds another $30M to its Racial Equity and Justice Initiative / China bans online gaming for minors except from 8 pm-9 pm Friday to Sunday / Apple tweaks app pay rules in $100m settlement / Google delays mandatory return to office until January 2022 / Bose Is Refreshing Its Iconic Noise-Canceling Headphones
---
Twitter thoughts
---
Till next time! 👋‌‌‌‌
Support: Do you have a friend who is looking for inspiration, news about design, and useful tools and apps? Forward this newsletter to a friend or simply share this issue and show some support. You can also show some love by simply clicking the button down below and keep this newsletter a sustainable side-project by buying me a coffee. ☕️ 🥰
---
Some of the links in my newsletter and my blog posts are affiliate links. Those links are marked by an asterisk "*". If you buy something through the link, the product will not cost you anything more, but I will receive a small commission which not only supports Creativerly and my work but also helps me to keep this publication a sustainable side-project.