Newsletter
The Future of Work is Written & Discover a new way to organize your day
In this week's issue of Creativerly: Manage design assets between teams, a design tool for motion, the big paradox of productivity, and a lot more.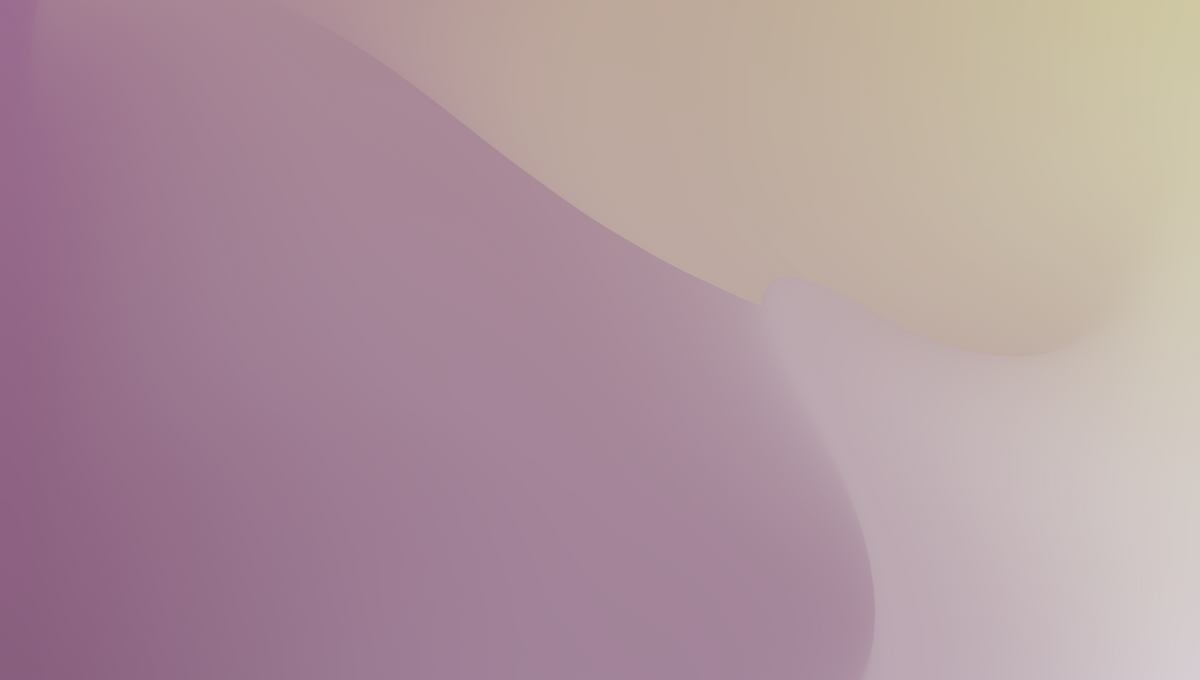 You are reading Creativerly, the weekly digest about creativity and productivity-boosting tools and resources, combined with useful insights, articles, and learnings from the fields of design and tech. The newsletter built for the creative community.
---
Hey and welcome to issue 104 👋
As a content creator, writer, and curator of Creativerly putting together this newsletter every single week, has always been a passion project of mine, and it still is. Since my audience grew to 900+ subscribers one of my main goals is to keep pushing my content further and tailor it to my audience. That means getting rid of content sections that are not as popular as others, but on the other hand, it also means introducing new content sections just like the interviews I started to publish back in December 2020.
New and more content, also means the environment of my newsletter needs to grow and evolve. Therefore, I am incredibly happy, that I now settled with Ghost as the new home for Creativerly. If a project is growing and evolving, mostly it also means that there will be some additional recurring costs/expenses regarding the project. For over a year my only expense for Creativerly was like $3 for the domain. Then I bought a Carrd Pro Standard Plan which costs $19 per year.
Since I moved Creativerly to Ghost, I pay $10 per month for the DigitalOcean Droplet (this is where I self-host Ghost), my .com domain costs me $10 per year at Namecheap, and that's all of my recurring expenses. On that note, I was incredibly overwhelmed, when I received the email notification from Buymeacoffee, that Anastasia (an avid Creativerly reader) supported Creativerly by buying five coffees, which is a donation of $15. I was overwhelmed by her generosity, and I realized that just by that my whole expenses for one month for Creativerly were covered by that one donation. I was amazed, thankful, and overwhelmed. If you ever decide to support my work and Creativerly through Buymeacoffee, let me know, drop me an email or DM, since if you have a project that fits the topics of Creativerly I am happy to share it as an exchange. Thank you to all of you and your support, I deeply appreciate it.
If you have recommendations or feedback, drop me an email or a tweet. For now, enjoy the newsletter!  🥰
---
Apps, Software, Tools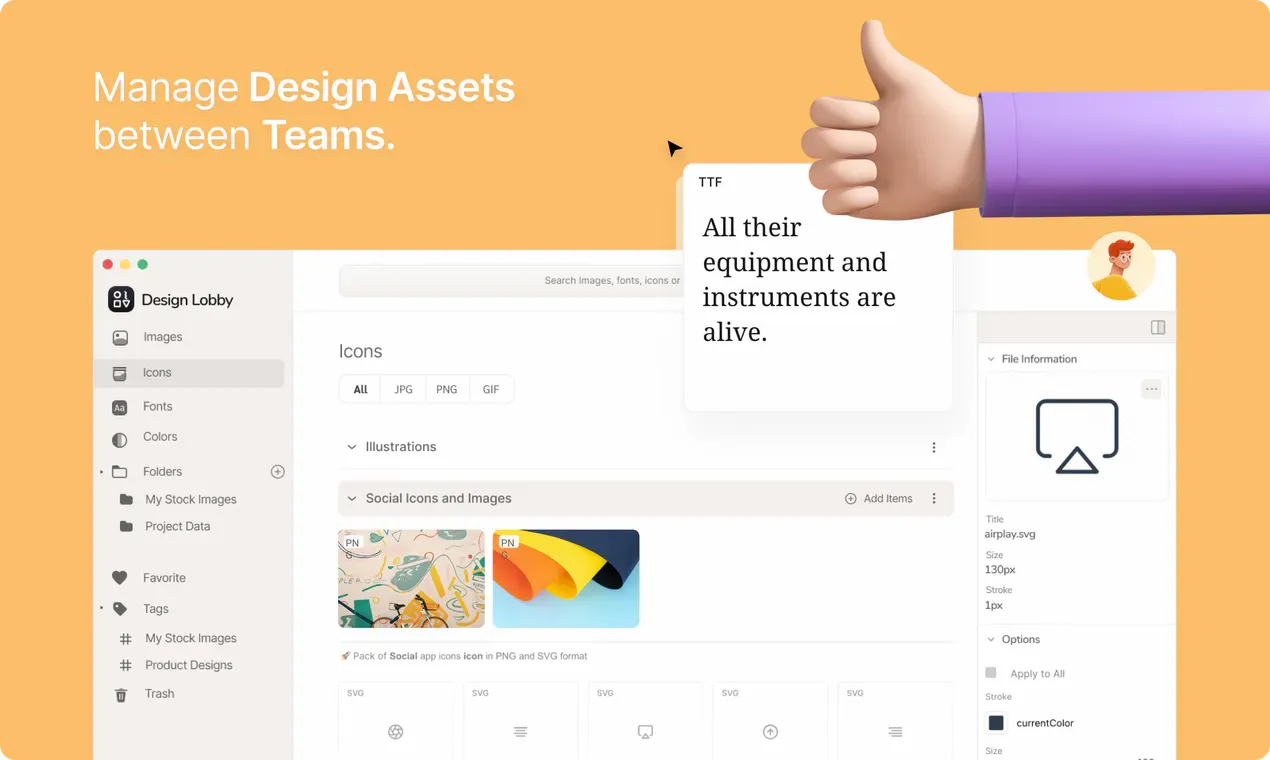 As Creativerly keeps growing and evolving, I need to create more and more assets which I can reuse or share as some kind of media kit for collaborations or anything similar. Usually, I backup all my files and assets within the cloud, but as I said, if I need to create more and more assets it is getting messy pretty fast, also because I am switching and moving files between my computer and the cloud. Therefore, I am currently looking for a tool that lets me manage, structure, and organize all my design files and assets for Creativerly. One of my recent finds is called Design Lobby. Design Lobby creates a space for all your Images, Icons, Fonts, Colors palettes/gradients, and any assets you can think of. Since Design Lobby is cloud-based you can access all your files anywhere and at any time. The biggest drawback with managing all your design files right on your computer or in any cloud is the fact that it is simply painful to scroll through loads of files and folders. Not with Design Lobby: In Design Lobby all your assets are visible and easy to locate within collections. Thanks to a powerful tagging mechanism and searching algorithms you will find all your assets fast and easily. Design Lobby is still in an early stage, but you can sign up right now for free, give it a test and provide the creators with some feedback if you find bugs or ways to improve the tool.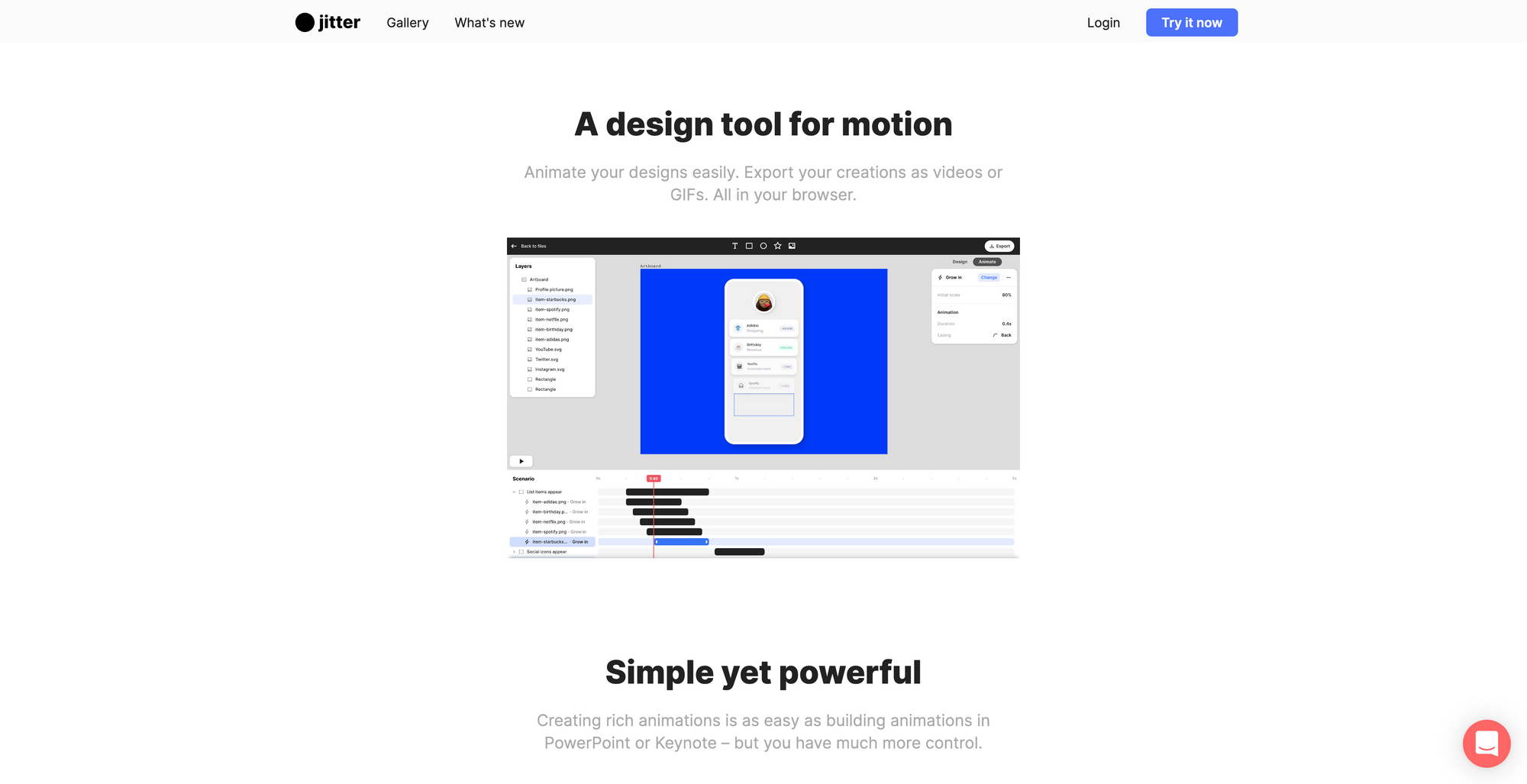 Browsers became one of the most powerful tools of our time. Therefore, it is no wonder that more and more makers focus on building tools for the web. Jitter is another interesting tool, that sits straight within your browser. If you were ever looking for a tool that makes it easy to create animations for your videos, websites, or apps, all in the browser, Jitter might be worth a look. Jitter is a super simple yet powerful animation tool, that lets you create rich animations as easy as building animations in PowerPoint or Keynote. But, with the big advantage of having way more control of your animations when you using Jitter. No matter if you want to animate letters, words, and lines easily or want to add rich animations in one 1-click thanks to animation presets, Jitter got you covered. After finishing your animations you can easily export them to HD videos with 60fps or GIFs. Jitter is currently in beta, so sign up, try it out, provide feedback, and share what you are creating with it.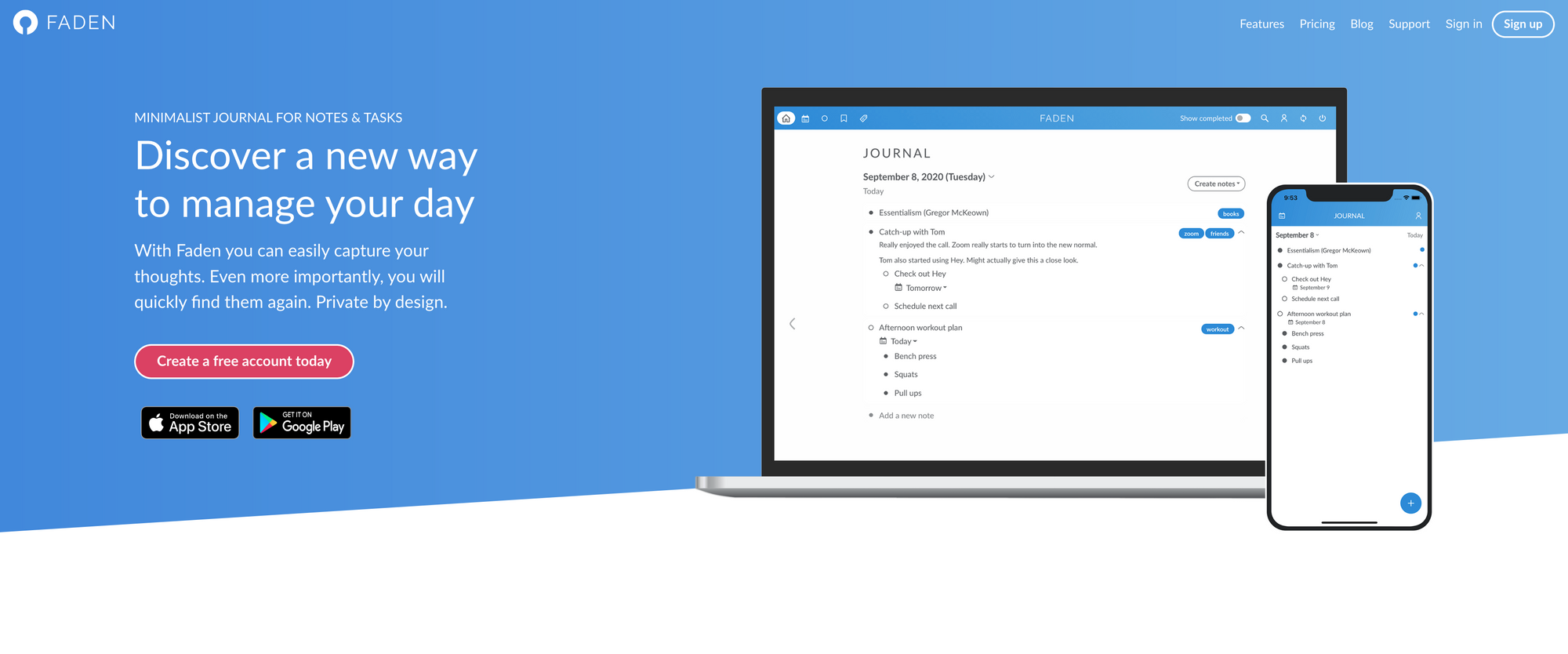 One of my best ideas was definitely to start journaling, noting down my thoughts, my findings, feelings, and things I want to come back to at a later point. Therefore, I am a huge fan of tools that help people to start journaling without any hassle. Faden is a minimal journal for notes and tasks and a new way to manage your day. Faden gives you one tidy place, to store all your notes, what you write about your day or events, summaries of books, tasks, or whatsoever. The most important thing about journaling is to keep organized, so you can quickly find the notes you are looking for. Faden has a unique way to track open tasks. As soon as you add a task to a note, the note (and its parents) will become actionable. Faden provides you a variety of methods to help you track these actionable items. Therefore, you can straight focus on your writing, and Faden will let you know which notes and tasks need action. If you want to further structure and organize your tasks, Faden also lets you add a variety of labels to both notes and tasks, set bookmarks, add flexible schedules, and more. Besides all of that, Faden is also private by design, which means that your notes and tasks are always only accessible by you, all your data belongs to you. You can sign up for a free account, which already gives plenty of features. If you want to go full unlimited you can sign up for a paid premium subscription that costs $3 per month.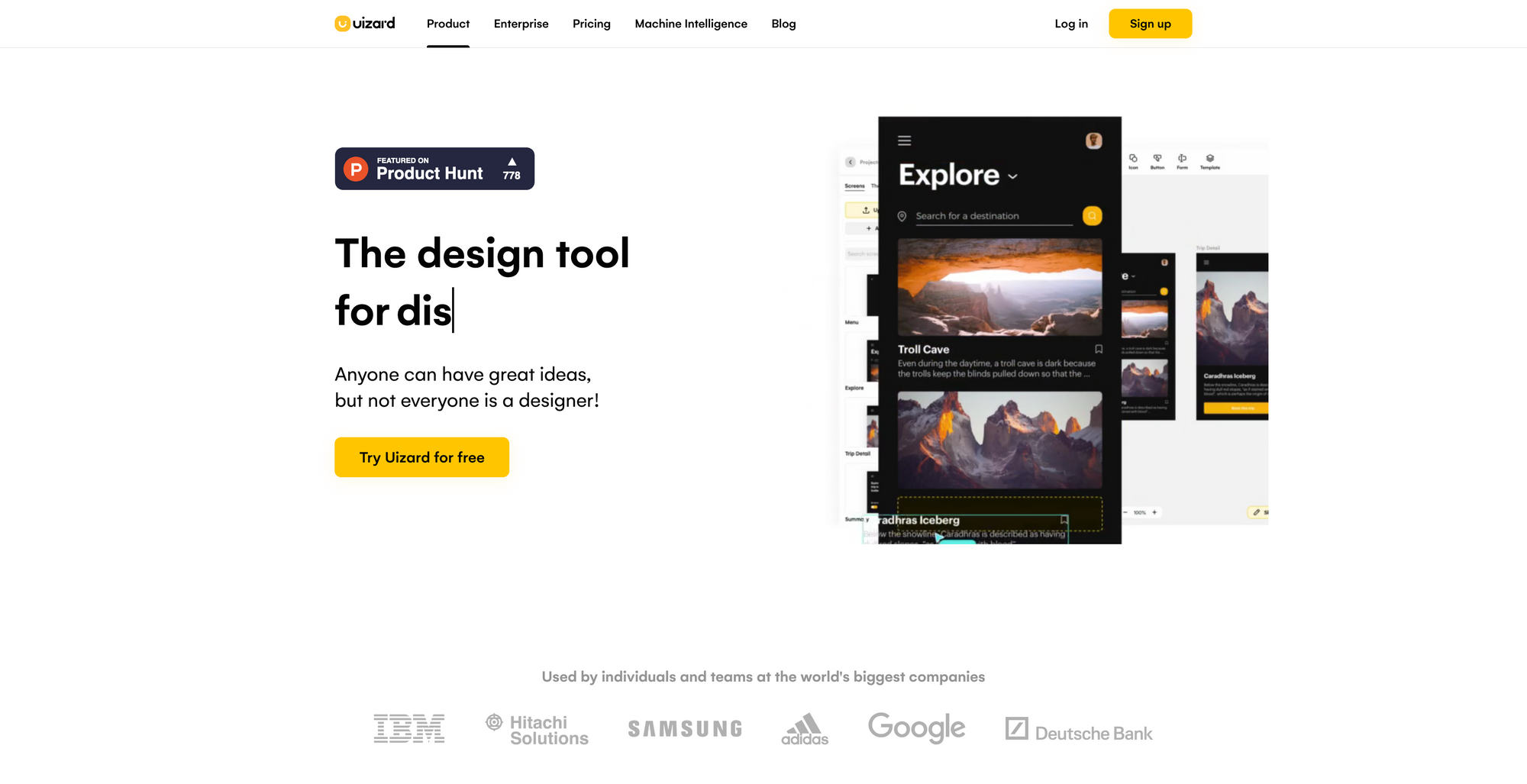 Uizard is a full-fledged design tool for everyone, with a beautiful interface, a broad feature-set, and some exciting functionalities I have seen for the very first time within a design tool. With Uizard you take control of your ideas. Easily drag-and-drop components and templates to quickly and easily design mobile apps, web apps, websites, and desktop software. If you are part of a team, work with freelancers or clients, Uizard supports collaboration with anyone, anywhere, anytime. Every project you create has a unique link that you can share with your team, colleagues, or clients to start collaborating straightaway, right within your browser, with no installation of any software needed. If you are looking for a headstart for your next project, Uizard got you covered with pre-made or personalized templates. Never start from scratch. But it does not end there. Uizard lets you create beautiful themes easily (by extracting themes and components from your company's design system, website, style guide, or brand identity), turn wireframe mode on at any time to render your project in low-fidelity, and easily design clickable animated prototypes with real interactive components. Besides all of that Uizard is also AI-powered. Uizard's technology uses computer vision and machine learning to transform your scribbles into digital screens and functional components that you can then completely customize, edit freely, and use into high-fidelity interactive prototypes. You hardly ever find such a complete product as Uizard is.
---
Useful Resource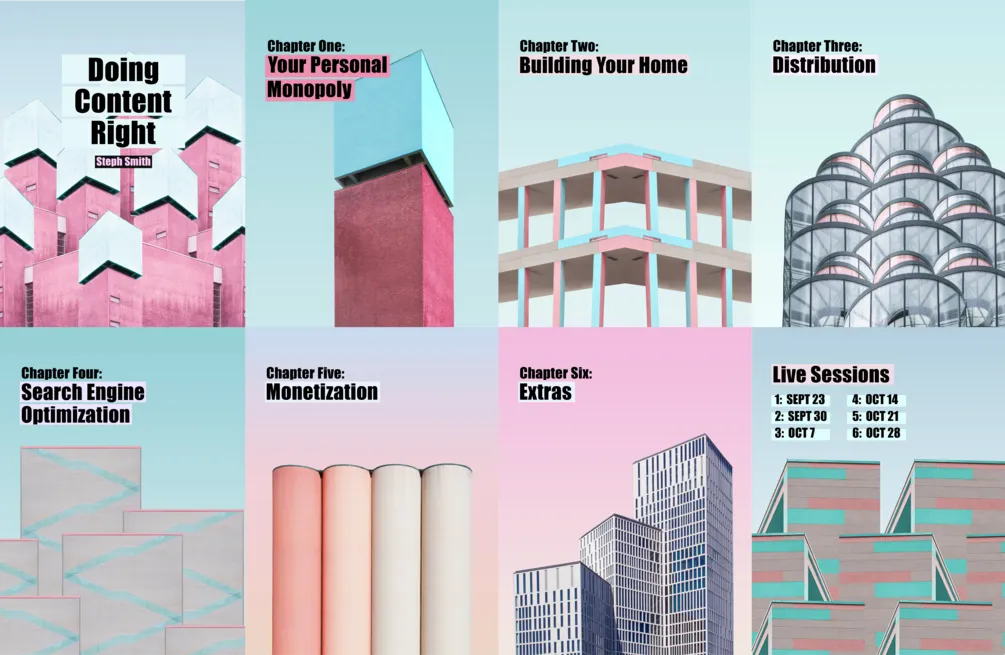 Over the last couple of days, I talked to quite a lot of subscribers and basically, all of them had the same question: How to start a newsletter? With recent newsletter exits just like MorningBrew and The Hustle, starting and creating a newsletter became an incredibly popular topic. More and more top-notch journalists leave their jobs to create a paid newsletter. Newsletters are a super hot topic. There is one resource I encourage everyone to read who wants to start a newsletter or master an already existing one, and that is Steph Smith's Book "Doing Content Right". For anyone who does not know who Step Smith is, here is a quick introduction: Steph is leading Trends.co by The Hustle (which was recently acquired by Hubspot), her blog reached over 400k+ page views, and her book I mentioned above sold over 2000 times. Her book will give you all the insights you need to start a successful blog, newsletter, or publication. Learn how to find and identify a niche and stand out, how to distribute your content, how to do SEO right, and a lot more. Steph shares everything I know about creating, writing, and scaling successful blogs and newsletters to millions of readers. "Doing Content Right" is an incredible resource, I highly recommend. If you want to buy the book make sure to use the code "philipp20" which will give you 20% off.
---
Mental Wealth
➢ The big paradox of productivity – "There is a lot of rhetoric around productivity, particularly during the current climate. Whether we lead designers, engineers or product people, we're all likely governed by the same overriding drive to nurture and maintain a "productive" workforce. This matra compels those in leadership roles to look beyond short-term hacks and quick fixes, in the search for more radical approaches to increasing our teams' productivity. Generally speaking, who wouldn't want their teams to be more productive? The benefits are fairly obvious. Achieving a higher state of productivity is likely to give organisations a competitive advantage, allowing them to bring ideas to market quicker than their competitors."
➢ The future of work is written – "Contrary to popular belief, distributed work isn't a modern invention. The Roman Catholic Church, for example, has been working at a distance for centuries; so have organizations like the Hudson's Bay Company.1 Distributed work is the evolution of telecommuting, which originated with in-home sales like the Tupperware parties of the 1950s. Telecommuting itself was later adopted by government institutions like NASA, motivated by the 1970s energy crisis, and eventually found its way to technology companies like IBM. Contemporary distributed work is enabled by the internet and software tools and fueled by the increased demand for experienced talent regardless of their proximity to an office. The competition for software engineers has encouraged companies to expand their hiring pools beyond their immediate geography, increasing the bargaining power of workers with desirable skills. Companies that adapt to distributed work can access global talent markets where remote workers have the autonomy to decide where to work from and when. If we're deliberate about how we approach communication within our organizations and manage our collective knowledge, working at a distance can unlock opportunities for workers and companies alike. Here, I invite you to join me in a thought exercise exploring possible paths to those opportunities—and what the future of work might look like."
➢ Is graphic design too trendy? – "Whether it's chrome lettering or outlined type, we've all heard someone say: "Ooh, that's a bit trendy!" Here we question what's wrong with that, what's right about it too, and the unexpected significance design trends have. We all have our own opinions on design trends (will motion design really take off? Who knows! I hear great things), but is the industry too reliant on these swanky fads? Do they undervalue design and the role of the designer? Put simply, is graphic design too trendy? "The word 'trend' is perceived so negatively," says Mike White, the creative director of London-based design practice Studio Lowrie. "No one wants to be perceived as trendy." Searching for a definition of trendiness, the art director and designer Lauren Harewood offers her own personal benchmark – "basically if I'm sick to death of seeing it on my timeline!" Meanwhile, UAE-based graphic designer Shamma Buhazza claims that a trend can be seen in a more positive light as "something popular that people accept"."
➢ Create Order from Chaos: How to be your own Product Manager – "A day in the life of an entrepreneur is wildly different from one day to the next. This lack of structure is both a blessing and a curse. It's why many of us chose this path, and why, at times, it drives us completely insane. Of course, some people thrive amid the chaos, but most of us need at least some kind of regular schedule to guide us on a day-to-day basis. And when you are your own boss, it's up to you to create the systems that will provide that structure. Without them, it's hard not to drift through the days, getting stuff done but only vaguely moving toward our goals. The key is to take a step back, look at the bigger picture, and connect the dots all the way down to your daily to-do lists. In a fully built-out startup, there's a person who chiefly owns this role—the product manager."
---
Last week's quick bits
---
Twitter thoughts
---
---
---
Disclaimer: My posts may contain affiliate links. If you buy something through one of those links you won't pay a penny more, but I'll get a small commission, which supports this blog and also my side-projects. So consider buying something through my links. Thank you!