In this week's issue of Creativerly: Make sense and use of your docs, A note-taking tool for visual learning, the multidisciplinary approach to thinking, and a lot more.
You are reading Creativerly, the weekly digest about creativity and productivity-boosting tools and resources, combined with useful insights, articles, and findings from the fields of design and tech. The newsletter built for the creative community.
---
Hey and welcome to Creativerly 164 👋
You may have realized over the last couple of weeks, that the content of Creativerly got a little bit longer compared to earlier months. The reason for that is the fact that I have been enjoying writing recently. Over the last couple of weeks, it has been pure joy for me to research new tools and apps, try them out, and ultimately write down my thoughts about them. The same joy also applies to the deep dives I am currently working on and which will be published soon. There are several posts in the pipeline in which I dive into certain kinds of tools, the features they are offering, the workflows to which they give us access, and the teams and companies who are building them.
I am pretty happy with my writing process right now and with the tools, I am using for it. Currently, I am using Scrintal for thinking, researching, and outlining my blog posts. It is beautiful to be able to visually drag around and link together the ideas I have. Once this is done, I am heading to Craft, which is currently my go-to note-taking, writing, and PKM tool. Within Craft, I am then actually writing the post and also start with a little bit of polishing. The last bit of editing happens in Ulysses. For the longest time, I have used iA Writer as my number one writing tool, especially when it comes to the editing process, but over the last few weeks, I decided to give Ulysses a try, since it has built-in proofreading and a writing assistant. Just like with iA Writer, I am then possible to send my finished blog post straight to my Ghost account, the CMS I use for Creativerly.
You might think why I am not trying to polish my workflow so that I am able to research, outline, write, edit, and publish from one single tool. I am fine with having multiple tools for dedicated purposes. I do not mind having everything connected and integrated. For me personally, it does not add any kind of friction if I have to copy and paste content from one tool to another because I want to work on it in a different tool. Most of the time, people are looking for the one tool that does it all and is perfect, that connects with all kinds of other tools, syncs with every cloud, imports and exports all kinds of file formats, and has all the amazing features other tools have. But let me tell you, that tool does not exist. Instead of wanting and hoping for a tool like this, I enjoy using tools like Scrintal, Craft, and Ulysses for my writing process, since each of those tools is incredibly powerful with different kinds of features and focus points.
Tools are great, but it is the workflows that actually matter. At this point, you need to ask yourself if you need one or multiple tools to execute your workflows.
---
Your home base for organizing & searching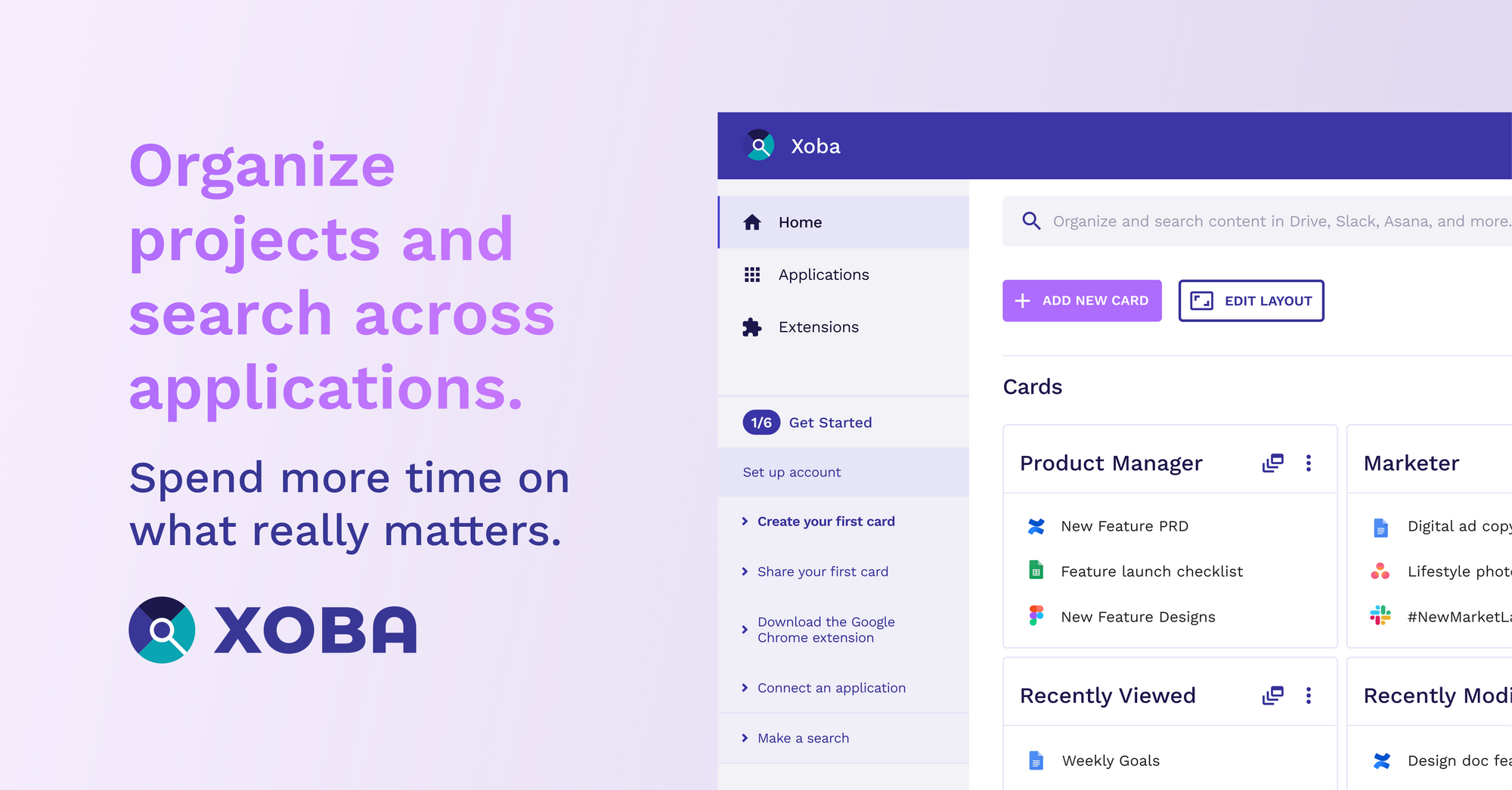 Xoba (Sponsored) →
Xoba is a productivity tool that enables professionals to search and organize information across all of their workplace applications under one space. No need to waste time trying to remember where information was shared or getting distracted while switching between tabs or apps.
---
Apps, Software, Tools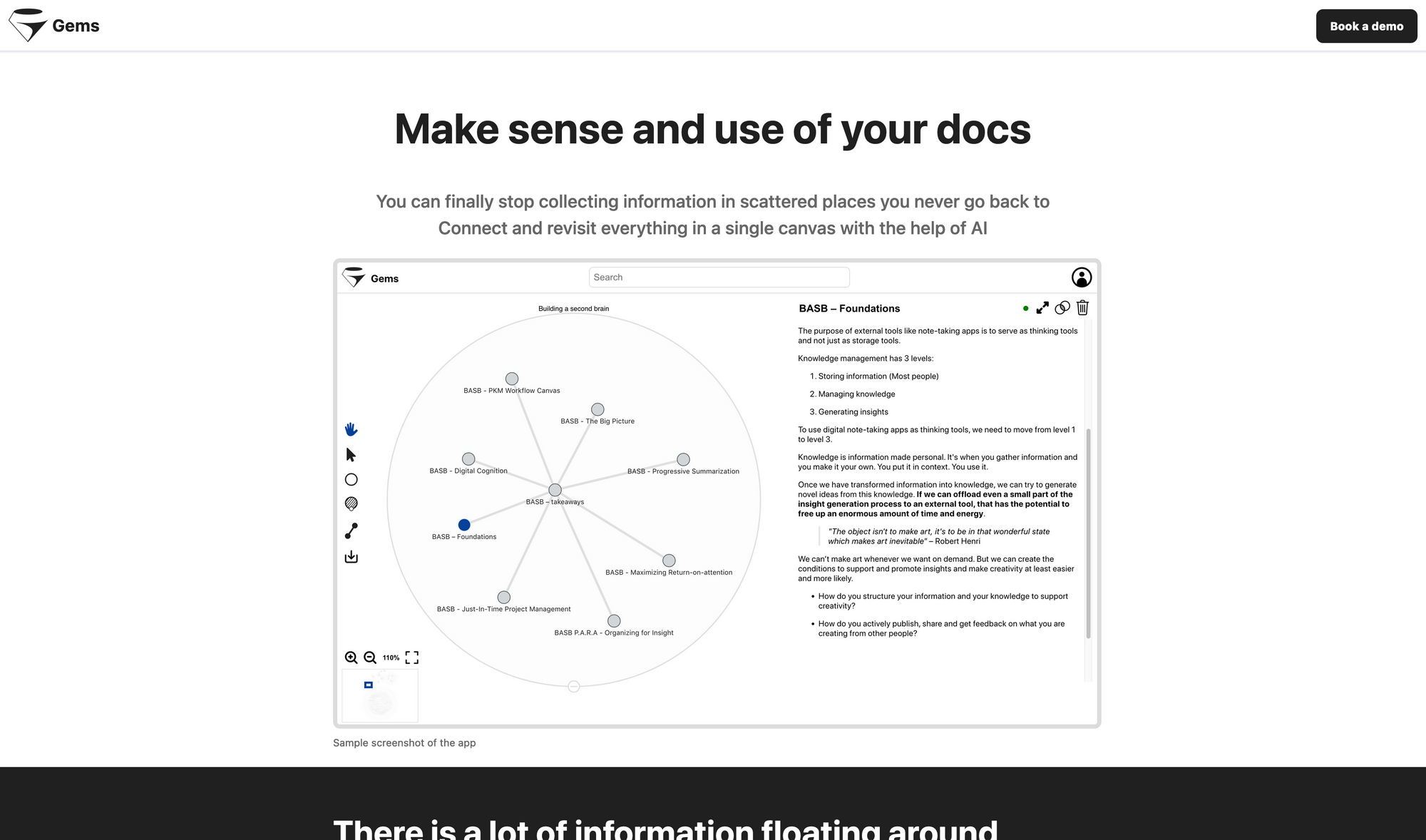 Nowadays, loads of Information we want to keep track of getting spread across countless different sources. Most of the time, some important bits of information get lost, some make it to our note-taking apps, and others never reach our attention. Therefore, we are investing a lot of time into crafting workflows in different apps and maintaining a personal knowledge system. But these things do not simply work out, it needs time, focus, and responsibility. Gems is an app that wants to help you to stay on top of all your sources and prevent information overload.
With Gems you get the possibility to group all kinds of files and notes from different sources into one canvas. After that, Gems gives you the power to manage them visually with the help of AI. The workflow within Gems is rather simple. As a first step, you need to import your knowledge and notes. No matter if you have them as markdown files, within Evernote, Google Keep, Google Docs, or Microsoft Word. Import them to Gems. Once they are imported, Gems and its AI-powered approach will find similar notes for you. As you go through those notes, Gems lets you connect similar notes visually. This gives you the possibility to quickly arrange relevant materials, no matter if you are crafting a presentation, meeting notes, an article, or research. Gems give you the power to focus on turning your notes into something truly original.
Gems is not yet publicly available. This means you can sign up for its waiting list right now. Although the tool is not yet publicly available, the website already gives is insights into Gems' pricing structure. You will be able to use the tool for free for a period of 7 days to get the chance to test the tool and its features. After that, Gems will cost you $15 per month which gives you access to a Graph View, full-featured text editor, Docs and Notes import, Global Search, Notes Similarity, and Priority Support. The very same plan is also available for $120 per year with a 15-da money-back guarantee.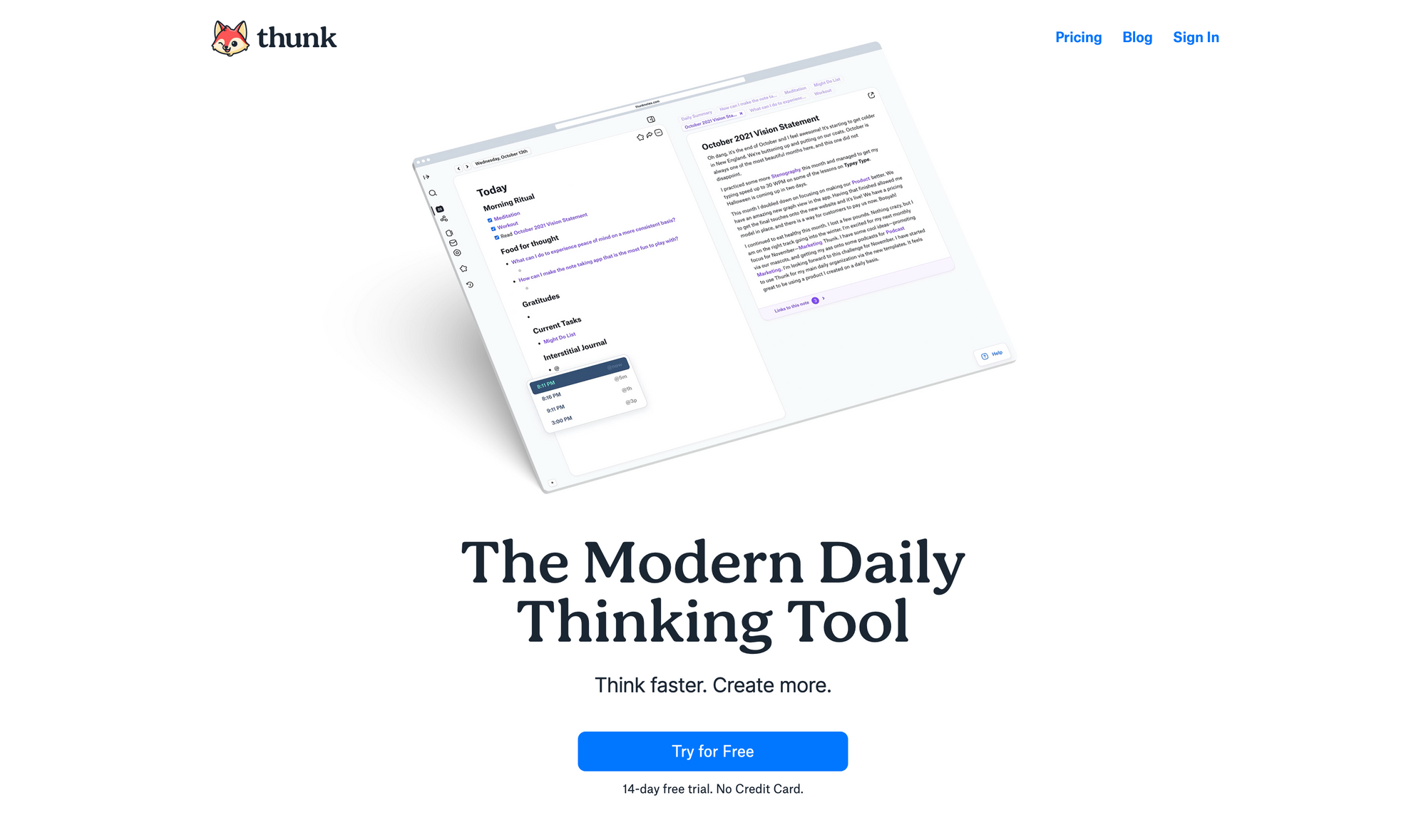 I have been following the development of Thunk for a while, and I have to say I am incredibly excited to see what Andrew Nalband (the founder of Thunk) and the team behind the tool are building. Thunk is a modern thinking tool to build and maintain your personal knowledge base. What immediately stands out when seeing Thunk for the first time, is its beautiful design. You can clearly see how much time, effort, and craft goes into coming up with such beautiful interfaces, experiences, and interactions. Every detail in Thunk is gorgeously designed.
Thunk's core focus is definitely daily note-taking or journaling. Personally, I was performing bullet journaling with pen and paper for several years, but then made the switch to digital note-taking tools so I can be sure that my notes, ideas, and thoughts are stored safely, and I can take them with me wherever I want. If you also want to start daily note-taking and bring habits and routines to your life, Thunk is a great tool to choose. Within Thunk you can easily create templates that you can use for your daily notes. For example, if you have a daily morning routine you want to keep track of, jot down the notes and tasks you need for it, mark them and create a template out of them. Now, whenever you start your day with Thunk you can use this template to keep track of your morning routine. But those templates can also be incredibly useful for taking notes on books, articles, or podcasts, or if you want to manage and Organise your projects. Templates you have created are easily accessible with a slash command within Thunk. Just hit "/" type in the template you want to use, press enter, and start writing and taking notes.
Since Thunk is a tool to build and maintain a personal knowledge base, it features backlinks to connect your thoughts, ideas, and notes. But here is something interesting and powerful that Thunk does different compared to other PKM tools: when you are writing your daily notes and you place a backlink, the backlink will immediately show up in the side panel of your current daily notes window. This gives you the power to quickly reference any kind of notes, add new ideas, or just take a glimpse at the backlink you just pasted in your daily notes. By default, the side panel will always show your links while you are taking notes, which is such a nice feature. But, you can also switch the side-panel view so it displays all your tasks. I love that. My current go-to note-taking tool is Craft, and one of the most-requested features is to have a dedicated view for tasks since currently, you are only able to jot down tasks within your daily notes and documents, but there is no way to gather them and get an overview, which means tasks can easily get lost within Craft.
Another incredible feature of Thunk is its Twitter Component, which gives you the possibility to craft Twitter threads straight within Thunk and your daily notes and publish them to your Twitter account. I have never ever seen something similar before in any other note-taking tool but if you think about it, it makes so much sense to have this kind of feature. Loads of people, me included, are using their preferred note-taking app also to draft Tweets and Twitter Threads. With Thunk, you can not only draft them, but you can also actually publish them on Twitter, without leaving your note-taking tool. Thunk is currently only available as a web app. You can sign up now either for their Monthly Thinker Plan for $12 per month including a 14-day free trial, the Yearly Thinker Plan for $96 per year, or their Support Development Plan for $249 per year. The monthly plan will give you 1GB of storage, and the yearly plan will give you 5GB of storage, and additionally first access to new features.
Thunk is an incredibly exciting tool, and I will definitely keep my eye on them!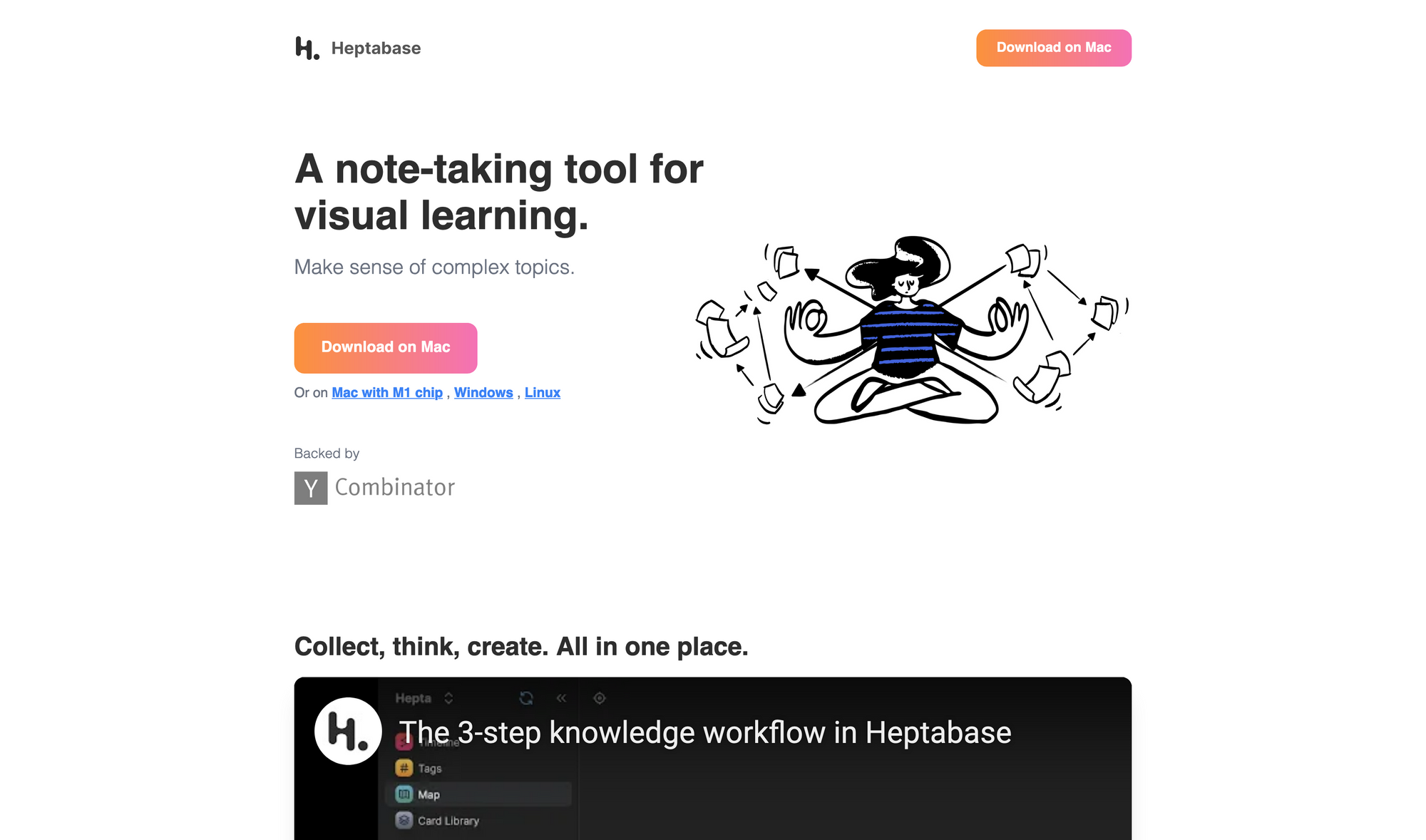 Over the last couple of weeks, I have been using Scrintal heavily for my research and writing process. Looking back, I would have never thought that I would enjoy a visual-based tool since I have been using the traditional way of taking notes for years and I structured all my thoughts and ideas with folders and tags. But, as I am spending more and more time with Scrintal, the visual approach to structuring my thoughts and ideas grows on me. Scrintal keeps growing, although they are still waitlist-only, with over 21,000 people waiting to get access (sign up now). Another tool that is following a visual-first approach when it comes to note-taking is Heptabase.
Heptabase recently opened up their Beta, announced their pre-seed round of $500k as they entered Y Combinator back in January, and as of April 2nd, they secured $1.7 million in seed funding from HOF Capital, Y Combinator, Kleiner Perkins, Moving Capital, Tonic Fund, and others. It is a clear sign, that the space of Personal Knowledge Management and especially the area around tools for visual note-taking, researching, learning, and thinking is growing in interest. Heptabase is such a tool, that offers a dedicated space to collect, think, and create. One of the huge advantages of Heptabase (and visual-first tools in general) is the way they always provide you with the big picture of your learning topic, research, thoughts, and ideas. On the other hand, if there is a specific topic or area you want to focus on, Heptabase provides you with a dedicated focus mode. Just like Scrintal, Heptabase is based on cards. Those cards represent a topic, a note, a headline, or whatever you want to keep track of. Clicking on those cards guides you to the focus mode, where you are able to take notes. All those cards are placed on a canvas, which pretty much is an infinite space just for your thinking. Heptabase brings the feeling of paper notes on a huge table to your computer.
One of the most important aspects of nowadays productivity tools is delivering speed. We do not want to be affected by a pure performance of a tool while collecting our thoughts and ideas. Heptabase is indeed blazing fast. Additionally, it features an offline mode, so you do have to depend on an internet connection, to access your notes whenever you want. For now, Heptabase is only available for desktop devices. You can sync your account across multiple desktop devices if you want to. As mentioned earlier, Heptabase opened up its Beta to the public. Unfortunately, there is no trial and no free plan available if you want to try out the tool to see if it fits your workflows. Currently, Heptabase is planning to offer a monthly plan for $9.99 per month later this year as part of their early-bird pricing strategy. The only way to get access to the tool right away is their yearly plan, which will cost you $6.99 per month, billed yearly as $83.88.
Over the last couple of weeks, there was a lot of discussion happening on Twitter about whether this is the right way to open a Beta version of a tool to the public. Personally, I think it would make sense to give people who are interested in the tool the chance to try it out, so they are able to explore it a little bit. The founders of Heptabase clearly stated that their early bird pricing and the general pricing strategy are aimed at people who have "a hair-on-fire problem that requires early access to Heptabase". This sounds reasonable, but if I do have such a problem, I still want to try out the tool to see if it solves my problem. And in this case, I do not want to pay up-front, I want to pay if I realise that the tool is a fit for me. At least, Heptabase is offering a 1-week money-back guarantee, which you can request via their website. This sounds like a trial, although it is not because you still need to pay up-front.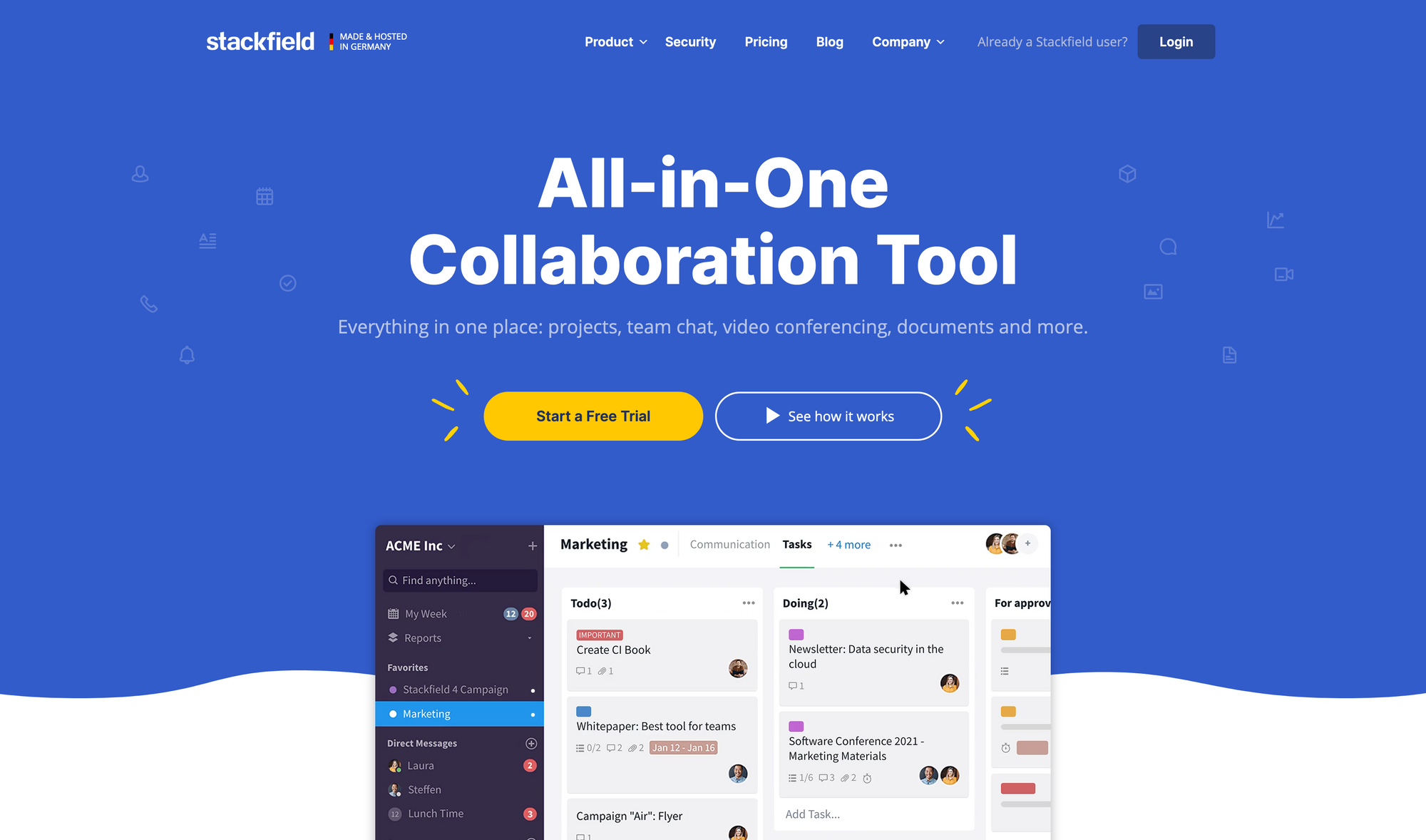 As the topic of privacy-focused tools is getting more popular and more important every single time, people are on the hunt for productivity tools that do respect their users' privacy. Stackfield is such a tool. It is an all-in-one collaboration tool that gives you the power to manage projects, chat with your team, do video conferencing, create documents and more, all within one place. Stackfield delivers all the functionality your team needs to be productive without compromising on privacy.
First of all, Stackfield offers team communication. No matter if you are looking for a tool that features group chats, discussions or comments, Stackfield got you covered and helps your team to communicate all sorts of topics more clearly. Additionally, you can also manage your projects within Stackfield, no need to switch to a different tool. Stackfield gives you the possibility to get extensive reports and views for all your projects, so you can make sure that everything essential is always in sight. Another important part of managing projects is tasks and workflows to push those projects forward. In Stackfield, every team member can see which tasks are open and what todos need to be tackled next. The beautiful interface gives you a clear overview of how your projects are evolving, who is working on what tasks, and what has already been done.
When you come across certain kinds of bits of your projects that need to be discussed in more detail, Stackfield lets you set up video meetings with integrated screen sharing, so you and your discussion can be as efficient as possible. On top of that, Stackfield is capable of documents, wiki pages, knowledge bases, file sharing, visual feedback, and more. To stay on top of everything, Stackfield provides you with a powerful Global Search to find relevant content and items in seconds. All of the above-mentioned features work with maximum data protection. Everything within Stackfield is end-to-end encrypted, its servers are located in Germany, it is GDPR-compliant, the data centres are ISO-certified, it features 2-factor authentication, uses the highest SSL standards, has DDoS protection, and a lot more. Stackfield has without a doubt one of the biggest and strongest focuses on data privacy I have come across so far.
Stackfield is available for the Web, iOS, Android, iPad, macOS, and Windows. You can try out Stackfield and add as many users as you want during your trial period. Also, you do need a credit card. The trial simple ends and you are free to decide whether you want to upgrade to a paid plan or not. Stackfield's paid plans are starting at €9 per user per month (billed yearly) and give you access to the Team Chat, Task, Projects, Milestones, Calendar, Workflows, Time tracking, and more.
---
Mental Wealth
➢ Ideas That Changed My Life – "You spend years trying to learn new stuff but then look back and realize that maybe like 10 big ideas truly changed how you think and drive most of what you believe. Brent Beshore recently listed the biggest ideas that changed his life. A few of mine…"
➢ The Multidisciplinary Approach to Thinking – "Peter Kaufman is one of the most successful businessmen of our time, and yet few people have ever heard of him. He's the CEO of Glenair, an aerospace company based in California, and the editor of Poor Charlie's Almanack, a book about Charlie Munger. This speech was to the California Polytechnic State University Pomona Economics Club. The transcript and audio are reproduced here with the permission of Peter Kaufman. As with many "conversational" talks given without notes, it's better to listen to the audio to pick up on subtleties that won't come across in the lightly edited transcript. In essence, the talk has a simple takeaway."
➢ Embracing Being a Generalist. – "My interests come in go in waves, typically over about a two year time frame. I find something new, and I obsess about it and pretty much devour everything I can on the subject, to a point, then I move on. I go deep enough to get the general framework, but I stop before the real grind starts towards mastery. There are diminishing returns for a generalist in the messy middle of mastery, or "the dip" as Seth Godin calls it. Specialists use the messy middle as a moat and work through difficulty before they achieve clarity."
➢ Have We Been Thinking About Burnout All Wrong? – "My peers started talking about burnout when Anne Helen Petersen first wrote about what she called the "impossible" task. She described a situation where a small, non-urgent task that would normally feel easy feels insurmountable (in her case, getting a pair of boots resoled). Burnout, she argued, was the overall condition of millennials as a generation. She made this argument back in 2019, before the pandemic."
---
Classifieds
If you are interested in putting your tool, product, or resource in front of over 1500 creative minds, consider advertising in Creativerly and book a sponsor or classified ad spot. Find all the important information at creativerly.com/advertise.
---
Appendix
➢ ICYMI
The newest Creativerly interview with Clo S. from This Too Shall Grow is out now. Head over to the interview and get insights on the topics of mindful UX and digital wellness, the projects Clo is working on, the tools she uses, and a lot more.
➢ Quick Bits
---
Twitter thoughts
---
Till next time! 👋‌‌‌‌
Support: Do you have a friend who is looking for inspiration, news about design, and useful tools and apps? Forward this newsletter to a friend or simply share this issue and show some support. You can also show some love by simply clicking the button down below and keep this newsletter a sustainable side-project by buying me a coffee. ☕️ 🥰
---
/button
---
Some of the links in my newsletter and my blog posts are affiliate links. Those links are marked by an asterisk. If you buy something through the link, the product will not cost you anything more, but I will receive a small commission which not only supports Creativerly and my work but also helps me to keep this publication a sustainable side-project.