Newsletter
The Paradox of Goals & The motion design tool for product teams
Going for simplicity, the powerful, elegant, and customizable calendar app, Loom getting acquired by Atlassian, and a lot more in this week's issue of Creativerly.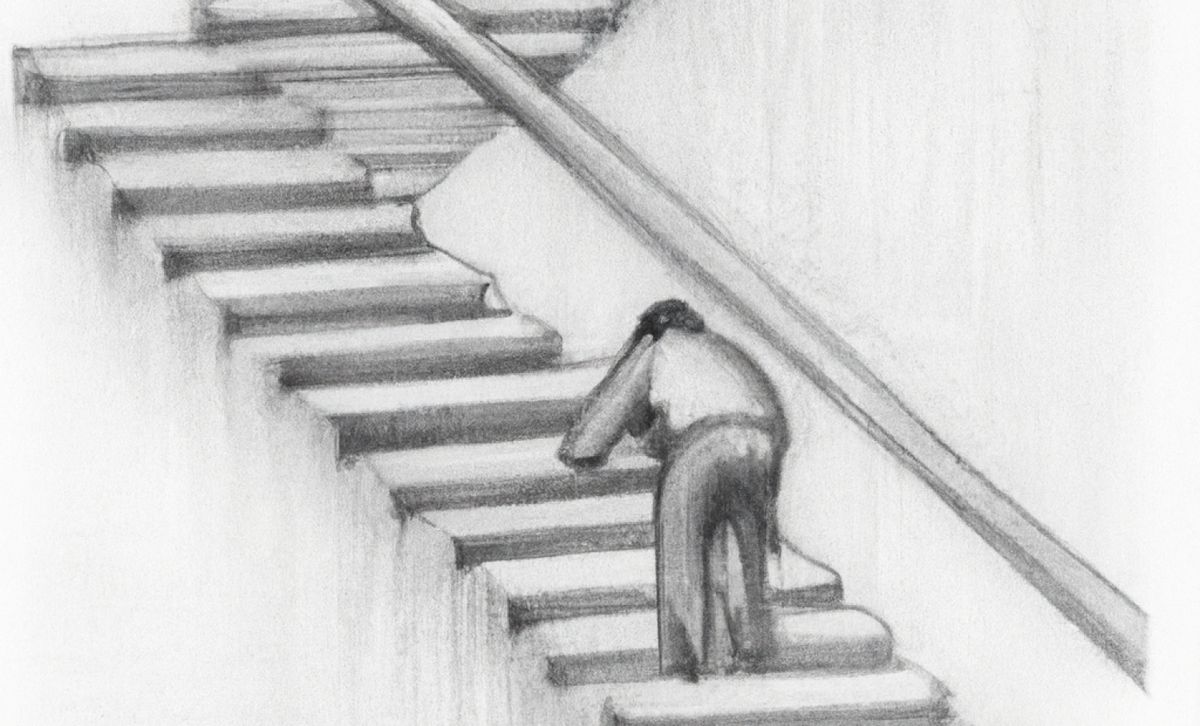 My name is Philipp and you are reading Creativerly, the weekly digest about creativity and productivity-boosting tools and resources, combined with useful insights, articles, and findings from the fields of design and tech. The newsletter built for the creative community.
---
Hey and welcome to Creativerly 243 👋
I am observing a trend I am following unconsciously. Over the course of the last couple of months, I simplified loads of my workflows. Based on that, I also started using new tools, got rid of some I used previously, and explored different integrations. While it all was exciting when note-taking and PKM tools introduced "self-organizing by AI" and everyone screamed at me that I do not need to use folders, tags, or anything else, it is simplicity for me to organize my notes freely, following a simple system, knowing where I can find stuff if I am looking for it. As we are evolving Scrintal, introducing new features and functionalities, we want to be sure that everyone can get started taking notes, building up a knowledge base, and managing projects. There should be no need to take a course, read through docs, guides, or tutorials. If you have a dedicated system, you should be able to apply it, but if you have no system that should not hinder you from starting out.
Nowadays, there are loads of note-taking, PKM, and productivity tools which are forcing systems on you. As those apps get packed and bloated with features, the simplicity gets lost. Back in the day, taking notes was as easy as grabbing a pen and paper. You could jot down anything you wanted, whether it was a to-do list, an important meeting point, or just a random thought that popped into your head. It was simple, effective, and didn't require a computer science degree to figure out. But then technology came along and disrupted everything. Suddenly, there were all these fancy note-taking apps that promised to revolutionize our lives. And sure, they did bring some cool features to the table. You could now organize your notes in different categories, add tags, and even sync everything across devices. It was like having a personal assistant in your pocket.
But here's the thing: these apps got so caught up in trying to be the best, they forgot about the one thing that truly mattered - simplicity. They became bloated with unnecessary features, confusing menus, and an absurd number of customization options. Suddenly, taking a simple note turned into a complicated task that required a user manual. The same thing happened with PKM apps. They started off as a promising way to manage our personal knowledge, allowing us to store articles, links, and ideas in one place. It was like having an external brain to rely on. But then the developers decided to throw in a bunch of additional features - smart filters, complex search algorithms, and even machine learning. Suddenly, managing our knowledge became a PhD-level task.
And don't even get me started on productivity apps. They used to be all about helping us stay organized and get things done. But now they bombard us with notifications, reminders, and all sorts of time-tracking features. It's like they're constantly breathing down our necks, making us feel guilty for not being productive every second of the day.
As of recently, I have the feeling that simplicity is making a comeback. Users are starting to realize that they don't need all these complicated apps to be productive. They're looking for tools that are intuitive, easy to use, and don't require a steep learning curve. In the end, simplicity is not about dumbing things down or removing features. It's about understanding what truly makes a tool useful and optimizing it for a seamless user experience.
---
Apps, Software, Tools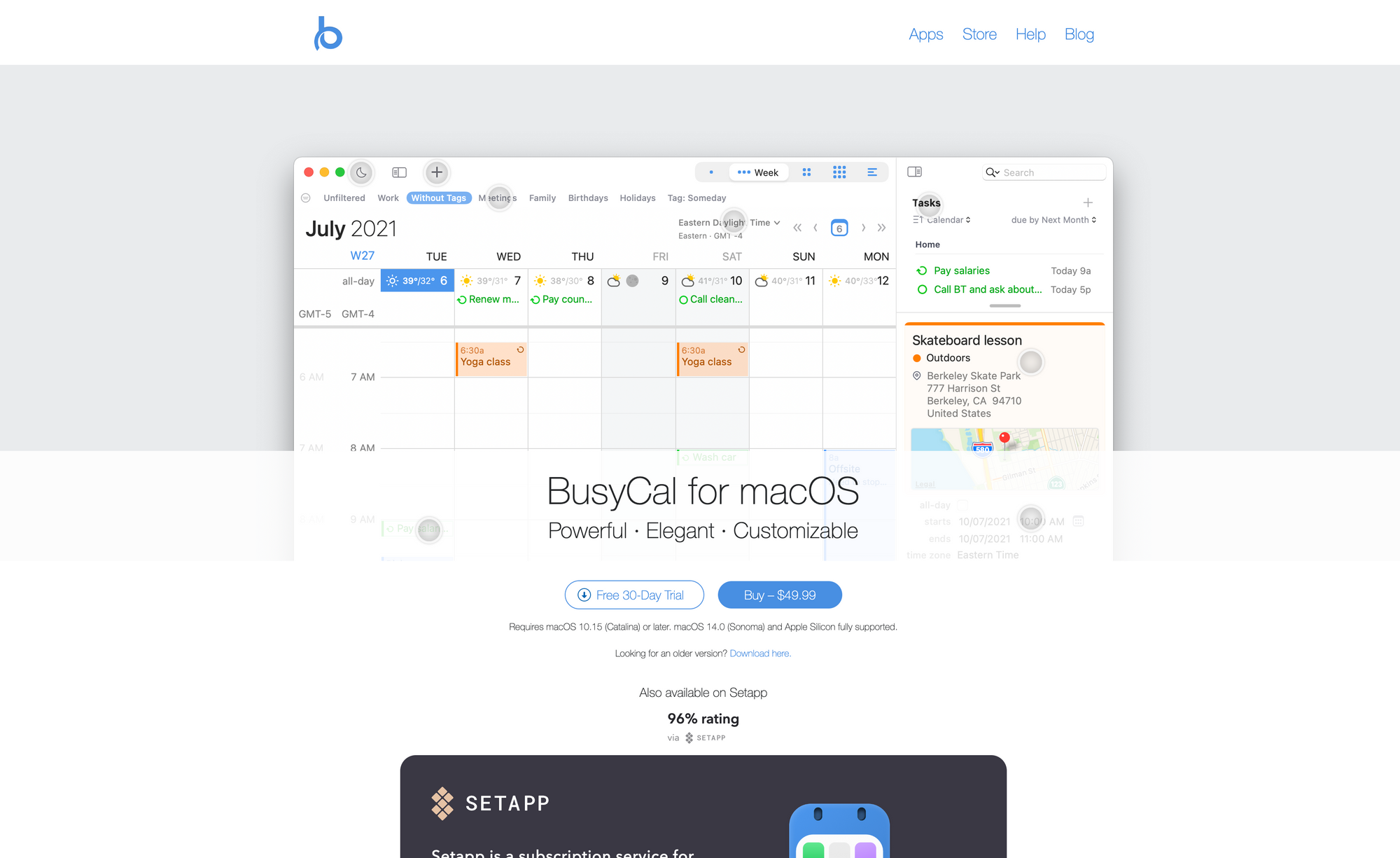 I do not know what it is, but I simply love exploring apps that are replacing the native ones that are coming with your device, like email, notes, or calendar apps. While browsing through Setapp recently, I stumbled across BusyCal, a powerful, elegant, and easy-to-use calendar app available for macOS and iOS.
With BusyCal you get access to a powerful, flexible, heavily customizable, and reliable calendar app. Over the last couple of months, apps like Amie, Cron, Rise, Routine, Morgen*, and others gained popularity and publicity for building new calendar apps and rethinking how we are managing our time, tasks, and events. Most of those apps are relatively new, but BusyCal has been operating for multiple years. You can clearly see and feel that a lot of expertise and experience went into the development of BusyCal. It is packed with time-saving features and compatible with all leading cloud services, including Reminders, iCloud, Google, Exchange, Office 365, Yahoo, Fastmail, Kerio, Sinology, Nextcloud, ownCloud, and more. This is one of the aspects that immediately stood out to me while exploring BusyCal. Nowadays, whenever a new calendar app launches, it always is only supporting Google accounts. I do get the fact, that those startups start focusing on the cloud service that has millions of users, but at some point it also feels inclusive. Therefore, it is exciting to see that BusyCal supports a variety of services, so you can connect all your calendars.
Besides all the cloud services, BusyCal supports a variety of integration for online conference solutions like Google Meet, Zoom, Webex, and GoTo meeting, but it also recognizes much more. Another powerful feature of BusyCal that will especially attract users who are looking for privacy-focused solutions, is its Wireless-LAN sync. If you do not wish to use a cloud service regarding privacy concerns, you can share your offline calendar at work or at home over wifi.
To manage your events and meetings, BusyCal offers Day, Week, Month, Year, and List views. With just a few clicks you can customize those views to precisely meet your needs. Choose the number of weeks who in the Month view and the number of days shown in the Week view. You can even customize the calendar's appearance by choosing a font face and size, calendar colors, time format, and more. BusyCal's info panel is one of its most popular features. You can find it embedded in the sidebar, where it enables you to quickly view and edit event details with speed and precision. The info panel offers a clean, modern look, packed with lovely controls for selecting dates and time, adding locations, attendees and more. With just a few clicks you can customize the info panel by just showing the basics, or additional fields like time zones, tags, and graphics.
Additionally, BusyCal gives you the possibility to integrate tasks into your calendar and display task lists in the right sidebar. With its menu bar app, BusyCall offers a quick and easy way to keep track of your schedule without the need to open the actual app every single time. Besides all of that, BusyCal is packed with even more lovely features like smart filters, alarms, tags, weather, quick entry, and travel time. You can download BusyCal for free and enjoy its features for 30-days without getting charged. To keep your access to all the features, you need to upgrade to either the monthly plan which is available for €3.99 or the yearly plan available for €34.99. If you have an active Setapp subscription you can download BusyCal right away.
For quite some time, LottieFiles has been the go-to resource for designers and developers working on motion design and animations. Lottie itself is a vector-based graphical format, based on SVG and JSON. Back in August, LottieLab got introduced, a motion design tool to create and edit Lottie animations with ease, and ship them to your apps and websites.
Start by importing your favorite assets from your design tools or use a clean state within LottieLab if you wish. Thanks to LottieLab's Figma plugin you can seamlessly import your Figma designs, but at the time you can simply drag and drop your SVG exports or Lottie files straight into LottieLab. Besides that, you can also drag and drop your PNG or JPG files and animate them. If you wish to start from scratch, LottieLab offers an intuitive pen tool that offers you the creative freedom to create your own vector paths and shapes. With Layer Properties, you have full control over your designs and animations. With ease you can adjust position, scale and size, rotation, skew and anchor point properties of your layer. Additionally, LottieLab gives you the possibility to edit your layer styles with solid colors, linear and radial gradients, opacity and stroke properties. But that is not it, thanks to even more tools like masks and properties like 'reveal path', your designs have no bounds.
LottieLab's canvas offers you intuitive controls and feedback to edit your layer properties and organize them visually, including moving them, resizing, rotating, adjusting corner radius and reshaping your layers to snapping and aligning them at precise distance against each other.
What makes LottieLab unique is the way it gives everyone access to an intuitive way to animate your assets with ease and speed, easy-to-learn, and packed with powerful features. Once your animations are done and finished, you can download Lottie JSON files for Web, iOS, Android projects, but you can also export them for platforms like Wordpress, Framer, Webflow, Squarespace*, and more. With LottieLab's love link you can directly reference your asset URL from LottieLab. Last but not least, LottieLab lets you export your animations to traditional formats like GIF and MP4 for use in places that do not support Lottie. Besides that, you can share your animations with your colleagues and collaborate together on them directly on your canvas.
As of writing this, LotieLab is still in Beta. During that period, LottieLab can be used for free. At a later date, it will introduce a paid version to support development costs.
---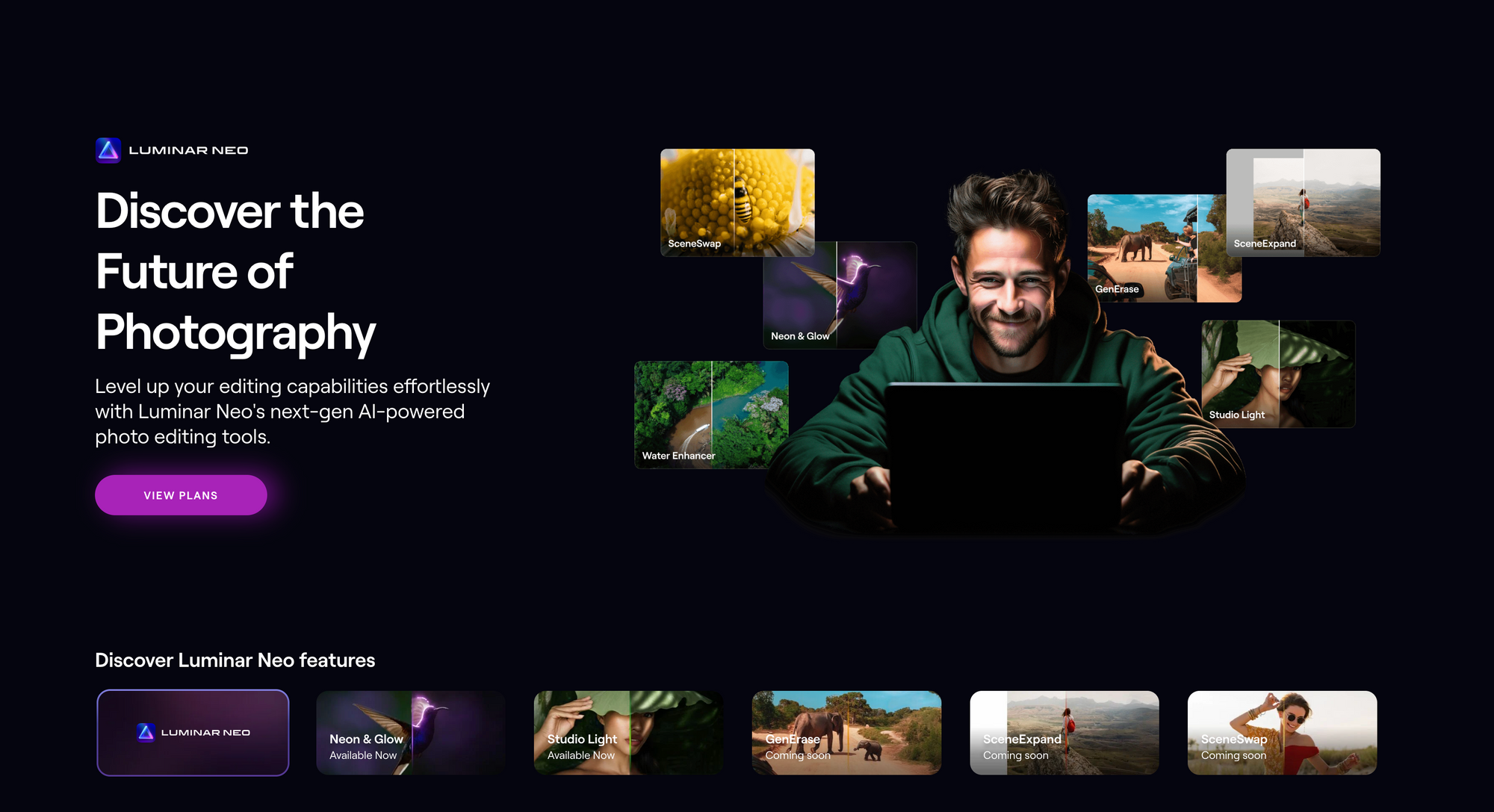 Discover the future of photography.

Luminar Neo is an incredible powerful app that will level up your editing capabilities effortlessly with next-gen AI-powered photo editing tools. No matter if you want to edit Landscape, Wildlife, Travel, or Portrait photography, after capturing your favorite moments, Luminar Neo helps you bringing them to life. Thanks to an intuitive and easy-to-use interface, Luminar Neo is accessible to everyone. AI-powered tools let you replace skies, enhance landscapes and portraits. Besides that, Luminar Neo gives you access to a wide range of instruments including layers, masking, and local adjustments.

Use Luminar Neo on Windows, macOS, or as a plugin for Photoshop and Lightroom.
This is an affiliate link to support Creativerly. If you are interested in putting your tool, product, or resource in front of over 2000 creative minds, consider advertising in Creativerly and book a sponsor or classified ad spot. Find all the important information at creativerly.com/advertise.
---
Fresh Updates & News
Capacities continues to shipping updates on a regular basis. The newest one took them a bit longer though. Nevertheless, it is packed with exciting and powerful upgrades. If you use to write longer content, especially large documents, within Capacities, you will experience a much faster rendering of that specific content, in fact Capacities stated that the rendering can now be up to five times faster. While working on that update, the team at Capacities discovered some additional potential performance improvements on which they will work in the future.
Besides that, the new update add another layer of security to your account, thanks to the introduction of two-factor authentication. To use it, you will need an authenticator app. Last but not least, with the new update, Capacities introduced a variety of improvements to its mobile app. Those improvements are aimed to get the app ready for the general access, since as of now the mobile app is still in beta. Among the improvements you will find a better UI of AI Assistant, a fix for wrong, misaligned padding of some data views, cleaner daily note, some handy actions, and a lot more.
Loom, the former unicorn that had its peak valuation at $1.54b in May 2021, announced that it got acquired by Atlassian for $975 million. Although, Loom had to lay-off 14% of its workforce back in 2022, as paying customers stagnated after introducing a free plan, Atlassian still sees Loom and its 25 million customers as a valuable asset.
A couple of weeks ago, Obsidian introduced Properties to give your notes and documents an additional layer to provide more context and add tags, links, dates, and other metadata to your notes. With one of its most-recent updates, Obsidian introduced properties for its mobile apps.
With v2.0 Bear introduced a long-awaited major update packed with lovely new features. Since then, the team continued to improve the experience and performance of the app. Among one of the recent updates you can find and experience an improved background sync for iOS, a fix for background crashes, as well as new special searches to find notes created today, find notes with wikilinks, and find notes with explicit backlinks, and a lot more.
---
Mental Wealth
❯ Why We Don't Ship Software as Fast as We Used To – 'Id software—the company that produced Doom, Quake, Wolfenstein, and other popular video games in the nineties—has a reputation for shipping fast. Total development time for Wolfenstein 3D was half a year; the first alpha version of Doom was playable after two months; the networked-mode for Doom took two weeks. Remarkably fast—anecdotally, much faster than most software projects today. (Some of these stories are outlined in John Romero's memoir Doom Guy and David Kushner's Masters of Doom.)'
❯ The Paradox of Goals – 'Success is commonly defined as reaching one's goals. Getting accepted into a prestigious program, building a profitable business, becoming a doctor, completing an online course… Whatever the goal may be, success is simply bridging the gap between where we are and where we want to go. The Internet and our bookshelves are filled with exhortations to stay motivated, manage our time more effectively, and stick to our plan. If success is so easy to define, why is it then that we often struggle to establish, pursue, and reach our goals?'
❯ What The Longest Study On Human Happiness Found Is The Key To A Good Life – 'Turn your mind for a moment to a friend or family member you cherish but don't spend as much time with as you would like. This needn't be your most significant relationship, just someone who makes you feel energized when you're with them, and whom you'd like to see more regularly. How often do you see that person? Every day? Once a month? Once a year? Do the math and project how many hours annually you spend with them. Write this number down and hang on to it.'
❯ The Surprising Origins of Our Obsession with Creativity – 'By the time I graduated college, the conventional wisdom among those who loved to reject conventional wisdom was not only that being creative was a good thing but that creative people were going to inherit the earth. A recent crop of cocktail-party nonfiction about Right-Brainers and Bourgeoise Bohemians and something called the Creative Class said the age of rule-loving "organization men" had passed, leaving the field to those who rebelled against the status quo. As factories left American shores and computers automated more and more white-collar brainwork, the raw material of our increasingly "weightless" postindustrial economy was no longer steel and coal, but rather ideas.'
---
Do not miss out on this ...
❉ Experience the ultimate vector editor for macOS, iOS, and iPadOS. \Get started with Amadine*.
❉ Think tasks, not apps. Setapp* is you one-stop subscription to solving every task on Mac and iPhone.
❉ Fathom is cookie-free, GDPR compliant, privacy-first website analytics software. Get $10 off your first invoice and a 7-day free trial when you use this link*.
These are paid promotions or affiliate links to support Creativerly. If you are interested in putting your tool, product, or resource in front of over 2000 creative minds, consider advertising in Creativerly and book a sponsor or classified ad spot. Find all the important information at creativerly.com/advertise.
---
Appendix
❯ ICYMI
If you are on the hunt for privacy-focused, open-source, and end-to-end encrypted productivity apps and tools, head over to ProductivePrivacy and browse through a packed directory full of apps that respect your privacy. No matter if you are looking for note-taking, task management, or project management apps, ProductivePrivacy got you covered.
❯ Quick Bits
---
Till next time! 👋‌‌‌‌
Support: Do you have a friend who is looking for inspiration, news about design, and useful tools and apps? Forward this newsletter to a friend or simply share this issue and show some support. You can also show some love by simply clicking the button down below and keep this newsletter a sustainable side-project by buying me a coffee. ☕️ 🥰
---
---
Some of the links in my newsletter and my blog posts are affiliate links. Those links are marked by an asterisk. If you buy something through the link, the product will not cost you anything more, but I will receive a small commission which not only supports Creativerly and my work but also helps me to keep this publication a sustainable side-project.
Creativerly is proudly published with Ghost*.