Newsletter
The read-it-later app for serious readers & The psychology of happiness
Web design redesigned and re-imagined with the power of AI, Napkin's new Readwise sync, Supernotes new features, Capacities redesign, and a lot more in this week's issue of Creativerly.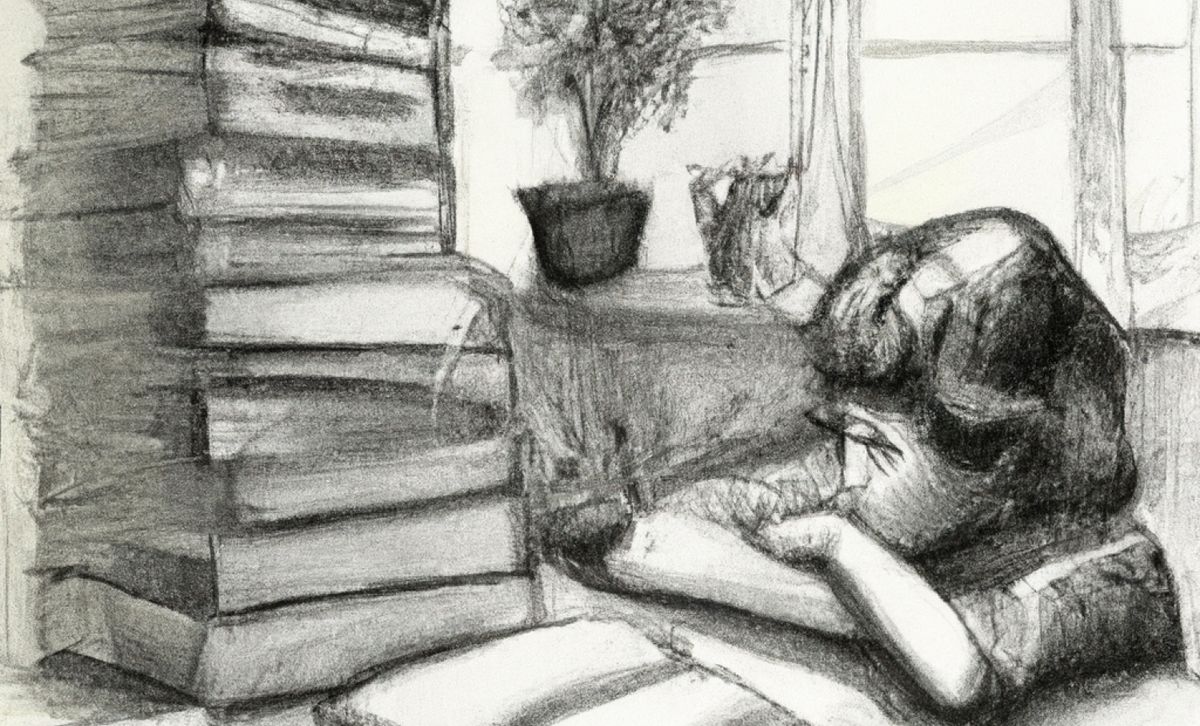 My name is Philipp and you are reading Creativerly, the weekly digest about creativity and productivity-boosting tools and resources, combined with useful insights, articles, and findings from the fields of design and tech. The newsletter built for the creative community.
---
Hey and welcome to Creativerly 219 👋
Over the last couple of days and weeks, I felt a bit stressed and overwhelmed with all things that I have been working on as side projects. I had too much on my plate and my body sent me some signals in the form of sudden hearing loss and jaw tension, triggered by subconscious stress. Whenever I sat down in my free time, reading a book, starting a new painting, spending some outside walking or doing sports, there was a silent voice in my head saying "Why don't you use your free time now to work on your side project". I forced myself to continue working on all kinds of things with the result that I did not enjoy the work. Feeling bad because of not making any progress with the one project, I jumped to the next project, wondering why I am not making any progress with that one too. Well, because if you do not feel like it is the right time or the right thing to currently work on something on your side, and might not be the best idea to switch to another project.
As much as I love working on side projects, creating additional income streams, learning new skills, and building things for the creative community, often I just want to do nothing. I do not want to spend all my weekends or public holidays in front of my computer working on my side projects just because I have time to do so. When I am not in the mood to work on something, I shouldn't force myself to do so. I learned a lesson recently since my body told me to stop forcing myself into that kind of situation.
I sat down, did some planning, and created a structure regarding how I am going to tackle my side projects. They might follow different goals, like creating an additional income stream, just to have some fun, or learn a new skill. But in general, the most important thing for me is, that I make sure to work on only one thing at a time. So, my "secret" is to finish up one project first before I dive into the next thing. You are probably asking yourself now when a project actually is finished. Well, in my case, taking a look at the things I am currently working on as side-projects I can clearly state what it means to finish them. For ProductivePrivacy for example, finishing the project means getting the new website published, which includes blog posts, new apps, a newsletter, and some other stuff. For my personal website, it is basically the same, finishing the design and then actually building and publishing the website. I also have some other stuff in the pipeline, but all those things have to wait since I want to take a step back, enjoy my free time and embrace the small steps and milestones for my current projects.
Enjoy your free time, enjoy doing nothing, it is one of the best things to do.
---
Apps, Software, Tools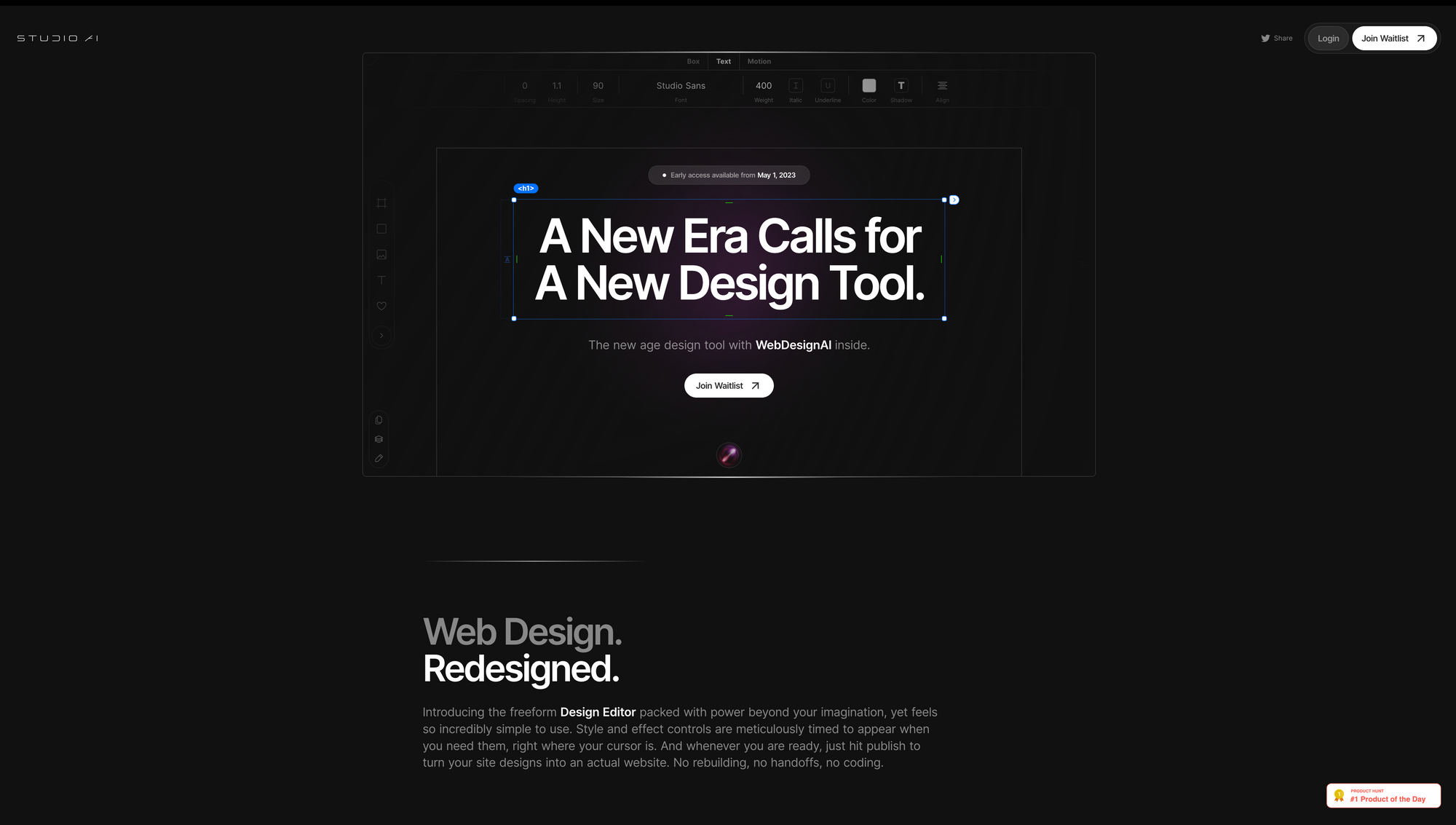 Artificial Intelligence-powered integrations and apps have taken over the last couple of months. People got amazed by new writing apps that featured an AI integration, helping writers overcome writer's block, finish blog posts and articles faster, and develop new ideas. Image Generators powered by AI left us speechless by providing incredible detail based on simple text prompts. While I have the feeling it got a bit quiet already around existing apps announcing their AI integrations (especially since some of them gave me the impression that they integrated AI just for the sake of placing two big bold letters on their website and to jump off the AI-hype-train), it seems like we can expect a wave of apps that leverage AI as a first-class citizen. Studio AI is one of them, as they prepare for a new era of design tools.
Studio AI redesigned and reimagined web design by introducing a freeform design editor packed with powerful AI features, that go beyond your imagination, but at the same time, the goal has been to remove any friction and make it easy to use. One of the magical things within Studio AI is how style and effect controls are meticulously timed to appear when you need them, right where your cursor is.
In addition to that, Studio AI is not just an AI-powered web design tool, whenever you feel your design, or website is ready, hit publish and turn your site design into an actual website, without the need for rebuilding, hand-off, or coding. This sparked my interest. Framer proved right, that there is a need for a design tool that gives designers the possibility to build modern, motion-driven, both simple and complex websites by actually designing them but then having the possibility to just publish everything as a website. Framer recently shared some previews and insights that the team is also working on an AI integration. This means exciting times are ahead for the web design area.
As the progress of your design in Studio AI, the AI integration reads and understands what you have been designing. This gives Studio AI the possibility to perform complex actions autonomously by simply providing a single line of feedback. A universal input field asking "What are your web design wishes" is waiting for you to start typing or speaking into the microphone to perform any kind of action. Studio AI calls this creative companion WebDesignAI and it lives right within the design editor. While you are still able to design manually as you have always been doing, WebDesignAI was built to have tasks done for you, by simply typing some text or speaking into the microphone. WebDesignAI sets out to push the boundaries of creativity and craftsmanship. Do you want to give your design more white space? Do you want to change the colour of some containers? Do you want to up the contrast within your design for accessibility? Do you want to add an extra image? Do you want to switch your typeface to Inter? Studio AI's autocompletion powered by WebDesignAI is ready to complete daily design tasks quickly and easily.
Early access for Studio AI is available from May 1st, 2023. So, make sure to sign up and join the waitlist to be among the first getting to try out Studio AI.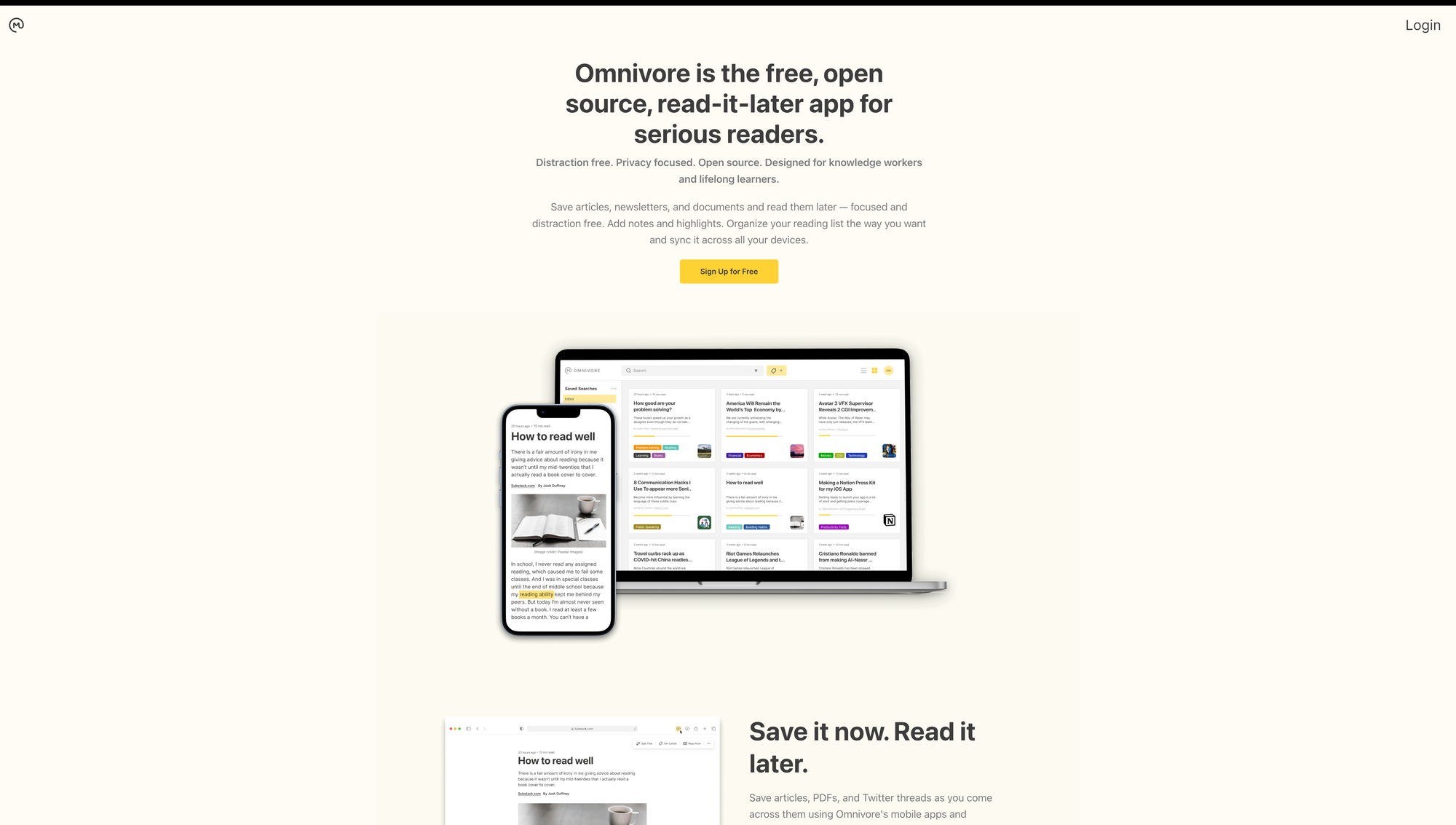 I am an avid reader, of books, articles, newsletters, blog posts, and PDFs, I read it all. To make reading accessible to me no matter where I am or which device I am on, I am using a variety of apps. My preferred RSS reader is Reeder 5 (by Silivio Rizzi) which I subscribe to loads of personal blogs and websites, Substack newsletters, and independent media publishers. To filter through all the noise, I love to use Refind to receive article and blog post recommendations tailored to my interests. For the longest time, Raindrop and Pocket have been my go-to apps to keep track of bookmarks and save articles to read them later. But, I am excited to present to you the newest additions to my reading tool stack: Omnivore, a free and open-source read-it-later app that I am currently testing and could possibly replace Pocket soon.
Omnivore offers a distraction-free reading experience, has a dedicated focus on privacy, is open source, and is specifically designed for knowledge workers and lifelong learners. With Omnivore your can save articles, newsletters, and documents and read them later in a beautifully designed interface. In addition to that, you can add notes and highlights, organise your reading list the way you want, and sync everything across all your devices.
Reading articles and blog posts online often is a tedious experience, since most websites and media publishers are plastered with ads, cookie notices, and other banners that break your reading flow. Therefore, I have always preferred dedicated read-it-later apps since they provide a distraction-free reading experience alongside other lovely features. Omnivore delivers exactly that distraction-free experience. With ease, you can save articles, blog posts, and PDFs you come across online. It just needs a few clicks or taps and Omnivore's mobile apps and browser extensions assist you while saving your next favorite article.
Besides that, you can also send newsletters directly to your Omnivore library rather than scattering them across multiple inboxes. Especially since loads of nowadays, email clients do not offer the reading experience those newsletters deserve. But Omnivore does. And in addition to that, it gives you the possibility to read them on your own time, away from the constant distractions and interruptions of your email. Once your Omnivore library grows it is important to bring order to chaos. Within Omnivore you can easily structure and organise your reading list by using labels. To easily find the article you are looking for, Omnivore offers filters, rules, and a fully indexed text search. Staying organised within Omnivore is flexible, it gives you the tools you need to build a system that works for you. While you are reading within Omnivore, you probably stumble across certain bits that you would like to highlight, safe, or annotate. With Omnivore you can highlight key sections and add notes as you read. All those highlights and notes are accessible at any time since they stay with your articles.
As all this wouldn't be already powerful enough, Omnivore syncs with your second brain. If you are building your personal knowledge base within Logseq or Obsidian, you can pull all your saved reading, highlights, and notes into your second brain. Exclusively available for Omnivore's iOS app is a TTS feature, which means you listen to the articles that you have saved to your reading lists, powered by realistic, natural-sounding AI voices.
Omnivore is available for iOS, macOS, as a web app, and Android, and there are extensions for Chrome, Firefox, Safari, and Edge you can install. As already mentioned, Omnivore is open-source and free. While the team behind Omnivore announced some ideas for future pricing plans that will unlock certain kinds of additional features, the core product is free. But still, if you are using Omnivore and you find value in it, consider supporting the creators and the development by supporting Omnivore through its Open Collective page.
---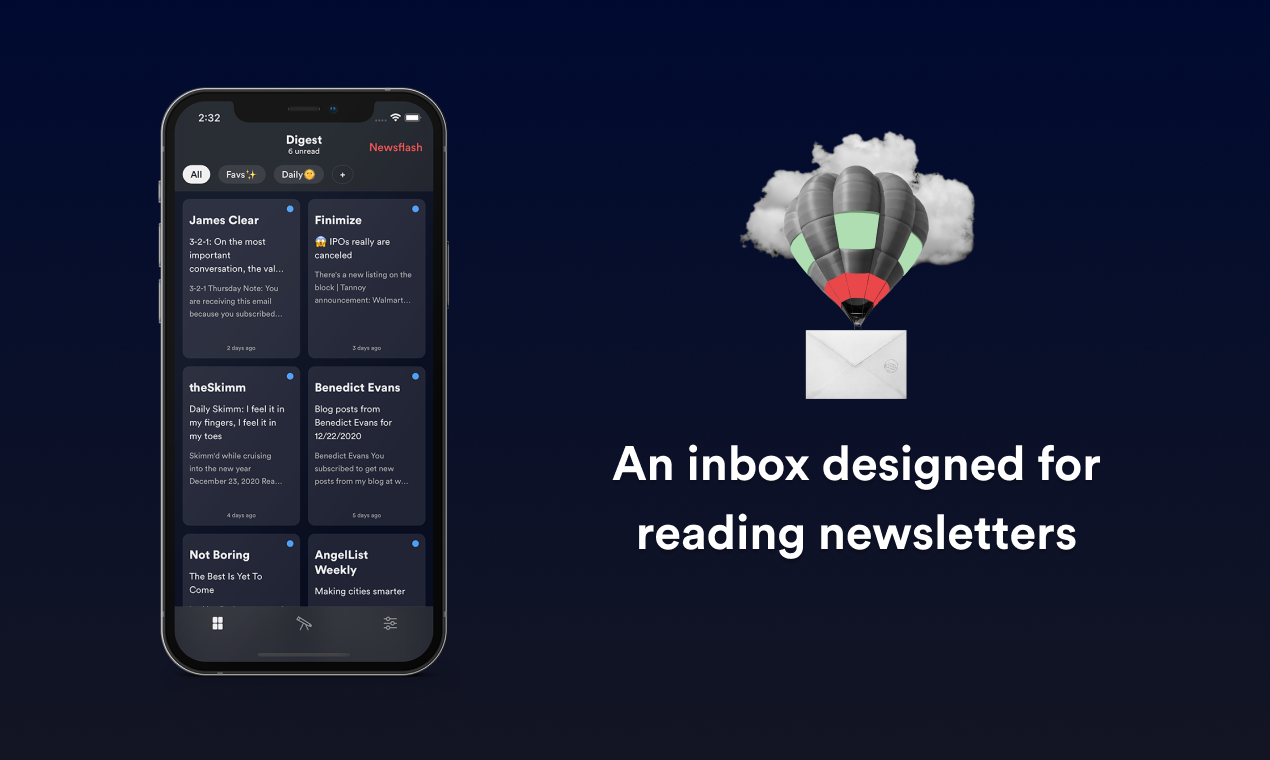 "An organised life start with an organised inbox." - Socrates
Ever stopped yourself from subscribing to a potentially amazing newsletter because you're worried about cluttering your inbox? With
Meco
, you can enjoy your newsletters in an app built for reading while giving your inbox space to breathe.
Over 10k readers enjoy their newsletters (and decluttering their inboxes) with Meco - try the app today!
This is a paid promotions or affiliate link to support Creativerly. If you are interested in putting your tool, product, or resource in front of over 2000 creative minds, consider advertising in Creativerly and book a sponsor or classified ad spot. Find all the important information at creativerly.com/advertise.
---
Fresh Updates & News
Napkin recently announced its new Readwise - Napkin sync. This fresh new update allows users to sync their highlights automatically in the background without importing them one by one. Existing users need to get in contact with Napkin to enable and switch the sync to the latest version, new users on the other hand can set up the Readwise sync in their first session. Besides that, Napkin also improved its tag experience by giving users the possibility to see a list of all tags within the idea collection.
In Supernotes's newest update, version 2.4, they introduced and shipped some of their highly requested features, including view depth, universal search, and a multi-select menu. The view depth feature lets users quickly expand deeply nested card hierarchies, which means users can view one, two, three, or infinite levels deep. The onboarding experience has been improved by introducing tips on how to get started, theme selection, user profile personalization and more. With the new universal search, users can search for cards much easier and more comprehensively. Search queries now use a sophisticated relevancy algorithm to search the entirety of a card, which includes title, content, tags, and other metadata. To learn about all the improvements and fixes, make sure to head over to Supernotes's change log.
Capacities is without a doubt one of the most exciting note-taking and PKM apps out there, and the team of two behind the app is on a roll, shipping new and exciting updates. In the newest one, Capacities wanted to establish a design system and adapt and rework all areas of the app. This will make it easier for users to use the app but it will also help the team at Capacities to ship faster and build features with more consistency in the future. Among the changes, users will find a new object menu, which unifies all actions related to objects, a redesign of the right sidebar, a unified layout button on a page, reworked page layouts, redesigned settings, and a lot more.
---
Mental Wealth
➢ A Better Argument for Working Less – "If you want to understand work culture in America, you have to understand how one man looked at his stopwatch. Frederick Winslow Taylor was born in 1856 to rich Quaker parents. Rather than become a lawyer like his Princeton-educated father, Taylor opted for a manufacturing job at Midvale Steel, where he was promoted from time clerk to machinist to machine shop foreman and, eventually, to chief engineer—all before he turned 30. At Midvale, Taylor noticed how some of his coworkers put in minimal effort, which he took to be a personal affront."
➢ The psychology of happiness – "Most people want to be happy. In other words, the majority of human beings are engaged — consciously or unconsciously — in actions designed to improve their levels of happiness. Despite our best efforts, these actions can sometimes have the opposite effect. For example, chasing a promotion at work only to realize we have become burned out in the process. Other times, our actions can make us happy in the short term but unhappy in the long term. For example, earning a large sum of money only to realize later we have over-indexed on financial success at the expanse of our relationships."
➢ Small acts of kindness matter more than you think – "Think about the last time someone showed you a small token of appreciation. Perhaps a stranger gave you a compliment, or maybe you got a check-in text from a friend, or received a particularly heartfelt thank-you note from a mentee. Chances are, that tiny act brightened your day. After all, there's a delight in knowing you were on someone's mind for even a brief moment."
➢ What Makes You Happy – "Ernest Shackleton's ship, the Endurance, became stuck in Antarctic ice. Before long it was crushed, ruined. Shackleton and his 27-man crew then spent 19 months – from January 1915 to August 1916 – rowing 800 miles to safety in tiny lifeboats, with nighttime temperatures hitting 10 degrees below zero. They were constantly frozen, soaked, hungry, and sleep-deprived. They survived – and all of them did survive – on an occasionally captured seal and foraged seaweed It's one of the most astounding survival stories you'll ever hear."
---
Do not miss out on this ...
These are paid promotions or affiliate links to support Creativerly. If you are interested in putting your tool, product, or resource in front of over 2000 creative minds, consider advertising in Creativerly and book a sponsor or classified ad spot. Find all the important information at creativerly.com/advertise.
---
Appendix
➢ ICYMI
New sponsor spots for May, June, and July are now open. If you want to highlight your app, product, resource, newsletter, or job in front of over 2,000 creative minds, get in contact and secure your sponsor spot within Creativerly. You can book an ad within Creativerly starting as low as €30 per spot. All important information is available at creativerly.com/advertise.
➢ Featured Newsletter
The future isn't a mystery. Want to receive the latest in business, entertainment, and internet culture right in your inbox every single morning? Not just the stuff everyone else is covering - these are the stories that drive the future, all in a quick and witty package. That's what TheFutureParty newsletter is all about. With every email you open, and every story you read, you're going to have the jump on the rest of the crowd. And you'll be that much more prepared for the day - and week, and month, and year - ahead. Join over 100,000 driven creative professionals who read the newsletter every day.
➢ Quick Bits
---
Till next time! 👋‌‌‌‌
Support: Do you have a friend who is looking for inspiration, news about design, and useful tools and apps? Forward this newsletter to a friend or simply share this issue and show some support. You can also show some love by simply clicking the button down below and keep this newsletter a sustainable side-project by buying me a coffee. ☕️ 🥰
---
---
Some of the links in my newsletter and my blog posts are affiliate links. Those links are marked by an asterisk. If you buy something through the link, the product will not cost you anything more, but I will receive a small commission which not only supports Creativerly and my work but also helps me to keep this publication a sustainable side-project.