Newsletter
The science of habits & Your Cloud HQ
In this week's issue of Creativerly: Move fast - together, the all-in-one tool for learning and thinking, the flow state, and a lot more.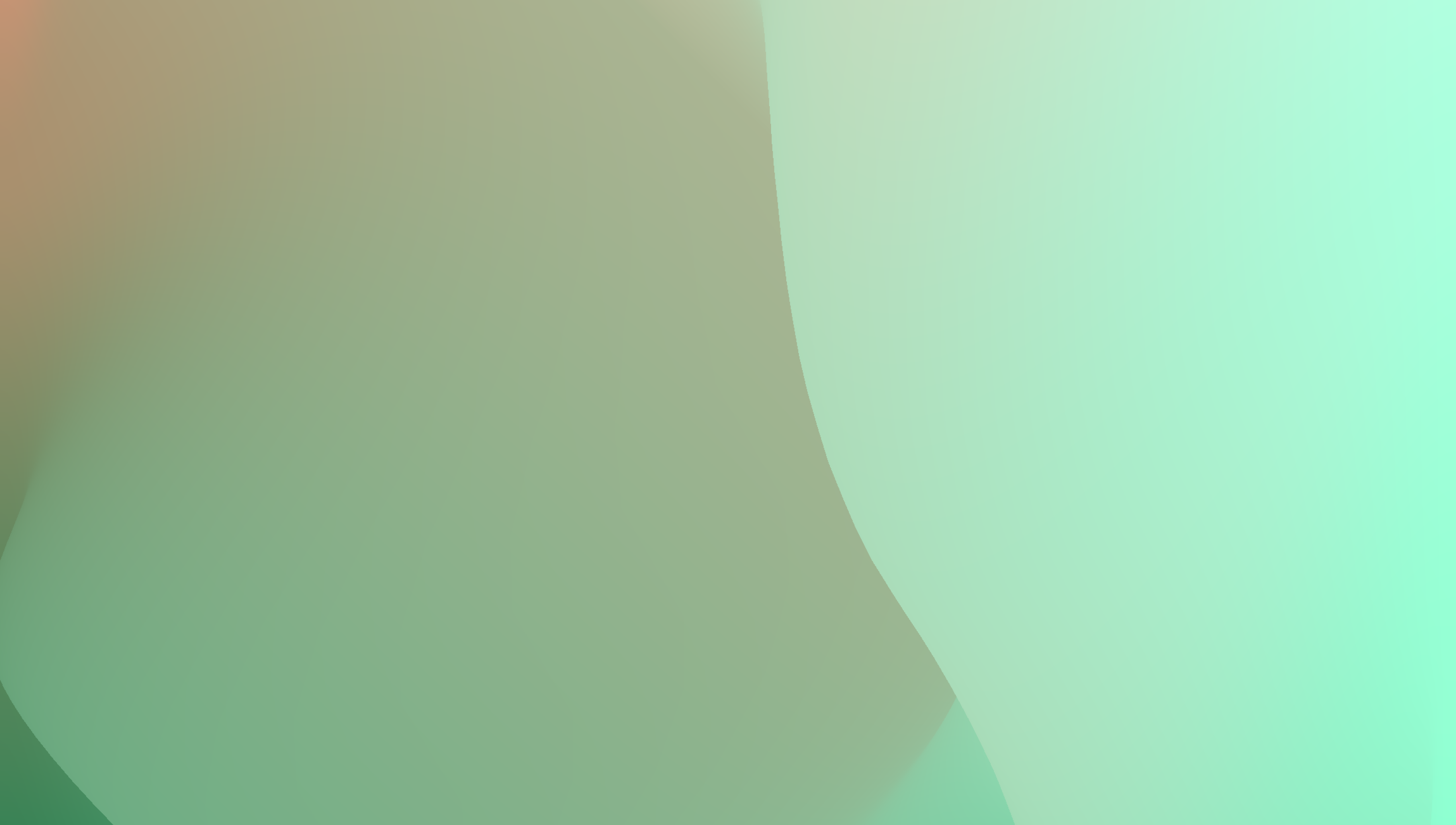 You are reading Creativerly, the weekly digest about creativity and productivity-boosting tools and resources, combined with useful insights, articles, and findings from the fields of design and tech. The newsletter built for the creative community.
---
Hey and welcome to issue 137 👋
In the last issue of Creativerly I asked you about your favorite website builders, tools, and services to create a personal website, blog, or portfolio, and I am beyond thankful for all the great recommendations I have received from you. I will now gather them all within one blog post and publish them to Creativerly so everyone can profit from this list.
I was already familiar with some of the recommendations I received, but quite a lot of them were completely new to me. Therefore, I am excited to give most of the tools a test over the upcoming days, so I can gather some notes, insights, and feedback which will also be part of the blog post.
If you missed the last issue, you can still drop me recommendations regarding lightweight and minimal website builders to set up a personal website, blog or portfolio, since this blog post is going to a growing list of services just like my blog post about privacy-friendly Google Analytics alternatives, which already features 24 analytic tools.
Therefore, if you know of any lightweight website builders or services just like Carrd*, Blot, Kirby, or anything else, simply reply to this email and share your recommendations with me.
If you have recommendations or feedback, drop me an email or a tweet. For now, enjoy the newsletter!  🥰
---
Apps, Software, Tools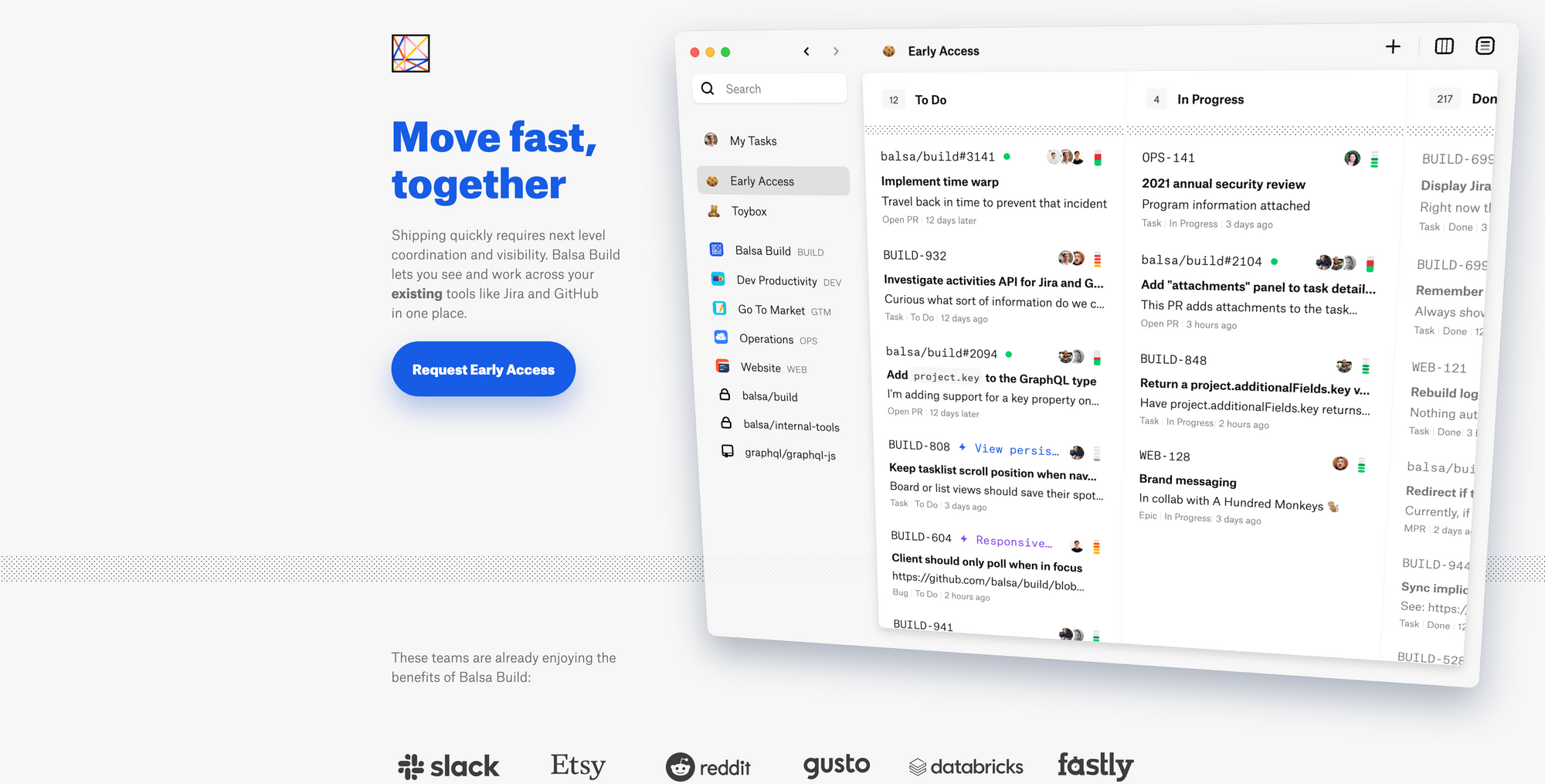 Working with ticket and issue tools just like Jira or GitHub can become really messy if you do not manage and organise your system. Balsa Build is a great tool to bring order to chaos. It helps you to see all your work across your existing tools in one beautiful place.
As of writing this, Balsa Build is only available upon requesting access, but as you can see on their website their tool gets already used by companies such as Reddit, Slack, or Etsy. I am sure, that probably quite a lot of my readers are using Jira at their work, and that it happened at least once that some work got lost between countless issues. Balsa Build wants to prevent that by uncovering both the structured and implicit connections in your work. So, you can focus on your work, and do not get lost in a sea of tickets, not knowing what to tackle next.
In my opinion, one of the most powerful features of Balsa Build is their search, since it enables you to search across all your integrated tools. If you can not remember where you jot down a specific issue, you would need to search every single tool, one by one. With Balsa Build you just use one search and immediately get results from all your tools. Balsa Build works even when you are offline and have no access to an internet connection. On top of that, your data always stays local on your computer, since Balsa Build only runs on your machine and not in the cloud. And ultimately, Balsa Build was built with speed in my mind, so you can always rely on a super-fast experience.
The team at Balsa Build is currently working on the BalsaGraph (ETA Winter 2021) which will be a graph tool to visualize the connections between all your issues and people across your tools.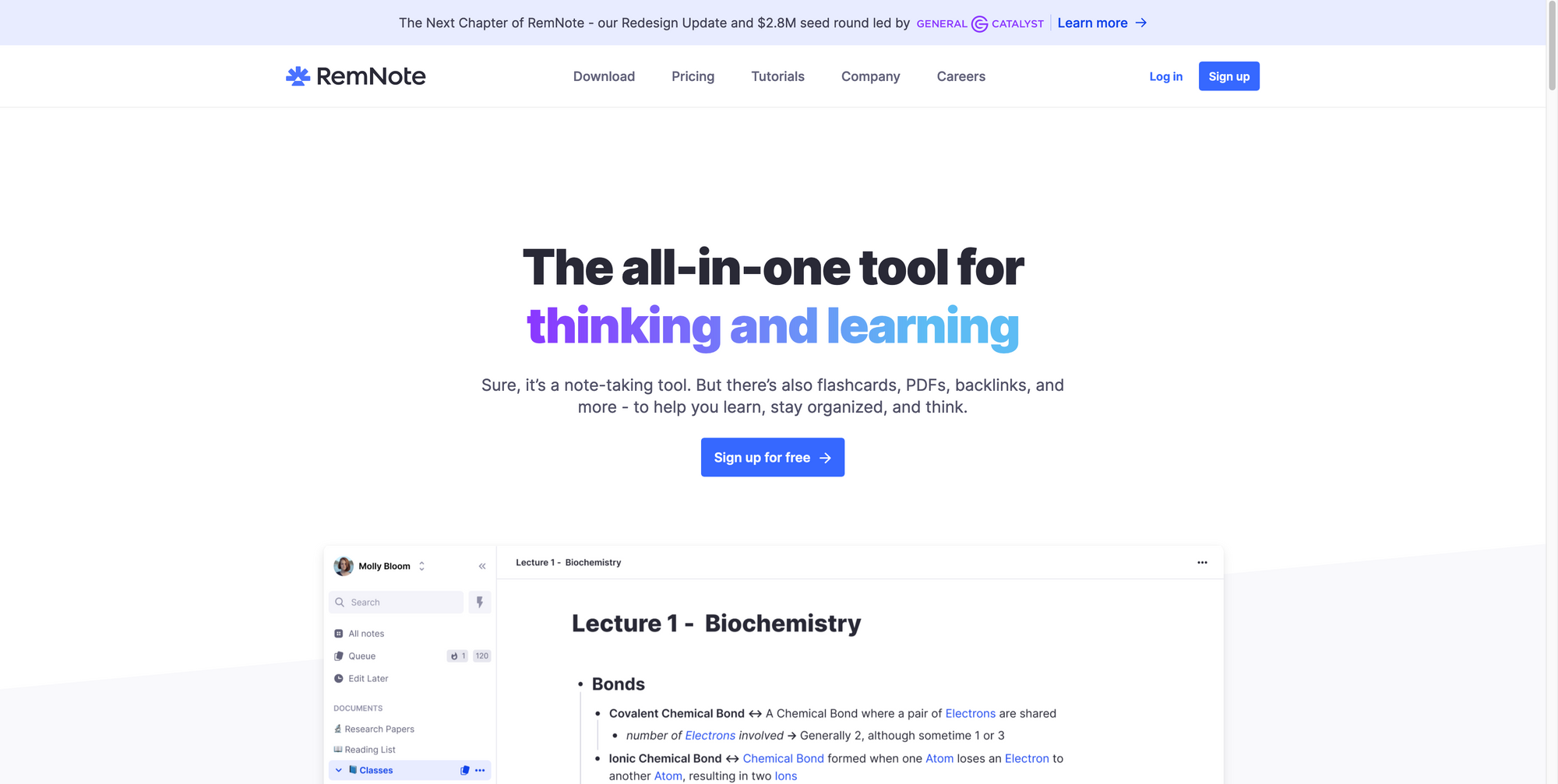 I wrote about RemNote for the first time back in issue 113 of Creativerly, since then quite a lot has changed. On September 22nd 2021 RemNote announced their $2.8m seed round led by General Catalyst to grow their team and execute their dream of building the all-in-one workplace for learning and thinking. RemNote is also entering another new chapter with this investment since they also launched their redesign.
When I talked with other people about PKM (personal knowledge base) tools it was common sense, that most of them like what the team at RemNote were building at that point, but everyone agreed that the app was lacking in design. Therefore, I am super excited about their fresh redesign. If you are not familiar with RemNote, here is a quick introduction. At the core, you can call RemNote a note-taking tool but on top of that, RemNote has some incredible features to make it a powerful tool for learning and thinking.
If you plan to build up your personal knowledge base and bring order and structure to all your learning and thinking notes, RemNote is a great tool to do that. RemNote was specially built to empower students, researchers, and professionals, who want to organize thoughts, plans, and tasks. To achieve that, RemNote is using powerful features just like backlinks to link all your ideas, smart flashcards you can create directly from your notes, and PDF and Web article annotation, so you can easily highlight, reference, and link all your source material, without the need to switch between applications.
RemNote is also privacy-first, as your Knowledge Base will be local-only, therefore you will own your data forever. Besides that, RemNote is also offering an unlimited free plan. I am excited to see that the PKM area is steadily growing. RemNote's seed round is a sign, that we can expect a lot from them over the upcoming months. It is great to see that they will build up a team and focus on their product experience even more.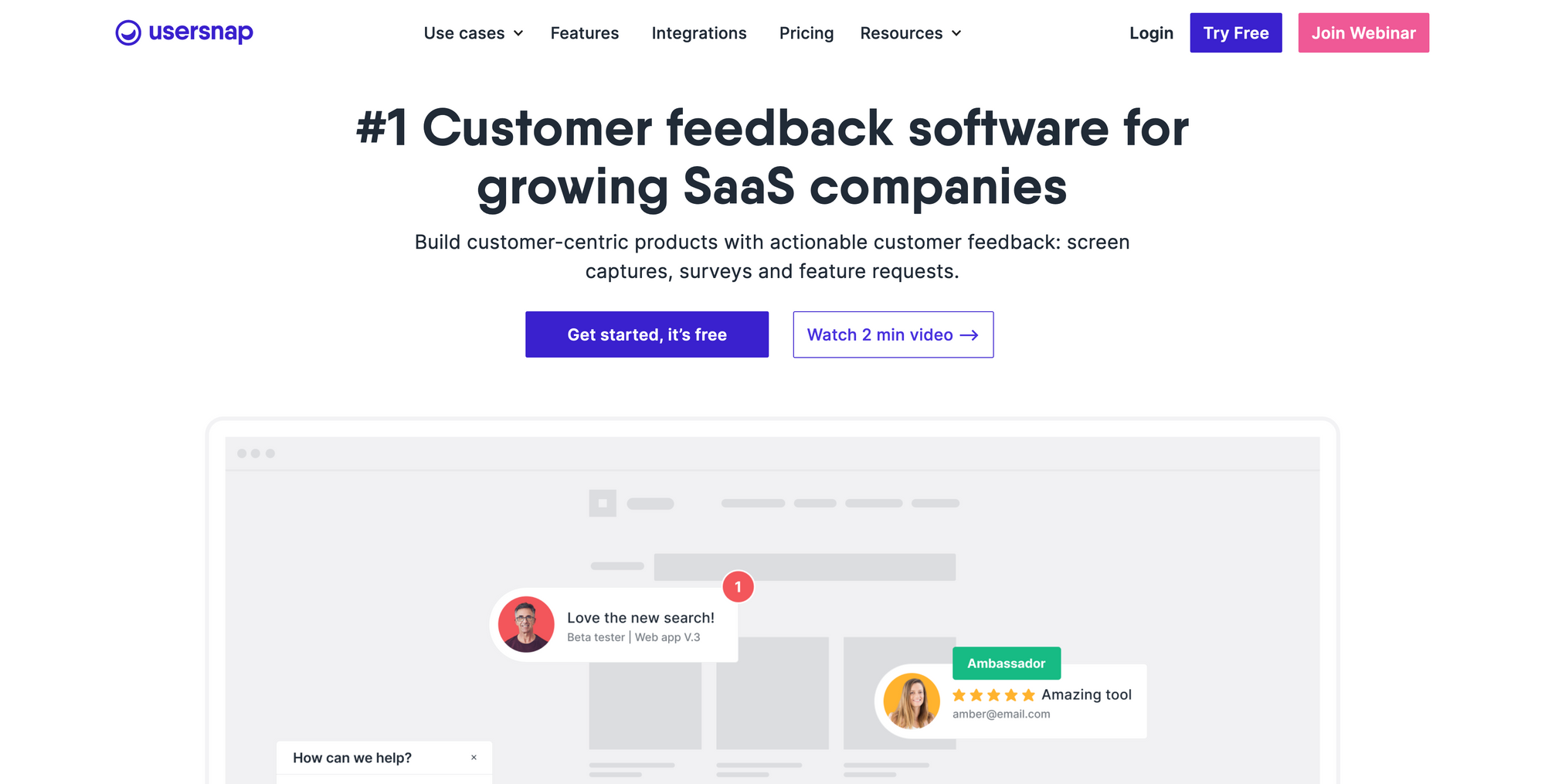 While building a digital product one of the most important factors to consider is getting user feedback early on. If you want to collect feedback, ideas, requests, bugs, and issues it can become pretty messy very fast to keep track of all of those. Usersnap is a great platform to manage all your user's and customer's feedback in one beautiful place.
One of the great features of Usersnap is that it gives you the possibility to implement a dedicated feedback button to your web app or website, which lets users send in issues and suggestions. On top of that, you can link your support chat, help page, or any other medium to further streamline the process. Of course, there are customisations available to make the feedback button stick to your brand guidelines. But that's not it, Usersnap also give your testers the possibility to send in annotated screenshots or screen recordings directly in your web app or website.
And as mentioned earlier, all your feedback and suggestions will land in one unified place. So, you will be able to close the loop and respond to feedback fast and easily. The feedback inbox is the place where everything comes together. Usersnap will also provide you with relevant statistics for your to quickly grasp customers' needs and evaluate  your efforts. Additionally, Usersnap integrates with over two thousand apps you are already using. Usersnap is available from €9 per month (billed annually) for the Basic plan which includes one feedback project, and two team members. v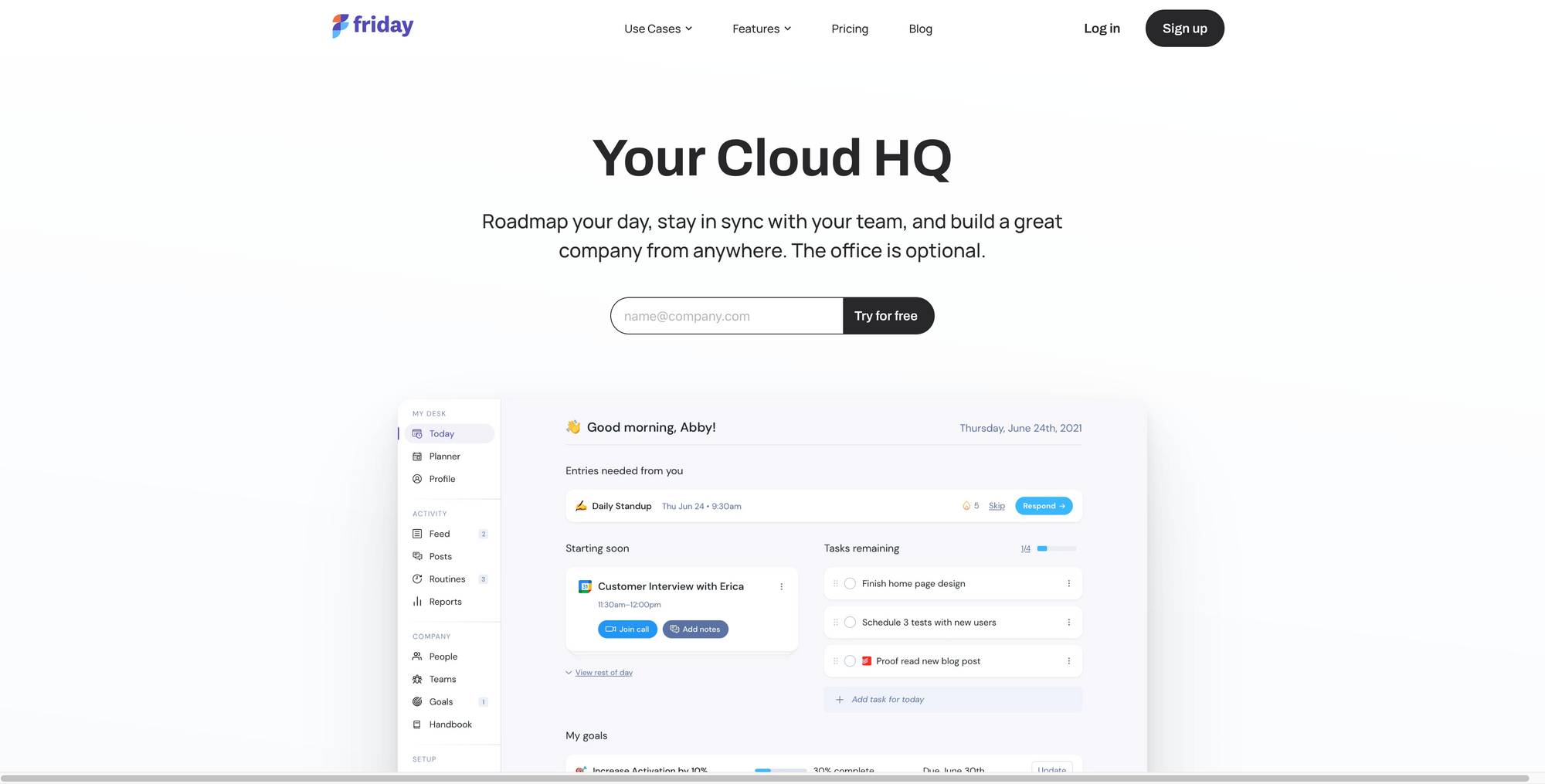 Friday is your ultimate cloud HQ to plan and organize your work and stay in sync with your team. Over the last couple of months, I became a huge fan of planning out my day, so I can focus on one thing at a time. I have been using time blocking for quite some time for this purpose, and it really helps me to get all my work done.
Friday is a great tool to roadmap your day, by displaying your calendar, meetings, events, blocked time, and tasks within one view. This will make it easy to better allocate your available time. Friday offers various integrations, so you can glue your work together by pulling in all the information across your tools in one beautiful place within Friday. I am a huge advocate of planner/productivity tools that display your calendar, tasks, and notes in one place, as it would kind of slow you down if you are planning your day and have to jump back and forth between different tools when you want to add a meeting to your calendar, jot down new tasks, and note something down.
Friday offers you a centralized space for exactly that. To make Friday even more powerful, it integrates with your favorite calendar and task management software to pull in all your tasks spread across different tools. Friday also features posts, which is like an internal blog meeting a forum. It is a place where you can share notes, company announcements, ideas, proposals, or anything else coming to your mind. Friday works for individuals, smaller teams, and large companies. Use the integrations to set up your system, and start using Friday's workflow of planning and road mapping your day, to get your work done.
Friday is available for free for basic usage, the paid plans start at $4 per month per user.
---
Useful Resource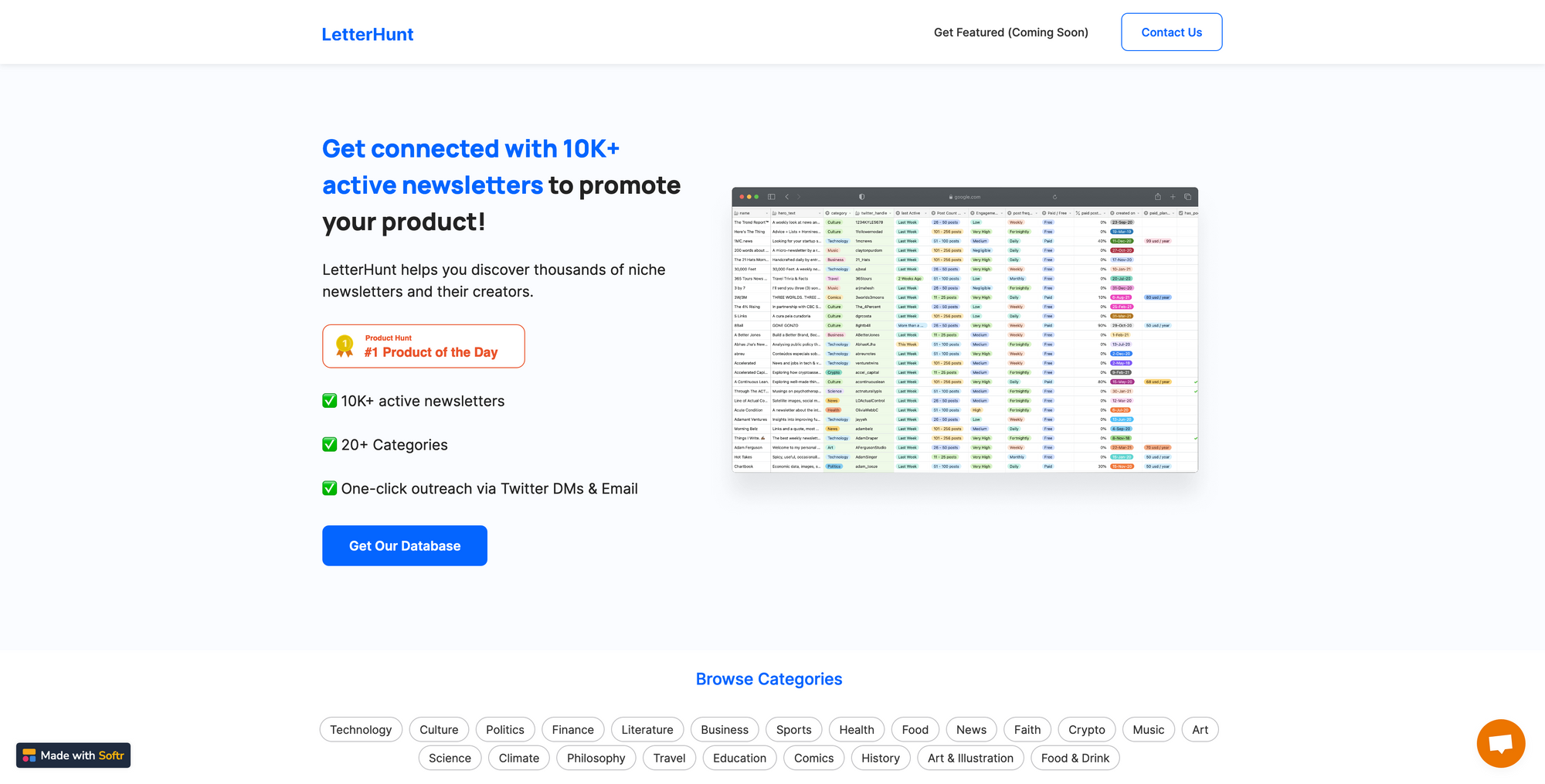 If you are looking to promote your product or service within a newsletter but you are struggling to find the right newsletters suited to your product or service, LetterHunt could be a really useful resource for you. LetterHunt is a database with over 10k newsletters structured through over 20 categories and the ability to one-click outreach via Twitter DMs or email. If you are searching for a very specific newsletter niche to promote your product, LetterHunt is a great place to go and do some research on which newsletters would be a fit for your product or service. If you find one, you can then easily outreach and start the conversation. Very convenient.
---
Mental Wealth
➢ The science of habits – "For many of us, the past year has disrupted deeply ingrained habits. Some people report exercising less, others are drinking more. As we look forward to life returning to some semblance of normal, it's worth considering what scientists have learned about how to create good habits and break bad ones. Habits are like shortcuts — they're things we can do quickly and without thinking, because we've done them so often they've become automatic, says behavioral scientist Katy Milkman of the University of Pennsylvania."
➢ How does progress happen? – "What makes inventions and discoveries happen? Are they mostly the work of lone geniuses? The product of highly productive universities and research centers? Is funding, public and private, the best way to jumpstart innovation, or will it happen at its own idiosyncratic pace no matter how much money you throw at R&D? These are very difficult questions to answer. But there's a budding new area of research — its practitioners are calling it "progress studies" — dedicated to answering them, or at least to push them toward the forefront of our thinking."
➢ The Flow State: How to Get in The Zone and Stay There – "The lack of focus is becoming a global epidemic. And productivity sounds suspiciously dishonest on the internet. Online, hundreds of apps and experts exist that promise monumental results but only if you buy their course or subscribe to their never-ending stream of products. All these tools oath to upgrade your body and mind so you can magically stop watching YouTube videos and become a newer, somehow improved version of yourself. But we all know that these are just marketing gimmicks. Becoming more effective requires nothing else but attuning your mind to the flow state."
➢ The secret to creating amazing work? You have to hate it first – "The first time I heard that a feeling of gloom might be a normal part of creative work, I was incredibly depressed about what I was currently producing. It was a project focused on irrigation tools for small-plot farmers in Myanmar, and a week before the final presentation I was having a full-blown crisis of confidence. Compared to the needs of the farmers we were working for, our solution for redesigning, and thereby reducing, the cost of a water pump seemed inconsequential."
---
Appendix
➢ ICYMI
For those of you that are new here, I created a database that currently gets filled with every single tool, software, resource, and article I have shared within Creativerly. I updated the database over the last few days with some new entries, so make sure to check it out. This is a subscriber-only feature, so all you have to do is log into your account and head over to Creativerly's database.
➢ Quick Bits
Apple responds to security researcher who found multiple iOS 15 zero-day flaws / Facebook whistleblower to testify at US senate hearing next week, lawmakers say / Amazon announces Astro the home robot / Cloudflare is launching into the cloud storage market / YouTube deletes RT's German channels over Covid misinformation / Everything Announced at Amazon's September 2021 Hardware Event / Thousands of Coinbase customers saw their crypto stolen in complex hack / Google Pay's disastrous year continues, promised bank account feature is dead
---
Twitter thoughts
---
Till next time! 👋‌‌‌‌
Support: Do you have a friend who is looking for inspiration, news about design, and useful tools and apps? Forward this newsletter to a friend or simply share this issue and show some support. You can also show some love by simply clicking the button down below and keep this newsletter a sustainable side-project by buying me a coffee. ☕️ 🥰
---
Some of the links in my newsletter and my blog posts are affiliate links. Those links are marked by an asterisk "*". If you buy something through the link, the product will not cost you anything more, but I will receive a small commission which not only supports Creativerly and my work but also helps me to keep this publication a sustainable side-project.