Newsletter
The To-Do App for Bookmarks & Stop brainstorming
In this week's issue of Creativerly: Make ideas happen, writing software that gets you to first draft fast, Silicon Valles's Blind Spot, and a lot more.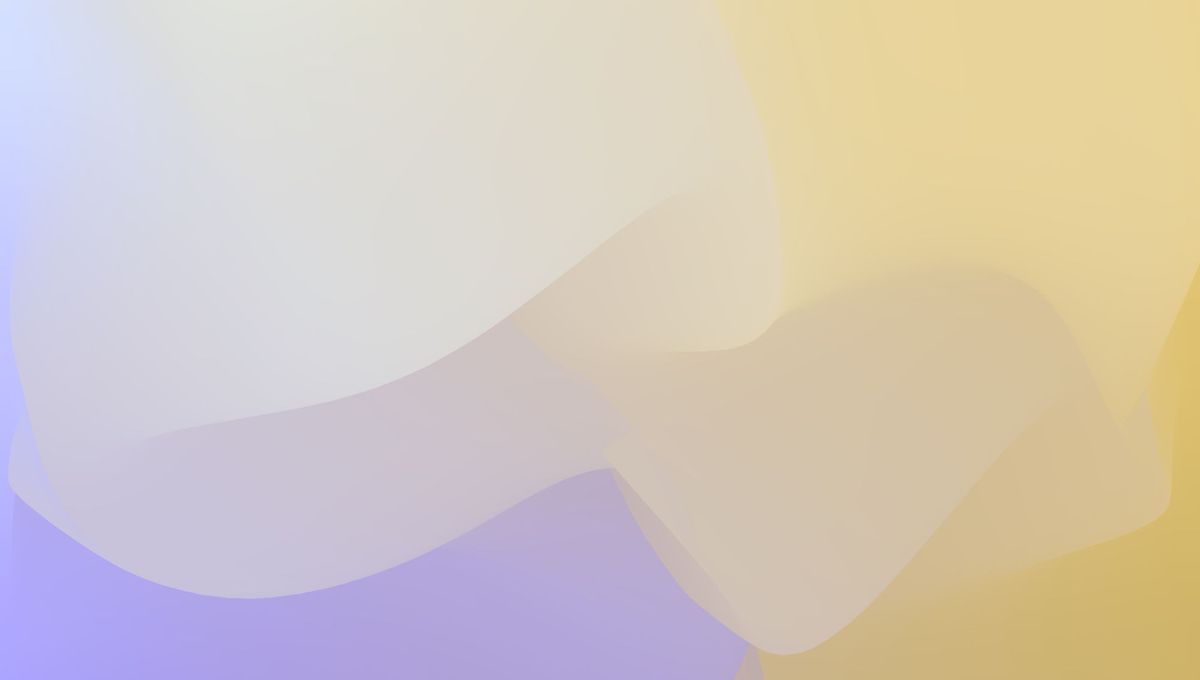 You are reading Creativerly, the weekly digest about creativity and productivity-boosting tools and resources, combined with useful insights, articles, and findings from the fields of design and tech. The newsletter built for the creative community.
---
Hey and welcome to Creativerly 155 👋
Last week, I kicked off a discussion on Twitter regarding whether Obsidian users rely on community plugins for their dedicated workflows, and if they are concerned that if one of those plugins no longer get developed, it could result in a revamp of their workflow. I am a huge fan of Obsidian, but I recently settled with Craft as my preferred note-taking, PKM, and project management tool. One of the big advantages of Obsidian though is the fact that it is completely based on local markdown files. Whenever I want, I can take my notes with me, as I simply need to copy the markdown files and import them into another tool. Craft supports exporting to markdown too, but there is the friction that I have to export them to get access to them, so they are somehow locked in Craft's system.
I would love to use Obsidian more frequently, but there are certain features that I need to extend with community plugins. Some of them are widely popular, some of them only support niche workflows. Therefore, I have the concern that sometimes it might happen that a plugin no longer gets developed, and I need to spend additional time to figure out a new workflow. As the Twitter discussion got loads of replies with different perspectives, I encourage you to click through the Tweets and read the replies by creative minds, and PKM enthusiasts just like Anthony Baker, Eleanor Konik, Alexander Rink, Joseph Wood, and others.
There was one reply that really stood out to me and pretty much opened my eyes regarding using community plugins with Obsidian. This reply came from Anders Thoresson. He mentioned that it is important to differentiate between three major categories of plugins: 1) Those that make entering data easier, 2) Those that make data retrieving easier, and 3) Those that change more fundamental parts.
Plug-ins in category 1 & 2 would cause more friction if they disappeared, but not have a huge impact on the information stored in Obsidian. I think category 3 is where you perhaps should be more careful with how you implement them in your workflow and don't make the data in your vault to dependent on them.
Those two sentences from Anders made it clear to me, where community plugins can really shine within Obsidian, and where you should be a little bit more carefully when deciding to fully commit and implement a dedicated plugin into your workflow so you became reliant on it. Tools definitely matter.
---
Get more traffic from search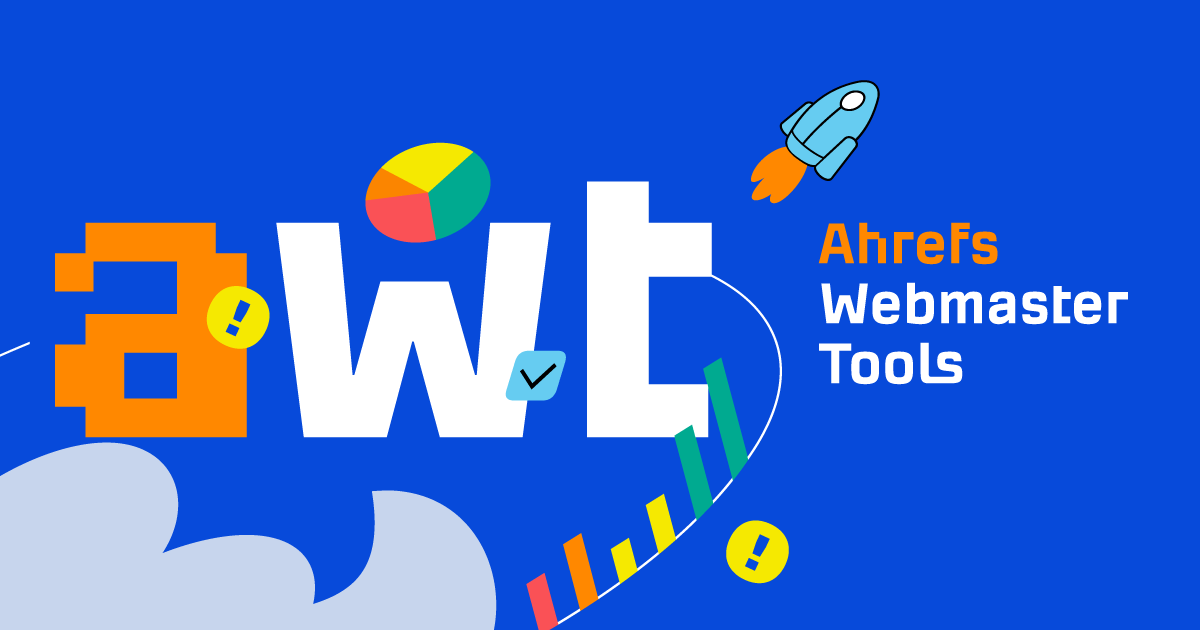 Ahrefs Webmaster Tools helps you to improve your website's SEO performance. If you are looking for tools to monitor your SEO health, know your backlinks, and see all the keywords that bring traffic then you should sign up to Ahrefs Webmaster Tools now. It is free!
---
Apps, Software, Tools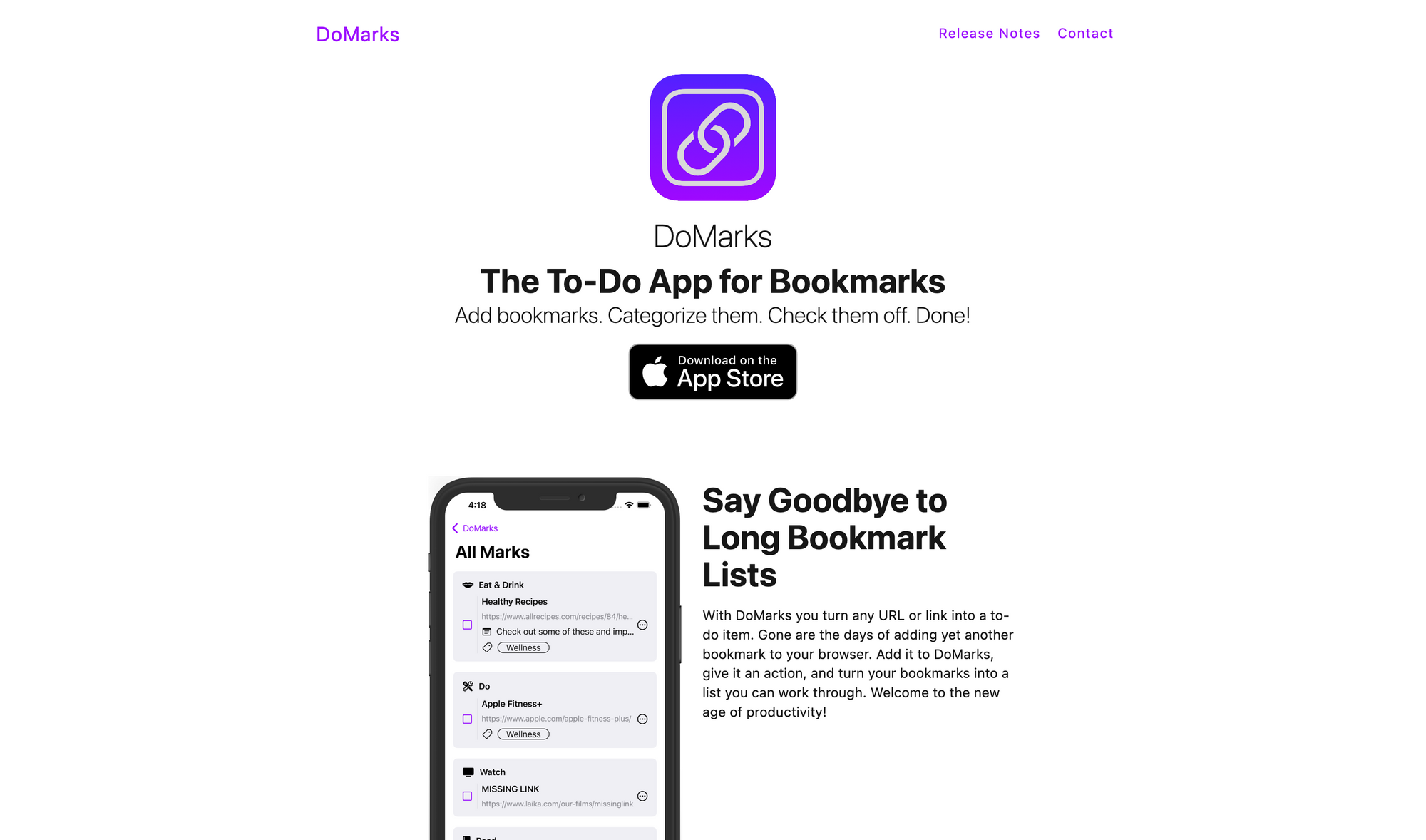 If you are struggling with gathering more and more bookmarks and you have a hard time to stay on top of them and actually follow up, you should check out DoMarks a dedicated to-do app for all your bookmarks. With DoMarks you can finally say goodbye to endless bookmark lists, as you will work through your bookmarks. The principle and workflow of DoMark is pretty simple. When you come across a website, article, video, or link in general you want to safe as bookmark, safe it to DoMark and it will turn your bookmark into a to-do item. Additionally, you can then add an action to that bookmark. For example, if you are saving an article, you can add an action saying in which context you found that article, or why you want to read it.
This is a completely new approach, at least for me. Just a few seconds after I have found out about DoMarks I was already intrigued by its concept of turning your bookmarks into actionable elements. As part of my writing and curating process for Creativerly, I bookmark loads of links throughout my week, which means my archive within my bookmarking tool is ever-growing. DoMarks gives you a great way to structure your bookmarks up-front, since when you open up the tool for the first time it already sets default actions (which are basically folders) for different categories just like "Read", "Watch", "Listen", or "Buy". With DoMarks you always have access to your bookmarks, since the app is available for iPhone, iPad, and Mac. That makes it easy to manage your bookmarks and to-dos no matter which device you are currently using.
The process of adding a new bookmark is super simple. DoMarks lets you turn any link into a to-do. No matter if you want to safe a video, an article, a blog, you name it, safe it to DoMarks and turn it into an actionable to-do item so you can be sure to get back to it. Once you have pasted the link into DoMarks, you can categorize it, add a dedicated action, and tags that help you make specific lists of items to accomplish. DoMarks actions add additional context to your saved links. So you can easily build lists for videos to watch, articles to read, or podcasts to listen to at a later point. On macOS and iPadOS the drag and drop feature of DoMarks gives you a whole new level of productivity. If you have found a link you want to safe, all you have to do is simply drag and drop it into a list in DoMark, you can even drag it directly on an action to set that specific action.
DoMarks is available exclusively for the Apple ecosystem supporting macOS, iPadOS, and iOS. You can use a basic version of DoMarks for free. If you want unlimited bookmarks, unlimited tags, custom actions, full archive, and support the development of DoMarks, you can upgrade to the Premium Plan for €1,99 per month, €20,49 per year, or unlock the Premium Version with a one-time purchase of €39,99.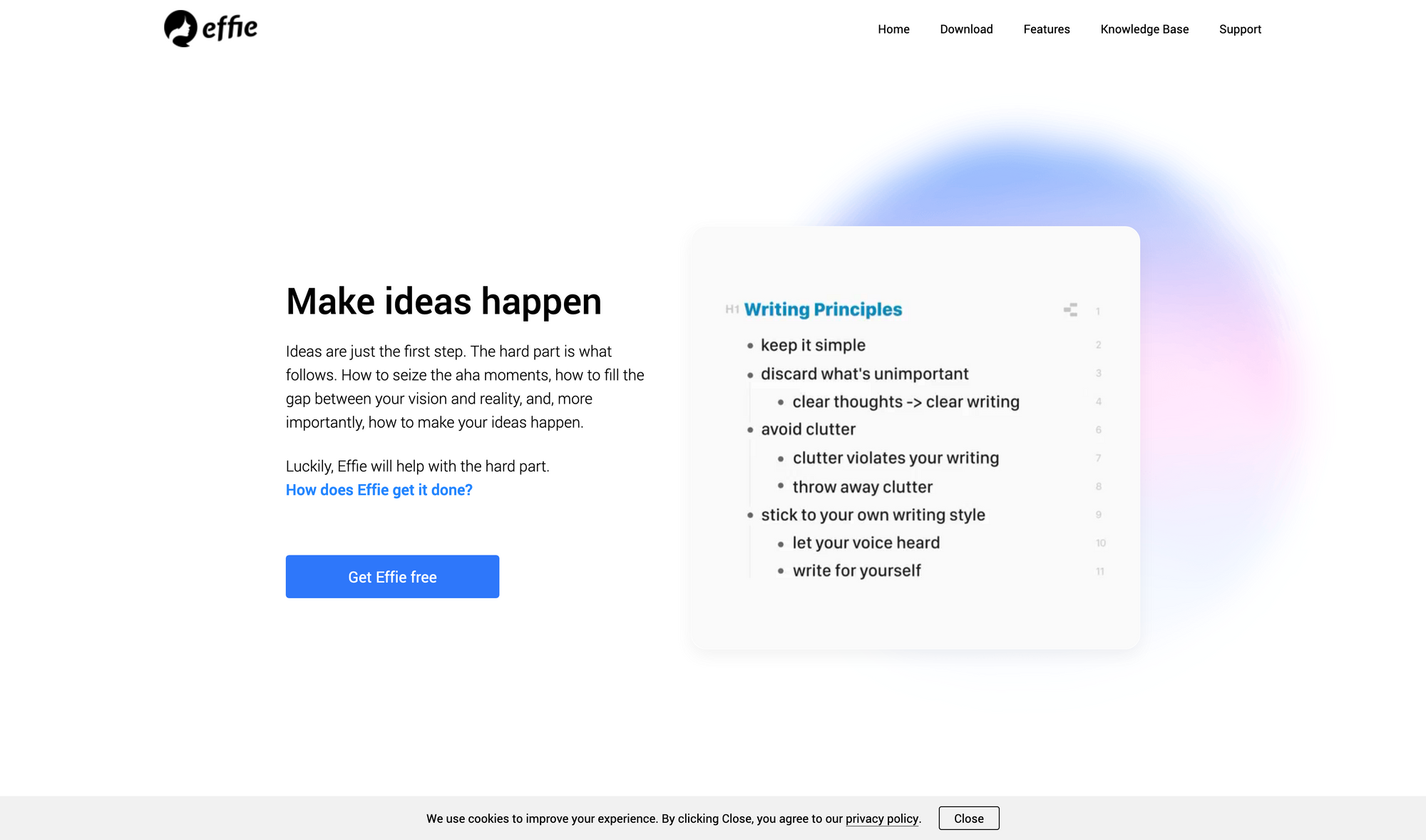 Effie is a new contender in the space of personal knowledge management. Effie is a tool that wants to help you turn your vision into reality. When working and focusing on your creativity and productivity it is important to not get distracted by an overloaded and bloated interface with unnecessary visual elements, icons, or menus. Therefore, Effie aimed to cut out any possible distractions by delivering a minimal interface, with no bells and whistles. When working in Effie you can be sure, that it is only you, your thoughts, and the words on the page that get the maximum focus.
The beauty of Effie is the fact that it combines markup formatting and mind mapping within one tool. No matter if you are already writing or planning to write, Effie makes it easy to switch from a mind map to an editor and vice versa. Whenever you change views all changes are automatically synced. Since Effie is written in pure native code, it offers the smoothest experience no matter which platform you are on. It literally takes just a second to turn a 5,000-node list into a mind map, which is incredibly impressive. Effie's editor is markup-based with syntax highlighting which means you can finish your work and your writing without lifting your fingers from your keyboard.
Effie is available for Windows, Mac, iPhone, and iPad (an Android App is also in the works). That means no matter what device or operating software you are using, you can take your writing with you wherever you go. Effie makes sure to sync your work, writing, and notes across all your devices. The syncing happens with privacy in mind. Effie has a strong focus on privacy and data protection, since all your work and writing is encrypted with a unique key, that means no one has access to what you write. There are also no targeted ads, no intelligent recommendations, your data always stay safe. You can use Effie for free, but there is also a Pro Plan which will cost you $4.99 per month or $29.99 per year.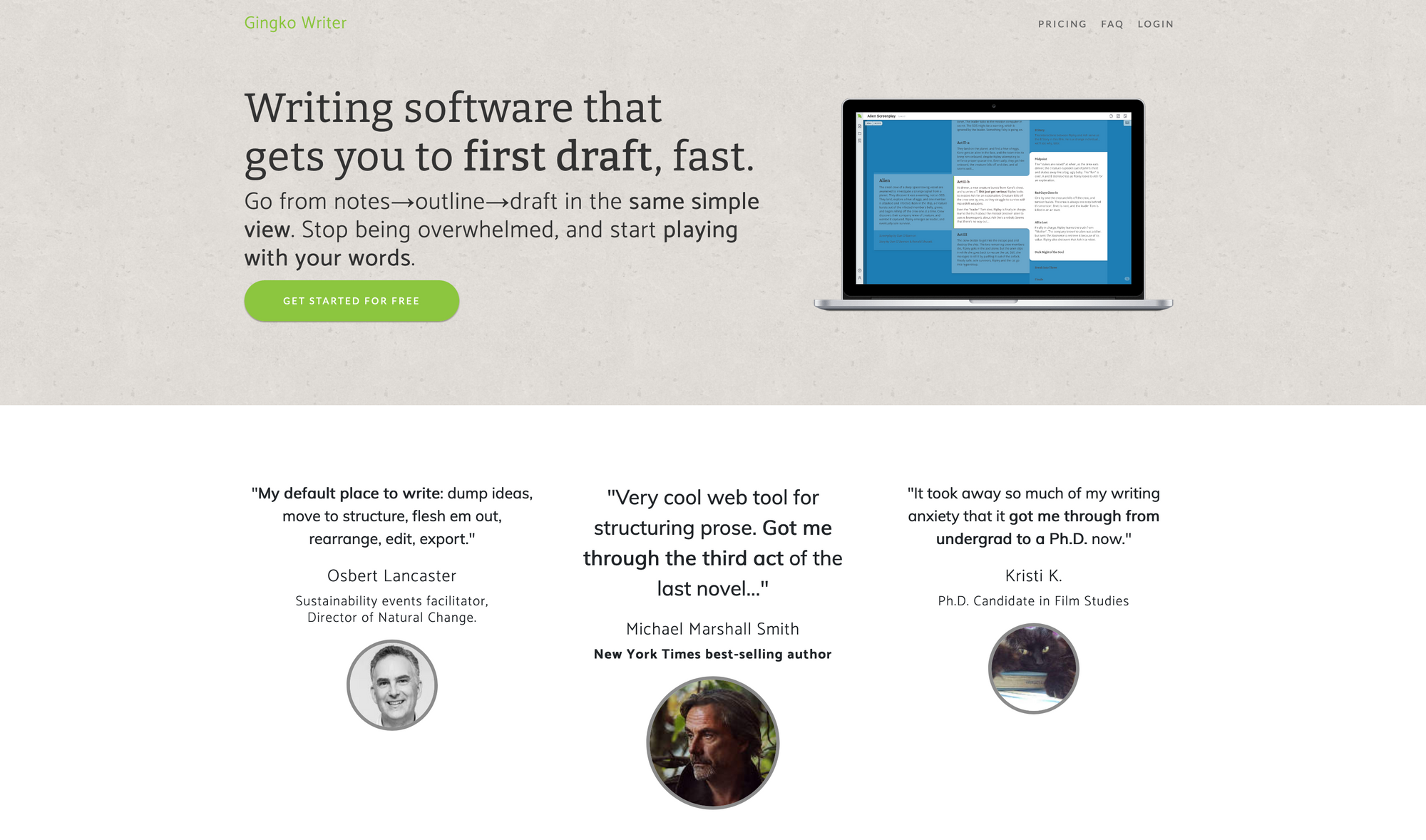 As I am finishing up my personal website, I am also preparing some of my new blog posts within my preferred writing tool iA Writer. Every now and then, I do indeed research for other writing tools, simply because I want to try them out and play around with them. One of my most recent finds is Gingko Writer, a writing software with a new and exciting approach. Gingko Writer wants to help you to go from notes to outline to draft in the same simple view, without being overwhelmed by the words you have written.
Gingko Writer is aiming to put you in a focused writing process by default, straight from the beginning when you start jotting down your first words. No matter if you want to write a novel, an eBook, a thesis, a blog post, or a legal brief, Gingko Writer can help you make progress fast. Everything you write in Gingko Writer is grouped in chunks. That means, you break down your work into small chunks, and you can focus on one at a time. Those small chunks are called cards in Gingko Writer. With Gingko Writer you are always writing in small chunks, ergo cards. iA Writer is following a similar (though completely different) approach as it also has a focus mode built it, that only highlights the current paragraph you are writing and all the others are fading away. Gingko Writer on the other hand, is taking the focus mode to another level.
If you ever had the feeling that you are struggling to tackle larger projects without getting overwhelmed, Gingko Writer can help you to achieve more. Think of this very specific example: you find yourself writing the overall premise, but suddenly you have an idea for a specific scene. In "traditional" writing tools this would mean jumping and scrolling around. Gingko Writer gives you always access to the big picture, the details, and everything in between, in one dedicated place, which means you will never lose your focus. You no longer need to switch context during your writing sessions, as Gingko Writer lets you write exactly what you are thinking, as you are thinking it. This feels incredibly natural to the way I write and ultimately think.
In Gingko Writer you can write your cards in markdown. The cards themselves give you the possibility to expand the current view to have a bigger writing input. Once you want to create another card, for example, another section in your blog post starting with a new headline, all you need to do is hit CTRL or CMD + your arrow keys to add a new card. I love the fact, that Gingko Writer is following a keyboard-centred approach which is incredibly powerful especially for focused writing sessions, so you can be sure that you can always leave your fingers on your keyboard. When you finished your writing within Gingko Writer you can export it to Word, Plaintext (Markdown) or JSON. To explore all the amazing features and the writing experience of Gingko Writer I highly recommend signing up for a 14-day free trial and play around with the tool. After the 14-days Gingko Writer will cost you $12.75 per month or $117 per year ($9.75 per month).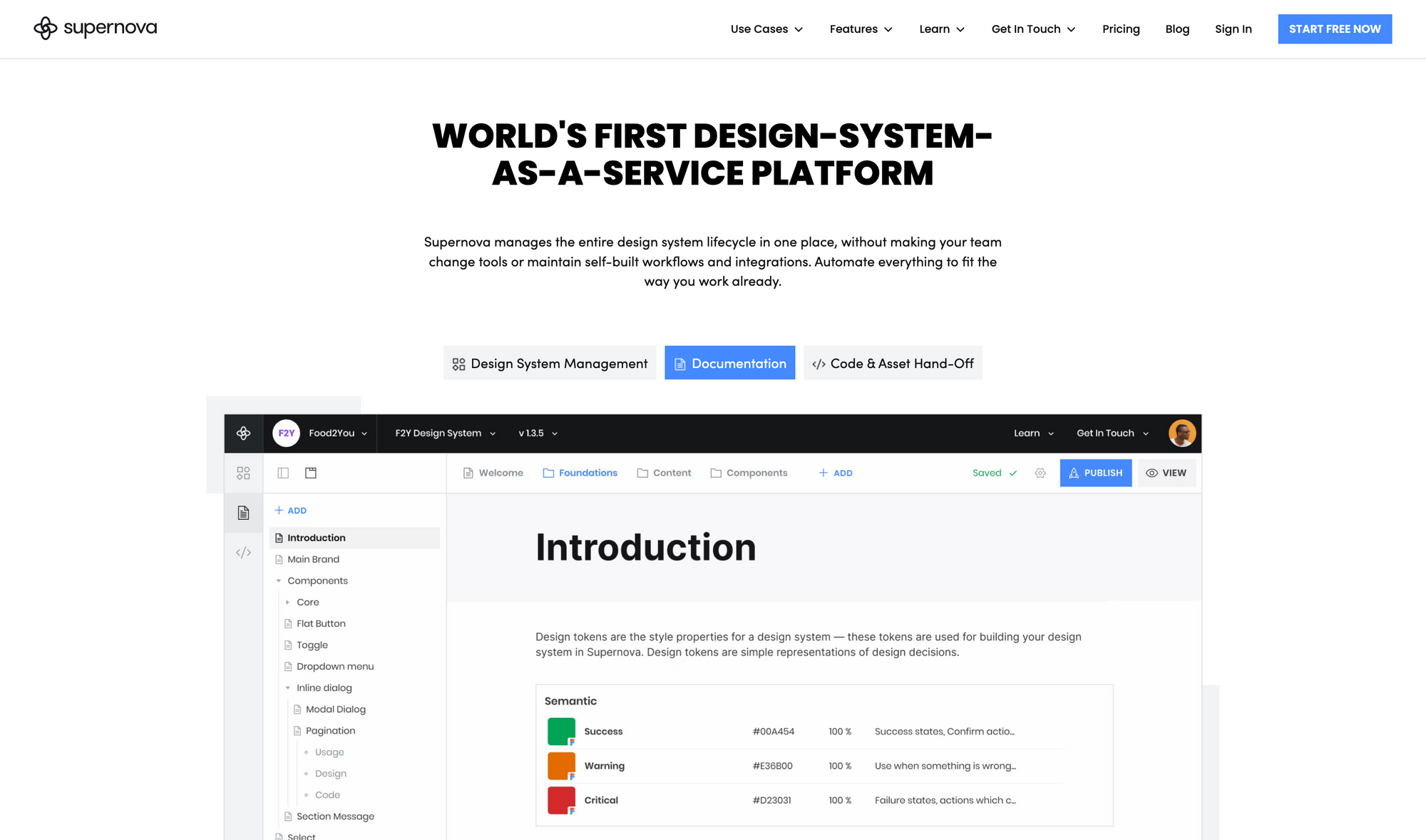 Supernova is a tool that brings the management of your design system to another level. With Supernova you get the possibility to manage the entire design system lifecycle in one place. There is no more need to make your team change tools, switch context, or let them maintain self-built workflows and integrations. Supernova takes care of your design system so you can automate everything to fit the way you work already. There are three core feature sets that make Supernova the ultimate tool to manage your entire design system lifecycle.
First of all, Supernova delivers a dedicated place for your design system management. You are able to create a place where all your scattered teams meet. Supernova integrates with Figma, probably the most popular design tool of our time. You can import from Figma, automatically, by connecting your design system to an unlimited number of design files. Supernova automatically observes those for published changes and makes your design data available to everyone with a single click. In many cases, design files are not the only important component of a design system. People often forget that documentation is yet another essential part to make a design system work. That is the second core feature of Supernova.
Supernova combines an incredible powerful design-enabled docs editor with a flexible publishing engine. This means you can create the documentation you always wanted to create. The interface of Supernova's editor is beautifully structured, clear, and you will be immediately familiar with it if you have already used tools like Notion or Google Docs in the past. The editor features powerful blocks, that instantly render all kinds of content. You can embed stories from Storybook, illustrations and examples from Figma, or even live code examples. Once you have connected all your design files and finished setting up the documentation, your design system is ready to hand off to your teams, the thrid core feature of Supernova.
Supernova lets you expose designer and developer data in any form or shape you want. You can be sure that all the connected information from connected sources stays in sync and is always up-to-date. If you want to give Supernova a try, you can use the platform with a Personal Plan for free, forever. The Personal Plan is limited to three design systems, three viewers, and one linked design file per design system. If you are ready to commit to Supernova and take your design system to another level, you can upgrade to the Team Plan whenever you want which will cost you $25 per editor per month (billed annually) and gives you access to unlimited documentation, unlimited viewers, unlimited design sources, automated design sync, and more.
---
Useful Resource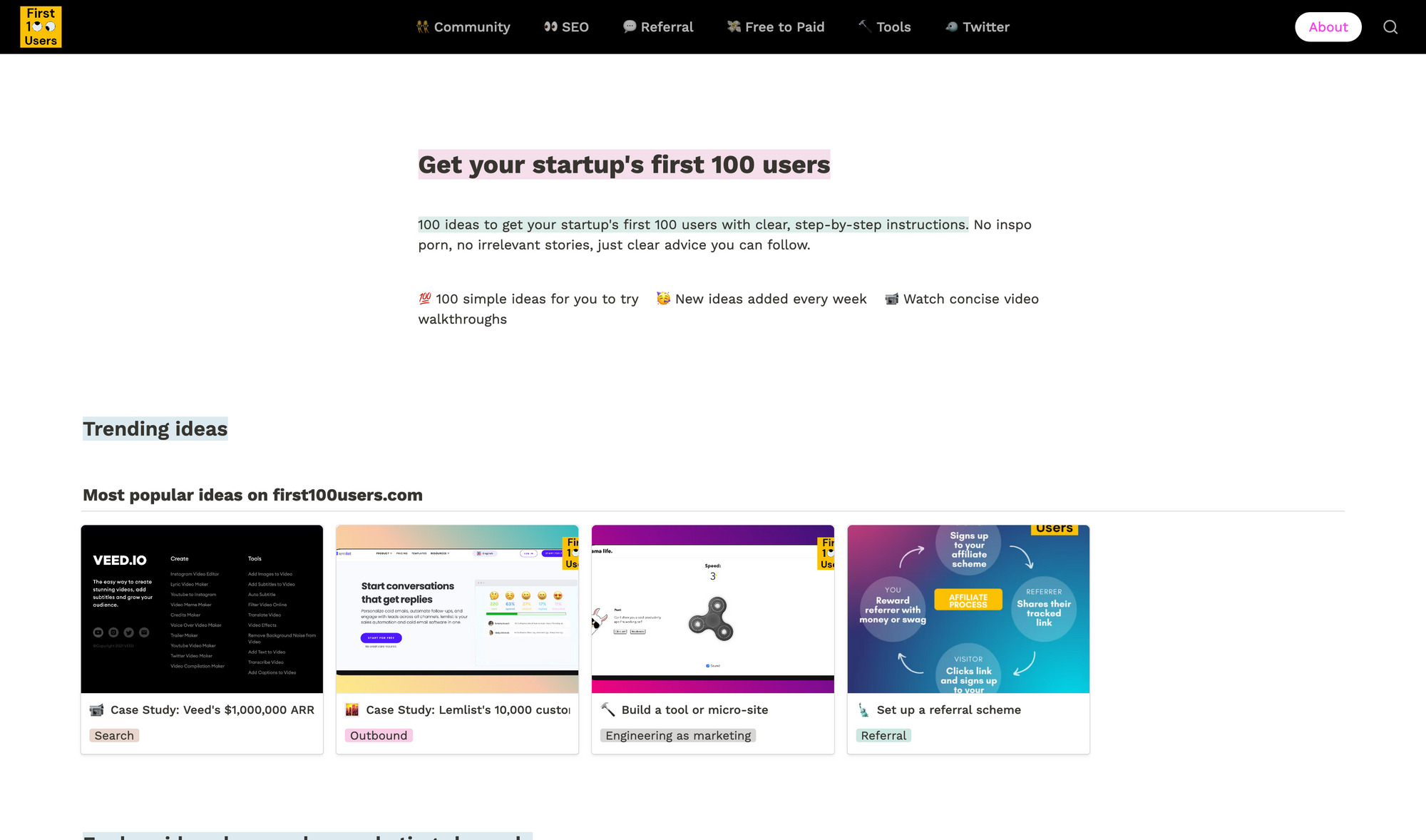 If you are currently looking for simple, actionable, and easily-measured ways to get you your first 100 users for your startup or project, this resource might be of interest for your. first100users.com delivers 100 ideas for your startup's first users. Those 100 ideas are simple for you to try, with step-by-step instructions. You can explore all the ideas sorted by popular marketing channels just like community, search engine optimisation, social, or word of mouth. The whole resource is beautifully structured so it is super easy to browse through all the entries and ideas. For me personally, the sections including ideas regarding SEO and organic social growth were of most interest, since I want to grow Creativerly organically through blog posts, but also on Twitter.
So, if you are looking for actionable ideas instead of irrelevant stories, or useless inspirations, make sure to check out first100users.com.
---
Mental Wealth
➢ Why Is It So Hard to Get Out of Your Comfort Zone? – "If you somehow feel stuck in life, have you thought about what might be contributing to that stuckness? Ironic or perverse as it seems, staying within your so-called comfort zone—your confined band of safety and security—can trap you in ways that end up making your life more of a struggle than you ever imagined. Still, the very idea of a comfort zone—as in, peacefully settling into a state of mind that forestalls worrisome fears of failure and rejection—can be incredibly alluring. At least it sounds like something we might all aspire to. Our life would be so much easier if we could regularly fend off anything that precipitated disturbing feelings of anxiety or depression."
➢ Silicon Valley's Blind Spot – "A few months ago, well into that giddy and protracted labor market phenomenon that's become known as the "Great Resignation," I started seeing posts by a company called Blind on my Instagram Explore page. Most of them were simply text on a plain background, bearing quotes from nameless employees of major tech companies and financial institutions. The content of these testimonials originated on Blind, a forum and anonymous networking site. It all suggested a kind of white-collar unrest: an insight into how the Great Resignation, which has been driven mostly by the retail and service industry sector, was playing out among the professional class."
➢ My first impressions of web3 – "Despite considering myself a cryptographer, I have not found myself particularly drawn to "crypto." I don't think I've ever actually said the words "get off my lawn," but I'm much more likely to click on Pepperidge Farm Remembers flavored memes about how "crypto" used to mean "cryptography" than I am the latest NFT drop. Also – cards on the table here – I don't share the same generational excitement for moving all aspects of life into an instrumented economy. Even strictly on the technological level, though, I haven't yet managed to become a believer. So given all of the recent attention into what is now being called web3, I decided to explore some of what has been happening in that space more thoroughly to see what I may be missing."
➢ Stop brainstorming – ""Brainstorming" — the problem-solving technique of coming up with as many ideas as possible in a short period of time — has been showing up on a lot of my leadership meeting agendas lately. Many of my peers are employing brainstorming in the belief that, as thought-leading creative consultancy Ideo puts it, "the more ideas you come up with, the better chance you have to reach a truly brilliant solution." Here's a little more about Ideo and brainstorming from a 2001 Fast Company piece."
---
Classifieds
If you are interested in putting your tool, product, or resource in front of over 1400 creative minds, consider advertising in Creativerly and book a sponsor or classified ad spot. Find all the important information at creativerly.com/advertise.
---
Appendix
➢ ICYMI
The Creativerly Community is here. If you are looking for a dedicated place to discuss all sorts of topics relating to creativity, productivity, apps, and tools, or if you want to connect with like-minded creative folks, join the Creativerly Community on Discord now. Simply follow this invite link and become a member. I am looking forward to meeting you all on Discord.
➢ Quick Bits
---
Twitter thoughts
---
Till next time! 👋‌‌‌‌
Support: Do you have a friend who is looking for inspiration, news about design, and useful tools and apps? Forward this newsletter to a friend or simply share this issue and show some support. You can also show some love by simply clicking the button down below and keep this newsletter a sustainable side-project by buying me a coffee. ☕️ 🥰
---
---
Some of the links in my newsletter and my blog posts are affiliate links. Those links are marked by an asterisk. If you buy something through the link, the product will not cost you anything more, but I will receive a small commission which not only supports Creativerly and my work but also helps me to keep this publication a sustainable side-project.