Newsletter
Thoughtful writing, reimagined & Creativerly's favourite apps 2022
In this week's issue of Creativerly: Get ready to unlock a new level of productivity, your guided journal app for wellness and growth, time-tracking for software professionals, and a lot more.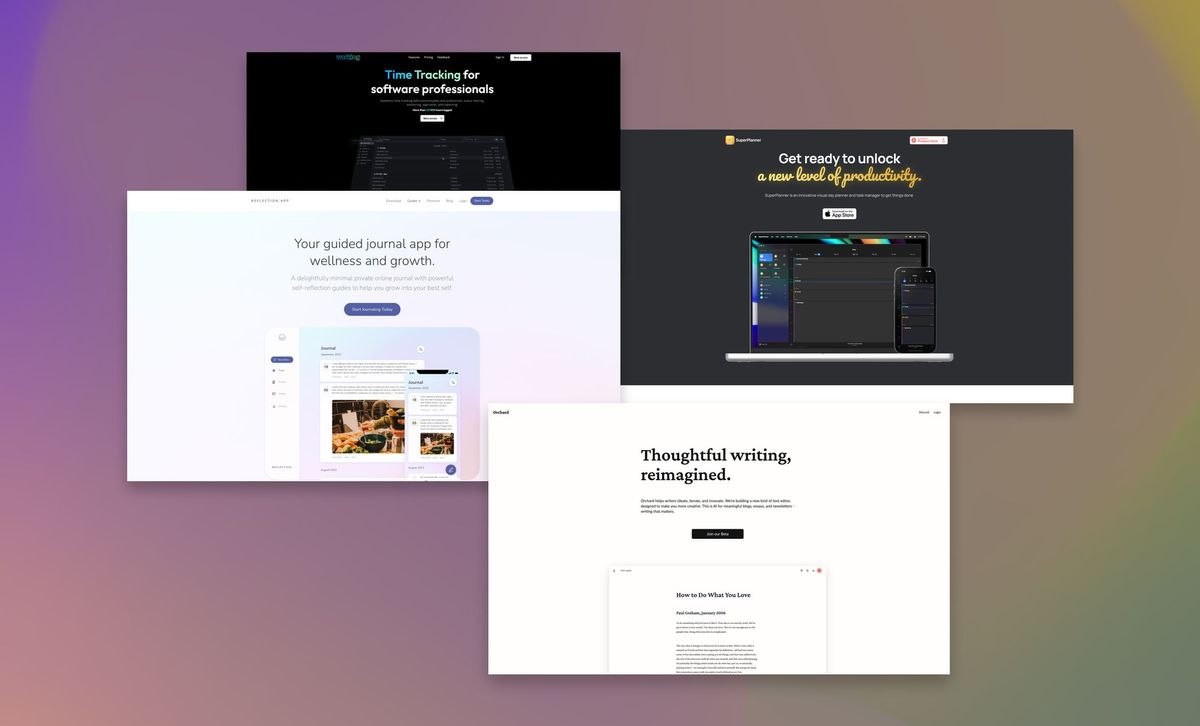 My name is Philipp and you are reading Creativerly, the weekly digest about creativity and productivity-boosting tools and resources, combined with useful insights, articles, and findings from the fields of design and tech. The newsletter built for the creative community.
---
Hey and welcome to Creativerly 201 👋
Well, here is the last issue of Creativerly within 2022. The next time you will receive an email from me, we will have successfully entered 2023. So, with this email, I want to wish you merry Christmas, happy holidays, and a reflective and contemplative time with your loved ones. If you are not celebrating Christmas, I still wish you an awesome week left in 2022.
As promised, I am sharing with you the last long-form content of 2022, which is a list of Creativerly's favorite apps of 2022. It has been yet again, an awesome year for apps and tools. Some amazing updates have been shipped and we got introduced to some new interesting and powerful apps in general. Last year, I kicked off the tradition to sit down at the end of the year and reflect on all the apps that got me excited for the last few months.
2022 has yet again been an awesome year for Creativerly, but it has definitely been also an awesome year for loads of apps and tools out there. I have gathered five apps that stood out to me. With my last long-form piece of 2022, I wanted to highlight, resurface, and share some thoughts about those apps once again. Additionally, I also want to embrace the incredible teams and makers behind those apps.
Now it is time to regain some energy, enjoy the last days of 2022, and getting ready to dive into the new year. Enjoy the last issue of Creativerly within 2022.
I am wishing you all the best, have a blast!
---
Your next business idea, delivered weekly

Trends tells you the next big thing – months before everyone else. Their dynamic team of business analysts already outlined 1,000+ vetted business ideas you can start in weekend, and they send new ideas and market signals straight to your inbox weekly.
This is a sponsored message to support Creativerly. If you are interested in putting your tool, product, or resource in front of over 1900 creative minds, consider advertising in Creativerly and book a sponsor or classified ad spot. Find all the important information at creativerly.com/advertise.
---
Apps, Software, Tools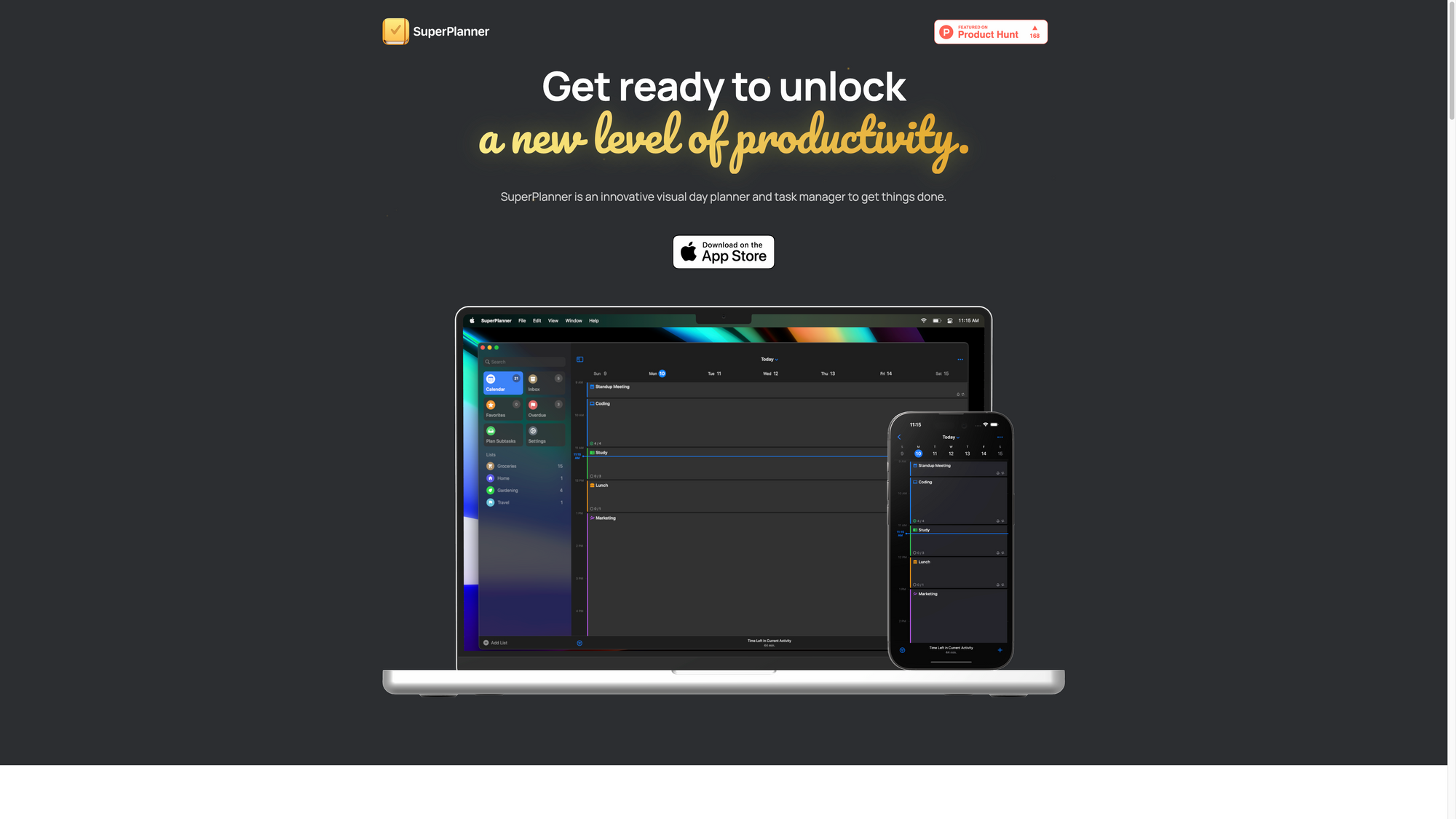 SuperPlanner is a beautiful and innovative visual day planner and task manager, I recently stumbled across. It has been exclusively built for the Apple ecosystem, with apps for macOS, iPadOS, and iOS.
If you are on the hunt for an app that helps you to manage your day, give SuperPlanner a try. The process and workflow of planning and managing your day within SuperPlanner starts with organising your activities. Make the most of every hour by organising all the different activities from your day. To sync your events automatically, you can connect your calendars. While setting up and organising your activities, you can set custom repetition rules, set custom icons and colours, and set different times by day of the week. SuperPlanner lets you organise unlimited activities, get notifications, and as already mentioned, sync all your calendar events.
Once you are done with setting up and organising your activities, the second step in the process of managing your day with SuperPlanner, includes adding tasks to your activities. I am a huge fan of this and avid Creativerly readers probably already know that I am a strong advocate of combining your calendar with your tasks. Most of the time, the activities or events you have planned during the day consist of one or multiple subtasks that need to be done to mark the whole activity or event as done. Within SuperPlanner you can add tasks to the activities and events that are planned for the day. This means you can say goodbye to long, ever-growing, and overwhelming to-do lists. SuperPlanner gives you the possibility to set priorities for your tasks, set a notification time to make sure you are always in the loop about the things you need to tackle, create lists, and give you access to an assistant to plan subtasks.
Besides all of that, SuperPlanner also features a day summary that lets you see all your activities and tasks from a single view, custom themes so you can choose your preferred theme and icon, quick access to favourited tasks from the menu, and light and dark mode. Additionally, SuperPlanner features a wide range of customisable widgets that help you stay organised.
As already mentioned, SuperPlanner is built for the Apple ecosystem. This also means that you can sync your activities and tasks across all your devices by using iCloud. SuperPlanner gets developed by Gabriel Guarino, who is the solo-maker behind the app.
SuperPlanner is now available on the App Store for macOS, iPadOS, and iOS.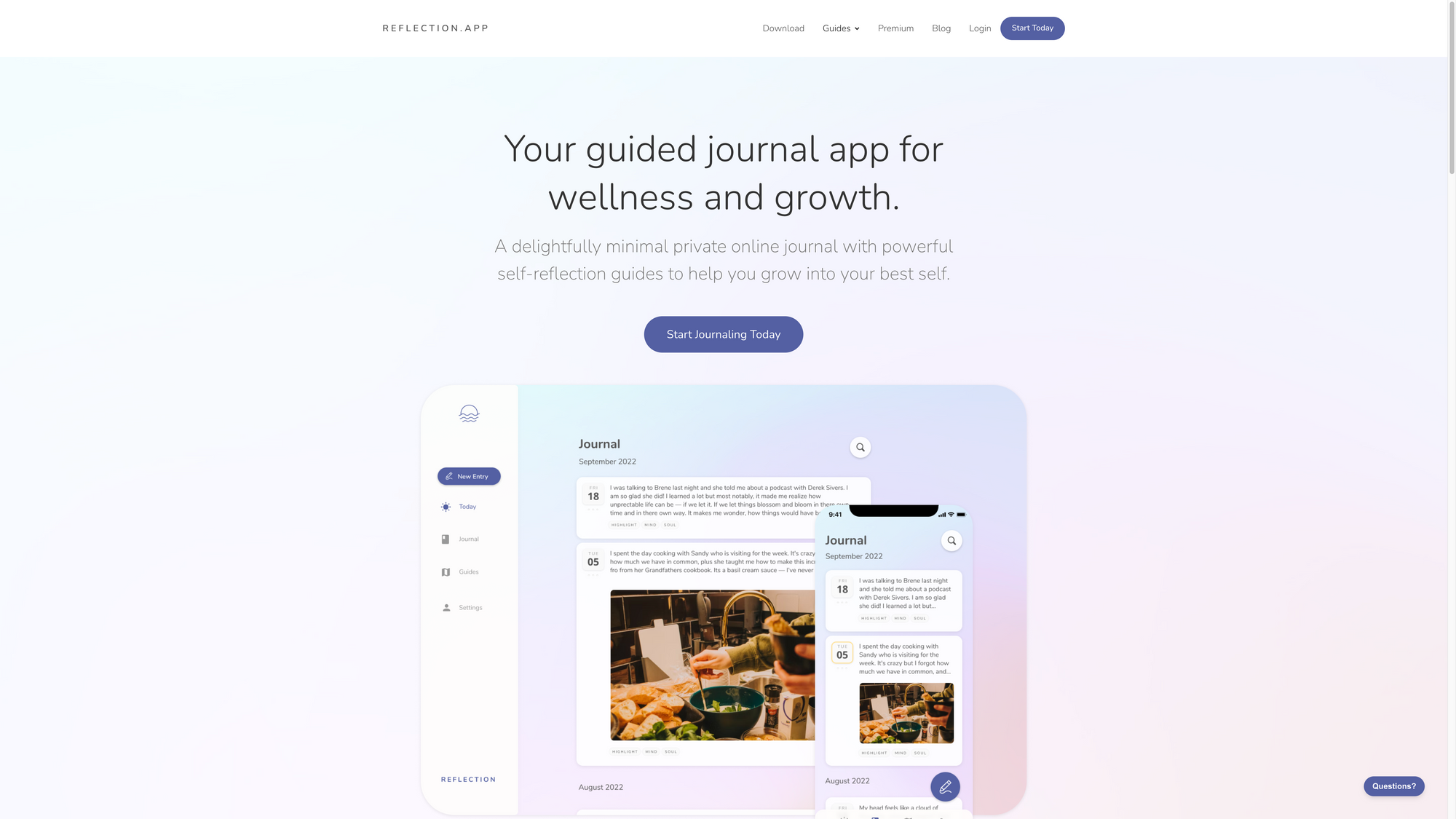 I am a huge fan of journaling. I started journaling five years ago, and since then there is no going back. Over the course of those five years, I got so much value from writing and maintaining a journal every single day. Sometimes it can be hard to actually get started at journaling. People feel a little bit lost, not knowing what they should actually write down. Reflection.app is a guided journal app for wellness and growth. It is a delightfully designed, minimal private online journal that offers powerful self-reflection guides to help you grow into your best self.
Reflection.app helps you to improve your mental health with a beautifully designed journal that provides everything you need to nurture your reflection practice. Within Reflection.app you will find inspiring journal prompts, rich insights, and the ability to look back on your past entries with a fresh perspective. So, if you are sitting in front of an empty journal one day, Reflection will make sure to get your journaling process going, by giving you the option to choose from different journaling prompts that will definitely sparkle some ideas and thoughts. If you really want to supercharge your journaling, Reflection.app offers so-called quick templates. Quick templates within Reflection.app are custom journal templates that you can create and save and reuse whenever you want to. This allows you to set up and create your very own frameworks. Quick templates are great for gratitude journaling, book reviews, weekly planning, and a lot more.
As already mentioned, sometimes journaling can be hard, and often new users of journals are unsure how to start. Reflection.app comes with a guide and powerful prompts for a quick reflection. But on the other hand, you always have the possibility to go deeper with Reflection.app's growing library of mindful journaling activities. Additionally, Reflection is here to help you master your monthly and annual reviews. With a unique framework, Reflection.app makes it easy to look back on your month and year so you can find peace, foster gratitude, and grow.
Reflection.app is available cross-platform as a web app, but there are also apps for iOS, Android, and macOS. You can use Reflection.app for free forever. The Free Plan gives you access to all apps (with limited syncing), unlimited private and secure entries, guided monthly and annual reviews, analytics and insights, blazing-fast search, import or export of your entries, thought-provoking prompts, journaling reminders, and an ad-free experience. The Premium Plan which is available for $6 per month includes everything within the Free Plan plus the possibility to create custom tags, add photos to entries, unlimited device syncing, advanced privacy settings, rich-text formatting for entries, and the creation and editing of quick templates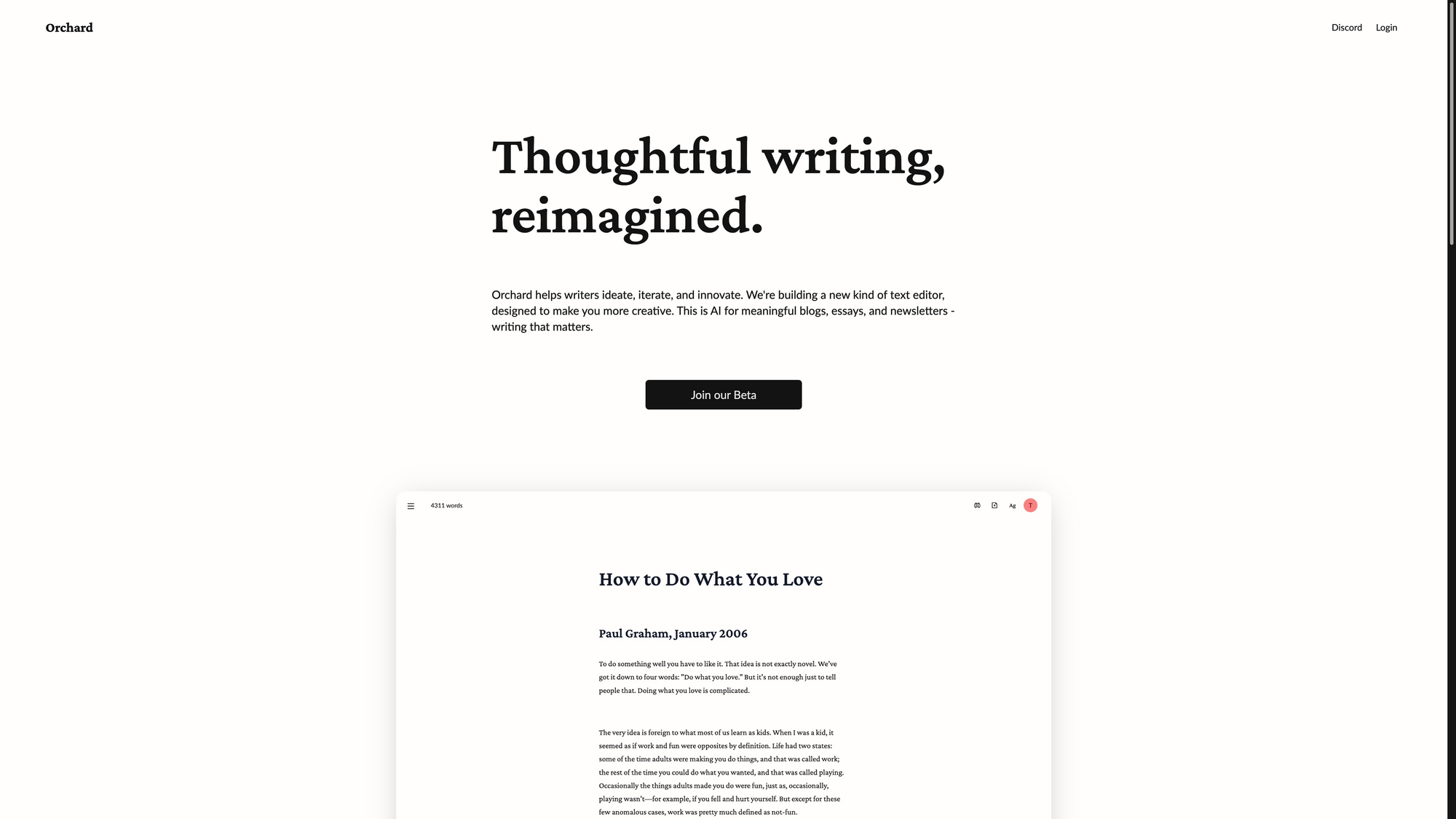 Since I am a Writer myself, it is always exciting for to stumble across new writing apps. The most recent one I have discovered is called Orchard. Orchard is an app for thoughtful writing but reimagined. It helps writers ideate, iterate, and innovate. This got me excited.
Orchard is building a new kind of text editor, designed to make you more creative. Orchard is powered by AI and helps you to create meaningful blogs, essays, and newsletters. While writing, it can always happen that you are hitting a wall, you are experiencing writer's block. While sometimes it definitely helps to get up, do something different, and get back to your writing at a later point, it can also happen that you are simply stuck. This means, not knowing how to continue your blog post, or not having the feeling that your writing is not concise enough to deliver the ideas, feelings, and thoughts you had in mind while writing it. Orchard is delivering a new perspective on editing. If you ever have the feeling that the paragraph you have just written is not concise enough, just ask Orchard to make it more concise, or see what a debater might say about your persuasive essay.
Additionally, Orchard gives you superpowers for blogs, essays, and newsletters. With Orchard, you get access to the same technology behind ChatGPT, right at your fingertips. You can talk to Orchard about anything, and use your conversations to seed your writing. Orchards AI assistant is a powerful tool to ideate and iterate while writing your next piece. It also gives you the possibility to explore different paths for your writing that you might not have thought of in the first place. Additionally, Orchard is offering AI autocomplete. That means, when the editor detects a long pause in your writing, it will offer you AI-generated suggestions to help you keep your flow going. This is an incredibly interesting and powerful feature. Basically, it prevents you from hitting and experiencing writer's block. If you want to accept the changes that the AI suggested, all you need to do is press tab and continue writing.
The overall interface of Orchard is simply beautiful. It is a distraction-free interface so you can purely focus on your writing. To customise the interface a little bit to your liking, you can toggle the font style of pages between serif, sans-serif, and monospace fonts. Orchard also gives you the possibility to download your writings in markdown format, which is a really nice addition if you want to move them somewhere else.
Besides that, Orchard lets you share your documents with friends to collaborate in real-time or show them to the world since Orchard lets you create a public link to your writings.
As of writing this, Orchard is still in beta. You can sign up for the beta with your Google account. Make sure to give it a try, and join the community Discord to get some more insights and provide feedback.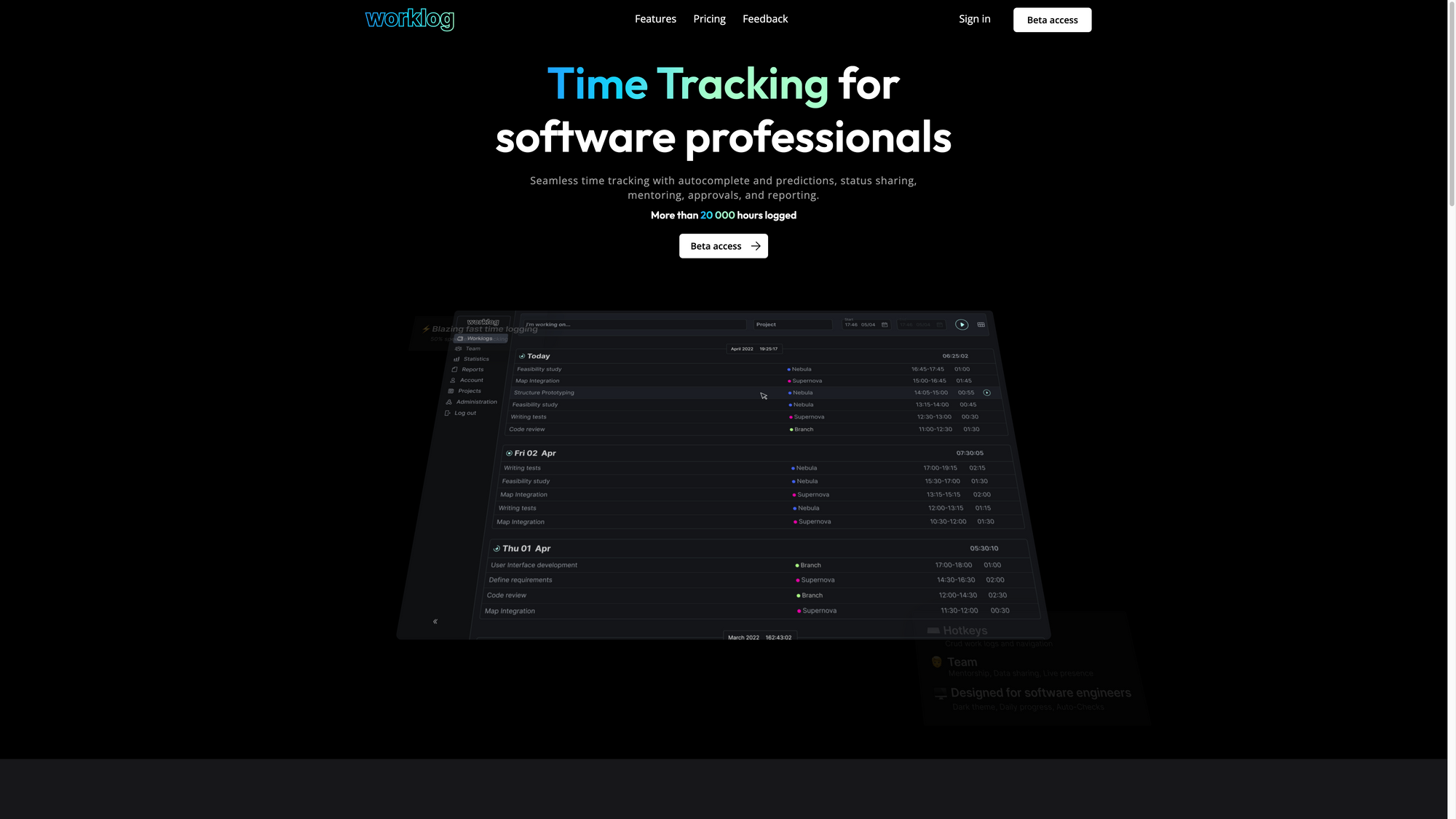 When I am working on my side projects, I often get lost when it comes to all the hours I am putting into them. But, sometimes I feel the urge to keep track of the time I am working on those projects. It is just a nice way to get insights into where your working time goes and on which projects you spend the most time on. Worklog is a time-tracking app, that offers seamless time tracking with autocomplete and predictions, status sharing, mentoring, approvals, and reporting.
Worklog is especially aimed at software professionals. It was built to help you with your journey to eliminate all the frictions that distract you from engineering. First of all, worklog features blazing-fast time logging. Hotkeys give you the power to create work logs, navigate, and autocomplete from previous logs with just a few keystrokes. There is no need to remove your fingers from your keyboard, hotkeys make it possible. The daily progress feature within worklog gives you a visual indicator to highlight overtime. If you want to use worklog across your team, you can totally do so, worklog was even optimised to be used across a team. It offers easy and seamless data sharing which leads to fewer interruptions while you are working on your tasks. The mentorship feature within worklog, lets you view your team member's worklogs and easily give them feedback when there is a need. With powerful sharing controls, you get the flexibility when it comes to data sharing, that you always wanted.
To make sense of the time tracking you are doing within worklog, it is offering great reporting features. With just a few clicks you can export your logs to PDF and Excel. Additionally, you can also customise your reports by setting custom date ranges. Worklog even allows you to filter by user and projects.
As of writing this, worklog is still in beta. Currently, worklog is offering early bird pricing. For $6 per user per month (billed monthly) or $5 per user per month (billed annually, save 17%) you can join via beta access and enjoy multiple benefits of professional and hassle-free time tracking. The early bird pricing plan gives you access to time tracking, reporting, mentoring, approvals, sharing, print PDF ready, and Google sign-in. A nice add-on from worklog: Open-source projects can use worklog for free.
---
Mental Wealth
➢ When to Give Verbal Feedback — and When to Do It in Writing – "You give clear feedback to your direct report. They acknowledge the feedback. And then…nothing changes. How many times have you been in this frustrating situation? While there are many reasons why feedback fails to deliver results, one that is easily overlooked is our choice of delivery: whether we give the feedback verbally or in writing. You may be leaning on one style not because it's best for the feedback you need to give, but because it's most comfortable — or most convenient — for you."
➢ How Did We Get So Obsessed with Streaks? – "When I'm stuck in one of those moments where we used to, you know, hang out with our thoughts, but now generally turn to mindlessly thumbing our phones, I periodically realize I've wandered my way to the Delta App. Why? I'm obsessed with my SkyMiles. Not the number of them, not really. I just want to track whatever incremental progress I've made to the next medallion status."
➢ Why Everything in Tech Seems to Be Collapsing at Once – "The tech industry seems to be in a recession. Although overall unemployment is still very low, just about every major tech company—including Amazon, Meta, Snap, Stripe, Coinbase, Twitter, Robinhood, and Intel—has announced double-digit percentage-point layoffs in the past few months. The stock valuations for many of these companies have fallen more than 50 percent in the past year."
➢ The Power of Leverage in Leading the Life You Want – "Writing text that can be understood by as many people as possible seems like an obvious best practice. But from news media to legal guidance to academic research, the way we write often creates barriers to who can read it. Plain language—a style of writing that uses simplified sentences, everyday vocabulary, and clear structure—aims to remove those barriers."
---
Classifieds
These are paid promotions or affiliate links to support Creativerly. If you are interested in putting your tool, product, or resource in front of over 1900 creative minds, consider advertising in Creativerly and book a sponsor or classified ad spot. Find all the important information at creativerly.com/advertise.
---
Appendix
➢ Quick Bits
---
Twitter thoughts
---
👋
Till next time!
Share or forward this post to your friends, if they are also looking for creativity and productivity-boosting tools and resources. If you need help discovering your next favourite task management, note-taking, or PKM app, Creativerly delivers the insights you need. Creativerly is an independent publication and I am writing and maintaining it in my free time. You can support Creativerly and my work by sharing it with the world,
booking an advertising spot
, or by
buying me a coffee
.
---
---
Some of the links in my newsletter and my blog posts are affiliate links. Those links are marked by an asterisk. If you buy something through the link, the product will not cost you anything more, but I will receive a small commission which not only supports Creativerly and my work but also helps me to keep this publication a sustainable side-project.