Newsletter
The three keys to human motivation & The Keyboard-centric Application every Mac User needs
In this week's issue of Creativerly: Doing Content Right, online mind mapping, a 3D design tool for the web, and a lot more.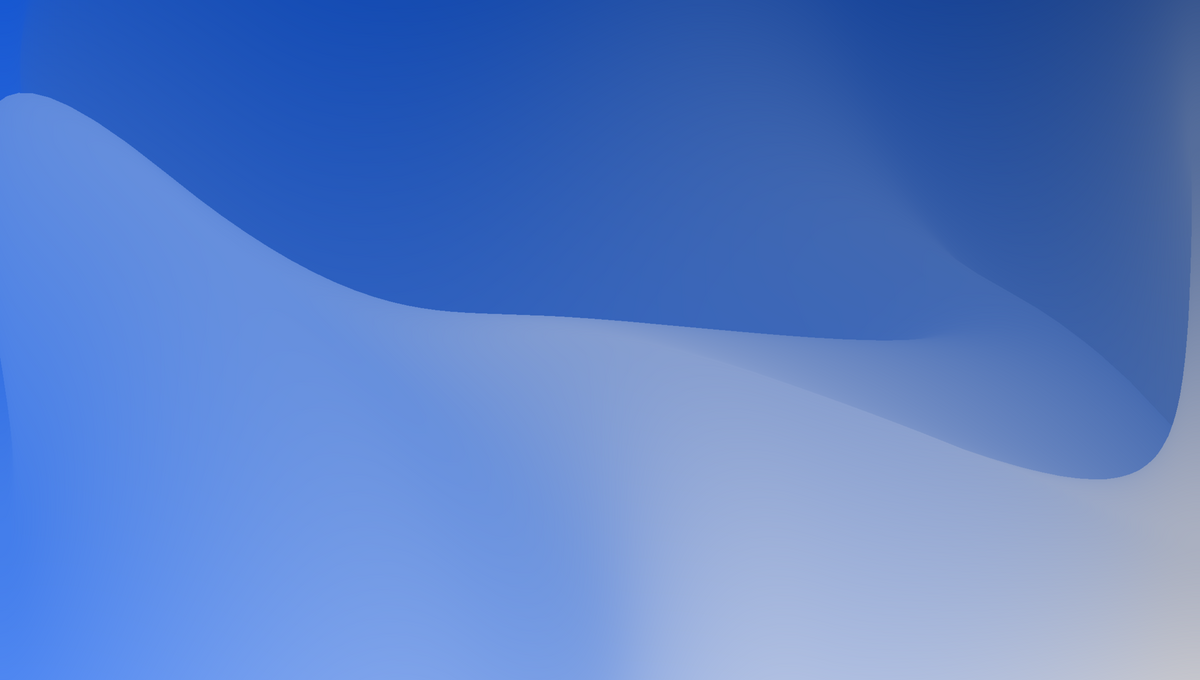 You are reading Creativerly, the weekly digest about creativity and productivity-boosting tools and resources, combined with useful insight, articles, and learnings from the fields of design and tech. The newsletter built for the creative community.
---
Hey and welcome to issue 85 👋
It is always super interesting for me to read through founder stories, how they came up with their idea, what very early prototypes looked like, and how they actually build their first product. Pat Walls build a whole website around this topic, called Starter Story, where founders and entrepreneurs share their stories on the bumpy road from early idea to a finished and sustainable product.
But there are also a lot of founders which are openly sharing their stories on Twitter. Just like Dennis Müller did recently as he gave us insights on how he started his company Amie (which recently received a $1.3 million investment; I wrote about this earlier in Creativerly #74). It is just incredibly inspiring to read through this crazy ride, quick bits with a lot of insights. Take your time and read through the whole Twitter thread and be part of the creative journey Dennis took while being on the road for one month and working on his idea of building a joyful productivity tool.
What I really love about the way Dennis told his story is the fact, that he also points out that his journey could have ended very easily. Make sure to not only check out the thread but also the comments, since Dennis is very actively responding and discussing things with his twitter followers.
I am happy for Dennis that his journey took him to this day, with an evergrowing waiting list, a lot of community support, and some crazy times ahead. If you also want to jump on board you can do so here: Sign up for Amie.
---
Creativerly Special
Since Creativerly got a lot of new subscribers since the last issue I send out, I want to introduce you to a very special offer.
If you are curious about starting and writing a blog or newsletter, but you are kinda lost, not knowing where to start, where to build your digital home, how to grow your audience, etc. Steph Smith's "Doing Content Right" is the right book for you.
You will learn about building your personal monopoly, how to distribute your newsletter (might be my favorite chapter), but also how to monetize it and what you should think of first before introducing a paid model of your newsletter.
I pre-ordered Steph's book back in July, and I was so excited when it finally launched back on September 15th. I have read the book and took so many notes since it is definitely the most valuable book I have ever read. You can grab your copy of the book right here. Small side-note: this is an affiliate link, by using it to buy the book I will get a small commission which supports this newsletter and keep it a sustainable side-project. Steph's is constantly increasing the price the more copies she sells. The current price is $30, which will be raised to $50 after Ocotber 15th. I am also happy to inform you, that Steph provided me with a personal discount code. So, if you use the code "philipp20" at checkout you will get 20% off. I do not recommend this book just for the sake of making money (although this supports the newsletter) I am recommending it because I believe a lot of my readers will get value from it (same with the other content I share), and since Creativerly is steadily growing I am thankful for opportunities like this where I am able to share a great resource and on top of that provide my subscribers with a discount code. So, if you buy the book, enjoy it, and thank you for your support, if you decide to not buy the book, I am still incredibly thank you that you are here and enjoying the creativerly content.
---
Apps, Software, Tools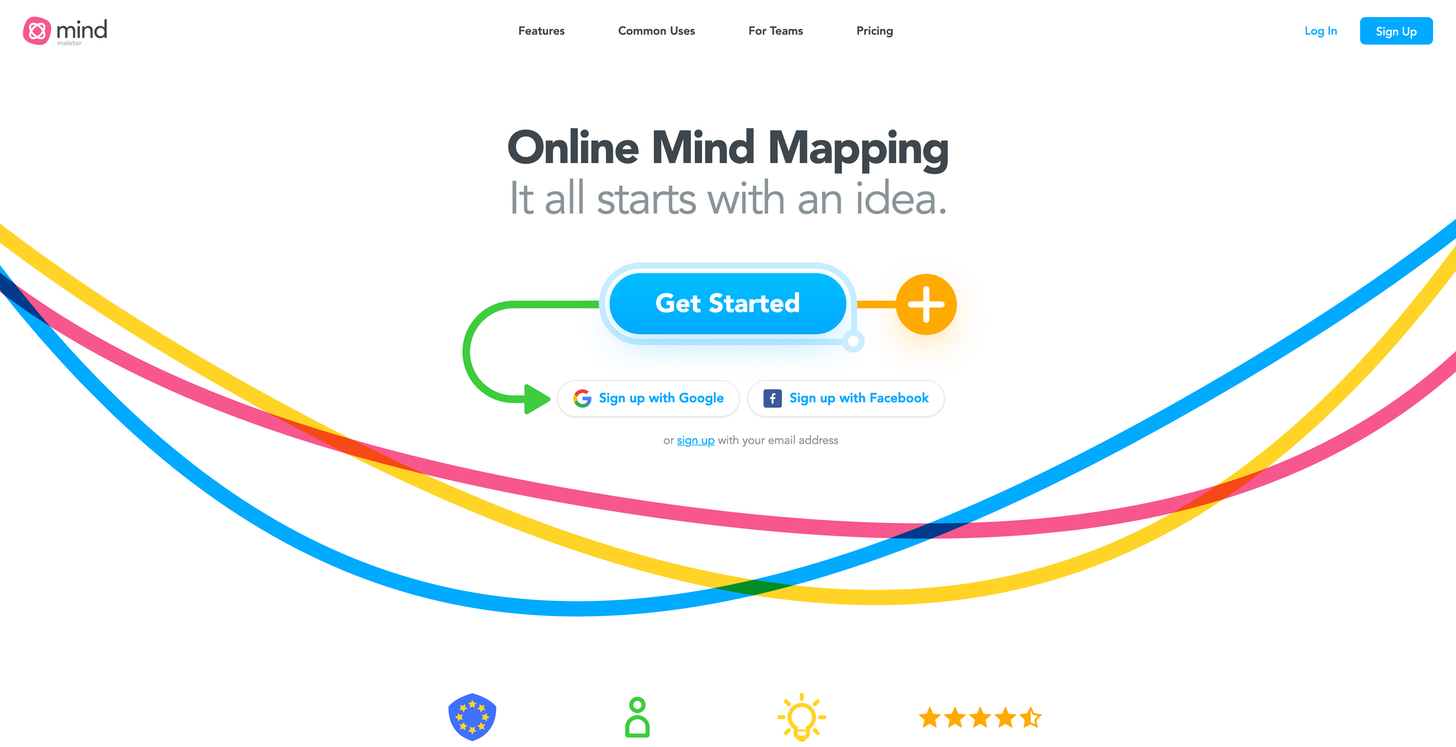 Back when I studied we often had to layout projects during seminars by setting up mind maps. I always loved this process of jotting down thoughts and notes and connecting the dots. It bothers me that I stopped with this procedure one I graduated. Nevertheless, there are some great tools that allow you to create mind maps completely digital with some great features. One of them is MindMeister by Meister Labs (a company that is also developing MeisterTask a task and project management tool). MindMeister lets you capture, develop, and share ideas visually. More than 13 million people already use this award-winning mind map editor for brainstorming, note-taking, project planning, and tons of other creative tasks.
My general workflow on my MacBook is very Keyboard-centric. I love keyboard shortcuts. I am a big fan of tools that support a wide range of different shortcuts, so you as the user do not need to take off your hands of the keyboard. Command-Tab Plus is a keyboard-centric application and window switcher for your Mac. When you work with a lot of programs that are loaded, switching between them makes a problem because it often takes a long time. Command-Tab Plus gives you many improvements in working with multiple applications and designed to be an alternative to the native Apple's App-Switcher. It boosts your productivity and your workflow by giving you the possibility to quickly switch between apps, cycle through open windows, hides not used applications, use isolated workplaces, and customize the whole appearance. Super handy and super useful.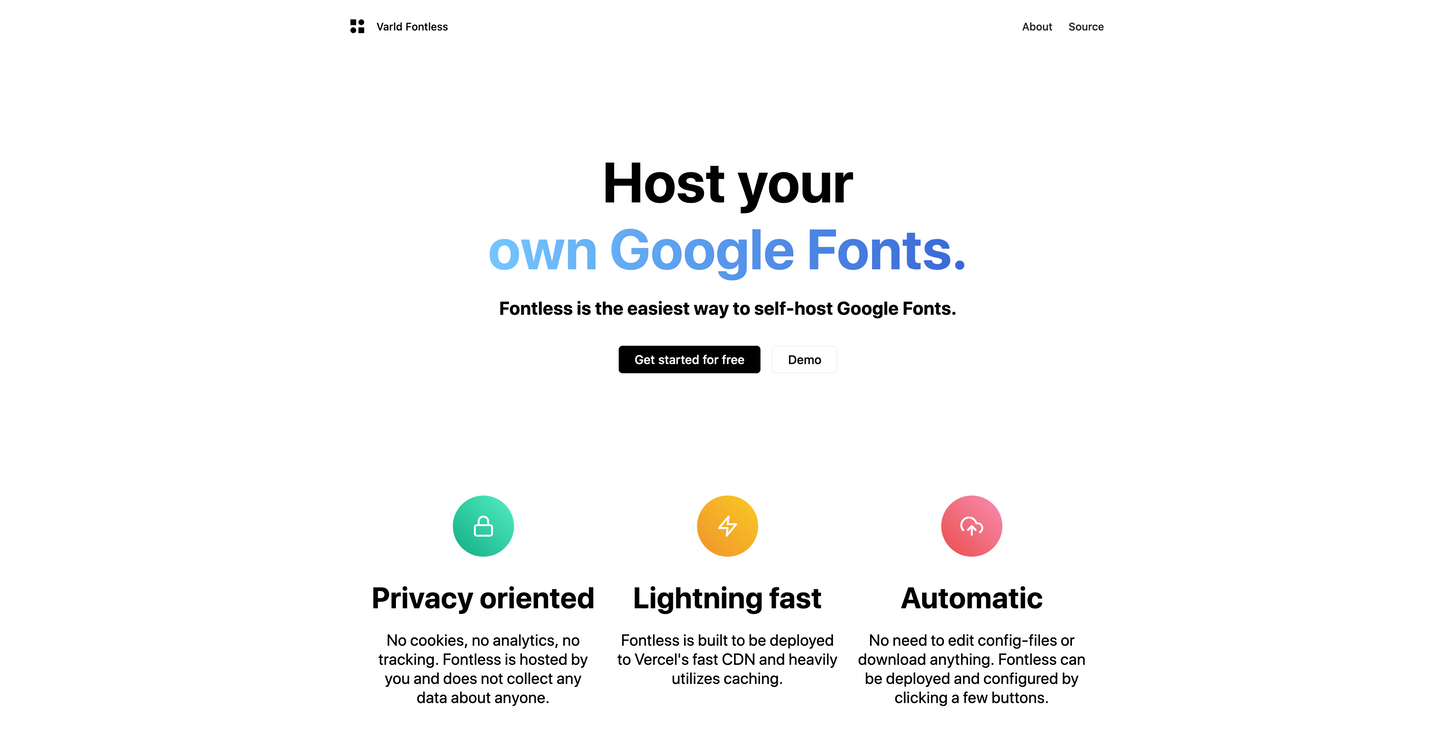 Every now and then I come across tools and get super excited about them because they solve a problem I did not know that it exists. One of those tools is Fontless by Varld, a small product studio based in Austria. So, what is Fontless? Fontless lets you host your own Google Fonts. You might think now "Why should I host my Google Fonts on my own when they are already hosted by Google and can be implemented on any website with just one line of code?". Well, hosting Google Fonts on your own gives you some powerful advantages. The first one, and that is already the most important one when you host your own Google Fonts your website gets more privacy-oriented since Google has no chance to collect any data, no cookies, no analytics, no tracking. Fontless is built to be deployed to Vercel's fast CDN and heavily utilizes caching. So, you can be sure that your website and your fonts will load super fast. Fontless also saves you a lot of time. No need to edit config-files or download anything. Fontless can be deployed and configured by clicking a few buttons. I really love the approach of Fontless, and I am super glad I found out about this tool. H/t Nic from The Slice, for introducing me to Fontless.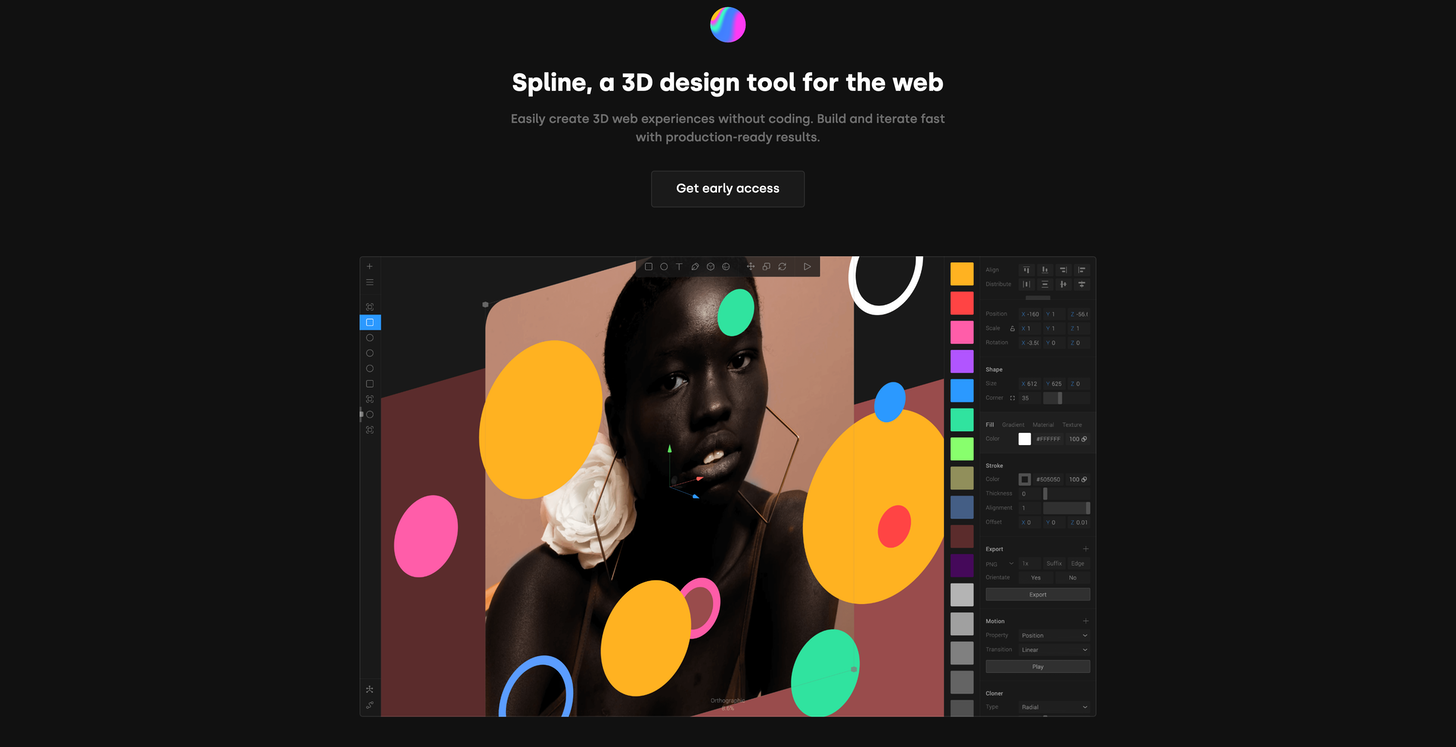 Since the performance of web browsers is getting better and better, more and more tools move to the web. Figma might be the most popular web app, and it is super snappy and incredible fast. Besides design tools for UI, Illustration, and Graphic Design in general, there are not that many options for 3D design tools operating in the web. Spline is exactly that, a 3D design tool for the web which lets you easily create 3D web experiences without coding. Build and iterate fast with production-ready results. Use visual tools to create or edit 3D content, add interactions, and export/share production-ready web assets (like JS, HTML, CSS). Currently, you can sign up for early access and I am super excited to test this out once Spline launches to the public.
---
Mental Wealth
➢ The three keys to human motivation –  Motivation. It's a hot topic not only in the business world but in the personal development world as well. You either struggle with it or you excel at it with flying colors. There rarely is a middle ground. When you have it, it's the reason why you're able to accomplish your projects. It's what fuels your discipline and commitment. It drives you to cross the finish line and equips you with the 'why' you need to keep pressing on. When you lack it, however, something as simple as even getting started with a new project can be the most difficult thing in the world. Just look on Amazon. There are hundreds of books available for purchase all about being more productive, setting goals, managing your time…all toward the end goal of bettering your motivation. One of the reasons those in positions of leadership are especially interested in motivation is because it allows them to motivate their teams to bring their best day in and day out in the workplace. One of the key resources that I refer to regularly when it comes to motivation is David McClelland's work on Social Motives.
➢ Why AI & Automation Are Actually Friends to Design – Artificial intelligence. Just hearing the phrase has been a trigger for many in the technology world since that creepy Haley Joel Osment film circa 2001. But more recently, artificial intelligence and machine learning strike fear into the hearts of skilled workers for an entirely different reason: job security, or lack thereof. Smart-home devices, streaming services, self-checkouts, even Google searches are ways that artificial intelligence has seeped into everyday life, exemplifying the abilities of computers and machines to master both simple and complex tasks. In some instances, these technological advancements make our lives easier, but for some people, their proliferation has meant job loss and skill replacement. There's no wonder that when artificial intelligence starts being mentioned along with web design and site creation, the spidey senses of designers all over the world start tingling.
➢ Tools should not only be for experts – they should turn us into them –  About eight years ago Bret Victor tried to change the way developer tools work by providing a faster and simpler way from creation to consumption. He also followed it up with a Learnable Programming Course asking for simpler development teaching courses.
The presentation "Inventing on Principle" was a smash hit, despite its deplorable video quality. Many people in the field set out to create more visual development tools. Tools that invite users to play with values and see the immediate effects. Tools that disrupt the "code, deploy, test and debug" cycle. Quite a few startups built tools based on the principles laid out by Victor but in the long run failed to get traction.
Fast forward to now. A few things changed but most of our tools are still daunting to use. They offer a lot of functionality and empower programmers. But they also demand a lot of effort to learn how to use them.
➢ What Not to Do – The Beauty of Bad Product Design – For good reason, the bulk of design literature expounds the principles and practices of great design, yet there's much to be learned from bad design. Absurdity accentuates the elegance of logic. Perhaps no one does this better than French poet, artist, and inventor of the world's worst products, Jacques Carelman. There's a charming little coffee pot on the cover of Don Norman's classic, The Design of Everyday Things. Its rounded curves and red enamel pop against a canary yellow backdrop. Steam rises from the spout, enveloping the title text. It's perfectly pleasant, the kind of piece one might expect to find in a well-appointed kitchen. There's just one problem. It's a coffee pot for masochists.
---
Goods & Gadgets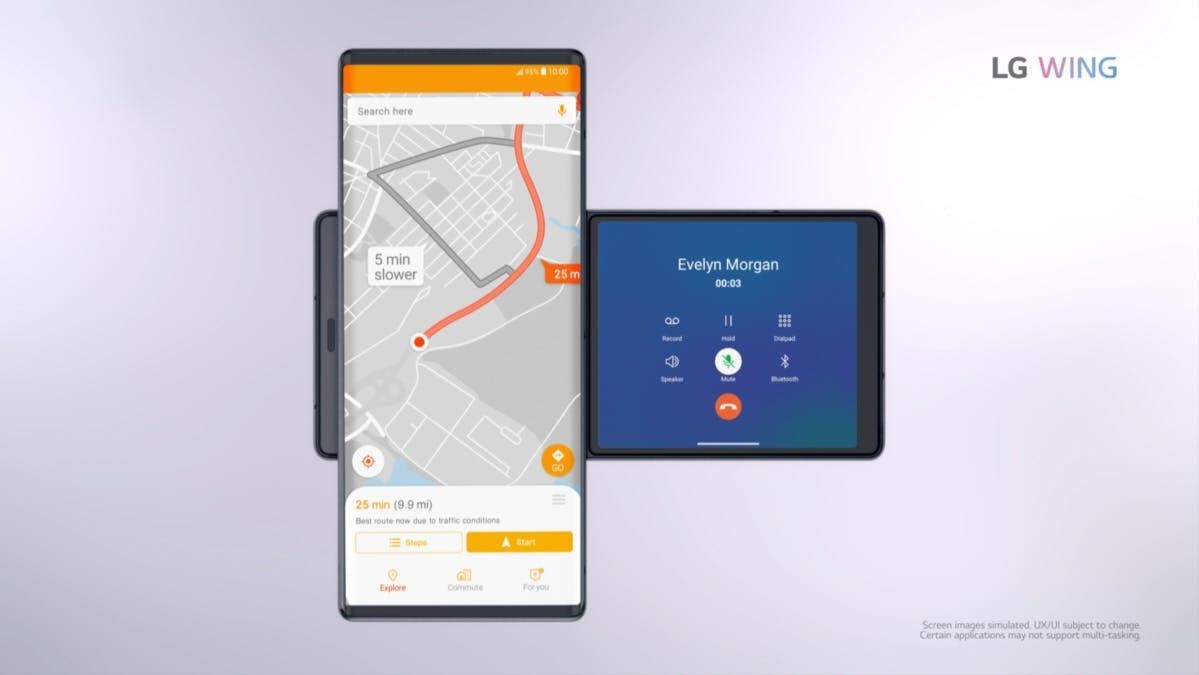 Is this the weirdest-looking smartphone we have seen so far? When I watched the unboxing video of the LG Wing I thought that this is a joke because I simply did not understand why anyone would create a smartphone like this (and I am also not quite sure if anyone has a real use-case for this). Anyways, it is interesting to see what big tech companies like LG comes up to create a smartphone that truly stands out compared to the other smartphones on the market. LG calls it "The most transformative smartphone experience ever." Nevertheless, seeing the whole screen rotating and revealing another screen is just impressive. This screen mechanism creates a completely new experience, and LG presents different use cases on their website, they call it "Extended App Experience". On top of that, it features a Gimbal Motion Camera, In-display fingerprint sensor, Qualcomm's Snapdragon 765G, 4,000mah battery, and more. As weird as it looks, it is also an impressive piece of technology and engineering.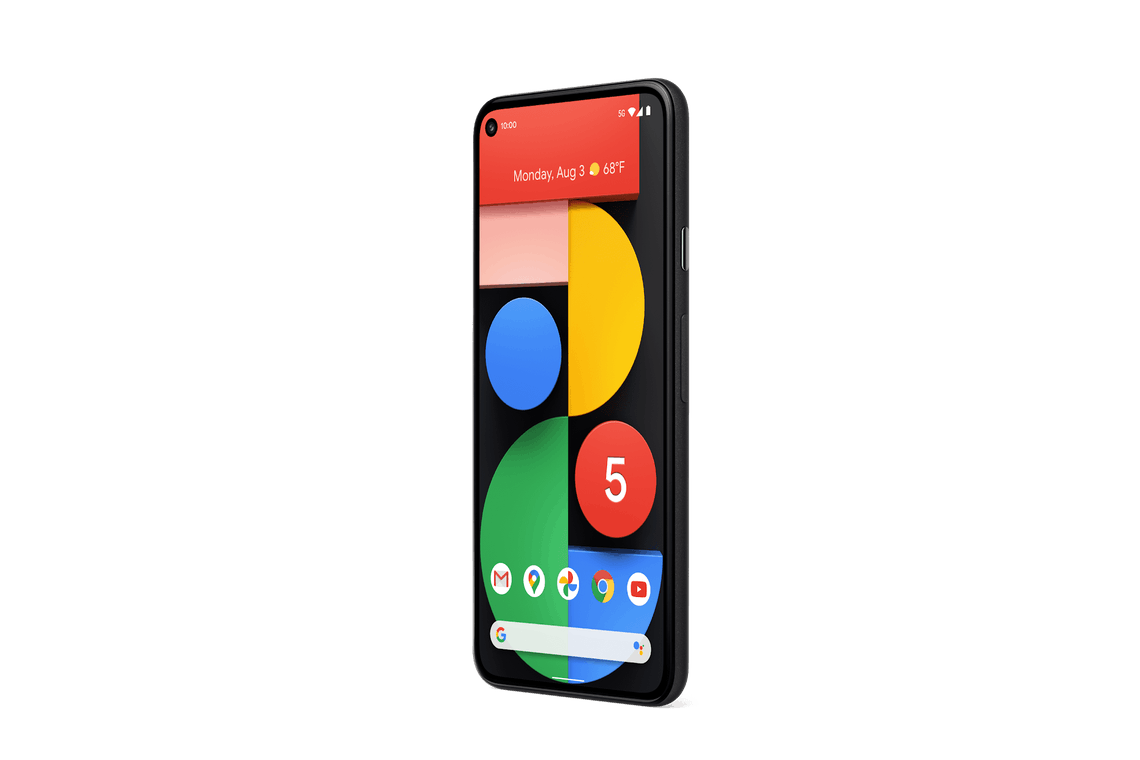 We just had a look at one of the weirdest smartphones out there, and now we take a look at a smartphone, which is in my opinion one of the most beautiful phones ever created. Although I am not a fan of Google, the really know how to create beautiful-looking products, just like the recently introduced Pixel 5. Google's flagship smartphone, now comes with 5G, 100% recycled aluminum body, a better camera with an ultrawide lens, and built-in reverse wireless charging that you can use to charge other devices. If I ever decide to grab myself a Google Pixel phone, the first thing I would do is flash CalyxOS on it to make sure it is privacy-focused. Nevertheless, the Pixel 5 might be the hottest smartphone out there (until Apple launches the iPhone 12).
---
Useful Resource
Shapefest is a huge library with over 160,000 3D shapes neatly organized in categories, available in high-resolution PNG images. And guess what, you can use those shapes both for personal and commercial projects. Shapefest was made by Joseph Angelo Todaro, Senior Product Designer at InVisionApp and Professor of Design at LCAD. He created this library with incredible detail, creating photorealistic, high-res renders, you can use anywhere. Another advantage: if you are a Sketch User you can conveniently integrate a Sketch Library which gives you immediate access to 140 3D shapes to use in your design projects.
---
Twitter thoughts
Too much focus on finding 1,000 true fans. Not enough focus on finding your 1 true believer.

An audience is great – but more often it's a first client, a first boss, a first investor, a first employee, or a first customer that fundamentally changes the trajectory of your career.

— Sahil (@shl) October 2, 2020
---
Till next time! 👋

Support: You have a friend who is looking for inspiration, news about design, and useful tools and apps? Forward this newsletter to a friend or simply share this issue and show some support. You can also show some love by simply clicking the button down below and keep this newsletter a sustainable side-project by buying me a coffee. ☕️ 🥰
Disclaimer: My posts may contain affiliate links. If you buy something through one of those links you won't pay a penny more, but  I'll get a small commission, which supports this blog and newsletter and also my side-projects. So consider buying something through my links. Thank you!
---