Newsletter
To be creative, practice & The easiest way to build a website
Do more with less, Arc Boosts, Apple Design Award Finalists, you can't hack product positioning, and a lot more in this week's issue of Creativerly.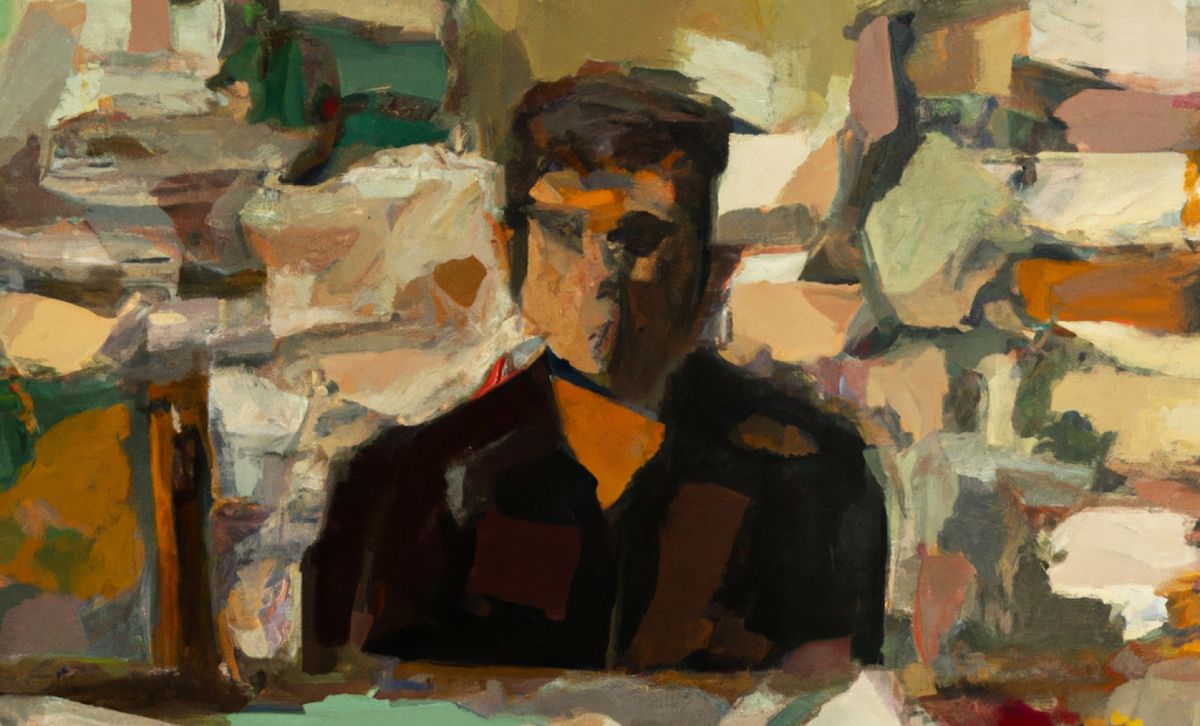 My name is Philipp and you are reading Creativerly, the weekly digest about creativity and productivity-boosting tools and resources, combined with useful insights, articles, and findings from the fields of design and tech. The newsletter built for the creative community.
---
Hey and welcome to Creativerly 223 👋
Over the course of the last couple of months there has been a bit of a backlash regarding the term PKM and the field in general. Various creators and writers within the field publicly stated their concerns regarding the current problems with Personal knowledge management. In a Long-Form piece, Elizabeth Butler (creator of Calmer Notes*) wrote about how and why she is starting to feel uncomfortable being associated with PKM, the fact that personal knowledge management becomes needlessly over-complicated, and how it leads to procrastination instead of being productive and organized. Sam Matla, an entrepreneur, writer, and content creator, published a video on YouTube five months ago, that attracted over 210k views. The topic: Stop Procrastinating with note-taking apps. In the video, Sam shared his opinions on why he thinks that personal knowledge management is, for many people, a sophisticated form of procrastination. Additionally, he shares five actionable principles for escaping the traps set by it.
Before I read the post from Elizabeth Butler and before watching Sam Matla's video, I had the feeling that over the course of the last few months, something was off within my note-taking processes and workflows. I found myself questioning my system, switching tools, optimizing workflows, instead of actually writing and taking notes, producing content, and keep track of things. Spending way too much time within PKM communities led to the fact that I saw a new system every single day, a new way of leveraging a plug-in, a special way of setting up an Organizational structure.
The constant conversation on personal knowledge management has become a major driver for people overthinking their systems and making things over-complicated, although the process of taking notes, writing, and keeping track of things should be easy and frictionless. People are starting to strive for perfectionism, complex systems, and every single tool they use has to be integrated with all the other tools, everything need to be connected. People started spending more and more time working towards a complex system instead of doing the real work of a personal knowledge management system which is actually taking and writing notes to leverage them.
The most basic form of organizing content with folders, tags, or simply links works perfectly fine, probably for the majority of us. But as more and more apps launch in the space, we see an increasing number of people talking about the all-time game-changing features. And as someone who has been active in this space for quite some time, sure it is always exciting to see something new. But in the end, if you are currently taking notes, make sense of them, and maybe use them to create outputs like blog posts, videos, podcasts, or to learn something new, you are doing everything right and there is no need to change your system or your workflows, just because a new tool tells you that it will change your life forever.
Do not waste your time on over-optimizing something that does not need any kind of optimization at all.
Stick with what works for you.
---
Apps, Software, Tools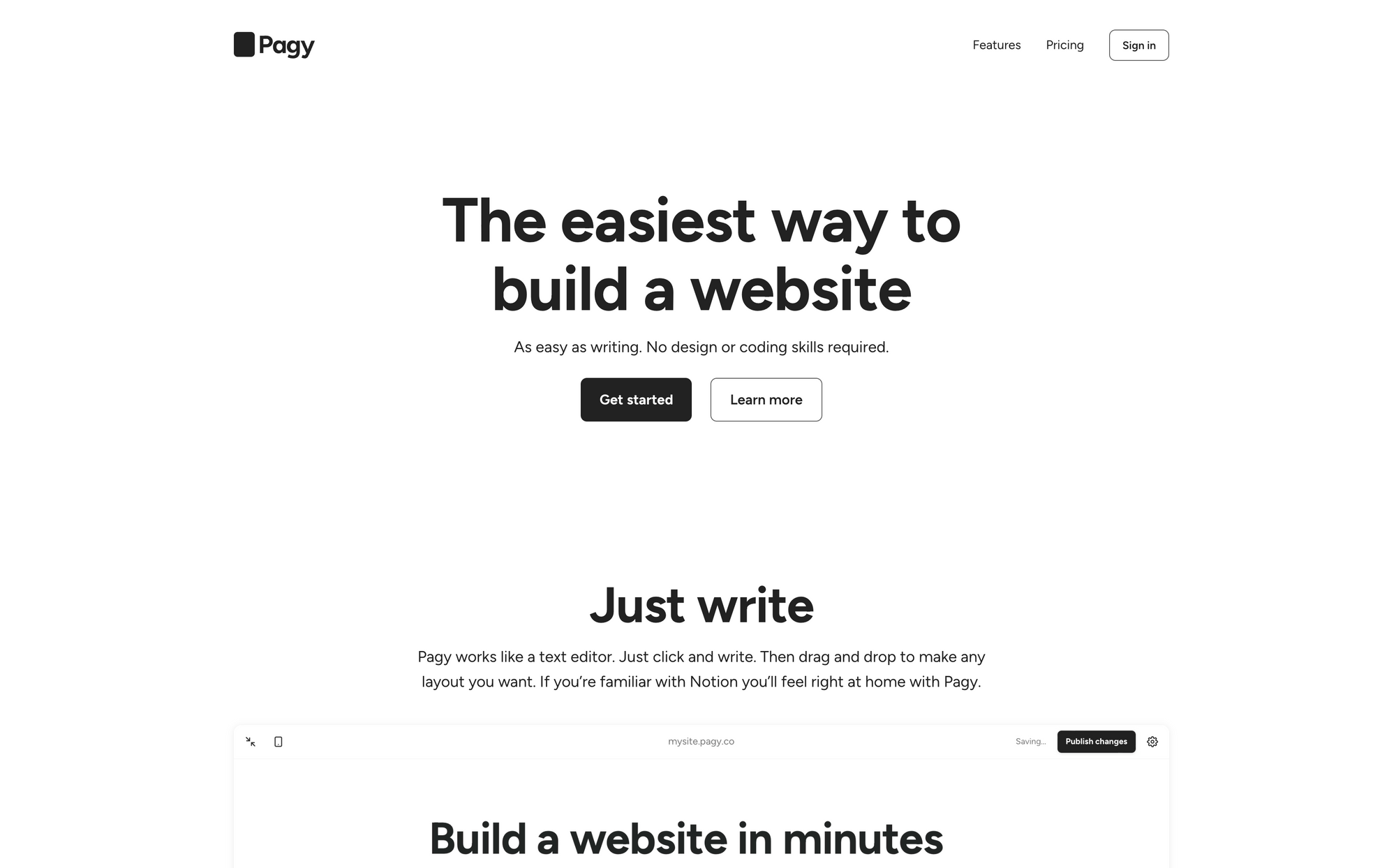 As almost everyone became a citizen of the internet over the last couple of years, I am a huge fan of tools that simplify the process of creating a tiny home on the internet to showcase your work, your content, or what you are building. Pagy is a fresh new tool that gives you the possibility to quickly and easily create website. Compared to similar services like Carrd* for example, Pagy follows a different approach, since it works like a text editor.
But what does it mean if a website builder states it is working like a text editor? Well, it means that you just click and write. If you are familiar with apps and text editors like the one in Notion, giving you access to multiple blocks and layouts just from a slash command, you feel right at home with Pagy. Within Pagy just press Slash and select any kind of block. After that you can drag and drop those blocks and create the layout you want. Since Pagy offers a selection of pre-built sections it is even easier to get started. Once you have chosen from those pre-built sections you can mix and match them to your likings.
Thanks to simple but yet powerful customization options, Pagy offers you the versatility you need to make your site unique with just a few clicks. Even if you are not a designer or if you do not have a background in a creative field, Pagy is simple and easy-to-understand to build a good-looking website. The lovely thing about tools like Pagy is the fact that you can use it for various use-cases. No matter if you want to build a landing page to showcase and inform your audience about your upcoming project or idea, a personal website to showcase your work, a company website, a portfolio, or a coming soon page, Pagy is perfectly suited for any kind of use-cases. You can even choose from over a dozen templates that fit your every need. But that is not it, Pagy offers you lovely feature straight out of the box. You can connect a custom domain to your site, add an email sign-up form to capture emails with no extra setup, inject custom code to add further customizations, and you do not have to worry about responsiveness, since Pagy automatically adapts to every screen size, from mobile to desktop. Besides that, Pagy is already optimized for SEO, following the latest best practices to get the best visibility on search engines.
Since Pagy is focused on simplicity you will not find endless customization options, and instead only the ones that matter. There are also no pointless animations, since Pagy was built by following the main purpose of a website, which is to communicate information. You will also not find AI within Pagy, since every single part of it has been thoughtfully crafted by humans for humans. I love that. Over the last couple of weeks, I had the feeling that loads of companies that are developing apps and tools implemented and announced their AI integrations just for sake of placing "Powered by AI" on their websites.
You can try Pagy for free for 7 days, and no sign up is required. If you enjoy the product and would like to use after those seven days, you can subscribe to the Starter Plan which will cost you $5 per month per site and includes unlimited page views and the possibility to connect a custom domain.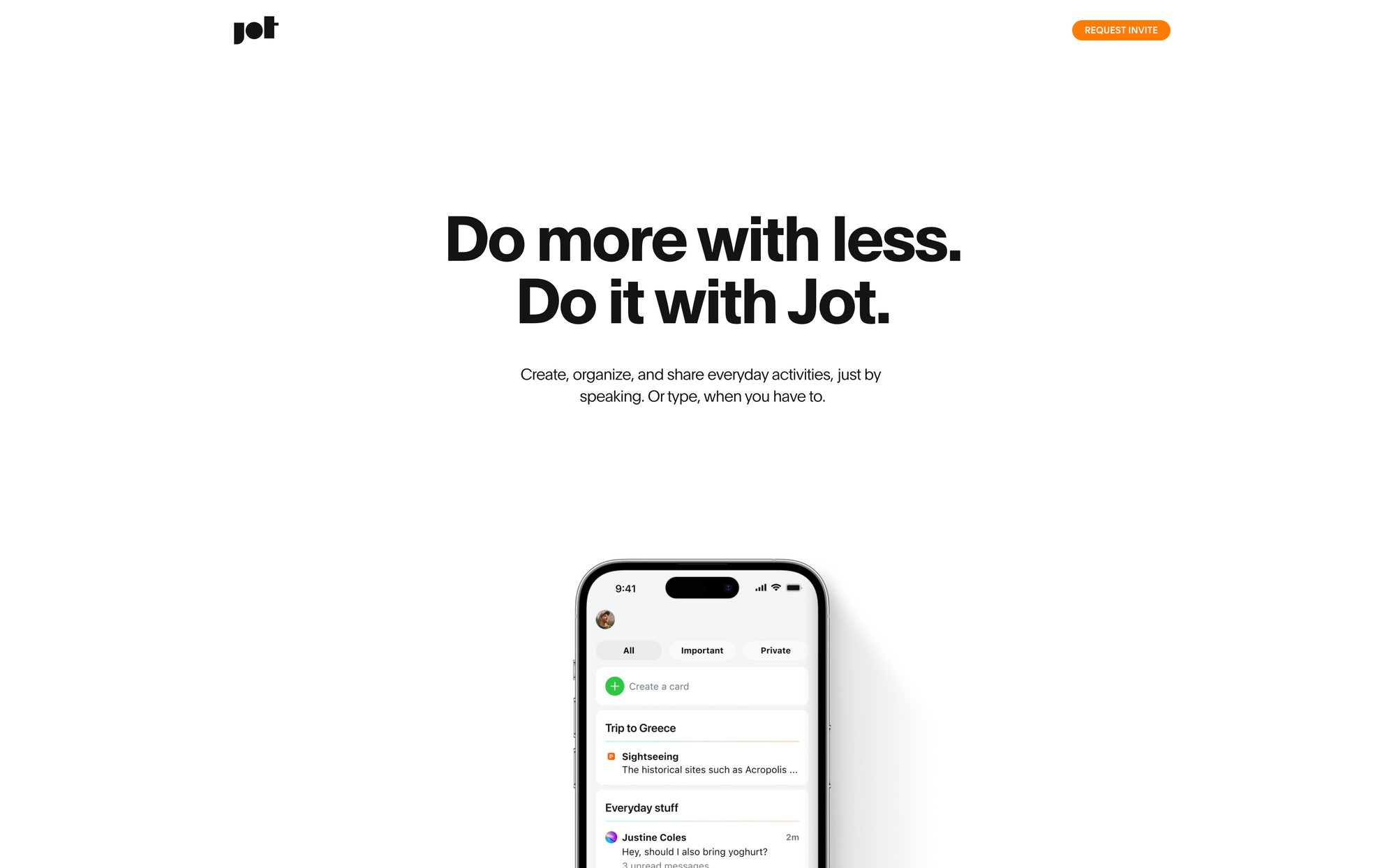 Jot is a new mobile app that makes it easy to create, organize, and share your everyday activities just by speaking (although it still offers the possibility to type, if you have or want to).
What makes this possible is Jot's unique state-of-the-art voice recognition. Most of the time, talking instead of typing is way faster, especially when you are on your phone. Jot gives you possibility to create, share, and chat effortlessly knowing your privacy and content are protected. All the content you create within Jot will get neatly organized with cards. No matter if you need to jot down a note for a new project or your list for your next travel plans, everything you capture within Jot gets captured in a card. Those content cards are simple to create, and easy to share. In addition to cards, Jot lets you create lists to quickly jot down things you need to accomplish. With Jot you can use a single app to quickly capture your notes and thoughts, but at the same time collect the groceries you need, keep tabs on your daily chores, or make sure you do not forget anything for your next trip. And the powerful thing is, you just need to tell Jot what you need to do next, and it will help you remember it.
In some situations you might need to write down longer texts the usual way, by writing down your thoughts and ideas. While Jot is voice-input first and it really shines when you speak your mind, it still gives you the possibility to type out your thoughts and ideas. As your ideas mostly flow in a messy way leading to new thoughts and ideas, Jot allows you to say what you are thinking while it will do the rest. Just tap speak, and Jot will save you time capturing your longer thoughts, whether it is just for yourself or to share with others.
Each of the cards you have shared have a chat that makes it easy to start a conversation in context with your friends and colleagues. This gives you the possibility to organise your discussions around specific topics right along with your notes and lists. Chats within Jot are end-to-end encrypted with means you do not have to worry about your privacy.
As of writing this, Jot is still in beta and you can join waitlist by requesting an invite. Additionally, it is only available for iOS only.
---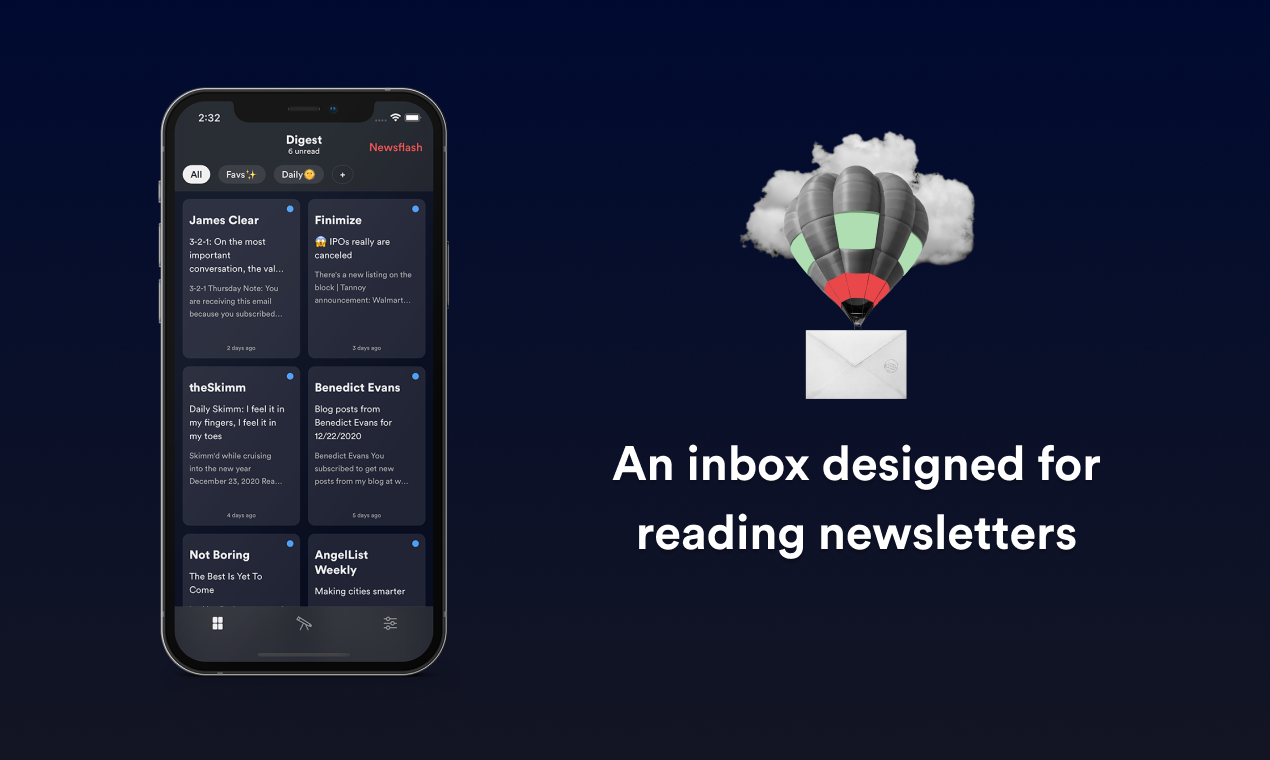 "An organised life start with an organised inbox." - Socrates
Ever stopped yourself from subscribing to a potentially amazing newsletter because you're worried about cluttering your inbox? With
Meco
, you can enjoy your newsletters in an app built for reading while giving your inbox space to breathe.
Over 10k readers enjoy their newsletters (and decluttering their inboxes) with Meco - try the app today!
This is a paid promotions or affiliate link to support Creativerly. If you are interested in putting your tool, product, or resource in front of over 2000 creative minds, consider advertising in Creativerly and book a sponsor or classified ad spot. Find all the important information at creativerly.com/advertise.
---
Fresh Updates & News
With the 2.5.4 update, Craft shipped some lovely new improvements like Share Pages now including a Table of Contents, Craft AI Assistant will recommend a cover image, enhancing the UX throughout the entire app, and offering a standalone dmg for you to conveniently download the Mac app.
Besides that, the team at Craft worked on some major quality of life improvements including: Mentions, code blocks, card background colors in dark mode, context menus, and a lot more. Make sure to head over to Craft's What's new page to get all the details about the recent updates and improvements.
Arc, the revolutionary browser by The Browser Company, introduced Boosts, a new way to edit and remix your internet, and share it with friends. To showcase how you can use Boosts, Arc launched the Boost Gallery which is packed with multiple boosts by fellow Arc members and users.
Ivory quickly became probably the most popular Mastodon client. The app got developed by Tapbots the creators of the recently shut down superb Twitter client Tweetbot. After Elon Musk decided to cut off the API access of multiple third-party Twitter clients, Tapbots reacted fast and moved their focus on building a new client based on Tweetbot but for Mastodon, the social network that becomes increasingly popular as more and more people leave Twitter. Ivory for iOS became the go-to Mastodon client for loads of folks, since the app offers the same lovely design of Tweetbot, powerful features like multiple account support, and just a nice way to browse through your Mastodon timelines.
Within the most recent update from Tapbots, the company announced that Ivory for macOS is live and can be downloaded right away from the Mac App Store. The new subscription that gives you access to the iOS and macOS app will cost you €29.99 per year. If you have already bought iOS + iPadOS subscription, you will get refunded the difference if you upgrade to the macOS version too.
I have a linked a super review of Ivory for macOS by Macstories above.
As we are nearing Apple's biggest and most important event, the World Wide Developer Conference, the company recently announced its Apple Design Awards finalists. The Apple Design Awards honor excellence in innovation, ingenuity, and technical achievement in app and game design. Among the categories Inclusivity, Delight and Fun, Interaction, Social Impact, Visuals and Graphics, and Innovation you will find nominees like Duolingo, Camo Studio, Any Distance, Headspace, Flighty, Universe, and other apps all hoping to go home with an Apple Design Award. The winners will be announced during WWDC 2023.
Superhuman, one of the most controversial email clients, has landed on Windows. Superhuman got founded in 2014, and since then it raised over $108m across six funding rounds and attracted folks like Will Smith, Ashton Kutcher, and The Chainsmokers to invest in the company. Within a short amount of time, Superhuman grew its waitlist to over 75,000 people. An incredible amount of people who wanted to pay $30 per month for an Gmail overlay. This is where the first controversy came from. Executives, VCs, managers all praised Superhuman and justified such a high monthly subscription fee. Over the course of the last 8 years Superhuman drastically improved its product, implemented loads of features that do indeed save you a major amount of time while working through your emails, but still Superhuman only supports Gmail and Outlook accounts.
Nevertheless, you can now use Superhuman not only on macOS and iOS, but Windows too. Still, it costs you $30 per month to experience it.
---
Mental Wealth
❯ To be creative, practice – "The concept of practice is an integral aspect of being human: doing something repeatedly, making errors and learning from them, operating at the edges of your ability, and, most valuable of all, the satisfaction gained from improvement. Practice is more than just repetition of behavior—it's a movement of energy that creates a fissure in us to reveal what's within. More movement, more revelation. Among the many things we discover about ourselves when engaged in the practice of writing or dance or making music is how to live with meaning and intention, which is perhaps the most important discovery of all."
❯ The Metagame: Think One Step Ahead – "The metagame is about understanding the bigger picture and outsmarting the competition by doing something they can't or won't do. When you understand why your competitors do the things they do, you can choose to play a game they can't play. An interesting section in an obscure poker book called The Raiser's Edge explains the concept of a metagame."
❯ You Can't Hack Product Positioning – "The popular lore of Silicon Valley goes something like this: a starry-eyed engineer is thinking about a new technology. Suddenly it hits them: the product. It's a lightning bolt from a geeky Zeus, the idea striking them like a divine burst of code from above. Inspired, they program in a basement for a few months. When they emerge, their product is immediately beloved. This narrative is false. It is close! But it isn't reality."
❯ Here's How to Actually Be Kinder to Yourself – "Since childhood, chances are you've been expected to be nice to others; to "treat them how you want to be treated," presumably with kindness and respect. But why do so many people (myself included) struggle to apply this golden rule to themselves?
We talk a lot about self-compassion at SELF—how it can help you  move past your mistakes , for example,  improve your relationship with food  and  movement , and  accept yourself overall . "
---
Do not miss out on this ...
❉ Join 50k+ smart people on Refind and get 7 new links every day that make you smarter, tailored to your interests, curated from 10k+ sources.
❉ Think tasks, not apps. Setapp* is you one-stop subscription to solving every task on Mac and iPhone.
❉ Fathom is cookie-free, GDPR compliant, privacy-first website analytics software. Get $10 off your first invoice and a 7-day free trial when you use this link*.
These are paid promotions or affiliate links to support Creativerly. If you are interested in putting your tool, product, or resource in front of over 2000 creative minds, consider advertising in Creativerly and book a sponsor or classified ad spot. Find all the important information at creativerly.com/advertise.
---
Till next time! 👋‌‌‌‌
Support: Do you have a friend who is looking for inspiration, news about design, and useful tools and apps? Forward this newsletter to a friend or simply share this issue and show some support. You can also show some love by simply clicking the button down below and keep this newsletter a sustainable side-project by buying me a coffee. ☕️ 🥰
---
---
Some of the links in my newsletter and my blog posts are affiliate links. Those links are marked by an asterisk. If you buy something through the link, the product will not cost you anything more, but I will receive a small commission which not only supports Creativerly and my work but also helps me to keep this publication a sustainable side-project.
Creativerly is proudly published with Ghost*.